Real lead magnet examples are great if you are new to the content marketing world or want to extend your lead generation efforts. Therefore, I collected 18 types of lead magnet examples for you and each of them are different types of hooks. Get inspired for your next lead generation campaign and grow your email list!
What are "lead magnet" or "hooks"?
Free content that you offer to your visitors and ask for their contact information if they are interested in it. There are lots of types of hooks, such as ebooks, infographics or even free trials. This collection shows you 18 different types of lead magnet examples.
1. Email course
An email course can be a very good lead magnet. Teaching people highly specific and valuable knowledge is always a thing that makes people opt-in.
One of the best things about these courses is that it doesn't need as much resource as you would need for a video course for example.
The Automizy email course, for example, teaches subscribers how to manage their email list in order to save money and always be able to send highly relevant messages.
Creating a good email course as a lead magnet works only if you truly can provide valuable information – a badly constructed course can easily ruin your company's reputation!
There are courses with different length, we wrote about it in our email course guide.
2. Checklist
Downloadable checklists are great because these are actionable, teaches something that is highly specific and easily consumable.
What can you write a checklist about? About almost everything:
How to improve your SEO via backlinking?

How to outsource your contents to agencies?

How to do sales without selling actually?

How to do gardening in the inner city?
Think about your own industry, find 5-6 topics, write them down and create PDFs from these. Always think about lists that can be done step-by-step.
3. E-book
E-books are great because you can relatively easily create them based on your blog articles for example.
Choose a topic, collect your best-performing articles, connect them, add additional value, and done!
For example, Unbounce offers "The Conversion Marketer's Guide to Landing Page Copywriting" ebook in order to collect emails.
Or Zapier offers a lead magnet on project management.
Or you can download an ebook on Product Management from Accompa too.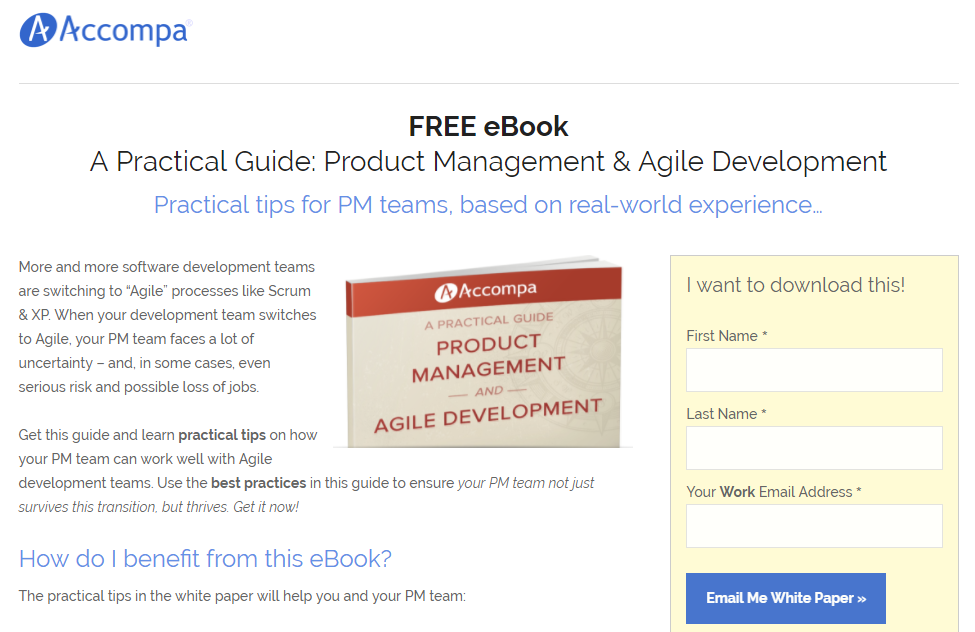 4. Your newsletter
Believe it or not but your newsletter can be a good lead generation tool for you. But you have to pay attention to send relevant, interesting, truly valuable content.
For example, The Hustle is a newsletter for entrepreneurs about the most recent tech news. Every June they organize an event around "Startup tactics for non-techies" and this is why they have their newsletter as their most important lead generation tools.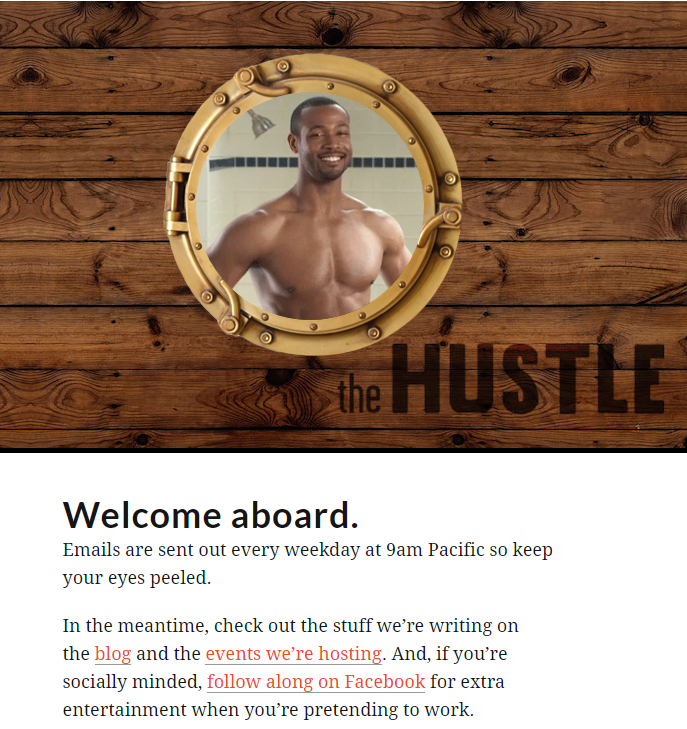 Best newsletters are great lead magnets because their value proposition is unique, entertaining and does not say that boring "subscribe to our newsletter" message.
5. Educational video
Educational videos can be used easily as lead magnets. Companies usually give the first lesson for "free" so you can watch without giving your email address. But in order to be able to watch the next ones, you have to provide your contact information.
Video is a good medium as it is quite engaging and also have higher possibility to go viral. On the other hand, it can be difficult to create one: you have to be prepared to create good quality videos.
But you can save time if you can repurpose your existing content. Just pick a topic you already wrote about and tell more about it, dig deeper.
Videos can work as a lead magnet even if they are not educational. It can be your opinion, something funny or interesting – it only depends on your industry.
For example, Brain Dean, the founder of Backlinko does it very well:
6. Webinar
Live, limited time webinars can work very well too for your business. As you restrict the number of people who can attend your online event, you create the VIP feeling that is one of the most catchy things.
A good webinar does not only help you generate more leads but it can easily help you get actual subscribers for your business' email list.
For example, Content Marketing Institute regularly offers free webinars.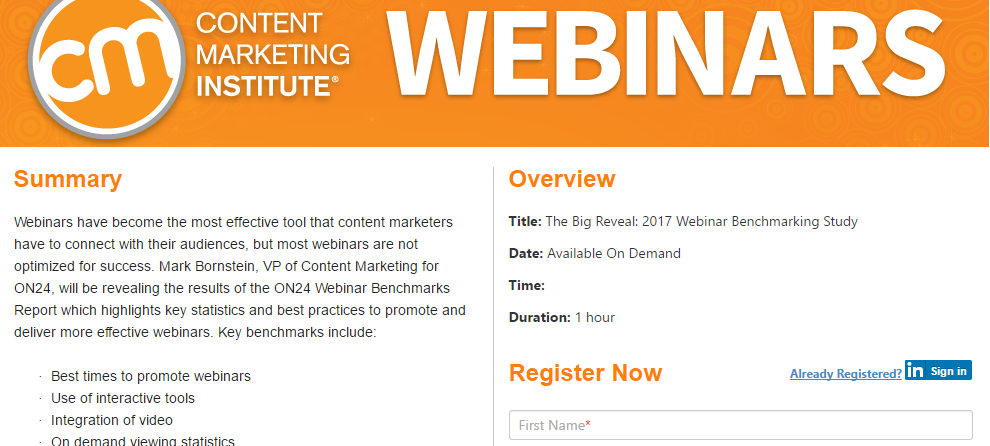 7. Infographics
Good infographics require a lot of work from you:
Generate data

Identify patterns

Outline key takeaways

Visualize data in an understandable, simple way
For example, Antavo created an astonishing infographic about loyalty programs that was republished by Hubspot.
8. Case study
What would you tell if somebody would ask what do you do? You would tell a story of your customer and how he used your product and what results he/she got.
These case studies give your prospects ideas on how to use your product and assure them that it truly works.
But not only successes are important. You can also tell stories about failures. This way you can teach others what not to do in different situations.
For example, Hootsuite created an amazing case study with their client's achievements.

The Kissmetrics blog created a good guide on how to write a great case study.
9. Presentation
Slideshare is a great place to upload your presentations. If you speak somewhere (on a conference or a meetup) you can easily use that as a lead magnet as well.
For example, my colleague, Viktor created this awesome presentation below that teaches a lead generation method for online businesses.
10. VIP content
If your business provides membership permission levels, you can easily hide different sections of your blog content from visitors.
In order to read the rest of your blog content, ask for an email address!
This is one of the best strategies to generate more leads – using your own blog as a lead magnet will insanely increase the sign-up rate.
The only drawback of it that it can easily ruin the experience for your visitors – I don't really recommend it until you have a big audience.
11. Podcast
Get a good quality mic and record your thoughts on a topic. Be entertaining and professional, chat with experts in your field and promote it on your channels.
Podcasting is a great community-building tool and you can target these people with other lead magnets easily to grow your subscriber list.
For example, Duct Tape Marketing has an amazing podcast.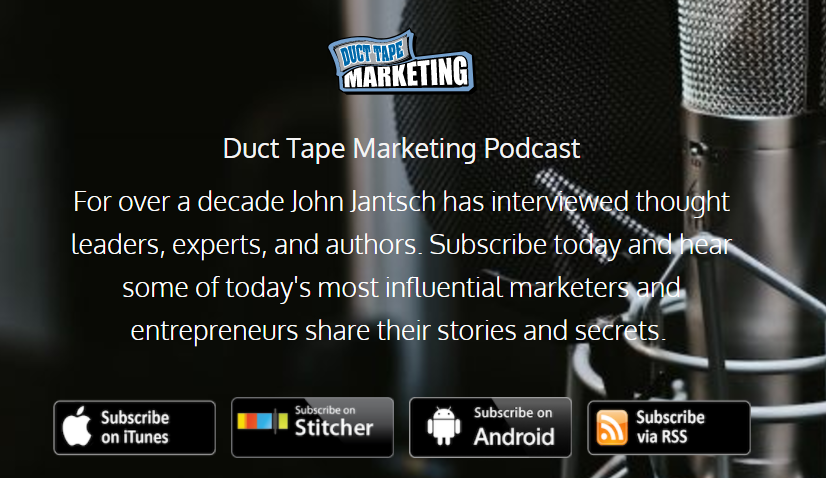 12. Interview
Research the professional your audience would love to listen to. It can be an industry expert, an opinion leader or even a celebrity.
Interviews are great because it can be a good incentive, it builds your trustworthiness and very easy to advertise it on social media.
13. Free tools
The reason I listed this as a lead magnet example because it is a great opportunity to collect high quality leads for your business.
For example, Crazyegg asks for your website URL and then gives you heat map analytics.
Or we offer a free email editor. You can craft your emails but in order to be able to send it… well, start a free trial!

14. Calculator
Calculators are great tools: show the problem in an interactive way you solve!
IonInteractive does this well with its ROI calculator. You choose your interest, tell something about your business and then it shows you what you lose.
It explicitly shows you the pain you face and offer you a solution via its service.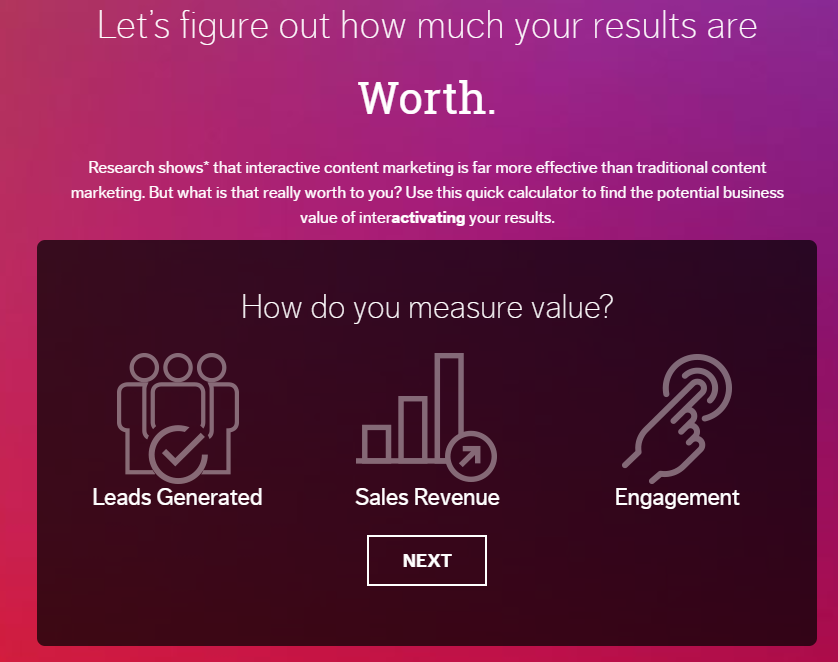 15. Consultation
Offer consultation to your prospects and provide customized, personalized value and experience.
Don't be too salesy though', it can easily frighten your prospects away.
The marketing of the new era is more about solving difficulties by introducing an approach instead of hard selling. Keep it in mind!
For example, the Holini team does it quite well:

16. Buyer converter product
If you would like to know more about the concept of buyer converter product, you can read about it in our post about the buyer converter product.
These are low-ticket offers that convert leads or visitors into customers. They only pay a few dollars… but it fundamentally changes the relationship between you and your prospect.
17. Waitlist
If you are about to launch a new product, a newsletter or something that deserves a standalone campaign, it is usually good to create a separate landing page for it.
On this web page, you can tell your value proposition and allow people to subscribe – so you can build an audience way before you launch it. And there will be a list of people you can tell about your offer when it released.
Waitlists can create a VIP membership feeling, therefore it can be a powerful lead magnet for your business.
Another way to use it is to test a market with a value proposition.
Just build a landing page around an assumption. Promote it and check whether there is a need for it – validating your products even before creating it can be a good way to find product/market fit sooner.
You can create a wait list with any type of web page builder such as Unbounce. In addition, this waitlist builder tool below helps you get started and provides enhanced gamification opportunities to help your landing be viral: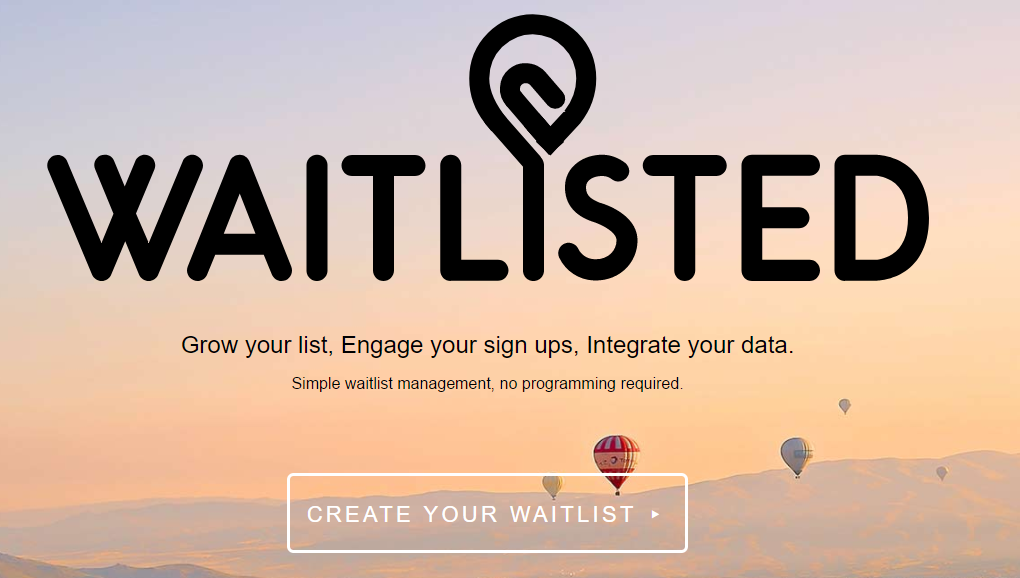 18. Trial offer
Free trials are usually offered by SaaS solutions and gives an opportunity for people to give the tool a try.
It also means that you get their contact information so it can be a good lead generation strategy.
Trials vary company-by-company: they can be 1 or 2 weeks, 1 month or even longer.
The length of your trial should fit your sales cycle length – but it usually requires a long learning curve for you to truly understand it.
In the example below, you can see Dropbox's 30-day free trial for the business plan.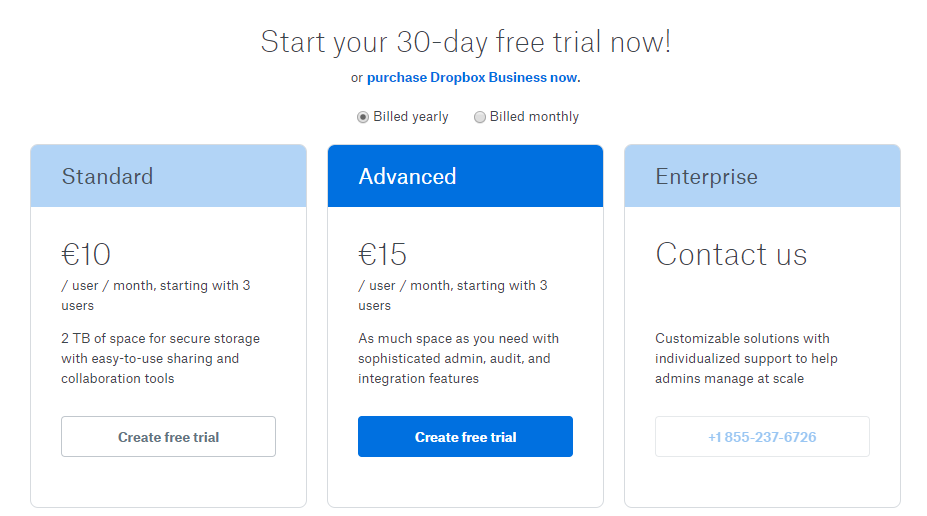 Talking about free trials, why don't you give Automizy a try? Get started for free now!
He graduated from the Technical University of Budapest, with master's degree in Software Engineering, Economics and Management.
As a serial entrepreneur he has 10+ failed projects and one big winner one: growing Protopmail email marketing service from zero to a market leader position in Hungary.
He has been working more than 20 years in software development, more than 10 years in IT project management and also having the serious of 10+ years experience in email marketing and marketing automation.
Aside from running a successful business, Gabor is also an email marketing and marketing automation consultant and works for clients like GE Money, DHL, Bridgestone and for several banks and insurance companies.
He also appears at multiple online marketing colleges as a guest speaker, and a well-known speaker at online marketing related conferences.
Gabor speaks 4 languages, has three kids and he is a serious golf addict.
https://automizy.com/wp-content/uploads/2017/05/Increase-the-Click-Ratesof-your-Onboarding-Emails-with-Machine-Learning-2.png
628
1200
Gabor Koncz
https://automizy.com/wp-content/uploads/2018/02/logo-2.png
Gabor Koncz
2017-05-29 12:43:34
2018-05-07 04:55:59
18 Lead Magnet Examples That You Can easily Use for your Business