Most of all people are using or in love with social media. Facebook, Twitter, LinkedIn or even Instagram which is getting more popular can be mentioned here. As a social media marketer it can be hard to keep, so you'll need some social media automation.
The other day I was discussing this theme with my marketer colleagues, and their feelings were all the same. They think that social media just a pain in the neck, they don't like using them, and if they had a chance they would even get rid of them. The reasons were the following: lots of work and they don't generate immediate, measurable profit.
Unfortunately, whether you like it or not social media is unavoidable. Those who already deal with it and follow the analytics could see the same as me:

Google Analytics stats from Automizy blog
As you see social media sits on one of the first places in the traffic sources. So it doesn't mean more than Facebook along with others are inescapable.
Although, I have to admit that a long ago I was thinking the same. Mainly, because I don't post every day on my own private site either. But how to do it then? How to get myself to post on the daily basis, and even more times a day on the company's Facebook sites?
Then the solution was born. With social media automation, my problems have just magically vanished.
Alright, alright I know it sounds like a slogan of a pharmaceutical advertising, nevertheless, social media automation has this power indeed. It will not only influence your work, but also the profit as well. So the more work you put into it, the greater chance you have to activate your followers.
How to achieve this?
Step 1: Strategy
First of all determine your strategy of the social media: Decide what, when, how many and what you want to achieve with your post, and of course don't forget to specify that how you are going to measure your goals.
Step 2: Content
Secondly determine the content: What kind of content will you be share, your own or someone else's? Who will write the content? The American Association of Inside Sales Professionals (AA-ISP) recommends keeping the 5-3-2 rules.
5 should be content from others, relevant to your audience
3 should be content from you, relevant to your audience (and not directly selling your products)
2 should be personal, something non-work related to help humanize yourself and/or your brand
Step 3: Content Variations
At the third step is to determine the automation of the post. Attention please, here comes the trick, let's carry on!
Variate your posts! Don't be satisfied with only one version, make more. So give a new title or change the lead and you can even use different pictures. How does it look like in the reality?
Let's get this article what you are reading as an example. As you see the title is 5 steps for the successful social marketing automation. However, I make two versions, which are going to look like these:
5 best practices for the successful social media automation
or like this
5 tips for the effective social media automation
So the point is to make more variety of one post and you share them at different times. Pay attention to change the lead along the title, because the visitor has to meet the same content on the blog or website what on they clicked on the social media.
Step 4: Schedule
At the fourth step determine the frequency of posting: An average post lifetime is about 3, 2 hours, but with automation, it can be stretched even till two days. Therefore you have to decide how frequently and what intervals you are going to post in a day. Check out what are the best times for posting according to SumAll's survey:
Twitter 1-3 pm weekdays
Facebook 1-4 pm and 2-5 pm weekdays
LinkedIn 7-8: 30 am and 5-6 pm Tuesday, Wednesday, and Thursday
Tumblr 7-10 pm weekdays and 4 pm on Fridays
Instagram 5-6 pm weekdays and 8 pm on Mondays with a sweetspot at 6 pm
Pinterest 2-4 pm and 8-11 pm weekdays with weekends being the best
Google+ 9-11 am weekdays
Step 5: Automation Tool
At the fifth step choose a tool to implement. Now you know how to do it but don't know what to do with. There are countless superb apps for social media automation, however, I suggest this two:
HootSuite is one of the most popular social media automation tools. With a well-chosen subscription, you are able to use most of the social media channels. For private use a free version is available and there is a 30 day trial for pro and enterprise version too. Using the more expensive versions give you the ability to run an unlimited number of social sites and integrate Google analytics, Facebook Insight.
Buffer is the other well-known and favorable brand in social media automation. Buffer can set posts too and you are able to use numerous channels simultaneously. Of course, different subscriptions are available as well. A social media app isn't really a good one without analytics so you get that too of course.
Which one to choose? HootSuite is a detailed tool which to use properly requires deep knowledge as for using Buffer is easier but doesn't have the sophistication of Hootsuite. I strongly advise Buffer if you just started social media automation. When your campaign blows then it's time changing for HootSuite
Now you are familiar with the social marketing automation tricks the story doesn't end, keep reading!
If the world was as simple as I said it in the above, we would live in a perfect world, where pros and cons wouldn't exist. Life however not that easy so here is some advice what you better keep in your mind during social media automation.
The pros of Social media automation
The following arguments are with the social media automation:
"Comfort is a big boss!" And because you don't have to keep a team only for this, you can even do it by yourself, it's really cost-effective,
Bigger and more frequent reaching. The more you post the bigger the activation you can get from your fans,
It generates more leads and later customers with its effective usage
The cons of Social media automation
Fully automation is risky! Don't let it just flow by itself as you can easily end up as in the below example the Bank of America: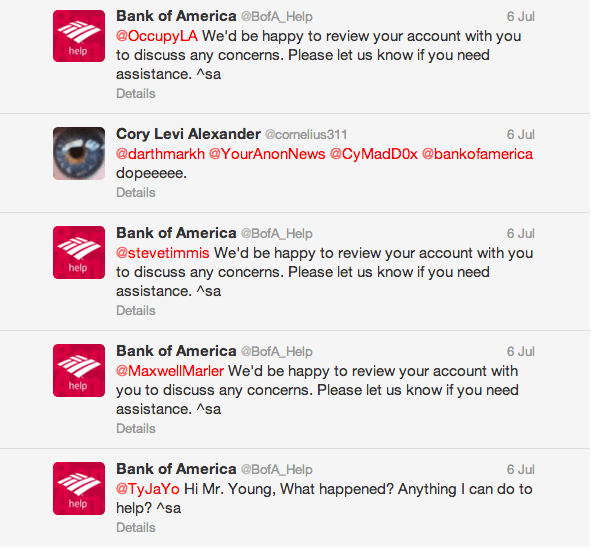 Automated Twitter fails from Bank of America
Timing can be automatized badly,
Interactivity easily can be forgotten. Never let it slip in your mind, that in social media interaction take places what you need to respond for, and you cannot substitute or solve them with automation,
It is considered a SPAM if you post only offers,
Irrelevant content posting can be driven to lose your admirer,
In a tragedy or emergency situation, the automatized posts can make significant damages
So don't forget that automation is a good and needed object because it perfectly increases efficiency and decreases costs, but within that, the human work, spirituality, and control never can be missed. Here's a great piece on what you should and shouldn't automate on social media.
Now you know the social media wiliness, so let's do some work and share this article! 🙂
He graduated from the Technical University of Budapest, with master's degree in Software Engineering, Economics and Management.
As a serial entrepreneur he has 10+ failed projects and one big winner one: growing Protopmail email marketing service from zero to a market leader position in Hungary.
He has been working more than 20 years in software development, more than 10 years in IT project management and also having the serious of 10+ years experience in email marketing and marketing automation.
Aside from running a successful business, Gabor is also an email marketing and marketing automation consultant and works for clients like GE Money, DHL, Bridgestone and for several banks and insurance companies.
He also appears at multiple online marketing colleges as a guest speaker, and a well-known speaker at online marketing related conferences.
Gabor speaks 4 languages, has three kids and he is a serious golf addict.
https://automizy.com/wp-content/uploads/2015/08/social-media-automation.jpg
286
640
Gabor Koncz
https://automizy.com/wp-content/uploads/2018/02/logo-2.png
Gabor Koncz
2015-08-13 07:40:50
2019-06-17 11:55:33
5 Steps for Successful Social Media Automation