If you have a sales team that feels discouraged and revenue targets that are far out of reach, you may be missing an essential ...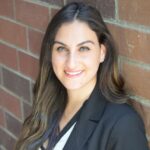 Deanna is a bubbly and outgoing person who loves to laugh! She is quick-witted and enjoys meeting new people, but she's all about goals when there is a business to get done. When working, she is enthusiastic, highly focused, and goal-driven.
She works at Vonazon (Full Service Digital Marketing Agency) and helps small and large companies build marketing campaigns that attract ideal prospects, convert leads, and close sales. She enjoys contributing to strategy development that focuses on inbound lead generation and prospect life­cycle nurturing. Her nose is always in a book or blog, looking for emerging trends that she could master to help clients improve their current automation processes, so you can bet you're getting best practices when she is on your team!
She is a true Marketing Automation Specialist: certified for Salesforce, Pardot, Act-On, Hubspot and Marketo.
She loves travelling and is pretty bold with trying unique foods from other cultures—The Banana Leaf in LA has Singaporean food you're going to LOVE. Fashion is more than a pastime for her, she likes learning about new looks and sewing her own apparel. She even won 2nd place in a Fashion Show Competition.