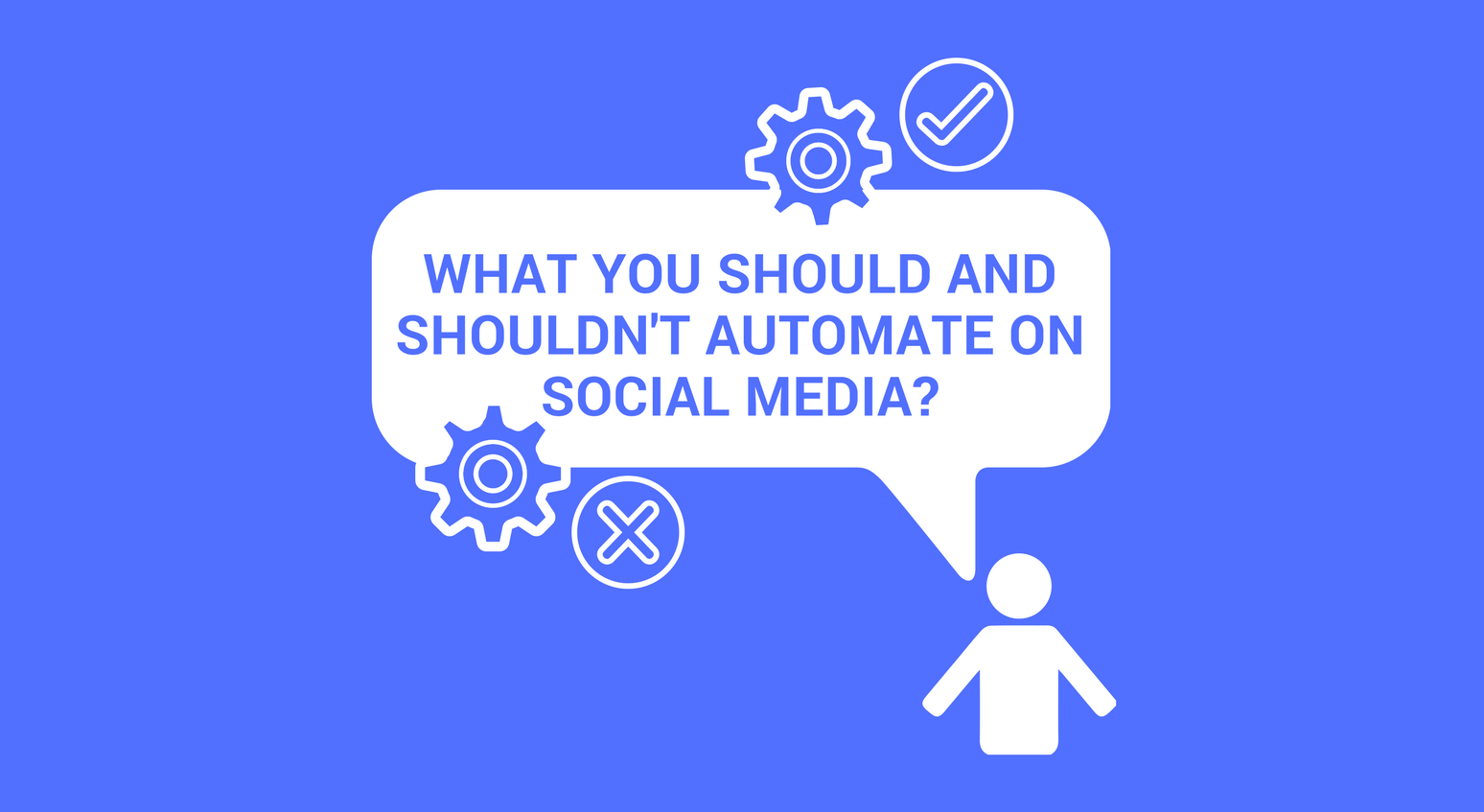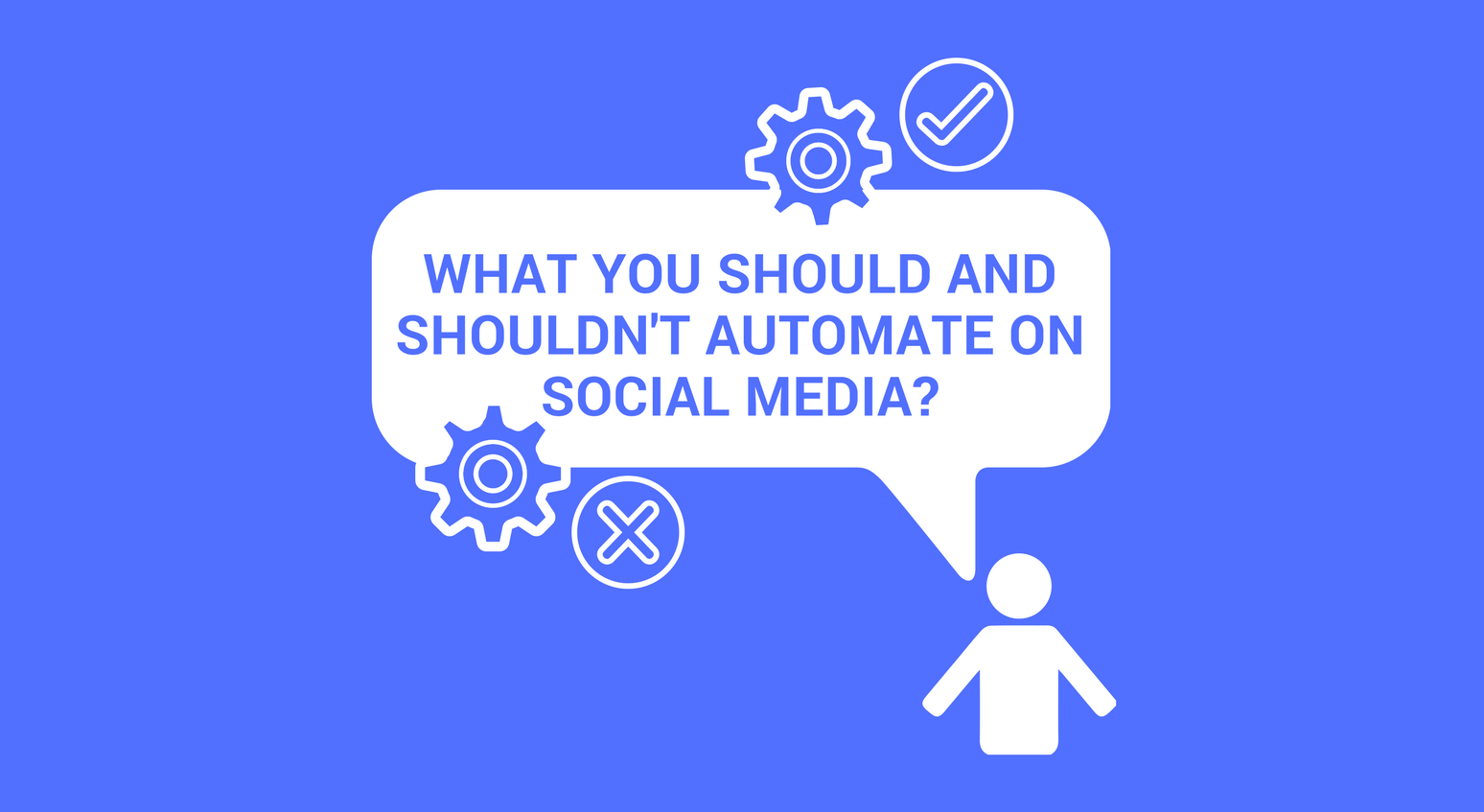 The main benefit of automation is the ability to let the marketers focus on more meaningful tasks that require creativity. Rather than wasting their time doing repetitive and time-consuming ones. However, if you use automation tools to minimize the human factor, you'll most likely fail.
You have to keep in mind, that marketing automation is nothing more than communicating at a high scale, and for that you need problem focused data: information that is helpful in identifying the bottlenecks by highlighting different KPIs. It doesn't matter how sophisticated your automation system is, you will always get back to the human factor especially when you automate social media.
Automation can be quite addictive. Once you've finished setting up your first automated workflow and realize how much time and resources you're able to save and allocate somewhere else, that can feel overwhelming. So it's important to draw the line on what you should and shouldn't automate on social media platforms.
What should you automate?
Scheduling your posts
Let's say you post 8 times a day on Twitter and 3 times a day on Facebook and LinkedIn and you work 8 hours every day. That means you have to stop whatever else you're doing at least every hour! But what about weekends, holidays, and posting before and after working hours? And what if your audience isn't active during the time you post.
This is where a social media management tool comes in handy: these let you schedule your post in advance and automatically post your content at the time you set up. So you can enjoy your weekends and holidays without worrying about posting.
It's also great because you decide what part of your timetable do you want to dedicate to managing your social channels.

Finding out the best time to post
Finding out and using the optimal posting time increases your reach and engagement, which is exactly what you want.
There are a lot of timetables and infographics about what is the ideal time to post on each platform. These are useful to get a general idea, but each business and each fan base are different. So what might've worked for someone in the past might not work for you. And I didn't even mention the frequent algorithm changes which usually have an effect on how feeds are updated. Also, you have to factor in the different time zones and the engagement of your fans with your posts.
These variables are continuously changing. So you have to adapt and keep altering your posting schedule.
Most social media tools can determine what's the best time for you to post, which is great. You don't need to keep updating your timetable to adapt to changes. With minimal manual intervention, your social media software will figure out the optimal times for each platform.
Curating Content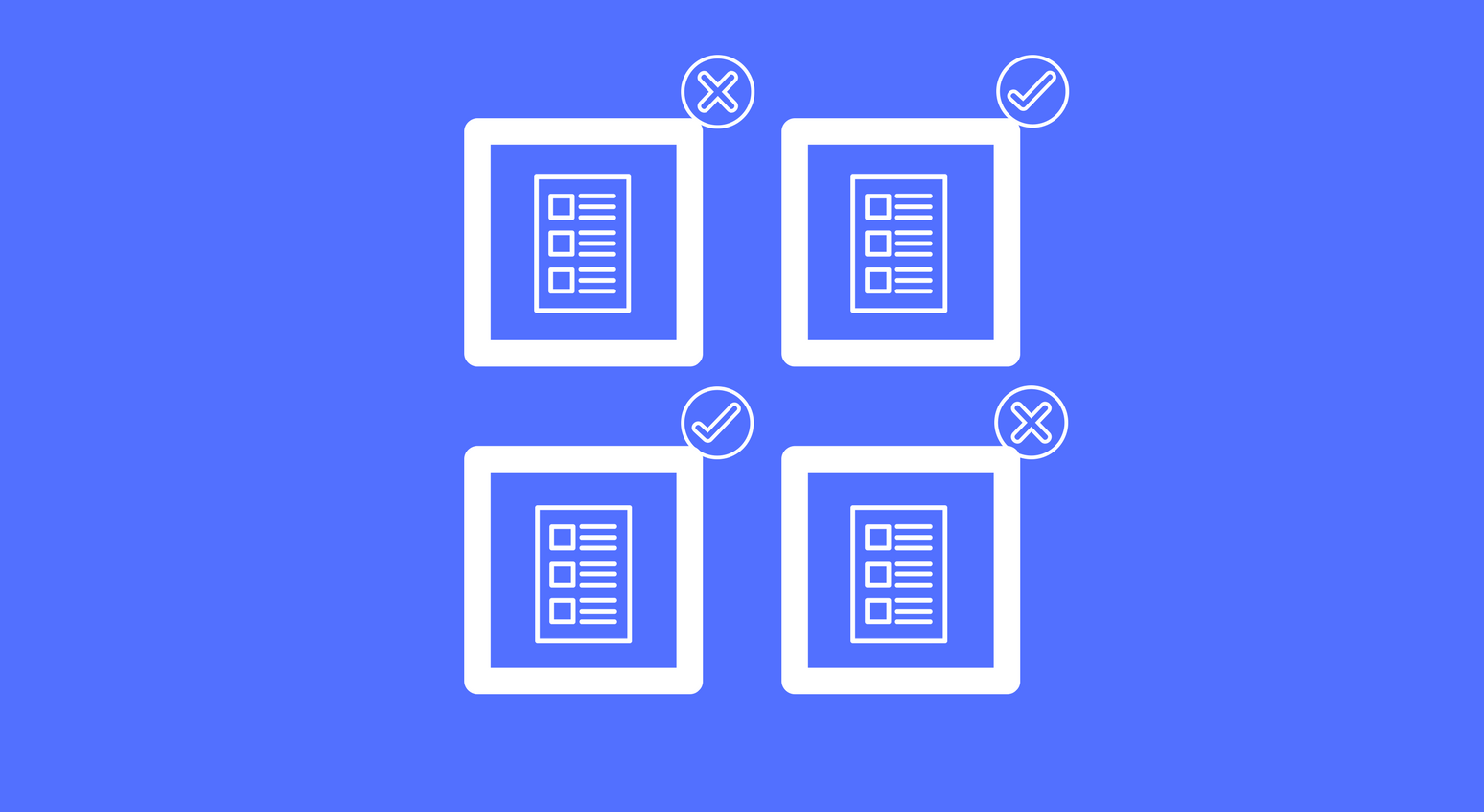 Finding quality content that suits your brand and your fans like is one of the key elements of establishing a social media presence.
But how do you figure out what type of content to post? You can dig into your stats and find out what type of posts get the highest engagement and share similar content. However, there are certain rules when it comes to company social profiles. The two most popular of these are the 5-3-2 rule and the 80-20 rule.
The 5-3-2 rule states that out of every 10 posts:
5 should be content from others, relevant to your followers
3 should be content from you, relevant to your followers (not product related, avoid the hard sell)
2 should be non-work related, fun content that helps humanize your brand.
The 80-20 rule states that 80 percent of your social posts should be content from others that your followers are interested in, and 20 percent should be your own content (again not product related, avoid the hard sell).
The essence of these rules is that you shouldn't treat your social profile as a platform for extensive self-promotion. However, you don't need to follow these blindly. The important thing is to find the right theme and to keep it consistent so your audience knows what to expect from you.
Because most of your posts are content from others, that's where you'll need some automated content curation.
Okay, but how? One possible solution is using Quuu integrated with Buffer. You just choose a couple of topics relevant to your business, then you select how many suggestions you'd like to receive daily. After the setup, Quuu will send the content straight to your Buffer queue.
However, to avoid mishaps you should check out the content sent by Quuu. And I'll tell you why. Let's say you own a bookstore in London. You chose print media, books, magazines, bookstores, and small businesses as your interest categories. Quuu goes to work and starts to send suggestions to your buffer queue. It's all fine and dandy until one day you check out your Twitter page and you see an article you posted with the title "The 50 Best Bookstores in London". You click on the link only to find out that your store is not included. That's something you want to avoid as it paints a bad picture about your business. To avoid accidents like this spend 1 minute each day on revising the content sent by Quuu. (Or you can manually approve suggestions inside the app in the Ultra and the Entrepreneur plans.)
As you can see from this example sometimes automation requires manual intervention, and some tasks should not be automated at all.
What shouldn't you automate?

Interactions with your followers
Engaging with your followers on social media is another key element of your social media presence. And one that shouldn't be automated. Because customers appreciate unique and personalized responses. Companies who have limited resources might be tempted to automate responses, but that's a slippery slope.
Imagine a customer who took the time to tweet you about her great experience with your company and all she gets in response is a robotic automated message. Even if you can avoid getting bad press from over-automating your interactions on social media, it still damages your engagement and reputation.
I'm sure your followers appreciate unique and original responses. One of the reasons they like social media in the first place is because of these interactions. And if you take the human out of social media, it isn't social anymore.
Automated replies can be especially damaging when a customer needs your support or voices a concern and they get generic automated responses. It's like pouring gas on fire because the customer reaches out in need of your help and you don't even bother to write a reply. It comes across like you don't care about them and the problems they face with your product.
Wrapping up
When it comes to automating social media you should be careful. Overdoing it can cause serious damage to the reputation of your company.
Don't forget that social media is awesome because it lets people from all over the world share their experiences, their opinions, their challenges, their life events with each other. And that's just amazing.
Do you want to TRIPLE the Value of your Email List? Sign up to our email course to learn more.
He graduated from the Technical University of Budapest, with master's degree in Software Engineering, Economics and Management.
As a serial entrepreneur he has 10+ failed projects and one big winner one: growing Protopmail email marketing service from zero to a market leader position in Hungary.
He has been working more than 20 years in software development, more than 10 years in IT project management and also having the serious of 10+ years experience in email marketing and marketing automation.
Aside from running a successful business, Gabor is also an email marketing and marketing automation consultant and works for clients like GE Money, DHL, Bridgestone and for several banks and insurance companies.
He also appears at multiple online marketing colleges as a guest speaker, and a well-known speaker at online marketing related conferences.
Gabor speaks 4 languages, has three kids and he is a serious golf addict.
https://automizy.com/wp-content/uploads/2017/05/What-you-should-and-shouldnt-automate-on-Social-Media-.png
847
1548
Gabor Koncz
https://automizy.com/wp-content/uploads/2018/02/logo-2.png
Gabor Koncz
2017-05-09 12:44:40
2019-03-06 11:15:53
What you should and shouldn't automate on Social Media?