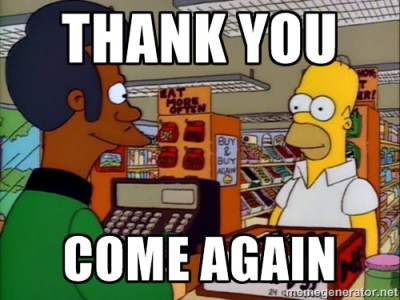 In our life, we often say it all happened in a flash or it depended on a tiny thing. This statement is true for marketing too, often campaigns or higher conversions are dependent on those tiny things.
Why do I talk about this? Marketing experts establish and build their campaign's logical side and it seems good at first glance. Everything works as it should all seems perfect. On the other hand, the mentioned tiny thing is forgotten. That important but often neglected part is the end of the purchasing process, the thank-you page. Which is not negligible at all.
What is the Thank you page?
The Thank you page is the page that new subscribers will land on after they e.g.: signed up for newsletters or downloaded an e-Book. On this page usually, one thing can be read "Thank you for subscribing!" Only this and nothing more. But this is sadly a bad Thank You Page. A good Thank You Page is much more than this and could do a lot more than you would have ever thought!
A valuable thank you page not only thanks for the finished action, it converts new customers from visitors.
How can a thank you page convert visitors to costumer?
In other words, how can you have more money from it?
First of all, forget the habit that you will say only "Thank you for subscribing!" on your thank-you page. It surely won't be enough! The most important you need to achieve for success is to reach the leads to take further actions on the thank you page. Basically to stretch them to download more useful stuff or to get them subscribe to your different newsletters.
What do you need to do to achieve these?
1, First fix the message!
Instead of an uninformed message such "Thank You for subscribing!" give the exact name of the service and the downloaded content. Then he\she will know what is going on exactly.
2, Don't leave the "Thank You" message alone
So after you have finished the necessary adjustments on the first part we can go to the second. Which is the "Give more" principle. You know, just like in McDonald's: "Can I give you a McFreeze to the menu?" The question is almost every time asked and even if you didn't want to eat ice cream now you have a desire to buy and eat one. So arouse desire for another downloadable content right after the purchase. On the thank-you page offer other materials that are downloadable. If you have other e-books or infographics that could be interesting for the lead, don't hide it. Go the extra mile and show it right there on the thank-you page.
3, Stay connected
Offer more channels for contacts because one of your biggest tasks will be to lead costumers from free users. To achieve this you need to remain connected with the leads. There is no need better place than social media. So add in social media site's icons on your thank you page, ask them to join you, so you can nurture your relationship with them.
4, Provide more contacts
The customers prefer that there is a human behind any interaction. So they have a feeling that they're being seen, treated as a human and not a droid who interact with a machine. That's why treat them as a human being and forward more contact option than the basics, such as e.g.: the customer service phone number or email address. It's useful because any question arises in customers, they can just easily phone you up for the answers. Doing that you will see that it can shorten the buying process because the verbal communication is more powerful than the online invisibility.
5, Encourage for trial
If you are brave enough to say that your thank-you page is made for those who you call as marketing qualified leads, such people as who visited your website more times, downloaded more content from your site, take them forward and convert them to hot leads. As a strong call-to-action, offer the opportunity for trial. You can also take this one step further and customize your calls-to-action based on the specific offer. For instance, give access to free demo page or encourage them with other technics for the shopping e.g.: you can provide gift cards or saving coupons. It's a good tactic because the follow-up reward pays off better to what has been given in advance. So the bottom line is: make sure to include at least a couple strong calls-to-action on your thank-you page to optimize for reconversion.
You wouldn't have thought how much potential is hidden on a thank-you page, would you? These little tiny things are worth investing energy and work and believe me at the end you will thank to us for adding this information and you will see that your thank-you pages will be working more efficiently.
So don't say bye with the thank you pages!
Share this post with your friends if you liked it, thank you! 😉
He graduated from the Technical University of Budapest, with master's degree in Software Engineering, Economics and Management.
As a serial entrepreneur he has 10+ failed projects and one big winner one: growing Protopmail email marketing service from zero to a market leader position in Hungary.
He has been working more than 20 years in software development, more than 10 years in IT project management and also having the serious of 10+ years experience in email marketing and marketing automation.
Aside from running a successful business, Gabor is also an email marketing and marketing automation consultant and works for clients like GE Money, DHL, Bridgestone and for several banks and insurance companies.
He also appears at multiple online marketing colleges as a guest speaker, and a well-known speaker at online marketing related conferences.
Gabor speaks 4 languages, has three kids and he is a serious golf addict.
https://automizy.com/wp-content/uploads/2015/07/thank-you-pages-e1438159291269.jpg
300
400
Gabor Koncz
https://automizy.com/wp-content/uploads/2018/02/logo-2.png
Gabor Koncz
2015-07-10 09:49:29
2019-03-12 06:57:45
Don't Say Goodbye with Your Thank You Pages, Rather Increase Your conversions With Them