I am not an email marketing expert, but as I run a successful online marketing and SEO blog in Hungarian, it is vital for my business to capture leads, email addresses so I can communicate efficiently with my readers.
I have over 5000 email subscribers so having a good mailing system, with little automations is a must. But keeping a true, conversational style is also important. So the question comes:
How can I stay relevant, keep in contact with everyone, but still send out mass emails?
In the last few years, I have developed a good format and workflow. Thought it could be further improved, it can be useful for various industries and professionals.
The Basics
Besides writing on my personal site, I run an SEO blog, which is said to be the leading one in Hungary. I had over 170K unique pageviews in 2017 only. Most of the traffic (50%+) comes organically, which is sort of expected from an SEO expert.

But I still focus on building a good email list. The reasons are simple:
Email traffic is inexpensive.

It can bring back existing readers.

Helps develop closer and deeper relations with readers.
However, keeping your list fresh and relevant is not an easy task. You usually know your first 10-100 subscribers well. But after the first 1 thousand, you can easily lose the connection with them.
So here's what I do to keep them close and feel connected.
The Personal Welcome Email
Many companies, founders, and bloggers send a personal welcome email. But in 99% of the cases, these are fully automated.
You sign up for a newsletter, and within minutes the "founder" emails you personally. How likely is that? Not at all. Most of us already know that these are computer generated and sent out automatically.
This is not an entirely bad thing. Sending an automated welcome email is still better than sending none. But there's a better way.
I send a half-automated welcome email. What does that mean?
There's a pre-written script, but!

I send them out personally/manually.
Why so? Because it ensures a few things:
If I know anything about that person, I can add that to the email.

I can send it out when I am awake/online. So mostly during business hours.

I get better open rates in the future for mass emails.
And these can make a huge difference in the long run.
Why? Because using tools like Sales Navigator (formerly known as Rapportive), you can see where the person works, what the position is if there are mutual friends.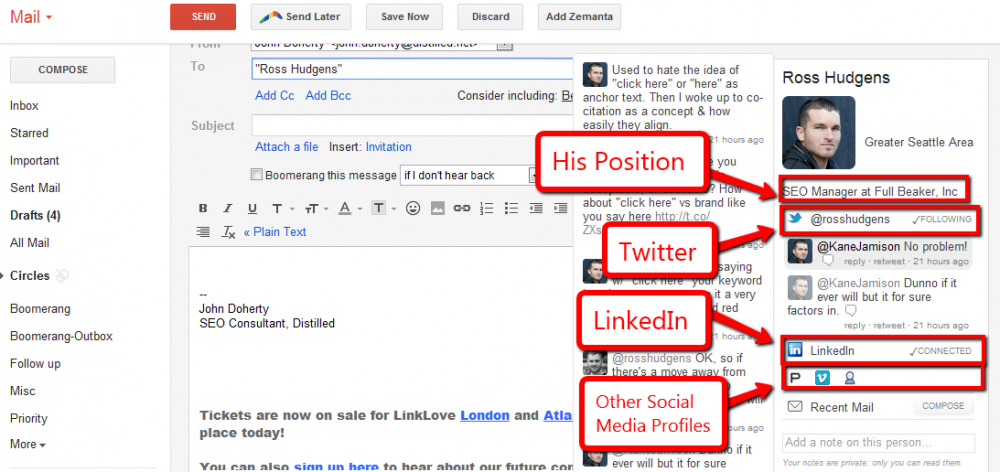 Then you can use this info to fine tune the "automated email", so it feels personal. Because it is!
Alternatively, you can use Clearbit Connect or FullContact, they all do the same.
The Automation
There are two ways to set up automation:
Partly automated

Fully automated
I prefer the 1st version. It requires a bit more work than the 2nd option, but you can use some tips and tricks to your advantage.
Gorgias
When people sign up, I click on their email address to create a new email. Then use a pre-written script + Gorgias Chrome Extension to write the full email.
Then I can customize it in a few seconds using the info from Sales Navigator or just from the email address. An example: if someone is called John, I can ask if he prefers John or Johnny.
This sounds super small, but you'd be amazed how many readers come back to me thankfully as I was (pretty much) the only person who was emailing them directly. See how easy it is to stand out from the crowd?
But there are other shortcuts too.
Zapier
If you don't want to start a new email and generated the copy/script by hand every time someone signs up, you can set up a Zapier integration to this for you.
What will happen this way?
When someone signs up

Zapier will generate the new email

With the email copy already filled out

And save in the Drafts
To do this, look for the right integration and trigger here: https://zapier.com/apps/email/integrations
Once the setup is done, all you need to do is open your Drafts folder and go through the emails when you want to send them out. That's it. Not 100% automated, but up until the very last part it is. All you need to do is customize, or if it's not needed, just hit send.
Wait, so I suggest to send out all these emails manually? Yes. Yes. Yes.
Why would anyone do this? There are very good reasons to do this.
The benefits of sending out the email directly:
You know who sign up (because you look at the emails/profiles)

You send them a plain text email from your own account

The delivery and open rate will be much higher than if you send it our via Mailchimp or anything else (coming from your account as plain text)

If they respond to your email, then you'll also get whitelisted in the mailing software so your future emails will have better deliverability

And fewer emails will end up in the Spam or Promotions folder in the long run
I send a welcome email to every one of my new subscribers. It takes 1-2 mins a day to go through them, but the upside is huge. You ask a personal question, you customize the experience, and the readers are super thankful for this.
Automizy has an awesome Zapier integration, so you can connect it with all your favorite tools!
Mass Emailing
This above process doesn't mean that you have to email everyone one by one for the rest of your life. You can use an email marketing solution of course. For this I use Automizy.
When I send out a newsletter to the 5000+ subscribers, I have a small trick I use. I resend emails to no-opens after T+3 days with a different subject line. In Automizy, I can set this up when I create the campaign.
It takes about 1 min of work but can result in 10%+ increase open rate.
How does this work? How to resend to no-opens?
Check the "Allow resend if not opened" box at the Set Target step of the campaign sending wizard
Select the number of Resends and the waiting periods between each Resend
Write new subject line(s)
In the next step, you'll see all details about your campaign including resends like this:
I like to change the subject line because the last time you sent it:
it was just too boring for them to click on

they have missed it

It was not the right time, they saved it for later but then forgot about it.
But a good, catchy subject line can do magic even with a resent email.
I usually get 40% open rate on my emails. So I can resend the email to the other 60%. Of that 60%, usually 15% open the 2nd email. Which means that instead of the original 40% open rate I go up to 49% open rate. (The math: 100%*40% + 60%*15% = 49%).
That is a 22.5% increase with just a minute of work.
On a list of 5000 readers, this is almost 300 extra readers with very little effort. I guess any marketer will take that result. Any day.
Retargeting
Email addresses are not only useful for sending emails to them but can also be used for retargeting ads on Facebook. You can upload them to Facebook Ads' platform as a custom audience and target ads to subscribers only. The performance on these PPC campaigns can be super high with this type of targeting.
I have employed this tactic before, and the ROI on those ads were always higher than if I just targeted readers of my site. Those who give you their email address can have much higher engagement and a chance of buying from you than those who just surf your site.
Closing Thoughts
Running a successful email marketing campaign is not super easy but not hard either. If you employ some of the tactics in a good workflow, you can increase the value and efficiency of your campaigns.
With a personal welcome email, you can stay relevant, get to know your readers and have better deliverability in the long run.
The no-open resend tactic requires very little work but can have a great incremental uplift in traffic to your site.
And using emails to create better targeting segments on Facebook is also a nice way to increase the return on your ad spent.
Is there something I missed? If so, add them in the comments! Happy to learn a few new tricks!