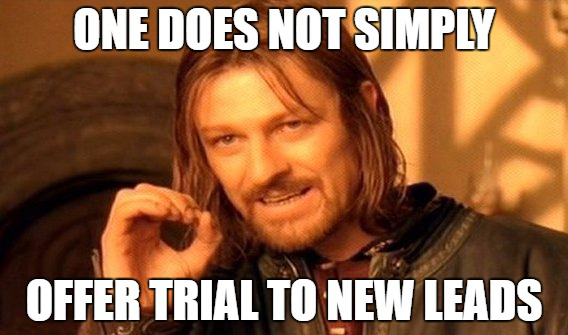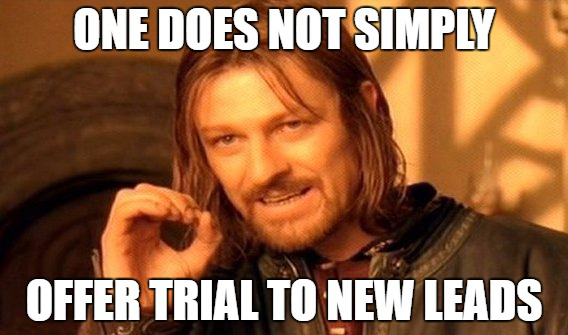 Do you advertise free ebooks, tips or sheets to acquire new leads, don't you? You don't really know what to do with these leads? Or just want to know the best practice of nurturing new leads?
Here are 2 must-use welcome emails and 1 more advanced email series you should use to make much more leads start your trial and increase conversion rates!
1. Say hello to your new leads!
Just to make it clear: generating new leads can be challenging – you did your research and know your prospects' pain points. You created your hooks, an ebook, cheat sheet, anything. You have a subscription form on your website and blogpage that offers valuable newsletter if your visitors' give you their contact information.
Theoretically, everything is great but conversion rates are still not good enough.
This is why you always have to thank your visitors' actions and confirm that they are on the right path to reach a specific desired end result they want (not to mention that it will increase conversion rates).
1.1. Welcome: newsletter subscription
First of all, you need to confirm that they did a good step: they successfully registered to your newsletter. You should always tell your leads that they are at the right place, this is still you. Utilizing the same branding (logo+colours+design) on every media is sufficient – if your lead becomes uncertain just for a sec, you'll lose him.
The second important thing is that you always have to show explicitly the next logical step for your leads. In the case of newsletters, I really suggest you show them one of your best articles with a very catchy summary of it. Always use call to action buttons that will increase conversion rates as well!
The third thing in your newsletter welcome message is to offer them to go to your blog page. It is possible that they subscribed on your webpage, therefore, you shouldn't miss the opportunity to send them there as well.
In addition, you can ask them to like your social media pages if they want to read your contents that will be published only on social media.
1.2. Welcome: blog subscription
When somebody subscribes to your blog is almost the same if he subscribes to your newsletter. Well, basically he'll receive the same newsletter. But he is interested not just in the topic you speak about, but in YOUR original contents.
But firstly the same applies here: you need to confirm that they did a good step and they are at the right place – it will surely increase conversion rates. So put your logo there and give them a confirmation that they successfully subscribed to your blog!
Secondly, I really suggest to repeat the benefits and make your lead remember what he opted-in for. Every prospect wants to reach a desired end result and by repeating these benefits, you convince them to be more and more engaged with your stuff – and eventually to buy from you. (Yes, lead nurturing is a process that starts from the first time you meet your leads.)
Therefore repeat that you will send them articles on the promised topic. Make it clear for the lead that you handle his data securely and you won't spam him. After you confirmed his action and promised that you are not the spammer type, you can easily tell him that you will send emails (but not just only newsletters).
This is where a blog subscription is different from a mere newsletter subscription: you assume a higher engagement from the lead and a higher possibility to increase conversion rates among these leads.
And the same applies here: showing the next logical step with the help of a call to action button is very important – it will also increase conversion rates.
You can give them suggestions with links to your articles. I hope you craft your blog contents according to your buyer personas, therefore here you will have the chance to link to different articles. For example first article interesting for only buyer persona 1, the second is for only buyer persona 2, etc. This way you will be able to find out your lead's buyer persona based on his choice (by tracking which link is clicked by him).

You can introduce your company to them with an elevator pitch that contains the unique value proposition of your service. It can be a good solution to give them a link to your "about us" page as well. (I hope you put a free hook to the bottom of your about us subpage – this way you won't let your leads just bounce off without taking any action and also will increase conversion rates).

In the end of your welcome message it is a good thing to give your leads the opportunity to contact you. This way you can get feedbacks but also segment the highest engaged leads by giving the chance to start conversation with you!

/Bonus information on marketing funnels below!/
2. Increase conversion rates: introduce your brand!
2.1. Welcome: downloaded hook
If your visitor gave you his email and name because you offered him a free content (a hook) on a landing page you have to send him an email with it.
In this case, you need to send a personalized email with the name he gave you which is proven that will increase conversion rates. In the beginning, you briefly introduce yourself to him and after that, you immediately give him the link where he can download the hook he opted-in for.
To be honest lots of people skips this part, therefore you need to implement the download link in to the pitch.

The next step is your elevator pitch with explaining your target market and buyer persona, and also a short statement that shows how you can help the lead specifically. In addition, you can take advantage of your company's value – but only if you can show the connections between the downloaded hook and the value you own.
On top of everything, here you can tell your lead that you will send him related contents (yes, offers too!) that will increase conversion rates later when you offer your trial.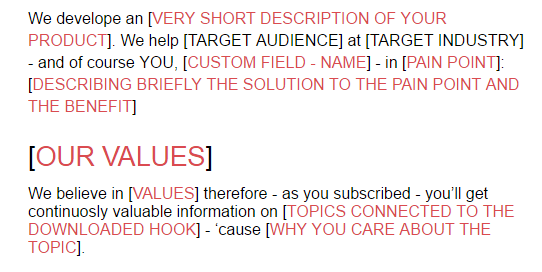 Then you have to repeat the benefit your lead will PERSONALLY gain. (Hopefully his desired end result.)

The next step is optional but can be very effective. Give them a few steps guide, that shows him how he can educate himself on your SaaS. Use scarcity to make him throw your email on to the whitelist area, then ask for a small commitment (like us on social media) then ask them to visit your website. These actions have two big benefits for you:
You make your lead more engaged with you by asking for small commitments

You improve your email deliverability by showing that your email recievers are highly engaged with your content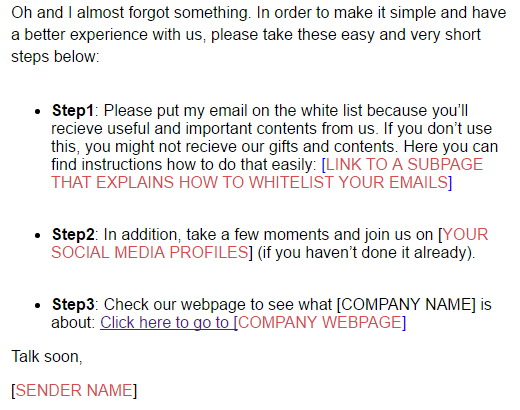 Normally lots of companies stop at this points. But please, don't! Because your goal is to increase conversion rates. In order to establish trust and keep your leads engaged, offer your leads plus free contents that are related to the topics they are interested in (the hook itself).
So use the P.S. section to:
create curiosity to chain your leads to your emails,
over deliver your offer to establish trust,
surprise your leads and start to build up a brand and marketing they love!

Introduction 1: teach them to read your whole email
A good copy always creates curiosity first to maintain attention (that helps increase conversion rates). Therefore you should start with confirming and reminding that you will fulfill the promise you made previously. But before you give him the article, you should introduce yourself.

As you can see below, we at Automizy use a picture we made. It's our core team. It makes the relationship a little bit more human – we are not just a faceless company anymore.
Below the picture, we describe what our prospect can see on our picture and share a story that gives the context of the picture itself. As wisemen say: If content is king, context is god. Anyway, the power of storytelling can be very effective – it increases engagement.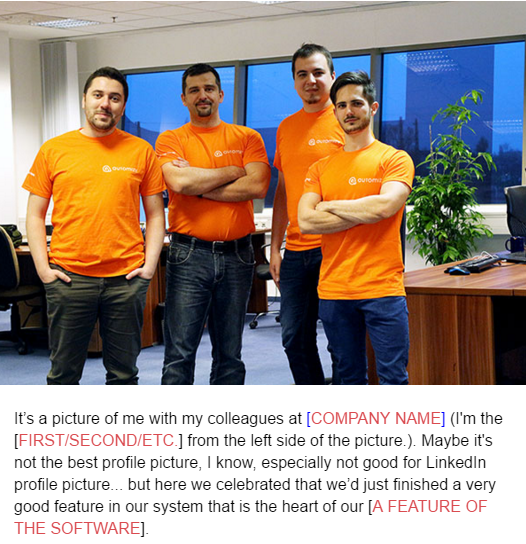 And then what you can do with this "about us" section is to take advantage of this depicted "human face" and tell your lead that this type of approach that he can expect from you.
And the time has come to fulfill your promise: give the link to the first article or free content that is related to the hook the lead had downloaded.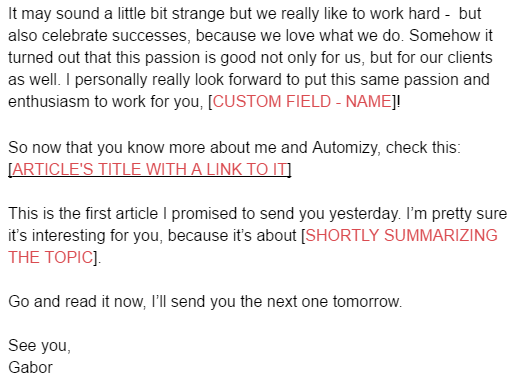 But don't leave it like this! Over delivering is one of the most effective tools you can have to create a brand that is loveable. Unexpected but helpful actions have a strong message: your company can be trusted and it really cares for his clients.
So in the P.S. section, you should give your second article! Along with eliciting good feeling in your lead, now you teach your lead that it worths to read the whole email (or at least check the last parts too).
In addition, confirm that you will send him the third gift with the specific subject line.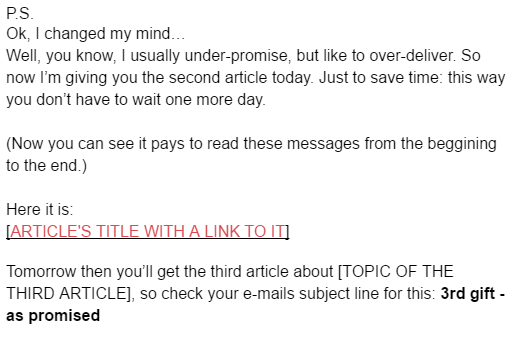 Introduction 2: prepare leads to start trial
The next email should start with a short summary of what the lead got from you. It will convince some of your leads to read those emails (in case they didn't do it) but also will show the lead how much value you already gave him which will increase conversion rates eventually.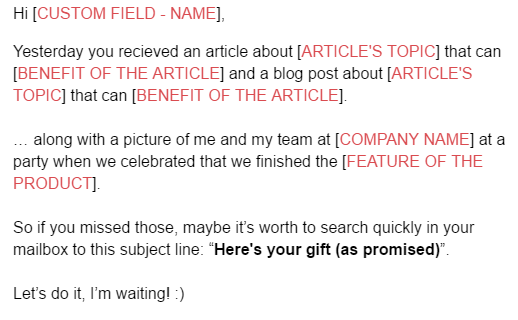 Now that you showed how much value you created, give the lead the last piece of content you had promised. Always summarize the benefit of the articles, topics specifically for your lead.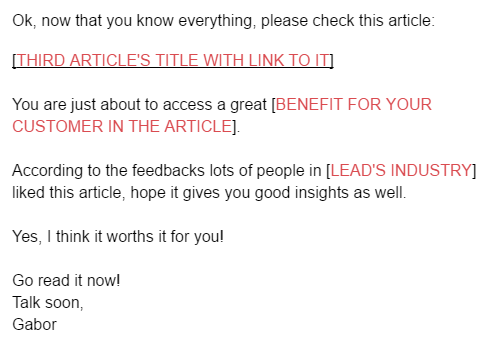 And you can take advantage of the P.S. section again: ask the lead to subscribe to your newsletter, like you on different social media pages, put you on whitelist, etc. You can ask them to make more commitments because you showed how much value you can create.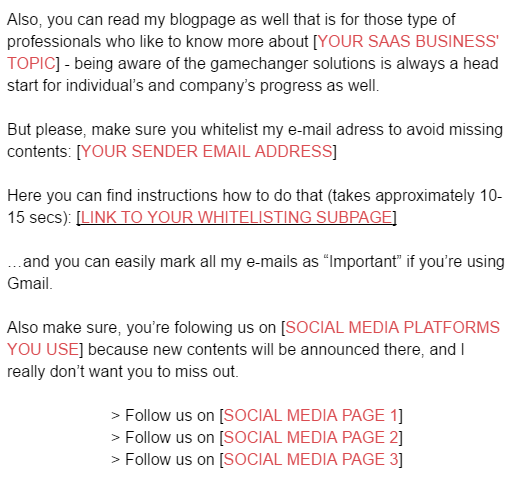 Now what?
You sent your leads welcome messages and introduced your brand to them. But you haven't made them start your trial. So "now what? How will it increase conversion rates?"- you could ask.
Customize the "changeable" parts rapidly or just get inspiration from them.
In addition, you can automate the whole process in order to increase conversion rates. Just to show you a working email workflow with the introduced emails, here are two pictures: how these emails will be sent out automatically (in Automizy system):
If someone downloads your hook:




The two brand introduction emails:

He graduated from the Technical University of Budapest, with master's degree in Software Engineering, Economics and Management.
As a serial entrepreneur he has 10+ failed projects and one big winner one: growing Protopmail email marketing service from zero to a market leader position in Hungary.
He has been working more than 20 years in software development, more than 10 years in IT project management and also having the serious of 10+ years experience in email marketing and marketing automation.
Aside from running a successful business, Gabor is also an email marketing and marketing automation consultant and works for clients like GE Money, DHL, Bridgestone and for several banks and insurance companies.
He also appears at multiple online marketing colleges as a guest speaker, and a well-known speaker at online marketing related conferences.
Gabor speaks 4 languages, has three kids and he is a serious golf addict.
https://automizy.com/wp-content/uploads/2016/05/One-does.jpg
335
568
Gabor Koncz
https://automizy.com/wp-content/uploads/2018/02/logo-2.png
Gabor Koncz
2016-05-10 00:00:11
2019-03-11 11:25:18
Increase conversion rates with these 5 proven emails