Thrust forward your marketing with
the world's most intuitive, insightful
and ingenious email marketing automation platform.


Visual Automation Builder
We greatly simplified building email automations to speed up your work. You'll get a fully integrated visualization board that will lead and inspire you to create high-performing email automations.
With Automizy, you'll create and execute higher-performing campaigns in less time for better results.
Move this here, drag that there. With our simple drag and drop email editor, you can move elements like they are pieces on a game board, designing ultra-responsive emails. Insert a CTA button, drop in an image or video.
Whatever you want, just the way you want it. On brand, all the time.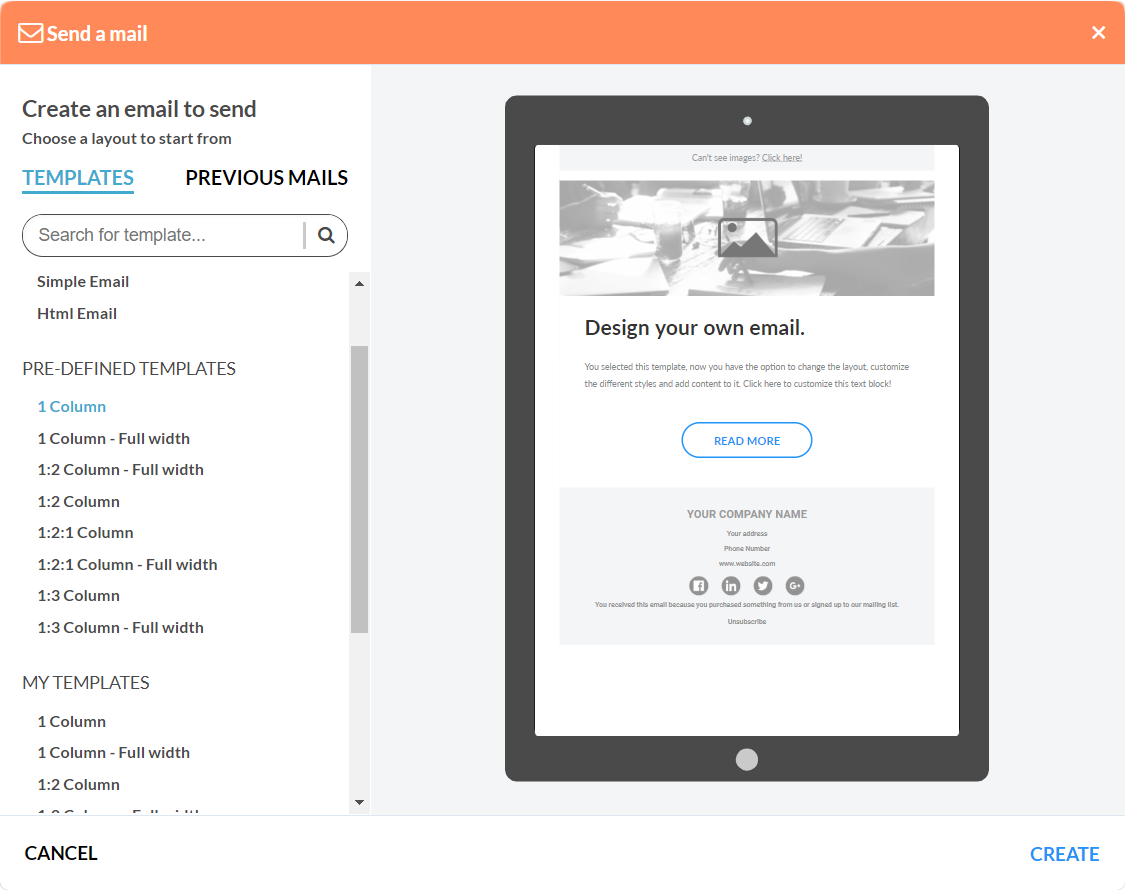 Why start from scratch when you can steal a battle-tested smart email template? With a few clicks, you can easily create an optimized email, ready to engage your audiences.
Our smart email templates enable you to thrust forward faster. Steal away.
Stats don't lie. Personalized emails generate more opens, more conversions, and more sales. Simply drop a custom field into any campaign and voila, you're well on your way to better results and higher sales.
Think about it. How many times did you reply to an email greeting: Dear Valued Customer? Yeah, we thought so. Get personal with Automizy.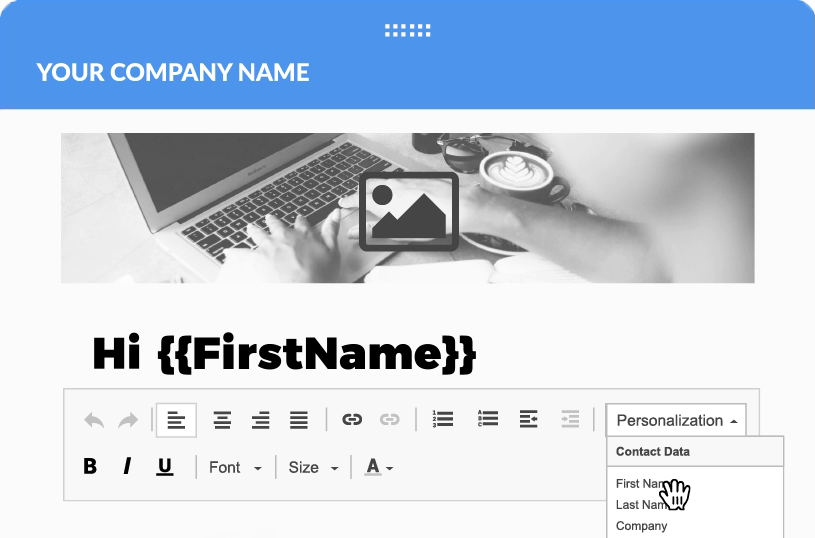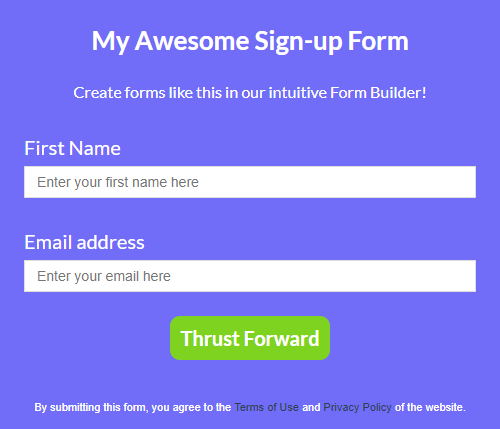 Forms are double-edged swords. They're essential to growing your prospect database, but often a hassle for prospects. We make it easy to drop in optimized forms into your webpages.
Forms that don't intimidate prospects but entice them with silky graphics, sleek layouts and simple submissions. Form nirvana.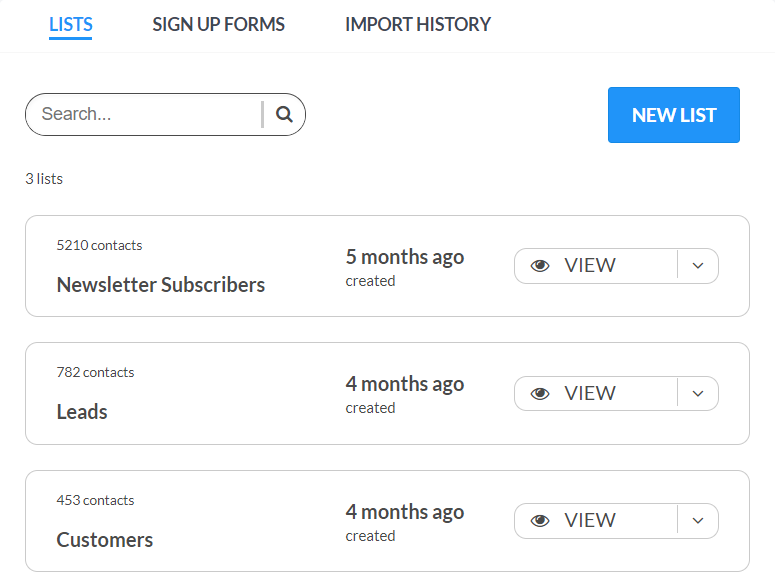 There's no such thing as "go to market" anymore. It's all about "go to customer." That's why it's critical to have live filtering and segmentation of lists so you can execute campaigns that have the right message for the right audience.
With a few clicks, you'll be launching targeted, segmented, personalized campaigns that convert at higher rates.
Smart email campaigns are like playing ping pong. There's a back and forth that happens. With each return, you're able to send even more relevant content that generates even better results.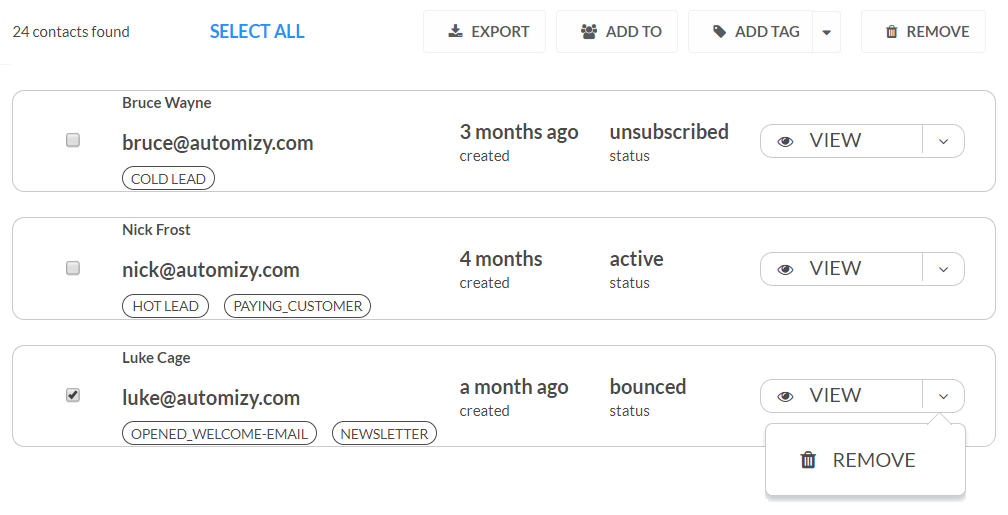 Upload your contacts in a CSV format from virtually any source, including Excel, Gmail, Outlook, and more. Automizy manages unsubscribes, bounces, and inactive emails so you're always dealing with a pristine target list.
Use our ingenious Live Filtering feature to create laser targeted segments and send highly relevant emails to a specific group of contacts. Save them and use them anytime you'd like.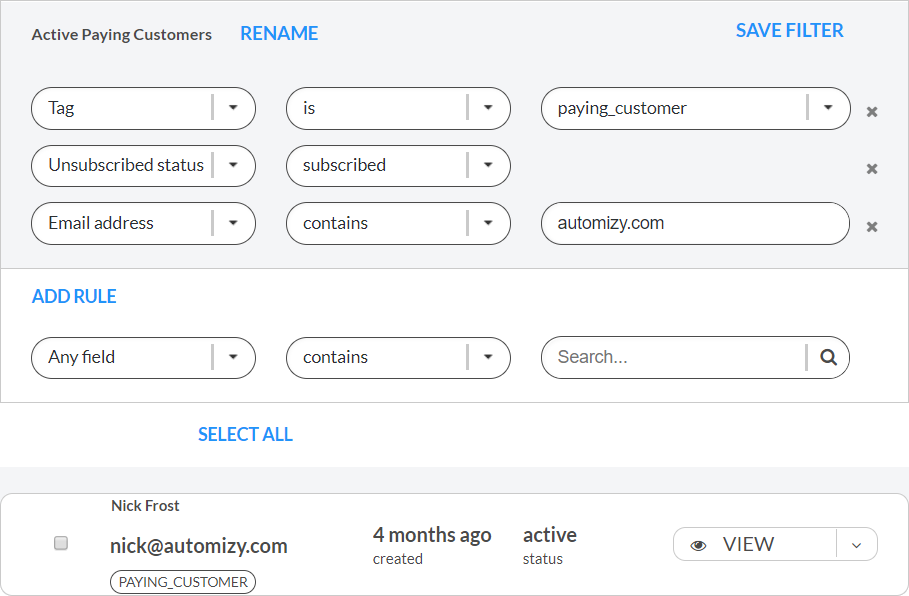 Just who is opening your emails and clicking on content? Email marketing is a personal endeavor, not a group sport. By understanding the behaviors and actions of actual people, you can better engage them in conversations that maximize potential.
Real Conversation Management
Most of our competitors do basic drip campaigns. We do drip on steroids. We call it conversation management. Our tools enable a conversation to advance logically, based on personas, based on conditions, and based on the ultimate objective. Drip campaigns are one-way broadcasts. Our conversation management tools enable connections to happen more effectively because conversations should be a two-way street.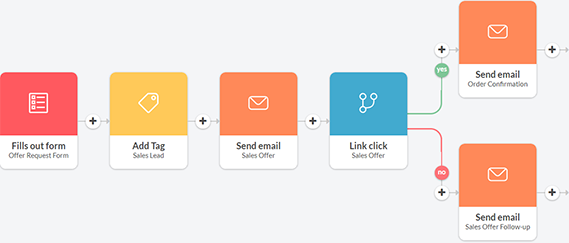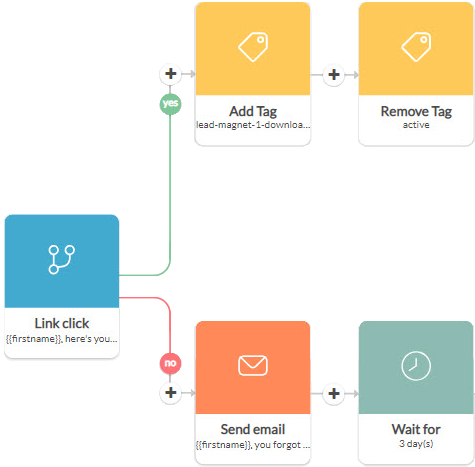 Personalized Customer Journeys
No prospect or customer is the same. Which means no prospect or customer travels the same journey to find you. That's why our customers love the ability to create detailed buyer journeys with our software.
Humans forget. Automizy doesn't. Just plug in a reminder once, and we're like a steal trap. We will send messages even when you're relaxing in front on the TV or down the local pub enjoying a cold one.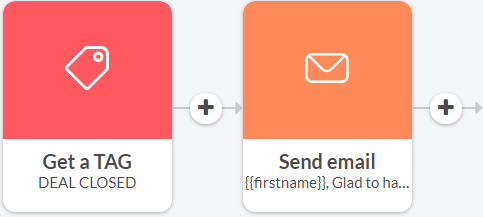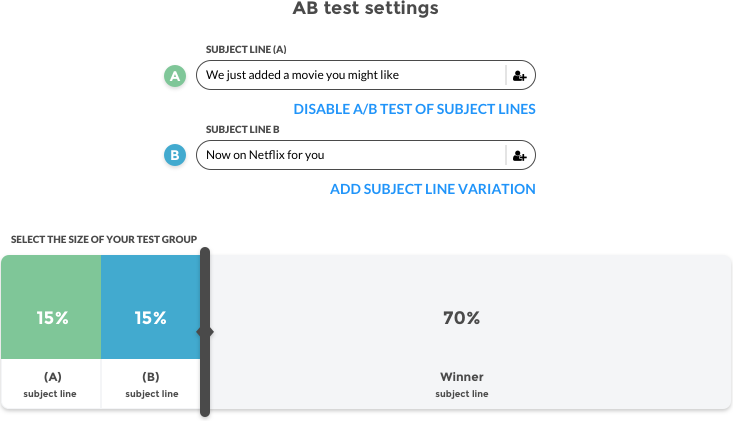 As much as we'd love marketing to be a science, it's not. Creativity matters. That's why our A/B test system allows you to constantly improve results. Change a subject line and then test. With results to measure, you can easily thrust forward your marketing.
If the email never hits the inbox, does it make a sound? Of course not. That's why we're fanatics when it comes to email delivery. We're like air traffic controllers, making sure each email arrives safely according to schedule.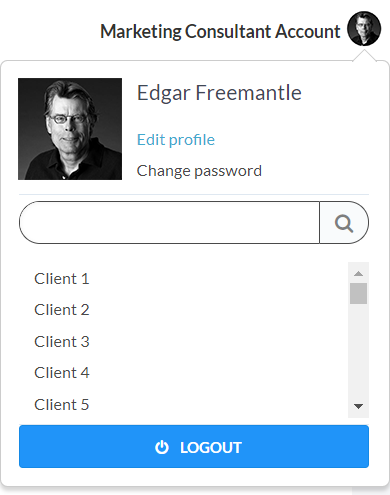 Collaborate, in full thrust. Invite your colleagues as users for your account. Handling multiple accounts can be challenging, but not with Automizy. Switch between multiple accounts seamlessly, with two clicks.
Connect Automizy with the apps that work for you. Zapier lets you integrate Automizy with more than a 1000 apps such as Facebook Lead Ads, Google Sheets, Slack, Salesforce and many more!

Identify the bottlenecks in your automated email campaigns. Check the overall statistics for all of your automations together, or delve into the deep analytics of every email inside your automations. These levels give you insights on what to keep, drop or enhance.
Done correctly, email marketing should get smarter over time. Sends, opens, clicks and other tracking elements all inform future campaigns and initiatives. Automizy's dashboard paves the way to success.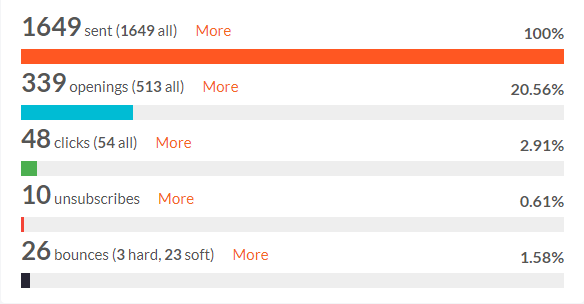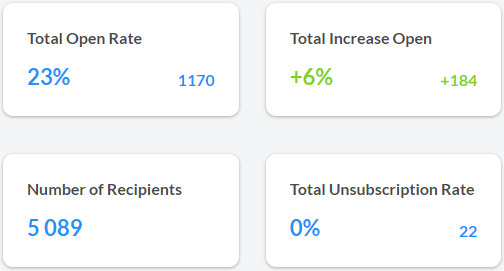 Track Success in Real Time
Automizy's email marketing dashboards provide real-time tracking tools that report who's opening, clicking, and sharing your emails. Know what's performing well and what it isn't.
Book a consultation now
and feel the thrust.
With Automizy, Thrust Happens.
It happens every day, for every customer, in infinite ways.
So, climb aboard, strap in and experience velocity like never before.