When doing business online, you can't shake your customers' hands and thank them to express your gratitude.
Yet, sending the perfect personalized appreciation email has the same impact as thanking your customers personally.
Sending appreciation email campaigns will help you increase your customers' lifetime value.
So for whom you should express gratitude? What to include in the email? How to make it feel personal?
To help you craft winner appreciation emails, I'll guide you through:
Let's start.
What are Customer Appreciation Emails?
Customer appreciation emails are the emails you send to reward your most loyal customers.
Without a doubt, a business is nothing without its customers.
Expressing gratitude for having your clients and email subscribers will strengthen your customer relationship and catalyze their loyalty toward your brand.
Why Should You Send Appreciation Emails to Your Customers
Do you need to send appreciation letters? Absolutely.
If you walk into any store in your city and buy a product/service the clerk will eventually say "thank you". Even if you just visit without buying anything, they'd still thank you for visiting.
Unlike the offline shopping experience where you can have your product onsite, buying products or services online has a certain amount of anxiety that comes with it.
For that sending appreciation emails to your customers gives them a sense of reassurance, and shows the human face of your brand.
Customers expect responses after subscribing or placing an order. By sending appreciation messages, you gain customers' confidence.
How to Write a Thank You Email For Appreciation
Thank you letters are a great way to express your appreciation for your customers. There are tons of ways to say thank you.
When tailoring your thank you note, it is important to choose the phrase that fits the reason why you're sending your email.
When writing your appreciation email, consider the following tips:
Say something positive in the subject line
Express thanks and appreciation
Write in a friendly tone
Use the correct greeting
Give some specifics
Say thank you again
Be positive and sincere
When to Send Customer Appreciation Emails
A customer appreciation email is a user-action based email. It means that appreciation letters are triggered by specific user action.
This way you send emails with the right content, reaching out to the right person.
You do not show appreciation only to customers, you can automate appreciation emails to:
Clients who share their feedback
Visitors who sign up
Newsletter subscribers
High-value and loyal customers
Job applicants and interviewees
Customers on their birthday
Event/webinar attendees
9 Ways to Send Customer Appreciation Emails
1. Thank your customer for doing business with you
Send thank you emails to your customer after purchasing your product.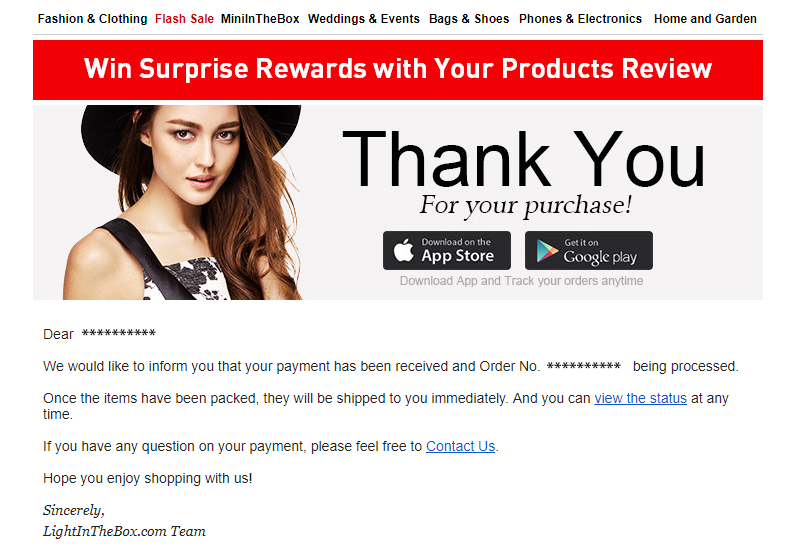 As used in the email example, you can ask your customers for a product review or referral in exchange for a reward.
2. Show Gratitude
Great layout and simple options for this email. Thanking every newsletter subscriber is among the best methods to show gratitude and welcome new email contacts.


3. Show appreciation with a special offer
Using an opportunity in an appreciation newsletter to offer discounts is a good idea to increase your sales.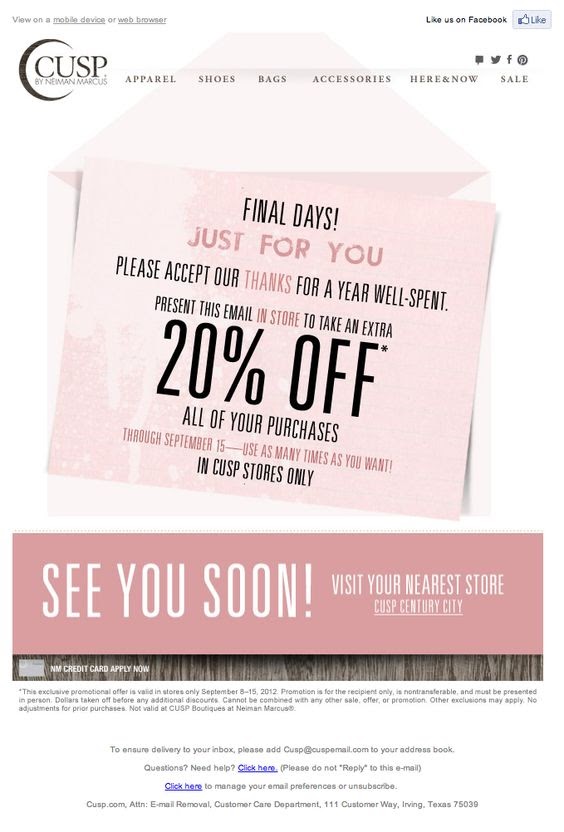 4. Send an appreciation letter to a colleague for good work
Take a look at a sample appreciation letter for an employee who has done exceptional work in the project.
It has a formal tone but expresses gratitude and highlights the importance of the work done by the recipient.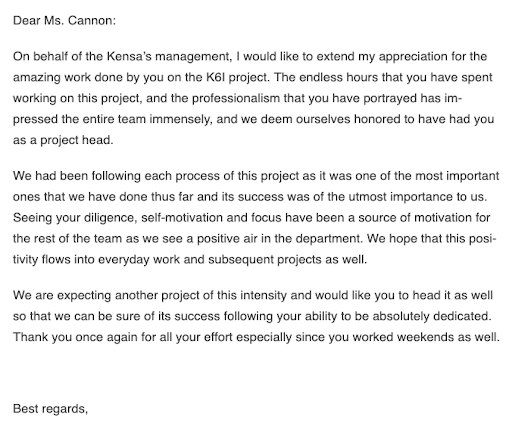 5. Reward your customers on seasonal holidays
"I don't like gifts and rewards." Said no customer ever.
EmailUplers took customer appreciation on Saint Patrick's day to the next level using a gamified appreciation email template.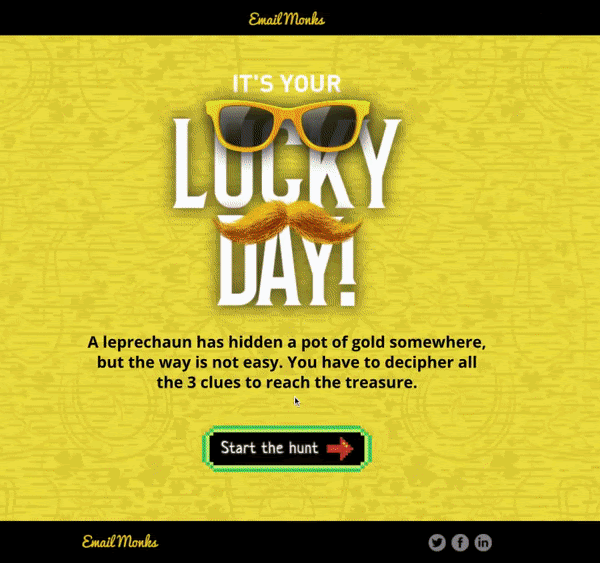 6. Thank your loyal customers when reaching new milestones
What could be more special than sharing the highlights of the relation between your business and your customers?
Harry's created a video in which they included customer feedback highlights and shared it in this straightforward, clean video appreciation email with their most loyal customers.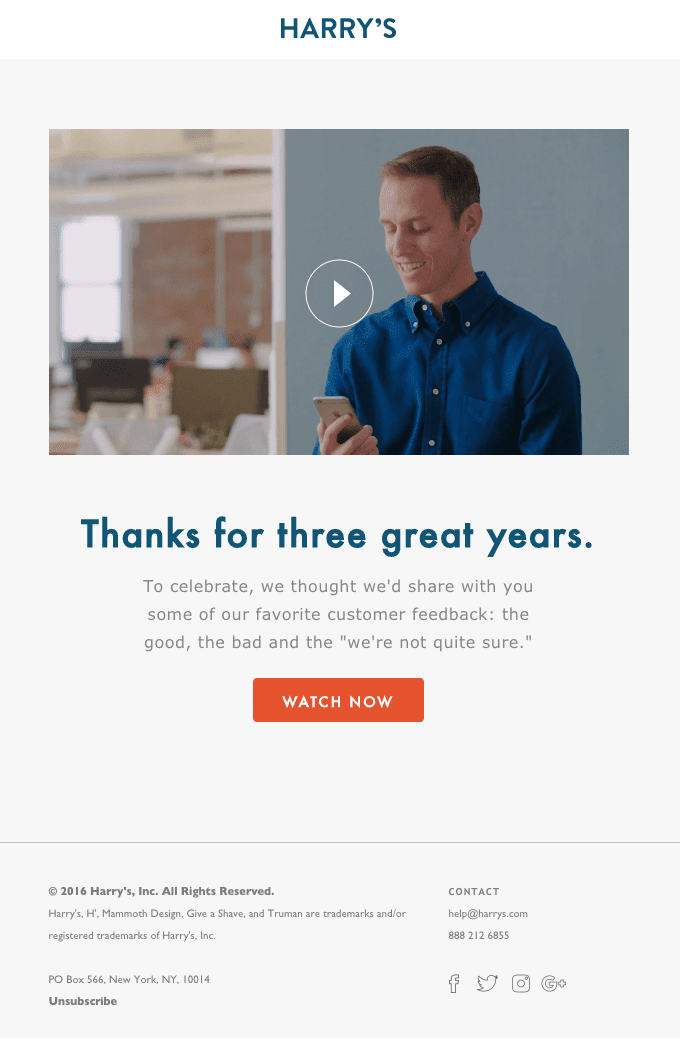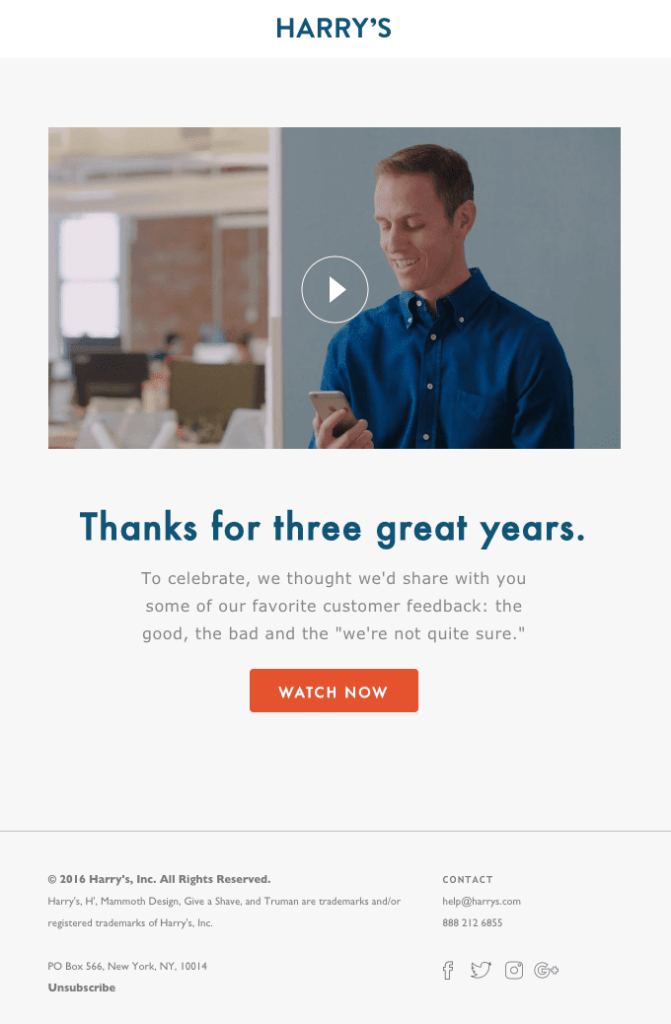 7. Offer gifts on your customers' birthdays
Another method to show gratitude to your customers is to reach out to them on special occasions such as customers' birthdays.


8. Ask for customer review
Potential customers trust reviews more than they trust businesses, so make sure to collect as many positive reviews as possible, and email is a great way to do this.
Take Tradegecko, for example. Their appreciation email is simple.
They thank the user for being a superstar customer and then ask for feedback. Notice how they make the user know how valued they are.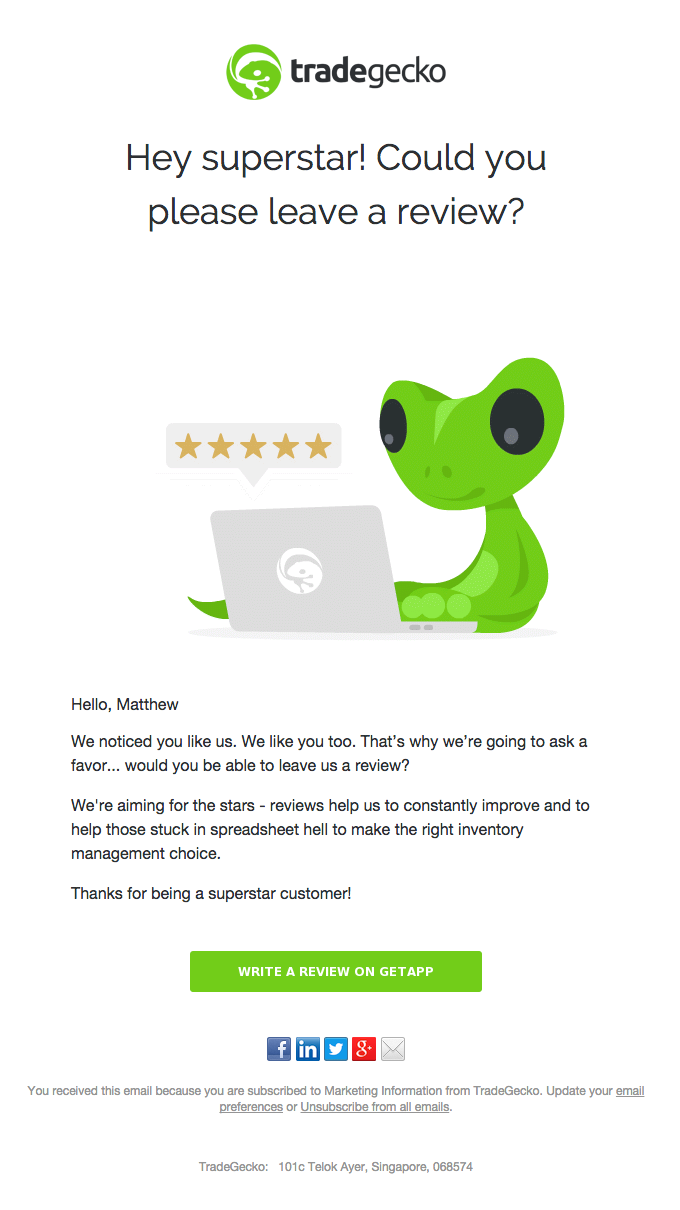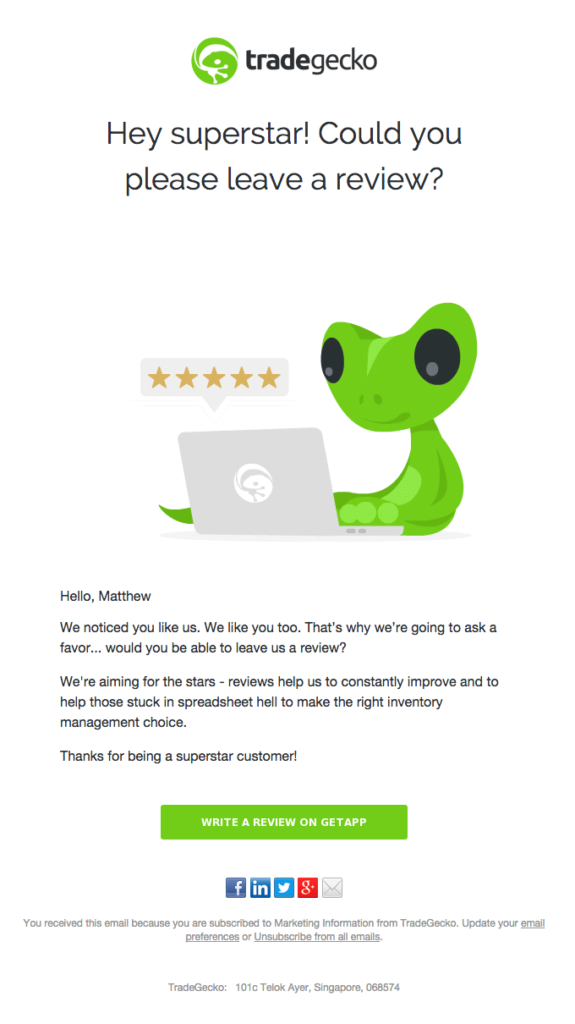 9. Surprise and delight your customers with gift cards
Amazon is known as the world's most popular eCommerce website because of their reputation for taking care of their customers.
Well, they sent the following surprise gift card as customer delight and appreciation.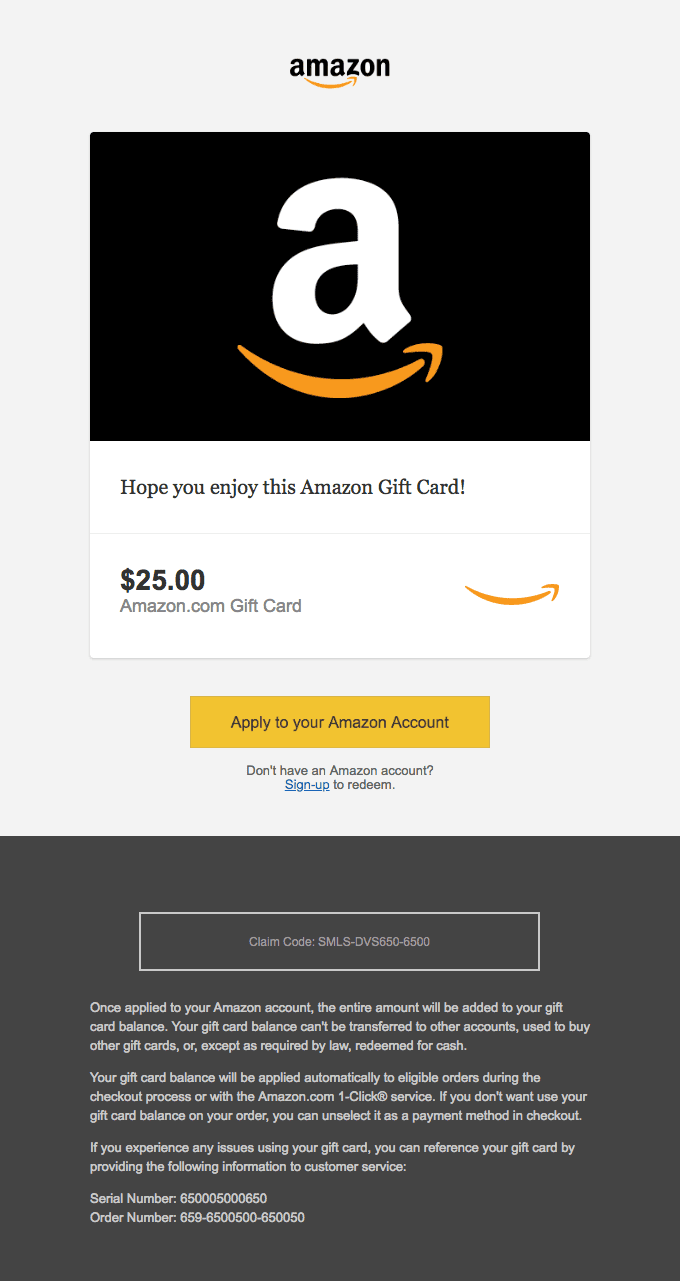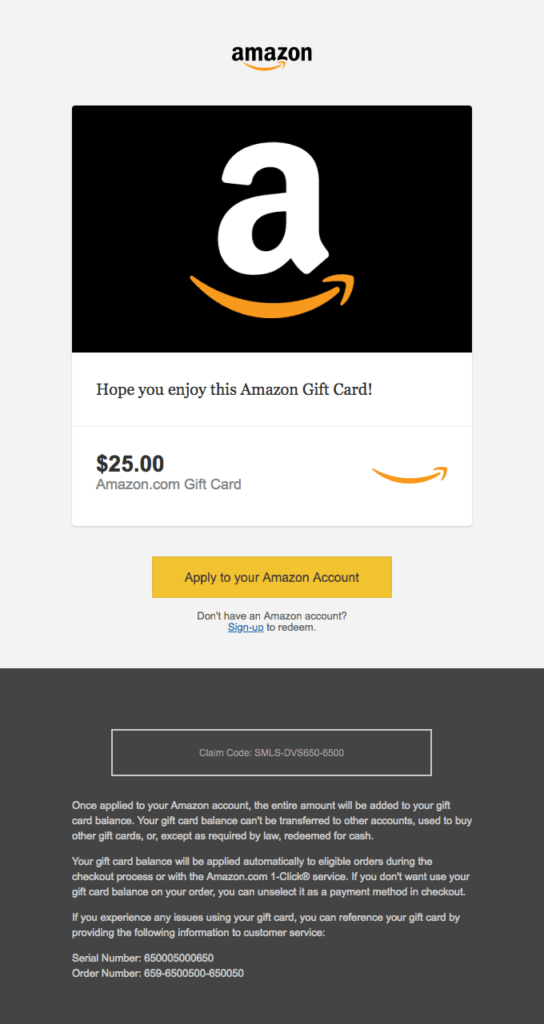 19 Appreciation Email Subject Lines
"Thank You!"
"Thank you from the bottom of our hearts"
"(Name), thanks!"
"Did your purchase live up to your expectations?"
"Thanks! So glad you found us 📯"
"Thank you for applying to join (…)"
"We totally appreciate you as a customer"
"Thanks- here's an offer for you 💖"
"Thank you for dropping by (…)"
"It makes us happy that you chose us 🎈"
"Thanks for subscribing to (…)"
"Thanks Again!"
"A message to (Name)"
"Thanks so much for your order"
"Glad to have you as a customer"
"So glad to have a customer like you"
"Thank you for traveling with us ✈️"
"Thanks for being part of our community"
"This could be the start of something awesome"
If you need some additional help, check out our free subject line tester tool which would help you decide on the best subject line to use based on data from over 1 million campaigns.
The tool also provides subject line templates you can use to increase your email open rates.

You can insert emoji symbols to your email subject lines with Automizy.

How to Automate Sending Appreciation Emails to Customers
Here is how to send appreciation emails by using an email marketing automation tool, with a descriptive explanation.
Select your automation trigger
Trigger different appreciation messages based on their actions on your website.
You can create personalized and automated campaigns that can get triggered when a contact:
Gets a tag
Gets added to a list
Submits a form on your website
Clicks a link in an email
Visits a specific website page
Add your appreciation emails
You can set up a basic automated appreciation email to your customers.
It would consist of a one single thank-you message whenever a visitor places an order and becomes a customer.
It looks like the following example:

Here is another example of a blog subscribers' automated appreciation drip campaign.


Whenever a new subscriber opts in for your blog newsletter a thank-you email is sent immediately to introduce your business and show appreciation for your subscribers.
Followed by 1 day wait period, subscribers receive their first blog newsletter, and right after a couple more days, another automated newsletter is sent.
With similar automated email sequences, you make sure that subscribers stay close to you. Starting from the moment they have subscribed and most interested in what you have to offer.
Create behavior-based appreciation email workflow
If you want to show appreciation to your lead magnet downloaders for example, here is how to create an automated email campaign for it.
The email triggers upon ebook download.
Based on the trigger an email is sent to deliver the promised lead magnet.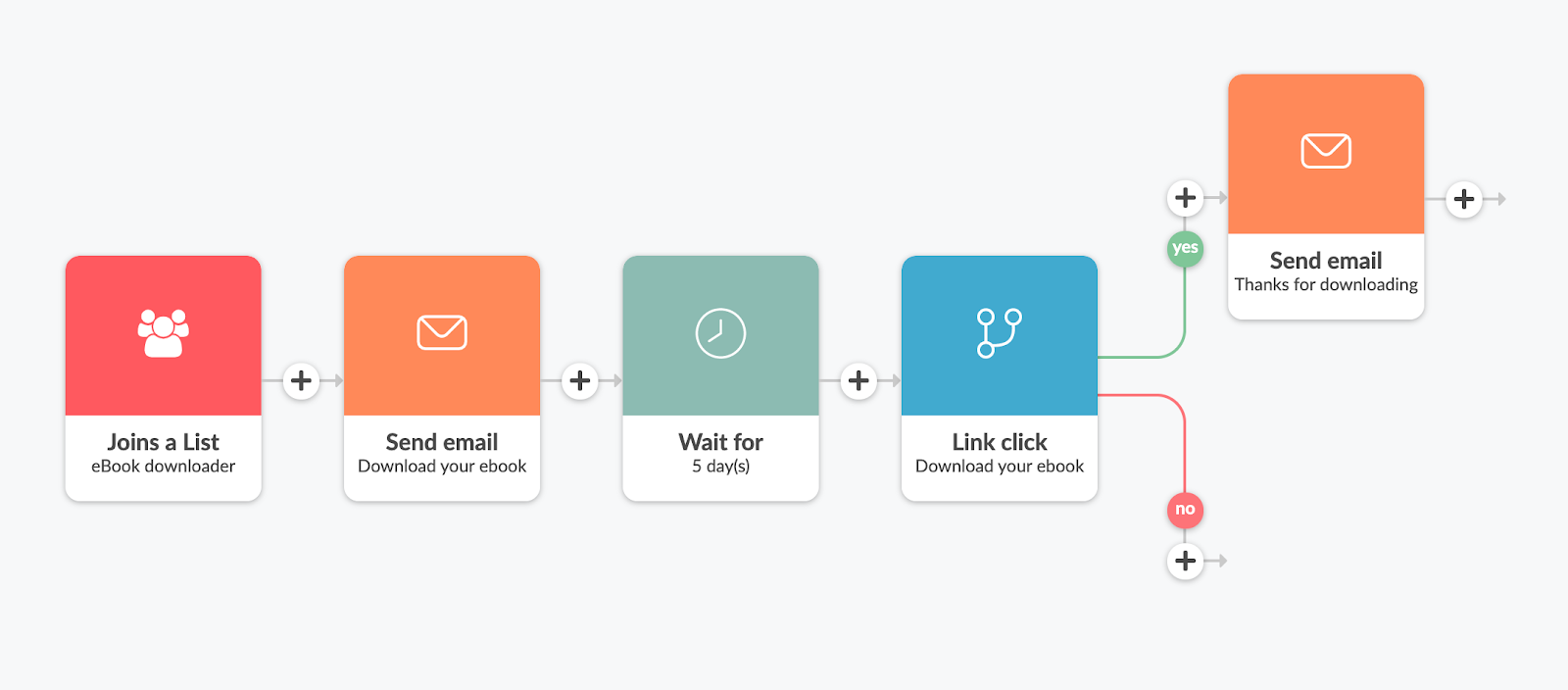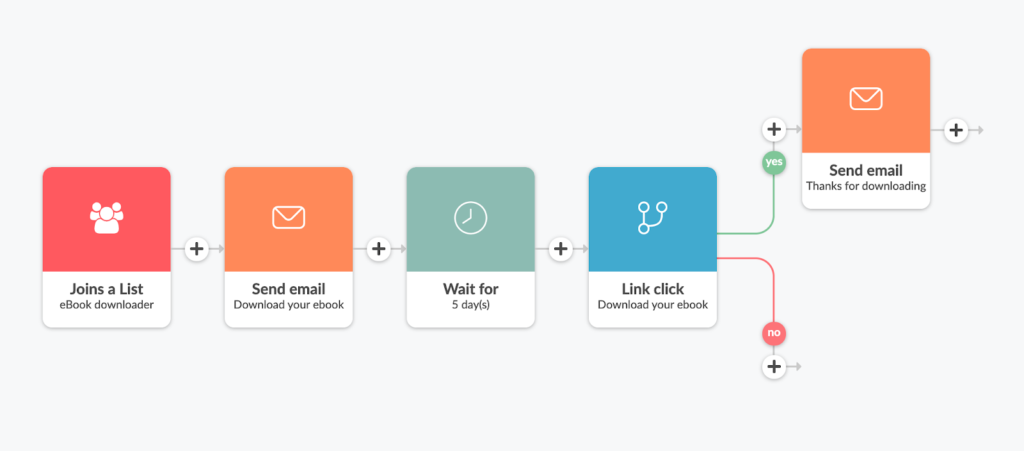 After the lead magnet email, insert a waiting period of 2 to 5 days to check if your customer clicked on the download link or not.
When someone downloads your lead magnet, you could send a follow-up email and appreciate their engagement.
For those who did not click the link on the lead magnet email, you can offer them a second chance to download it.
How to Send Personalized Appreciation Emails to Loyal Customer
According to Adestra, 82 percent of marketers reported an increase in open rates through email personalization.
Personalized emails have a 29 percent higher unique open rates and generate a 112 percent ROI.
Personalize your email subject line
Email subject line personalization could increase your email open rates.
Personalize your bulk email campaigns with Automizy's subject lines custom fields.
Click on the "add field icon" in the email subject line bar, and click "Add" on the custom field you want to include in your subject line.
Personalize your email content
Even though you might be sending the same customer appreciation email to a list of loyal customers. You can still make each email different and personalize it to each contact using personalization custom fields.
Click on "Personalization" in your text box and select the custom fields you want to add to your email content.
Conclusion
The value of a business is determined by its customers. And since your customers are the most valuable asset of your company, expressing gratitude and appreciation is a must-do to:
Maintain long customer relationship
Increase customer referral
Increase sales results
Strengthen your customers' loyalty and drive more sales with the tips shared in this guide.
We would appreciate it if you send us your winning appreciation emails so we add it to our list 😊.