As a part of my job, I get into conversations with CEOs and marketers on the topic of email marketing, and I've always detected a confusion between the concept of broadcast emails and email autoresponders.

Implementing both is a way to reduce your workload, also each has its own special niche so it is important to learn when to broadcast emails and when to set up an autoresponder to achieve the best business results.

Luckily, today I'm putting an end to this confusion. I will share with you what are email broadcasts and autoresponders, along with great examples to inspire you. Finally, I'll show you how to create a broadcast email and autoresponder emails.
What is a Broadcast Email?
An Email Broadcast is an individual email you send to a group of subscribers in your contact list. It's most useful when you need to get an announcement out to your list or need to send a single email to update your subscribers or users.
Broadcast emails are also called bulk and mass emails.
With a mass email software, it can be scheduled to be sent on a specific date and time, but all your subscribers will receive your broadcast email at the same time.
Broadcast emails are handled manually, it can be:
Newsletters

Flash sales or promotions
Let's go through each one of these so you fully understand the concept of broadcast emails.
Strengthen your relations with email newsletters
Email newsletters are usually scheduled email campaigns.

It reminds your subscribers about you, it informs them about your new products/services, it tells them what you have been up to. And most importantly it helps you build a relationship with them.
Boost your sales with flash sales & promotions emails
The name is already self-explanatory, promotional emails are email messages that are focused on driving a purchase or conversion.
Use broadcast emails to inform, nurture, and retain relationships that lead to happier customers.
What are Autoresponder Emails?
Autoresponder is a type of automated email. It is a sequence of emails that are automatically sent to a specific segment of people on your email list, and it is triggered by a specific contact action, such as:
Joining your contact list
Fill in a specific contact form
Opt-in for a lead magnet
Buying a product
Autoresponder emails could be:
Drip campaigns
Follow-up messages
Automated conversation workflows
Let's go through each autoresponder email type separately.
1. Drip campaigns
Drip campaigns are automated emails that go out based on specific timelines.

They enable you to stay in touch with groups of people based on events like when a user signs up for an account.

Let's say a website visitor fills a contact form to receive a free PDF from you, once they click on submit, an automated email with the promised document is sent to the subscriber.

But you don't want the relationship with your contact to end there. After the first email, you'd want to introduce yourself or your business, send another email related to the same topic the subscriber is interested in, invite the contact to sign up for your business or buy a product.

Each time a drip email is sent out, it comes from a queued list of pre-written emails, so you don't have to sit on your desk and write an email for every new contact.

Even though these are automated emails, they can be personalized with your contacts' name, company info, and more.
2. Follow up emails
The follow-up emails that I'm explaining here are not those who start with "Just checking-in to see …", ", "Wanted to just check-in to hear …" you send when someone doesn't reply to your first email.
Automated follow-up email series are usually specified to a topic or a customer action, to make sure that no business slips away and you reach out to leads at the time when they are most interested.
Follow-up emails are also sent from a list of pre-programmed and pre-written email that you can set up within your email marketing provider.
Follow-up emails can be used to:
Facilitate users onboarding
Strengthen your relationship with prospects
Collect feedback and experiences
Describe available product options
Encourage upgrading
Increase order size
Reduce customer support requests
Make repeat sales
Follow-ups are not just scheduled emails. They can be varied according to your clients' actions, and can be fully personalized for each customer.
3. Automated conversation workflows
Automated conversation workflows include drip and follow-up campaign elements. It's more of an in-depth campaign, made of a personalized system of automated emails based on customer behavior and data.
Automated conversation workflows enable a conversation to advance logically, based on personas, based on conditions, and based on your business ultimate objective.
It looks something like the following: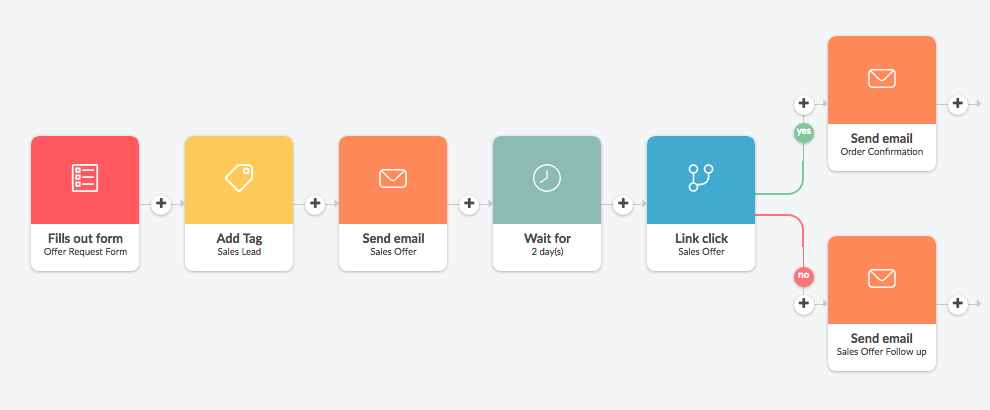 Customers are different, why treat them all the same?

Since customers are different, with conversation workflows you can make your customer journey personalized to each one separately and deliver the right email to the right customer.
These are 3 categories, but there are endless possibilities.
You can create automated email campaigns like:
Subscribers welcome campaign
Email course campaign
Onboarding campaign
And the list can get even longer based on what you want to achieve with your email marketing.
4 Broadcast Email Examples
We are thrilled to share 4 broadcast email examples with you. Get some ideas on how to kick-start your email marketing so you can keep creating messages that resonate with your audience.
1. Inform your customers about your business updates
A great example of broadcast emails from OptiMonk. They sent an email informing their customers about the new updates.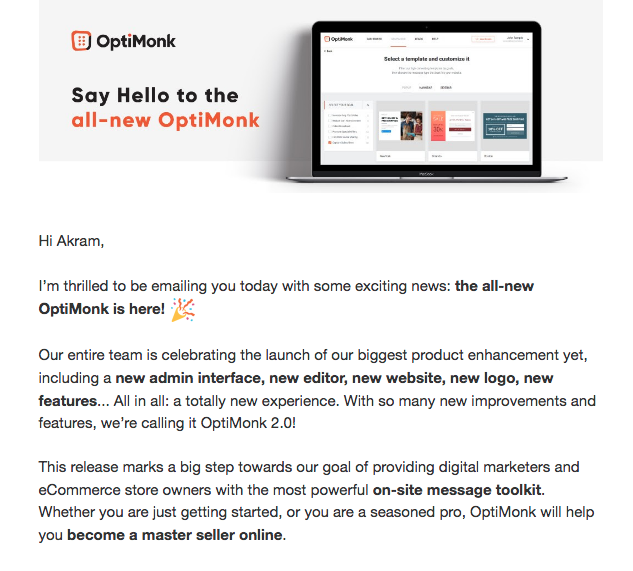 An email announcement to motivate their customers to discover the all-new platform they have created. Lastly, I love how they smartly used emoji in the email.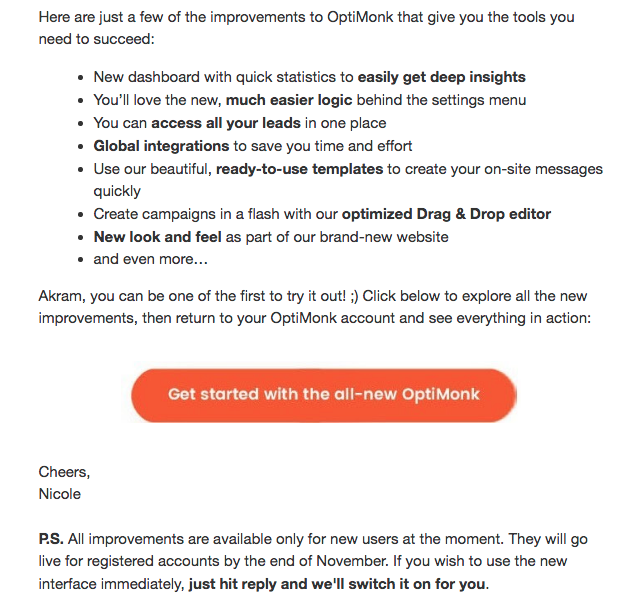 2. Promote your upcoming webinar
Sprout Social is another great example of a SaaS company sending stunning broadcast emails. They sent the following email to their customers promoting upcoming webinars.

The design is simple, yet amazingly appealing.
Their customers will find it hard to keep their eyes off those green call-to-action buttons.
3. Send your best blog posts
With email broadcasts, you can send your recent blog posts to your customers and leads. Sending your blog articles to your email subscribers helps you:
Keep your readers updated
Drive targetted traffic
Increase interaction with readers
You can aggregate a feed of posts from your blog and send it your subscribers. Zapier created a blog broadcast email campaign that looks like this: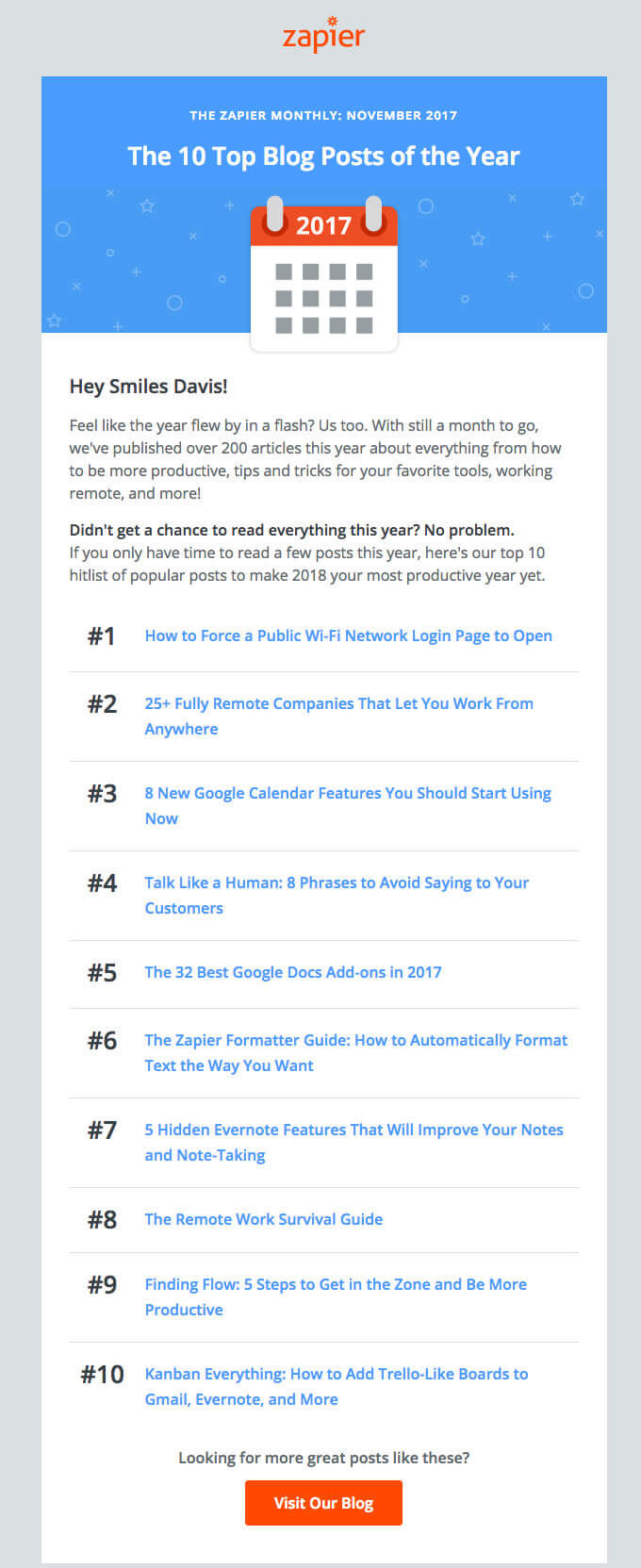 It is a piled list of their best blog articles from the whole year.
Actually, this could be a great idea for a post-Christmas email campaign.
Speaking of Christmas, holiday email newsletters can boost your year-end sales.
4. Increase your sales with a holiday email newsletter
Take the email below from St. Baldricks Foundation, for example. I love the header of this email: it provides a clear and catchy CTA.
When reading this email, you go like "Wait, is it Mother's Day already? Did I buy Mom a card?" Even if its too late you can send an eCard to your mother.

Making the best out of their emails, at the bottom of the email they did include a blog post related to the occasion.
Whoever created this email newsletter probably said: "If not a sale, it can be a website visit."
Broadcasting emails are not just about sending random emails to your customers and subscribers. It has to be a part of your email marketing strategy that will grow your business.
Autoresponder Emails Examples
According to the Epsilon Email Institute, automated email messages generate a 70.5% higher open rate and a 152% higher click-through rate than standard marketing messages.

Your email autoresponders are also a part of your lead generation process.
Let's take a look at 4 winning autoresponder emails.
1. An automated follow-up email
I mean Salesforce needs no introduction for how great their emails are. They did create the following email example as a post-event follow-up for the Connections live event.

Alongside the follow-up, they did include a report and a free eBook to download.
2. Increase conversion with an onboarding email autoresponder
For an excellent user onboarding email, you'll need a strong value proposition. One that has to remind them of their original goal and should be benefit oriented.
Great onboarding emails focus on the challenges of the users and the solution to these challenges.
Here is an autoresponder email example from Asana that users receive after they sign up.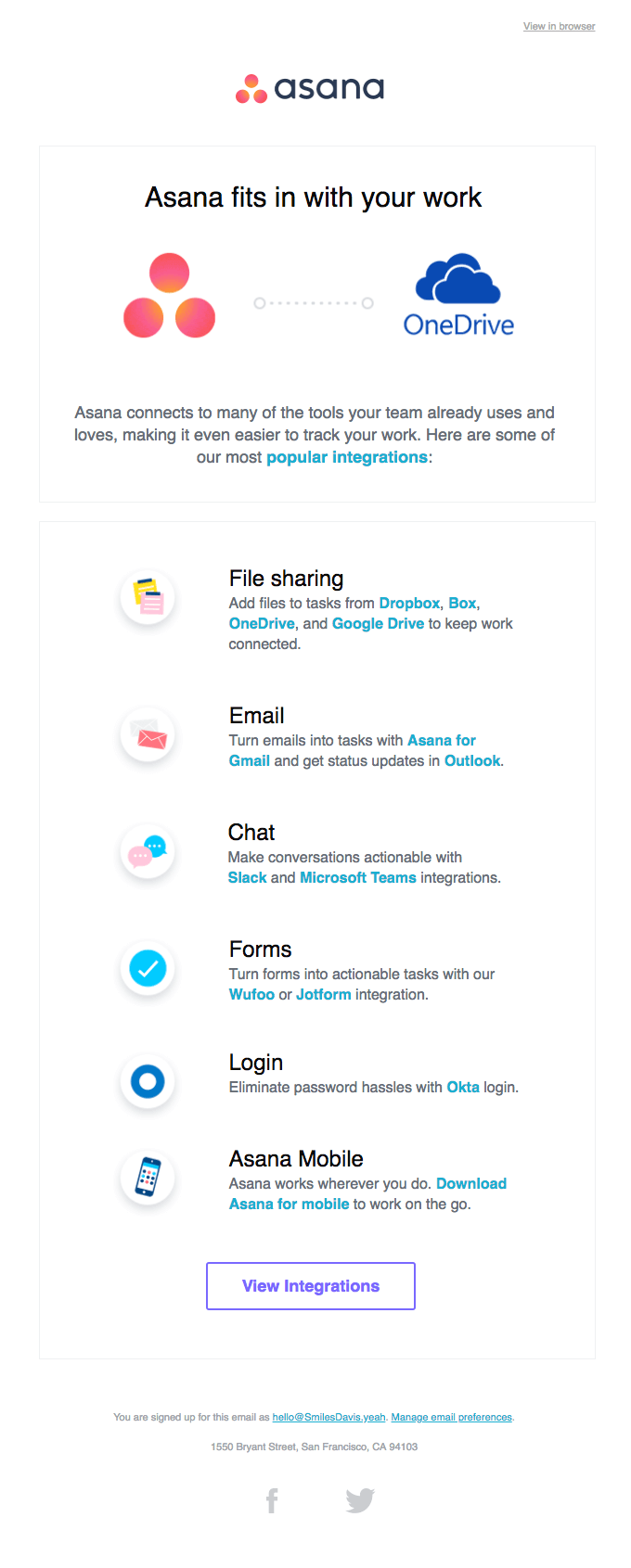 A few days later, they send another automated email promoting further features of the software.
You can see below, no sales yet, just more value.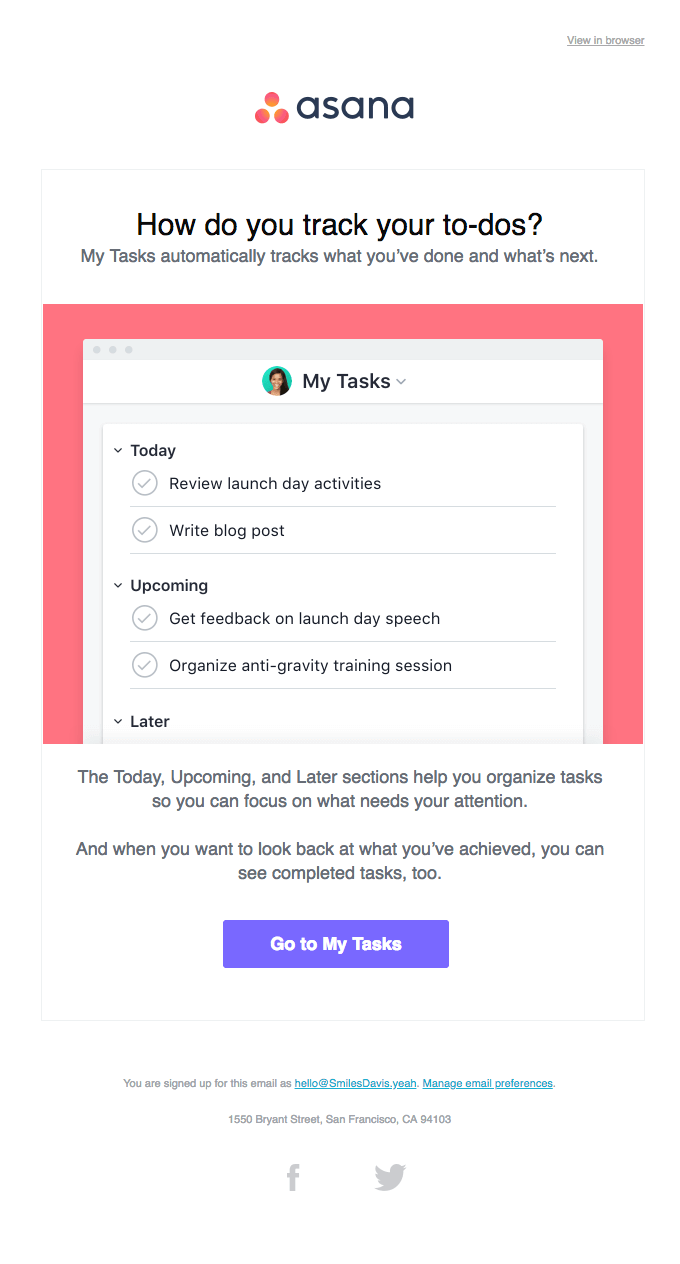 Onboarding autoresponder sequences increase your conversion rates and push users to proceed further with your software.
If you are offering a free trial for your service, the onboarding sequence will significantly increase your free to paid customers.
3. Thank your contacts for subscribing
For sure you are not gonna send a thank you email manually to each new subscriber you get.
Email autoresponders will take care of that for you, and you'll have the whole process automated.
In this example, Return Path thanked their users with a triggered email for taking an email marketing quiz.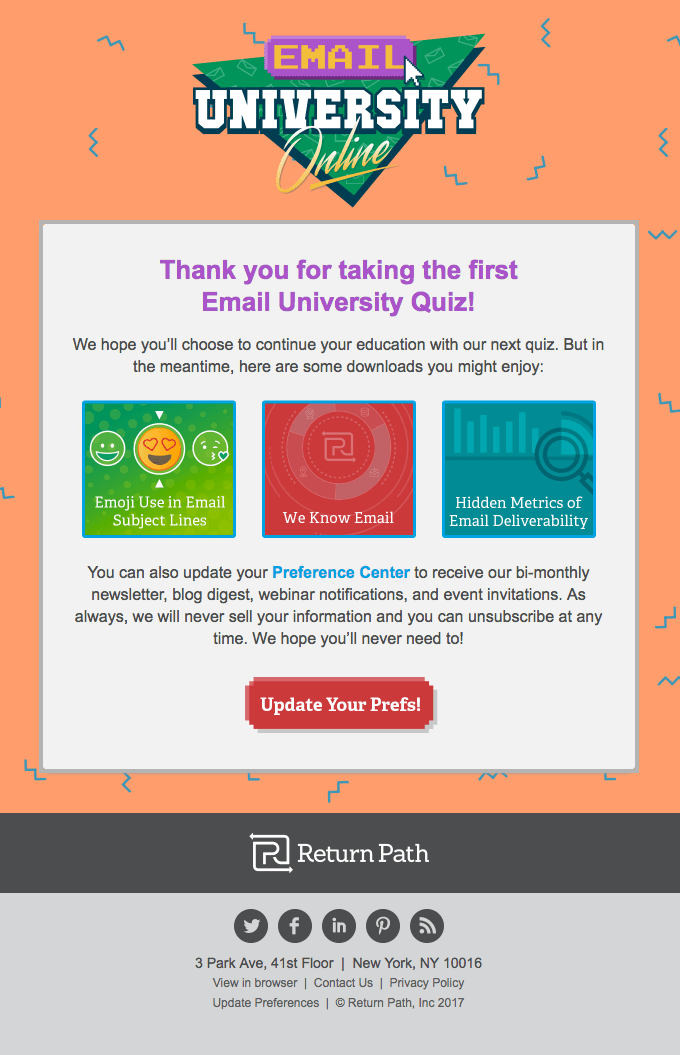 Sticking to the gamification concept of the quiz, the email design reflects it perfectly.
4. Treat your subscribers on their birthday
Another method to show how much you care about your leads and customers is to reach out to them on special occasions. It can be a holiday like Easter, Christmas, New Year's Eve, or 4th of July for your US contacts.
You can take it even further and trigger an email campaign to be sent on the birthdays of your customers.
This email is a great example by Sprint, it got me hyped wishing I were on their email list.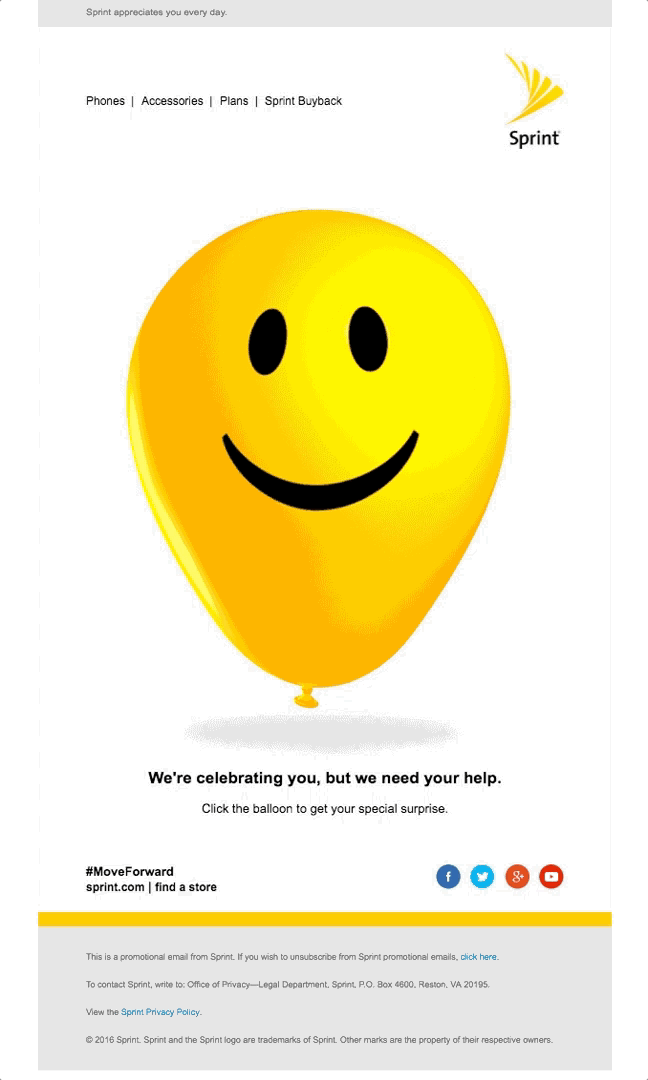 A minimalist design with an animated GIF to give life to this autoresponder.
All these broadcast and autoresponder examples are inspirational for email marketers to build a body of knowledge about these email marketing concepts. Plus how to create these yourself.
Let's proceed and learn how to create your broadcast and autoresponder emails and master the craft.
Sending Broadcast Emails
You can create your email broadcast campaign on Automizy in a matter of a few minutes only.
Here is a quick video demonstrating how to do it.
Creating an Autoresponder Email Series
You can set up your email autoresponder email sequences for different automated email campaigns. Here is how to create an automated email workflow for your blog subscribers.
So Which Should You Use?
You should use both. You can achieve a lot with your broadcasted emails and stay close to your customers. Also, you can significantly increase your sales and conversions with email autoresponders.
I suggest to take advantage of autoresponders as much as you can but there will be cases when you have to handle your email marketing process manually.
In addition, there are cases when you have to use a mixture of broadcasting and autoresponder emails. Here you can see an example use case:
Send out a broadcast email to your list with a webinar offer.

Set a confirmation, a reminder, and a plus content (related to the webinar) email autoresponder.
Send out a reminder email for those who haven't subscribed (autoresponder or broadcast – depending on your marketing automation software).
Last minute reminder (drip e-mail to those who subscribed to the webinar and "last chance" broadcast email to non-subscribed leads).
Continue lead nurturing (autoresponder emails to those who participated in your webinar with plus info, where you uploaded the video and how long is it available).
Conclusion
Email broadcasts offer immense value for your business; they can help re-engage inactive subscribers, educate your subscribers, promote your offers, and more.
For autoresponders make sure you lay down your business funnel and customer journey beforehand. Then, you'll find yourself crafting perfect automated emails improving relationships with existing contacts on your list and driving better results for your business.