As we head towards the most magical time of the year, email marketers are squeezing their heads thinking what Christmas newsletter idea would stand out.

It is Christmas season, and for every business it an opportunity to catch up and reach your yearly sales goals. To realize that you need catchy email subject lines to increase your open rates, and stunning email content to maximize your conversion and email marketing ROI.

Here are 11+ Christmas newsletter ideas, alongside 55 catchy Christmas email subject lines examples to thrive your Christmas email marketing campaigns.
3 Stages of a Christmas Email Campaign
Christmas email marketing campaign isn't one email that you send during Christmas days to your subscribers' list.
To reach the full potential, you have to create a 3 stages Christmas email campaign:
Pre-Christmas: A few weeks before the Christmas period.

Christmas: Couple of days before Christmas.
Post-Christmas: A few weeks after Christmas.
1. Pre-Christmas campaign
During this time of the year, the email inbox is going to be a busy place.
Stay ahead of the competition by sending a pre-Christmas email campaign to stay at the top of your subscribers' minds.
You can warm them for the Christmas spirit by sending a season's greetings for example.
Here is a great example coming from Analytix Solutions, with simple wishes enough to warm subscribers.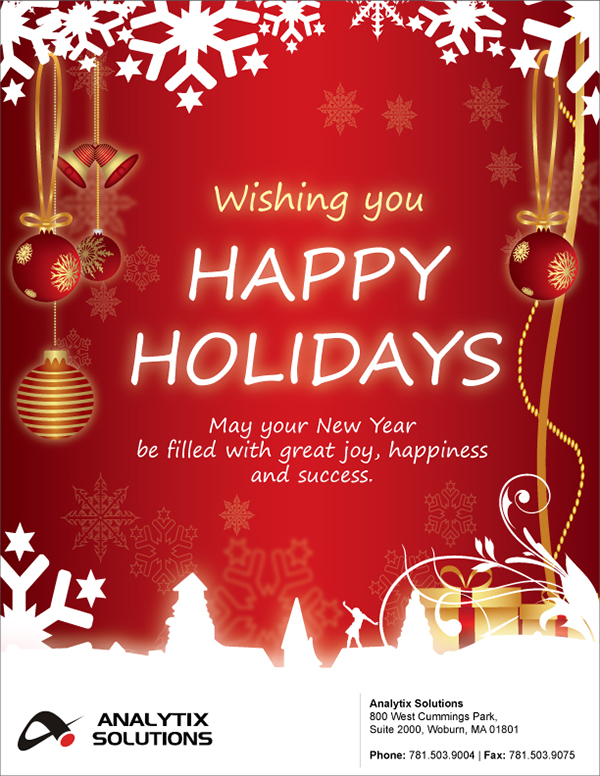 This is just the right feel and tone for the holiday season.
Another example, in a kind of different way, tells customers that there's still time to do holiday shopping.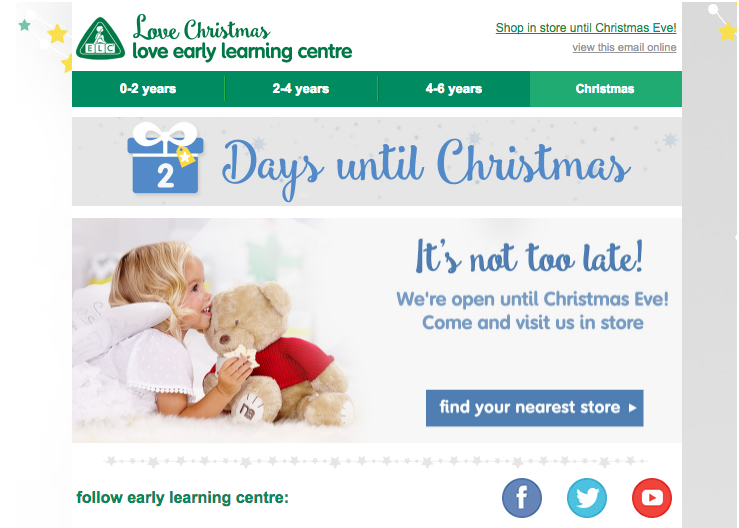 2. Christmas Email campaign
The season has finally arrived and if you already sent a Pre-Christmas campaign, your subscribers will open your Christmas newsletter and look at what you have to offer.
Yeah; "Look at what you have to offer" because some of your loyal subscribers might be expecting a great offer from you during the holiday season.
You can offer discounts, email only deals or an exclusive Christmas offer.
At this stage, you can do a lot with email personalization providing your customers with Christmas discounts on products they've already shown interest in. It is a great way to encourage them to take action on your email.
Here is an example of an email Christmas offer from Tailor Brands.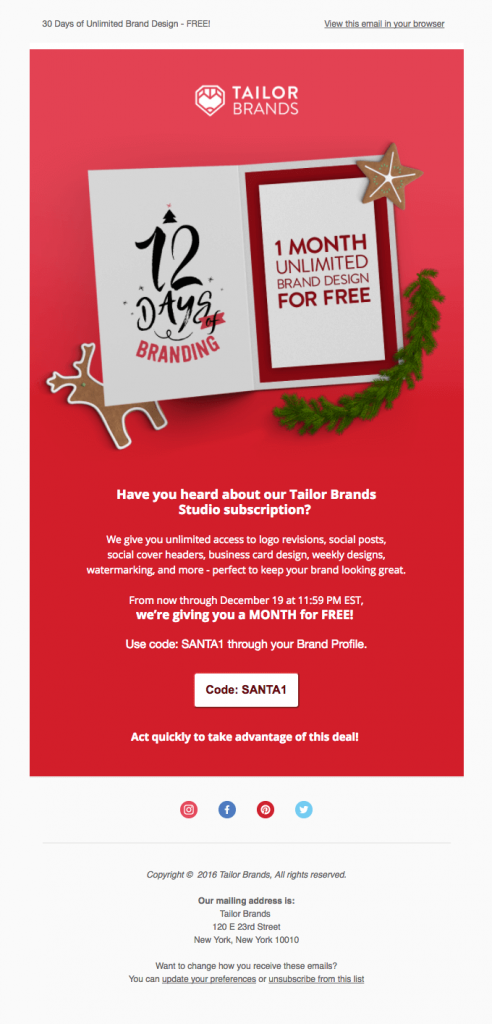 Discounts during the holiday season is another great strategy used by most businesses to increase their end of the year sales.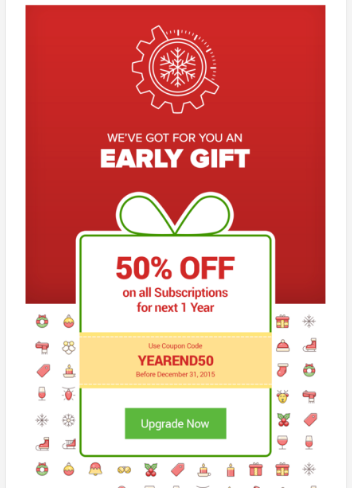 3. Post-Christmas campaign
Christmas is over by the 26th of December, but this never means that your email campaign is.

After Christmas, everyone is relaxing and the email inbox is not a crowded place at that time.

Take advantage of the opportunity, send a Post-Christmas campaign with a 'killer' subject line to stand out of the crowd.

The end of the year is a great time to take the last shot at boosting your business results.
Here is a December newsletter idea:
With perfect email design and copy, I have to give credits to Prezi for the excellent job engaging their subscribers with this post-Christmas gift.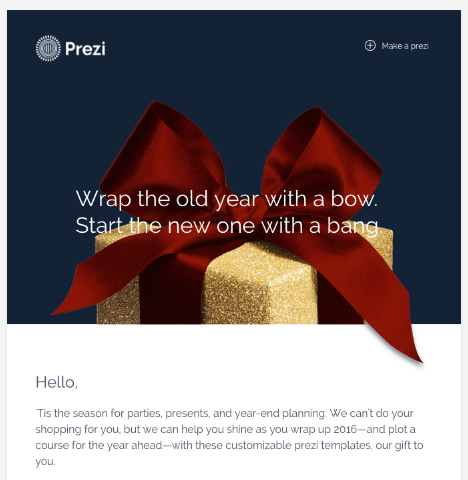 This email template can be a great start for the new year as well.
After we have covered the three stages of a successful Christmas email campaign, let's see how different brands are infusing the Christmas spirit into email marketing campaigns.
11+ Christmas Newsletter Design and Template Ideas for your Email Campaign
We are thrilled to be sharing with you 11+ newsletter template design examples to give you ideas for your promotional Christmas email campaign.
1. Promote your Christmasy products
Here is one of the best Christmas newsletter template examples from Starbucks. It is beautifully designed, it is all in red and it displays a collection of photos and illustrations, featuring the Starbucks' famous Christmas cups.
The greater part of the email's body is occupied by sections presenting Starbucks' Christmas products, Christmas cookies, the Christmas cards, and eGifts.

2. Trigger your subscribers' curiosity
Another cool Xmas newsletter example comes from LevelUp. Wishing happy holidays for their contacts, and triggering their curiosity with many wrapped gifts.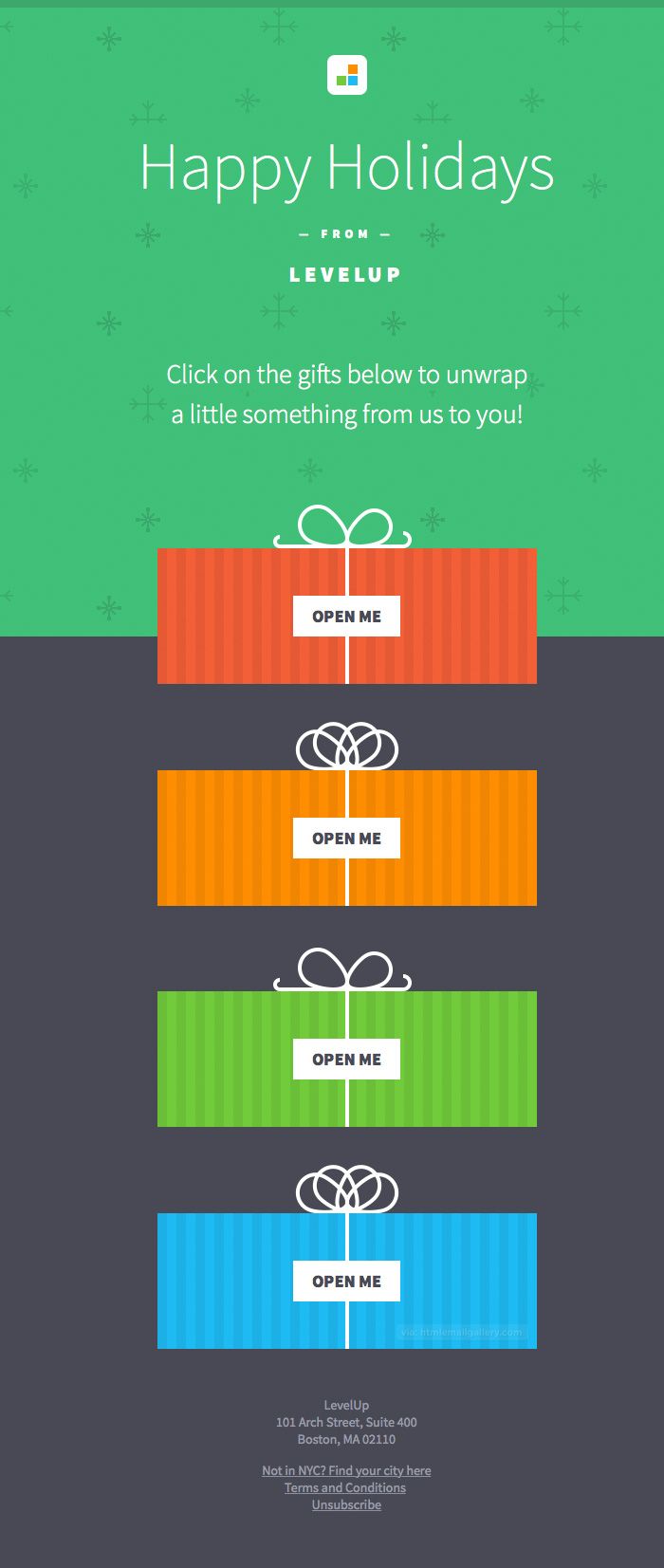 THE HYPE IS REAAAL!
Speaking of wrapped gifts.
3. Christmas gifts and wrapping
The personalized gifts and decorations website Not On The High Street prepared this Christmas email newsletter for its clients.
The following email template example offers ideas for handcrafted decorations and gifts wrappers in a beautiful and original way.

The top part of the HTML email template is occupied by a links menu, which the reader may use to browse through the various categories of the website.
Let me give you some examples;
4. Thank your subscribers
Sometimes just thanking your subscribers is enough. That's what AviationCV did for their subscribers in this Christmas email message.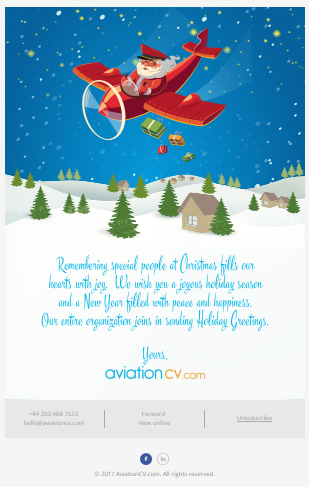 5. Create a crafty, creative Christmas email design
It is stunning how these simple photos come to life with these lovely illustrations.
Get inspired by this promotional Christmas email design from J.Crew. That indeed grabs attention. The colors, lovely mouse and the main message fits well with the entire design and Christmas vibes.
In their promotional Christmas campaign, they offered discounts combined with free shipping. Not a bad idea.

6. Get a little classy
Rid of the red-green-gold triptych color palette, the unlikely Christmas email template colors are unexpectedly classy and cozy when it comes to the design.
This darker-tone selection grants the campaign with a touch of prestige and classiness.
As you can tell, only a Christmas tree slightly appearing at the background.

7. Blow life into your Christmas emails with animated GIFs
An interesting pre-Christmas email campaign example from Merci Maman.
This is a great Xmas email newsletter design in which they 'killed', positively, their pre-Christmas email campaign with an animated GIF.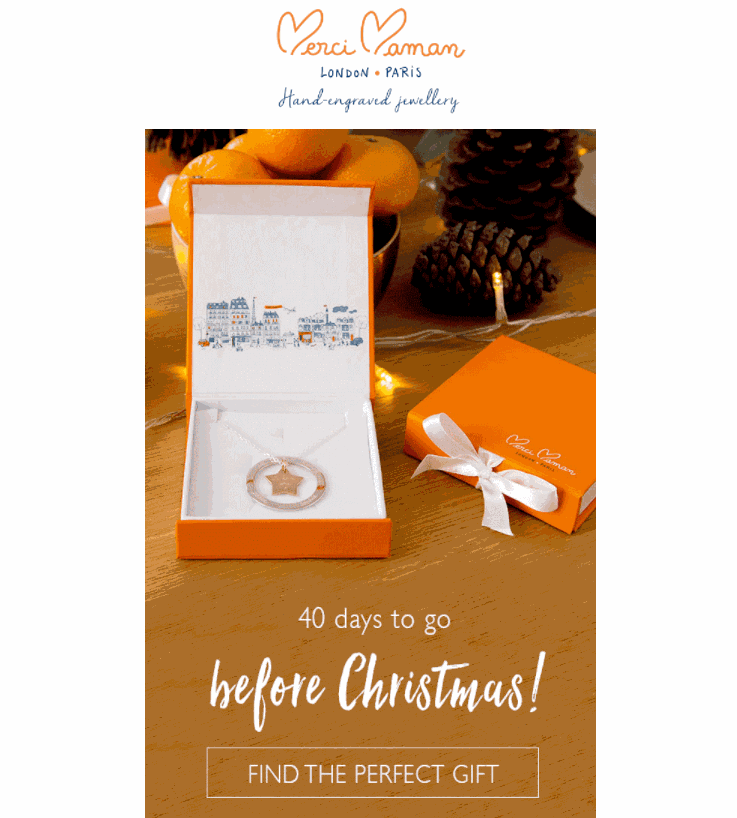 Here's another animated HTML email template design sample from Bonobos where they promoted their Christmas deal in a poetic way. Animation indeed grabs attention.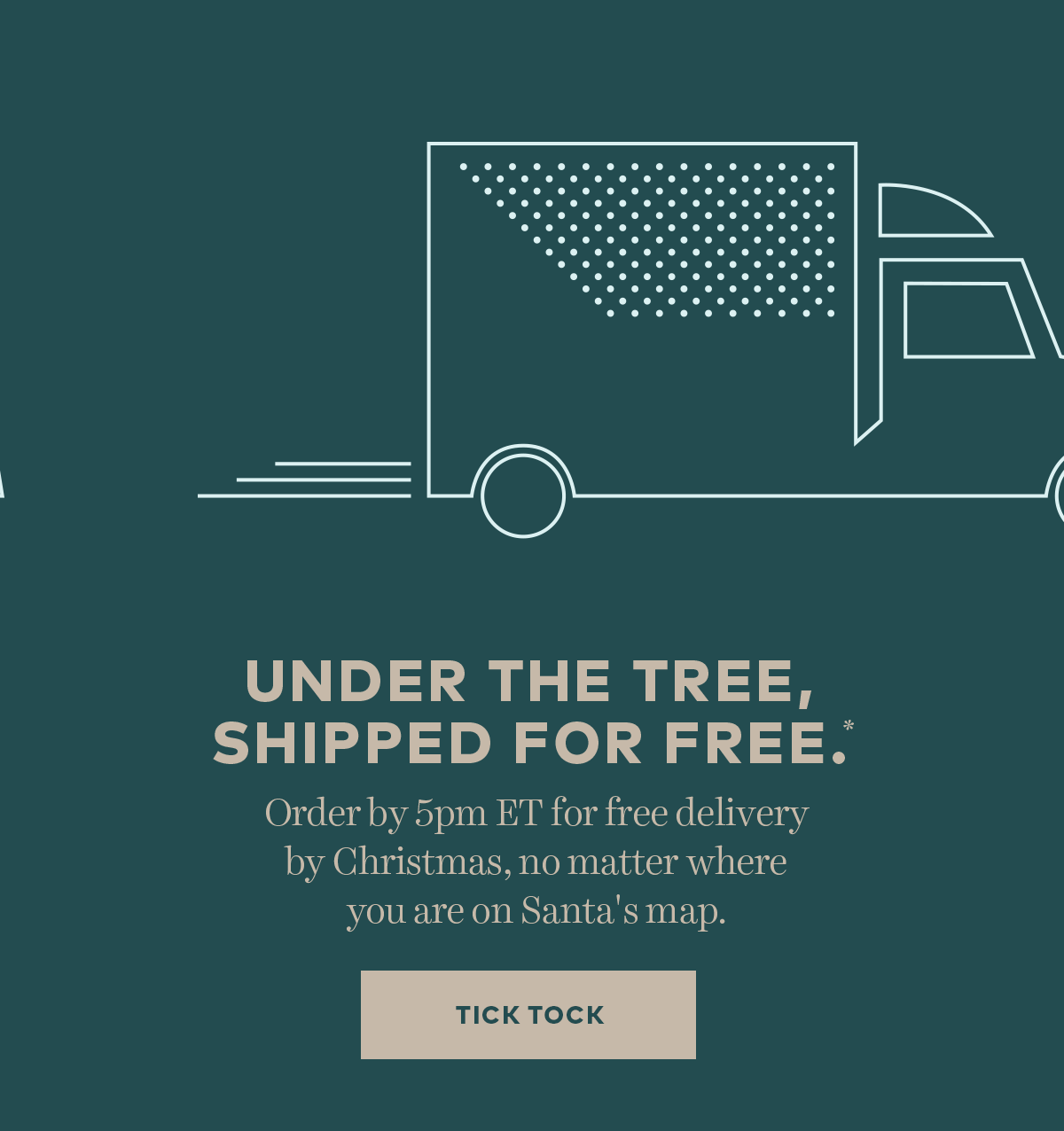 8. Cheer your subscribers with gift ideas for their loved ones
Probably many of your subscribers are still wondering about what gifts to buy for their loved ones, or maybe struggling with gifts' wrapping.
Michaels succeeded their Christmas email campaign with this creative piece of art: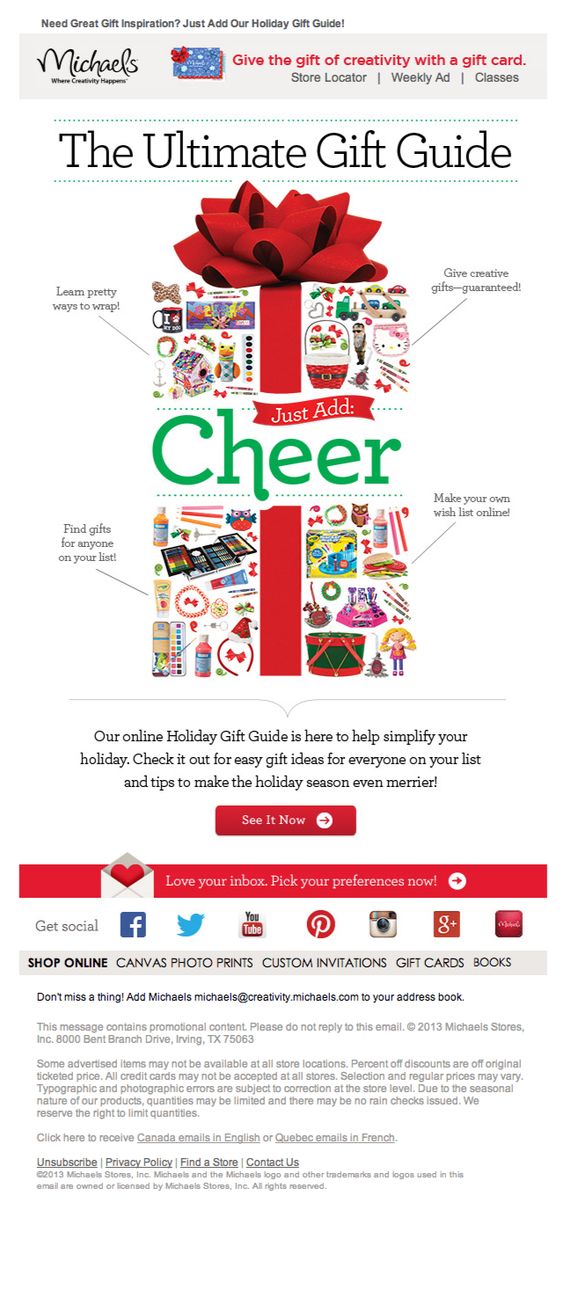 9. Send heart-warming wishes
From home to home, and heart to heart, from one place to another. The warmth and joy of a Merry Christmas bring us closer to each other. Sweet isn't?
You can spread this holiday spirit by getting personal with your contacts and make them feel as if they are part of your family.
Here is a heart-warming Christmas newsletter design idea.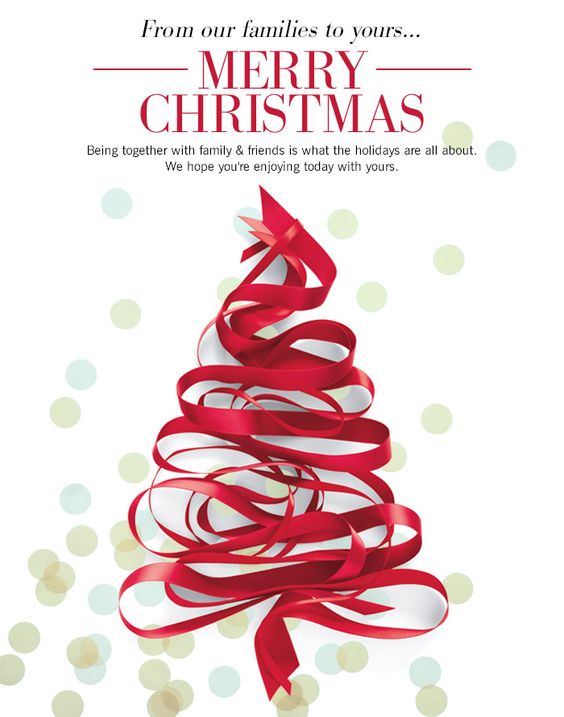 10. Gamify your email
Why not send a riddle, online scavenger hunt, or puzzle as a surprising and fun Christmas newsletter idea?
Here is a cool email template design example that Banana Republic used for their Christmas campaign.

11. Branding with an original email
The best Christmas email campaigns are not only for promoting sales and discounts, instead, you can also take advantage of this season to strengthen your business's brand. Just like United Colors of Benetton did in the following Christmas email:
Smart isn't?
55 Christmas Email Subject Lines
After you have defined the goal of your Christmas email campaign. It's time to come up with the subject line that stands out in the email subscriber's inbox.
If you don't get your subscribers to open your email, the rest of your email doesn't matter.
Get inspired for your Xmas email campaign subject line with these 55 examples.
The inspiration is not over. Here's a list of other top brands' subject lines for holiday emails. We've gone to the deepest corners of the internet to collect these Christmas subject lines (includes e-commerce Christmas subject lines):
Quite convinced, huh? Score your subject lines too in your blog articles with Subect Line Scorer!
Writing a Christmas-themed subject line is a sort of art for some email marketers. You don't have to be over promotional here, you can send Christmas wishes in your subject line.
When you run a holiday email campaign, make sure to come up with an impressive subject line to increase email open rate.

Don't be afraid of using emojis in your email marketing. When used well, emojis are proven to increase your opens.
P.S. You can easily add emojis to your Christmas email subject lines using Automizy.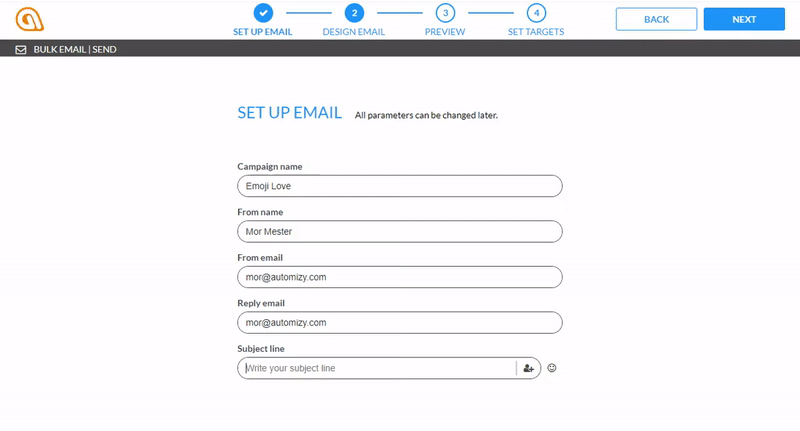 After you have composed your subject line, test it with our free tool, The Subject Line Tester to see which would perform better. It scores your subject lines based on data from over 1 million campaigns.

The tool also provides subject line templates you can use to increase your email open rates.

Even the most seasoned email marketer doesn't have that kind of experience.
BONUS: 3 Extra Christmas Email Tips
Create a workflow, don't stick to one email
Christmas email campaign is not about sending one single email to your contact list and sit back. Get inspired for your automated email campaign with these examples.
Here is a video on how to create your Christmas email campaign on Automizy.
Share an act of kindness
Most businesses around the world are engaged in a sort of a Corporate Social Responsibility (CSR) It is a way for companies to take responsibility for a social or an environmental cause. It can be a charity or a movement. Depends on what the company wants to stand for.
Since the holiday and Christmas season is about giving, don't be afraid to share your company's volunteer and charitable activities; and invite your customers to contribute.

Sometimes when allocating a percentage of your revenue to donate it to a charity, customers feel like they want to contribute as well. Or you can share with them a donation link.
Christmas is about giving, you can involve that holiday spirit in your Christmas email campaign.
Wish your subscribers a Merry Christmas
You can make your email super personal by wishing your subscribers a Merry Christmas through a plain-text email.
Plain text emails are used for email campaigns that contain text without any images or HTML coding. It looks exactly as if one of your friends or colleagues from work sent you an email.
Sending a plain text email for your Christmas campaign will make the relationship with your subscribers more genuine. That's what Christmas is all about, after all.
Conclusion
The Christmas season is all about lights, sharing and gifting our loved ones.
For businesses, it is also a profitable season to:
Get closer to our contacts

Increase our end of the year sales
Thank and reward our loyal customers
We'd love to take a look at your Christmas newsletter examples, never hesitate to share it with us. You know Christmas season is all about sharing.
'Maily' Christmas 🤩
I'm the Head of Marketing @ Automizy.
I started out in the marketing startup world right after graduation and since then it's been a blast to navigate in these waters.
After work, I love playing basketball and traveling.
https://automizy.com/wp-content/uploads/11-Christmas-Newsletter-Ideas.png
628
1200
Mor Mester
https://automizy.com/wp-content/uploads/automizy-logo.png
Mor Mester
2018-12-04 11:54:38
2019-08-27 11:18:55
11+ Christmas Newsletter Ideas & Examples (55 Subject Line Included)