You might think that new modern marketing channels like social media are the most effective nowadays. Yet, email marketing stays the king of ROI with a profit of 44$ for every 1$ you spend.

As a huge asset of customer relationships, bulk emailing is among the primary marketing activities for businesses.

Creating valuable bulk email campaigns is not something you should take lightly.

You need to understand how to engage your customers and learn how to send effective email campaigns.

I created this guide to help you:

What is Bulk Email?
Bulk email marketing is the practice of Internet marketing which implies sending mass emails to a large group of subscribers.
Bulk emails can contain:

Special promotional
Information to customers
Promote upcoming webinars
New products release, etc.
Businesses send bulk emails every day. When a flower delivery online shop from which you have bought flowers in the past, sends you an email reminder for Valentine's day, that is bulk email.

Today, most marketers prefer to send more personalized emails that cater to the interests of different segments within their lists of subscribers.

How to Send Personalized Mass Email Campaign
Collect subscribers data
Data is the fuel of your email marketing personalization. The more information you collect about your contacts, the more you can personalize your emails.

Collect information about your contacts through the forms they fill in to join your email list

If you want to collect your contact information, use a form like the one below.


Contact forms are a way to collect information provided by your subscribers, that you can use later on to personalize your emails.

Another way to have more data about your contacts is behavior-based information.

Behavior-based information is meta information you add to your subscribers, such as:

Downloaded a specific ebook
Getting educational emails of your course
Became a lead
Became a paying customer
You don't have to add meta descriptions to your subscribers based on their behavior but I recommend doing it.

And yes, tagging is the procedure of adding meta information to your subscribers based on their behavior. Sounds cool, eh?

Tagging helps you:

Avoid spamming your subscribers
Know what type of content they are interested in
Segment them according to their behavior
Identify their life-cycle stage
With email marketing software like Automizy you won't need to add manually tags to your subscribers, it's an automated process to save your time and collect data.

This way you can personalize your emails with the data provided by subscribers themselves, and also data based on their behavior.
Create personalized email subject lines
Email subject line personalization could increase your email open rates.

Personalize your bulk email campaigns' with Automizy's subject lines custom fields.

Click on the add field icon in the email subject line bar, and click "Add" on the custom field you want to include in your subject line.

You can add your contact's first name, last name, company, website, birthday, position, etc.
Personalize your bulk email content with custom fields
Even though you are sending the same email to a large list of contacts, you can still make each email different and personalize it to each contact using personalization custom fields.

Click on "Personalization" in your text box and select the custom fields you want to add to your email content.

According to Experian, personalized emails have 29 percent higher unique open rates and 41 percent higher unique click rates than non-personalized emails.
Apply filters when setting up your target
Filtering is an Automizy original feature. It makes it easy to find a set of subscribers that have something in common (e.g. subscribers over a specific age, downloaded an ebook, paid, subscribed in a specific period, etc.).

Not only can you easily find people in your database, but you can also save them and reuse the same search criteria (filter) later.

You can send them emails using saved filters. So you don't send the same email to your whole list but you can send relevant offers based on life-cycle stage, interest, geo-location and more.

You can filter subscribers based on different types of data:

they have or don't have a specific tag(s)
they have less or more than a specific lead score
they joined your list before or after a specific date
has a specific email address, name, company or website
is unsubscribed or bounced
was imported from a specific CSV
and for any custom field you create (e.g. source, geo-location, age, buyer persona, payment size, etc.).
How to Send Bulk Emails Without Spamming
Keep your email list organic
Don't buy sketchy email lists from shady sources. That's what spammers do by the way.

I recommend you include a Captcha to your contact form to keep spammers away.

Create your organic email list and generate leads from your website. Here are 39 lead generation ideas to help you start building a larger organic email list.
Avoid ALL CAPS email subject lines
If you are thinking that using capital letters in your email subject line is effective to capture attention, you are wrong.

Sending all caps email subject lines triggers spam filters and prevent your emails from being delivered.

Run your bulk emails' subject lines in Automizy's email subject line analyzer to rate and make sure you send emails that reach your contacts' email inbox.
Include unsubscribe link
All bulk emails must include an unsubscribe link as it allows contacts to unsubscribe rather than mark emails as spam.

According to a study conducted by Jeff Bullas, 50% of people mark a brand email as spam, because they can't find a way to unsubscribe.

If you want to make sure that all email subscribers are authentic contacts, you can use double opt-in to prevent the "bad people" from joining your email list.

Double opt-in is when someone subscribes to your email list, they receive an email with a link to confirm subscription.
How to Create an Email Blast Campaign?
To create a bulk email marketing campaign, you'll need to start by registering for bulk email software. Then upload your email contacts.

You can import your contact list from your computer onto the interface as a CSV file, also it is possible to integrate Automizy to you other CRM apps like Zapier, Pipedrive, Unbounce, OptiMonk, Hubspot, etc.

Let's see how to send a bulk email marketing campaign.
1. Select your email editor or email template
Automizy provides you with easy-to-use email editors and email templates to help you design emails that convert customers.

You can choose between three email editors:

Drag & drop email editor
Simple email editor
HTML email
Or you can benefit from our pre-built email templates to send bulk campaigns faster.

There are ready-to-use email templates for:

Newsletters
Product announcement
Webinar emails
Welcome emails
Promotional emails, and more.
Once you select your email editor or email template, you can set up your mass email campaign.
2. Set up your email campaign
Give your campaign a name that will only display to you. Naming your campaign helps you keep your emails organized.

If you're sending out a monthly newsletter, you can name it "February 2019 Newsletter".

Your subscribers won't see the campaign name.

Your email set up includes multiple details that will be displayed in your contacts' inbox. It includes:

The sender's name
Sender's email address
The reply-to email address
Email subject line
Right after filling in your contact details, select your winner email subject line.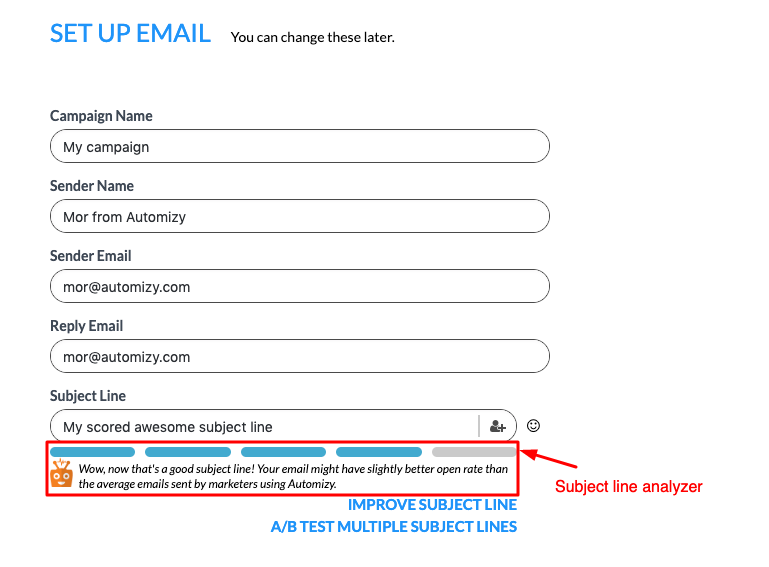 Automizy comes with an AI-powered subject line tester that will help you write better subject lines. It could help you to increase:

Open rates
Click-through rate
If you click on "Improve subject line" Automizy will immediately score your subject line's effectiveness and display the result like the following example.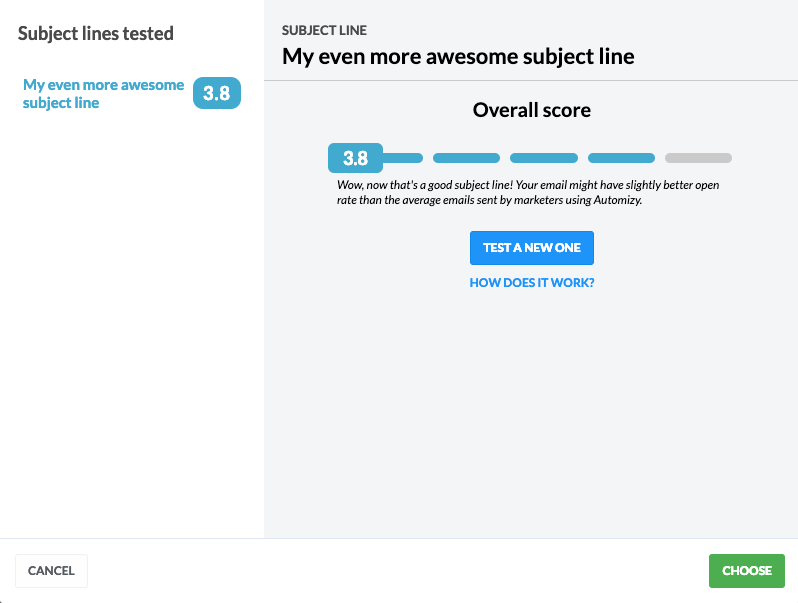 Click on "Test a new one" to test more email subject line ideas, and choose the one that scores the highest.

Now let's take a look at how can create your mass email template using one of the three methods:

Create your custom responsive email template
Simple text email editor
HTML email editor
Using Automizy's email templates
Create your custom responsive email template
In Automizy's drag and drop email editor, you can create responsive email templates without any coding knowledge.

Drag and drop different email elements, fill them up with your content, choose your colors and you're ready.

There are a default padding and design setup that looks great without any modification. Feel free to use the default setting and build your mass email newsletter in 20 secs!

Use plain-text email
A simple email or also called plain-text email is the email marketing that doesn't look like email marketing.

Increase your click and response rate by sending simple text emails that look exactly like what you send from your Gmail account.

Use plain text email to make your leads feel like friends.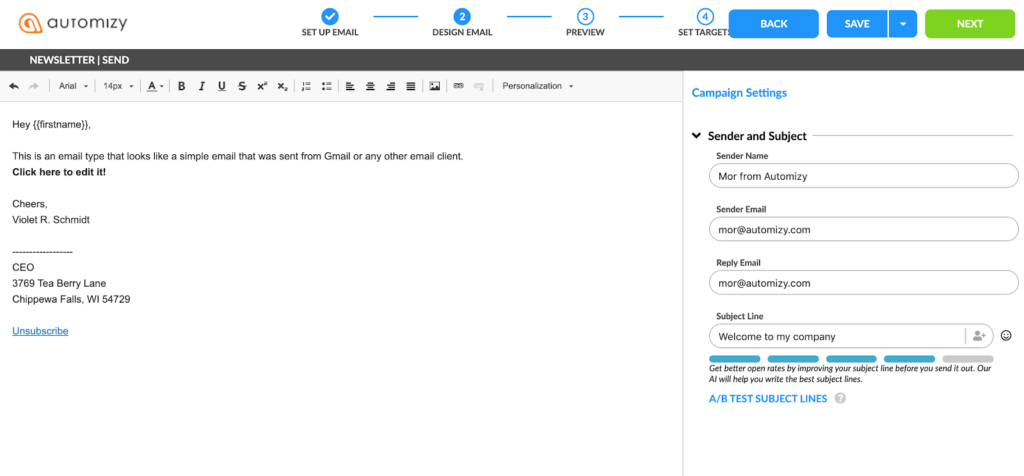 Upload HTML email code
In Automizy you can also upload HTML emails.

Select the HTML file and your images.
Drop these files onto the drop zone on the right sidebar.
Also, you can paste the HTML code of your email into the field and you can click on "Browse Computer" to add files from your computer.
Use Automizy's email templates
Automizy provides a list of pre-built email templates to make your work quicker while sending great-looking emails.

The email templates are responsive and fully customizable. After you made some changes you can save them to be reused later.

There are 20+ templates you can use for different bulk email campaigns.
3. Preview your email on different devices
There's nothing worse than finding out that your email looks awful on different devices.

Preview your bulk emails on desktop, mobile, and tablet. So you can see what your subscribers will.

You can also send a test email to yourself or your team to see how the email would look like in the inbox. Just insert the emails you want to send a test to, and click on "Send test".

Email preview is effective to proofread your email content and make sure everything works.
4. Set your target
Now you have your email ready and made sure it looks perfect, the next step is to

Schedule your email
Set up the target contacts which you want to send your email to
You can select to send your email right away, or schedule it to be sent on a specific date and time.

In Automizy you can resend the same newsletter to non-openers with another subject line after a few defined days.

Check the "Resend to non-openers" box.

Select the number of resends, whether you want to resend email once or twice.

Increasing your email open rates won't take you longer than 3 clicks. Don't leave revenue on the table and leave. Try it out and see how it actually works for your email list.
5. Always check before you send
You can check your:

Recipients details
Sender information
Email subject line
Scheduling details
All set! Click on "Send now" and be the next email open rate guru.
6. Resend unopened to increase your open rates
Unopened email resend allows you to resend the same email, but with a different subject line to contacts who did not open your first email for a chance to increase your email open rates and email marketing ROI.

Probably you are cautious of unsubscribes, especially in the second email. But email resend to non-openers can't make your subscribers complain since it is sent only to those who didn't open the first email.
Make sure you use different email subject lines for your email resend. The first subject line didn't grab their attention, a different subject line changes that.

Increasing your email open rates won't take you longer than 3 clicks. Don't leave revenue on the table and leave. Try it out and see how it actually works for your email list.
Best Time to Send Email Blast
Sending your email blast campaign at the right time could increase your email open rates.

Here are some general email tips on when to send bulk email campaigns.

Tuesday, Wednesday, and Thursday are marketers' favorite days to send bulk email campaigns.

The best time to send your email campaign is:

6 AM: For the 50% who begin their day with reading emails in bed.
10 AM: Perfect for office time when everyone is well settled.
12 PM: When people are checking out of work mode or looking for distractions, or having lunch.
8 PM: For those who check their emails at the end of the day before going to bed.
No one checks his or her emails while sleeping. Always send emails during daytime (according to contacts' timezone) when people are awake not sleeping.

Avoid sending bulk emails on Mondays when everyone is deleting useless emails to have their inboxes ready for the week.

Weekends are already self-explanatory, people are on adventures, pubs, etc.

Weekends tend to have low email open rates.
Conclusion:
When bulk emailing is done right, it can return significant ROI for you. Use it for your upcoming product release, seasonal sales, customers update, etc.

Remember to capture enough data about your subscribers. Later that would come in handy to send a personalized mass email campaign.