Sending bulk email campaigns is often time-consuming and challenging, but some best practices can help you maximize your returns without risking being flagged as spam by the recipient.
You have to write the content, create an email template, and schedule it for delivery.
I'll show you how to do all of this step-by-step to save you hours of work so you can focus on personalizing your content and sending emails that convert.
Reading this article you'll learn:
What is Bulk Email?
Bulk emailing is the act of sending one email to a large group at a time. This is typically used for marketing messages, newsletters, updates, coupons, and invitations.
Bulk emails can contain:
Special promotions
Information to customers
Promotion about upcoming webinars
New product release announcements, etc.
Businesses send bulk emails every day. When a flower delivery online shop from which you have bought flowers in the past, sends you an email reminder for Valentine's day, that is a bulk email.
Even though a bulk email is sent to a large audience, you can still create your bulk email campaign so it is personal. I'll explain how this is done in the section below.
How to Create an Email Blast Campaign in 10 Steps?
The first thing you need to send bulk emails is an email marketing software.
You can recreate and use the steps and tips in this guide using any email software.
Here are 10 quick steps to creating an email campaign that is both timely, personal, and high-performing.
Step 1: Register to an email marketing software
Automizy is an email marketing software that allows you to send personalized bulk emails without spamming your customers.
It's designed to help you send beautiful emails that convert people to customers without needing tech skills.
To get started, sign up here with your email address.
Step 2: Import your contacts
If you don't have an email list? Who are you sending emails to? 🤔 If you don't have a list, this lead generation article is a better fit for you now.
The second step is about importing the contacts to whom you want to send your bulk email campaign.
You can import your contact list via a CSV file.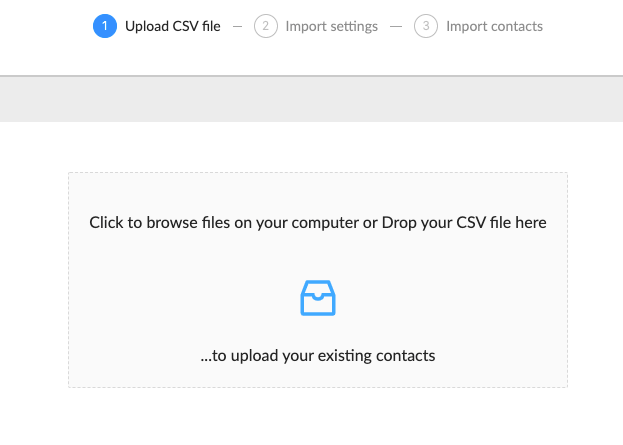 Or if you have your contact list in another marketing tool you use, you can connect Automizy to your other lead generation apps, such as: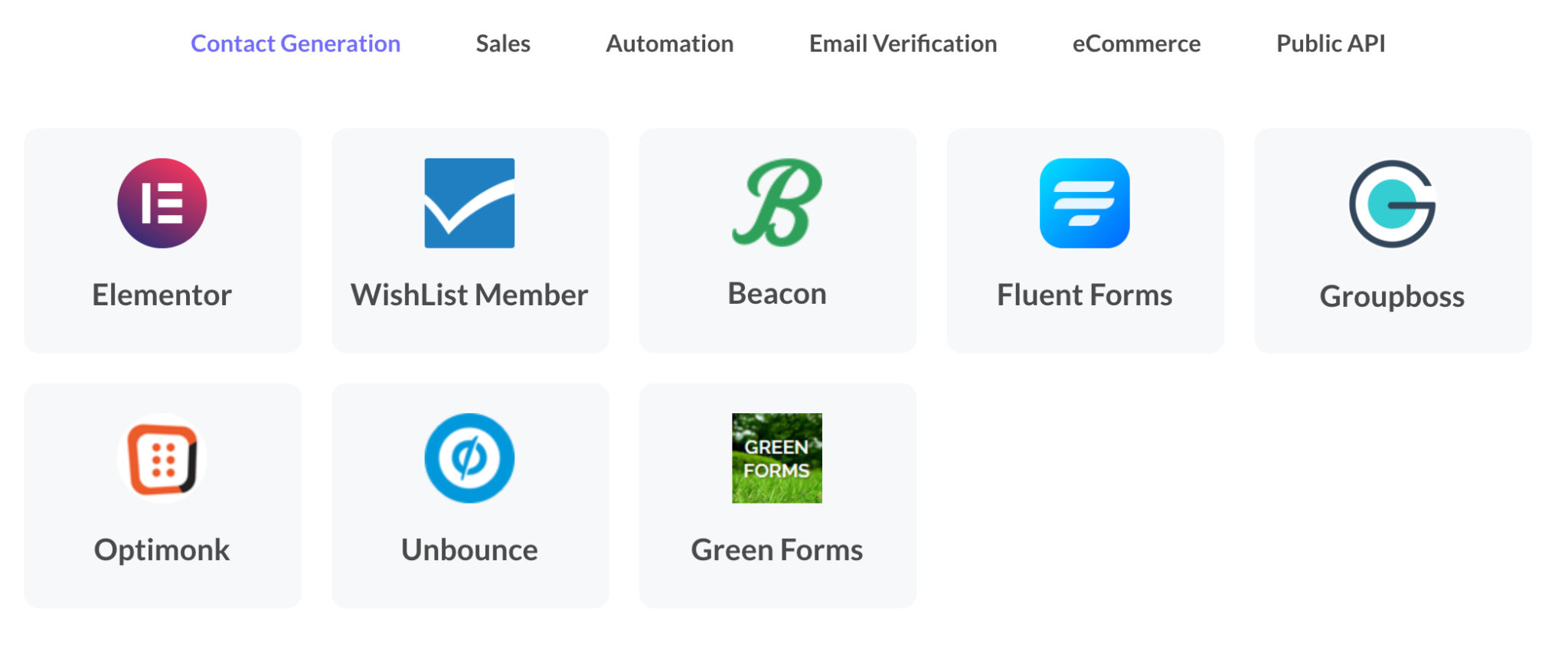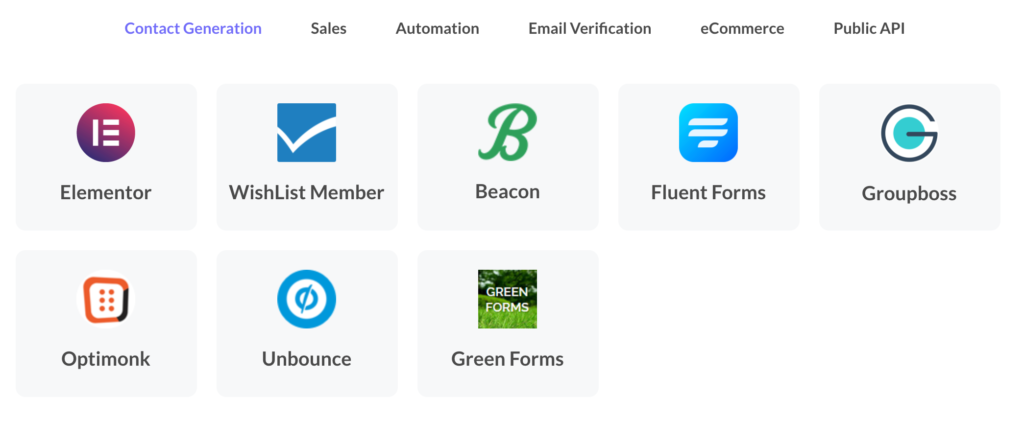 IMPORTANT NOTE: Bulk marketing emails are commercials emails. They must be in compliance with all laws before being sent to your email recipients.
Once you import your contacts, you can proceed and set up your bulk email settings.
Step 3: Decide on your email type
Generally, when sending a bulk email you have 2 options.
Whether you send a rich-text campaign that looks like this: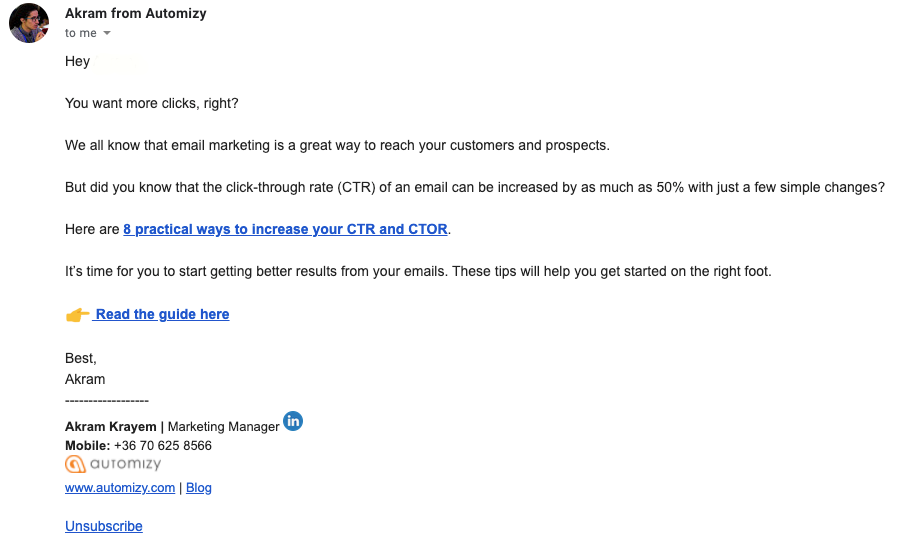 As if you've sent it from your personal email to give your contacts that feeling of being close to you and you're treating them like friends.
OR.
You can choose a beautifully designed HTML email that includes text, images, videos, and call-to-action buttons that looks like the following example: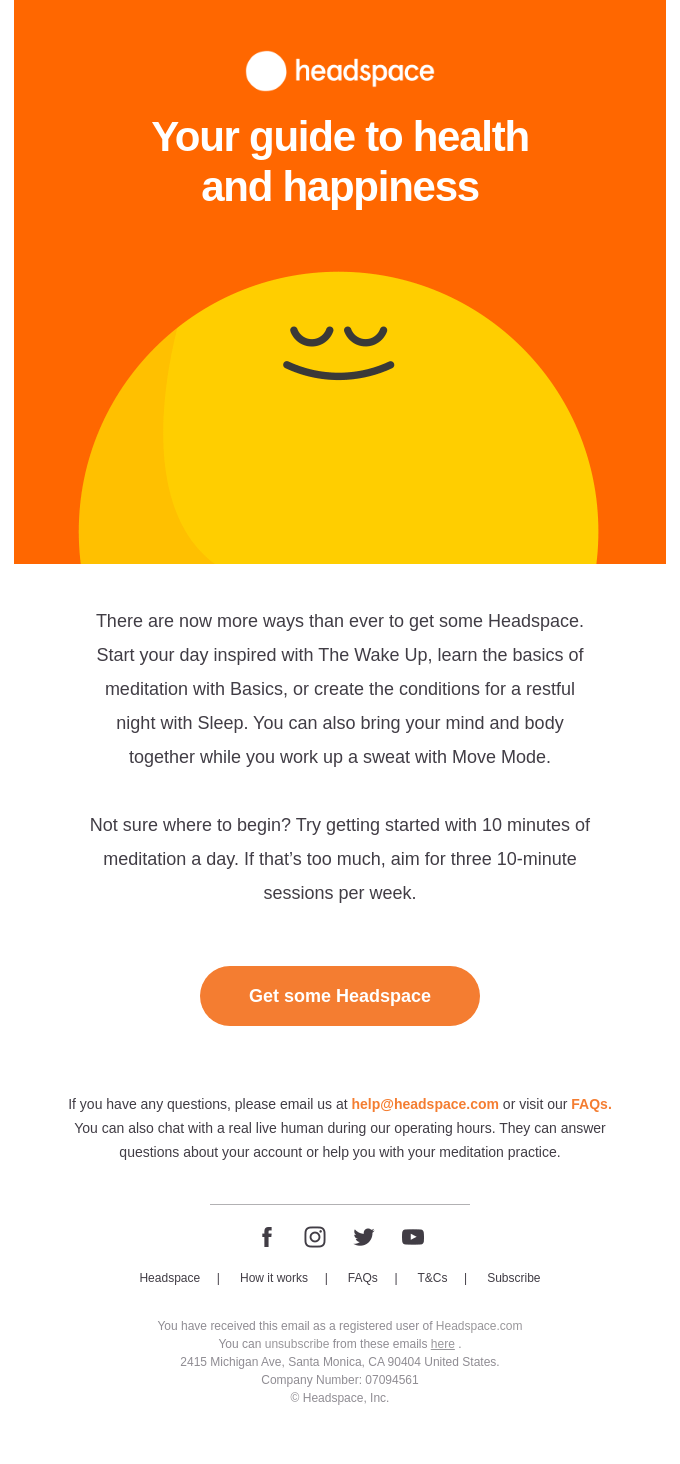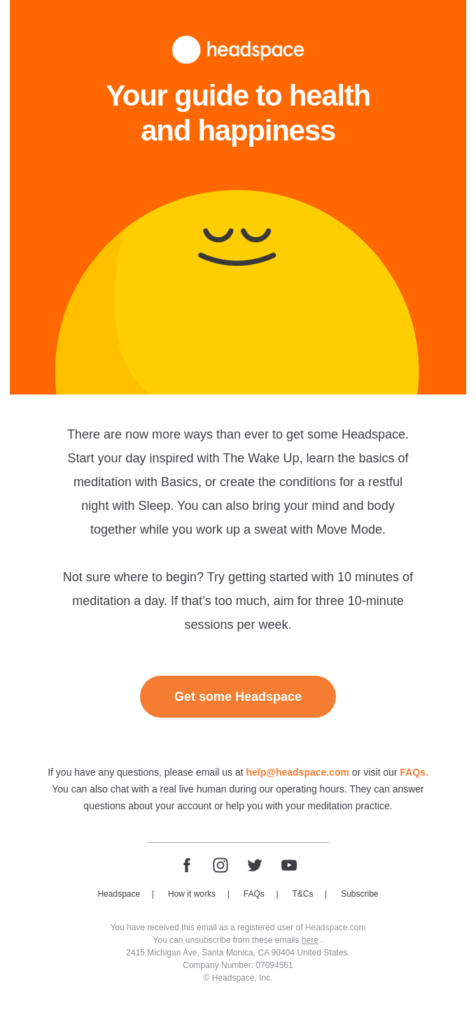 You don't have to code HTML emails yourself. Using email marketing software like Automizy provides a drag-and-drop email editor to help you design beautiful emails without writing a line of code.
The type of email you use depends on your bulk email goal.
For instance, if you're announcing a new product via email it's best to use a beautifully designed email that shows the value of your new product visually.
HTML emails focus more on branding as you can use your brand's color pallet, logo, and other creative elements.
However, if you're sending a new article you've published you can use the rich-text email type to give your audience the impression that you're reaching out personally.
The rich-text email depends heavily on the copy quality. Make sure to write your best content to persuade your audience with the copy.
Automizy provides you with both options to design your emails. You can choose from different email editors:
Drag & drop email editor
Simple email editor
HTML email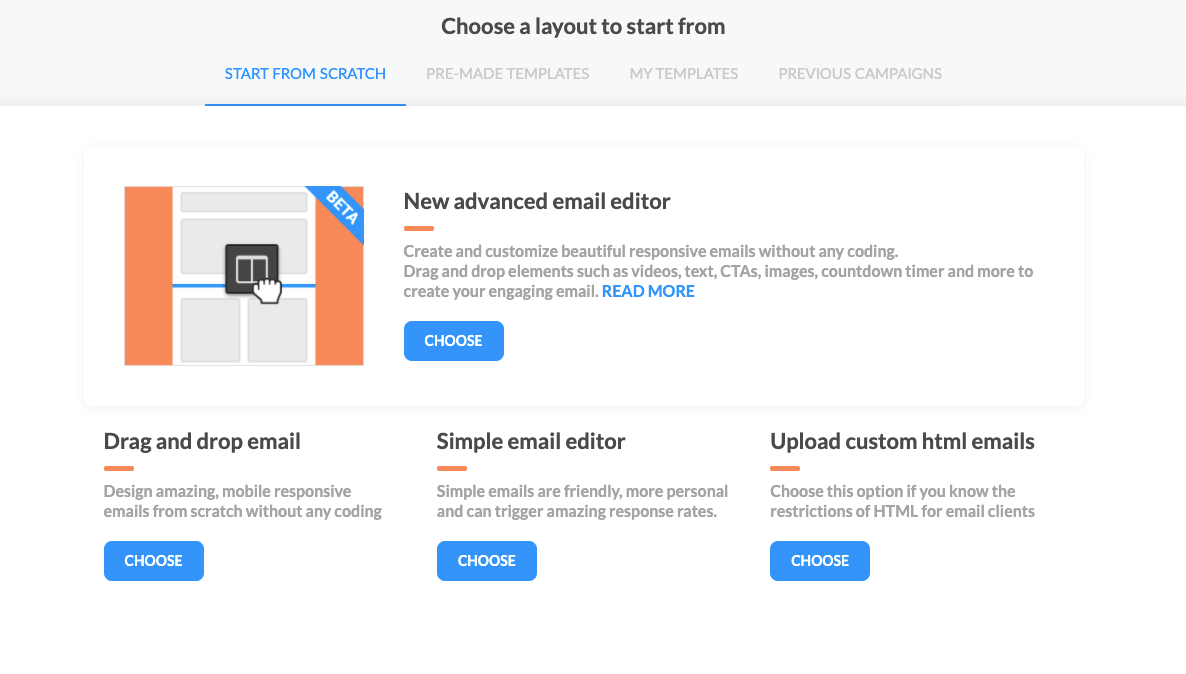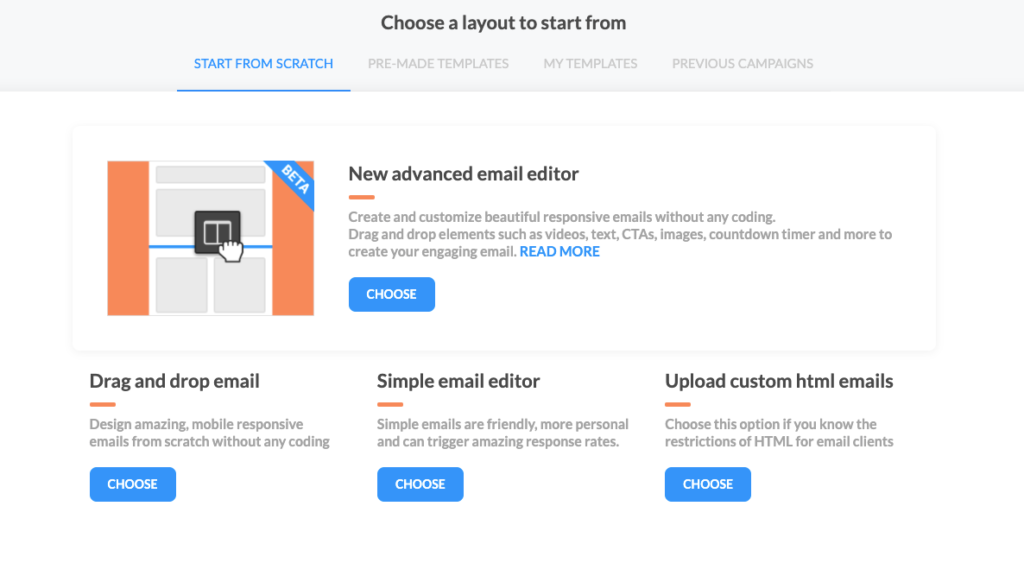 The simple emails are easy to set up as they consist of only text, so you just need to copy/paste your email copy and format it to look good.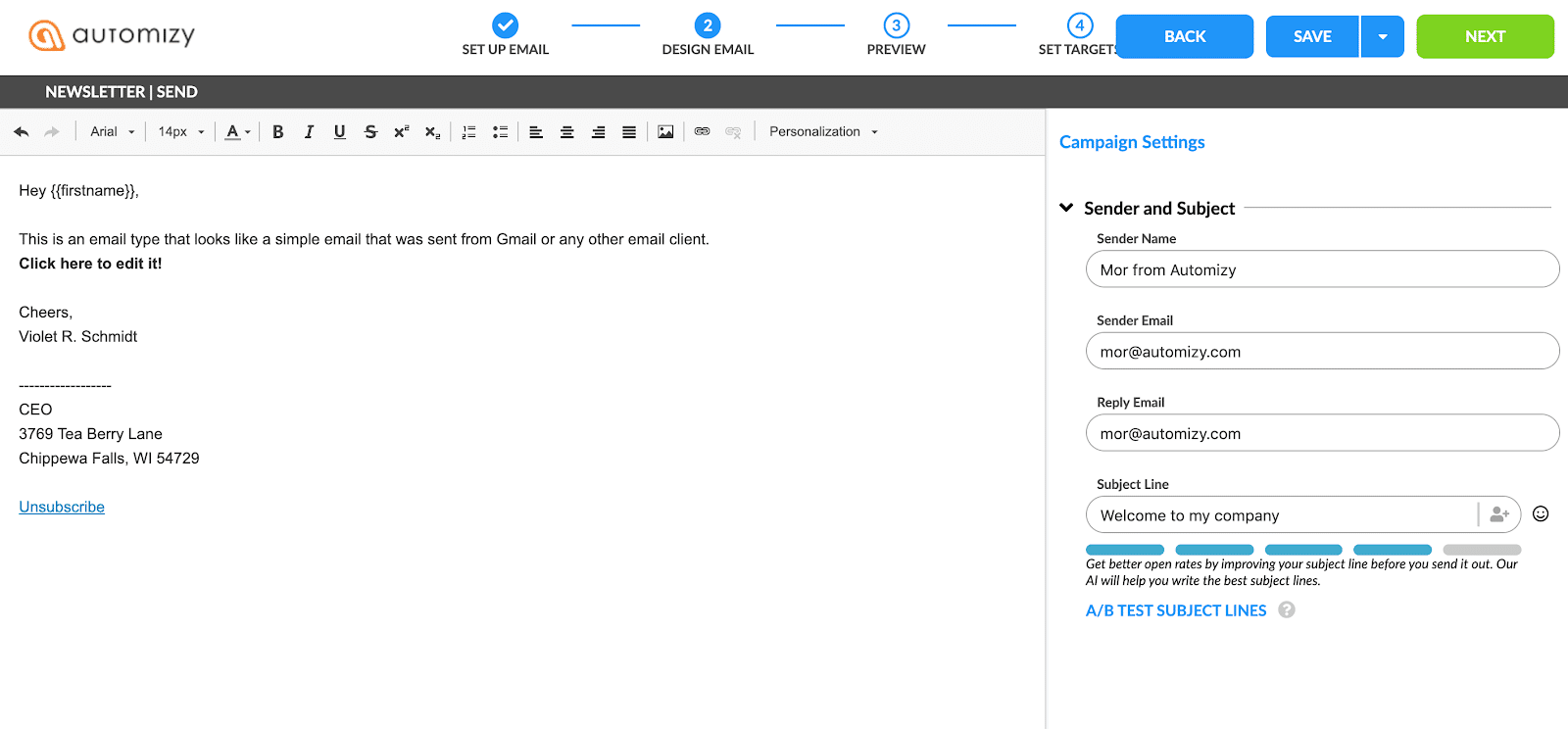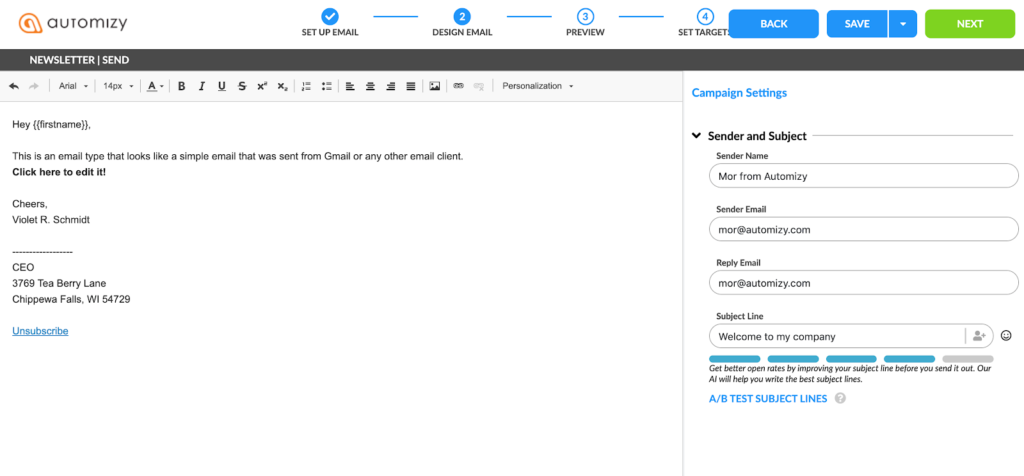 But if you're sending a designed responsive campaign, your next step is to select an email template.
Step 4: Select your email template
We offer up a collection of pre-made templates to help send bulk campaigns. There are ready-to-use email templates for:
Newsletters
Product announcement
Webinar emails
Welcome emails
Promotional emails, and more.
Browse the available templates and choose the one that fulfills your campaign objectives.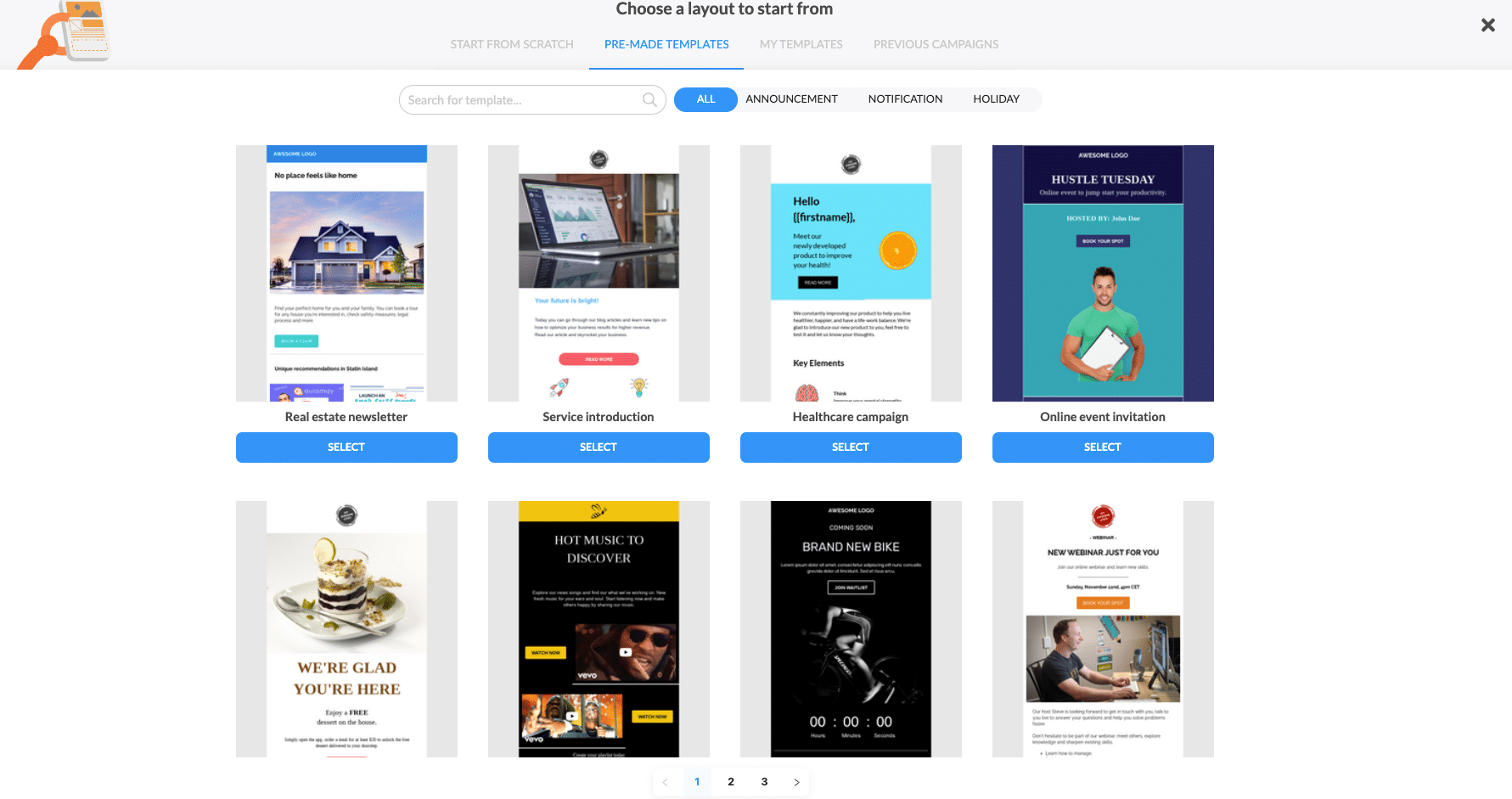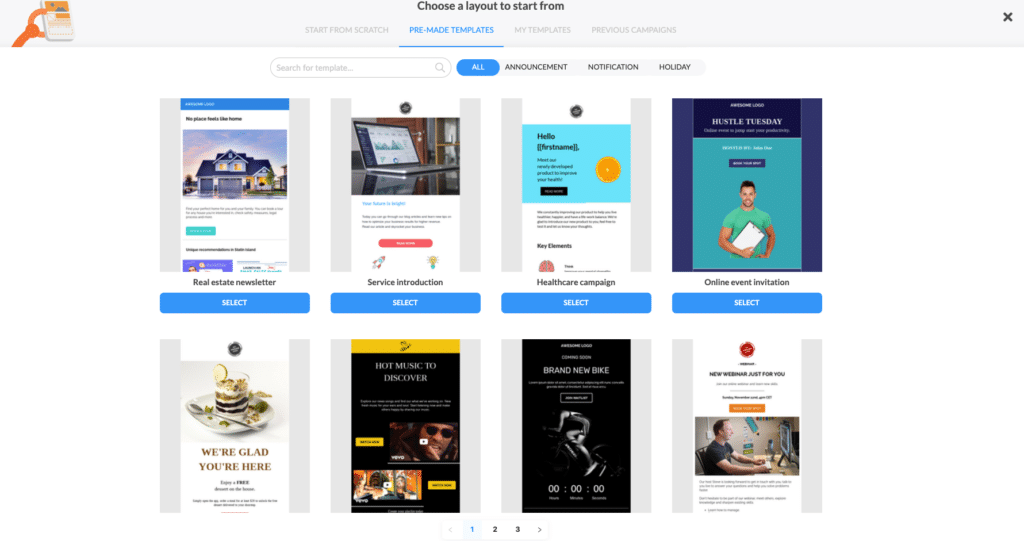 All the available templates are fully customizable to match your brand and business.
Select the email template you'd want to customize and set up your campaign settings.
Step 5: Set up your email campaign
The campaign setup consists of giving your campaign a name that makes it identifiable.
If you're sending out a monthly newsletter, you can name it "February 2019 Newsletter".
Your subscribers won't see the campaign name.
Your email setup includes multiple details that will be displayed in your contacts' inbox. It includes:
The sender's name
The sender's email address
The reply-to email address
The email subject line
Right after filling in your contact details, select your winner email subject line.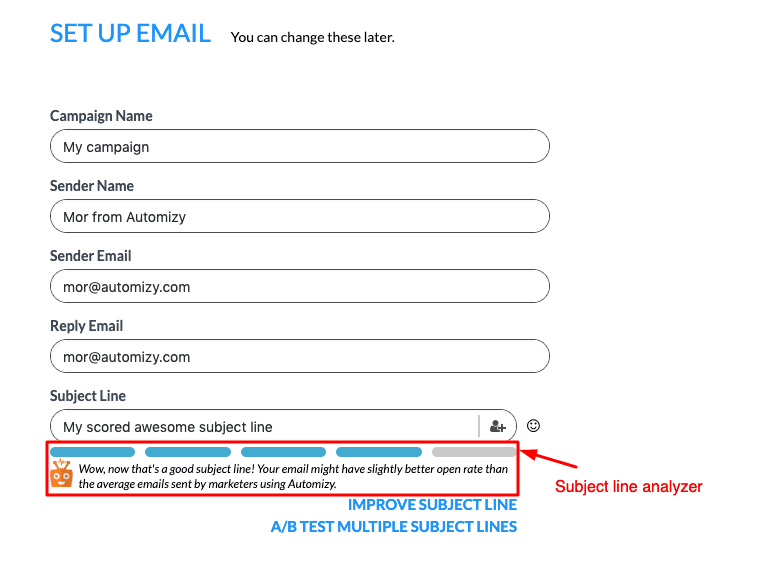 Automizy comes with an AI-powered subject line tester that will help you write better subject lines.
It could help you to increase your open rate, which gets more people to read your email copy, click your links, and eventually convert to customers on your landing page.
If you click on "Improve subject line" Automizy will immediately score your subject line's effectiveness and display the result like the following example.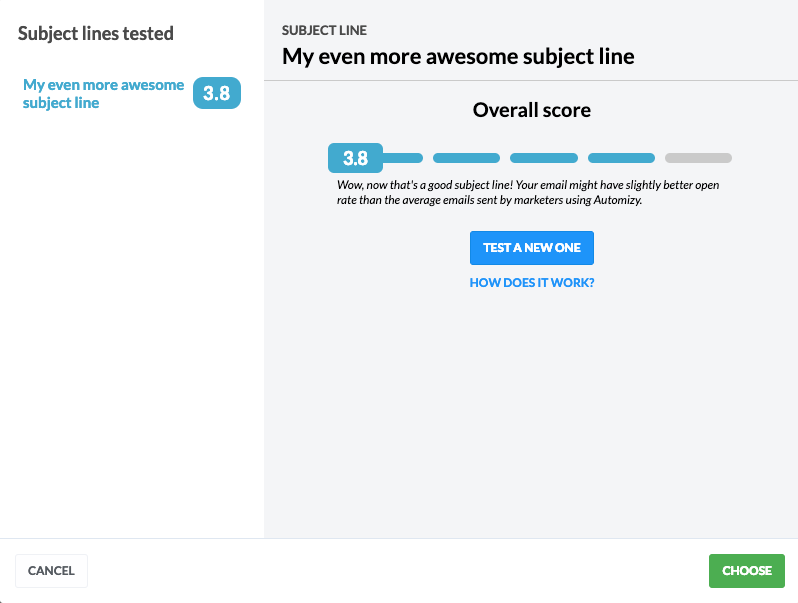 Click on "Test a new one" to test more email subject line ideas, and choose the one that scores the highest.
Now let's take a look at how you can design your mass email template using one of Automizy's pre-made templates.
Step 6: Customize your email template
In Automizy's drag and drop email editor, you can create responsive email templates without any coding knowledge.
Drag and drop different email elements, fill them up with your content, choose your colors and you're ready.
As content you can add to your email:
CTA buttons
Dividers
HTML code
Images
Menu
Social media icons
Text paragraph and titles
Countdown timer
Videos
You just need to drag the content box you want to add and drop it in your email.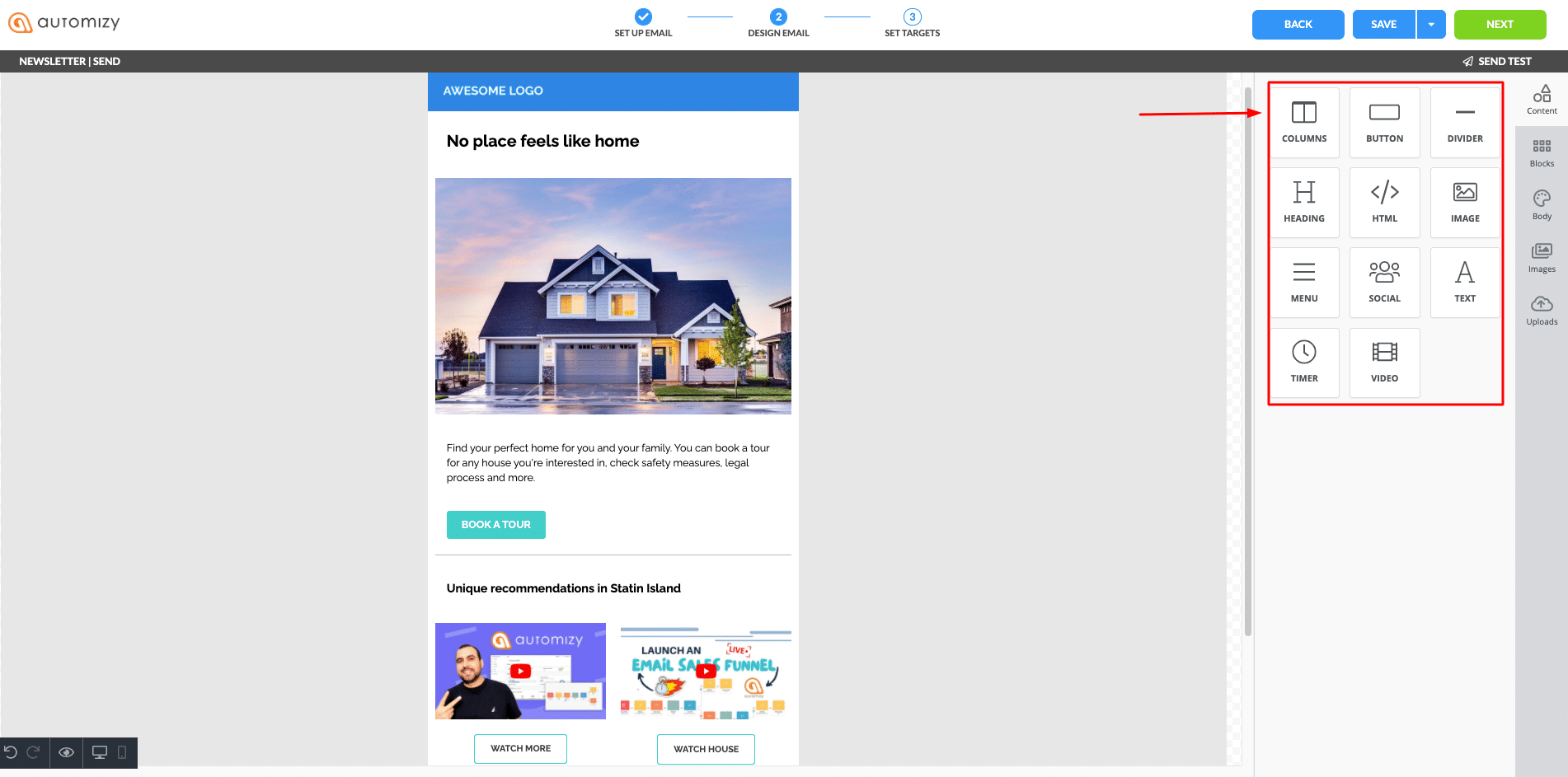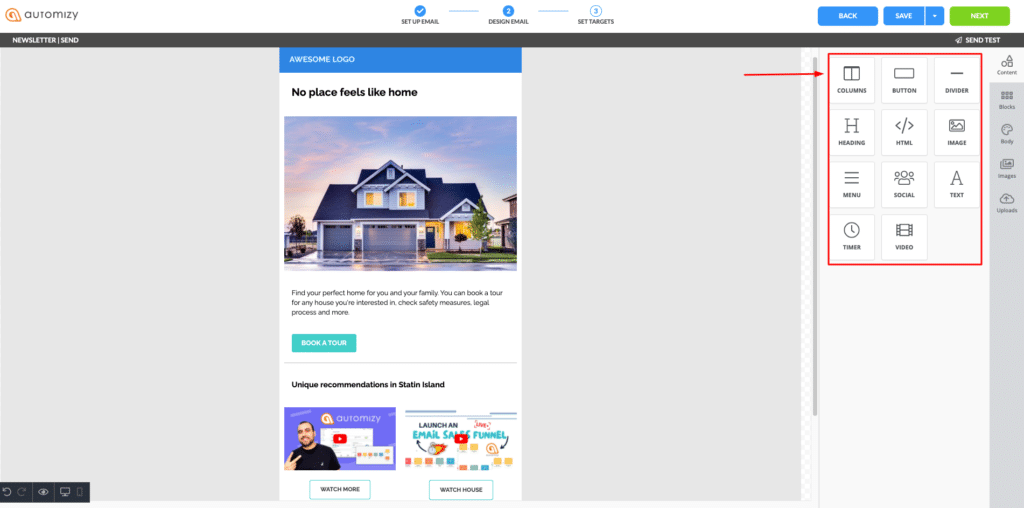 Here is an example of a designed email with the labels of each element: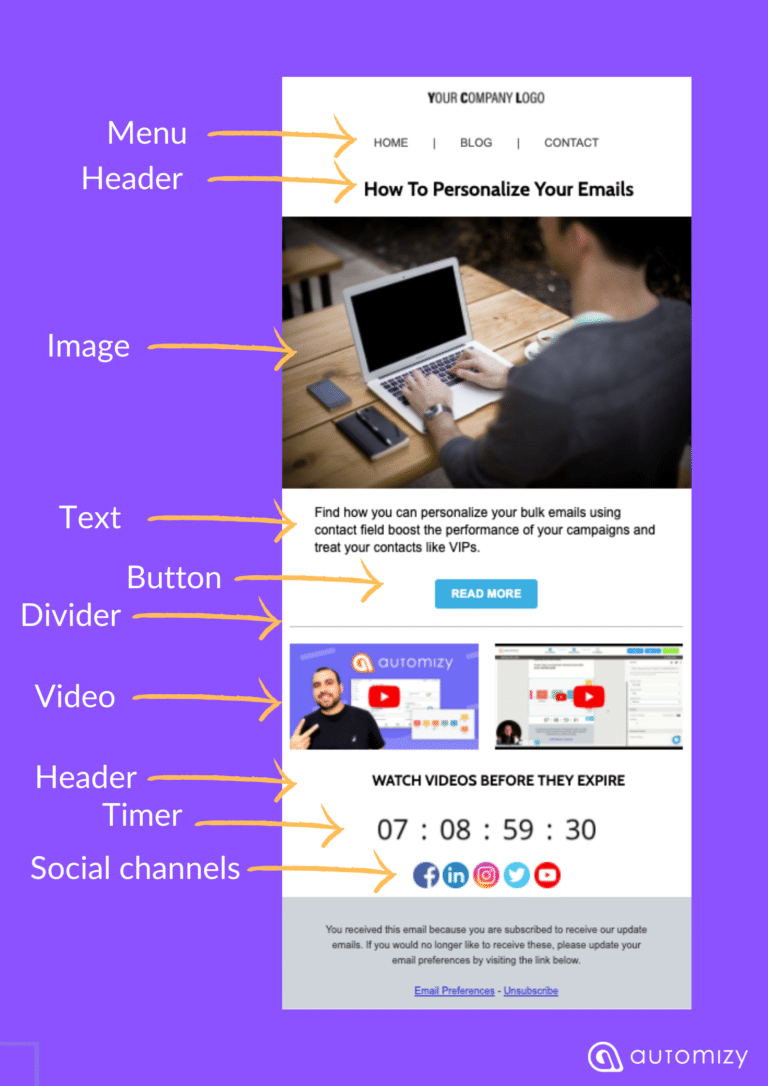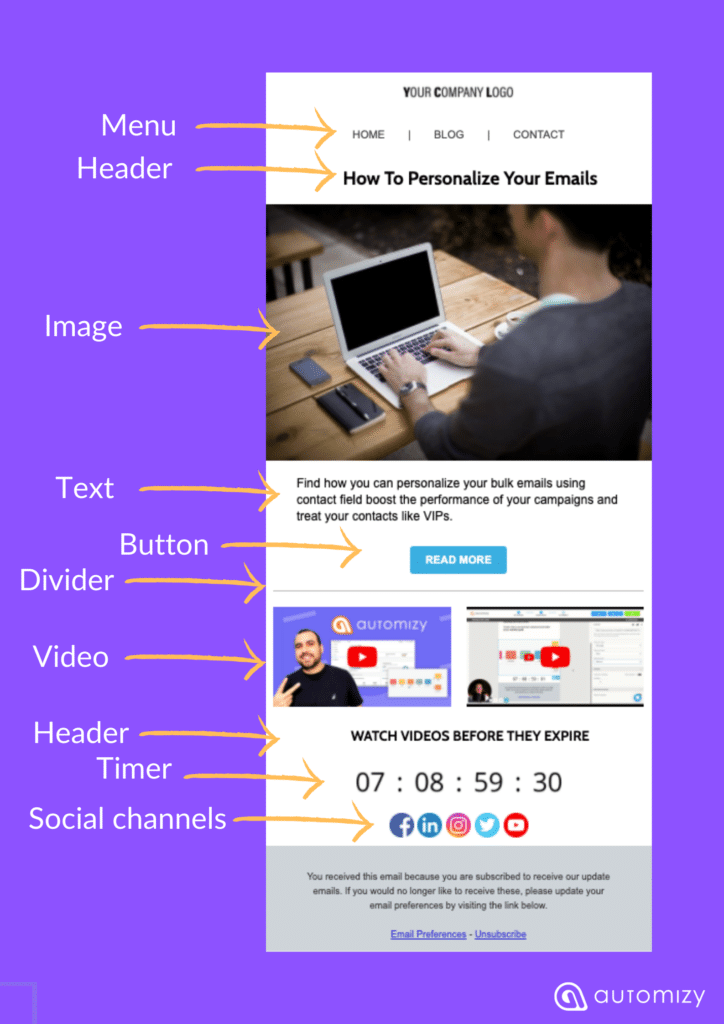 There are 17+ templates you can use for different bulk email campaigns.
You can read our complete guide on email design to learn how to create and send campaigns that convert.
Step 7: Preview your email on different devices
There's nothing worse than finding out that your email looks awful on mobile after you made it perfect for desktop.
Preview your bulk emails on desktop and mobile to make sure it's responsive and mistake-free.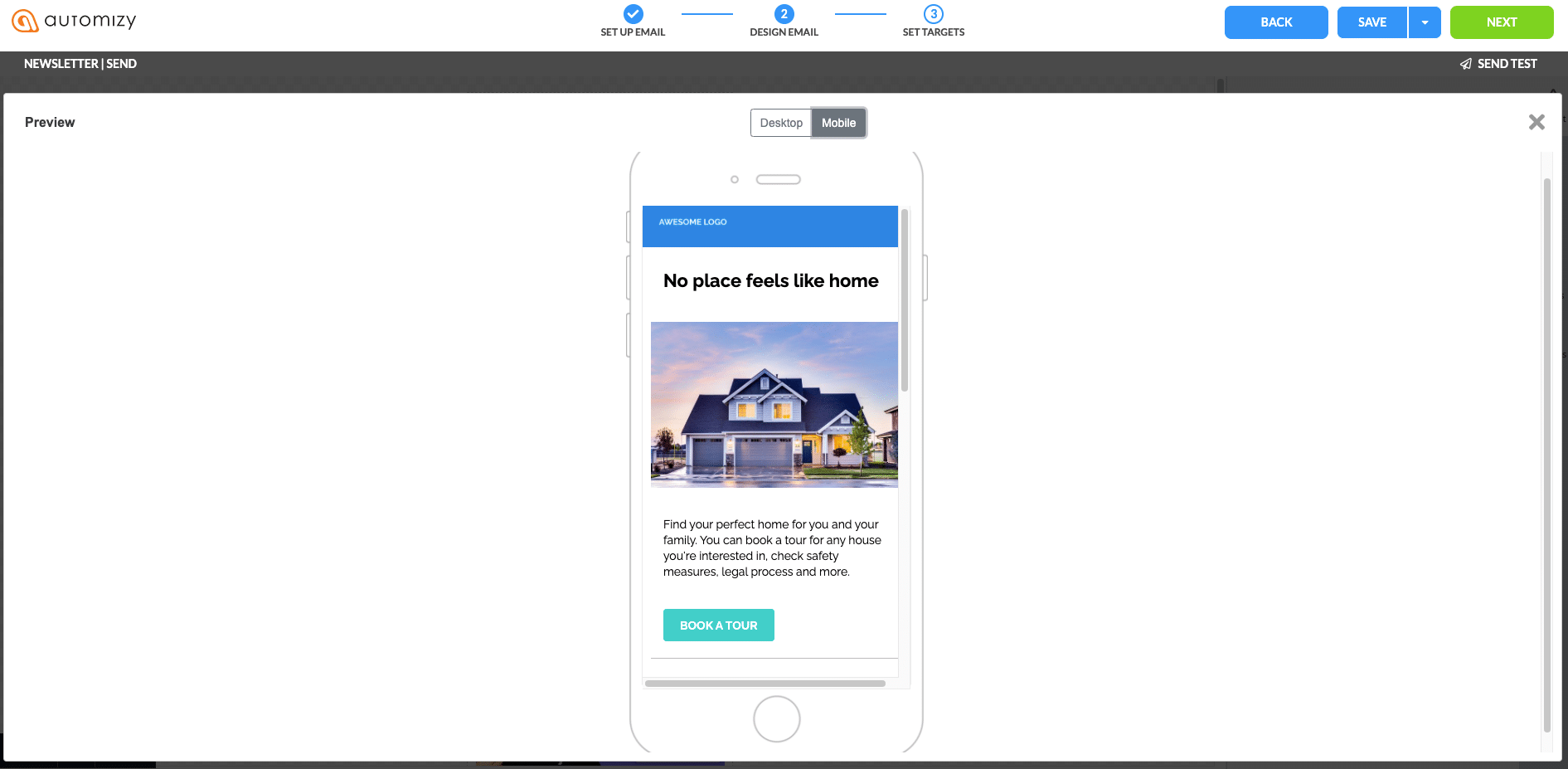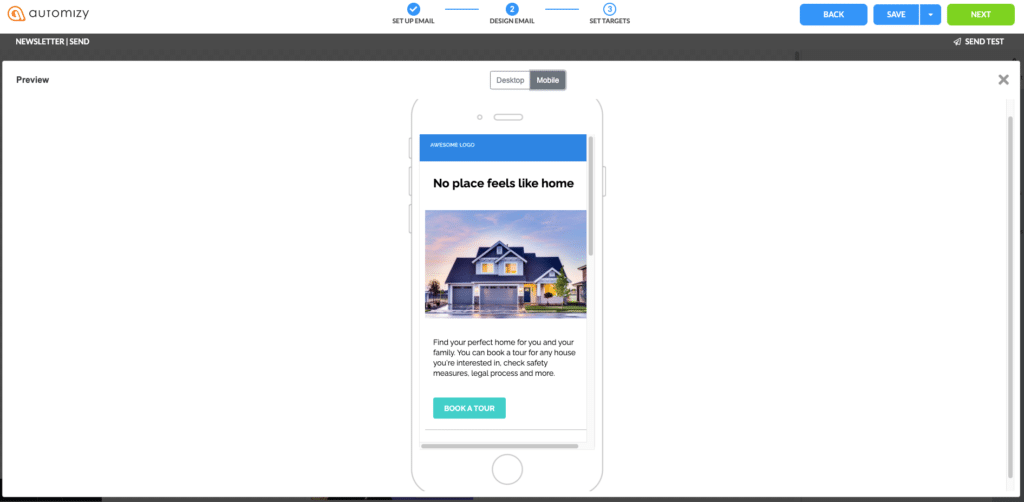 Email preview is effective to proofread your email content and make sure everything looks good.
Send a test email to yourself or your team to see how the email would look like in the inbox. Just insert the emails you want to send a test to, and click on "Send test".
Sending a test email is a must-have step of your email marketing checklist. A test email takes only 5 seconds but definitely saves the embarrassment of making a mistake.
Now that you've done putting together a beautiful email, you have to select your target audience and schedule your bulk email campaign.
Step 8: Set your target audience
Now you have your email ready and made sure it looks perfect, the next step is to define the target contacts you want to send your email campaign to.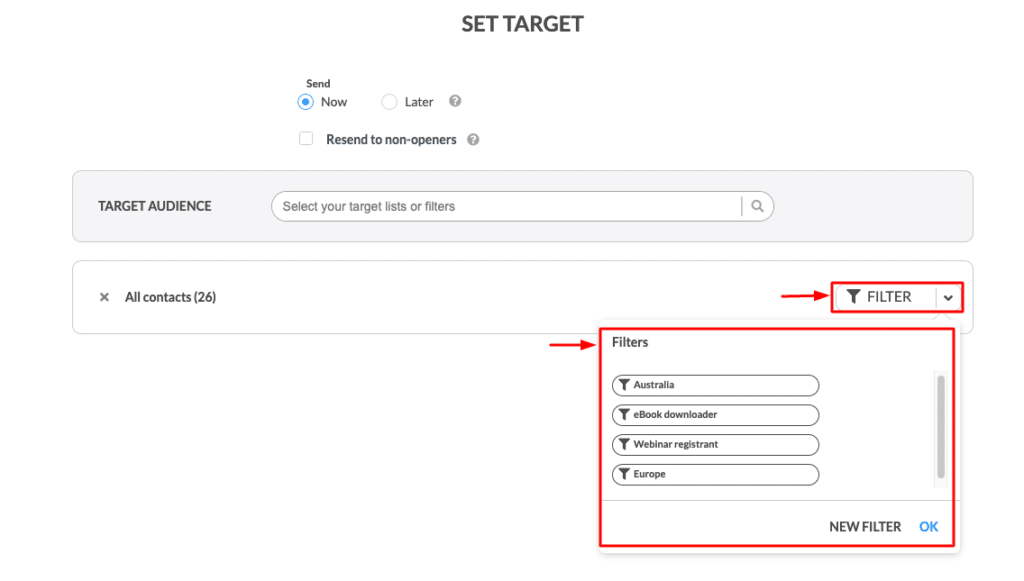 Depending on how you manage your email list, you can filter your contacts and send your bulk email campaign to a specific segment of your contacts.
According to Backlinko, segmented email campaigns also earn 100.95% higher clickthrough rates as compared to non-segmented email campaigns.
Step 9: Send or schedule your bulk campaign
You can select to send your email right away, or schedule it to be sent on a specific date and time.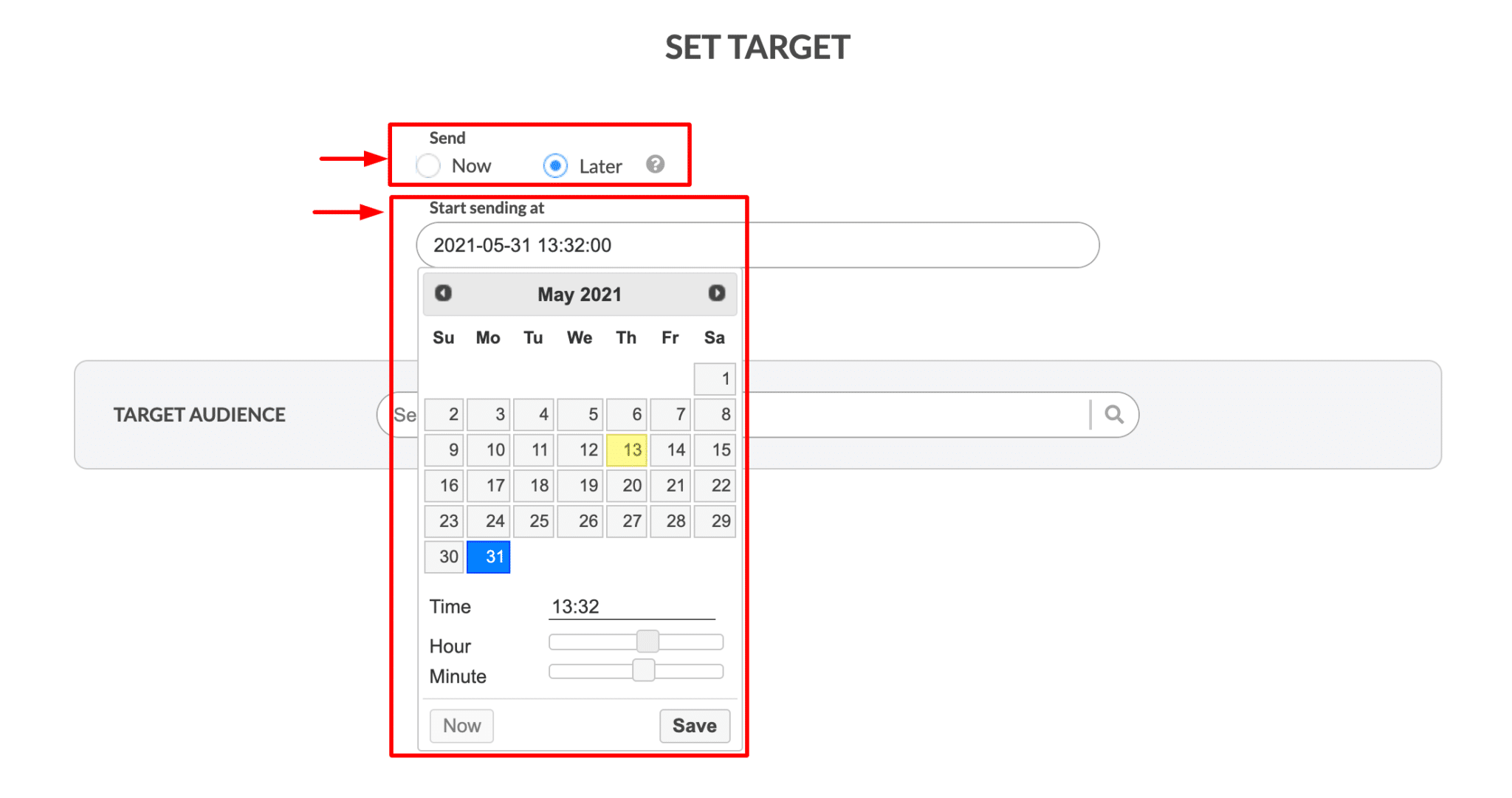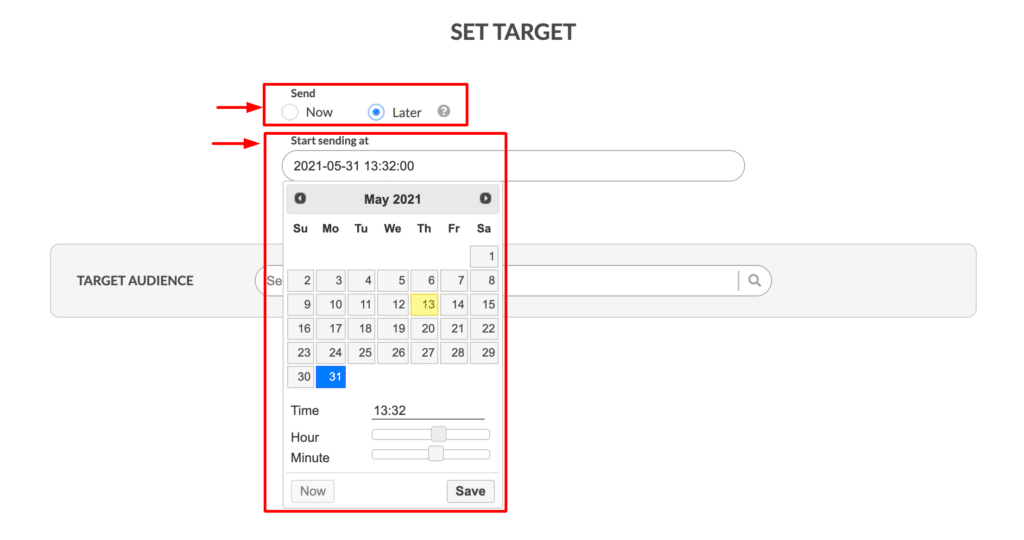 If you're constantly hunting for a higher email open rate, set up an automated email re-send to non-openers.
Let's face the reality for a bit.
The average email open rate for all industries is 16,97%, and if you're from a 'lucky' industry that does well with emails you'd score around 23%.
Re-sending unopened emails provide you with the opportunity to stretch your open rate to its full potential.
For instance, if you send your bulk email campaign to 100 contacts, and only 10 people open it, that's a 10% open rate. If you don't re-send the campaign to non-openers, your open rate won't increase.
Here is what's exciting! If you set up an automatic re-send to the 90 people who didn't open your campaign and you get another 10 contacts to open it, you've just doubled your open rate.
If your open rate for a re-sent email is similar to the rate for the first email, that means you've almost doubled your open rate with minimal effort.
In Automizy you can resend the same newsletter to non-openers with a different subject line.
Check the "Resend to non-openers" box.
Select the number of resends, whether you want to resend the email once or twice.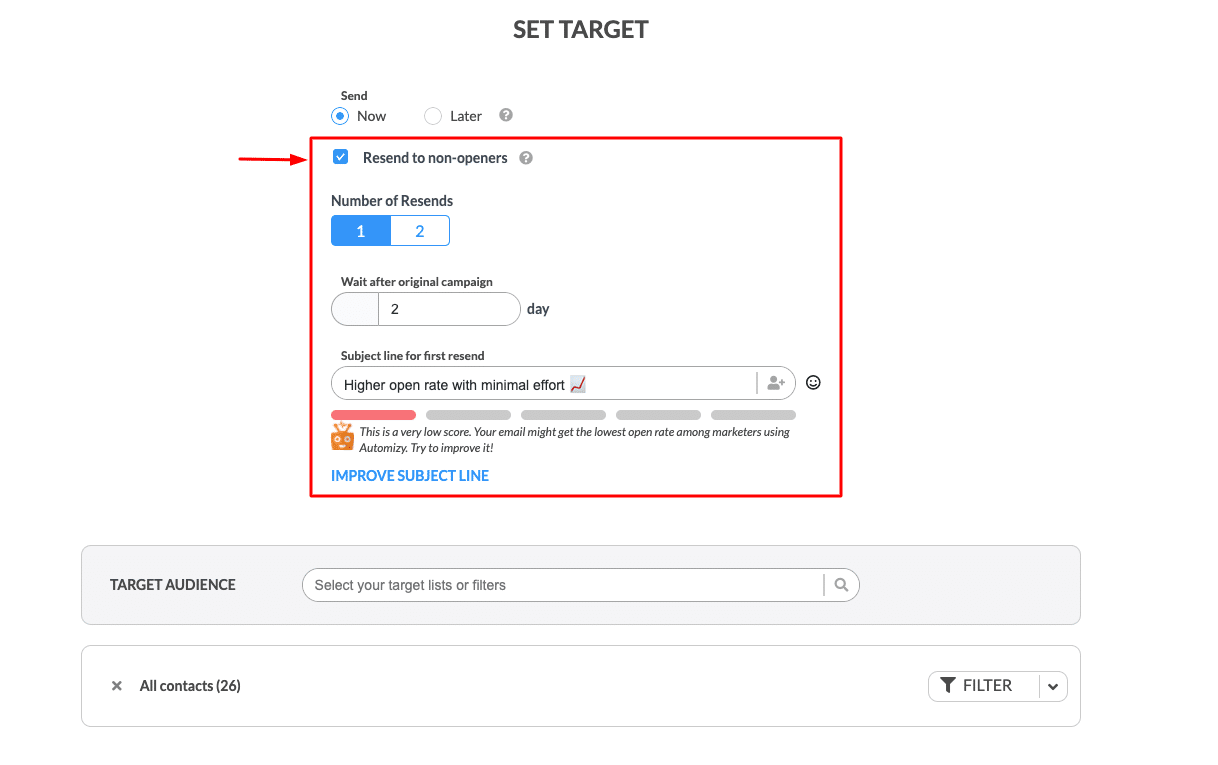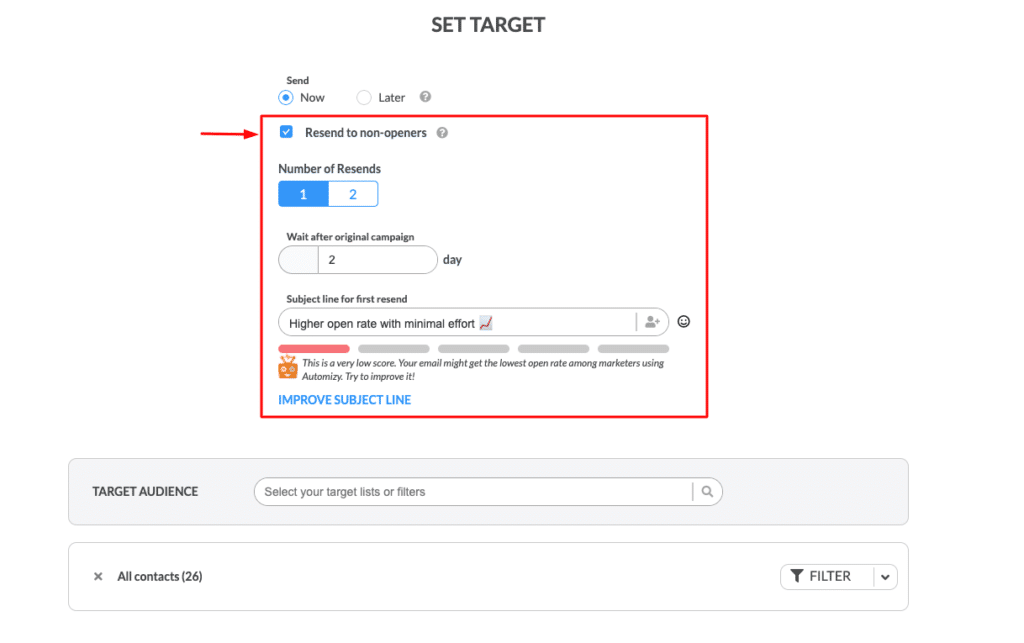 Probably you are cautious of unsubscribes, especially in the second email. But email resend to non-openers can't make your subscribers complain since it is sent only to those who didn't open the first email.
Make sure you use different email subject lines for your email resend. The first subject line didn't grab their attention, a different subject line might.
Step 10: Hit send and monitor your performance
That's it! The 10th step is when you hit "Send" and grab a cold one because you deserve it.
If you've followed the steps above, now I assume you have a bulk email campaign that's ready to sent and perform.
The work doesn't end here.
A couple of days after sending your campaign, check your email marketing analytics to understand your performance, what worked and what didn't.
After sending a bulk email campaign in Automizy, you can access an easy-to-understand dashboard to learn about your email performance.
The dashboard provides you with a report that includes:
The number of Emails Sent
Email Open Rate
Email Click Rate
CTOR (Click-To-Open Rate)
Delivery Rate
Soft and Hard Bounce Rates
Unsubscribe Rate

How to Send Personalized Mass Email Campaign
Personalization is the way to go when sending bulk emails.
It's more than just including the recipient's name in the email, but also making sure you are addressing your contacts with content that matches their interests.
Because most email marketing lists consist of existing customers, there are good chances that you already have interacted with them and have good relationships.
Since they have purchased from you in the past, you already know about their specific needs and how your products helped them.
Perhaps, you can even know what future challenges they might face and what new product developments can emerge from this knowledge.
Many brands are perceived as failing to understand the basic motivations and concerns of their consumers.
Thinking like the customer, rather than the marketer, can make huge differences when you personalizing your bulk email marketing campaigns.
1. Personalize your bulk email copy
A personalized campaign will show that your company is actually taking time to think about each customer segment, their different interest, and stage in the buying journey.
This will help build trust with customers which then helps drive higher conversion rates for your business.
Here are the top 3 bulk email personalization tactics to use.
Use contacts' data to personalize your email copy
Data is the fuel of your email marketing personalization. The more information you collect about your contacts, the more you can personalize your emails.
Collect information about your contacts through the forms they fill in to join your email list.
If you want to collect your contact information, use a form like the one below.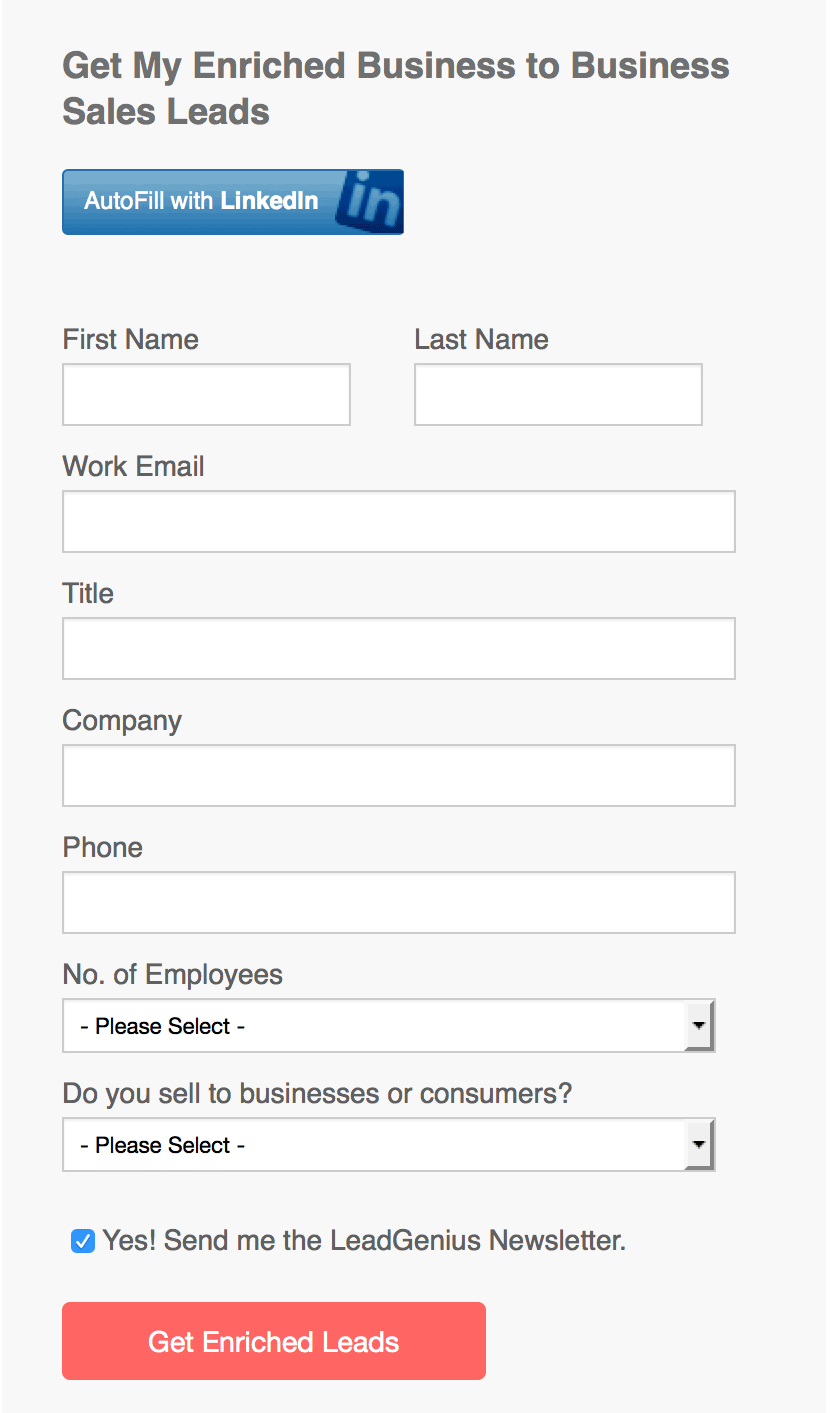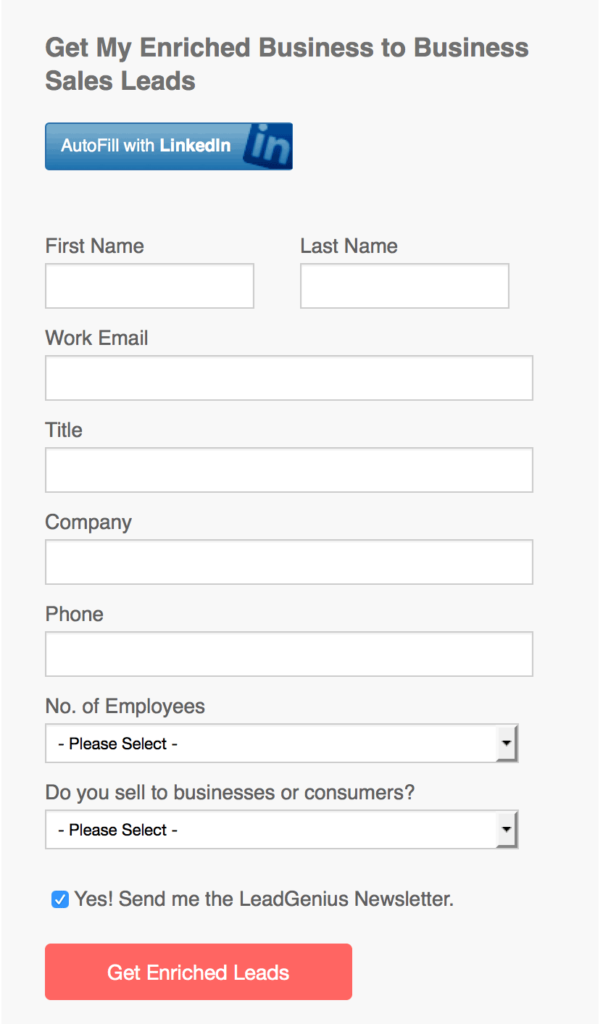 Contact forms are a way to collect information provided by your subscribers, that you can use later on to personalize your emails.
From the opt-in form above you can use data you collect to craft a personalized email bulk email like the following example: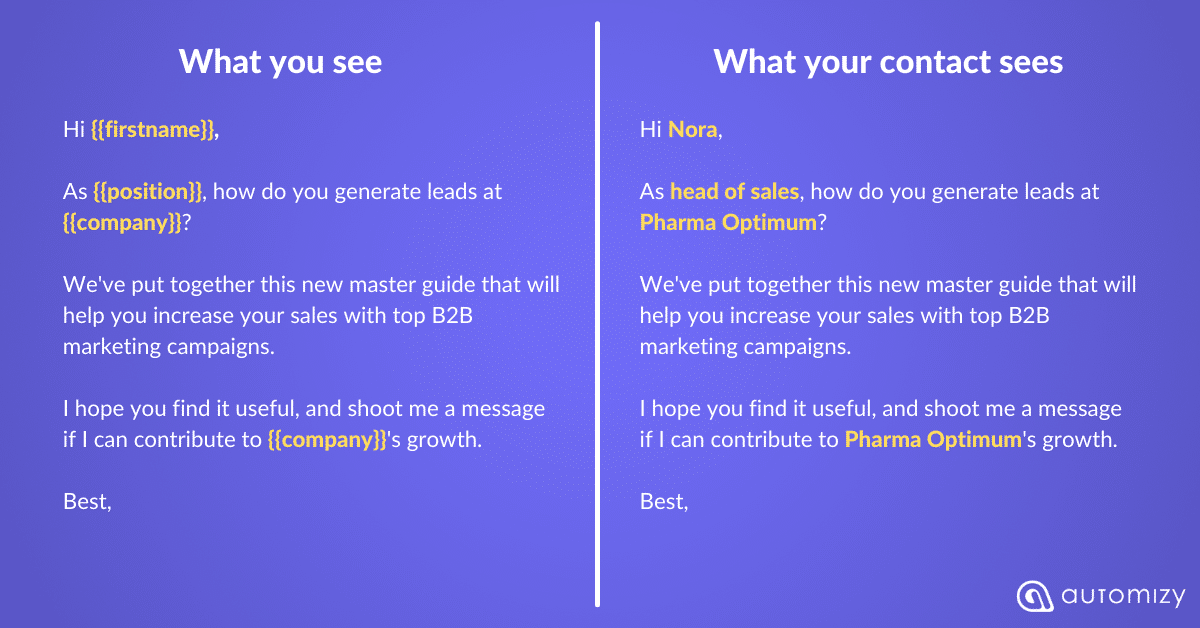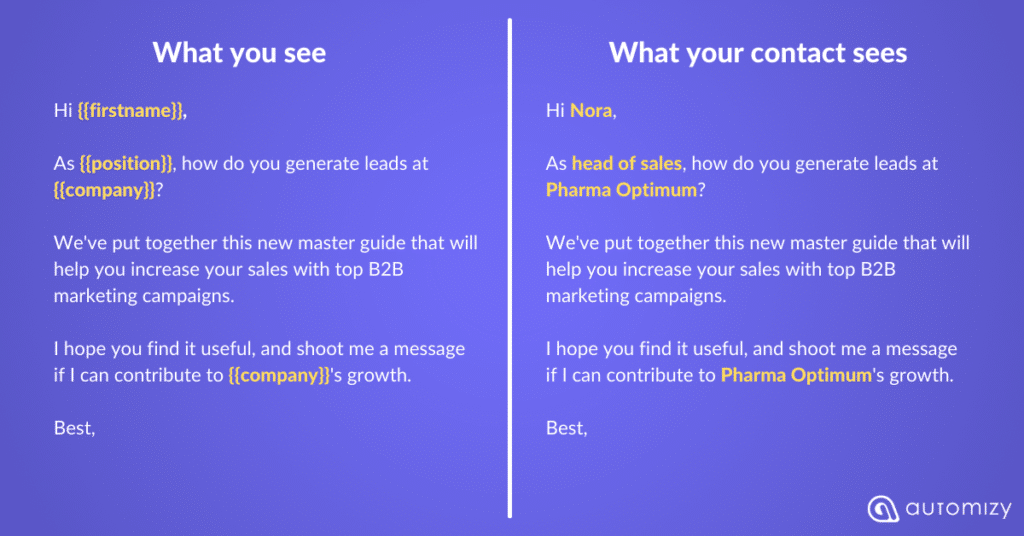 Cool isn't it?
And keep in mind that it's a bulk marketing email that you can send to thousands of people and still each one of them looks unique and speaks to the recipient directly.
As a comparison here is the same email example but compared to a non-personalized one. See it for yourself.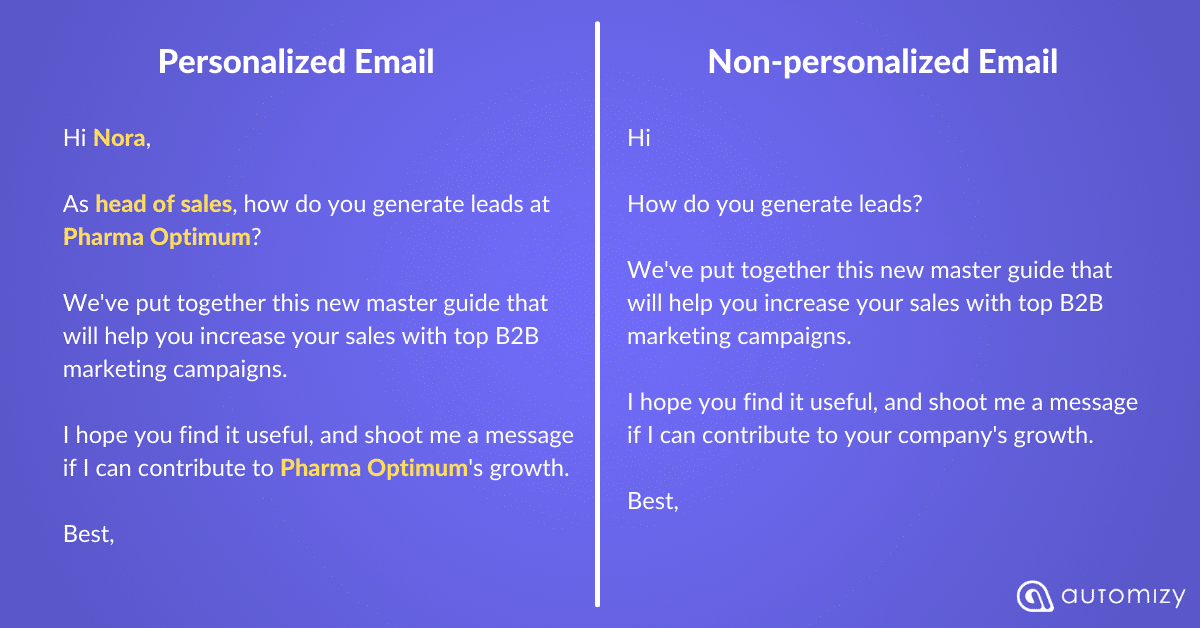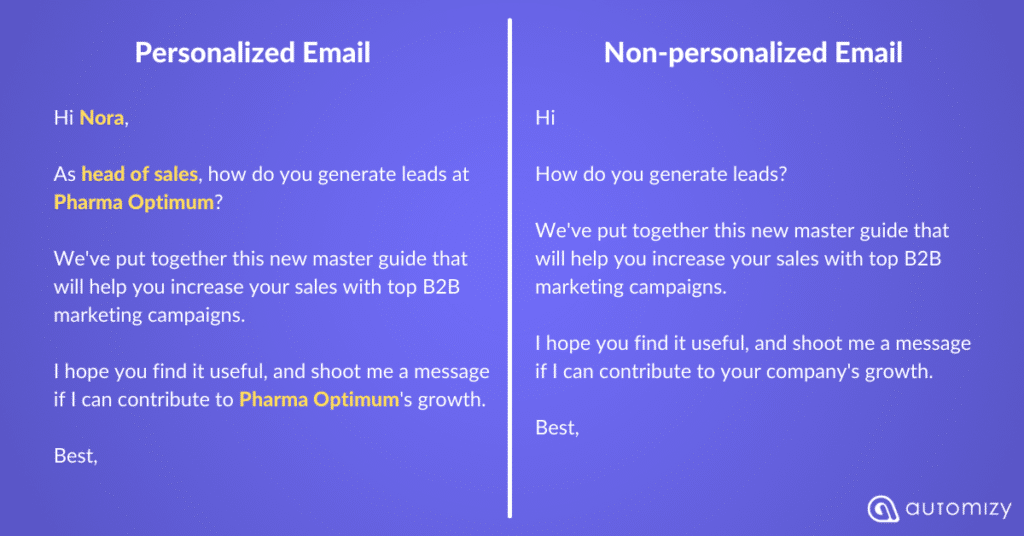 Do you see the difference?
The personalized email feels friendly and shows that you're interested in the person you're reaching out to.
Even though it's a bulk email, it still feels like someone spent time writing it from their personal email address.
However, the non-personalized one comes out a bit pushy with the plain question "How do you generate leads?".
Personally, if I receive such an email the first thing that comes to my head "Why do you care?".
And if I receive the personalized one, I'll be like "Oh they know who I am and where I work so I can give this email more attention"
ATTENTION, that's the first thing personalized bulk emails help you win.
The average office worker receives about 121 emails daily, and not all of those get attention.
Personalize your bulk emails to get them the attention they deserve, and eventually, this impacts your whole campaign performance.
You can personalize your email content using Automizy's contact fields.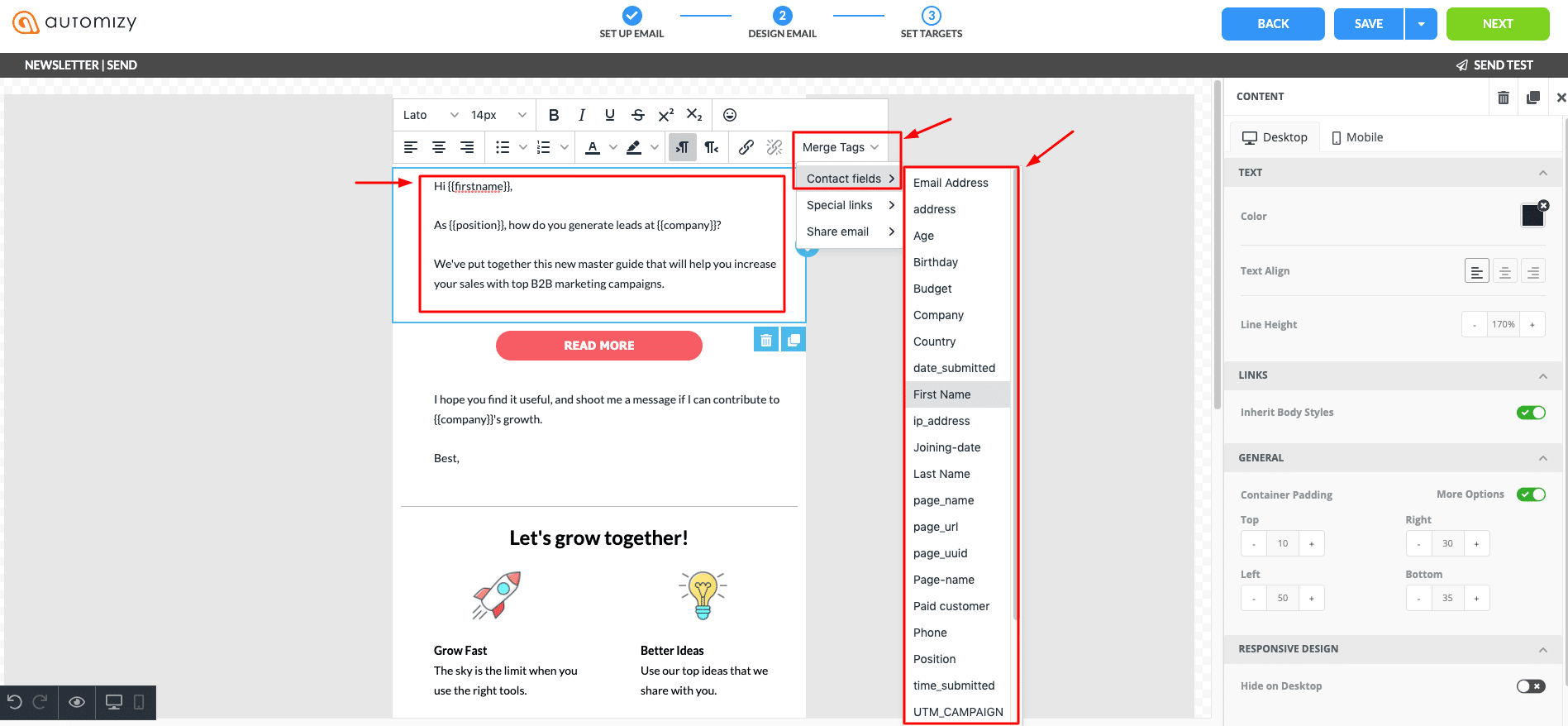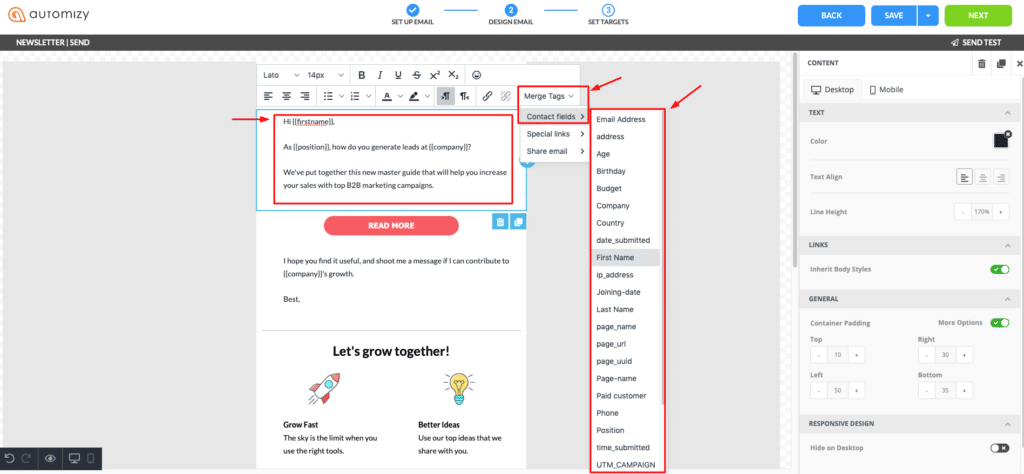 You might be asking: What if I don't want to put long opt-in forms?
That doesn't prevent you from personalizing your emails.
Another way to have more data about your contacts is behavior-based information.
Behavior-based information is meta information you add to your subscribers based on their behavior and interaction with your business.
For instance, if you're doing restaurant email marketing and a new subscriber opt-in to your list from a vegan menu page it's safe to assume they have vegan food preferences.
Even though the opt-in page consists of an email address field only, you still capture extra information that helps you personalize your upcoming bulk email campaigns.
How's it done technically?
You can do this by adding a contact tag to contacts based on their opt-in source.
Tagging helps you:
Avoid spamming your subscribers
Know what type of content they are interested in
Segment them according to their behavior
Identify their life-cycle stage
Using Automizy, you don't need to add tags manually to your contacts. It's an automated process to save time and collect data.
Automizy users who manage their website using Elementor can apply tags to their contacts the moment they opt-in.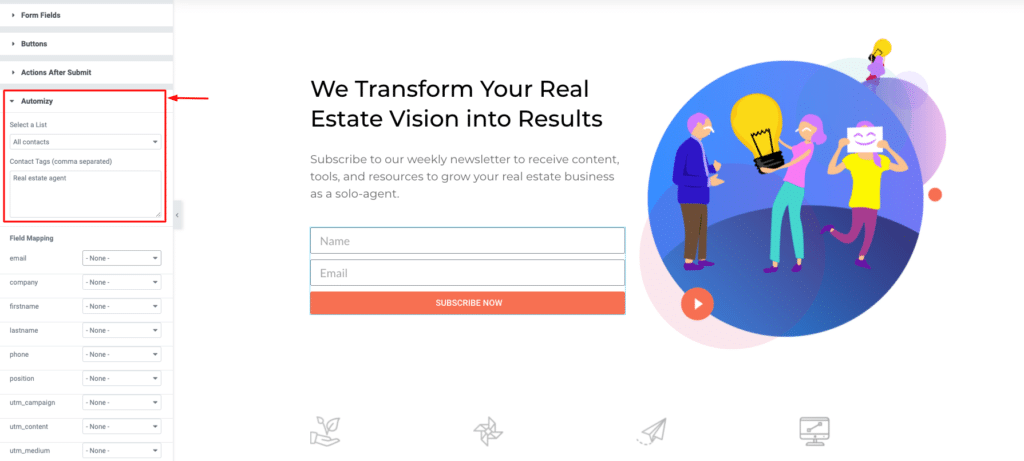 This way you can personalize your emails with the data provided by contacts themselves, and also data based on their behavior.
Create personalized email subject lines
From the section above, you could see how personalization affects the email experience of your contacts.
The same applies to your email subject line. The more personalized the subject line is, the more the recipient feels that you're reaching out to them personally.
Email subject line personalization significantly increases your email open rates. Emails with personalized subject lines are 26% more likely to be opened.
Personalize your bulk email campaigns' with Automizy's subject lines custom fields.
Click on the add field icon in the email subject line bar, and click "Add" on the custom field you want to include in your subject line.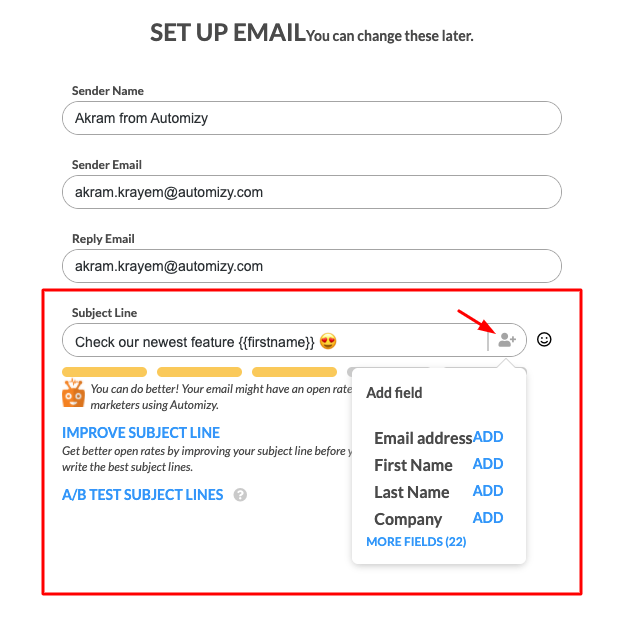 You can add your contact's first name, last name, company, website, position, etc.
2. Apply filters when setting up your target
Filtering makes it easy to group together contacts that have something in common (e.g. subscribers over a specific age, downloaded an ebook, paid, subscribed in a specific period, etc.).
Not only can you easily find people in your database, but you can also save them and reuse the same search criteria (filter) later.
You can send them emails using saved filters. So you don't send the same email to your whole list but you can send relevant offers based on life-cycle stage, interest, geo-location and more.
Watch this short video to learn how to use filtering to segment and manage your contacts.
You can filter subscribers based on different types of data:
they have or don't have a specific tag(s)
they have less or more than a specific lead score
they joined your list before or after a specific date
has a specific email address, name, company or website
is unsubscribed or bounced
was imported from a specific CSV
and for any custom field you create (e.g. source, geo-location, age, buyer persona, payment size, etc.).
How to Send Bulk Emails Without Spamming
As described above, personalization is a big contributor to delivering your bulk emails in inboxes and avoiding spam folders.
Here are more tips on how to send bulk emails without spamming.
Keep your email list organic
Don't buy sketchy email lists from shady sources. That's what spammers do.
I recommend you include a reCaptcha to your contact form to keep spammers away.
Create your organic email list and generate leads from your website. Here are 56 lead generation ideas to help you start building a larger organic email list.
Avoid ALL CAPS email subject lines
If you are thinking that using capital letters in your email subject line is effective to capture attention, you are wrong.
Sending all caps email subject lines triggers spam filters and prevents your emails from being delivered.
Run your bulk emails' subject lines in Automizy's email subject line tester to rate and make sure you send emails that reach your contacts' email inbox.
Include unsubscribe link
All bulk emails must include an unsubscribe link as it allows contacts to unsubscribe rather than mark emails as spam.
According to a study conducted by Jeff Bullas, 50% of people mark a brand email as spam, because they can't find a way to unsubscribe.
You don't have to remember to include an unsubscribe link in every bulk email campaign you send. In Automizy the unsubscribe link is automatically included in every email.
Compliance is a top priority for us as it should be for your emails too.
Best Time to Send Email Blast
Sending your email blast campaign at the right time could increase your email open rates.
Here are some general email tips on when to send bulk email campaigns.
Tuesday, Wednesday, and Thursday are marketers' favorite days to send bulk email campaigns.
The best time to send your email campaign is:
6 AM: For the 50% who begin their day with reading emails in bed.
10 AM: Perfect for office time when everyone is well settled.
12 PM: When people are checking out of work mode or looking for distractions, or having lunch.
8 PM: For those who check their emails at the end of the day before going to bed.
No one checks his or her emails while sleeping. Always send emails during daytime (according to contacts' timezone) when people are awake not sleeping.
Avoid sending bulk emails on Mondays when everyone is deleting useless emails to have their inboxes ready for the week.
Weekends are already self-explanatory, people are on adventures, pubs, etc.
Weekends tend to have low email open rates.
Conclusion:
When bulk emailing is done right, it can deliver a significant ROI for you. Use it for your upcoming product release, seasonal sales, customers update, etc.
Remember to capture enough data about your subscribers. Later that would come in handy to send a personalized mass email campaign.