Let's address the elephant in the room.
If your emails land in spam and junk folders, it means:
No emails viewed
No emails opened
No links clicked
No revenue
This went downhill quickly, but have no worries.
By the end of this article, you'll be able to increase your email deliverability rates and avoid landing in spam folders.
Read this article to learn:
Let's get to business.
What is Spam Email?
A spam email is an unsolicited or unwanted email. Usually, these emails are sent without the recipients' consent.
Spam emails are also referred to as junk emails.
Is spam email considered dangerous for email recipients?
Yes.
Spam emails can include malicious links that can infect recipients' devices or scrape data.
Here are the common types of spam:
Commercial advertisement: Can be spam or a legitimate advertisement from a newsletter you subscribed to.
Antivirus warning: Create a clickbait for people to click a link to scan the device for viruses. Once the link is clicked, you grant hackers access to your system.
Email spoofing: Use fake organization emails to mimic a legitimate corporate message.
Sweepstakes winners: Inform you that you've won a prize which you need to claim by clicking a link.
Money scam: Fabricate a story about needing money for a cause, emergency, or similar event. I'm sure you've heard of the "Nigerian prince" scheme.
Every email that arrives in Gmail, Hotmail, Yahoo, or any other email client passes by a spam check done by spam filters
What is a Spam Filter?
Spam filters are the systems that decide whether an email should reach recipients' inboxes or spam folders.
It processes incoming emails so as to prevent spam emails from reaching a user's inbox.
Spam filters detect unsolicited, virus-infected, or unwanted emails. These emails are also known as spam emails.
What is Spam Folder in Email?
The spam folder, AKA junk folder is where spam emails land to prevent risky emails from going to inboxes.
Every email client has spam or a junk folder that the user can access. Here is an example of how you can access the spam folder in Gmail.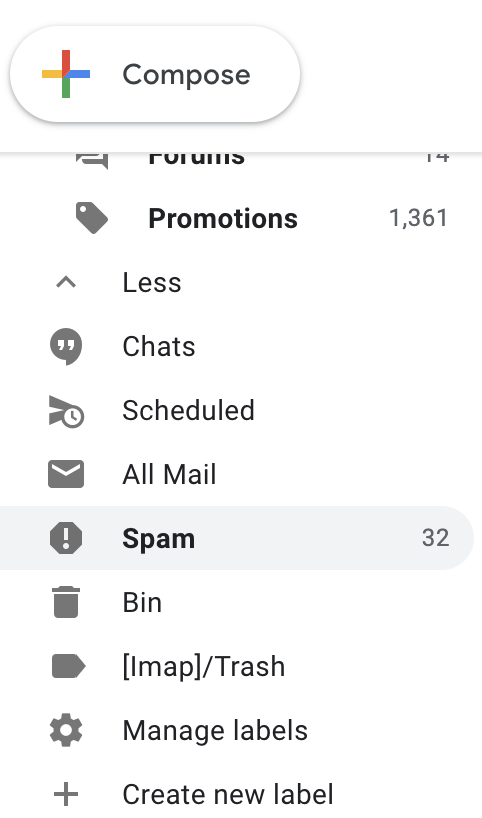 Spam Vs Phishing: What's the difference?
Are all the emails that land in the spam folder considered risky emails?
No.
For instance, a commercial advertisement can be an authentic offer from a business, yet it can land in the spam folder for several reasons.
It can simply be because the subject line the business used includes a spammy word or characters.
That's when you'll need to learn the difference between spam and phishing.
A spam email is a bulk email sent to a large list of people at once to promote a specific product or service. Can also be a scheme to make money, but still not as 'advanced' as phishing.
Phishing is when someone disguises themselves as a brand or an organization that has a good reputation and tries to get people's sensitive information like:
Social security numbers
Bank account details
Credit card information
Apple ID
3 Reasons Why Your Emails Are Landing in Spam
If you're sending emails and most of them are landing in spam folders it's because your spam score is high.
Spam algorithms give your email campaign a score to determine if it goes to the spam folder or the inbox.
I'll help you learn the 3 reasons why your emails land in spam.
1. Your email marketing process
The spam scoring algorithms of each email client are not public but basically work on the basis of spam filters.
Your email marketing process affects your email deliverability. For example, if you send bulk emails without personalization you risk landing in spam.
Or if you buy email lists and send emails without the consent of recipients.
How you manage your email marketing has a lot to do with your email deliverability and it's among the top reasons why your emails would end up in spam folders.
2. Your subscribers' behavior
Your subscribers' behavior can be defined by 2 signals:
Positive signals
Negative signals
Let's go through each one separately.
Positive signals
Open: Subscribers frequently open your campaigns and even click the links in them. This keeps your emails landing in the inbox.
Reply: If subscribers get in touch with you, (via reply email they send a response) to help improve your overall reputation with email providers.
Add to address book: When your subscribers add your email address to their address book. This shows that they care about receiving emails from your domain and will keep delivering them to the inbox.
Not spam: If recipients move your email out of the spam folder, or mark it as "not spam" is a very strong, positive signal. The email providers take this as a sign that campaigns are relevant and worthy of making the inbox.
Move to folder: When your emails are moved to various folders in the subscriber's inbox, it means that they care about your emails and are more likely to continue delivering them right to their inbox.
Negative Signals
Move to junk: One of the strongest, negative signals. It means your email campaigns aren't worthy to be delivered in inboxes.
Delete without open: After a quick look at the sender and subject line, your subscribers delete your campaign. It increases the chance of your future campaigns landing in spam.
Email Engagement and Sender Reputation (domain history): If your emails consistently have poor engagement, such as high bounce rates, filters may adapt and it can result in your further emails going into the spam folder.
If the sender and the recipient email address are the same a warning message can be displayed above the email.
Hint: Use a different, personal email address for preview email sending.
Corporate email domains have their own spam filters that can be more strict than the filters of free email clients.
Let's suppose the sender email address you set using Automizy email software is your own email address and you send the message to yourself.
It would give an impression that you've sent an email from your own email client. However, the email clients detect that the sending server is not its own, but an external server.
3. The reputation of the sending server IP addresses of your email software
The reputation of the sending server IP addresses of your email software is a third major factor in your email deliverability.
Just like we motivate our users to protect their email address and domain reputation, we do the same at Automizy.
We monitor our credibility on a daily basis, examine potential deliverability risks, and implement new technologies to maintain the efficiency of our servers.
15 Tips How to Avoid Landing Emails in Spam or Junk Folders
Spam filters are designed to remove unwanted emails from contacts' inboxes, and sometimes, unintentionally valuable emails get swept too.
To avoid landing emails in spam and junk folders, here are 16 must-apply tips.
1. Get permission first
Getting contacts' permission before sending them email campaigns is not only beneficial to increase your email deliverability.
It ensures that you run your email marketing on the right side of laws and regulations.
Not doing so, you risk being fined for non-compliance.
Lastly, by getting permission from your contacts you make it easier for them to recognize your emails in their inbox and increase your email open rate.
A higher email open rate is a positive factor for your email marketing which helps to avoid landing in spam folders.
2. Set your DKIM records
When you sign up for new email software, setting up your DKIM record must be your top priority before sending any campaign.
DKIM (Domain Keys Identified Mail) is an email authentication technique that allows the receiver to check that an email was indeed sent and authorized by the owner of that domain.
In a non-techie language, it's done by giving the email a secure encrypted (not visible) digital signature.
The receiver (or receiving system: Gmail, Yahoo, Outlook, etc.) determines that an email is signed with a valid DKIM signature when your email is delivered.
The DKIM signatures are not visible to end-users, the validation is done on a server level. Which means your subscribers won't see the digital signature.
Implementing the DKIM standard will improve email deliverability and prevent your emails from landing in the spam folder.
Right after setting up your DKIM records, SPF is your next priority.
3. Set your SPF records
SPF (Sender Policy Framework) is an authentication scheme that authorizes certain servers to send emails using your domain name.
SPF records are not only used to prevent spammers from spoofing your domain name. Also, to minimize the chance of your emails landing in the spam folder or bouncing.
Therefore you can significantly increase your open rates.
4. Personalize your emails
Personalizing your bulk emails increases the engagement of your subscribers with your emails. It improves the contact's experience with your brand.
Contrary to mass addressing and many repeated typical starts, a personalized, uniquely written email not only gains the trust of the user but also of the email clients.
Appearing like a human, showing your Name, Company Address, Phone number, even Linkedin profile or a link to your calendar is something that lands your email in the inbox.
5. Test your email subject lines
I recommend you test your emails in tools that are build to understand email subject lines to make sure:
You don't use spammy phrases
You don't add spammy characters
You write a subject line that doesn't get flagged by spam filters
Here is an example of a spammy subject line tested in Automizy's Subject Line Tester.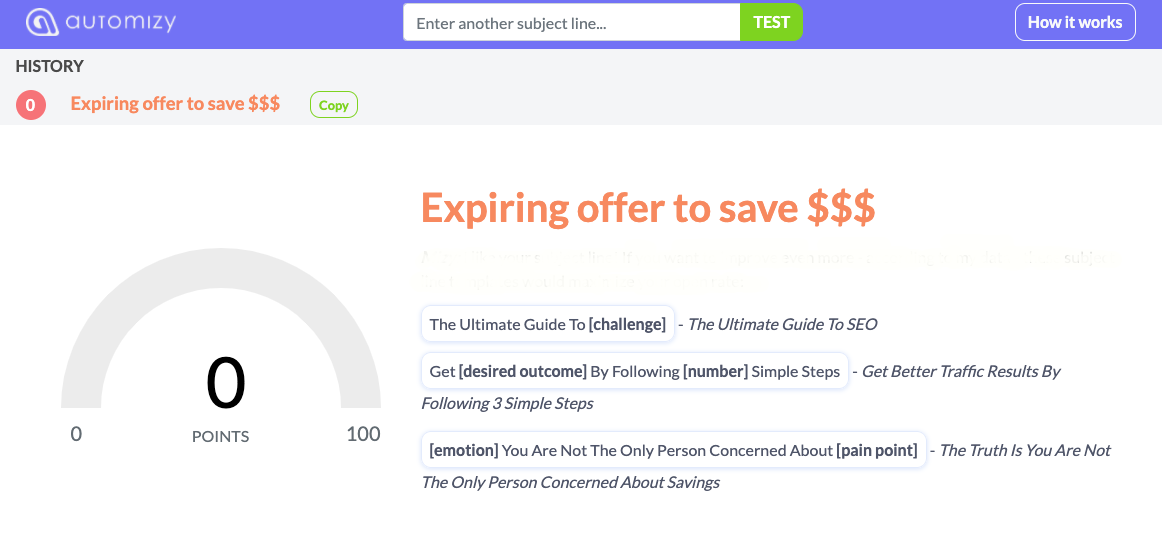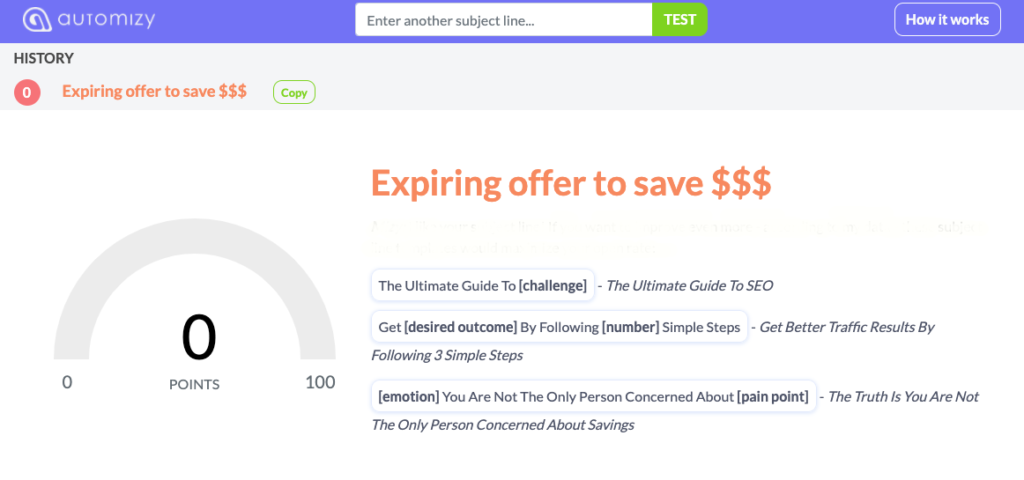 Obviously, it would get a zero as a score because it includes spammy phrases and characters.
Yet, here is an example of another subject line that doesn't include such spammy terms.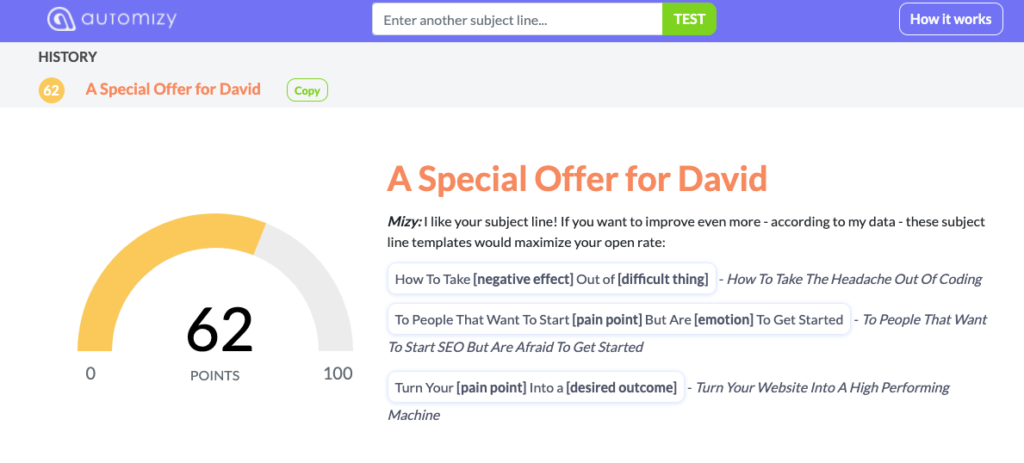 Do you see the difference?
Sometimes you include a spammy word in your subject line without even knowing it's spammy.
And for that, I recommend testing your subject lines before sending them.
Automizy's free Subject Line Tester is an AI-powered tool that grades your subject line based on data from over a million campaigns.
What does it mean? It means that you get to write your subject line in the tester, and it will score it for you and provide you with high-performing subject line templates that you can copy.
6. Rephrase template content
One of the perks of using ESPs (email service providers) is the pre-built email templates.
It saves you time designing an email campaign or writing copy.
Yet, pre-built email templates are too generic and might be flagged as spam by spam filters.
Even if your email marketing software provides the best email copy, it's best to rephrase it to your own style.
You might be just testing a new email software and thought to use a template to send yourself a test email. Still, not editing and personalizing the template will make the test email land in spam.
By personalizing your email campaigns you avoid using generic templates that can damage your email deliverability.
7. Use a real reply-to address
Email clients may determine whether or not your reply-to email is a real email address, moreover, did you receive any response so far from your previous emails.
Think it through, nobody will reply to spammers or to an email they don't care about.
Getting responses is an obvious positive signal for email clients that your emails are legitimate that people care about.
Hint: Avoid using emails like noreply@yourcompany.com as it tells subscribers you are not interested in hearing from them.
8. Be aware of spammy phrases
In both the subject line and body of an email, there are certain spam-trigger words, phrases, and characters that can cause it to be sent to the junk folder.
One instance may not be enough to cause the email to be filtered, but the more you have throughout your campaign, the greater the risk of landing in junk folders.
Here is a snippet list of spammy phrases you must keep away from:
Act now
$$$
Click here
Urgent
100%
Free gift
Prize
Cheap
No fees
Pure profit
Risk-free
9. Keep the content and subject line short
When an email client detects that your contacts aren't reading your emails, they start routing them into the junk folders.
Make sure to keep your email copy consistent to grab your contacts' attention and provide them with value so they click your CTA.
10. Avoid using too many images
Keep your image-text ratio low and avoid using one, big image, as these immediately trigger the spam filter. Not to mention that it's not responsive.
Image-only emails are often associated with and used by spammers to avoid phrase detecting.
Some spam filters are sophisticated enough to detect an image's content and this is still one of the most weighted signals in spam-score.
Design your email newsletter in a balanced way that includes copy, images and a CTA to increase your click rates.
Hint: Optimize or even crop your images if needed and never insert an image with a long text.
11. Include an "Unsubscribe" Link
When you send email campaigns, you must include an unsubscribe link and don't get frustrated if someone clicks it.
You can provide your contacts with options so they can update their preferences instead of unsubscribing from all of your lists.
Not including an unsubscribe link is considered a violation of GDPR, CAN-SPAM, and CASL compliance laws which can end up in expensive fines.
12. Miss out obscure fonts
Obscure fonts are not readable and can only serve one evil objective: Getting your emails to spam and junk folders.
Here is a bad example of a subject line with obscure fonts.

Stick with fonts that work across platforms, like Arial, Verdana, Georgia, and Times New Roman.
13. Keep away from link shortener apps
When you use link shortener apps you make your website URL less recognizable.
Spammers use link shorteners to hide their malicious links and it triggers the spam filter of email clients and may even disable the links, so subscribers won't be redirected to the page.
Hint: Use hyperlinks or CTA buttons to redirect your subscribers to your website.
14. You should always send newsletters from your own domain
If you send marketing emails from free domains, you are running the risk of sending your newsletters straight to the junk pile.
We know…It's perfectly fine to send emails to your friend or colleague from domains like @gmail.com, @yahoo.com, @hotmail.com, etc. If you want to surprise your friends with a fancy design in their inbox, here's a guide on how to send HTML emails from Gmail.
But if you're using your email marketing software's servers to send emails from a free email address, you have no chance of landing in inboxes.
Also, let's be honest … your contacts may not trust an email sender who doesn't even have a business domain.
Tip: Use clear and reliable names like "newsletter@", "info@", contact@", or "myname@".
15. Segment your emails
What happens if enough people mark your email as spam or unsubscribes, just because your content is not sufficiently targeted to their interest?
In this particular situation email clients start putting you out of the inbox and into the promotions tab or even worse you can wind up in the junk folder.
And that goes for your entire list, including your contact who even like hearing from you, not just the ones who flagged you as a spammer.
Segment your contacts based on their interests to be sure to send the right content to the right person.
Conclusion
Apply the tips shared in this article to never get flagged by spam filters.
You may not be sending spam on purpose, and understanding how spam filters work can avoid landing in spam folders.
Higher email deliverability is your first step to better performing email marketing campaigns.