If people aren't opening your email, it's no wonder that they're not clicking and converting.
That means you're missing out on conversions, sales, and revenue.
Are you one of those marketers who want to notch up their performance and wondering how to increase email open rates?
If yes, I'm glad you're here, and this guide is the right place to start.
By reading this guide, you'll learn:
How to Land Your Emails in Inboxes
Many marketers care only about their email open rate without fixing the root of the problem.
Before we dive into increasing email open rates, are your emails landing in inboxes in the first place?
If not, you might be facing 3 significant issues:
Low email deliverability
High bounce rates
Emails landing in spam and junk folders

Your email won't be seen in an inbox when facing one of those issues, and honestly, the open rate shouldn't be your primary concern.
Here are the email marketing tips to consider to land your emails in inboxes.
Send emails from your domain name email address
Set up your DKIM and SPF records to increase deliverability
Prevent spammy terms in your subject lines
Avoid using too many images in your email
Include an unsubscribe link
Avoid using link shortener apps
Clean your email list, removing invalid email addresses
Applying the above tips will help you land your emails in your contacts' inboxes.
Once your email deliverability rate is above 95%, you're doing good. And for email bounce rates, make sure it's always under 5%.
By email inbox, we refer to both the Primary folder and Promotions folder.
Gmail and similar services move marketing emails such as promotional messages and offers to the Promotions folder.
Marketing emails typically land in the Promotion folder as you're using an Email Service Provider (ESP) to send campaigns.
That doesn't present any issue or limitations to your campaigns as people use the Promotions folder to check for emails from their favorite brands and businesses.
Now that you have a general idea of how to land email in inboxes, we can talk about what's a good email open rate.
What is a Good Open Rate for Email?
Let's start with a simple math equation. Your email open rate is calculated by dividing the number of unique opens by the total number of emails sent, minus the number of bounced emails.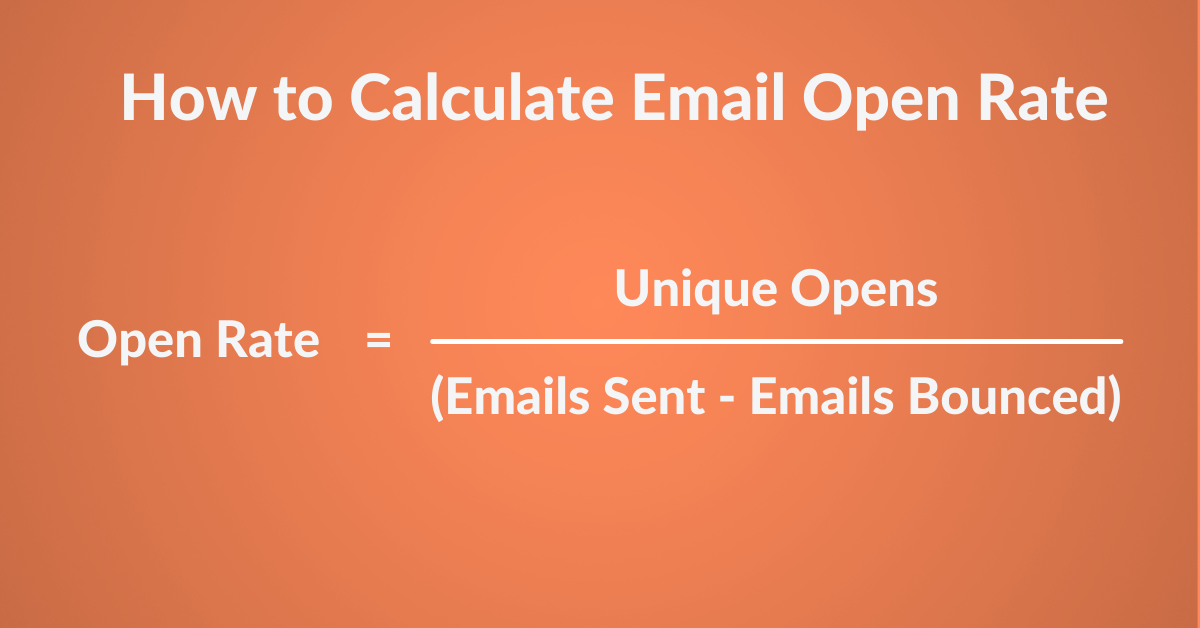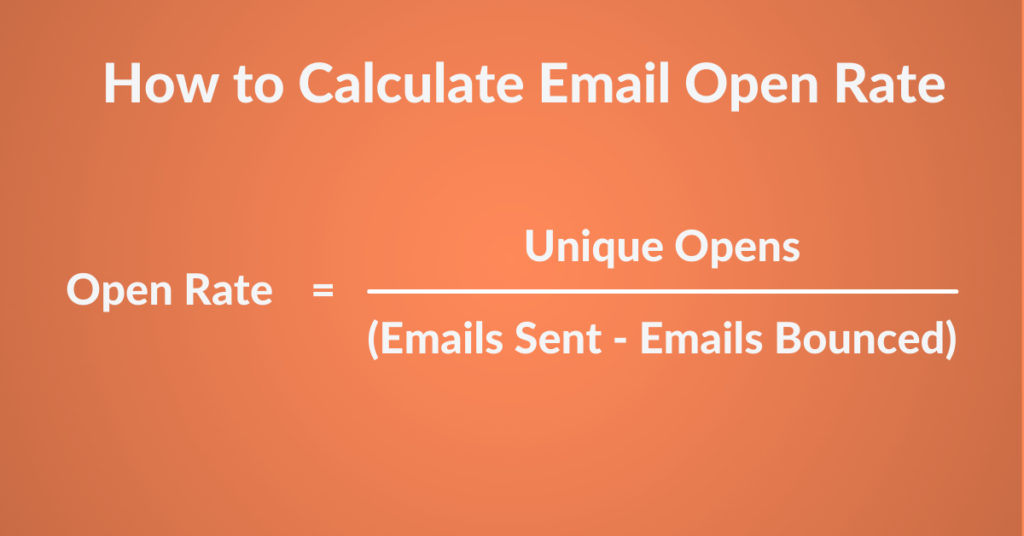 You don't have to calculate your open rate manually. Email marketing software such as Automizy provides you with a reporting dashboard for each campaign you send.


Your industry has a lot to do with your average email open rate and click rate as well.
However, you can consider your email open rate good if you're averaging 15-20%.
To help you see the big picture, here are the average email open rates for the different industries.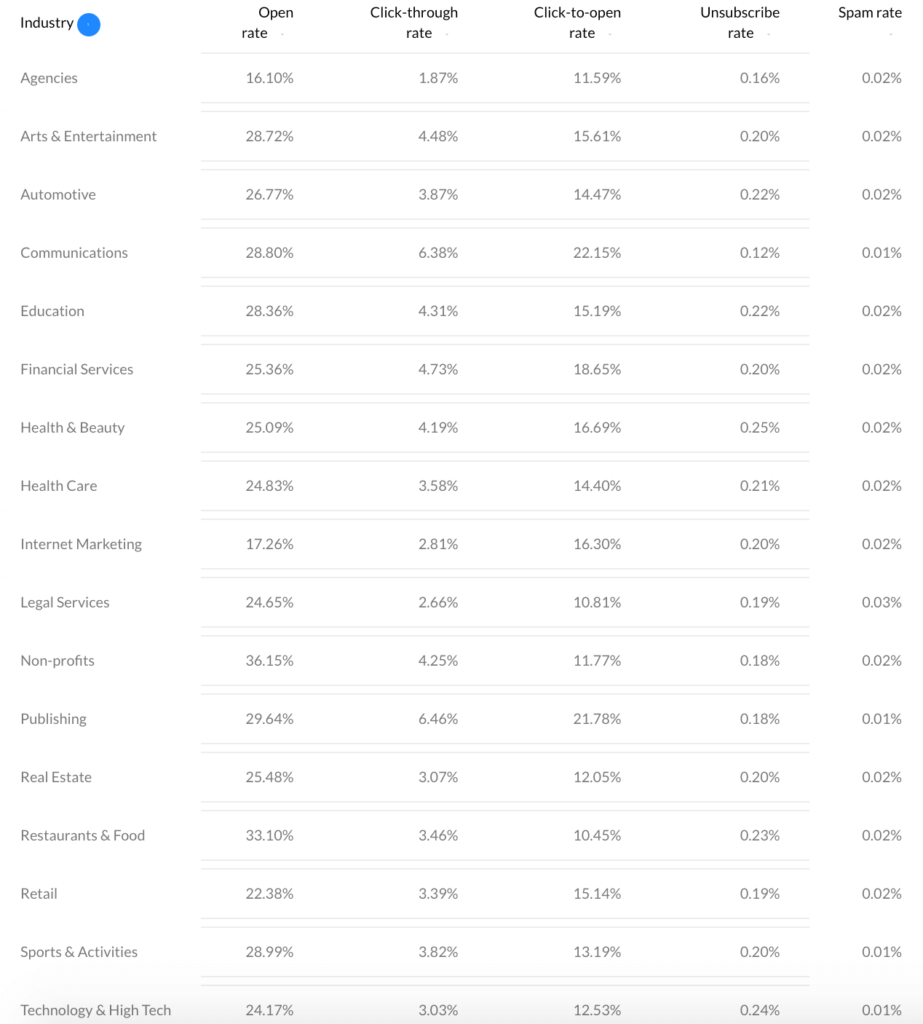 By looking at these email marketing benchmarks, you can tell that you can expect a high average email open rate if your business is part of the restaurant and food industry.
Yet, if you're an agency, you can expect a low average email open rate.
Other factors would influence your average email open rate.
For example, as your contact list size increases, your average email open rate tends to decrease.
And if you're sending uniquely transactional personalized emails, you're expected to have a higher than average email open rate.
Another factor that would influence your email open rates is timing, which is pretty logical.
If you're sending a campaign at convenient times for your contacts, you'll experience a good average email open rate in comparison to sending campaigns at random times.
When do Most People Check Their Email Inbox?
Sending your email campaigns at the right time could increase your email open rates.
Here are some general email tips on when to email campaigns and when most people check their email.
Tuesday, Wednesday, and Thursday are marketers' favorite days to send emails.
The best time to send your email campaign is:
6 AM: For the 50% who begin their day with reading emails in bed.
10 AM: Perfect for office time when everyone is well settled.
12 PM: When people are checking out of work mode or looking for distractions, or having lunch.
8 PM: For those who check their emails at the end of the day before going to bed. Always send emails during daytime (according to contacts' timezone) when people are awake not sleeping.
If you're doing B2B email marketing, avoid sending emails on Mondays when everyone is deleting unnecessary emails to have their inboxes ready for the week.
Weekends are already self-explanatory. People are taking a break and spending time with families or engaging in activities.
Weekends tend to have low email open rates. So avoid sending emails during the weekend just like you're avoiding COVID-19. 😀
13 Proven Tips to Increase Email Open Rates
1. Test email subject lines
Did you know 47% of email recipients open an email based on the subject line, whereas 69% of email recipients report email as spam based solely on the subject line?
These stats make you double-check how good your subject lines are.
Wouldn't be great to have a tool that would score your subject lines and help you write better-performing ones based on data?
In fact, it exists.
Automizy's free Subject Line Tester is an AI-powered tool that grades your subject line based on data from over a million campaigns.
What does it mean? It means that you get to write your subject line in the tester, and it will score it for you and provide you with high-performing subject line templates that you can copy.
Here is a preview of how it looks like in practice.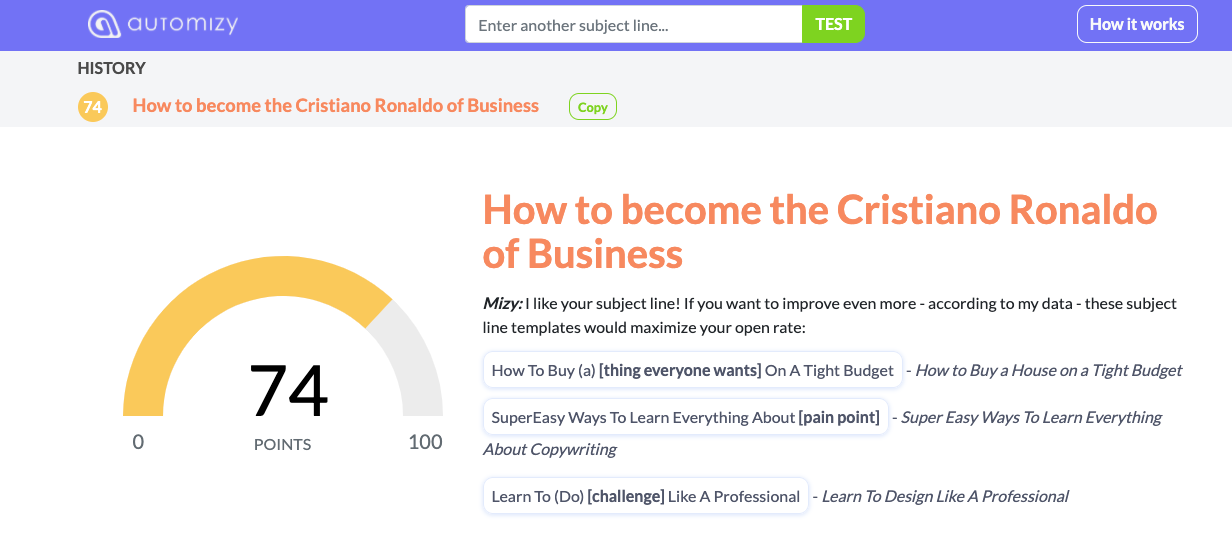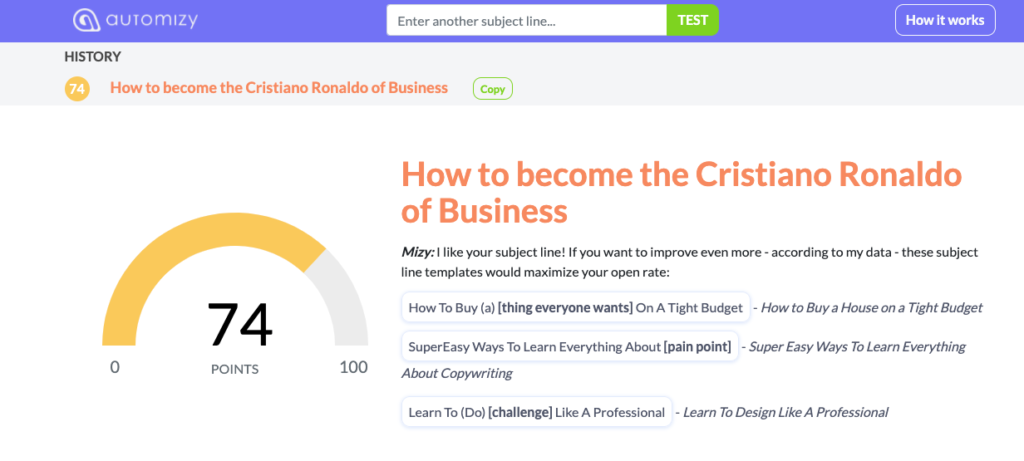 Automizy users have access to the Subject Line Tester inside the software to test their subject lines before hitting send.
And that's how they increase their email open rate.
If you're not a user yet, sign up to Automizy and harness the power of AI to increase your email performance.
By testing your email subject lines, you make sure you send campaigns that get opened.
2. Personalize subject lines
Personalized email subject lines that include contacts' first name can increase email open rates by 10-14% across industries.
According to Experian, personalized emails have 29 percent higher unique open rates and 41 percent higher unique click rates than non-personalized emails.
The data provides clear evidence that personalized email subject lines can improve your open rates.
But including your subscriber's name is only one way to make your subject lines more personal.
You can also use casual language, share something personal, or use a copy that implies familiarity or friendship.
Nowadays, email marketing software makes it easy for you to personalize content, so there's no excuse not to use this technique.
Even though you send emails to a large list of contacts, you can still make each email different and personalize it to each contact using personalization custom fields.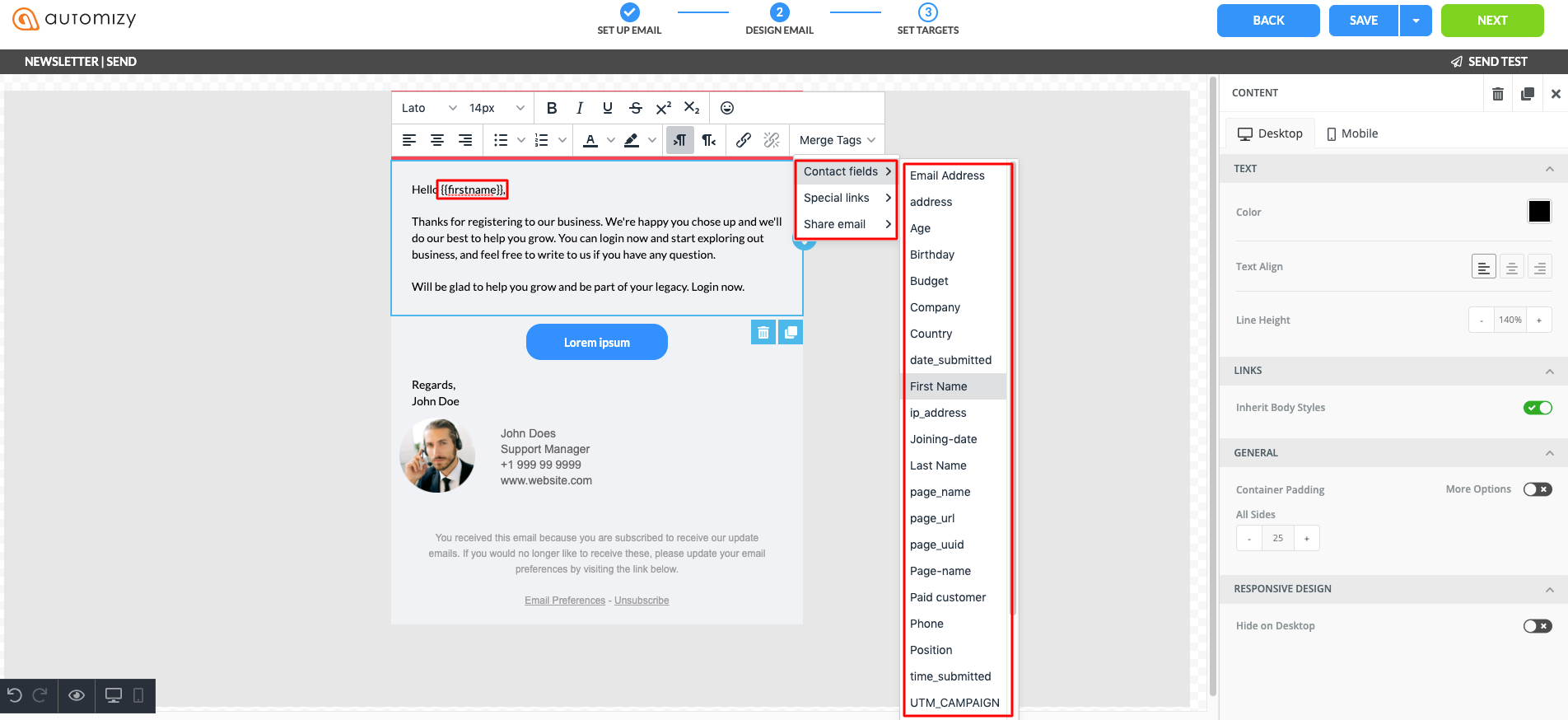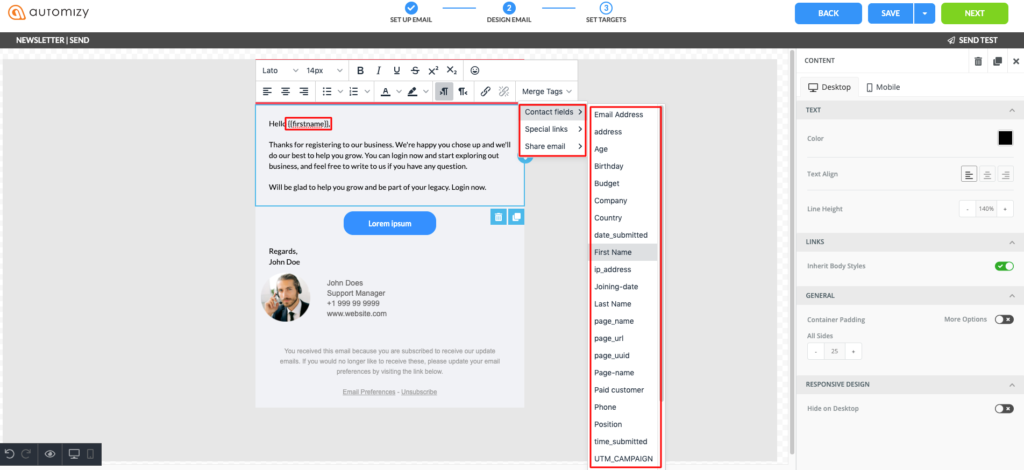 3. Use emojis
As you can see, emoji has grown and evolved a lot in recent years. It gained tremendous traction in both personal and professional communication.
But, in professional circumstances, you'll have to be a bit more cautious. Depending on your industry and work environment, it might be wise to avoid emojis symbols.
Use emojis in email subject lines to illustrate your topic, draw attention to your email subject line and increase your open rates.
A colorful icon in the inbox can easily grab attention. Plus, if your subject line is wordy, you can replace some words with an emoji to save a few characters.


4. Send behavior-based emails
There are two types of email in the email marketing paradigm: bulk email and transactional emails.
Bulk email marketing is the practice of internet marketing which implies sending mass emails to a large group of subscribers.
Transactional emails are the type of emails sent upon an already agreed-on transaction between the contact and your business.
For example, if you promised to deliver an ebook when a contact subscribes on a landing page. The lead magnet email you send is considered a transactional email.
Transactional emails are used in multiple use cases:
Confirmation emails for order, registration, subscription, etc
Password reset emails
Purchase receipts
Lead magnet emails
Behavior-triggered emails
As users expect to receive transactional emails after an action they performed, these emails have an average open rate of 80-85%.
For instance, if I promise you a downloadable email marketing checklist that you need to opt-in to receive, you'll eventually open my email because you're expecting to receive the checklist.
By sending transactional emails, you make it easier for your contacts to recognize your organization in their inbox, which helps increase your email open rate.
5. Clean your email list
Are most of the contacts on your email list active contacts? Do you have invalid email addresses?
Here is how you'd know that you need to clean your email list:
Low open rate
Low click rate
High unsubscribes
High hard bounce rate
High spam complaints
Inactive contacts and invalid email addresses influence your overall email open rate.
I mean it's pretty logical. If 30% of your contacts are inactive, then you're only relying only on 70% of contacts to open your email.
Cleaning and verifying your email list provides you with an accurate email open rate.
For instance, you might have an average 25% email open rate, but if you clean your list and make sure your list is active and engaged, you can increase your open rate to 30%.
Automizy email marketing software automatically flags hard bounces and prevents them from receiving your next campaigns.
6. Segment your contacts
Segmenting your contacts is an effective email marketing strategy that can increase your email open rates by 203%.
Your contacts are different. Some of them open your sales emails and show interest, while others would only interact with your educational emails.
The more matching value you provide to your contacts, the higher your open rate will be.
To increase your email open rate, segment your contacts based on:
Interest
Stage in the sales funnel
Contact data
Previous engagements with your emails
Here is a basic example.
If you're running dentist email campaigns and a contact clicked a link in an email about teeth whitening.
Now you have an idea of what they're interested in, and you can send him/her more related content.
You can send them more tips about teeth whitening or send a promotional email and get them to book a teeth whitening session.
By sending segmenting your contacts, you can eventually send personalized emails that grant you higher email open rates.
7. Resend email to non-openers
Imagine you score a 15% open rate for a specific email campaign. And without doing any extra work, you double it to 30%.
How cool is that?
That's exactly what you can achieve with automated email resend to non-openers.
Resend to non-openers allows you to resend the same email, but with a different subject line to contacts who did not open your first email for a chance to increase your email open rates.
Here is an example of how Automizy users resend email campaigns to non-openers.
The subject line is the first thing contacts see in their inbox. And 47% of email recipients open an email based on the subject line.
So if your first email campaign doesn't get a high open rate, it has a lot to do with your subject line.
For your resend email, write a better, more attention-grabbing subject line to increase your open rate.
If you're worried that contacts will unsubscribe because you're resending the same email, don't.
Email resend to non-openers can't make your subscribers complain since it's sent only to those who didn't open the first email.
8. Write a friendly email preheader
Email preheader is the small text line that appears after your subject line in an email inbox or push notification bar.
You can write the email preheader yourself, or by default, the first couple of words of your email will be displayed in the preheader section.
Use your email preheader to give a summary of your email content to convince your contacts that you're sending valuable content.
If you're an Automizy user, you know that you can set up your preheader while designing your newsletter.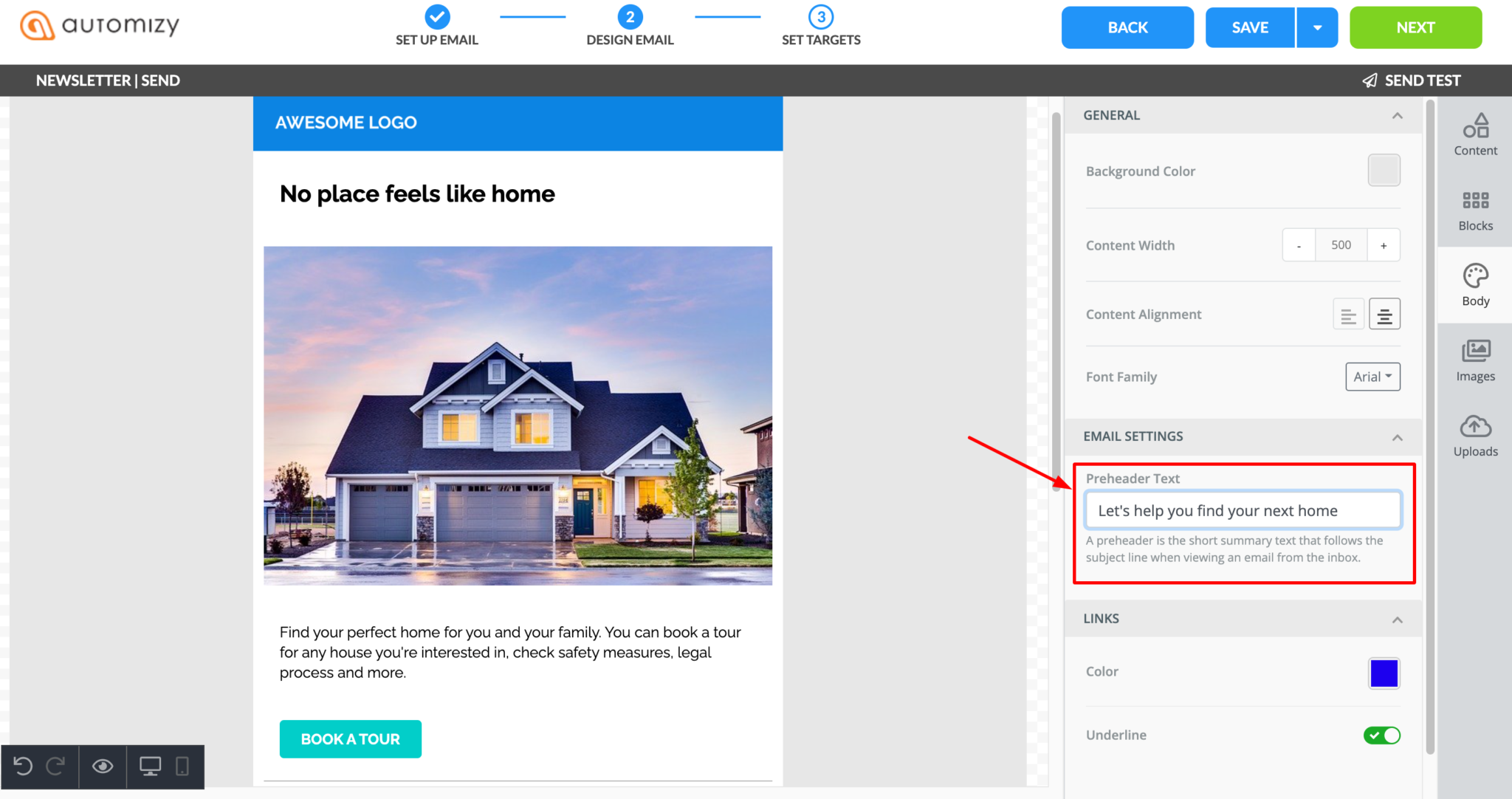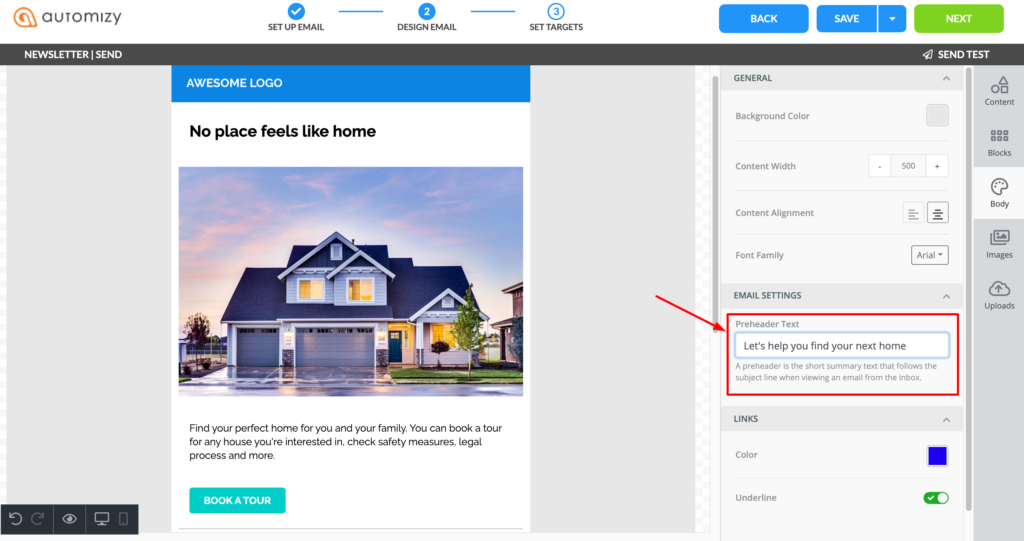 If you're new here, sign up to Automizy, use pre-built email templates, add preheader text, and engage your audience with responsive emails.
9. AB test your subject lines
Suppose you wrote a subject line, and a colleague suggested another.
Then you were debating on which one to use in the campaign. Who's subject line is better?
None.
The only way to judge a subject line is based on the percentage of open rate it scores.
And that's when subject line AB testing comes into play.
Subject line AB testing allows you to test multiple subject line variations by sending them to a percentage of your contacts to validate which one is the better performing before sending the actual campaign.
For example, if you have one thousand contacts, you send 2 variations of subject lines, each to 10% of your contacts (100 contacts) for a testing period of 2 hours.
After the 2 hours, your email software checks which subject line performed better and sends it to the remaining 80% of contacts.
This way, you put your subject lines to the test, and you only send the good-performing one to guarantee a higher email open rate.
AB testing your email subject lines is not only a technique to increase your open rate, but also helps you eliminate gut feeling when it comes to business.
When you debate with a colleague about a subject line variation, use Automizy to test your subject line ideas and automatically send the top-performing one.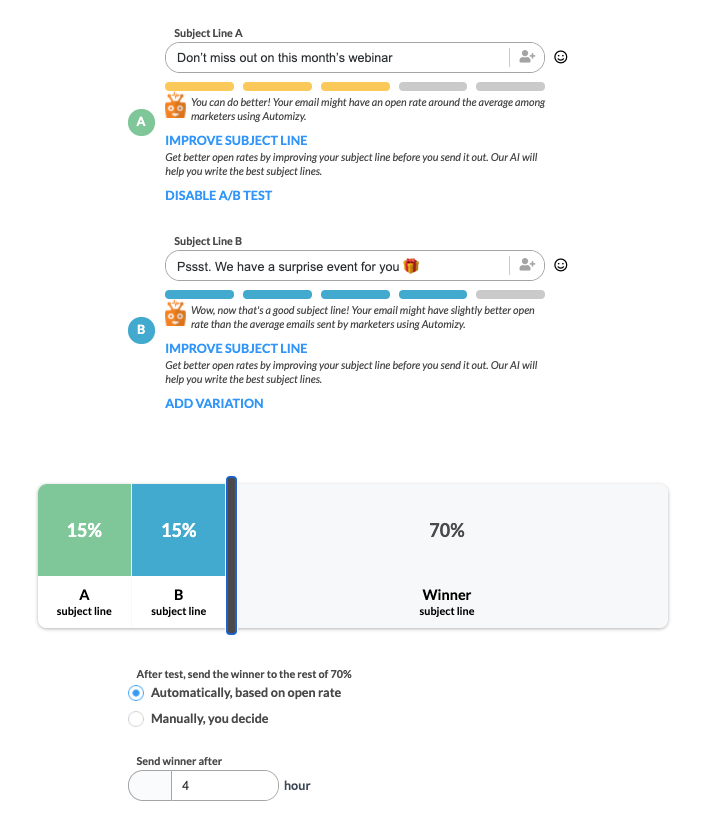 Next, based on your subject line variations' performance, Automizy provides you with easy-to-understand AB test reporting.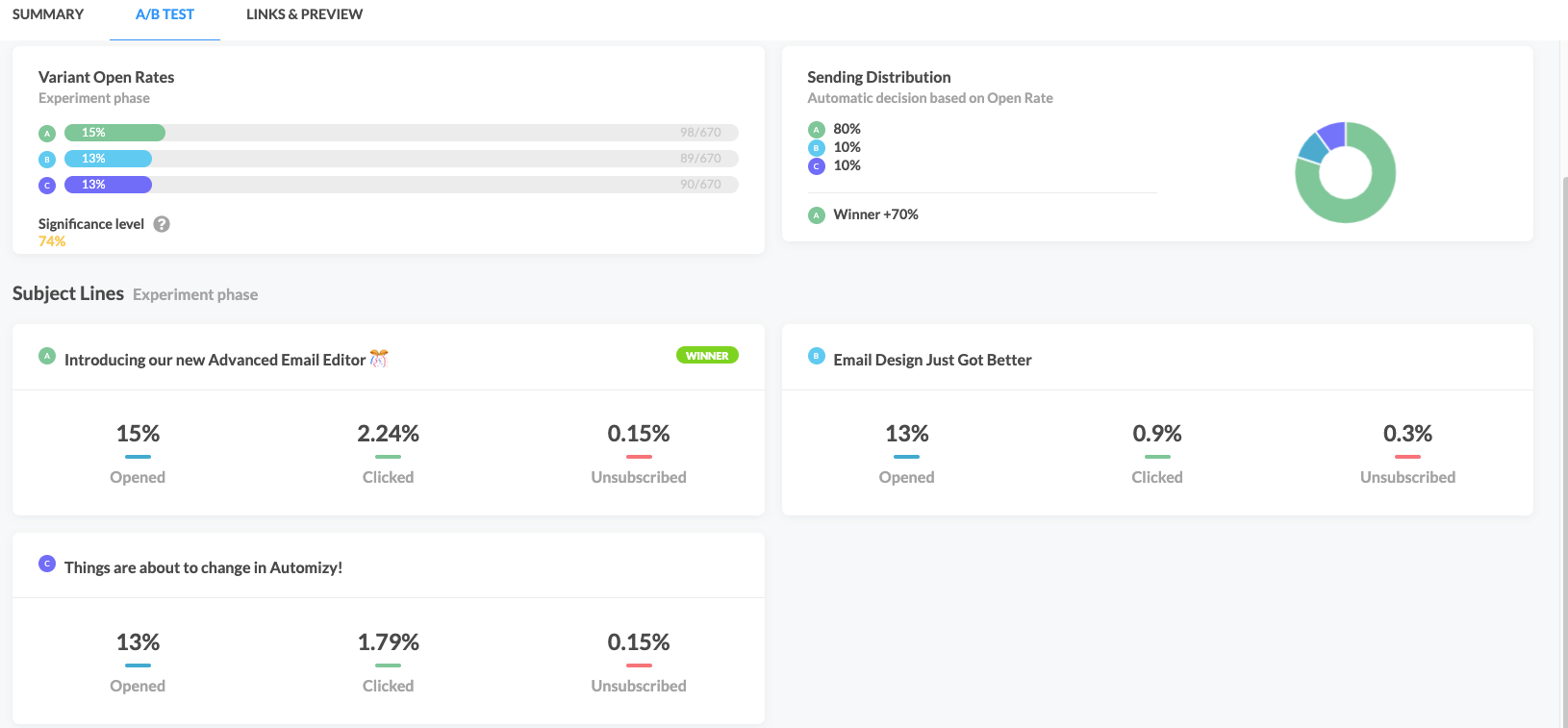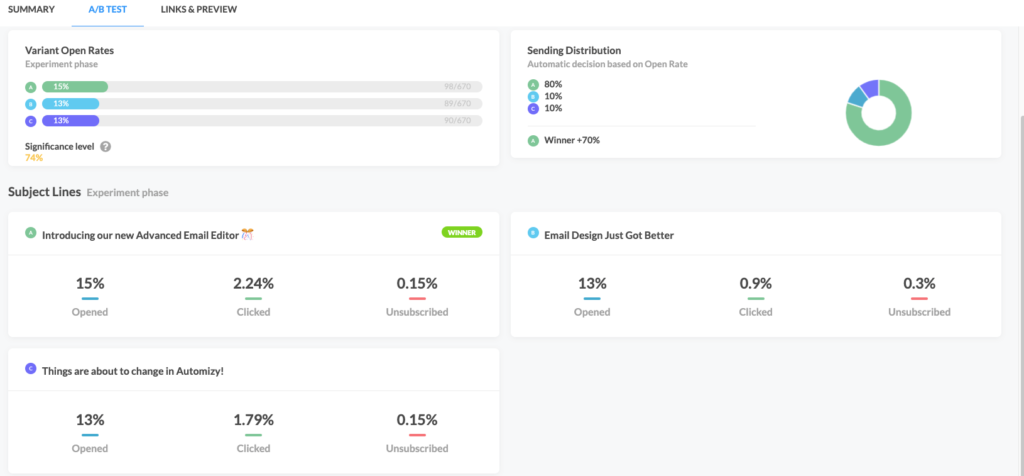 10. Avoid spam filters
Spam filters detect unsolicited, virus-infested, or unwanted emails. These emails are also known as spam emails.
The spam filters' objective is to stop these emails from getting into the inboxes of email users.
When sending email campaigns, you must follow few tips to avoid triggering spam filters.
It's evident that if you want a higher email open rate, you must land your emails in inboxes in the first place.
Consider the following 12 tips to avoid landing emails in the spam or junk folders:
Get permission first
Personalize your emails
Rephrase template content
Use a real reply-to address
Be aware of spammy phrases
Keep the content and subject line short
Avoid using too many images
Include an "Unsubscribe" link
Miss out on obscure fonts
Keep away from link shortener apps
You should always send newsletters from your own domain
Segment your emails
11. Mind your subject line characters
Your subject line length has a lot to do with your email open rate.
According to a study conducted by Invesp, here is the open rate of emails based on word count:
0-5 words = 16% open rate
6-10 words = 21% open rate
11-15 words = 14% open rate
16-20 words = 12% open rate
21-25 words = 9% open rate
Writing 6 to 10 words subject line helps increase your email open rate.
Logically, avoid lengthy subject lines as they won't display properly in mobile inboxes or push notifications.
12. Use a subject line generator
Trusting our skills and guts is a strength. We should never doubt that.
Yet, nowadays, email marketing is based entirely on data. Even the brainstorming and copywriting of an email subject line must be data-driven.
What's the difference between a good email marketer and a great email marketer?
Simple. A good email marketer writes a subject line based on personal opinion and guts.
A great email marketer would use tools such as Automizy's Email Subject Line Generator to write email subject lines.
Subject line generator runs on deep-learning, analyzing millions of email campaigns to help you write natural email subject lines that get opened.
You paste your email copy, and the tool suggests you subject line variations and templates.
13. Re-engage Inactive Contacts
Subscribers turn inactive; that is a reality. And that's the reason why you should use re-engagement email campaigns.
Turning an inactive subscriber into a customer costs 5 times less than acquiring a completely new customer.
Inactive subscribers generate 7% of overall business revenue, according to the same source.
Instead of increasing your budget and efforts to grow your contact list, you could start creating re-engagement email campaigns and achieve the same objective with fewer resources.
By re-engaging inactive contacts, you eventually increase your email open rate.
Conclusion
It's no surprise that if you have a low email open rate, your revenue and email ROI will be low as well.
A higher email open rate can only result in:
Higher CTR
Higher conversion rates
Higher revenue
Higher contact lifetime value
Automizy is an email software designed to help you increase email open rates, start your free trial, apply the tips mentioned above, and experience growth.