Today, most things can be bought online, yet healthcare remains among the last industries that mostly communicate offline.
Obviously patients will eventually meet their dentist face to face. But their search for the right one starts online.
Dentists or other healthcare practitioners should adapt to the way customers behave nowadays to create engagement throughout their community.
Email marketing for dentists with new technologies helps practitioners to:
Engage their patients
Provide personalized experiences
Provide relevant information
Increase revenue
By following this guide, you will learn:
Let's get to it.
4 Expectations to Set When Sending Dental Email Marketing
If you're starting email marketing to grow your practice, here are 5 expectations you can set when sending dental marketing emails.
1. Bring back patients
Patients who've already been in contact with you are easier to win-back compared to acquiring and converting new leads.
Use email marketing to keep your existing patients engaged and give them a reason to return to you in the future.
This way, you'll keep your patients close and not lose them to your competitors.
2. Increase engagement
In the 90s or early 2000s, patients' relationship with the dentists consisted only of a visit to take care of their teeth.
The communication ends once the patient leaves the dentists' office.
Nowadays, with the evolution of online communication, the dentist-patient relationship evolved to a more engaging one.
Patients value the advice and tips they receive from their dentist. And you can use this to benefit your practice to increase your patients' engagement.
You can do that with a simple follow-up email a few days after a patient's visit.
Such a simple follow-up email would make your patient feel special and stay close to you.
Since email marketing keeps you close to your patients, you can set an objective or the expectation to increase patients' engagement.
3. Make personal connections
Another powerful way to use an email strategy for a dental practice is to establish personal connections.
As you appear approachable by your patients or prospective patients, you can expect to receive questions, queries, etc.
This provides an opportunity for you to answer prospective questions and convert them to patients.
4. Manage booking and appointments
If you have a website to promote your practice or help prospective patients book appointments, you should intuitively manage your contacts.
So one last thing to expect from your dental practice email marketing is proper email list management.
It helps you get rid of messy Excel sheets and manage your patients in one place.
4 Ways you can Engage Your Patients
The relationship between dentists and their patients shouldn't be limited only to the time you actually meet your patients.
There are many strategies to engage your patients using healthcare email marketing. Let's go through the top 4 engaging ways.
1. Sharing Do It Yourself ("DIY") tips and tricks for oral hygiene
Eight in ten internet users have looked online for health information. These people continuously use online platforms looking for illness or current condition related knowledge.
As a dentist, you can help your patients or prospective ones by sharing wellness tips, videos, blogs, and much more to keep them engaged.
This helps patients find value in their relationship with you as a practitioner. And by the end, you stay at the top of their brain for dental-related information.
Use bulk emailing to your favor to share DIY tips and guides for oral hygiene.
Email marketing is a low-cost marketing channel. You can reach at least 200 patients with personalized messages just for $9 a month using Automizy email marketing software.
2. Set up drip campaigns to nurture new patients
Research conducted by Think With Google shows that 1 in 5 patients is now booking their appointment online.
You can use this in your favor to set up automated communication with your patients and engage them during the time between booking and their actual appointment.
To engage your patients, set up email drip campaigns similar to the following:
Email 1: Booking confirmation email
Email 2: Share emergency contact information
Email 3: Introduce your team and your showcase your healthcare technology
Email 4: Send a reminder email 1 day prior to the appointment day
Email 5: Ask patients to review their experience with you and share feedback
A similar drip campaign keeps patients engaged and gets them closer to their dentist. It makes them feel important and delivers valuable information they need.
3. Segment your contacts
The ultimate rule of thumb that I keep mentioning in every guide I write is: Your patients are different; don't treat them all the same.
That's a rule to live by when doing email marketing for dentists.
Here is why.
A segment of your subscribers is interested in teeth whitening solutions, whereas others may be interested in bad breath treatment.
These 2 segments are not looking for the same value, which is why you should treat them differently.
How to do that?
You can segment your subscribers based on their:
Medical treatment history
Sign up source on your website
Content consumed on your website
Etc.
For example, you can set up website tracking to track your subscribers' behavior based on what pages they visit on your website.
If they visit a blog article about how to whiten their teeth, it's better to set up an automated email that you trigger with content related to their browsing history.
In this case, you can:
More tips on how to whiten their teeth
Offer them a discount for a teeth-whitening session
Ask them if they'd like to book an appointment
Etc.
This way, your content is tailored to their interest, and they're more likely to click your emails and convert into patients.
You can set up a similar automated campaign in Automizy in which you track your website visitors and send them targeted messages that match their interest.
Here is an example of email automation targeting subscribers who visited a teeth-whitening related article.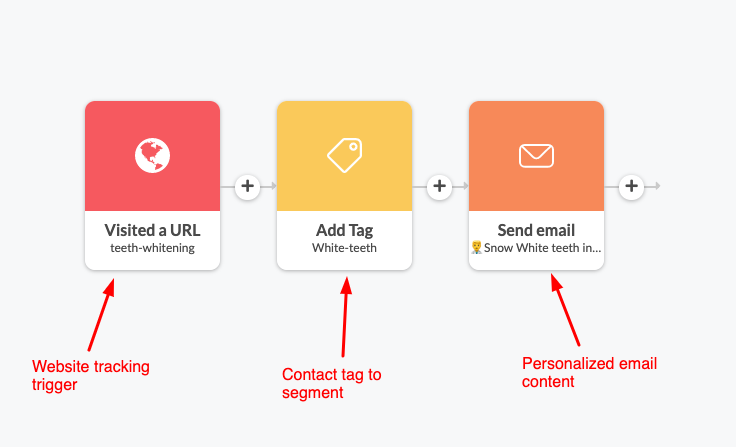 This email automation consists of 3 elements:
Trigger: To send the emails when a contact browses a specific website page.
Tag: To add a tag to the subscribers and segment future emails based on interest.
Email: Personalized email to match the topic contacts were browsing.
Note: In Automizy, you can only send emails (based on webpage visits) to people who subscribed on a form or clicked a link in an email.
You can set up similar automation in under 10 minutes with no tech skills required.
Automizy's visual automation builder helps dentists set up engagement campaigns for their patients without any hustle. Register for free to start engaging your patients.
4. Create an email course to educate patients
An automated email course campaign is another strategy practitioners can use to engage contacts and deliver free value.
An email course campaign helps:
Engage your patients
Nurture prospective patients
Deliver helpful information
Build authority and trust
To simplify it, an email course is a serie of emails mapped on a short timeline delivering an educational email.
You can create a 1 week email course in which you deliver a piece of educational content every day.
Would it be time consuming? Absolutely not.
Use Automizy to automate email course campaigns to save you time while keeping your patients engaged.
Here is a drip campaign example for an email course for dentists created in Automizy.


6 Types of Emails Every Dentist Should Send
Now that you're geared up with strategies for engaging your patients let's see 6 types and examples of email marketing campaigns dentists send to their patients and contacts.
1. Appointment confirmation emails
Appointment confirmation emails are no brainers for healthcare professionals and dentists.
If a prospective patient fills your appointment form and not receive a confirmation email, they'd think:
Their booking didn't go through
Their appointment was not accepted
They're not welcomed to show up
If they should visit on you on the time slot they booked or not
As a dental practitioner, you're expected to provide your patients with a comfortable experience and help them get rid of any confusion.
Confirmation emails to patients allow you to welcome new patients and reassure them that their appointment was successful and they'll be in good hands.
This dentist email example below confirms the booked appointment and shares a link to ask patients to fill out a dental and medical history form in advance.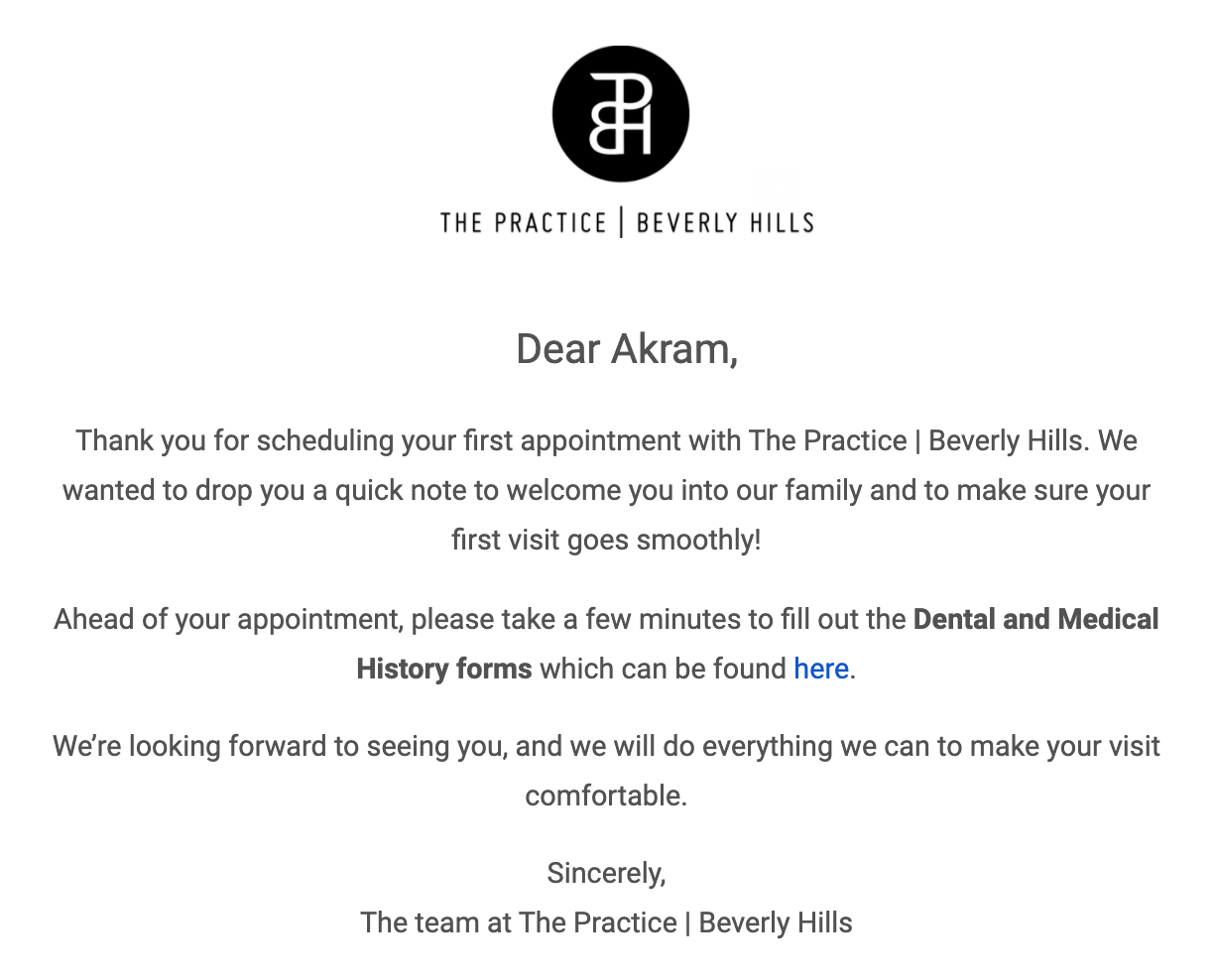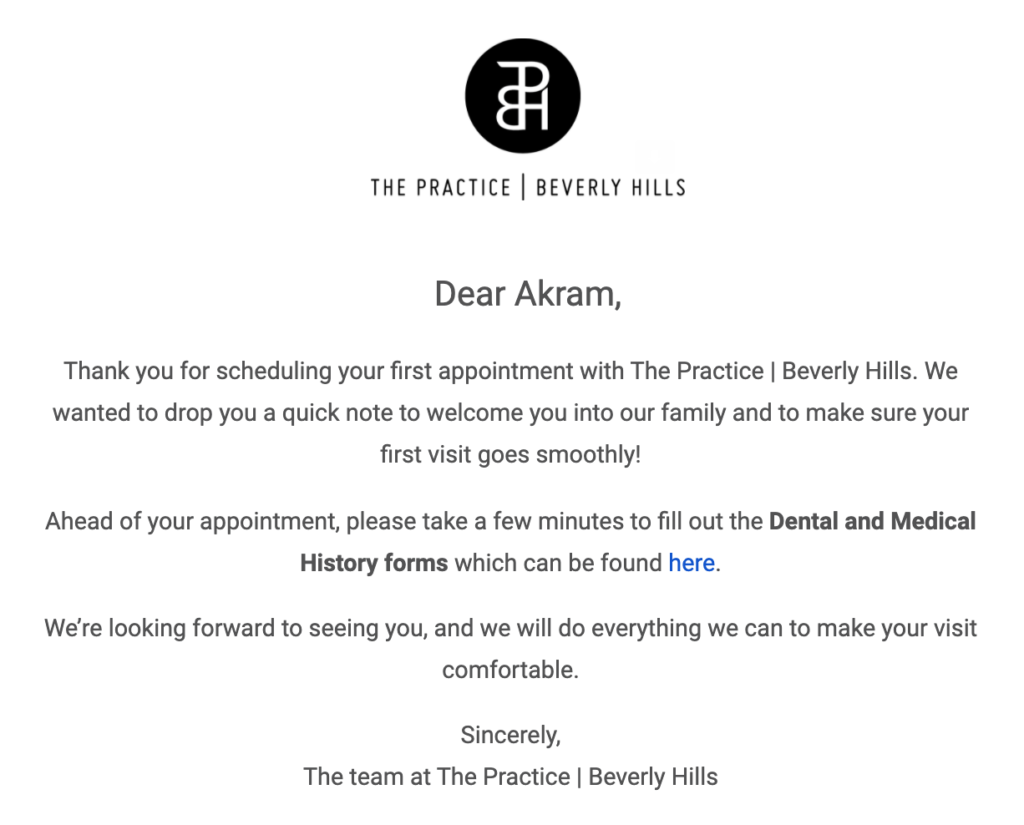 So it not only confirms the appointment but makes the visit go more smoothly because they don't have to bother filling it in the office. Not to mention that you can increase the number of patients you can serve if they don't have fill out forms on site
2. Introducing new products/services
New product announcement emails help you boost your products' value and your sales performance.
The following email examples include:
A powerful headline
A detailed how-to-use guide
2 CTAs, one at the start of the email and another below
The last section of the email was used to increase brand authority with showcasing the technology and safety protocole.


3. Announcing discounts and other promotions
According to Marketing Sherpa, 91% of consumers do in fact want to receive promotional emails.
Consumers are hungry for good deals and opportunities to save money when buying a product or service.
Offering a discount as a dentist can win you new patients or make existing previous ones return. Such deals motivate patients to try your services and come back again.
Email marketing for dentists should include a similar email campaign example that includes:
An irresistible offer
A direct CTA to book appointments
A free guide to help patients with teeth-related issues
A URL to find a local dentist nearby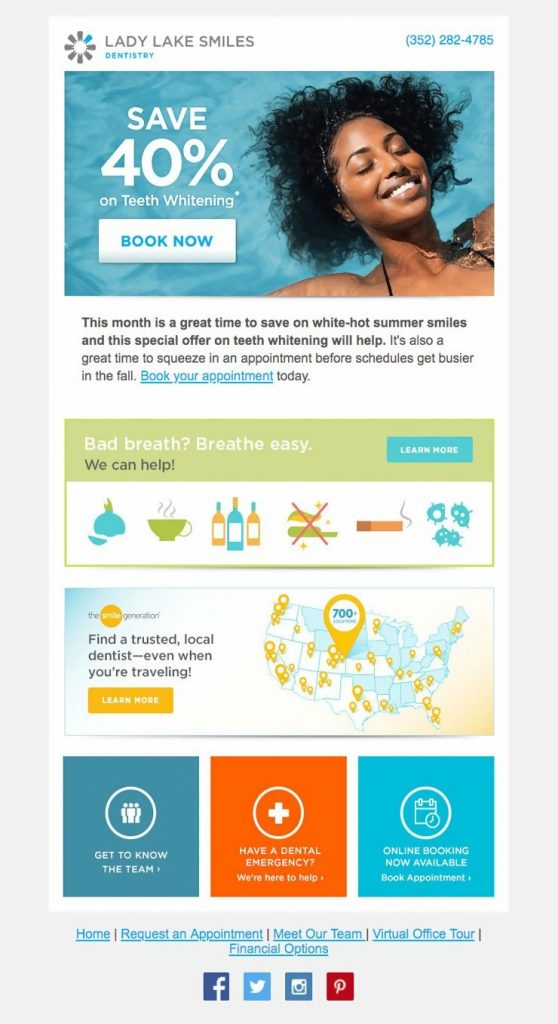 4. Sharing interesting office updates
Trident General Dentistry chose to send a simple design announcement email to their patients sharing with them the most recent updates.
A similar email campaign to patients makes them feel imported and included in major updates about their favorite doctors.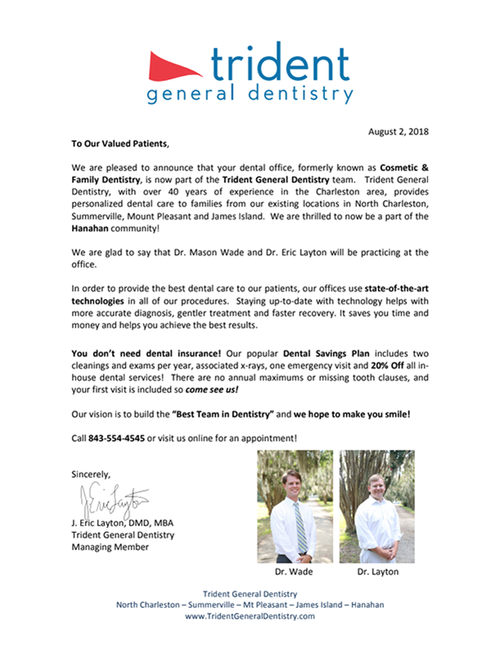 5. Celebrating a patient's birthday or anniversary
Sending birthday greetings and wishes must be part of your patient engagement strategy.
Maintaining a stable relationship with patients is essential. By not doing so, you risk missed appointments, unhealthy relationships, and by the end, no revenue.
There's no doubt your patients receive multiple emails from businesses daily. What would make yours stand out and be considered?
As a healthcare provider, your patients expect you to care for their well-being.
And by sending your patients a happy birthday email, you're engaging them in a positive, caring manner.
Here is great example of a healthcare birthday email template sent to patients.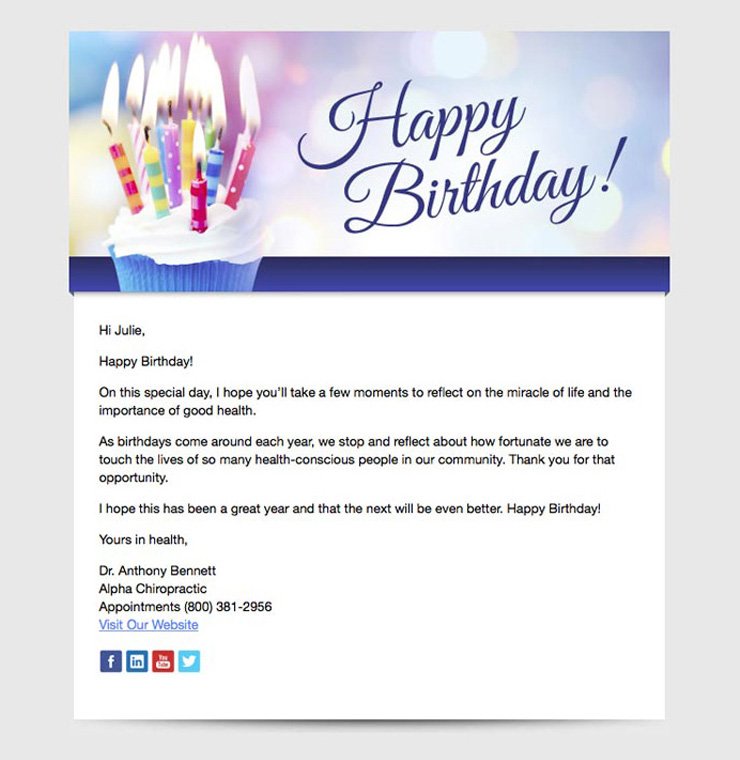 If you decide to include a birthday email as part of your patient engagement strategy, you can easily set up and automate the delivery of these emails in Automizy.
You create new email automation with a trigger "Anniversary."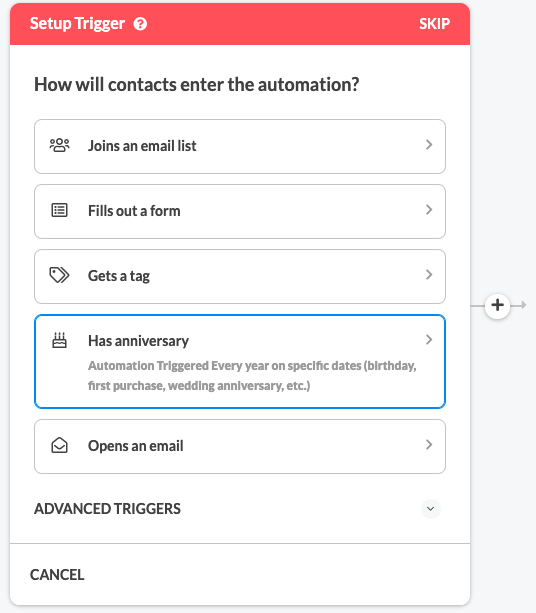 Here is how your automation would look like.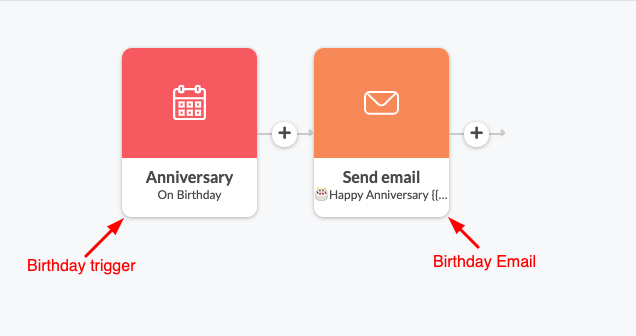 After registering to Automizy, you can set up similar birthday emails to patients for free.
6. Motivate patients to write reviews
Social proofing is not only helpful for corporate businesses to show that they've been around and people liked them.
Dentists can build social proof for their practice to persuade prospective patients to book an appointment or buy a product after seeing a positive review.
This is another strategy to include in your dentists' email marketing arsenal.
Send emails to existing patients to motivate them to leave you a review and share their experience.
You can offer patients' a discount for their next consultation or product purchase to give them another reason to write a review.
Below, an example of an email campaign sent by the New York & New Jersey Family Dental asking their patients to write them a review.
Short email copy, a large CTA button that stands out in the middle of the email. And most of all, a responsive design for different devices.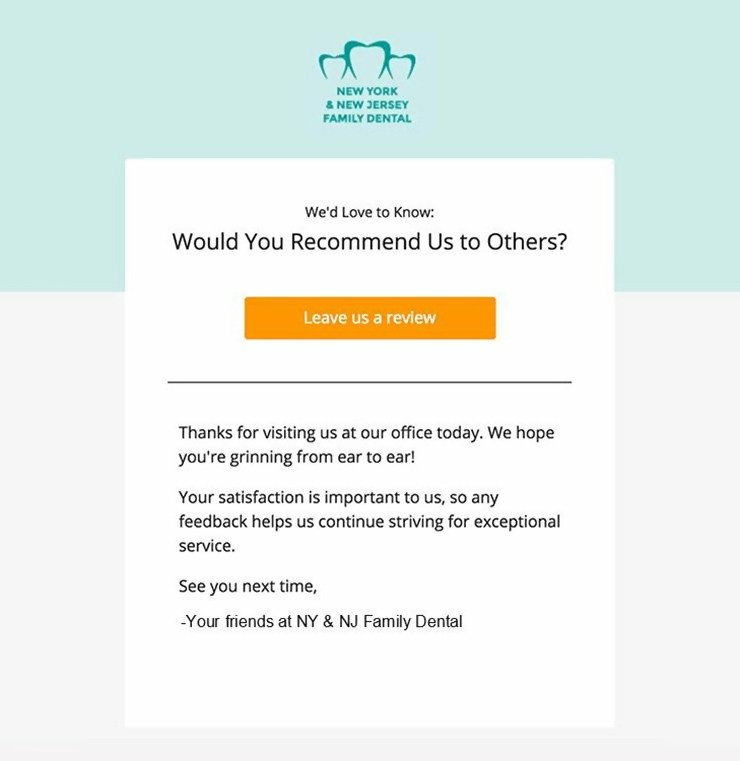 Conclusion
Similar to how businesses are putting the effort to engage and convert their customers, dentists must do the same to keep their patients well-informed and engaged.
Are you brainstorming email marketing strategies for dentists?
This guide gives you a good starting point. Use the techniques mentioned above, and feel free to reach out to us for more information.