Every business fantasizes about acquiring more customers every day and keeping them around for as long as possible.
But why isn't every business living this fantasy? Sometimes customers are like babies, they lose interest or get lost in the process.
An email marketing sales funnel works as a rail track. It helps you get your potential customers smoothly from point A to point B without worrying about them getting lost.
There are steps for you to influence your potential consumers and direct them toward your conversion goal.
To help you increase your conversion rates and revenue by guiding your leads on the right path, I'll guide you through:
Let's get it started.
What is a Marketing Funnel?
Marketing funnel is a set of steps a visitor needs to go through to become a customer. It is a system designed to attract and convert customers to your business.
Think about buying something online. There are a few steps that you have to go through before you can purchase a product.
Here's an example:
Search on Google
Visit a website
Find the product you're interested in
Add the product to cart
Place the order
You can measure and track these steps in your marketing funnel. Here is a visual example from Hubspot.
There are more steps that you can go through between each of these major steps.
For example, a visitor may view your About page, Careers page, but you don't have to track it in the funnel. It is unnecessary data.
The point of having a marketing funnel is to set up an automated system that is measurable at any point of the customer journey.
What is an email marketing funnel?
An email marketing funnel is a sequence of emails sent on a predefined schedule to leads for converting them into customers.
An email marketing funnel is how somebody goes from prospect to customer within your email marketing journey.
Why does email marketing have a funnel?
Let's dig into recent email stats published by Oberlo to understand the importance of email marketing.
Total number of users: 3.7 billion
First online "check" of the day: 58%
Use this channel at least daily: 91%
Users check here for a deal from a company they know: 44%
Users who made a purchase as the result of a marketing message from this channel: 66%
ROI: 3800%, for every 1$ spent, expect an average of 38$ in return.
These stats tell you how important email marketing is for businesses and why to consider an email marketing funnel. Still, keep in mind it varies from one industry to another.
Once you track your email performance, you can make the proper optimization and tweak your email campaign for better performance.
Better email marketing performance equals higher revenue.
If you rely on email marketing only as a tool that allows you to send bulk deals to your prospects, you're not shooting for the stars.
To run successful email marketing strategies, automate and personalize your email campaigns. Reaching out the right contact at the right time with the appropriate content.
5 Marketing Funnel Stages (That Your Customer Goes Through)
The marketing funnel stages refer to the degree of how likely the customers are willing to complete a transaction.
When prospects reach the bottom of your marketing funnel, the chance of becoming customers increase.
Not every prospect who enters the funnel ends up as a sale. Some will get lost in the process, might lose interest, or also might fall in love with what you have to offer.
Let's walk through each step of the funnel.
Awareness
The first step at the top of your marketing funnel is Attraction.
If they can't see you, they can't buy from you. Pretty simple, huh?
Awareness is mainly the acquisition, Where the customers come from. Could be:
Search engines
Blog page
Social media marketing
Pay-per-click campaign, etc.
At this step, you introduce your business to your visitors and work on capturing leads.
The best method to capture leads is by offering free value at the first interaction. It could be:
Downloadable PDF file
Whitepaper
Coupon/discount
Giveaway, etc.
On the first hand, this allows your prospects to feel how it's like to do business with you if you're doing B2B email marketing.
On the other hand, it helps you establish a positive customer relationship.
Consideration
Once interest is generated, your subscribers will start learning about your business and what you have to offer.
And you should be doing the same thing at the consideration stage, learning about your customers too.
You can do so with targeted content, personalized to what attracted your subscribers in the first place.
According to ActiveTrail, 82 percent of marketers reported an increase in open rates through email personalization, while 75 percent yields higher click-through rates.
The goal at the middle of your funnel is to work with your leads to figure out what they're exactly looking for.
This means understanding their goals, background, and interests. Then, use this information to recommend suitable solutions for them to solve their problems.
This stage of your marketing funnel consists of timely follow-ups to nurture your leads and engage customers.
Apply various touchpoints that can help move your customer along in your marketing funnel.
Always remember to have a clear call to action after each touchpoint so your leads know what the next steps are.
Conversion
Now that you nurtured your subscribers, they are now at the bottom of the funnel and considered sales qualified leads.
Subscribers are more likely to want to hear how your product/service will help them.
Focus on what differentiates you from your competitors. Share existing customers' reviews, benefits and explaining the use of your product.
At this stage, your email copy should include:
Try now
Join us
Buy now
Register today
Get started
Sign up now, etc.
Loyalty
The relationship never ends once you convert your leads into customers.
Nurturing your new customers is an ongoing activity for your business. It increases customer loyalty level to your brand.
Make sure to send your customers valuable and relevant email content to make their experience better. It increases your customer lifetime value at the same time.
Advocacy
Advocacy happens when your customers become something more than customers. They become fans who do word-of-mouth marketing for you.
With the customers satisfied with their experience with your business, focus on getting insights at this phase.
This could be in the form of customer feedback.
It's essential to gather feedback to improve your product and services.
Loyal customers promote on behalf of you to their network to expand your business reach.
To encourage advocacy of your brand to loyal customers, set up a customer delight system to reward them for their referrals.
Email Marketing Sales Funnel
An email sales funnel is a series of emails you send to achieve a specific goal:
Nurturing a relationship with your subscribers
Educating a potential customer on the benefits of a service or product
Pushing contacts to make a purchase decision.
You can do this through conversational emails. You can make this process sophisticated using marketing automation tools like Automizy.
3 Sales funnel stages
Like the marketing funnel, the email sales funnel consists of the stages you want your prospects to convert into customers.
First stage: Value
The value is always presented in the first email.
Your value could be a free download, educational resources, giveaway, or some other resource.
Offering resources help you position yourself as a trustworthy source of information.
Providing high-quality value can help you earn leads' trust. Your prospects will only buy after trusting you.
Remember, do not start selling from your first email. Provide only Value.
So be generous.
Second stage: Authority
You delivered your value, and the relationship with your leads started well.
In your second email, you need to position yourself as a thought leader.
You delivered your value, and the relationship with your leads started well.
In your second email, you need to position yourself as a thought leader.
You may want to nurture your leads further with more articles, case studies, whitepapers, etc.
Here is an example of a case study email used at the authorization stage of an email sales funnel.
Not only sharing more content can help you authorize yourself. For example, you could introduce yourself, your business, or your startup.
But make sure you're transparent and ethical with how you use this.
Being authentic doesn't go with misleading your email subscribers. For example, avoid click baits or misleading email subject lines.
Third stage: Call-to-action
You have delivered your promised value and position yourself as an authority. Now in your third email, you go for the sales copy.
In your email copy, you provide a direct offer and list its benefits for the buyer.
You could use a structured pitch in which you can connect with the customer's problem. Or you can state the Why, What, and How of your offered product/service.
For more credibility, it is recommended to:
Link to FAQ page
Share customers' testimonials and reviews
Include social media links for social proofing
For example, Leadfeeder sends this final email to trial users. This email draws in a 31 percent open rate with a 2 percent click-through-rate.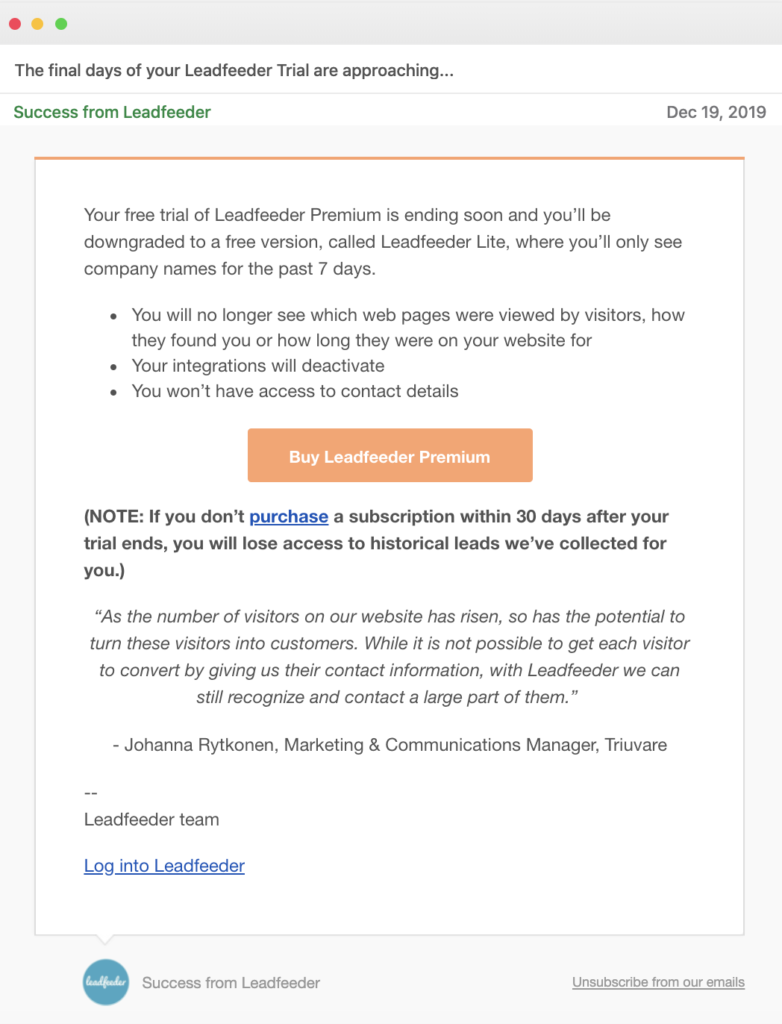 Keep in mind people reading it on the go, while 60% do it through mobile devices. This means that they will likely scan email content rather than reading it word-by-word.

For that, your emails should be short, catchy and direct.
How to Build an Email Sales Funnel
Managing your email sales funnel and sending the right email to the right people sounds like quite a bit of work.
God bless technology. With email marketing automation software, you can automate your sales funnel emails sequence through:
Triggered email funnels
Autoresponders
Drip campaigns
Behavioral email workflows
Let's go through each one and learn how to set it up.
Triggered email funnel
Triggers allow you to start email automation without needing you to perform the task.
Triggers are an excellent tool for follow-ups to previous engagements from your target group. It helps you reach out to your leads immediately when they're most interested in your business.
You can personalize and automate email campaigns that can get triggered when a contact:
Gets a tag
Gets added to a list
Submits a form on your website, or
Clicks a link in an email
Etc.
Set up your triggered funnel by selecting one of these options in Automizy.
Triggered email campaigns help small businesses set up:
Onboarding email sequences
Customer support follow-ups
Webinar campaigns
Email Autoresponders
Triggered email funnels would help you increase your email open rates since it is triggered to be sent at the right time, following up a specific user action, and could be highly personalized.
You can use triggered emails for your new product announcement emails. Here is a case of a SaaS company using a triggered funnel to promote its beta announcement campaign.
Where practically to apply triggered email funnels?
You could use this for your lead magnet to send your promised PDF or content upon user subscription.
That means if you're promoting a free PDF document on your Unbounce landing page, visitors will receive it upon email subscription.
Autoresponders
Autoresponder is a type of automated email. It can be one email or more sent to a specific segment of people on your email list, and it is triggered by particular contact action.
Such as:
Joining your contact list
Fill in a specific contact form
Opt-in for a lead magnet
Buying a product
Autoresponder emails work perfectly as confirmation emails.
You can add your email sequence autoresponder into Automizy with a couple of clicks.
An email sales funnel is made of multiple stages, which are represented in different emails.
For that, you should upgrade your autoresponders from a single email to an automated drip campaign in which you lay down complete email sales funnel.
Drip campaigns
Oh, I love how perfectly drip campaigns match with email sales funnels.
Check this out.
A drip email funnel is a triggered sequence of automated emails sent on a predefined schedule. Thus, targeting email subscribers to achieve a specific result.
It is a sequence of emails that includes all emails of the email sales funnel.
Here is an autoresponder sequence to study.
Daniel visits our website and fills a popup form to download a free ebook. Then, the email funnel is triggered to start the campaign once a new subscriber joins the contact list.
The first email of the drip campaign represents the value, which is the promised free ebook.
A couple of days after, we introduce ourselves to Daniel, so he understands who we are and illustrate the human aspect behind the screens. That is the Authority stage.
With the contact tag :ebook_name: we can define what kind of content attracted the subscriber in the first place.
Using this information, we could send another article related to the ebook topic to nurture the lead.
No sale still in this email sequence template; it is building trust and understanding with Daniel.
Daniel is a sales-qualified lead at this point in the marketing funnel automation, and he is more likely to convert into a customer.
Smooth right?
This email sales funnel could be more sophisticated with behavioral email workflows.
Behavioral email workflows
Daniel is our imaginary friend now; let's put him into a more sophisticated email funnel template.
Daniel subscribes to receive a free ebook as always (in our case here).
He might skip the first email and forget to download the ebook, while another contact did download it.
Should you treat both contacts the same and proceed to introduce yourself? That would not be a good idea,
Your leads are different. Why treat them all the same?
That is when Automizy's marketing funnel automation comes into the scene.
Automated conversation workflows are more of an in-depth campaign. It is made of a personalized system of automated emails based on customer behavior and data.
With the intuitive visual automation builder of Automizy, you can create behavior-based email sales funnel.
Here are email sequence examples and how to create them.
Right after selecting the automation trigger and the promised ebook email.
Add a condition "If/else."
Important: Apply a "wait period" before you set your email open condition.
Give your contacts some time to interact with your email. It will also help you to be more accurate with your personalization.
And select "Has clicked a link in email"

By understanding who did download your ebook and who did not, you can personalize your following emails.
If Daniel clicks on the download button of your ebook email, he proceeds to the next stage. He receives the introduction authority stage email.
If not, Daniel receives a reminder email to download his ebook.
You could apply different conditions that would increase your email open rates.
Right after sending your introduction email to your ebook downloaders, add another "if/else" condition and select "Has opened an email"
Contacts who opens your introduction email are considered sales qualified leads and you can send them your sales email with a call-to-action.

For contacts who did not open your introduction email are not sales qualified, for that sending them another email to learn about you is recommended.
Email get lost in crowded inboxes; resending unopened email could increase your email open rates.
Your complete email marketing flowchart from Automizy could look like this at last:
Feels like magic isn't?
Mapping your funnel email series becomes an easy task, and converting leads to customers would feel effortless.
This is one funnel email sequence example. You can adapt this same marketing sales system into your other email campaigns.
It could be the same for a webinar email sequence or your re-engagement email campaigns.
Email Sales Sequence Example
Now that you've built a body of understanding about marketing funnel and email marketing sales funnel, let's look at how that's put into action.
I will take an example of an onboarding email campaign destined to onboard the new users and convert them into paying customers.
While going through the example below, have in mind the email marketing sales funnel stages.
Now let's watch some Netflix. Yes, I mean it.
Netflix advertises online and offline to attract strangers to their website.
On their website, they offer a free trial subscription to convert visitors into leads.
Visitors who are interested in trying Netflix register through the opt-in form.
Upon registration for Netflix trial, trial users receive a confirmation thank you email.
The next day, they send leads a second email provider higher value. Providing a link to download their mobile app, a CTA to start watching and set up profile reference.
As you can see, no sales copy so far. Still no upgrade or buy now or any pushy sales copy.
Creating authority, offering value to gain more trust.
Few days after, Netflix sends the third email with more relevant content related to user preferences.
They constantly keep providing value to their trial users, to qualify them into sales-ready leads.
After earning trial users' trust, they fire a soft sales copy email to convert them into loyal customers.
At this stage of the funnel, trial users are more likely to keep using Netflix and become loyal customers.
And for Netflix company that is more revenue and customer lifetime value.
This is one example of thousands, think about what you have to offer to your leads and map your email marketing sales funnel accordingly.
I bet you have never watched Netflix this way 😉
Conclusion:
An email marketing funnel organizes your communication approach with your potential customers. Making sure you:
Send the right emails at the perfect time, to the right contact
Establish an engaging customer relationship
Sell at the right moment
Creating and monitoring your email sales funnel enables you with optimization opportunities. It could help you cut the leaks and result in higher conversion rates.
For businesses, the higher the conversion, the higher the profit.