About a year ago I started experimenting with emojis first in our social media posts, then on communities like GrowthHackers. I thought that they are great for standing out on text-heavy interfaces, like an inbox.
So I asked myself what about using emojis in email marketing. There so much controversy and buzz around emojis I thought it's worth having a good hard look at the subject. So I did lots of research and asked around what experts had to say on the topic, what experiences they had with using emojis in email marketing.
Before jumping into the nitty-gritty, let's talk a bit about emoji history. Then we're going to have a look at emojis in subject lines and inside emails. Plus, some things you should know to make sure your subscribers will see the emojis in your emails.
Emoji History 📘
Emoji is the first language born in the digital world. They give people the ability to add emotion to otherwise flat text.
The first emojis were created in 1999 by Japanese artist Shigetaka Kurita. He worked for DOCOMO, the leading mobile carrier of Japan. Kurita wanted to develop an interface to transfer information briefly and simply. He designed the small images for things like the weather, traffic, technology, food and they looked like this:

The next step in the evolution of emoji was in 2010 when Unicode officially adopted emojis.
This adoption happened because of a petition by the software internationalization team at Google.
The Emoji Boom 🚀
In 2011, Apple added an official emoji keyboard to iOS. This became the next huge step in the popularization of emojis. It allowed people to access emojis directly from the keyboards on their phones.
As emoji was becoming more and more mainstream, there was a call for a diversity update to represent the intricacies of the modern society. So in 2015, Unicode answered this call by taking the first step to diversify emojis. This update included 5 new skin tones, a set of same-sex couples, and more types of people doing more kinds of things.
Since 2015, every update has included steps for a more diverse emoji keyboard. The 2016 update came with a single dad emoji, along with a pride flag, female cyclists, and surfers, people wearing turbans and hijabs.
Every year Unicode considers new emojis to be added, which means emoji as a language will continue to grow and evolve.
Anyone can submit a proposal to add a new emoji! All you need for a valid proposal is a prototype of the emoji, an explanation of how and why people should use it and what its addition would mean to the whole emoji language.
"The way I see it, emojis aren't just a silly fad; they're a linguistic evolution that is changing the way we communicate with each other, so marketers need to sit up and take note!" – Lucia Fontaina, Quuumunity Marketing Manager at Quuu
Emojis in Email ✉
As you can see emoji has grown and evolved a lot in recent years. It gained tremendous traction in both personal and professional communication.
But, in professional circumstances, you'll have to be a bit more cautious. Depending on your industry and work environment it might be wise to avoid emojis.
"Gifs and emojis can be a tremendous tool to stand out or add personality, as others have pointed out, but do not necessarily resonate across segments and buyers." – Will Walker, Marketing Manager at Marsden Marketing
In fact, a research article published by Social Psychological and Personality Science says that using emojis makes you seem less competent in a professional environment. So think twice before sending a 💩 to your boss! 😂
Workplace communication is one thing. But what about marketing emails?
Emojis in Email Marketing 📧
The battle for the inbox is real! Email marketers have to keep up with new trends to get results.
One of these new trends is using emojis in email marketing, especially in subject lines.
In fact, an Email Marketing Daily article by Jess Nelson says that emoji use by companies in email campaigns has risen 609% year-over-year. 😲
According to a Braze article, in 2015 alone tens of billions of emojis were sent to over a billion users just with their technology. The year-over-year growth of campaigns using emojis has been 777%, while the month-over-month growth of emoji use has been over 20% and it's increasing.
The article says that email was a late bloomer for emoji use. But after emojis started to gain ground in email at the beginning of 2016, it took off with an increase of 7100% increase compared to 2015.
Subject Lines
Let's be honest. Inboxes are pretty dull interfaces filled with text. And emojis are a great way to cut through this dullness with some colorful visuals.
So email marketers take advantage of what emojis have to offer. Research conducted by Phrasee found that about 5% of global subject lines in 2017 included one or more emojis. Of that 5% of subject lines, about 1500 different emojis were used. 😮
Okay, so emoji use in subject lines is gaining ground. But does it improve the performance of them?
"I know I'm seeing a lot more emojis in subject lines. Intuitively I understand why it seems it would increase CTR from the inbox to the email (emojis stand out more), but I wonder if there's any data on this." – Mark Lindquist, Marketing Strategist at Mailshake
Yes, it does. Well, it's not that simple, nothing ever is. 🙄 The research found that emojis work "about 60% of the time". When they work they increase open rates by about 25% of a standard deviation.
An emoji won't make or break your subject line. An emoji can either:
make a bad subject line worse,

or make a good subject line better.
I've already mentioned that in specific industries and circumstances you should avoid emojis.
But, context is another crucial factor you'll have to take into account when using emojis. Don't use emojis just for the sake of it. Based on your content you can figure out whether to use emojis or not.
Apply common sense! If you email your clients about a server malfunction putting a 🤷‍ in the subject line will probably piss your recipients off. On the other hand, emailing your subscribers about a Valentine's Day promotion with a ❤ in the subject line can increase your open and click rates.
"When I create our company newsletter, I often add an emoji or two to the subject line. I think it's a fun way peak interest." – Megan Mosley, Marketing and Operations Specialist at Referral Rock
A study by Experian about using symbols in subject lines found that subject lines with symbols had a higher unique open rate in 56 percent of brands they analyzed.
According to the data of an Econsultancy study conducted in 2015, a friendly snowman symbol is really effective at making people open marketing emails +(65.72%). Followed by the sun symbol (+20.95%), and the star (10.65%).

Some Emojinspiration
"Works like a charm. I've been seeing better performances in my email campaigns ever since I started using emojis (especially in subject lines) and GIFs (right before the call to actions)." – Amal Rafeeq, Conversion and Data-Driven Digital Marketing Consultant
I reached out to Amal, and he was kind enough to share some subject lines with emojis that increased the open rates of his campaigns. Along with the subject lines he also provided some insights why they perform better:
"Meeting request." ➡ "Meeting request 👋."
"As a digital marketing consultant, I try to understand a potential business before pitching in. It also helps me build a connection with them.
I started added that waving hand emoji to my email subject lines and I've been getting more open rates ever since."
 "Found critical SEO issues while auditing your website." ➡ "Critical SEO issues in your website 🚫."
"I often send free SEO audit reports to business owners who could be my potential client. Using an emoji that shows a warning sign or something like that sure is working."
Jon Buchan, cold email maestro, owner of the Charm Offensive Facebook Group and all around awesome dude ran some split tests in July 2017 with different emojis in the subject lines.
Here are the results of his tests (next to the subject you can see the open rates):
✉ Leads on auto-pilot?! – 50%

💵 Leads on auto-pilot?! – 45.34%
😊 It's Friday Pitch Day – 43.18%

🤑 It's Friday Pitch Day – 38.63%
✉ First daily post – 48.25%

First daily post – 35.46%
✉ My new YouTube channel – 39.3%

📺 My new YouTube channel – 37.57%
Once again, you can see the positive effect an emoji can have on your open rates. Have a look at the open rates of "✉ First daily post" vs. "First daily post".
To give you some inspiration, here are a couple more subject lines with emojis Jon used, that worked well for him:
I'm not a copywriter. That's why I stand out. 💌- 54.9%

💵 The day I won my first gargantuan sized client – 49.3%

😇 Useful link for you 😇 – 56.7%
Body Copy
Emojis can be utilized inside your marketing emails, too. You have way more room than in a subject line, so be careful not to abuse them. You don't want to be this person: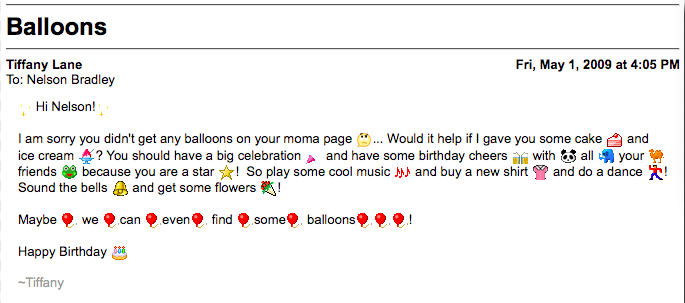 🤦
Instead, use an emoji or two to highlight some key points and phrases in your copy. Or drive attention to your call-to-action. 

Emojis inside emails are a great way to make the communication with your subscribers a bit more personal and engaging.
"I really like them – I do use emojis in some emails as it brings my personality more into the email. I love getting them from customers; I feel more connected to them." – Lisa Sicard, Content Manager at Inspire to Thrive
Register a free Automizy account and send your first email with emojis!
Emoji Support
So, emojis can help you win the battle for the inbox by increasing your open and click rates.
Unfortunately, not every email client and operating system support them and display them in the same way.
Operating Systems
I've already mentioned that emojis became popular when Apple introduced the emoji keyboard in 2011 for iOS. Consequently, the natural habitat of emojis are mobile devices, so the people who open your emails on phones and tablets will see the emojis your use. However, some of the older desktop operating systems don't support it at all, or their support is limited.
Here's how various emojis are displayed on different devices, operating systems and platforms:

Source: Unicode
In 2011, Apple also released OS X 10.7 Lion which supports emojis and of course all the later versions do too. The older versions of OS X have a tiny market share, so we can safely say that people using Apple operating systems will see the emojis in your emails. But, that's not the case for Windows.
For example, Windows 7 has very limited support for emojis, which is a concern because it has a market share of 44.4% according to netmarketshare. Windows 7 displays emojis either in black and white or not at all.
Windows 8.1 is the first operating system from Microsoft to support all emojis and to display them in color.
Windows XP still has a market share of 6.55%. If your audience uses Windows XP stay away from using emojis because they won't see them at all. Instead, they'll see a ☐.
In Automizy, you can find out what operating system your openers use. Based on that and a quick check on this site you can decide whether to use emojis or not.
The exception: Gmail
However, there's one big exception: Gmail. Gmail always displays emojis, no matter what operating system your subscribers use. That's because it's Gmail itself that translates Unicode characters, instead of the operating system. That's incredible news because Gmail's market share among email clients is 22%, according to Litmus.
"I see an email as 50% less spammy when they have emojis and/or GIFs." – Carlo Borja, Online Marketing Head at Time Doctor
An important thing to note about Gmail is that it displays emojis in subject lines differently in the inbox and when you open an email. As an example, here's a newsletter from Quuu where they used a 🗞.
It looks like this in my inbox:

And this is what I see when I open the email:

While this rolled-up newspaper emojis isn't great for catching the attention of inbox scanners it still provides some visual emphasis.
"I almost always use emojis in my emails, to be honest. I think they're fun, and plus, they add some personality to your email.
Sometimes, though, certain emojis turn into little fat-looking pancakes once you send the email, so I try to be careful what I choose, and stick to more neutral emojis that will be shown correctly in any browser. Like my favourite emoji: party popper 🎉" – Olga Rabo, Demand Generation Manager at ICONOSQUARE
Testing
I recommend sending some test emails and opening them on different operating systems and emails clients to make sure that they look the way you'd like them to.
Before going all in on using emojis, I also recommend doing some split test to see how your audience responds.
"I've done loads of split testing here in the past, and time and time again subject lines including an emoji have increases open rates on emails. But again, make sure you consider how and where they're used. Recently I included a lightning bolt emoji on either end of a subject line. In one email client, it turned out that the text between them had been stripped out, resulting in two lightning bolts next to one another. One of our more astute subscribers pointed out that pairing the lighting bolts like that has been used by white supremacists to mimic the SS logos of World War II! #facepalm
So. Be careful out there. Marketers should be aware of potential accessibility issues; it's no joke. And be thoughtful about your emoji choice and what message it sends. 🙂 " – Jon McCullough, Growth Marketing Manager at Vivaldi
Putting Emojis Into Your Emails
In Automizy you can quickly add emojis to your subject lines.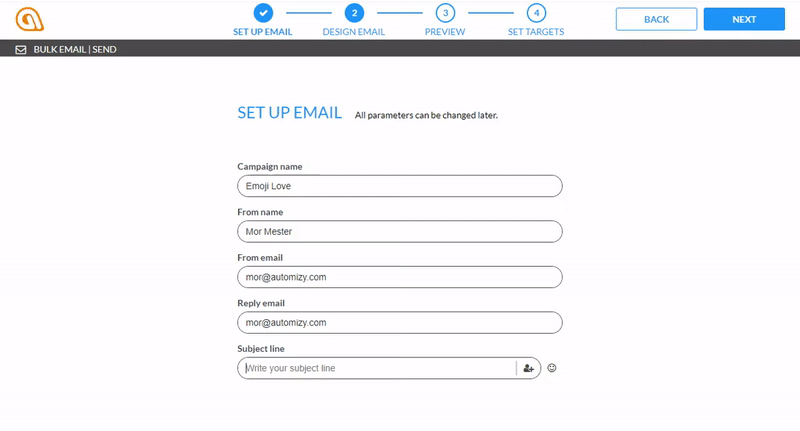 Click on the small smiley face on the right side of the subject line input field.
Find the emoji you want to use and click on it.
That's it. You can even search for emojis. Which is great because there's nothing worse than scrolling through hundreds of emojis looking for that one you'd like to use. Register a free Automizy account and send your first emails with emojis!
You can also use sites like getemoji.com or emojipedia.org. But my personal favorite is a chrome extension called Emoji Keyboard. The interface is not the best looking, but it does the job. It also has a search feature and a tab with the emojis you've used recently.
Conclusion
Emojis in email marketing work! Although, you have to take your audience and the context into account.
Use them in subject lines to illustrate your topic, catch the attention of inbox scanners and save some characters.
Use them inside your emails to highlight your main points and drive attention to your call to action.
Operating systems and email clients render emojis differently. Use emojis if your subscribers use:
mobile devices,

OS X operating systems (above OS X 10.7 Lion),

Or current Windows operating systems (above Windows 8.1).
In Automizy, you can find out what operating system your openers use. Based on that and checking this site you can decide whether to use that specific emoji or not.
Send test emails and open them on different operating systems and email clients to make sure they look the way you'd like them to.
Try putting emojis in different places of your subjects lines and see what works the best for you.
Register a free Automizy account and send your first email with emojis!
I'm a Growth Marketer & Community Specialist @ Automizy.
I started out in the startup world right after graduation and since that it's been a blast to navigate in these waters.
After work, I love playing basketball and traveling.
https://automizy.com/wp-content/uploads/2018/04/emojis-in-email-marketing.png
628
1200
Mor Mester
https://automizy.com/wp-content/uploads/2018/02/logo-2.png
Mor Mester
2018-04-04 09:43:11
2018-05-04 10:47:28
Emojis in Email Marketing Guide + What Experts Say