In the world of email marketing, special occasions are about: more customer engagement and sales.
Since Valentine's day is around the corner, email marketers are putting their heads crafting lovey-dovey killer Valentine's Day email campaign ideas.
So this Valentine's is going to be about BAE: Business And Entrepreneurship ?
To get inspired for your Valentine's day email campaign, follow me in this guide where I share with you:
Now let's get to it.
Valentine's Day in Data
Before we jump into Valentine's day email marketing, it is preferred to understand some data ahead.
According to SEJ, over $13 Billion is being spent on Valentine's Day. The average consumer spends $116.21, and every year it's increasing.
The most shopped gifts are the following:
Cards, 52.1%

Candy, 47.5%

Dining, 34.6%

Flowers, 34.3%

Jewelry, 17.3%

Clothing, 14.4%
For both couples and singles, tangible gifts are not the only perfect products to sell for Valentine's day. People are also looking to purchase experiences, such as date nights, movies, dining, and hotels.
Below, we included some of the best examples of Valentine's day email subject lines and promotional email examples that top brands used. Check it out to get inspired.
52 Valentine's Day Email Subject Line Examples
It's time to come up with the subject line that stands out in the email subscriber's inbox.
If you don't get your subscribers to open your email, the rest of your email doesn't matter.
Get inspired for your Valentine's day email campaign subject line with these 52 examples.
"Orbitz: See the ones you love, hot fares for Vday"
"Southwest: We're in 💖 with these hot February fares"
"Sephora: Looking for the perfect Valentine's Day gift for him?"
"Birchbox: Valentine's Day treats for you and yours"
"OpenTable: Soulmate or sidekick, buddy or beau"
"Tasting Table: A love connection on your couch"
"Jelly Belly: Sweets for your sweet"
"Tastes of Chicago: Love at First Bite"
"Wayfare Tavern: Wine and Dine With Your Valentine"
"Waits-Mast Cellars: 2/14 Valentine's Day Special – 2 days only"
"David's Tea: Sweet Gifts for Valentine's Day"
"Gilt City: Love The One You're With (Valentine's Day Gifts For All)"
"Banana Republic: Red alert — it's almost February 14"
"One Kings Lane: Silky sheets and sweet dreams for Valentine's Day"
"Guess: The secret to your sexiest Valentine's Day yet"
"Guess: Let us set you up this Valentine's Day"
"Guess: Join us for a sexy special event"
"Nordstrom: Valentine's Day gifts for the loves in your life"
"Anthropologie: Show your love with these great gifts"
"Gilt CityFabKids: What will you wear this Valentine's Day?"
"HomeDepot: Surprise Your Valentine with Flowers"
"Uncommon designs: Bright designs for your bright love"
"LuLu: Be mine! Our Valentine's shop is open 💖"
"theSkimm: I wrote you every day for a year"
The inspiration is not over. Here's a list of other top brands' subject line examples for valentine's day newsletter.
"Will You Be Our Valentine?"

"Up To 65% Off Valentines Gifts!"
"Don't Mess It Up – Last Day To Ship Valentine's Day Gifts"
"It's not too late to get that perfect Valentines Day gift!"
"A Charming Valentine's Day | Two Days Left to Order"
"You Forgot It Was Valentine's Day. Now What?"
"One for You, One for Your Valentine"
"Final Day To Order for Valentine's Day"
"An Early Treat For V-Day…$50 Off!"
"Get 30% Off For Valentines Day!"
"❤️ is… 25% OFF"
"Valentine's Day Is Sunday!"
"Happy Valentine's Day | Save 30%"
"24 Hours Only! Save 20% On All Orders – Happy Valentine's Day!"
"💖Take 30% Off Select Styles for Valentines Day!"
"Forget Valentine's Day? We've Got You Covered"
"You are still on time for your #SexyValentine!"
"A Valentine's Treat… 20% off!"
"Need a Last-Minute Valentine's Day Gift?"
"What to wear for Valentine's Day? 💖 Valentine Sale 50% Off Everything"
"Something special for your Valentine"
"15% Off All Necklaces – Drop a Hint this Valentine's"
"It's not too late: gift inspiration for Valentine's Day"
"Don't Forget… Valentine's Day Is Sunday!"
"Not sure what to give for Valentine's Day? ❤️"
"Better Than Roses: 30% off!"
"❤️ Love is all! Happy Valentine's Day"
"Did You Forget? Today is Valentine's Day!"
You can also prove the strength of your subject lines with the Subject Line Scorer.
Using emojis in your valentine's day email subject line could help you to stand out in your email subscriber's inbox. They're fun, eye-catching and a creative combination that can undoubtedly make your email stand out from the crowd.
You can insert emoji symbols to your email subject lines with Automizy and experience the thrust yourself.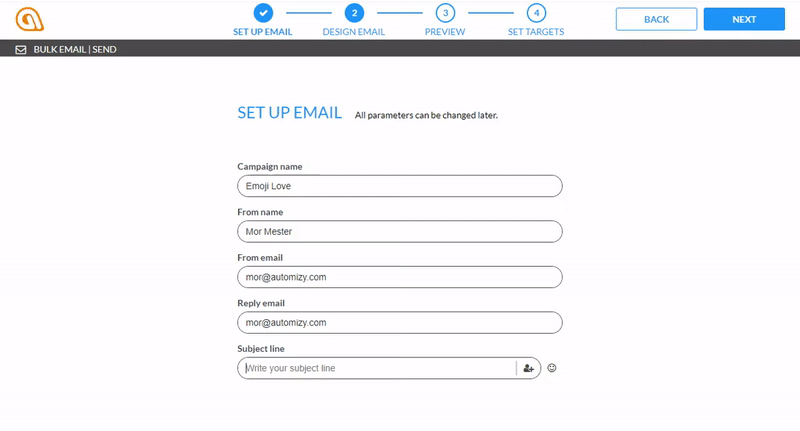 After you have composed your subject line, test it with our free tool, The Subject Line Tester to see which would perform better. It scores your subject lines based on data from over 1 million campaigns.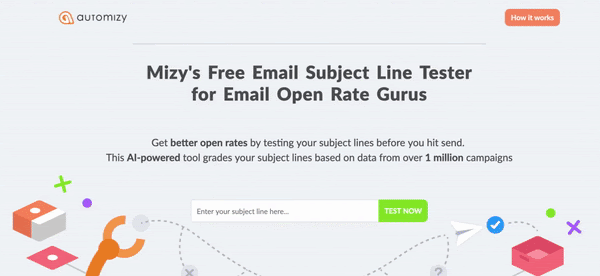 We advise you to try Automizy's email subject line generator which writes you subject lines based on your email copy.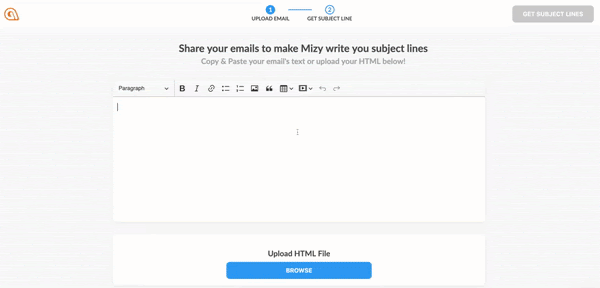 Step 1: Copy & paste your email content.
Step 2: Let Mizy read and analyze it.
Step 3: Copy, like and use the subject lines you prefer.
That's it, 3 easy steps to further increase your open rates.
24 Ideas to Design your Valentine's Day Email Campaign (+28 Email Template Examples)
Your Valentine's day email template design has a lot to do with the success of your overall email marketing campaign.
While you are creating your promotional email campaign, get inspired with these 24 ways to design your Valentine's day email messages illustrated with 24 email template examples.
1. Comply with Valentine's day colors
Square comes with a bang. What is the better way to grab your subscribers' attention than data-driven email copy.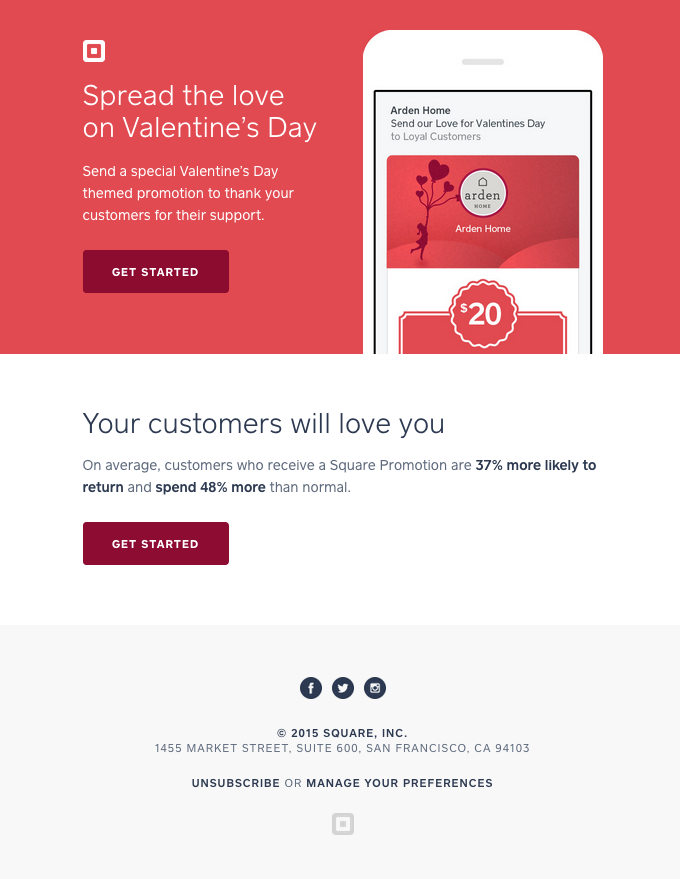 Unlike their usual brand colors, Square come with different shades of red to match with the special occasion.
"We occasionally break out of our standard product color themes for seasonal marketing." – Chris Keene – Email Expert at Square
Beats by Dr.Dre came up with this pinkish email template, displaying products in colors matching perfectly the special occasion – the Valentine's Day.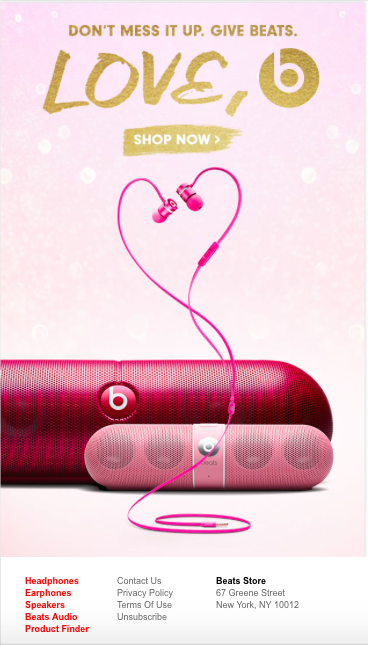 They sent an image-heavy email that was clean and simple.

If you are launching new products on Valentine's day, using the occasion's color scheme is also a perfect idea for your product launch announcement emails.
2. Reward your most loyal customers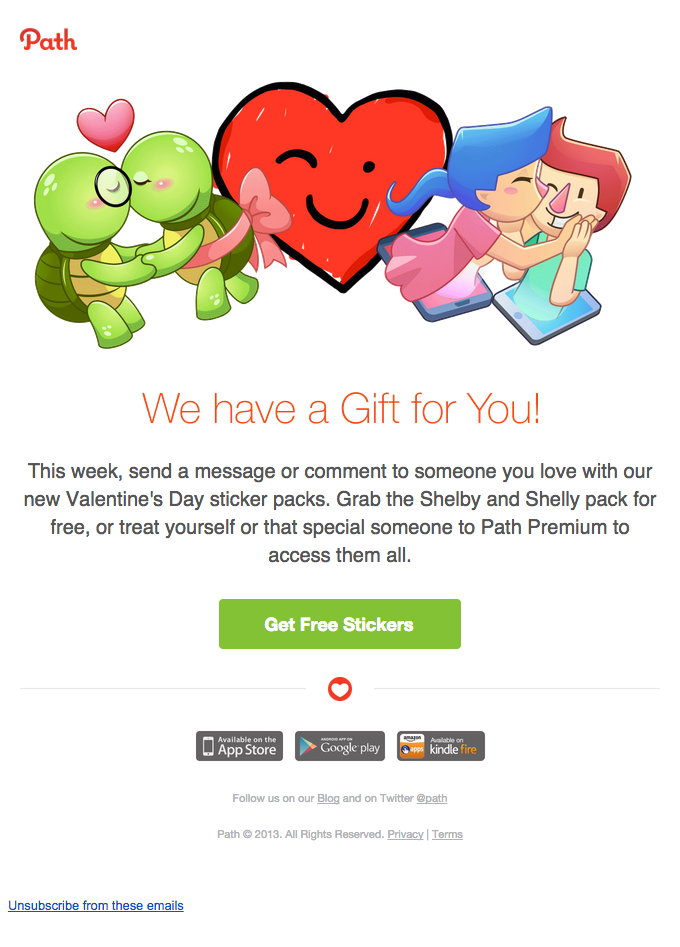 Path is celebrating valentine's day with this promotional sticker pack. Clever illustrations and a beautiful call to action make this enticing.

3. Send love letter
A fresh look of Frank Body and the different content feel in their Valentine's day letter. A lovely email template featuring a love letter. Plus, their subscribers have the option to send a love letter directly from the email.

4. Motivate customers' referral
Catchy GIF used in this Valentine's day email newsletter, bonus points for it being on brand color-wise. The messaging is clear and brief, letting the user know what the idea of the email is while keeping the copy short.
The main content area is the catchy section of the email, and the secondary section compliments it with further details and a wide call-to-action button.

5. Create romantic imagery
Great use of imagery and products' display. Unlike most Valentine's day email templates it is not a 'red email' but still romantic and represents the occasion.


Liking the layout mixed with romantic photography.
6. Spark contacts curiosity with mysterious gifts
This Valentine's day gif example wins for 2 reasons:
It captures contacts attentions with the animated GIF

Sparks contacts curiosity with a mysterious gift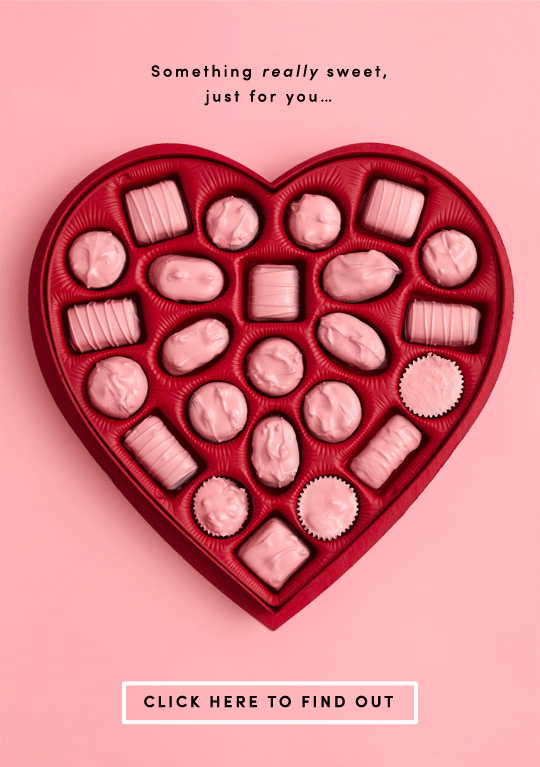 This great example shows how you can make your customers feel both special and curious and encourage them to click.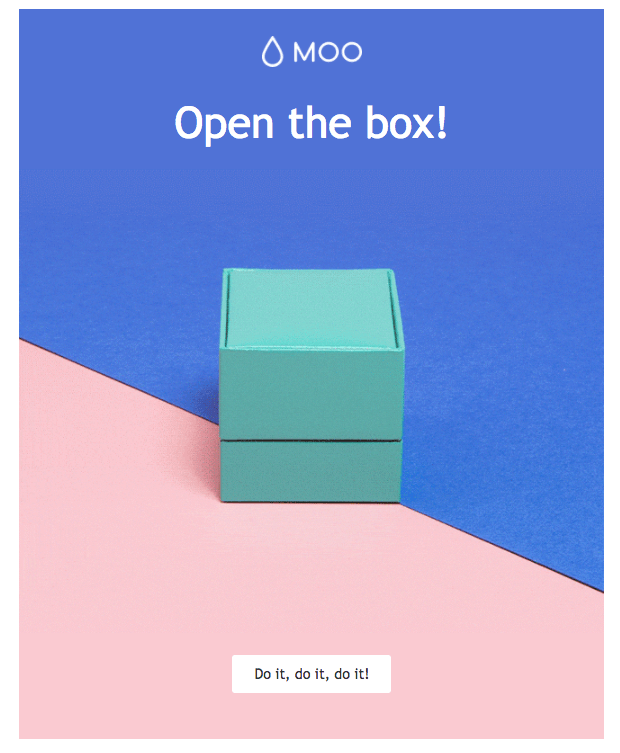 Can you tell what's in the box? Nope! The only way to do that is to click. Also, the header and CTA button are actionable to help encourage you to do just that.
Such Valentine's email examples can only get trigger contacts' curiosity and put them in the "I wanna know" mood.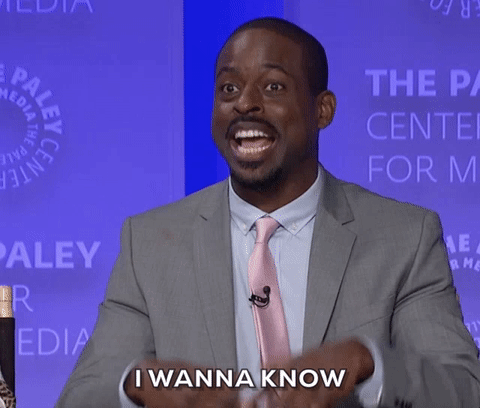 7. Offer free shipping
Valentine's day messages are not only about sending "I love you" to your contacts, instead it is an occasion to get creative and make your email stands out of the crowded inboxes.
New Balance wishes you a Happy Valentine's Day in the most creative style. The email template features the image of a classic New Balance shoe, with laces aligned in a heart shape.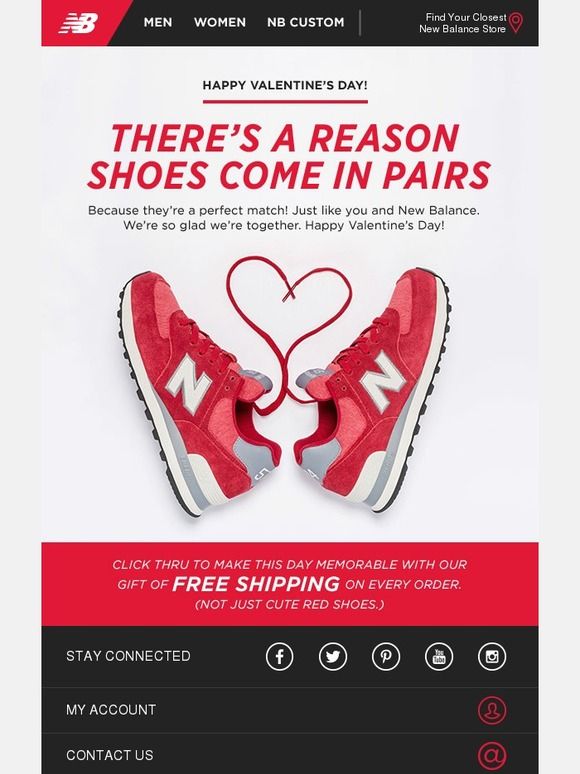 8. Offer special valentine's day discounts
Give customers motivation to pick your store over a competitor. Offering limited-time discounts is an incredible method to pull in individuals who are intending to shop.
This beautiful sparkly and glittery Valentine's Day email template can be used for anything from a restaurant promotion through to a special retail sale! Simple short copy, with clear black call-to-action button. Can't be more direct than this:
9. Do not leave the single ones behind
On Valentine's day, not all your contacts are in loving relationships, some of them might be single and you don't want to leave those behind.
Singles Swag never leaves their solo subscribers behind on Valentine's day, instead, they send the following Valentine's email example.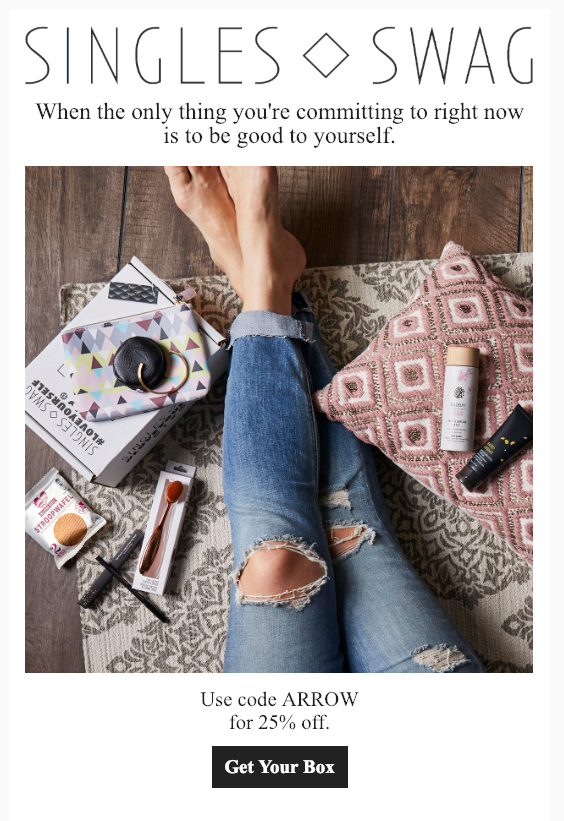 According to SEJ, over half of all consumers are single – so don't forget them on Valentine's Day. On average, single men spend $71 and single women spend $40 on Valentine's Day.
10. Use animated GIF to put personality into your Valentine's day emails
If an image is worth a thousand word, what can be the worth of an animated GIF in your Valentine's email newsletter?
Here are some of the simplest, yet most appealing animated GIFs to include in your Valentine's day email blast.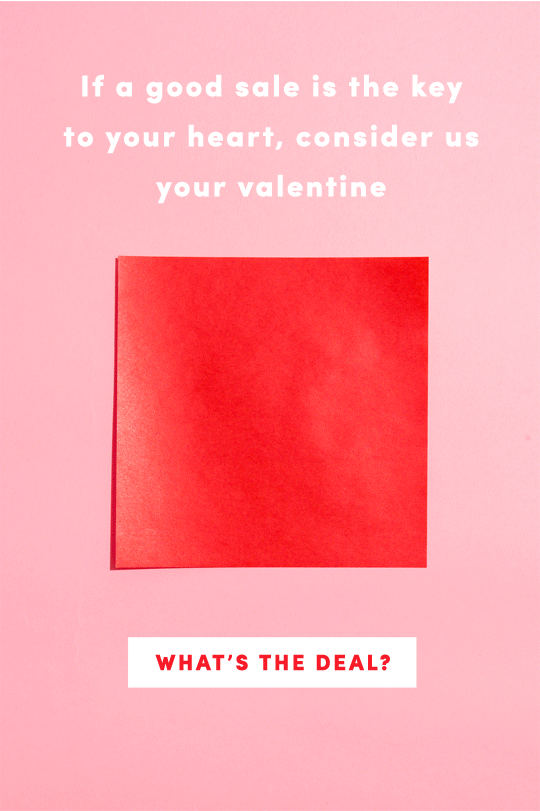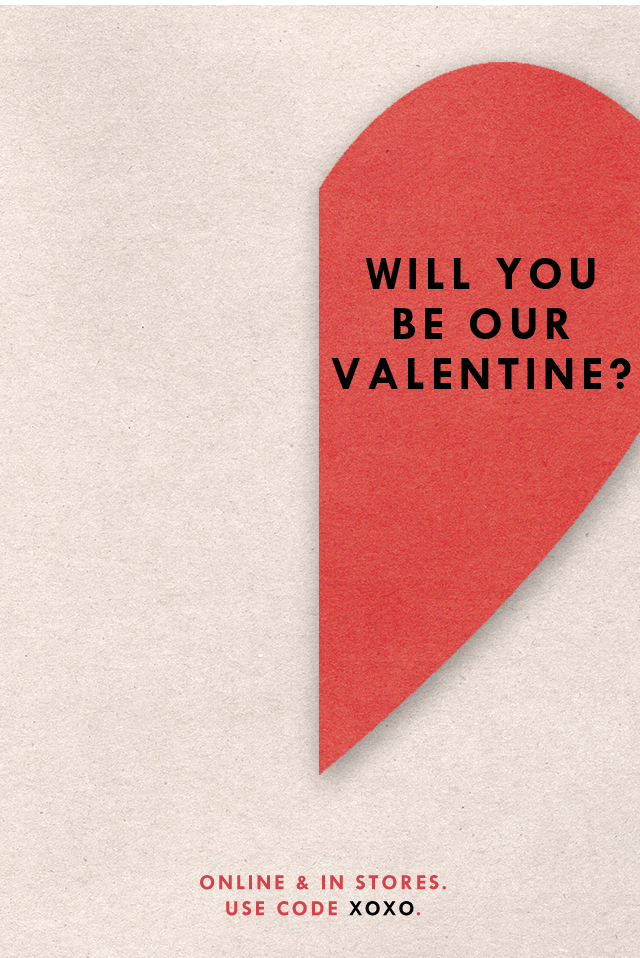 11. Share Valentine's day gift guide
Whether you're newly dating, moving steadily along or in a truly committed relationship, choosing a gift is never an easy decision to make.
AEO sent Valentine's day newsletter as a timeline to make sure their subscribers find the perfect gift.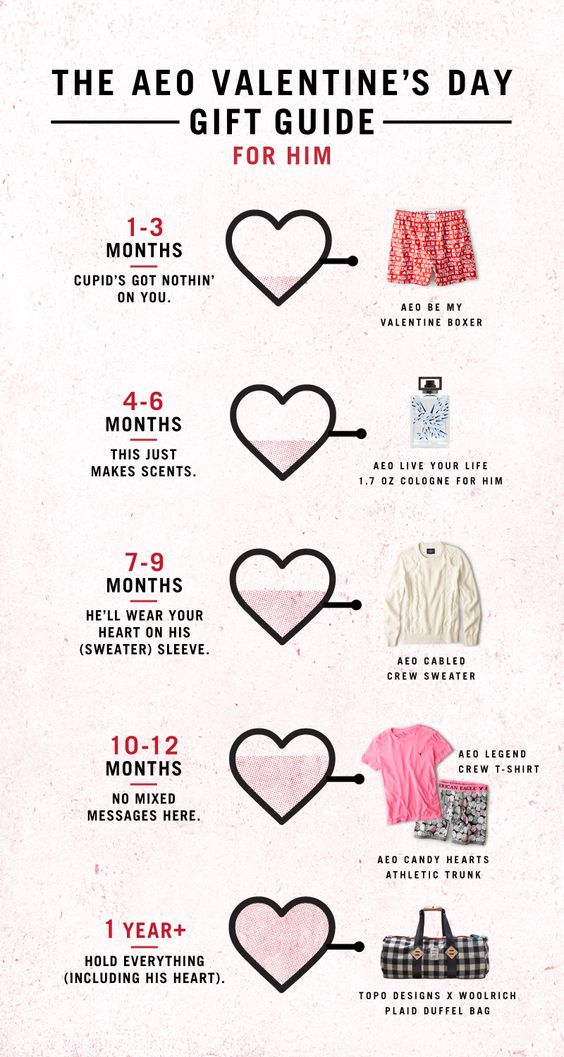 12. Display products for different genders and ages
Land's End, a clothing retailer, comes with a Valentine's Day newsletter, offering a little something for every member of the family. The products in each category are arranged as hearts.

13. Use 'dating dictionary' to craft unique email copy
Game.co.uk flipped the game with a unique email copy for gamer couples, they mainly 'gamified' the relationship dictionary with copy like:
The perfect '

Plus one

" for your console

Love

on the line?

Crush on

these headsets

Make

a date with your PS+
XOXO

XBOX? Play

together

14. Show gratitude and love on valentines day
Your Valentine's day email can be part of your thank you email campaign in which you demonstrate gratitude to your loyal subscribers and customers.
Here is an excellent gratitude Valentine's email example that doesn't include any sales copy or promoting any product.

You can get more personal with customers appreciation and put your team in front of the camera and share some love in your Valentine's day email campaign.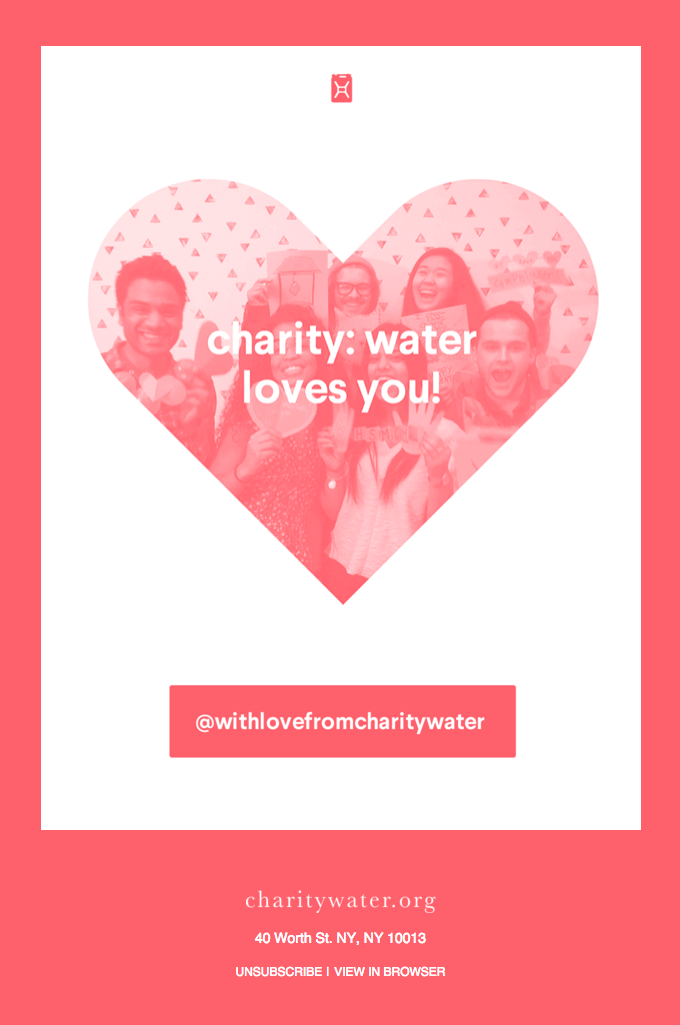 Charity Water blew life and love to their email with the following animated GIF.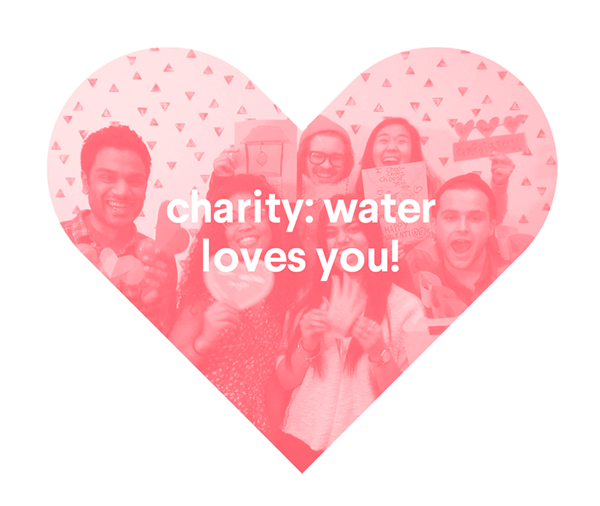 15. Promote your physical store for late gift shoppers
Valentine's email campaigns are not exclusive only to online retailers. If you have a contact list you can benefit from the occasion and promote your physical stores.
This email campaign can be useful for late-shoppers who cannot wait for their product to be shipped and instead they can pick it up immediately from a nearby store.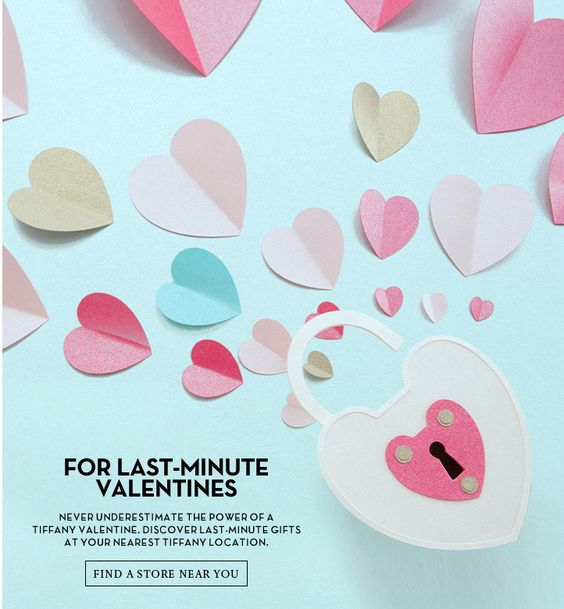 16. Propose Valentine's day email cards
Cards are the most purchased gifts during Valentine's day with 52.1%.
The stats already are telling you that it is a good idea to propose Valentine's day email card to your subscribers.
In the following email example, Scribbler promote their Valentine's cards with a cute email design titled "Will you be my Valentine?" featuring several cards design.
This uses a special design trick with the YES checkboxes to capture the attention.

Swank also does it right by using a GIF in their animated Valentine's day newsletter to promote their gift card. The CTA is large and prominent. With options to share the email on social platforms, the email is a perfect one for Valentine's Day.

17. Get poetic with your email copy
Roses are red poems are forever popular. For variety, you can change the lines a bit- or something else completely. With so many possibilities, it just gets your creative juices flowing.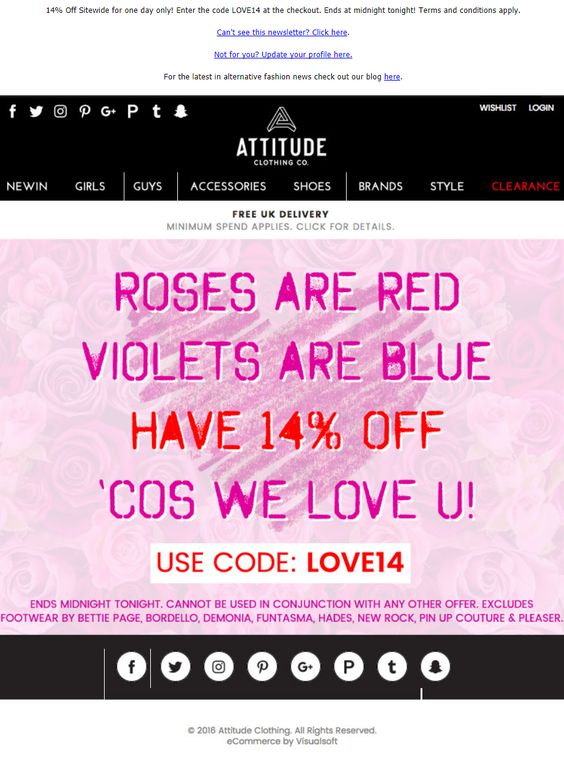 18. Share Valentines-related products
Although gift-giving is an important part of Valentine's Day, remember that people are at the center of it. So help your subscribers craft a plan for the day, with DIY ideas, and music playlists with romantic classics. A surprising example of this comes from Shutterstock.

19. Offer free last-minute shipping
Every online shopper is a fan of overnight shipping, imagine if it's free too? That is a winner for both customers and online retailers.
With automated email workflows, you can retarget the contacts in your email list that haven't opened/clicked your previous emails and remind them that it is time to order for their Valentine's day gifts.
With free overnight shipping as displayed in the example below, your customers will appreciate last-minute options, because it will help save them from being empty-handed on Valentine's day.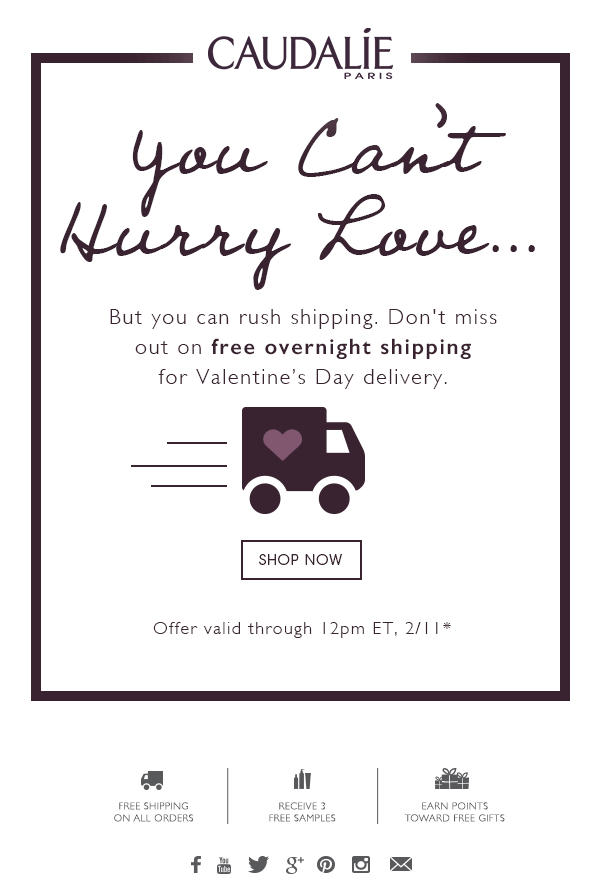 For contacts who still wouldn't click your last-minute offer, you can take your email workflow further and send them an email where they can purchase a digital gift card at last.
20. Gamify your Valentine's day email
Everyone is receiving Valentine's day emails during January and February. And probably the 3rd and 4th email are not as exciting as it was with the first email.

That's why you should try to surprise your audience from time to time. One of the ways to do that is with gamification.

Here is a gamified Valentine's day email example that's unlike other emails.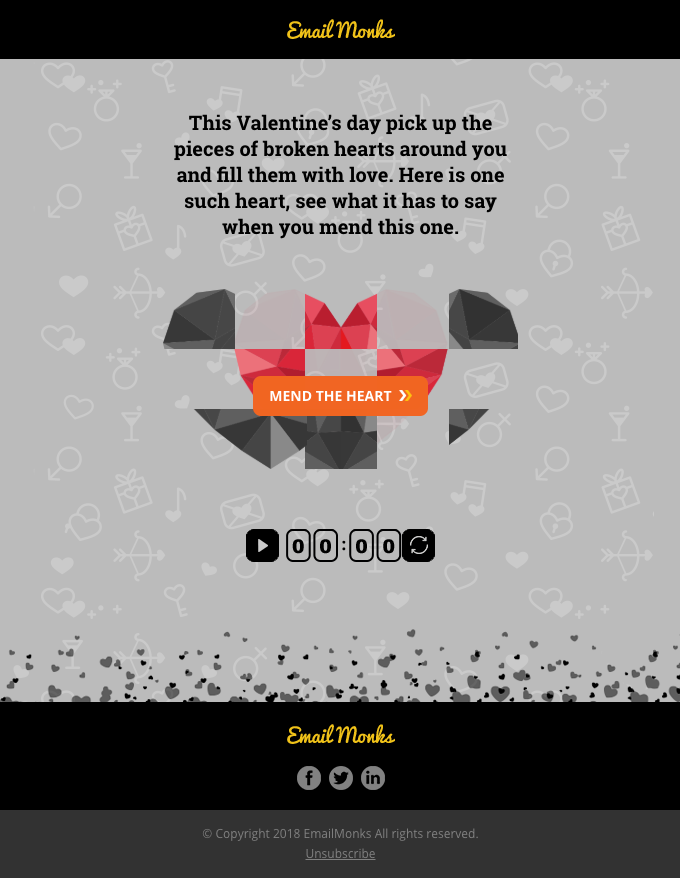 21. Segment your audience by gender
Creating segments based on your subscribers' demographics will help you reach the right subscriber with the right content and send targeted email campaigns.

Your female audience can be targeted with Valentine's email to promote a product that they can buy for their partners.

With a creative copy, you can send males' product to your females' audience, and make it convert like no other campaign.

Here is an example to inspire you.



22. Send event invitation email on Valentine's day
Sending invitation emails as a part of your restaurant email marketing is a must.

On Valentine's period you can increase the number of your booked tables with an invitation email to invite your subscribers for a Valentine's Day special offer.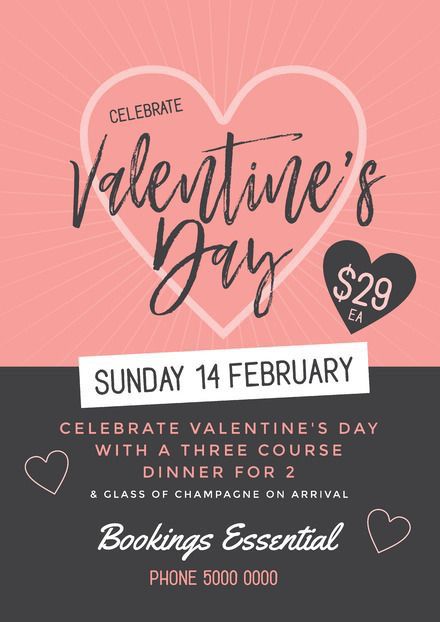 23. Design a valentines email that matches your online store
Love is literally in the air in the following Valentine's day email template.

This email draws attention to Tiffany & Co. website and the email looks exactly like it.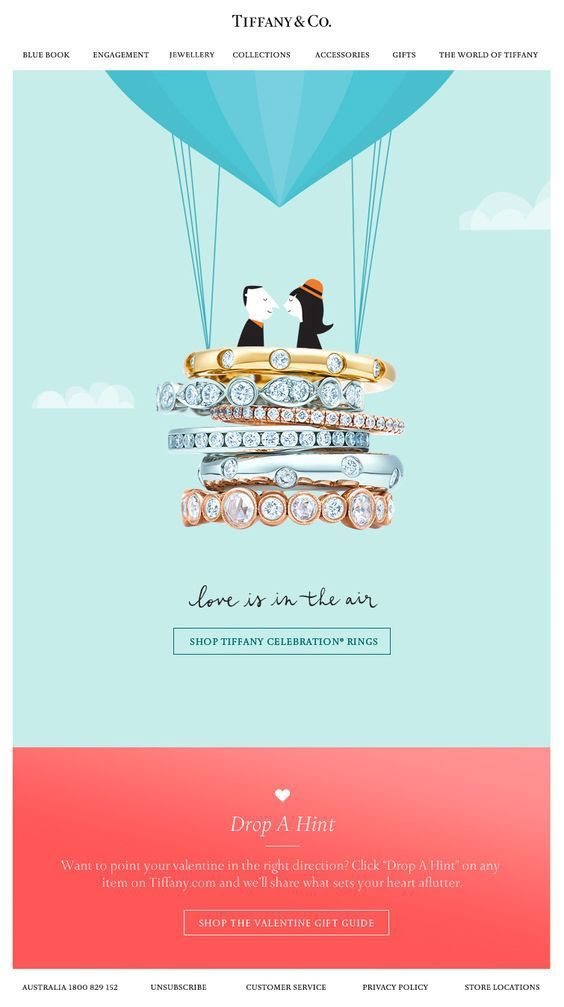 24. Include those who don't celebrate it
Your subscribers are not the same, some of them would enjoy a gift or a date night outside. Others would prefer staying indoors, Netflix & Chills.

Make sure you satisfy both customer categories.

Here is a humorous Valentine's email newsletter sent by a delivery restaurant.



Conclusion
Valentine's Day is a special event. Your beloved subscribers expect special promotional deals from you. It is the opportunity to have a great start of the year sales.
We've done our part and shared with you the best Valentine's day email subject lines and winner email design templates.
Now the ball is at your court, make the best out of the occasion and share with us your creative lovey-dovey email examples.
Happy Valentine's Day 🥰