With the existence of Chilli's to Pizza Hut and tens of other global restaurant brands, it is becoming more difficult for a small business to compete and gain loyal customers.

While media and street advertising are still expensive, email marketing is still a small-businesses best friend.

As a restaurant owner or manager, your ultimate goal is to stand-out in a competing environment of small and global brands.

Running restaurant email campaigns is one way to:

Attract new customers to dine in your restaurant for the first time
Show appreciation to your existing customers
And keep customers returning.
In this restaurant email marketing guide you' can learn:

Bon Appétit! 😊

3 Reasons You Should Consider Using Email Marketing for Your Restaurant
1. To build stronger customer relationships
Sending a restaurant newsletter is a way to maintain a strong relationship with your customers.

For potential customers, you can offer them coupons and discounts to motivate them to visit your restaurant.

Do not forget to send a thank-you email to customers after they visit your restaurant, a simple thank-you email strongly increase your brand value.

For existing customers, you can keep them updated about your new menus and special.

2. To promote deals
Email marketing for restaurants helps you build a positive relationship with your subscriber, by delivering free information. Also, it helps you send free gifts.

Sending restaurant promotional emails tends to work both ways since it shares information about your business and at the same time includes an offer for your subscribers.

Here are some ideas to send a promotional restaurant newsletter:

Provide discounts, deals, and coupons.
Share some exclusive recipes.
Offer tips on quick meal preparation.
Highlight new menu items and share menu updates
Share chef's specials and themed menu nights.
Tell the history of your restaurant.
Introduce the team and let your subscribers see what's happening behind the curtains.
Celebrate your customers' milestones.
3. To invite subscribers to your events
Most restaurants run occasional special events and parties.

When hosting an event, it is recommended to send an invitation email to your email subscribers.
Inviting your customers and subscribers to your special events will help you keep your customers returning.
It is necessary to ensure subscribers learn about your restaurant events' so they would consider visiting and dining.
Here is how the equation goes here.
If your subscribers don't hear about your event they won't show up and you end up losing returning customers.
No returning customers, less and less revenue for your restaurant.
That escalated quickly, right!
Your restaurant invitation email is a core contributor to your event's success. It is the medium that would make you able to inform and sell your special evenings to your customers and subscribers.

5 Ways You Can Build an Email List for Your Restaurant
If you're planning to do restaurant email marketing, it is important to think of how you're going to maintain a constant lead generation to build a larger email list.

And by larger email list I mean a larger audience of potential customers who'd book a table and visit your restaurant.

Wondering how to build a larger email list? Here are 6 ways to build an email list for your restaurant.
1. Create a contact form
As a restaurant, your reservation page is considered your lead generation hub.

Keep a constant positive customer relationship with those who book a table through your website.

You'd want to thank them for their reservation and moving on you can invite them to your special events or send them your best restaurant newsletters.
2. Display appealing popups on your website
There is nothing more annoying than a popup that appears the first second you visit a website.

But. when used right, popups increase engagement while it averages a conversion rate of 9,28 percent according to SumoMe.

To generate more email addresses for your restaurant use website popups like the following:

Match your popup with your website design and brand.
Give discounts or special offers.
Trigger your popup to display after 5 seconds at least or +40% of website scroll.
Trigger exit-popups.
Trigger popups to display only twice for each unique website visitor.
Provide a clear X button to close the popup.
And lastly, keep it user-friendly.
Here is an example of a website popup used by a burger place to build a larger email list.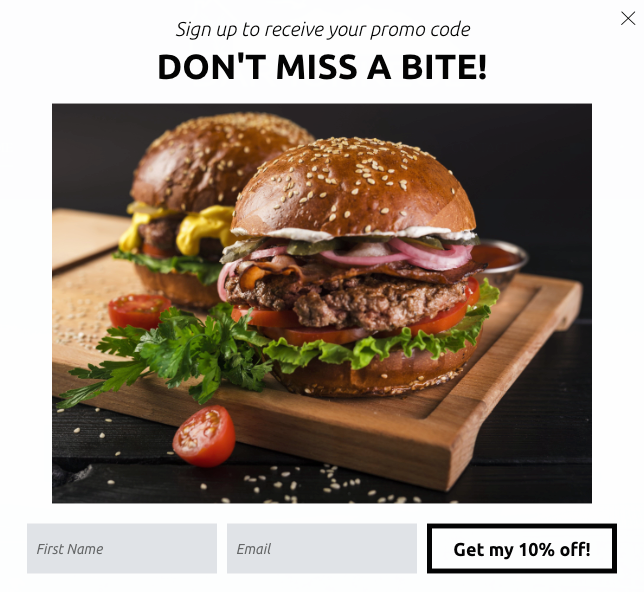 3. Ask customers to join your email list
You can include your website link in printed menus, your credit card receipt and invite customers to join your email list.

This way your customers learn about the potential of receiving discounts and special offers in their email inboxes.

Or, just ask them to share their addresses with you so later on you can add it to your email database.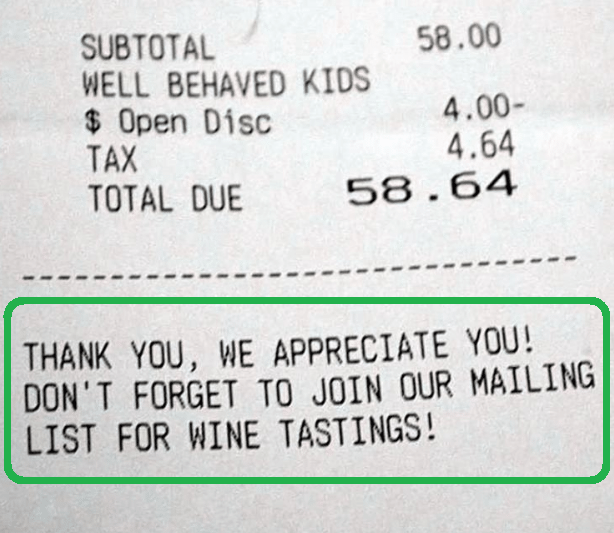 Other than printed menus and receipts, you can include a QR that directs scanners to a landing page so they subscriber and earn an exclusive offer.
4. Promote email-only offers
This restaurant opt-in form is one of our favorite examples. The simple black image conveys a friendly, positive vibes that help reinforce the benefit that the recipient will receive once they subscribe.

It makes an appealing and very engaging combination. It makes visitors feel special by inviting them to join a VIP club of the restaurant.

Under the title of the popup, it is highlighted that exclusive offers will be sent only via email to VIP club members.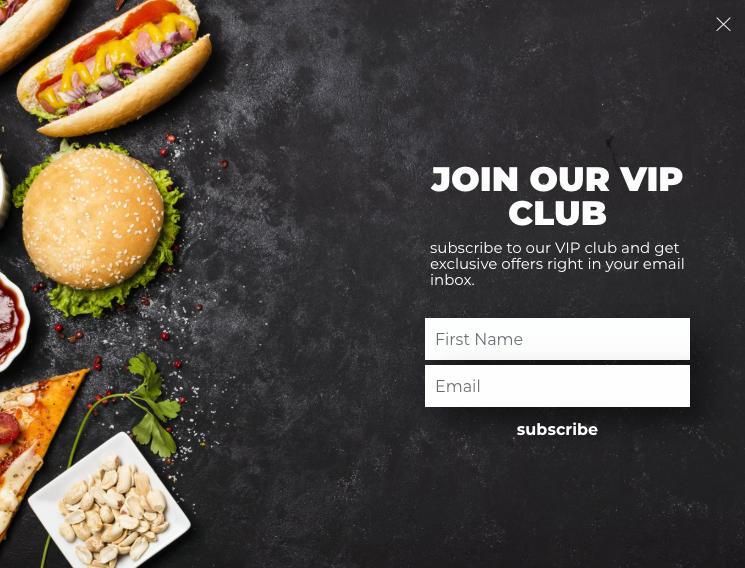 5. Create a referral campaign
Some people don't want to eat solo. A good company would make it more enjoyable and fun.

Include a referral link in your restaurant newsletters to motivate contacts to share your email with their friends, colleagues, etc.

To motivate your subscribers to refer a friend, offer them gift back.
The gift could be a discount, a coupon, or a free dessert.

3 Ways You Can Attract Customers to Your Restaurant
1. Gift card offers
Restaurant email newsletters are an effective way to delight your subscribers with gift card offers.

You can send seasonal gift cards on Christmas or can be a value of your Valentine's Day email campaign.

Holiday season restaurant email campaigns perform well since most customers want to enjoy their holiday, and also it would make sense for them if they get a special gift card for your restaurant.

Sending restaurant gift cards also helps create a positive word of mouth campaign for you.

No one would be silent about a gift they receive during the holiday season.

2. Send birthday emails
Who doesn't want to feel special on his or her birthday? NO ONE!

And making your subscribers feel special is what you're supposed to do on their birthday.

Wish a happy birthday to your subscribers and be generous with a gift.

They are going to remember you for a gesture like that, and probably might even tell a friend or a family member about it.

Make your subscribers feel like family with a similar birthday email newsletter.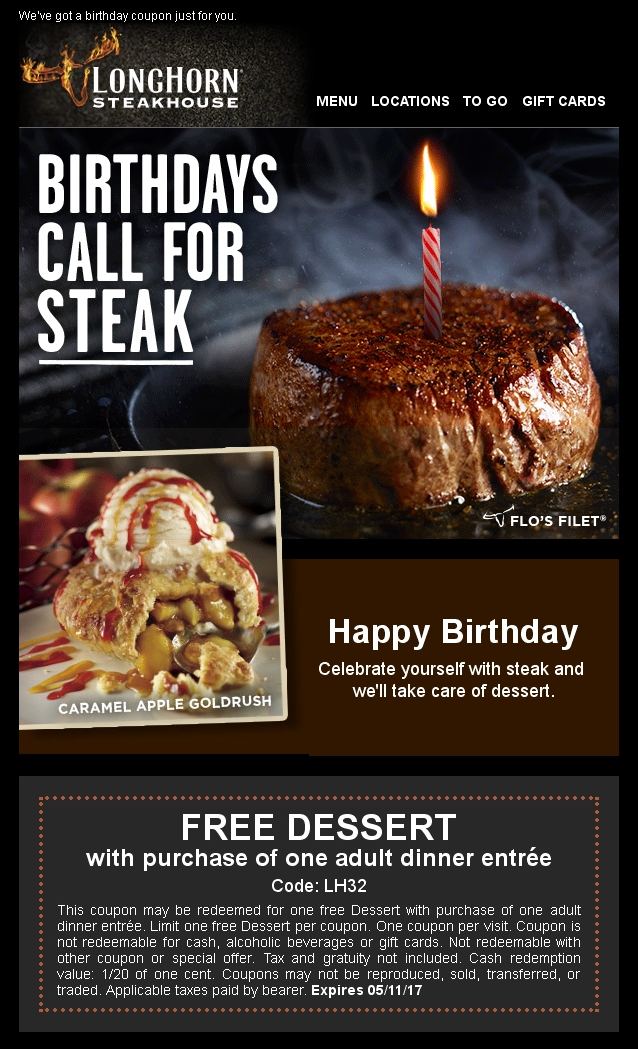 Don't overthink how you gonna remember each customer's birthday and how to manage it.

On email marketing tools like Automizy, you can trigger an email to be sent on a specific milestone, special holidays or contact birthday to spice a little bit the relationship with your prospects and customers.

Based on the birthday email trigger, send an automated email and show appreciation to your customers on their birthdays. It's important to offer a small gift within the email, something like a discount, coupon, gift card, etc.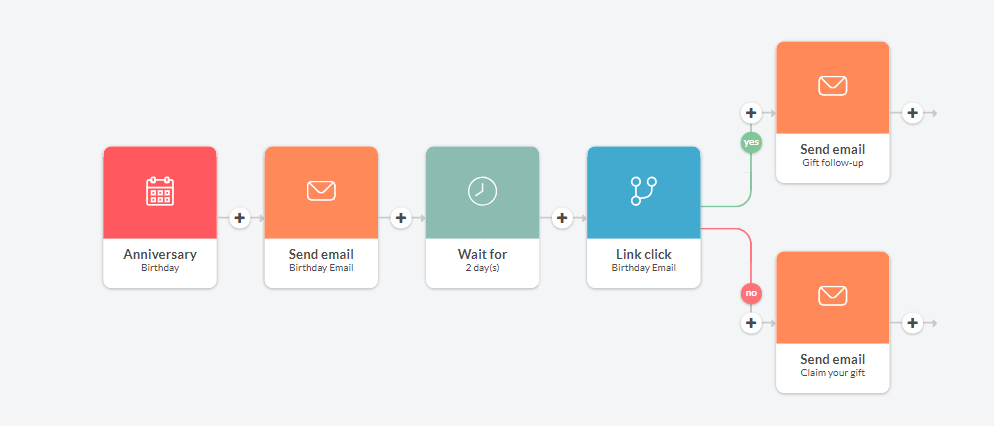 3. Express appreciation to your customers
Customer appreciation emails are the emails you send to reward your restaurant's loyal customers.

Expressing gratitude for having your clients and email subscribers will strengthen your customer relationships and catalyze their loyalty toward your restaurant.

Loyal Customers = Returning customers.



5 Restaurant Email Campaign Newsletter Examples—you can learn from
In case you don't know where to start with your restaurant marketing campaigns, here I share with you 5 restaurant email marketing ideas to inspire you.
1. Offer discounts
Running email marketing for restaurants always carries the objective of customer engagement.

Offering discounts motivates customers' engagement.

Sharing gift card deals and discounts encourages satisfied diners to purchase cards for family and friends, spreading the word regarding your restaurant while helping to boost your establishment's reputation altogether.



2. Send holiday email campaigns
The holidays are the ideal time to make your subscribers feel special with your offerings.

And restaurant emailing is a reliable and creative way to inform your customers about the holidays you're celebrating.

Themed marketing emails for holidays have higher email open rates.

In your holiday email, present more information and place a creative CTA that will allow your customers to interact with your email.


3. Invite customers on special occasions
A special occasion could be a karaoke party that you want to make a success, a BBQ grill evening, a Christmas dinner, etc.

Here is a restaurant newsletter example to invite subscribers to a BBQ party.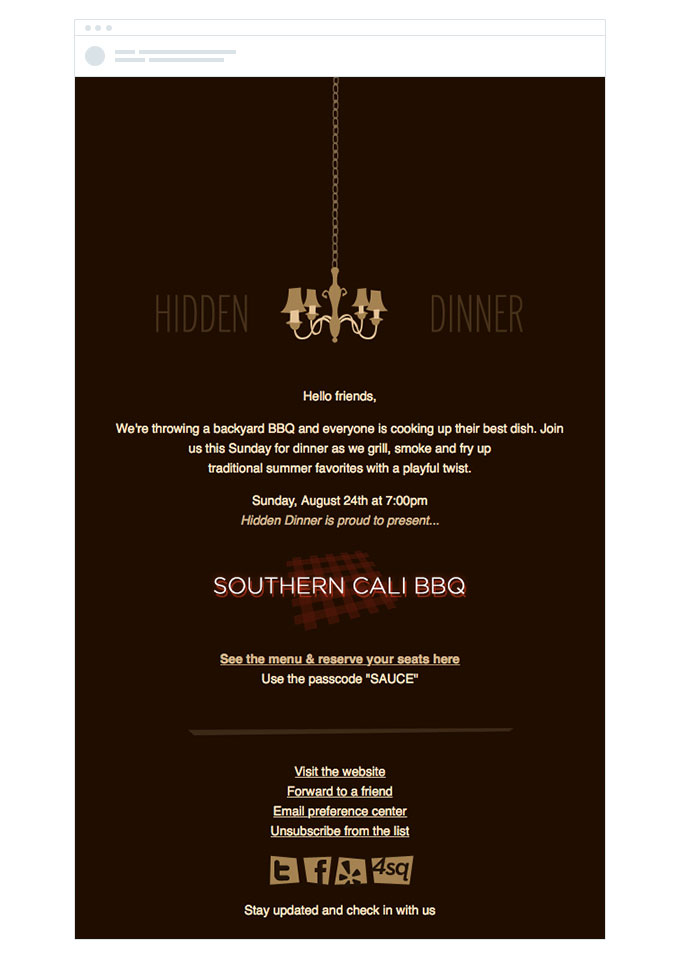 4. Introduce your Chef and his menu's specials
Human to human communication never fails. And to make your restaurant email more humanistic to your subscribers, share details about your star Chef of the evening and what they'll be preparing for customers.

It gives a home-like feeling to your subscribers as they've seen who's the chef that will be taking care of their tables.

Sharing beautiful tasty pictures of the menu's specials will be more convincing for your subscribers to click the CTA and book a table.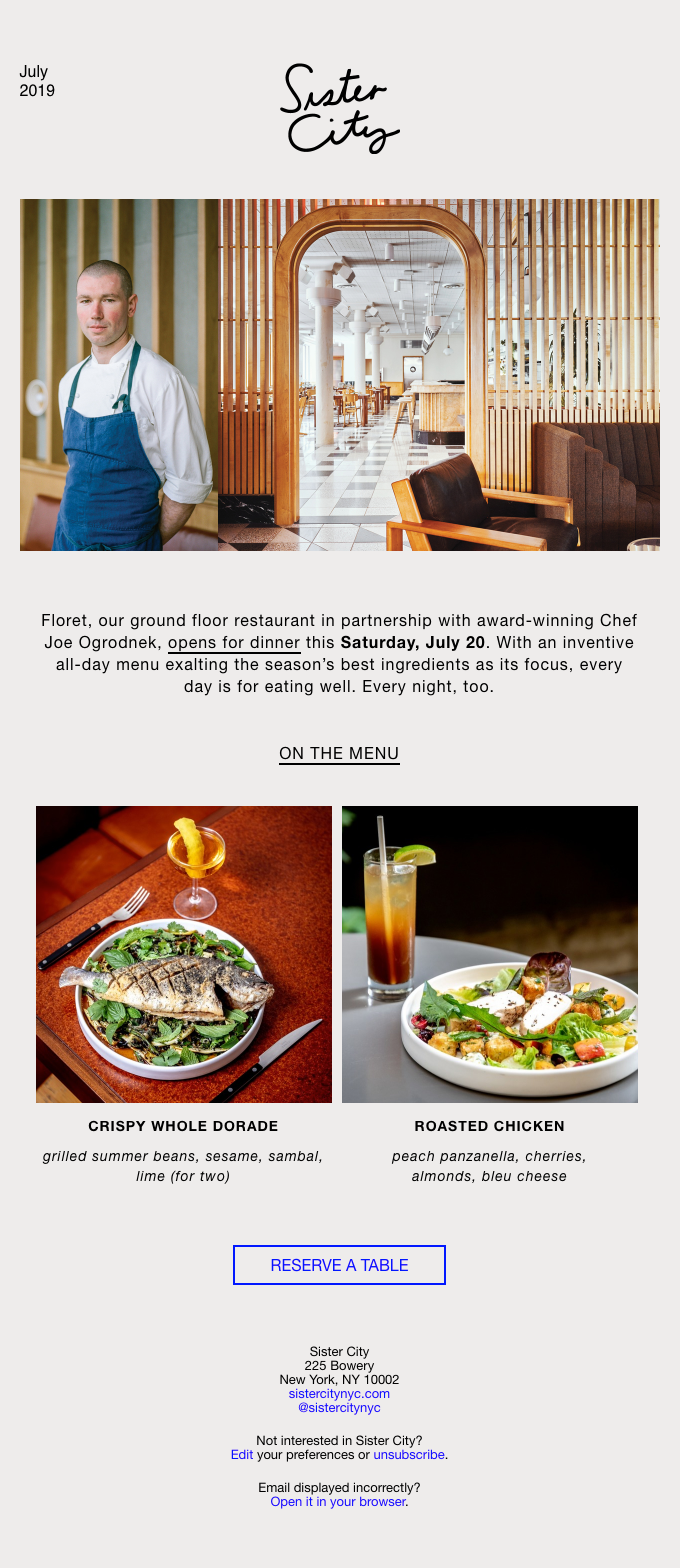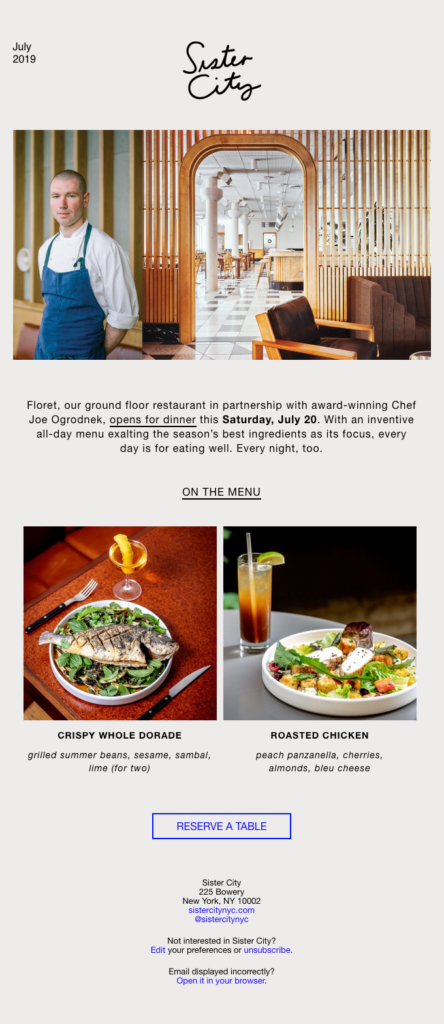 5. Highlight a menu item
You might have an MVP meal within your menu that your customers would enjoy at any time.

Customers who've tried a good meal will always get back to try it again and maybe even invite a friend to join them.

Highlight new menu items, changes to old menu items, chef's specials and meals that have been a success for your restaurant.

Here is an example of a restaurant newsletter promoting the autumn special, the Calzone.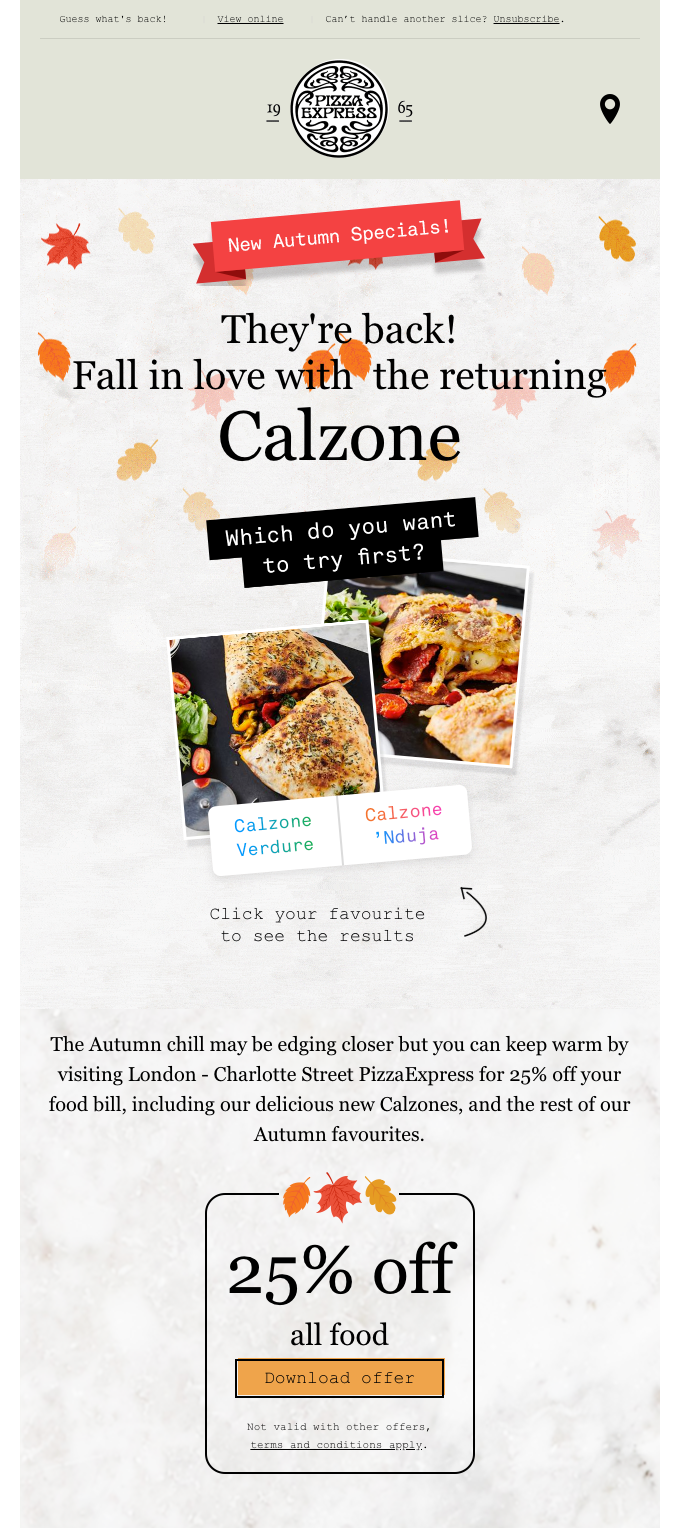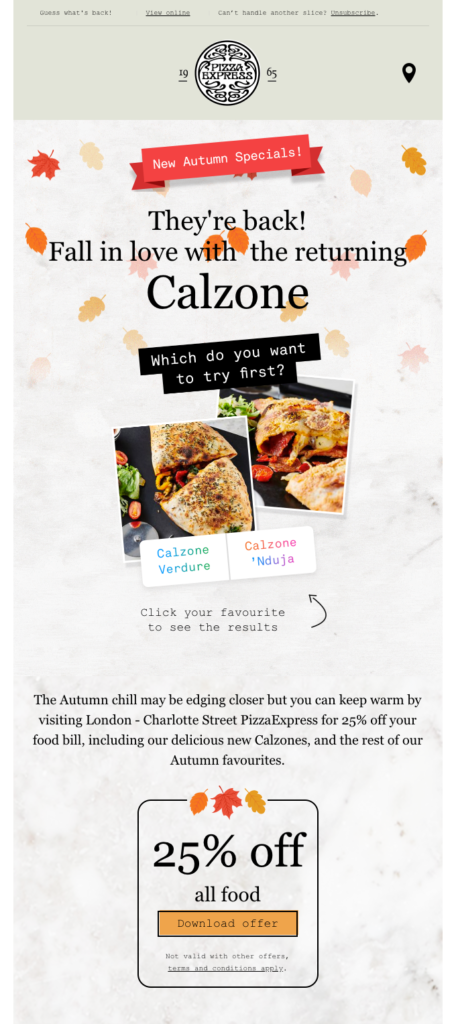 26 Inspiring Restaurant Email Subject Lines
Writing restaurant email subject lines shouldn't be something you do on the go.

Your restaurant newsletter design won't matter if you don't get your subscribers to open your email.

Spend time coming up with a catchy email subject line to get your contacts to click it.

Here are 26 restaurant email subject lines to inspire you:

"Do you have plans for dinner? Would you like some?"
"A little luxury at a great price"
"Best fire BBQ ever 🔥"
"Winter Is Coming and Our Summer Menu is Going…"
"Happy Birthday Mary – Surprise Inside! 🎁"
"Our Way of Saying Thanks For Dining Last Night"
"Reasons Why You Need to Try Our New Menu Items"
"This Weekend Only, Two Can Dine For 15.99!"
"Hey Vick, We Heard You Like Vegan Recipes…"
"Satisfy Your Hunger "
"All You Can Eat Pasta! 🍝"
"Save Time With Our Express Take Out Menu"
"Paulina, Where Have You Been?"
"Extended Happy Hour Starts"
"How to Impress Your Dinner Date Without Breaking the Bank"
"Can You Guess How Many Flavours of Wings We Have?"
"How to Have Your Cake and Eat it Too"
"Friday, 'tis the Season! "
"Where to Drink Wine Right Now 🍷"
"A new menu you won't pass on"
"Why Marina's is the Best Birthday Dinner Spot in Town"
"Did you miss out on some of these new meals?"
"We Spent 87,600 hrs Perfecting THIS Dish…"
"Vanilla or Chocolate? 🤔"
"What Beer Would You Pair These Foods With?…"
"Thanks for visiting us"
As you've noticed some subject line include emojis.

You can experiment emojis in your restaurant email marketing.

When used well, emojis are proven to increase your opens.
You can easily add emojis to your restaurant email subject lines using Automizy.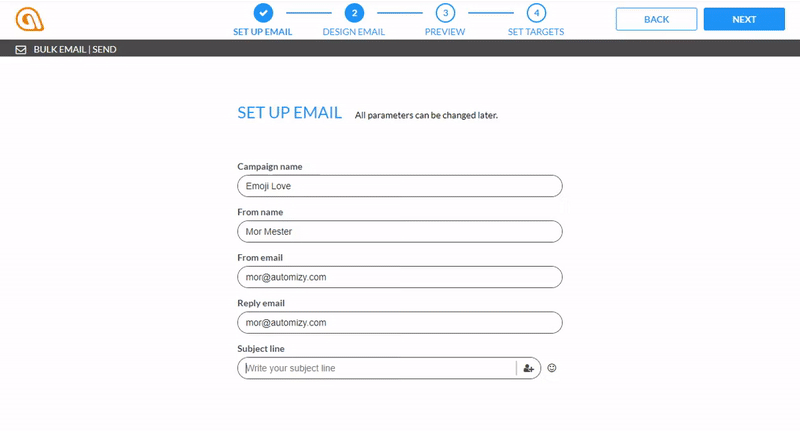 After you have composed your subject line, test it with our free Subject Line Tester to see how your subject line will perform.

It scores your subject lines based on data from over 1 million campaigns.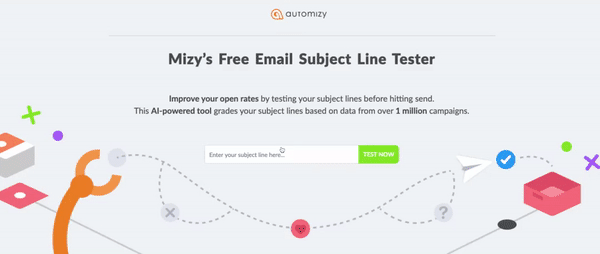 The tool also provides subject line templates you can use to increase your email open rates.

Lastly, we advise you to try Automizy's email Subject Line Generator which writes you subject lines based on your email copy.

You just paste your email copy, and the tool will generate you with a high performing subject line for your email.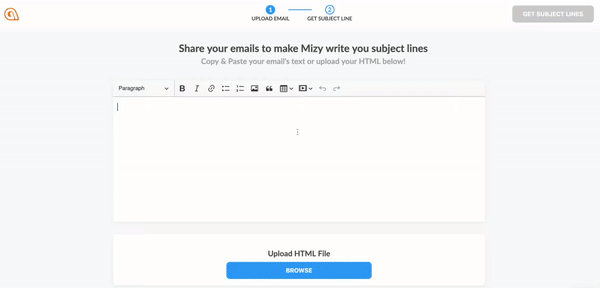 Step 1: Copy & paste your email content.
Step 2: Let Mizy read and analyze it.
Step 3: Copy, like and use the subject lines you prefer.

That's it, 3 easy steps to further increase your open rates.
Conclusion
Email marketing is still among the low-cost marketing strategies, yet it is among the most effective for small-medium businesses.

Maybe your restaurant is not as big as Pizza Hut or Chilli's, but applying the above restaurant email marketing examples would increase your customer engagement and let you compete harder with the global big brands.

Are you running a restaurant email campaign? Share with us your best email and be featured in this blog article.