Imagine having a list of 5000 people who showed interest in your product and service.
You have their email address, name, company name, and phone number, and they permitted you to reach out to them.
Now that you imagined your business heaven of having 5000 leads, think about the opportunities something like this opens.
With some lead nurturing, you can turn about 250-500 of these leads into customers.
If you convert 250-500 leads into paying customers each year, and your B2B product is priced at $1000, you might get around $20K-$41K revenue per month.
That must sound appealing.
Keep on reading, and you're one step closer to making it happen!
In this complete guide, you'll learn:
Applying just some of these lead generation ideas, examples, techniques, and tools will undoubtedly skyrocket your lead generation activities. Let's dive in!
About Lead Generation in a Nutshell
1. What is a lead?
A lead is a person who indicated an interest in your company's product or service.
People can show interest by downloading a free info product like an ebook, subscribing to your newsletter, or enabling your push notifications.
Of course, there are tons of other ways a person can become a lead; we'll get to them later.
2. What is lead generation?
Lead generation is the process of converting "strangers" like website visitors into leads. The lead generation process usually ends with an exchange.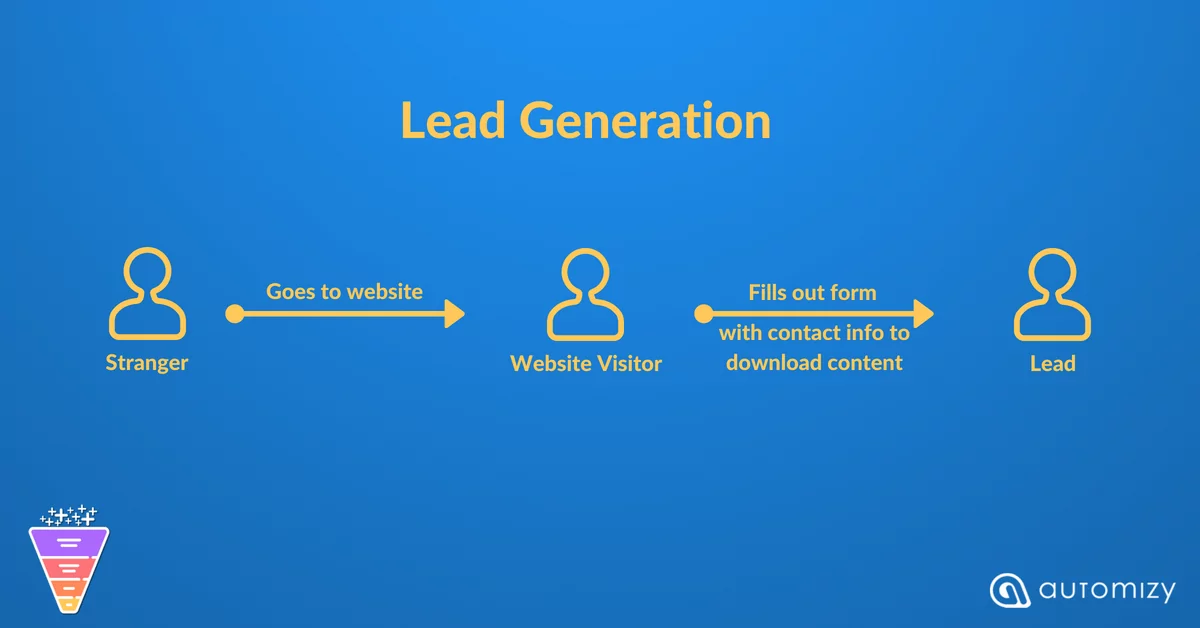 For example, a website visitor gives you their email address and name to download one of your free ebooks.
They gave you their valuable contact information, and you gave them some great educational content.
From this point on, you can use this info for following up with different types of email marketing messages.
Don't forget that any business transaction is about creating a mutually beneficial relationship. Use these timeless sales principles in your communication.
Once a person becomes a lead, you'll need to nurture them. Lead nurturing is usually done with email marketing automation, but you can use tons of other channels.
Real nurturing consists of:
Showing empathy,
Understanding the pain they try to solve,
And helping them solve their pain.
By doing this, you provide real value to the lead. This experience builds trust between the lead and your company.
This trust makes it much more likely that they'll end up buying your service or product.
Additional Resource: 3 Lead Nurturing Tips that Immediately Boost Your Campaigns
4+ Inspiring Lead Generation Ideas and Examples
Now that we covered the basics, I'll show you some lead generation examples and ideas. I'm sure you'll find a couple of strategies you can experiment with for your own business.
When choosing what to use out of these, take your industry, business model, and audience into account and find something that fits everything.
To make it easier for you, sign up to Automizy to access B2B landing page templates that you can customize to your needs.
1. Use push notifications to reach website visitors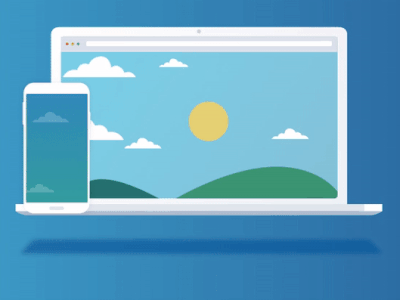 Browser, in-app, and web push notifications are a relatively new channel to reach those website visitors who haven't given you their email addresses. It gives you the chance to bring them back!
But what if you use them as a lead generation technique?
Opting in for push notifications is a smaller commitment than giving an email address. So you can generate tons of top-of-the-funnel leads with push notifications. How?
By combining it with a lead generation landing page or pop-up form. It can quickly bring back visitors so later you can convert them to a subscriber and send them marketing emails.
The Pushcrew team wrote an excellent beginner's guide to web push notification. If you're interested in implementing push notifications for lead generation, I recommend checking it out.
Here are some key statistics I took from the guide:
"Website Push Notifications maintain a healthy click rate of 4-6% even when the number of subscribers increases above 25,000."
"Wednesday is the best day to send a Push Notification if you want a higher click rate. The average CTR on Wednesday stands at 6.21%."
"53.1% of subscribers preferred notifications with big images over plain notifications."
Learn from the best! See how 38 experts like Adam Houlahan, Sam Hurley, Erik Qualman, Ritchie Pettauer, Mandy McEwen, and Tim Hughes use web push notifications to get killer results.
2. Convert visitors to leads with on-site retargeting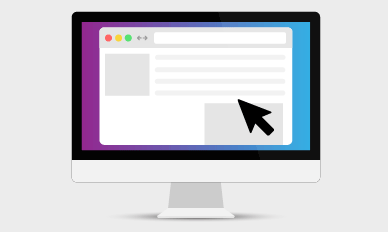 It's one thing to use pop-up forms for B2B lead generation, but you can easily take it to the next level.
One way you can collect contact information is to show pop-ups as exit intent is recognized. Exit-intent is when visitors approach the close button on their browser.
As soon as a visitor starts to do it, a pop-up appears, and you will have the chance to ask for the contact information by offering:
a coupon for a discount,
a free ebook,
an email course,
a one-to-one consultation,
newsletter subscription,
…or anything that works for your business.
You can also show entirely personalized messages based on your blog or website visitors' behavior.
For example, if a person visited your pricing page and checked one of your features, it's good to offer a quick consultation, a relevant case study, or a course. Targeted offers will have an insanely high conversion rate!
3. Automate cold emails and focus on things that matter
Email is a powerful lead generation tool. It gets even better once you automate 20% of conversations that bring you 80% of the revenue.
One of the best ways to make sure you have fresh leads to work with is to automate your cold emails.
And if you write them manually, it still makes sense to do it as a campaign because you will learn infinitely more about adjusting your outreach than doing it by hand.
Prospect.io is a nifty tool that allows you to find anyone's email address using their professional website or LinkedIn profile and put them in an automatic sequence.
These usually consist of 3-4 emails and always halt whenever you receive a first response, so you can start working on those relationships and close all the deals!
Furthermore, the automation doesn't end, as you can integrate it further with your CRM and many other apps.
The Prospect.io team prepared a comprehensive cold emailing course for beginners. If you're just starting up with outbound sales, or your reply rates don't hit 30% yet, it's a must-read!
4. Offer valuable lead magnets or hooks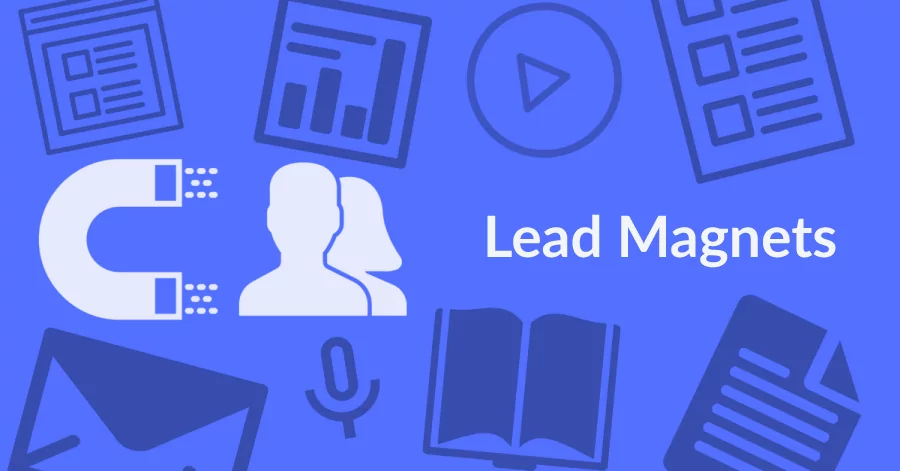 Lead magnets or hooks are gated info products and are the most widely used lead generation methods among any international B2B marketplace.
Gated means that downloading these pieces of content requires an opt-in.
Let's look at what kinds of lead magnets exist. Choose a couple from this list, make sure they fit your business model, and whether it's the type of content your audience likes to consume.
All of the upcoming examples and ideas can yield even better results if you use them as content upgrades.
Write a blog post about email list growth and offer a checklist with step-by-step instructions on how to grow an email list as a content upgrade.
Your readers will have to give you their email address to download the checklist. BOOM, now you can educate them with some email marketing that provides value.
5. Work together with influencers
More and more brands are opting for working with influencers to promote their products and services.
Influencers are people who others look up to, and whose opinions they value.
By pairing your brand with an influencer, you'll not only expand your audience to include theirs as well but also build your credibility in their eyes.
Apart from that, lead generation can be a long process. While some possible leads are ready to convert as-is, others need more time and effort.
This is where influencers can hop in to give them an extra nudge. As a matter of fact, 48% of businesses are saying that most of their leads require 'long cycle' nurturing with many influencers.
18+ B2B Lead Magnet Ideas and Examples
1. Create an email course to educate your leads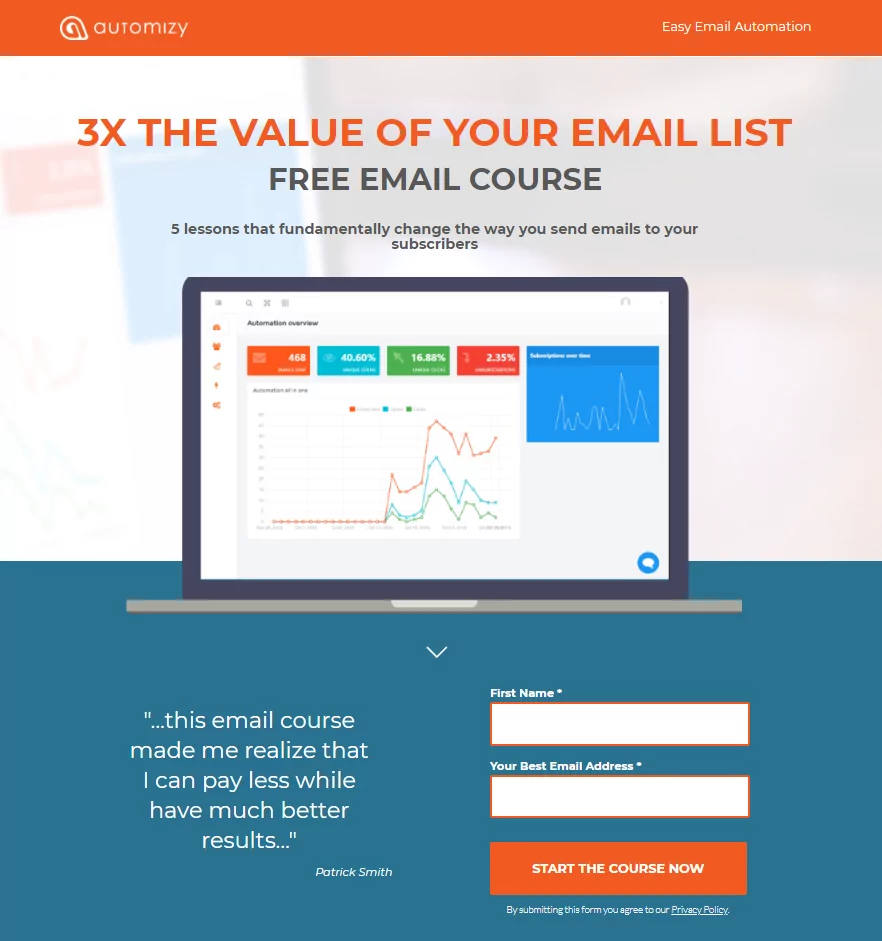 An email course can be a perfect lead magnet. Teaching people particular and valuable knowledge is always a thing that makes people opt-in.
One of the best things about these courses is that it doesn't require as much resource as you would need for a video course.
Create a short email course that educates your audience on a topic related to your product step by step. Build a lead capture landing page for this purpose, collect the subscribers there, and follow-up with automated emails.
It is essential to go with the best practices when you get started. Setting up a B2B lead generation funnel that relies on a web page and email marketing is like designing your product: you need to provide a great user experience throughout the funnel.
Landing page templates are proven and follow the best practices – so it is an excellent opportunity to use them instead of building one from scratch.
Also, I'll share some high converting landing page samples in the next section to get your creative juices flowing.
2. Write an actionable checklist
Downloadable checklists are great because they are actionable, teach something particular, and easily consumable.
What can you write a checklist about? Everything you can divide into steps, like:
How to improve your SEO via backlinking?
How to outsource your content to agencies?
How to do sales without selling actually?
How to do gardening in the inner city?
Items you need for a road trip across Europe
Think about your industry and your audience's pain points, find 5-6 topics, write them down, and create PDFs from these.
Always think about lists that can be done step-by-step.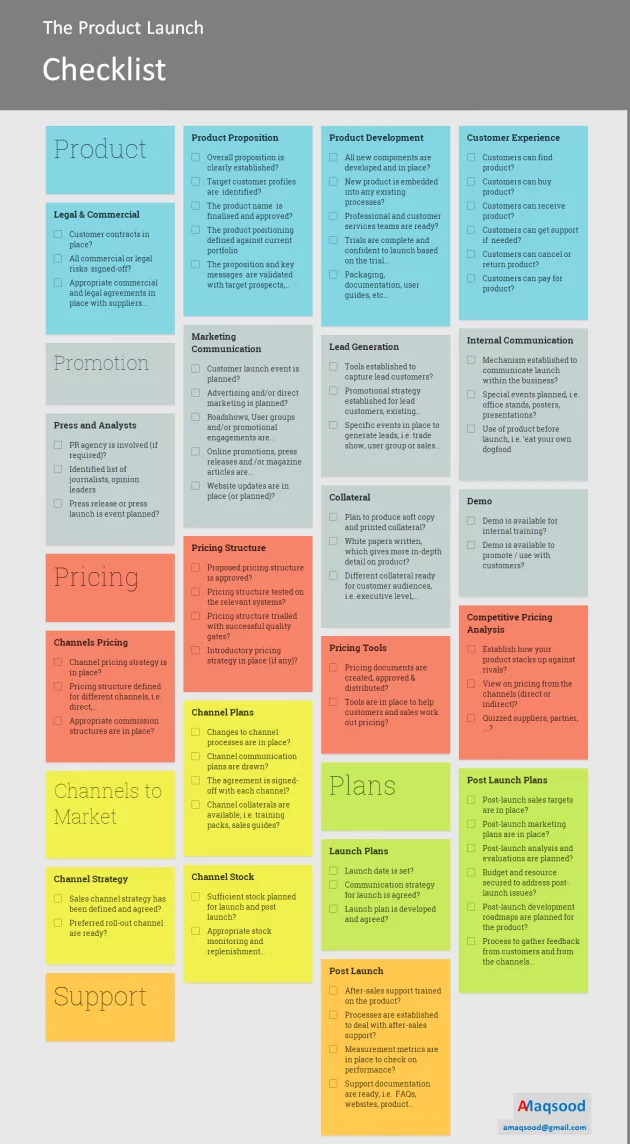 3. Deliver real value with your newsletter
Believe it or not but your newsletter can be a good lead generation tactic for you. But you have to pay attention to send relevant, engaging, truly valuable content.
For example, The Hustle is a newsletter for entrepreneurs about the most recent tech news.
Every June, they organize an event around "Startup tactics for non-techies," They use their newsletter as their most important source of leads for getting attendees.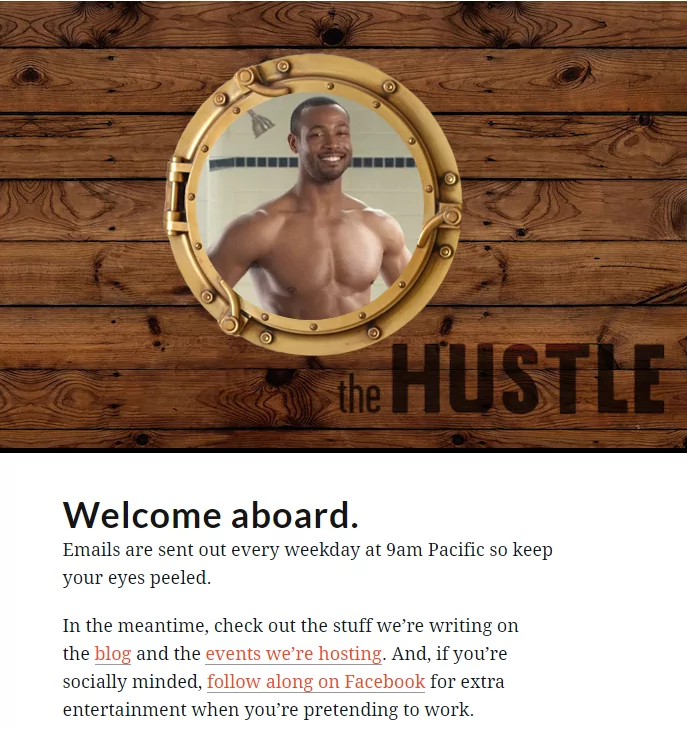 Best newsletters are great lead magnets because their value proposition is unique, entertaining, and does not say that boring "subscribe to our newsletter" message.
Christmas is a special time. It calls for unique newsletters. Check how these 11 companies used those techniques in their Christmas email designs.
4. Repurpose your presentations
Creating presentations is a type of content that's still great, especially when it comes to Slideshare, the most potent presentation-sharing platform.
You have 2 options for lead generation:
Free option: You can upload your presentations to Slideshare for free and still get awesome traffic to it. And you can easily add a link to the bio and the description that sends the traffic in question to a standalone landing page.
Paid option: Like Turnstile, Slideshare supports the option to insert lead capture forms into your slide. As a result, you can add a gate to a part of your presentation that asks for contact information.
5. Videos are HOT; take advantage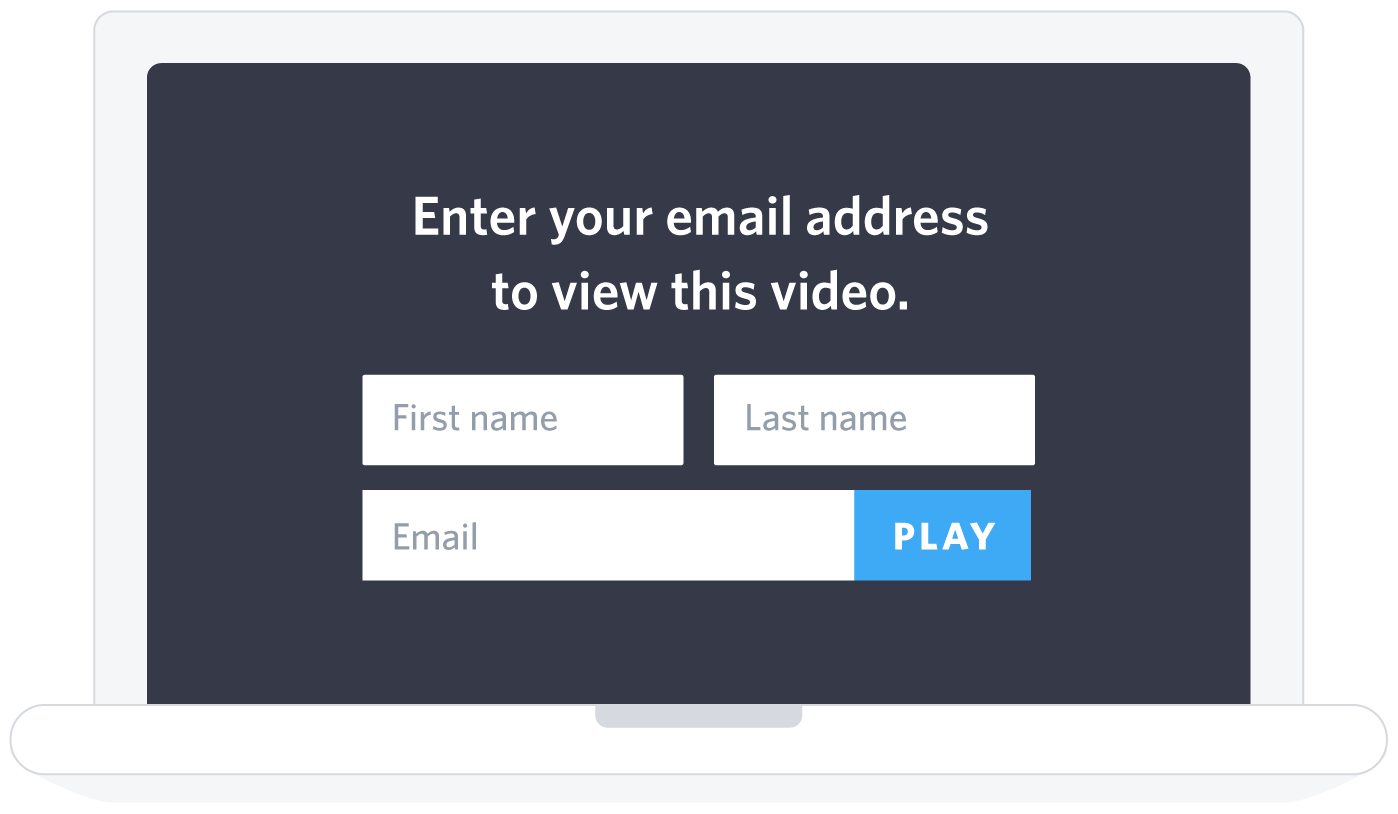 Video marketing is quite a hot topic as it makes understanding more comfortable and can be very interesting and funny.
"According to SmallBizTrends, global internet-based consumer video traffic will be 80% of the total consumer internet traffic by 2019."
And you can convert leads easily by asking for email addresses if someone wants to watch your whole video!
Make your video stop before something interesting will happen. Let's say before you tell the viewer an easy solution to a problem you described before.
People love finished stories and tend to do many things (like social sharing or subscribing) to see the outcome.
You can also generate leads with multiple lesson educational video courses, where you give the first lesson away, and then you require an opt-in if people want to access the rest of the lessons.
A video is a suitable medium as it is quite engaging and has a higher possibility of going viral. On the other hand, you need more resources to create good quality videos.
But you can save time if you can repurpose your existing content. Just pick a topic you already wrote about and tell more about it, dig deeper.
Videos can work as a lead magnet even if they are not educational. It can be your opinion, something funny or exciting – it depends on your industry.
For example, Brian Dean posts free educational videos on his YouTube channel.
Tons of people watch his videos, but they'll visit his blog where among excellent articles, if they'd like to dig deeper. Brian also has gated content to generate leads.
6. Educate your leads with a webinar
Live, limited-time webinars can work very well for generating leads. As you restrict the number of people who can attend your online event, you create the VIP feeling that is one of the most catchy things. FOMO is real!
A good webinar does not only help you generate more leads, but it can easily help you get actual subscribers for your business' email list.
As an example, Content Marketing Institute regularly offers free webinars.

A variation is to create or turn your live presentation into an automated evergreen webinar, this kind of webinar can continuously keep generating leads.
7. Generating leads can be fun with quizzes
Using quizzes for B2B lead generation is a fairly new lead generation technique. It hasn't been done to death, so if you create engaging and fun quizzes, it'll be a goldmine of leads for your business.
People like to test their skills, and marketers can easily take advantage of that.
However, creating engaging questionnaires is challenging.
You have to ask for the contact information at precisely the right time. Your quizzes shouldn't be too easy but shouldn't be too hard either.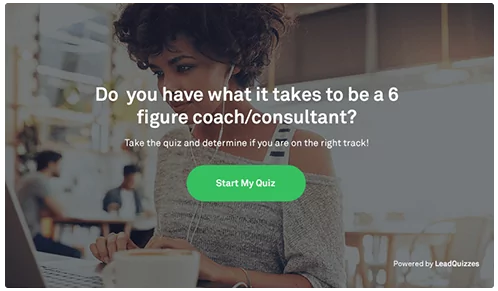 8. Podcast: give them something to listen on-the-go
Get some recording gear, podcast hosting software, and record your thoughts on a topic.
Be entertaining and professional, chat with experts in your field and promote it on your channels.
Podcasting is a great community-building tool, and you can easily target these people with other lead magnets to grow your subscriber list.
Pro Tip: Find questions related to your industry on Quora, and then answer them on your podcast.
For instance, Duct Tape Marketing has an amazing podcast.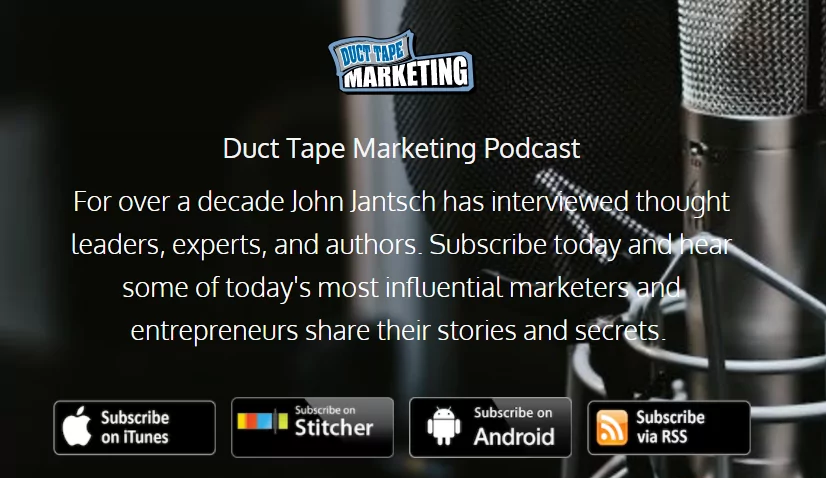 9. Interview: Let your leads learn from the best
Research and reach out to the professional your audience would love to listen to. It can be an industry expert, an opinion leader, or even a celebrity.
Interviews are great because they can be a good incentive, it builds your trustworthiness and very easy to advertise it on social media.
10. Create share-worthy infographics
Good infographics require a lot of work from you:
Generate data
Identify patterns
Outline key takeaways
Visualize data in an understandable, simple way
They are great not only for generating leads, but good infographics can also help you get some backlinks.
Use an embed code so that large media outlets (think Forbes, Entrepreneur, Mashable) can easily republish your infographic on their sites by copy-pasting that code.
Don't know how to create such an embed code? Don't worry. Use Siege Media's Free Embed Code Generator.
For example, Antavo created an astonishing infographic about loyalty programs that Hubspot republished.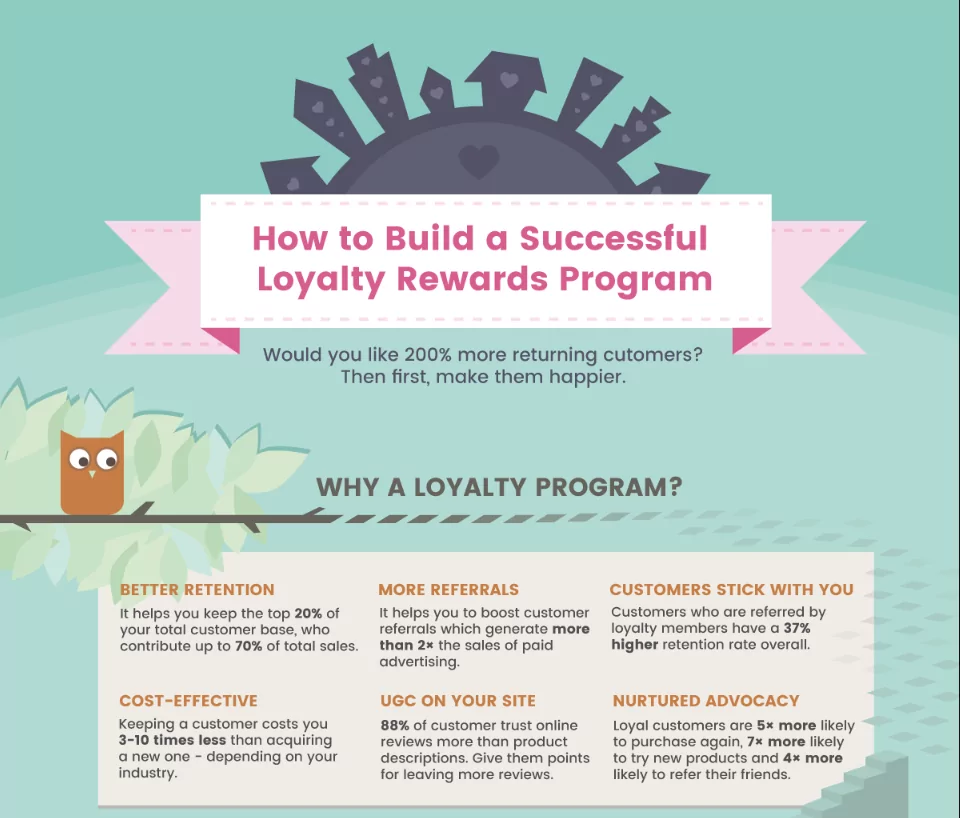 Another great, topical example is this infographic guide to creating your lead generation funnel.
11. Case study: show how you helped others succeed
Let's say a website visitor asks you this question on live chat: How can you help my business?
You would tell a real story about one of your customers and how his/her company used your product and what results he/she got.
These case studies give your prospects ideas on using your product and assure them that it truly works.
But not only successes are essential. You can also tell stories about failures. This way, you can teach others what not to do in different situations.
For example, Hootsuite created an amazing case study with their client's achievements.

The Kissmetrics blog created a good guide on how to write a great case study.
12. Consultation: help your leads solve their challenges
Offer consultation to your prospects and provide customized, personalized value and experience.
Don't be too salesy though', it can easily frighten your prospects away.
The marketing of the new era is more about solving difficulties by introducing an approach instead of hard selling. Keep it in mind!
As an example, the Holini team does it quite well:

13. Free tools are awesome!
The reason I listed free tools as a lead magnet sample because it is an excellent opportunity to collect high-quality leads for your business.
As an illustration, on Automizy's Subject Line Tester, we ask users for their email addresses after testing the 4th email subject line.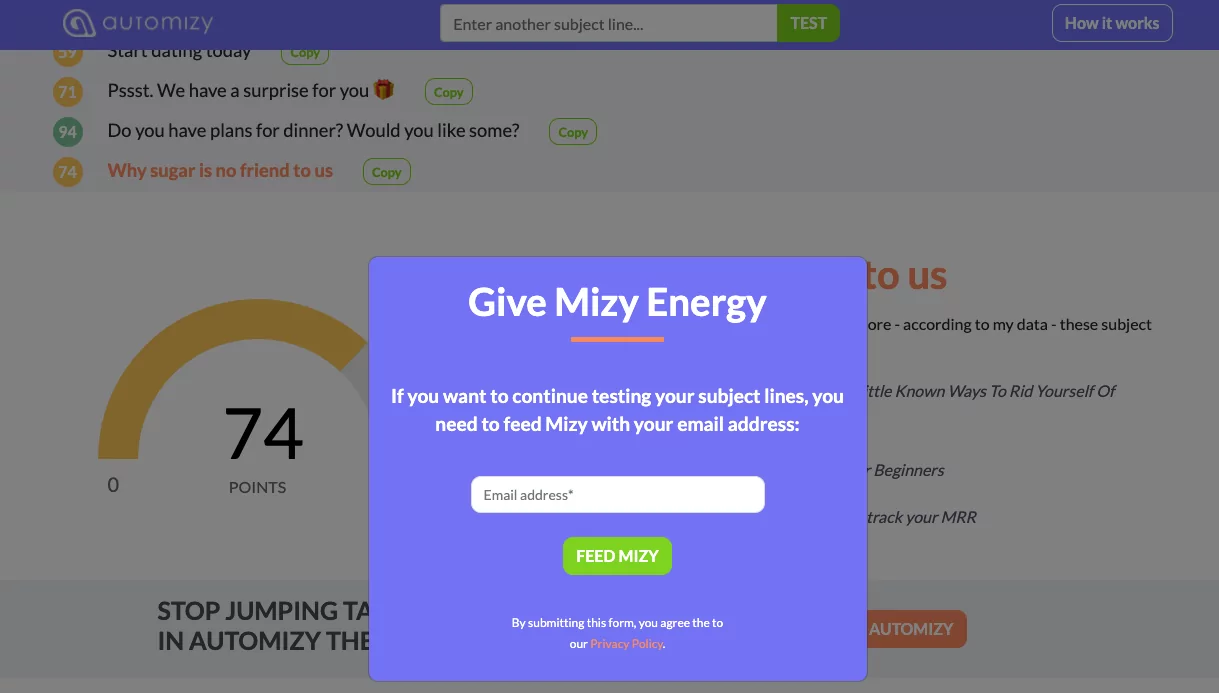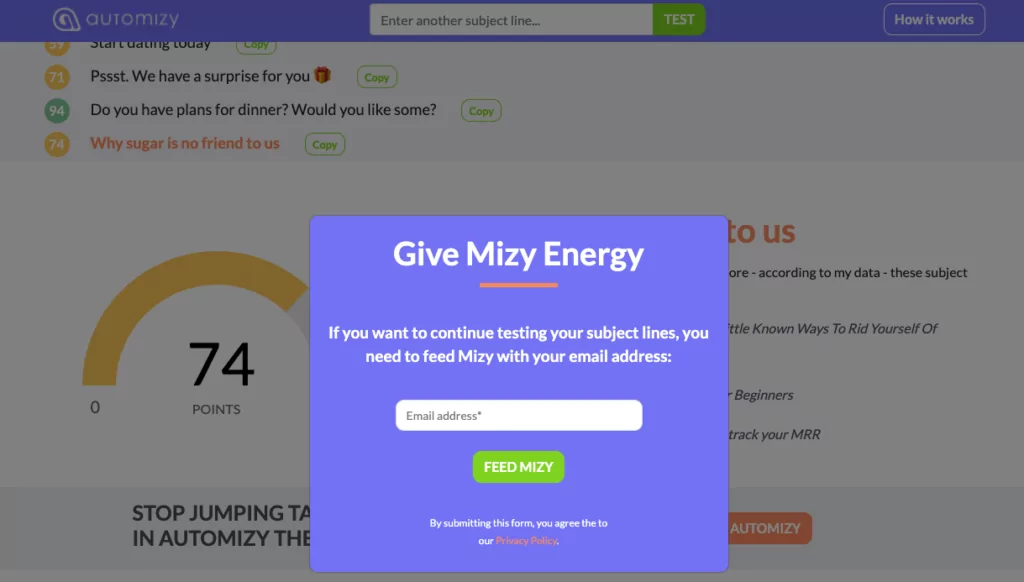 This way, we give free value to our prospects which will make the conversion higher.
CoSchedule has a Headline Analyzer, which is a great free tool and helped them gain tremendous exposure and tons of leads.
14. Solve problems interactively with a calculator
Calculators are great for generating leads: solve a problem your audience has interactively!
Ion Interactive does this well with its ROI calculator. You choose your interest, tell some things about your business, and then it shows you what you lose.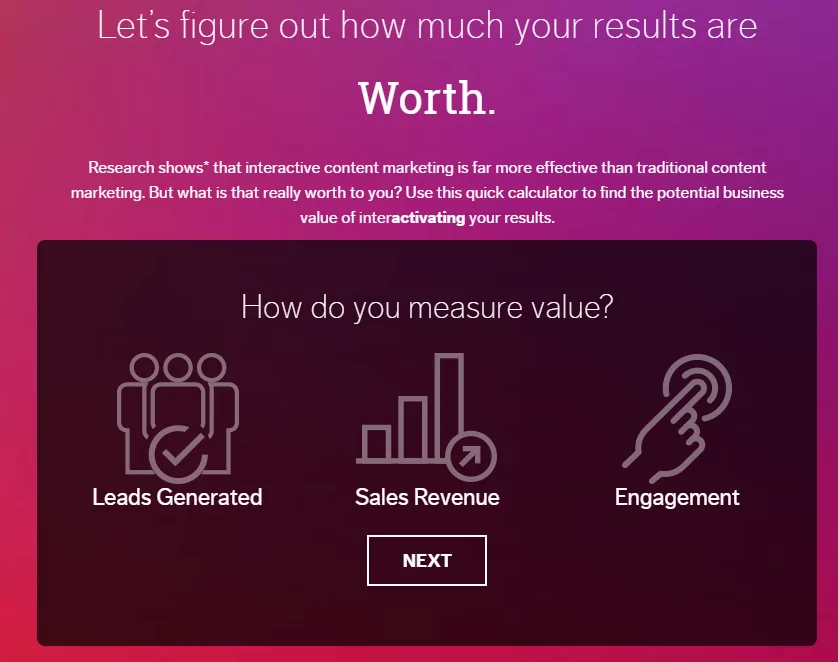 It explicitly shows you the pain you face and offer you a solution via its service.
15. Offer a buyer converter product
If you would like to know more about the buyer converter product concept, you can read about it in our post about the buyer converter product.
These are low-ticket offers that convert leads or visitors into customers. They only pay a few dollars… but it fundamentally changes the relationship between you and your prospect.
16. Your trial version is a lead magnet, too
Free trials are usually offered by SaaS solutions and allow people to give the software a try.
It also means that you get their contact information so that it can be an excellent B2B lead generation strategy for software companies.
Trials vary company-by-company: they can be 1 or 2 weeks, 1 month, or even longer.
The length of your trial should fit your sales cycle length – but it usually requires a long learning curve for you to understand it truly.
In the example below, you can see Dropbox's 30-day free trial for the business plan.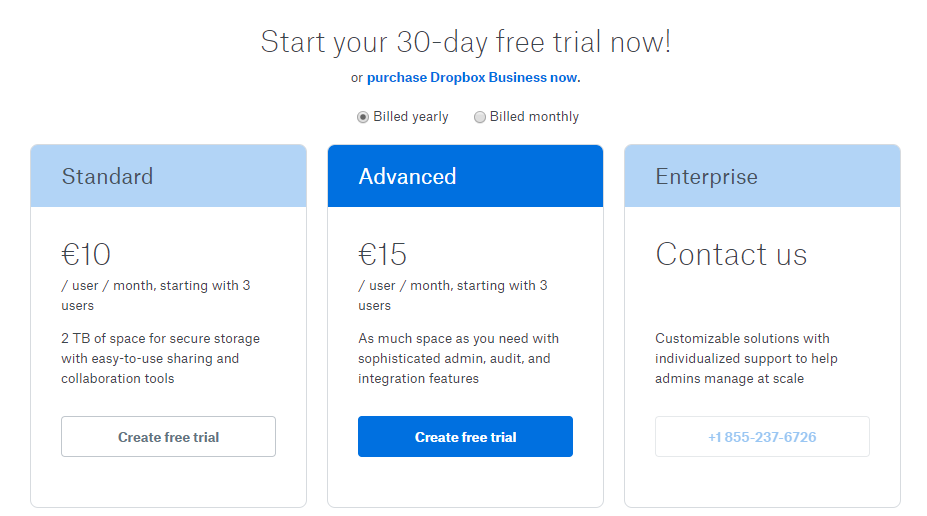 17. E-book: The OG lead magnet
E-books are the OG lead magnets. They are great because you can easily create them based on your best blog articles.
Choose a topic, collect your best-performing articles, connect them, add additional value, and done!
For instance, Unbounce offers "The Conversion Marketer's Guide to Landing Page Copywriting" ebook to collect email addresses.
Or Zapier offers a lead magnet on project management.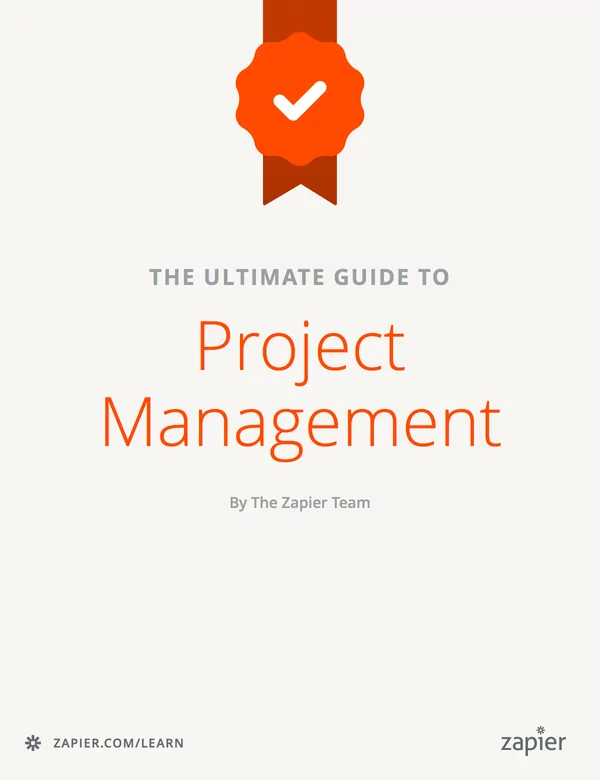 Or you can download an ebook on Product Management from Accompa too.
18. Exclusive Offers: who doesn't like to feel special?
VIP content
If you publish great, actionable, and value-packed pieces, you can hide different sections of your blog content from visitors. To read the rest of your blog content, ask for an email address!
This is one of the best marketing strategies to generate more leads – using your blog as a lead magnet will insanely increase the sign-up rate.
The only drawback is that it can easily ruin your visitors' experience – I don't recommend it until you have a big and engaged audience.
Waitlist
If you are about to launch a new product, a newsletter, or something that deserves a standalone campaign, it is usually good to create a separate landing page for it.
On this web page, you can tell your value proposition and allow people to subscribe – so you can build an audience way before you launch it.
You can send teaser and announcement emails to this list to create some buzz and disclose some details about the product.
Waitlists can create a VIP membership feeling. Therefore it can be a powerful lead magnet for your business.
Another way to use it is to test a market with a value proposition.
Just build a lead capture landing page around an assumption.
Promote it and check whether there is a need for it – validating your products even before creating them can be an excellent way to find a product/market fit sooner.
You can create a waitlist with any type of web page builder, such as Unbounce.
Besides, this waitlist builder tool below helps you get started and provides enhanced gamification opportunities to help your landing page be viral: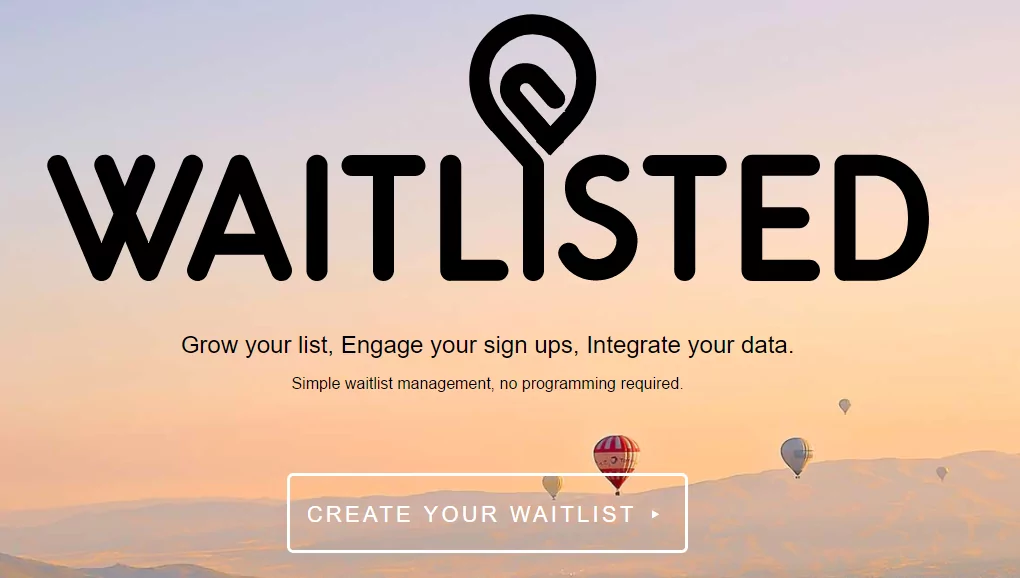 10 High Converting B2B Lead Generation Landing Page Examples
1. Website Grader
In exchange for contact information, you can deliver a valuable offer to visitors in a number of ways.
It can be exclusive content, white paper, e-book, or webinar.
You can go the extra mile and provide a free tool that your prospects can find useful.
Regardless of the method, make sure the content you're providing in exchange for any information from a visitor is an equal exchange for your knowledge or expertise.
Among the best B2B lead generation methods, is Website Grader from Hubspot.
It provides a great offer that is useful for prospects and provides Hubspot with leads around the year.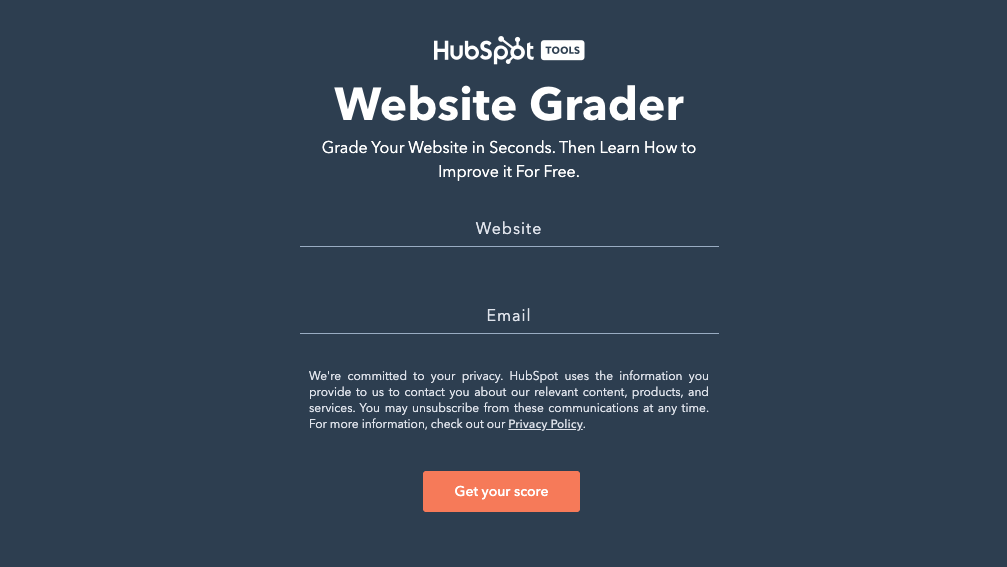 In exchange for an email address, this tool analyzes your website performance and provides actionable advice immediately.
2. LogMeInRescue
LogMeIn created a high-converting landing page that delivers convincing details.
They used creative copy to reassure prospects: "No cost. No Catch. No kidding."
Also, displayed the benefits of using their tool.
The free trial registration form is not lengthy, making it easier for prospects to register.
The design and color palette is simple, a white background makes the green CTA button stand out.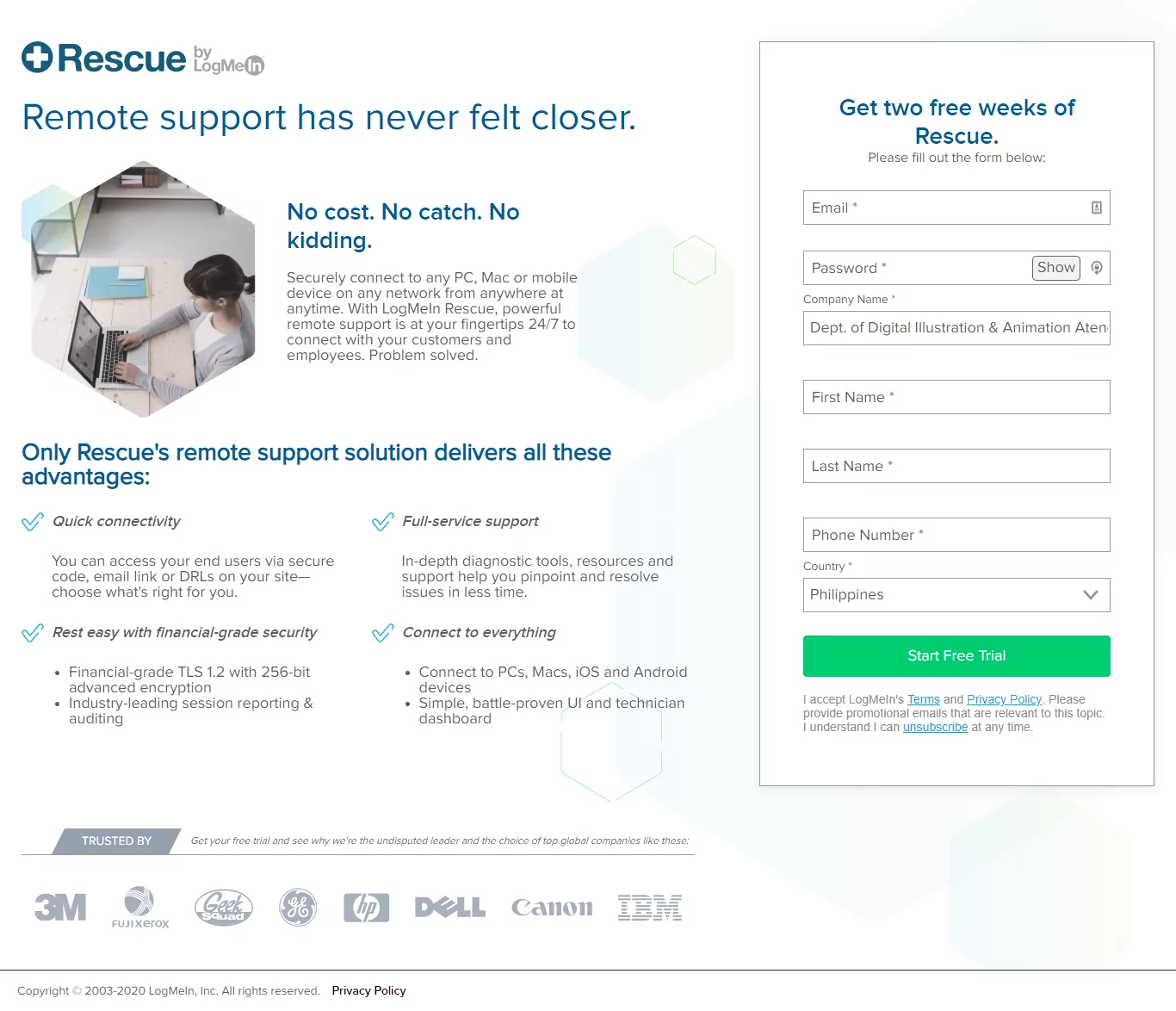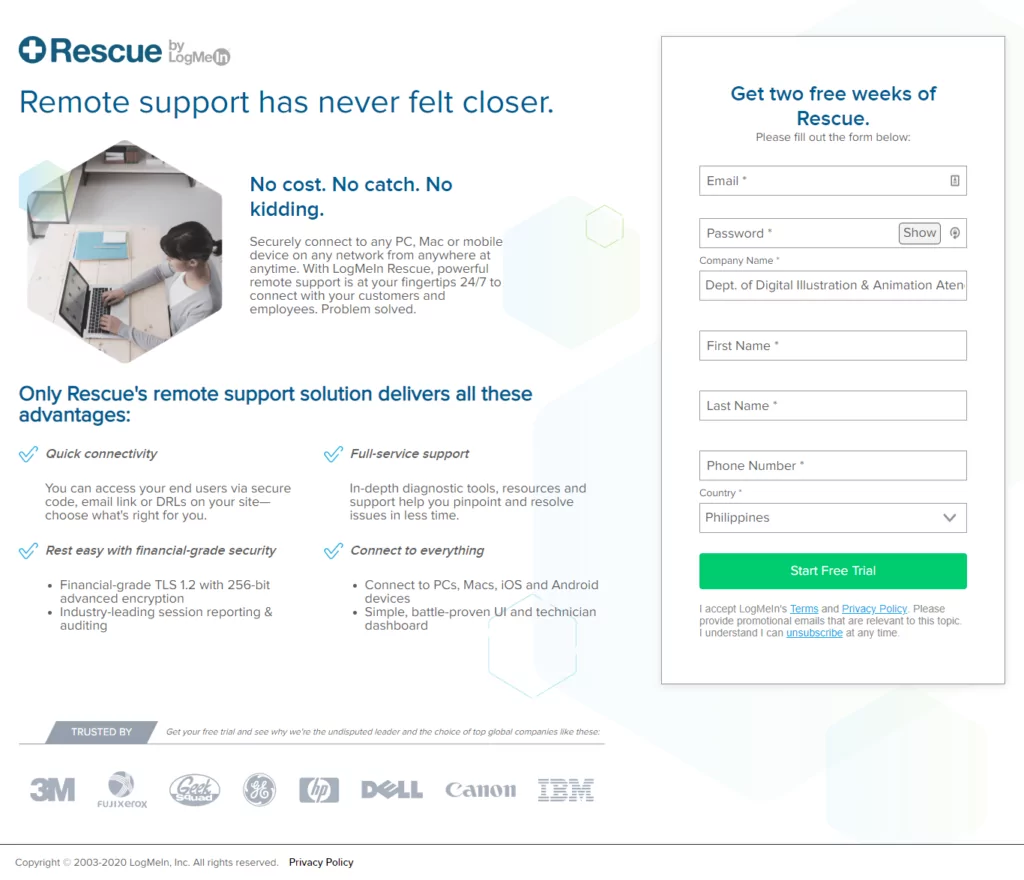 3. Auth0
The following B2B landing page is a good example of showing brand authority.
As an app authentication service, Auth0 gives their prospects a good reason to trust them and start using their service.
A short form that consists only of an email address, a password, and a contrasting orange CTA that captures the attention.
Besides the form, Auth0 makes it easier for their prospects by providing the option to sign up with Github, Gmail, and Microsoft.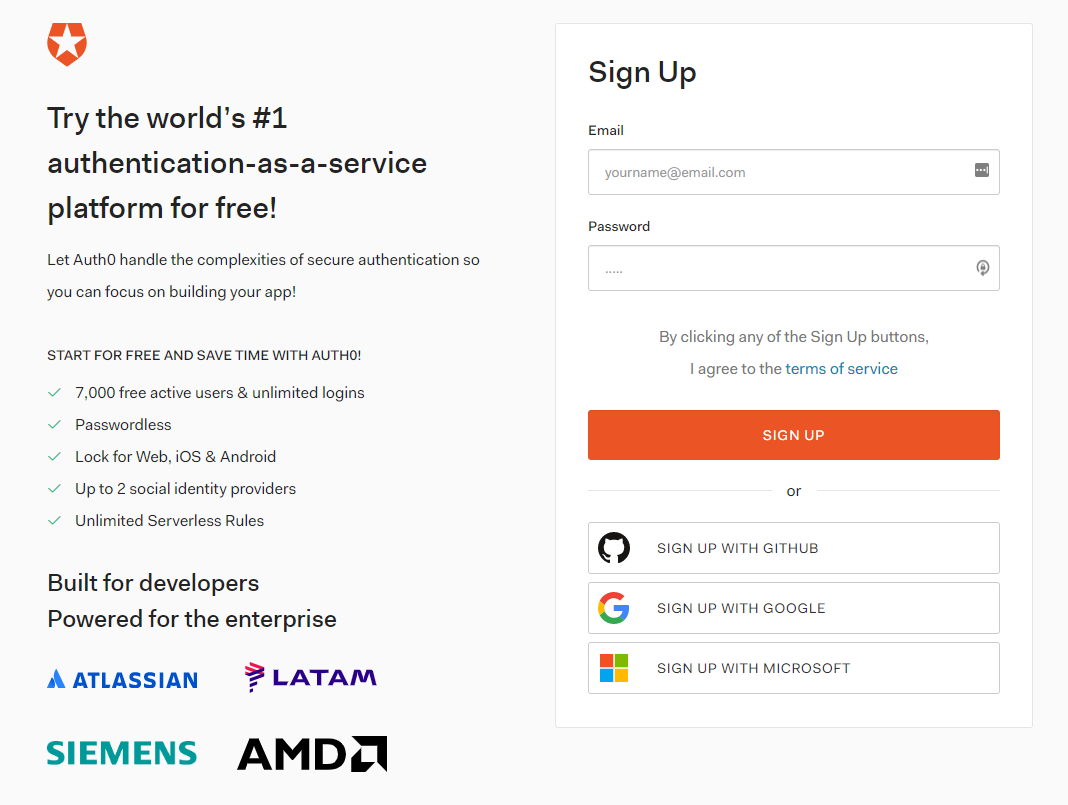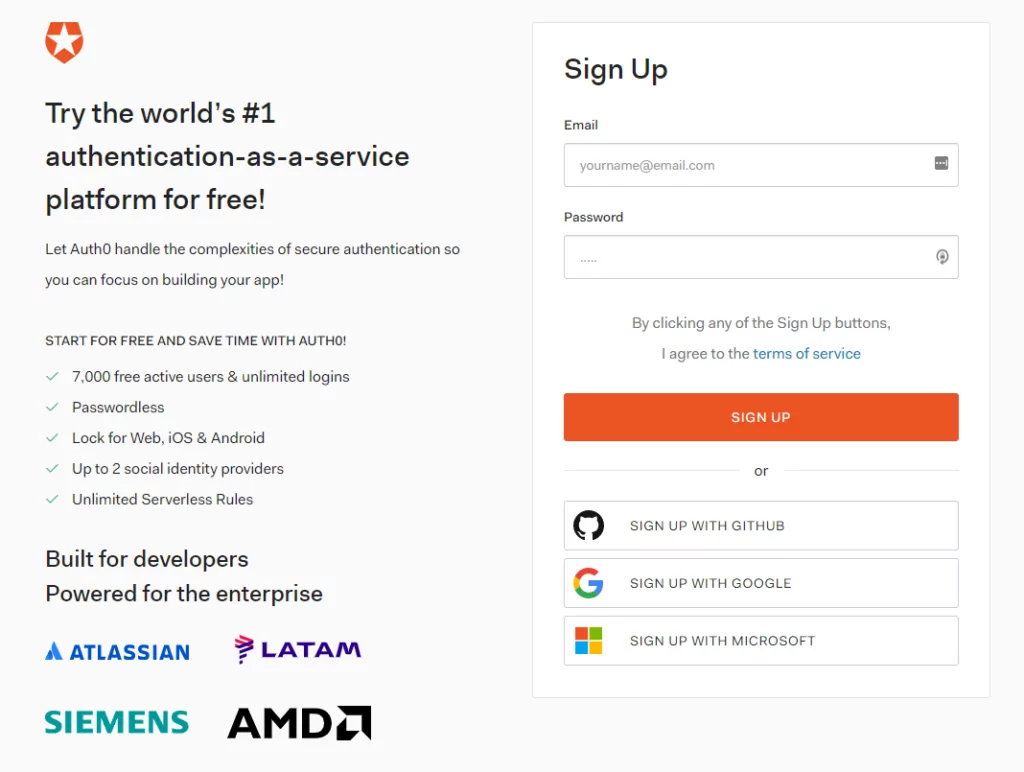 4. Batterii – Clear value proposition
When creating a B2B landing page, help your audience instantly identify your purpose and value proposition.
Instead of asking people "Buy from me", you can show them how you'd solve their problems or satisfy their needs.
Batterii landing page does that by providing a clear value proposition. With the pictures of people, there's a positive energy about this landing page example.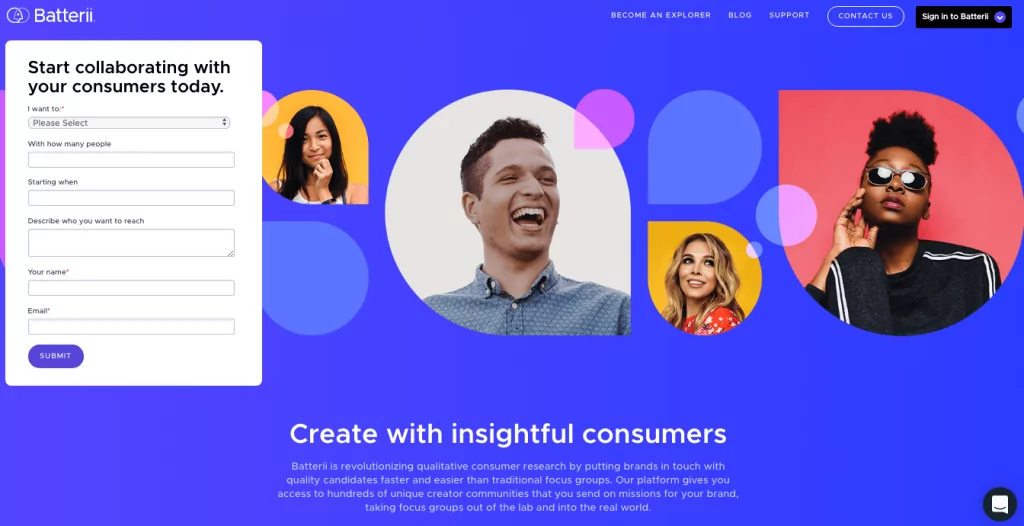 It's proven that featuring human images on a landing page increases the conversion rate by more than 95%.
5. Unbounce
As one of the best landing page building software, Unbounce can't allow having anything else than the best when it comes to landing pages.
This is an excellent example of a high-converting lead generation landing page. What makes it great? Have a look at the arrangement: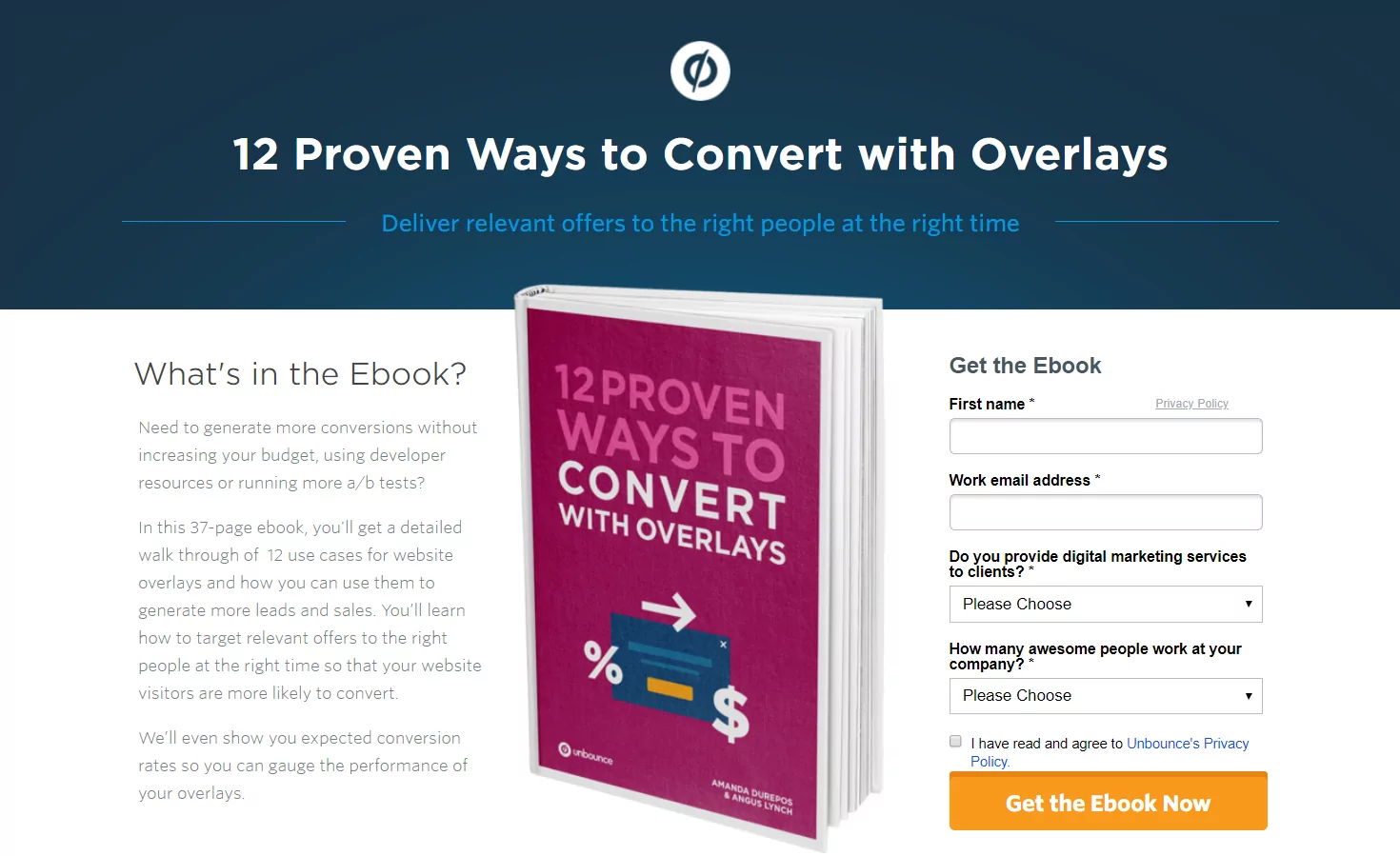 Small logo, eye-catch head- and tagline, excellent copy highlighting the offer's benefit, a nice mockup in the middle, and the lead gen form on the right side.
Everything you need to generate leads!
6. iPro Academy
IPro Academy is a membership-based community around creating websites and driving traffic to them via Facebook, Google, and Bing Ads.
One of their primary offers to generate leads is a free report about increasing Facebook campaigns' ROI.
They offer this report on a short but sweet lead capture landing page that looks something like this: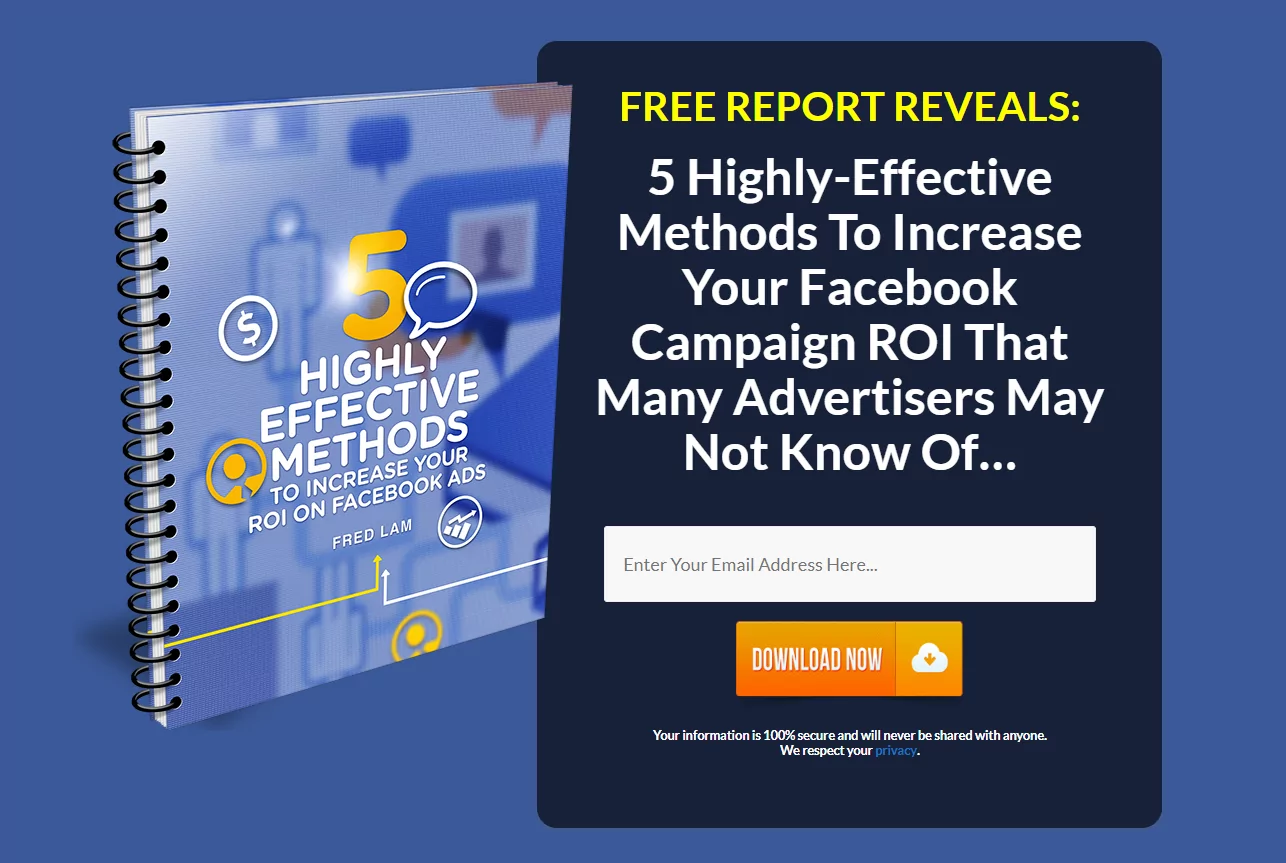 Minimal, but a compelling copy with well-placed form and CTA and a nice mockup to sweeten the deal. If your offer is great this can be enough to convert a high number of leads.
7. Automizy
We ran a lead generation campaign in the first quarter of 2018. The offer was our Lead Generation Cheat Sheet.
We ran a conversion-optimized Facebook campaign to drive traffic that converts to this landing page:
During this lead generation campaign, the landing page you see above had a conversion rate of 41%!
The ad creatives, the cheat sheet, and the lead nurturing emails had the same colors, icons, and fonts. It's key to create a consistent experience throughout your lead funnels because:
you reinforce your brand,
a consistent brand makes you seem more professional,
and coherent visuals create trust.
There's not much going on in the first view of this landing page example, only what's necessary.
There's a little branding on the top; then there's the title of the offer, a short value proposition, the campaign's logo, a clean form, and a straightforward CTA.
I also put a little GIF arrow on the bottom of the first view so people see there's more content below. It's for people who need a bit more convincing.
Previously we had a landing with a similar arrangement, the only difference was that the form wasn't in the first view.
That landing page converted at 9.5%, which is a huge difference compared to 40%.
This is because many people are already convinced by the ad creative and copy that it's something they want. So they just click through and quickly type in their email and name without any scrolling.
Later on, you can read about lead generation forms, where I'll go into more detail and compare the two landing pages.
8. Yellow Pages
Yellow Pages doesn't need any introduction. This simple lead capture landing page of theirs is simple yet efficient: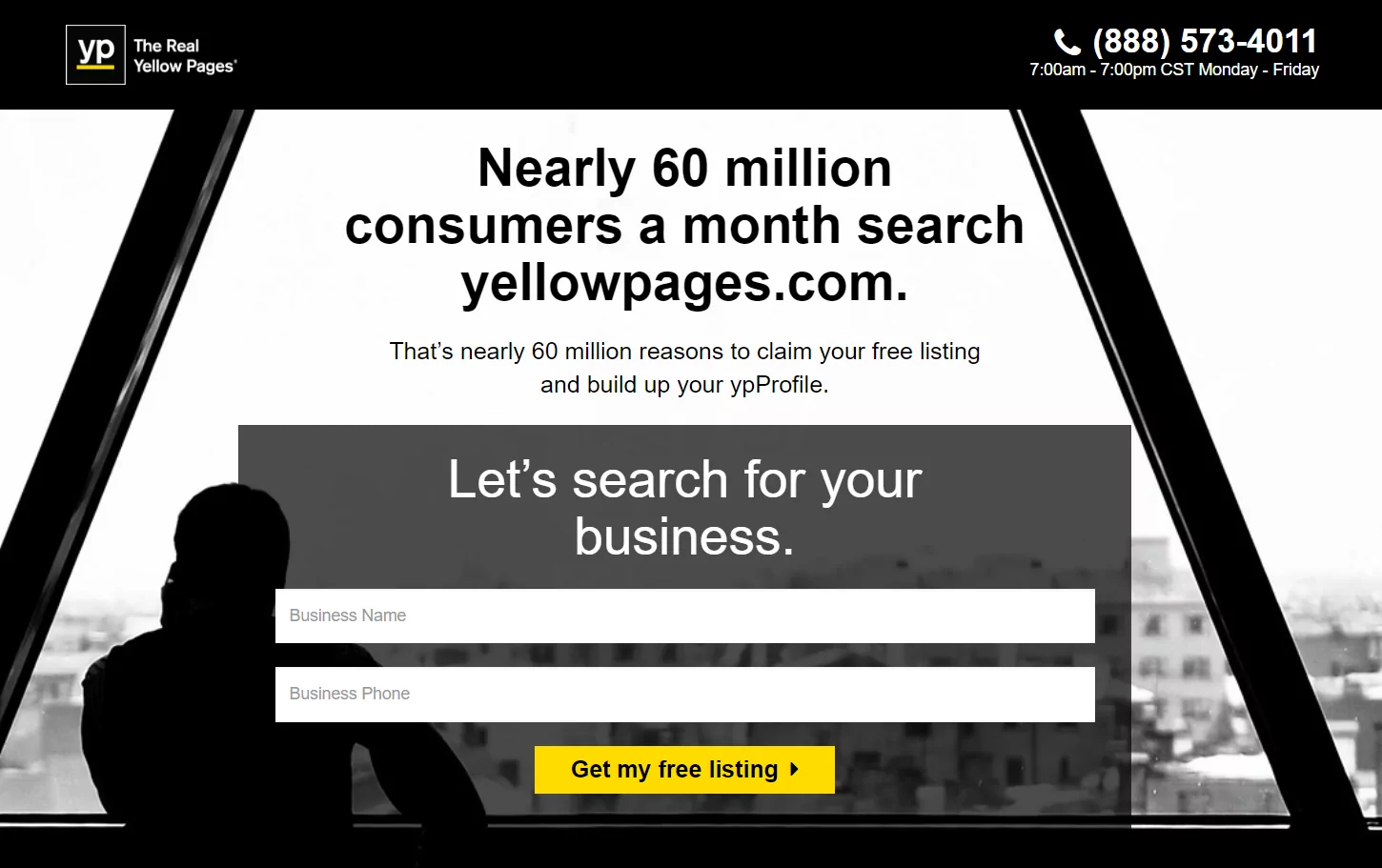 There are some branding and contact info on top.
Right under, there's some social proof in the headline, which is then reinforced by the tagline.
Below that, you can see a simple which only asks for absolutely crucial contact info.
What's especially great about this page is the yellow CTA pops on the black and white landing.
9. Litmus
Litmus is an email creative platform; they provide email analytics, spam testing, an email builder, and awesome templates.
For the past couple of years, they release their report called the State of Email as gated content for lead generation, and their landing pages are always great.
Here's the page of the 2018 State of Email.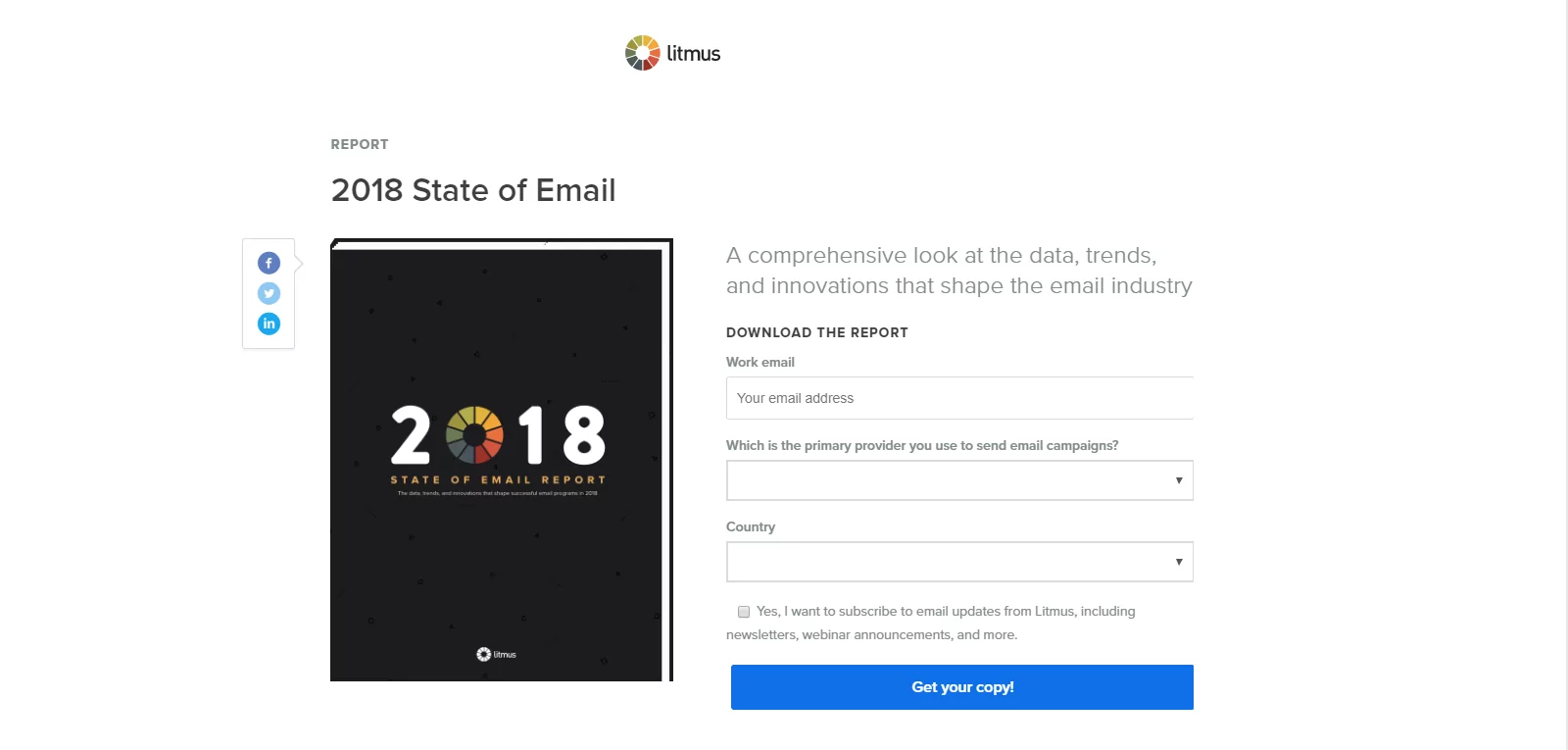 Really clean design with nothing but the key elements on the first view.
White and shades of grey with only the key visual elements in color: the logo, the mockup, and CTA. Excellent arrangement and visual hierarchy.
10. Sumo – Email 1K
One of the best-targeted lead generation techniques SumoMe and AppSumo does is a 30-day course called Email 1K.
You can learn how to double your email list in 30 days based on trusted expert advice and guidance during the course.
The landing page of the course is conversion optimized to the max! Just the first view makes you say: take my email address and teach me how to make people give me theirs! 😀
Great copy and social proof are what make this landing page great. The headline itself is enticing enough, but check out the tagline under.
Show me a person who wouldn't want to learn from people who grew email lists to over 10 million subscribers. Maybe my grandma, but she doesn't have an online business, or does she?
If this doesn't convince you, they mix a little FOMO in with the countdown timer. And if you're not falling for FOMO, they explain the real value of the course backed by real data.
6 Great B2B Lead Generation Form Examples
Before getting into the actual form examples, let's cover some lead generation form best practices.
Using too many fields can hurt your conversion rates! Only use fields for the information you need. Otherwise, lots of visitors won't opt-in because it requires too much work from them.
Make the form appear smaller. If you have to use more fields for lead qualification or segmentation purposes, make the whole form look smaller.
In case you need the data from your prospects and at the same time you want to keep your form short, it's best to break it down into smaller steps and ask for more data in a process.
For example, on the Automizy sign-up page we only ask for the email address.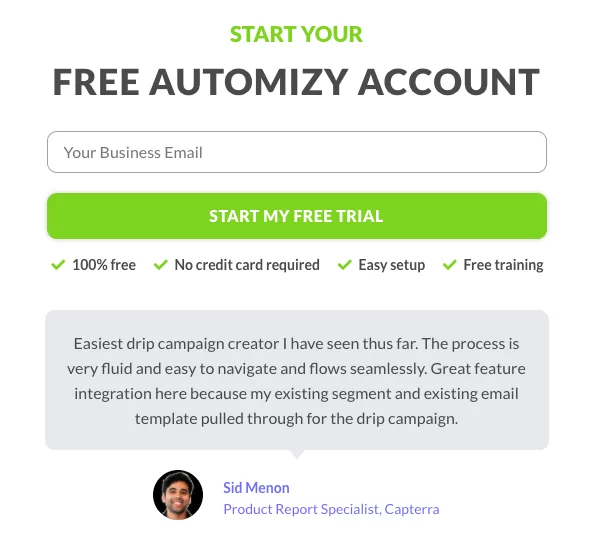 And in the next steps, we ask for more details such as:
Company website
Position
Contact list size
Phone number
Play around with padding and styling so it seems like it requires less time to fill it out.
Placement is another major factor when it comes to lead gen forms.
Let's compare two of our landing pages from a couple of years ago. Pay attention to the placement of the lead generation forms in both of these landing pages.
Here's the landing page for the "Triple the Value of your Email List Email Course."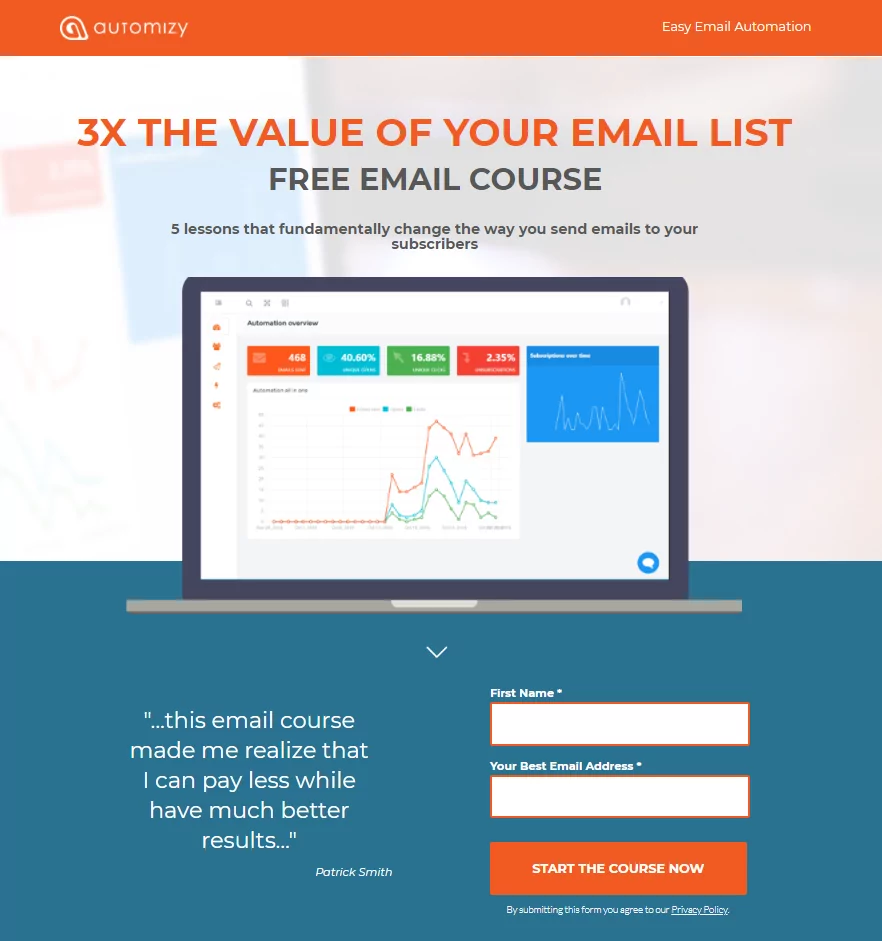 As you can see, on this page above the form is below the fold. So visitors have to scroll down and then enter their first name and email address to opt-in.
And here's the first view of our landing page for the "Your Ultimate Lead Generation Cheat Sheet".
As you can see, the design is pretty similar, I just made some changes to the arrangement to move the form above the fold.
What do you think which landing page has a better conversion rate?
The second one, of course. During a 3 month campaign, it converted with 41%. The first one had a conversion rate of 9.5% on the same time interval.
These are two similar offers, and I think placement was a primary factor contributing to the higher conversion rate.
The power of placement in action!
Now let's have a look at some fantastic B2B lead generation form samples to get you inspired.
1. Sumo – Download Exclusive content
Take note, Sumo does a great job of optimizing their lead generation forms for the funnel's specific purposes and stages.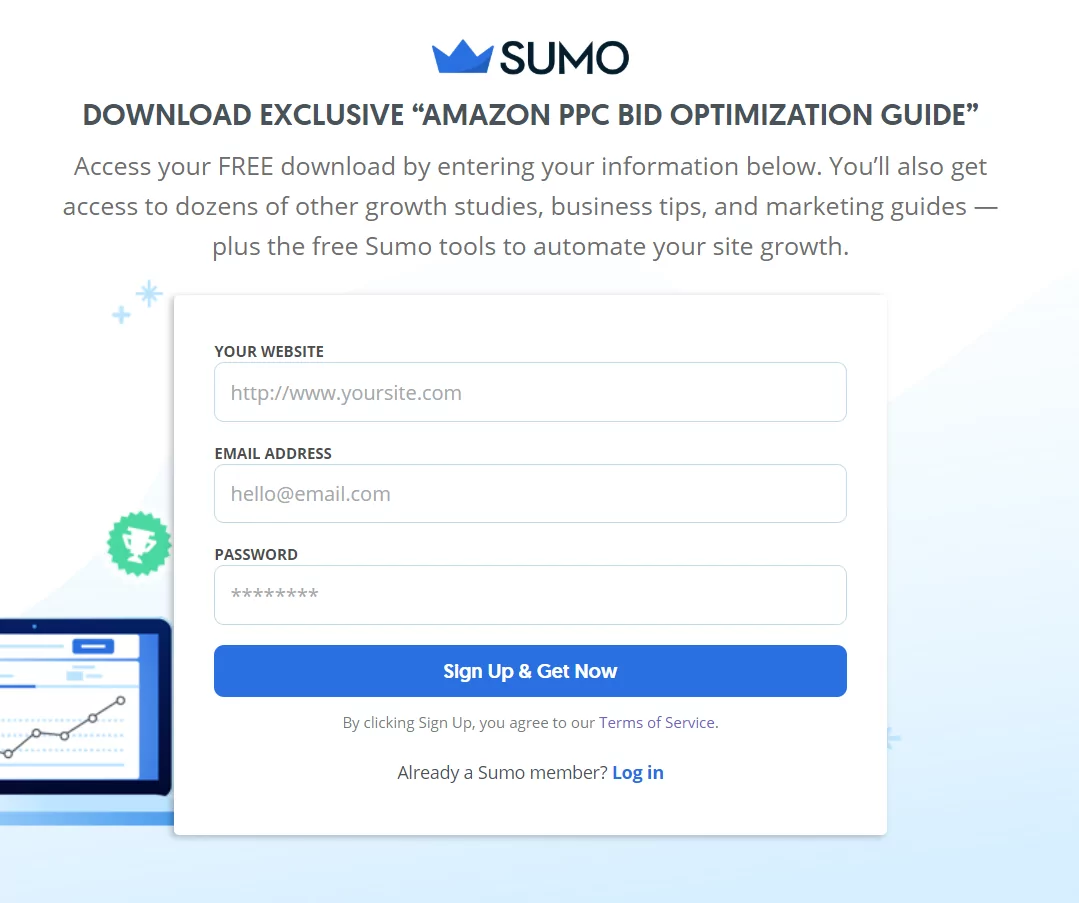 This lead generation form example is great for several reasons:
The headline is straightforward and highlights the offer.
The tagline builds on the headline's offer, goes into a bit more detail, and re-enforces that the content is free.
There are only 3 fields in the form, which should be enough for qualification but shouldn't hurt conversions.
The CTA is well placed, and the text couldn't be any more clear.
2. VentureHarbour – Register to this Event
This lead generation form sample from VentureHarbour is different than the previous one, but it's just as great.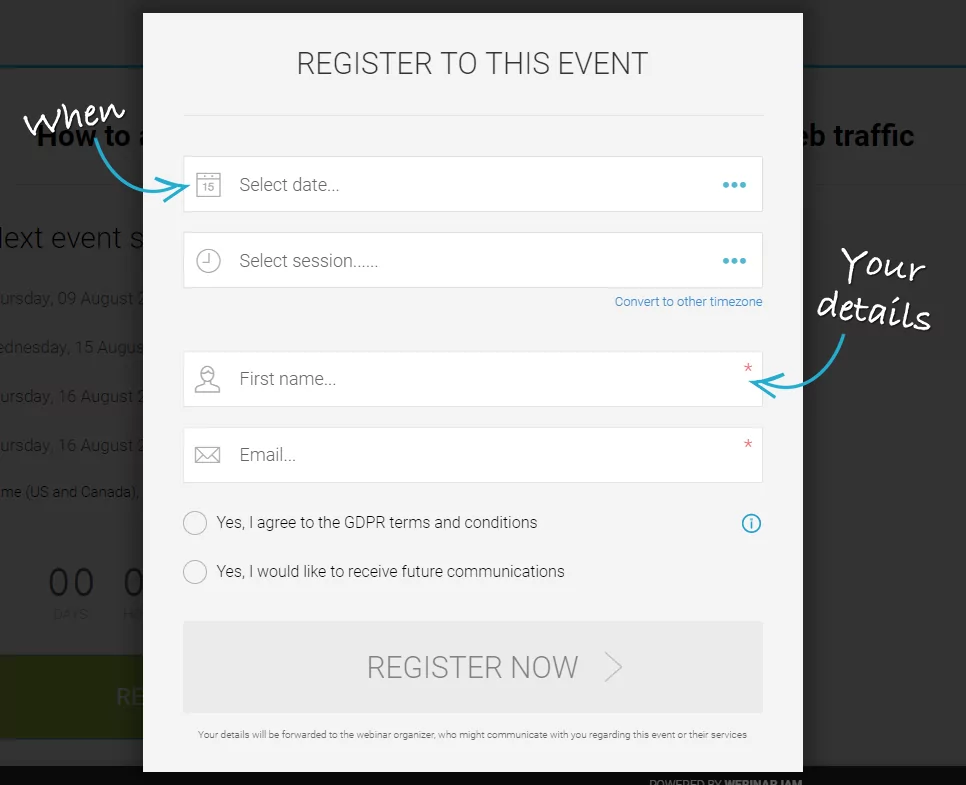 It's a webinar registration form. The headline is straightforward but does the job and describes the purpose of the form.
There are 4 fields, 2 checkboxes, and a CTA.
This might seem too much, but they did something to ease the subscribers and increase their conversion.
The 2 arrows on each side with "When" and "Your details" clearly show that only 2 fields require personal information. The other 2 are just for scheduling purposes.
This is the reason I wanted to show this form as a sample. Simple stuff like 2 arrows can have a significant impact on conversions.
The CTA is really clean but big enough to catch the eye, and the text is as explicit and straightforward as it gets.
3. SEMRush – Download
Both previous examples were pretty different but great in their domain. This one from SEMRush is another lead generation form sample that varies from the other two.
Showing a wider range of proven forms will give you a broader perspective on lead gen forms.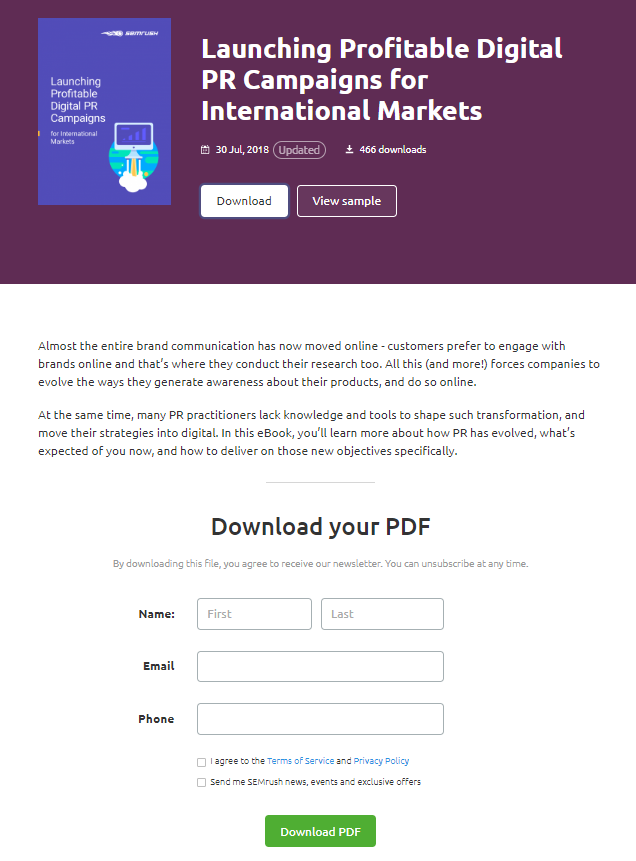 As you can see, the form is below the fold, but there a prominent "Download" call to action right next to the cover and below the title. Clicking on the CTA will put the form into view.
The form contains 4 fields and 2 checkboxes. The 4 fields don't ask too much from the subscribers, and the 2 checkboxes are mandatory for legal purposes.
4. Unbounce – Get Your Free Copy Of The Report
A similar example from a different company: this lead generation form from Unbounce is similar to the previous sample from SEMrush.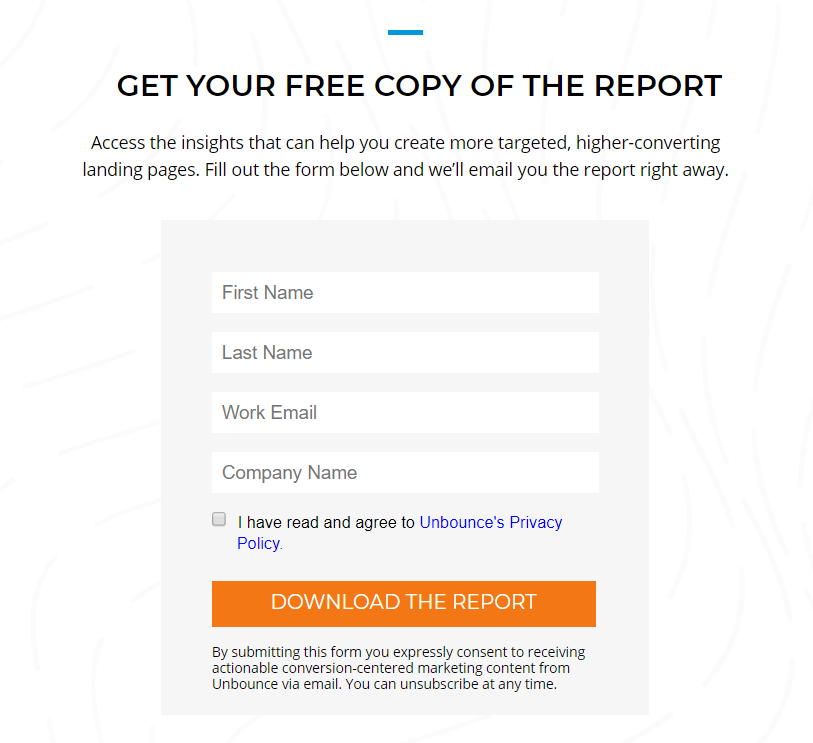 The headline is straightforward, and as it should, the tagline builds on the offer in the headline.
Also, it explicitly describes what will happen after the subscriber submits the form. This method is another great way to increase conversions by clearly explaining what'll happen next.
4 fields, 1 checkbox, and a CTA. In the 4 fields, they only ask for necessary lead qualification information.
The CTA has a nice contrast with the rest of the form, which draws the visitors' attention.
5. WordStream – Get Your Grade
Another different form example. One of WordStream's main lead generation tactics is a free AdWords Performance Grader.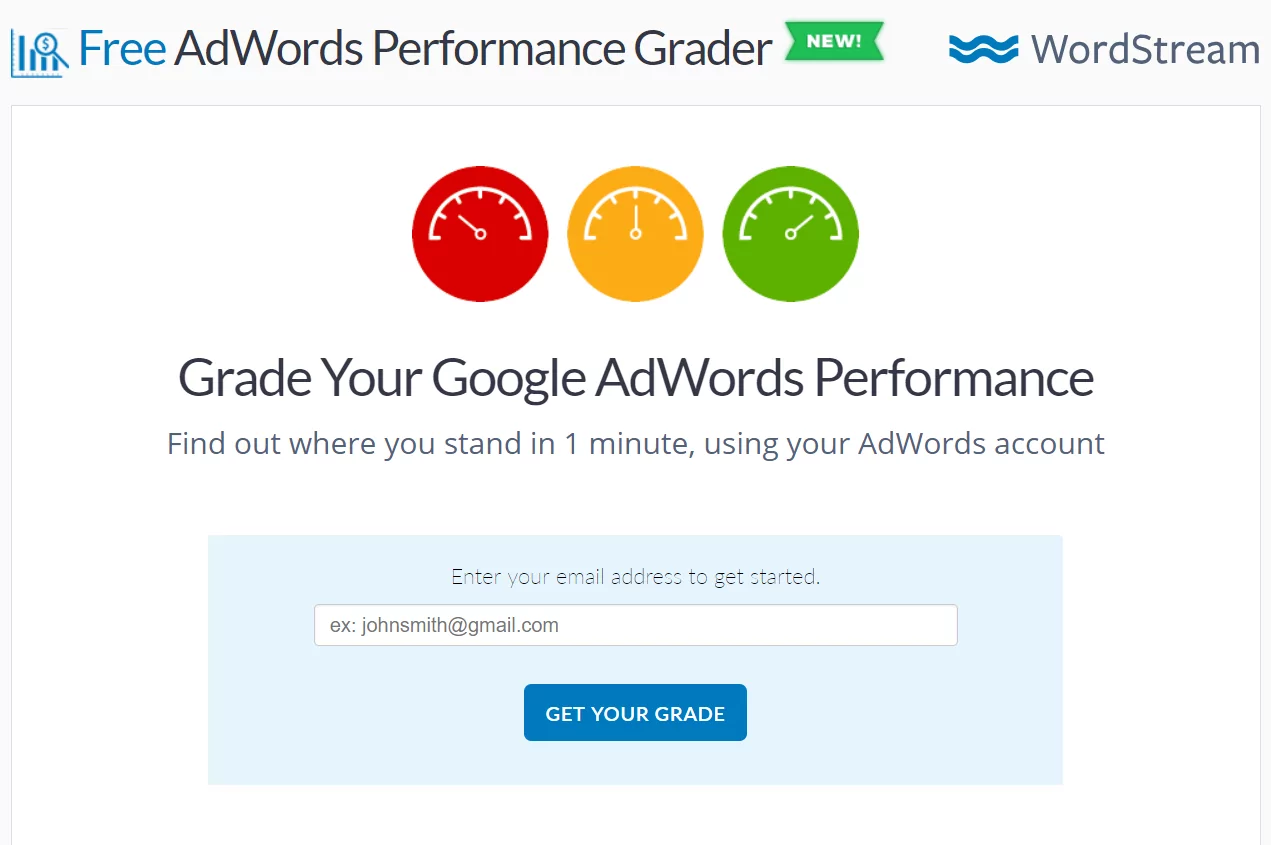 They do a great job of highlighting that they are talking about a free offer in the header. The little "NEW!" badge is a nice touch and gives the feel of early adaption for the visitor.
The main headline clearly describes the offer, and the tagline highlights another huge benefit: "Find out where you stand in 1 minute…".
This is the first form sample in the article, which only requires an email.
They even put some text to make it stupidly simple to know what to do next: "Enter your email address to get started."
The CTA has enough contrast, and the text on it is straightforward and explicit.
Because of all these small but essential touches, this form converts exceptionally well.
6. Single Grain – Join 30K+ Subscribers
Surprise! An entirely different example from the previous ones. This is a newsletter subscription bar from Single Grain. It appears on the bottom of their site.

As you can see, they utilize the power of numbers and social proof in the headline, which is the recipe for high conversions.
The actual offer is in the tagline, and the copy is great altogether.
There's just 1 field for emails and a call to action with a straightforward copy.
19 Popular Lead Generation Tools
1. Automizy
Automizy provides you with an intuitive landing page builder and templates to help you generate more leads for your business.
The landing page builder includes content elements that you can customize to create a high-converting landing page.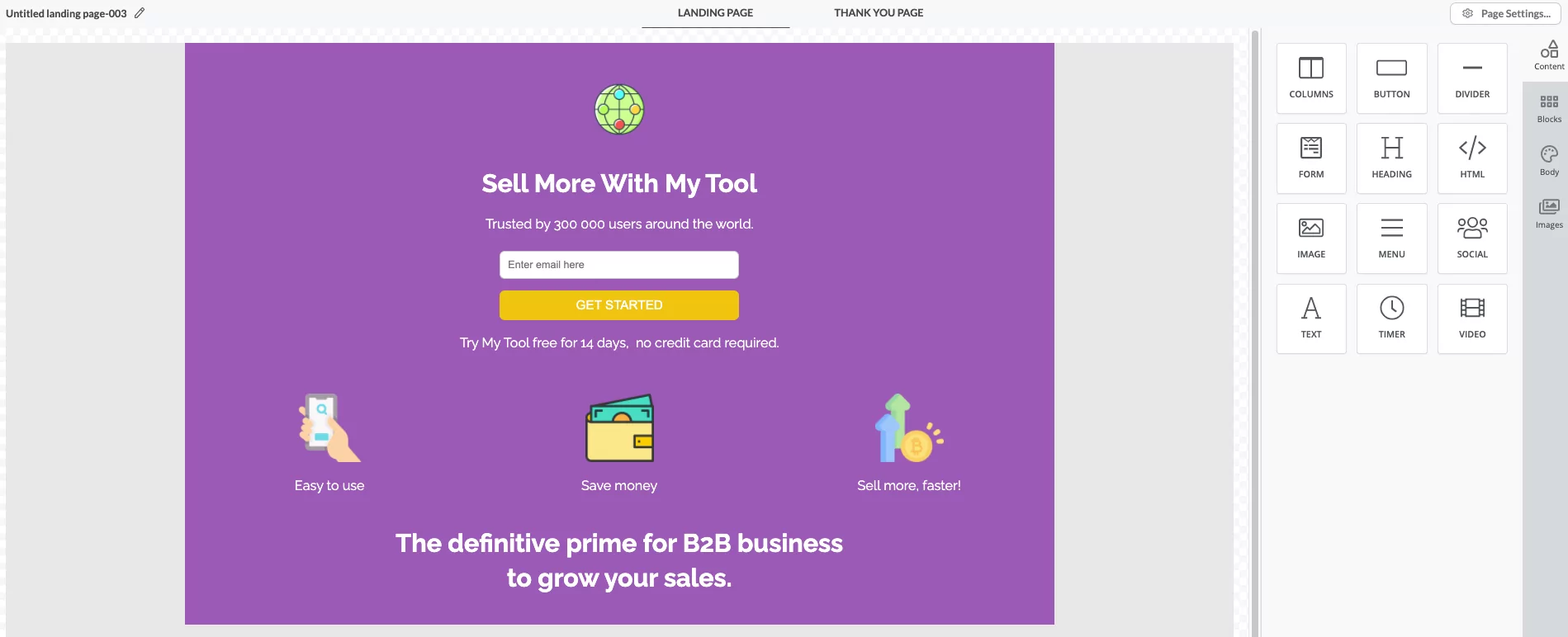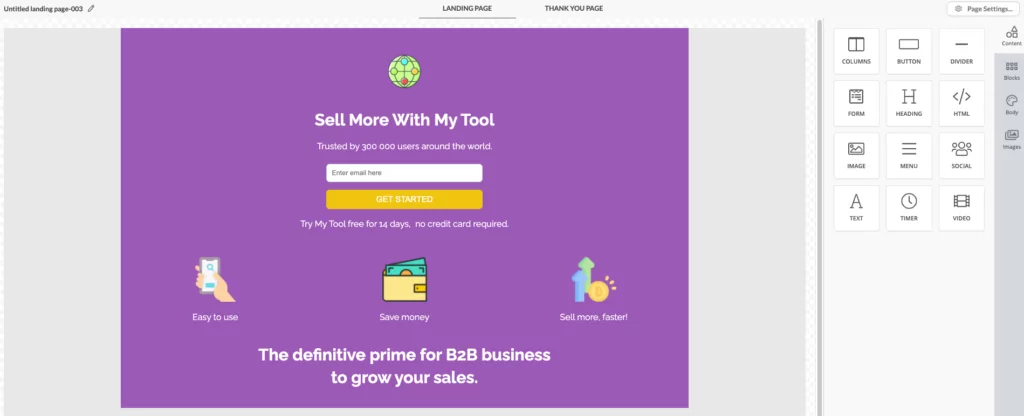 You can add:
Columns
CTA buttons
Forms
Heading and titles
Custom HTML code
Images
Menu
Social icons and channels
Countdown timer
Videos
With the intuitive drag and drop builder, you'll be able to design responsive landing pages without coding or tech skills.
By creating your landing pages in Automizy, you can easily connect your lead generation efforts to your automated email campaigns and trigger:
This way, your new leads will automatically be added to your sales funnel without lifting a finger.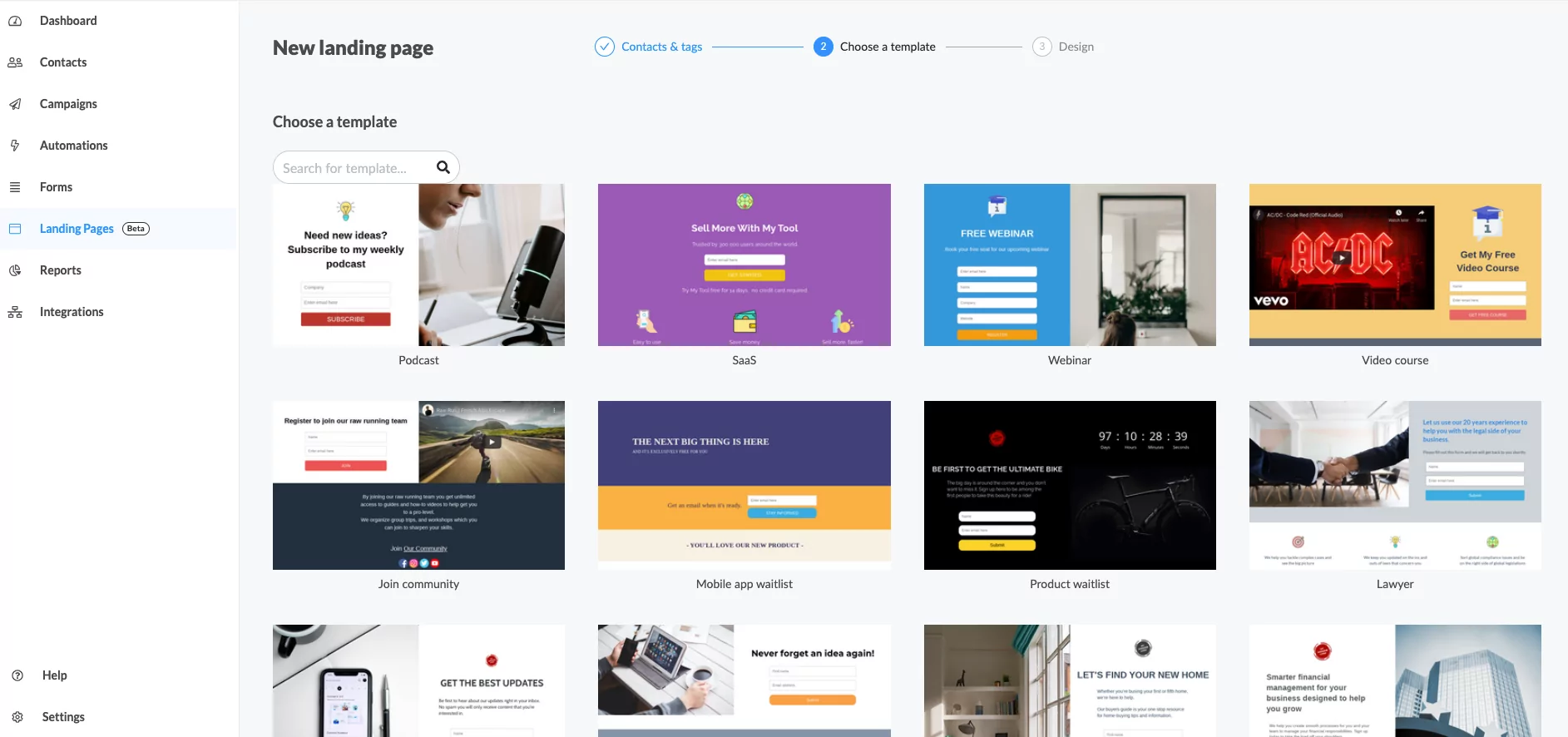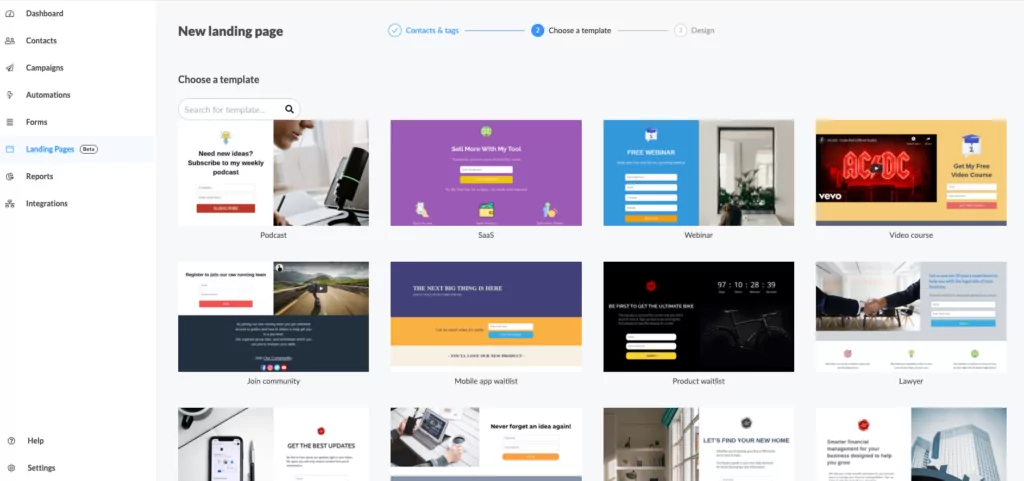 2. LeadQuizzes
I put LeadQuizzes second because it's not your regular, basic "run of the mill" type of lead generation software.
Their mission is to revolutionize the way companies generate leads by using quizzes. It's an easy-to-use quiz maker that lets marketers create high-converting quizzes focused on generating more leads and sales.
They have a great page full of impressive case studies; check it out to see how they can help you succeed.
3. Voila Norbert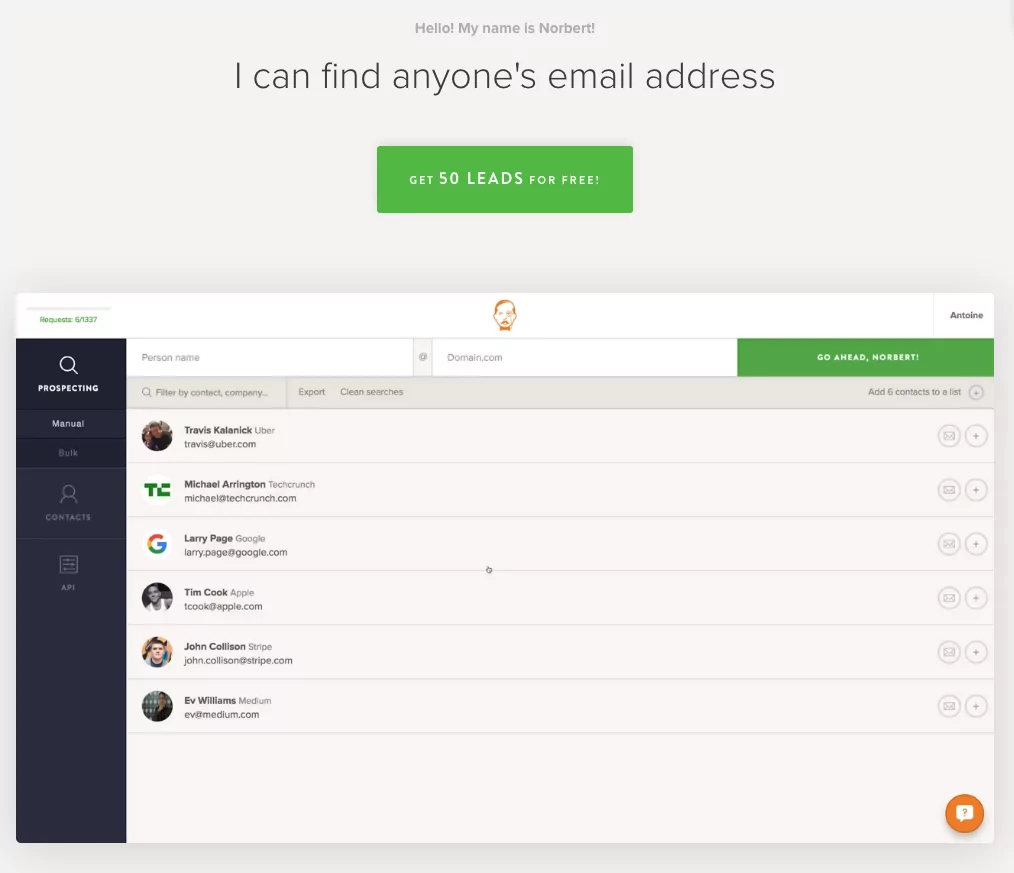 Voila Norbert was elected the most accurate email finder out there, according to Ahrefs.
Whether you're trying to find prospects' emails or verify the emails, Norbert's got you covered. They also offer 50 free credits when signing up, so you can check the tool out for free.
4. Uplead
UpLead is a B2B prospecting tool that provides you instant access to 30+ million contacts.
You can filter by 50+ criteria to find your ideal next customers and download their direct contact information to excel.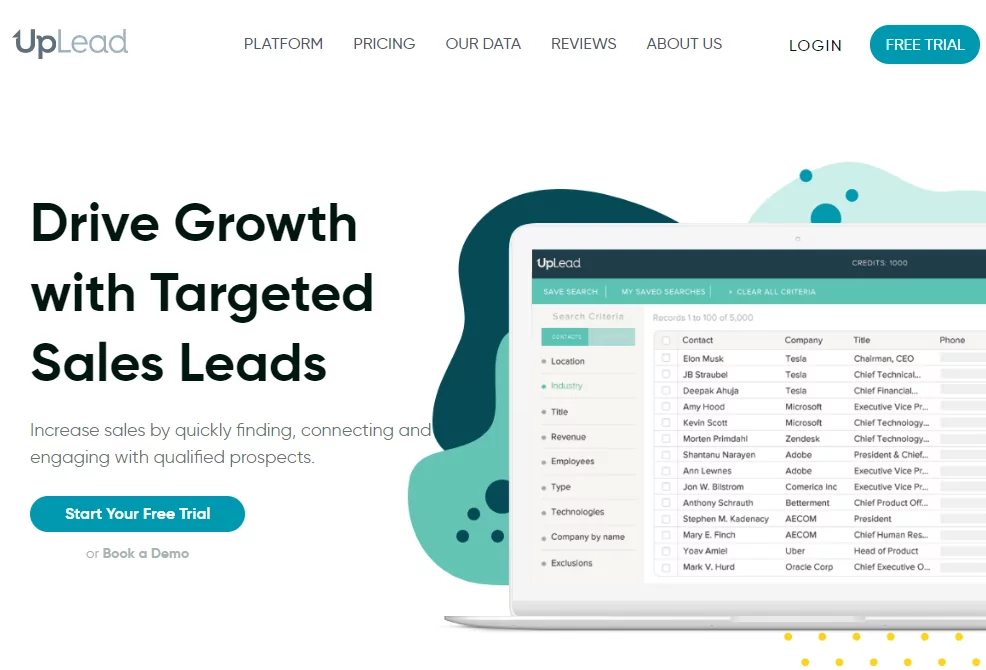 5. Snov.io
Snov.io is a great all-in-one platform that lets its users automate cold email outreach with an Email Finder, Email Checker, Cold Email Sender, and many more tools.
Find prospects' emails
Verify them
Create automated triggered email campaigns
Track sent emails right from your Gmail account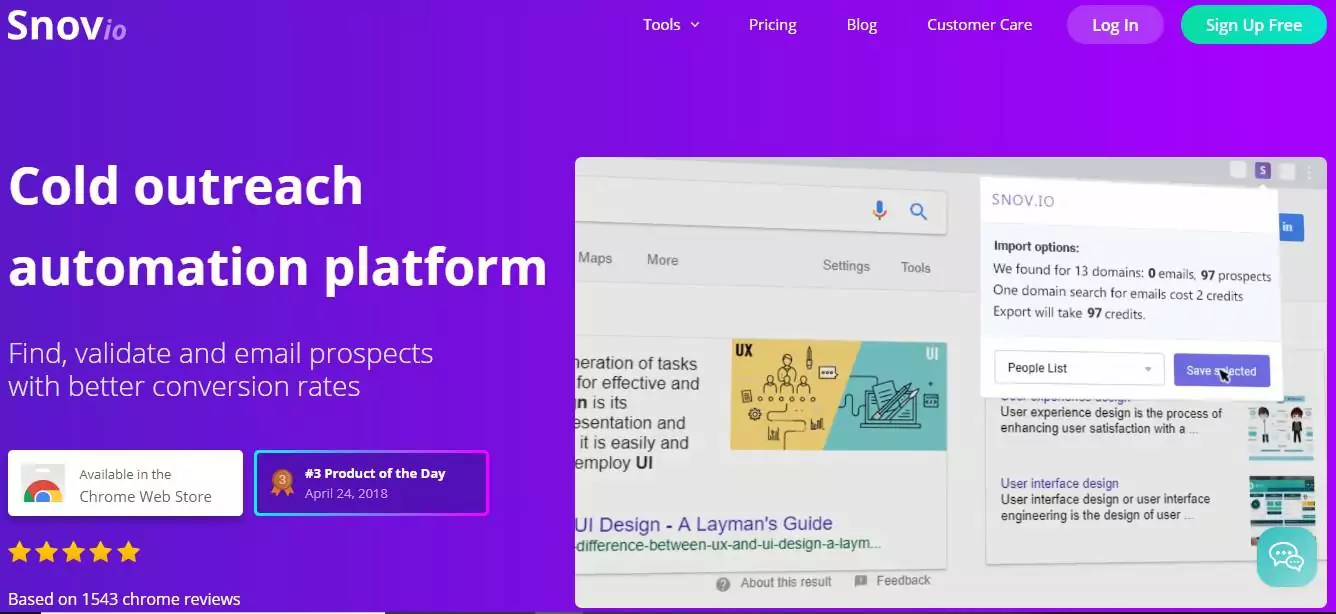 6. Pushcrew
Pushcrew is a great app to create an excellent push notification to increase your website subscribers and later turn them into email subscribers to nurture them further down the funnel.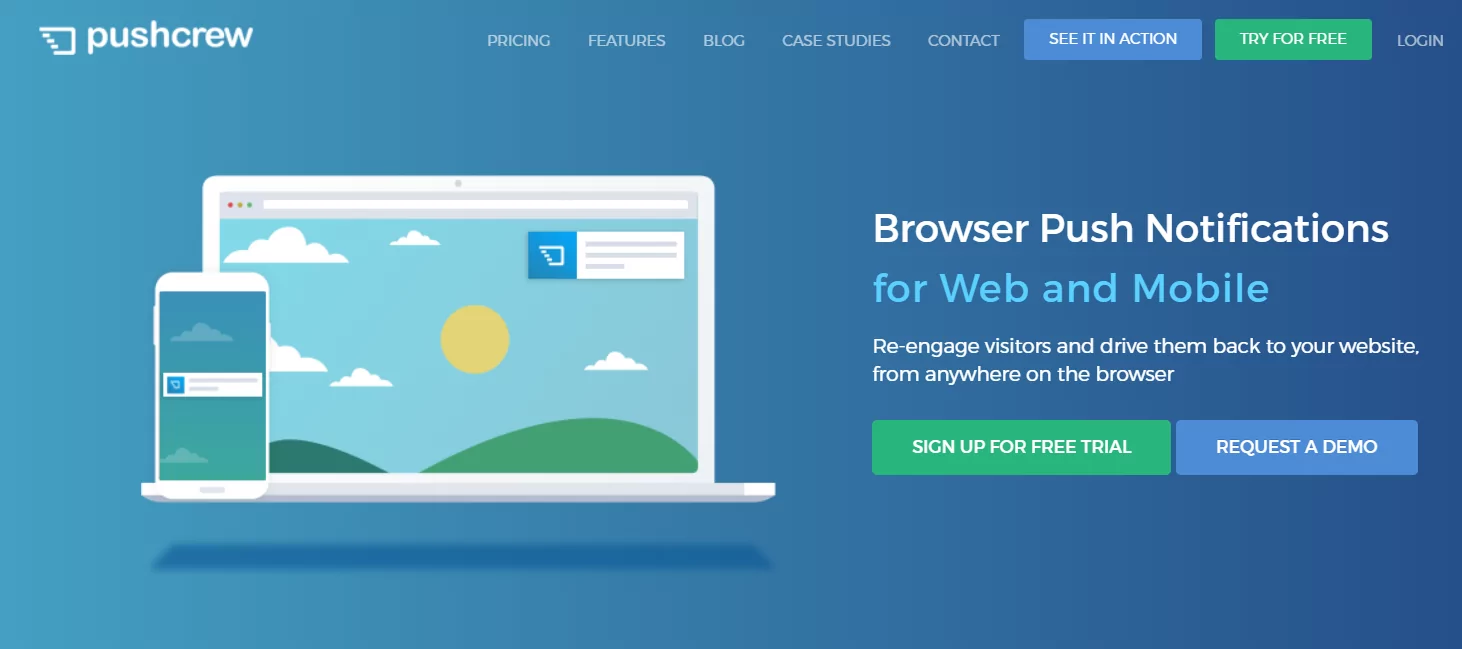 7. Unbounce
Unbounce is an easy-to-use, drag-and-drop landing page builder. They also have pop-ups, sticky bars, and much more.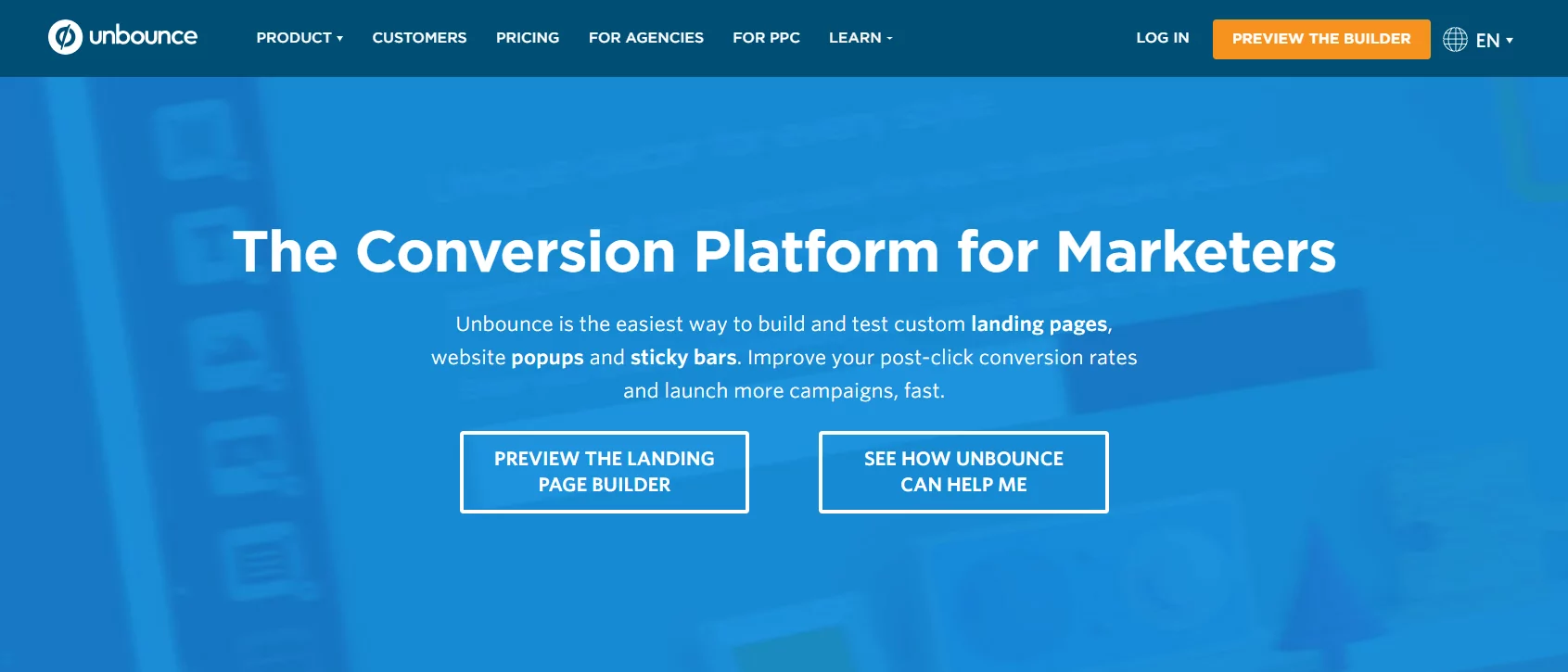 I can honestly recommend it as I've been using it for over a year now, and I love it!
8. Wistia Turnstile
With Turnstile, you can specify a timecode when the video stops and shows a form to your audience.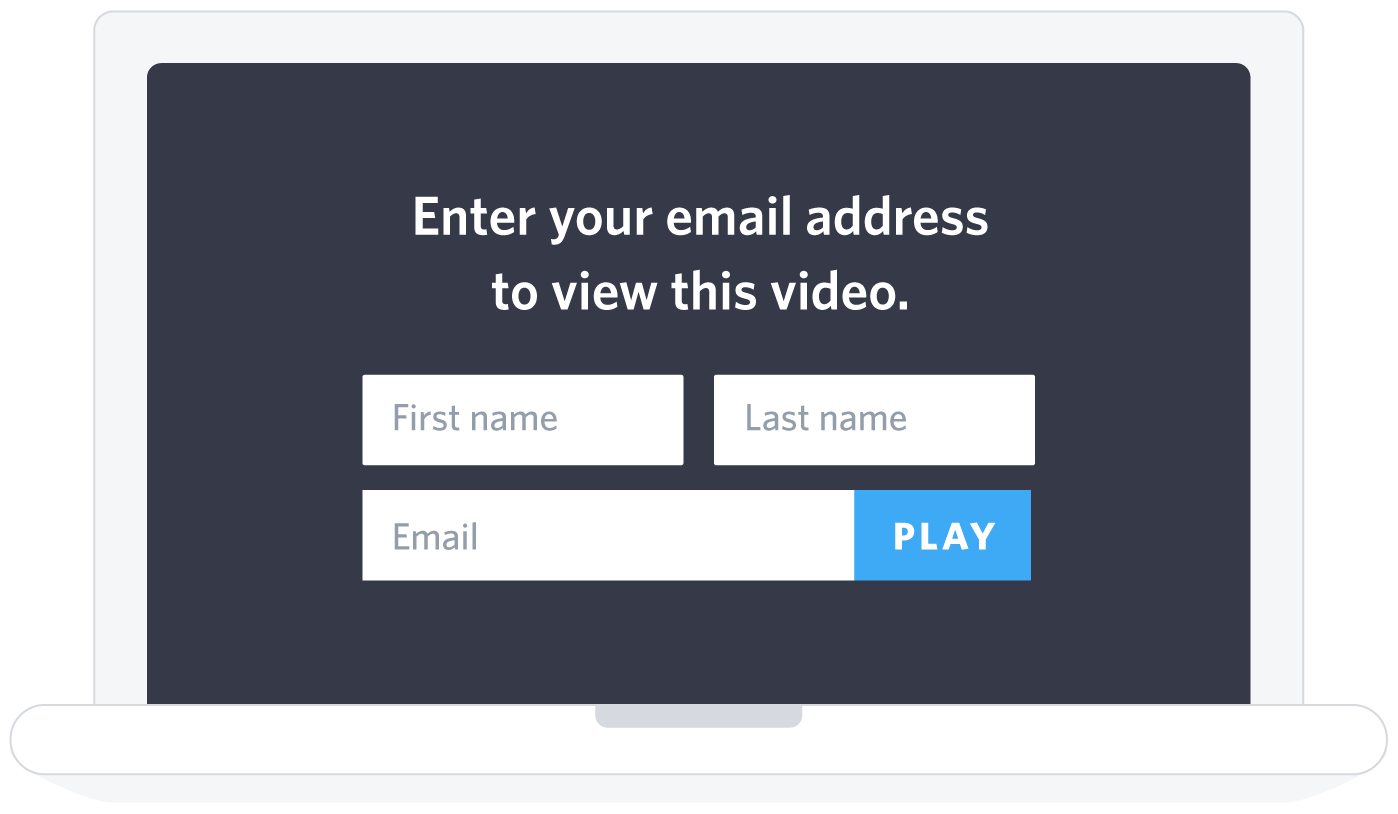 9. Omnikick Drip Optin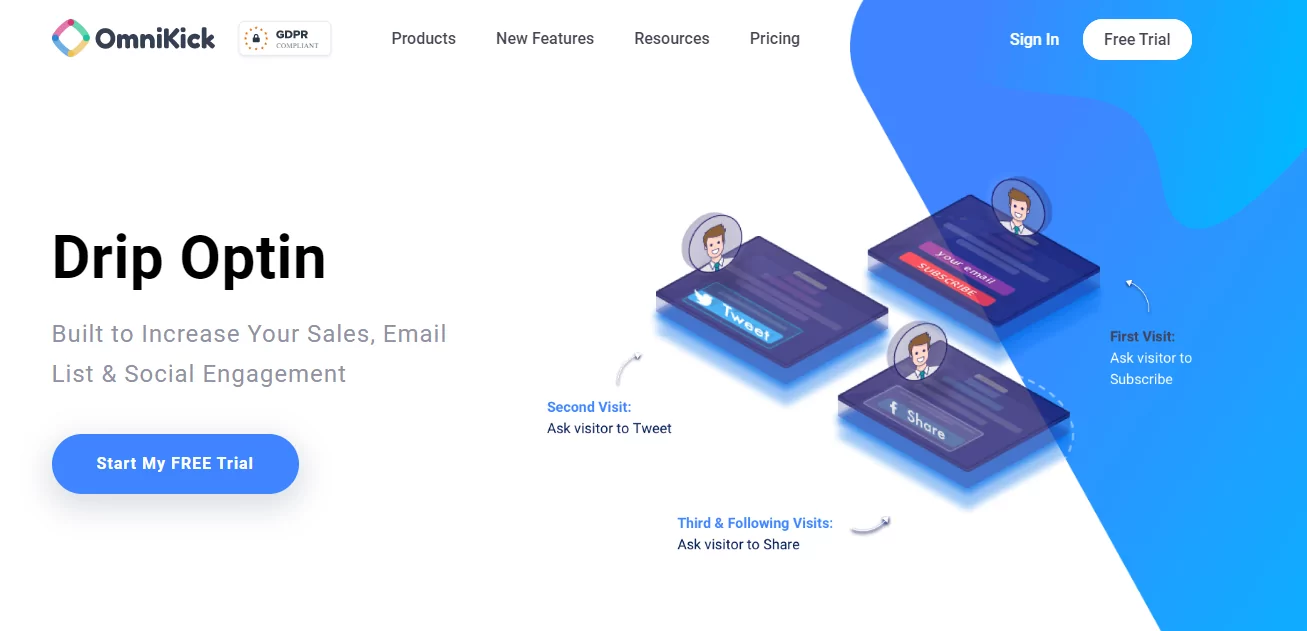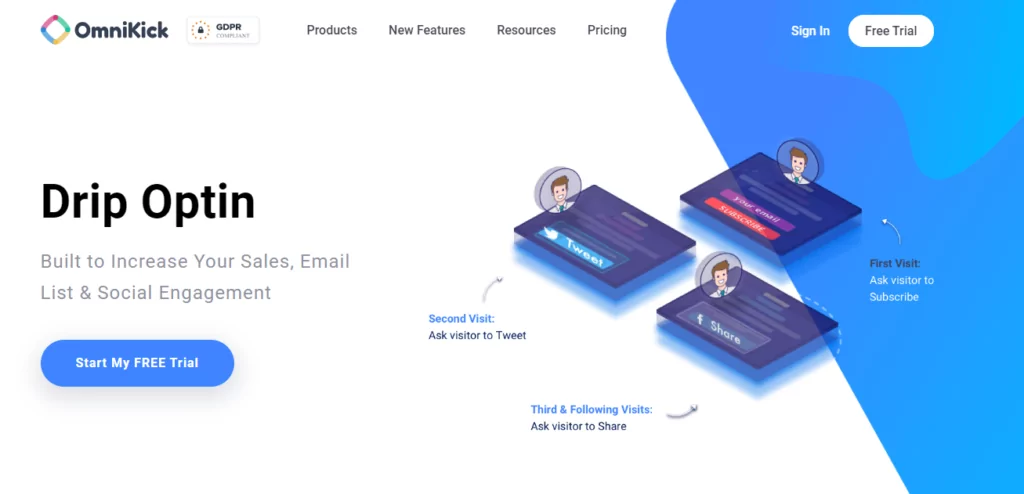 Drip Optin is a process by which you put every visitor into an engagement sequence. Once a lead opted in with their email, you can ask them, for example, to follow you on Twitter on the next visit.
It's a great tool to make visitors go through micro-commitments and touchpoints.
You can offer something different to your audience in every session like files, coupons, discounts, opt-ins, etc.
10. IntroBar
Do you plan to launch your product on ProductHunt?
Then you should know that it is a good thing if you offer something special for Hunters.
But instead of showing this "gift" to everyone on your website, you should only allow Hunters to see it.
Introbar allows you to show a header to people who are coming from ProductHunt with a custom message.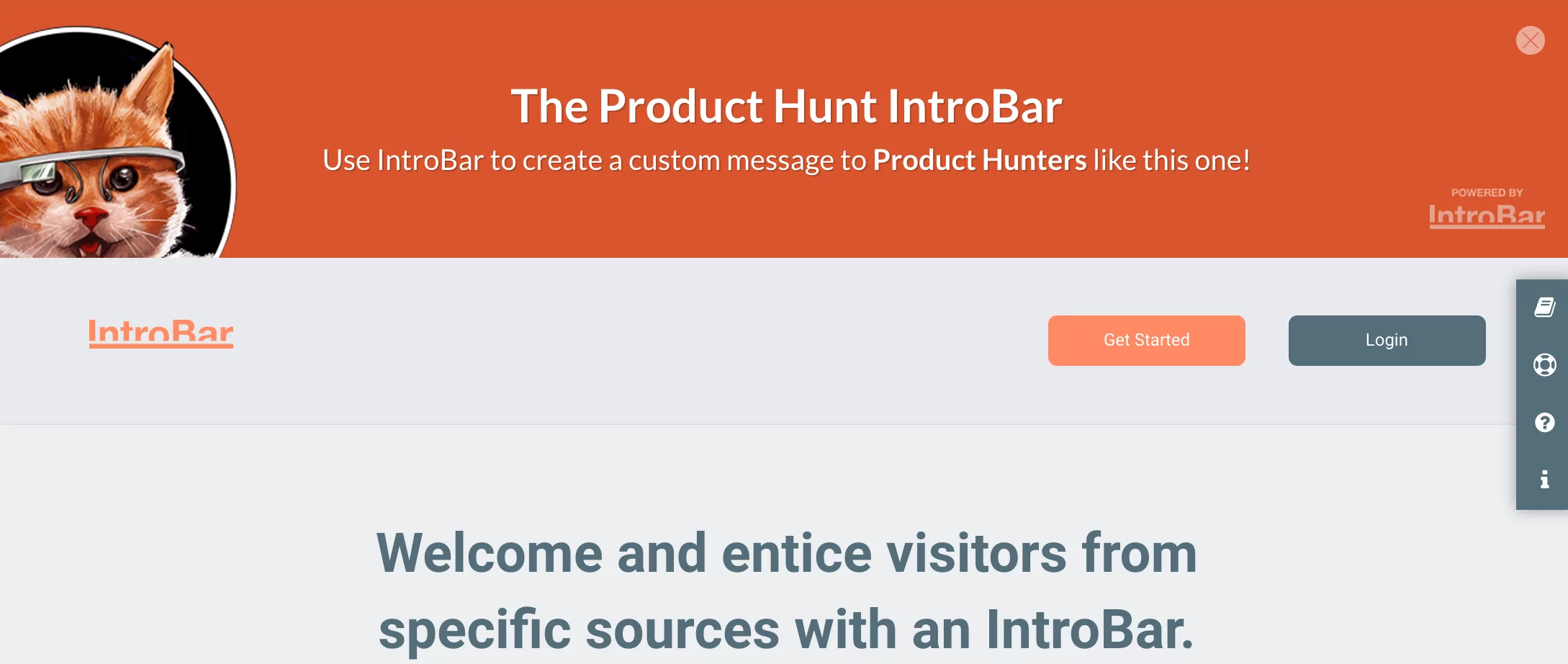 11. Lead Ads
Have you heard of Facebooks' advertising option, called Lead ads?
You can collect contact information on Facebook profiles and push the data into your email marketing software right away.
It's not the usual Facebook advertising where you send the traffic to a separate lead generation landing page but a solution that collects information on Facebook itself!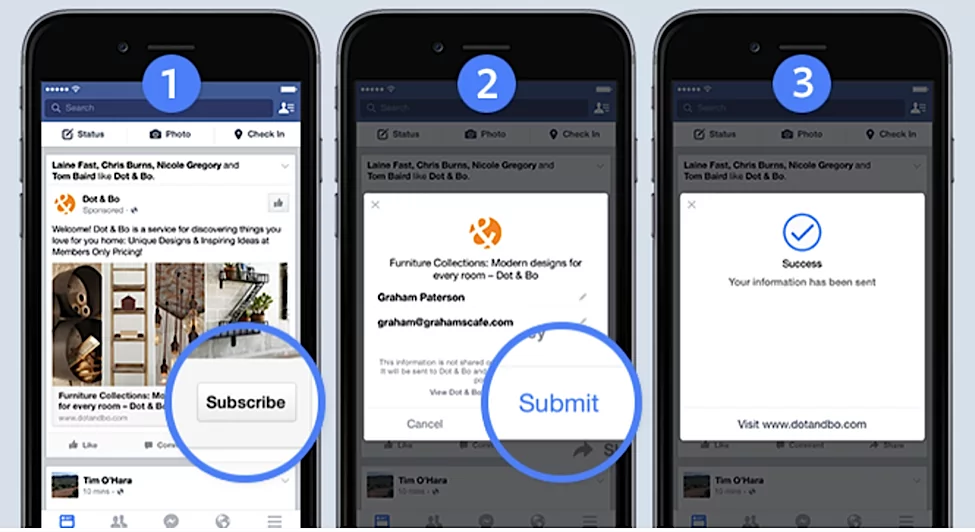 12. Optimonk
Optimonk is a powerful yet easy-to-use solution for on-site retargeting. Create exit intent pop-ups, slide-in based on on-site behavior, and much more.

13. Aeroleads
Aeroleads is a prospecting and lead generation software that can instantly find emails and phone numbers of any prospect.
With AeroLeads Chrome plugin, you can build your lead list in minutes and transfer it to your CRM or marketing automation software.
14. ContactOut
The ContactOut Chrome extension works on top of LinkedIn and Github, helping you find emails and phone numbers. This handy tool can help you get leads for your outbound campaigns.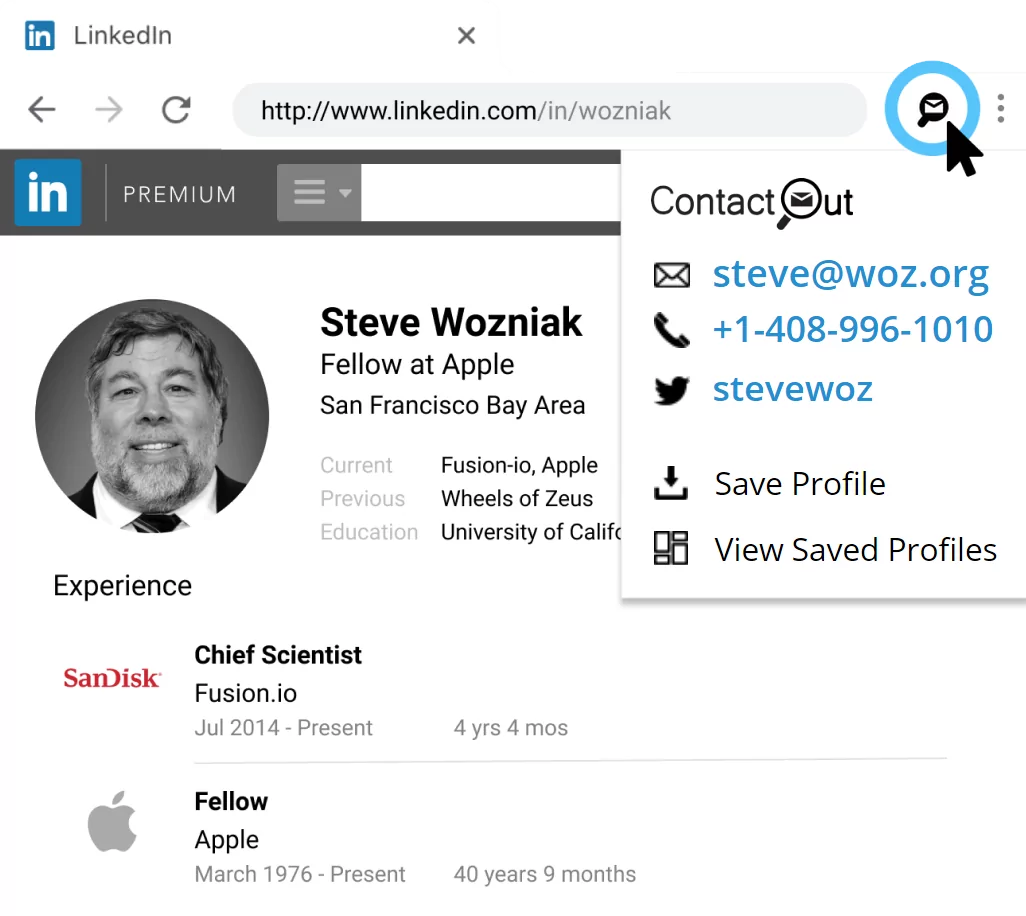 15. Albacross
Albacross is a B2B lead generation and website tracking software that allows you to get additional information on your website visitors and learn more about them.
Using Albacross lets you learn who your site visitors are and what they are looking for.
This will provide you with enough data to feed your sales team to convert leads via calls or outreach emails.
Albacross is a suitable B2B lead generation software for companies always hunting for leads. With the amount of data you'll have about your leads, the conversion part is easier.
16. RafflePress
RafflePress is a WordPress plugin that helps you create and deliver giveaways on your blog.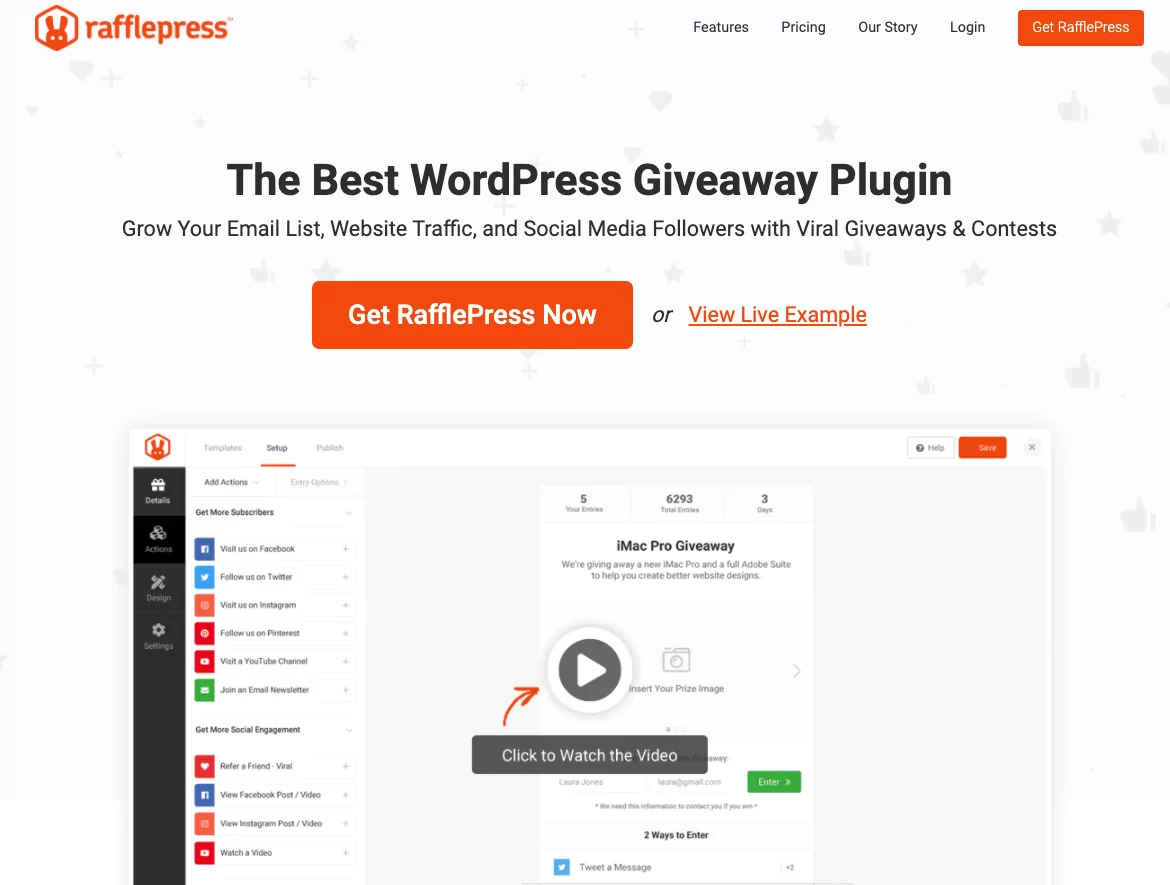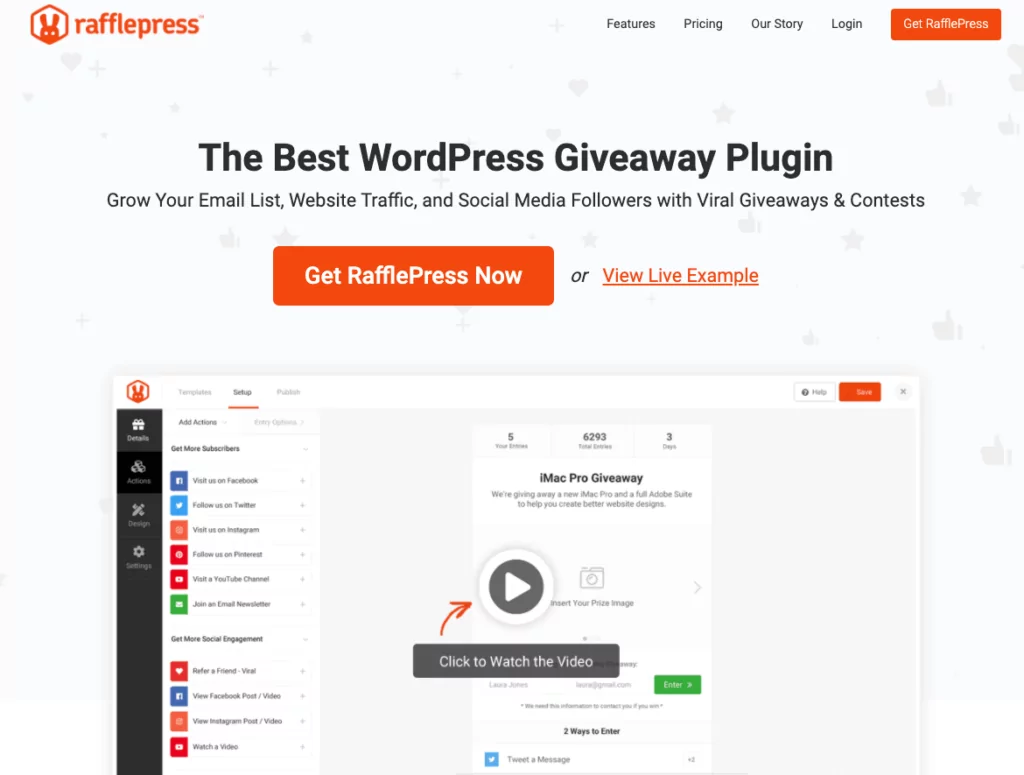 Instead of spending a lot of hours creating giveaways, RafflePress provides templates to easily create a giveaway within minutes and promote it on your blog.
Essentially, it's ideal to grow contact lists and increase engagement.
17. Instapage
Another popular landing page builder, Instapage that is an Unbounce alternative. The tool offers a drag-and-drop landing page as well as other handy features such as lead capture forms and heat maps.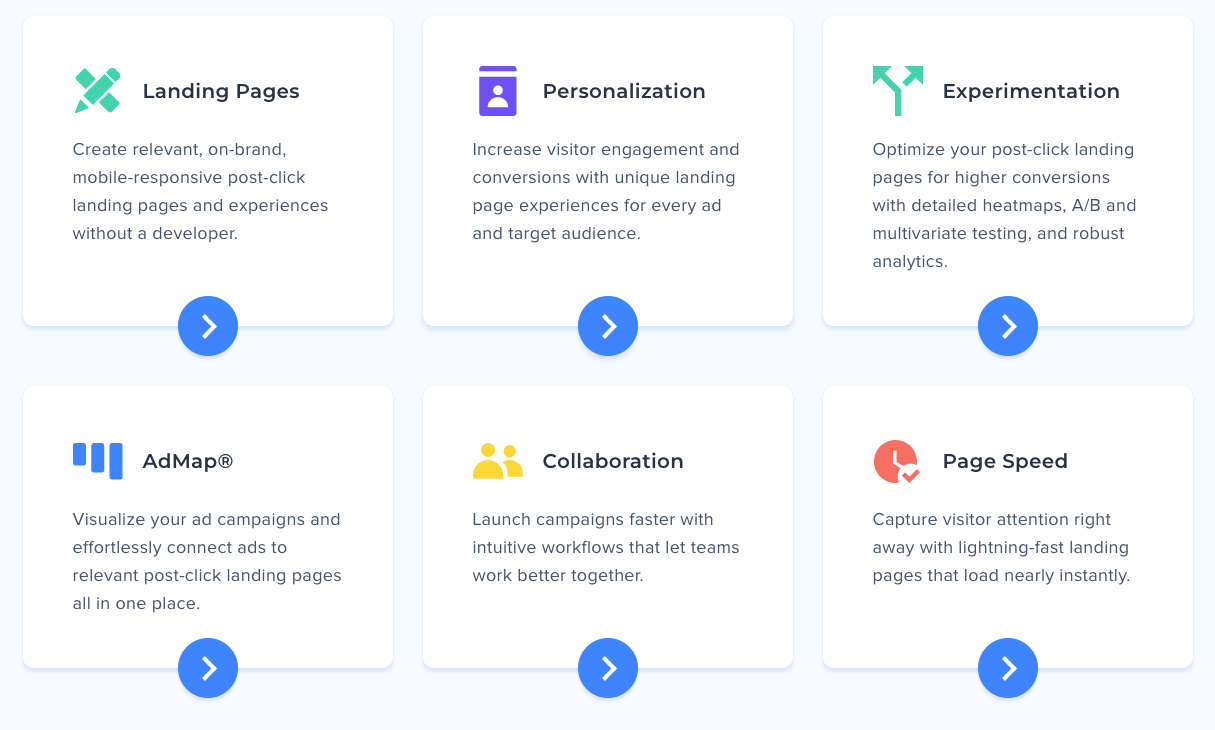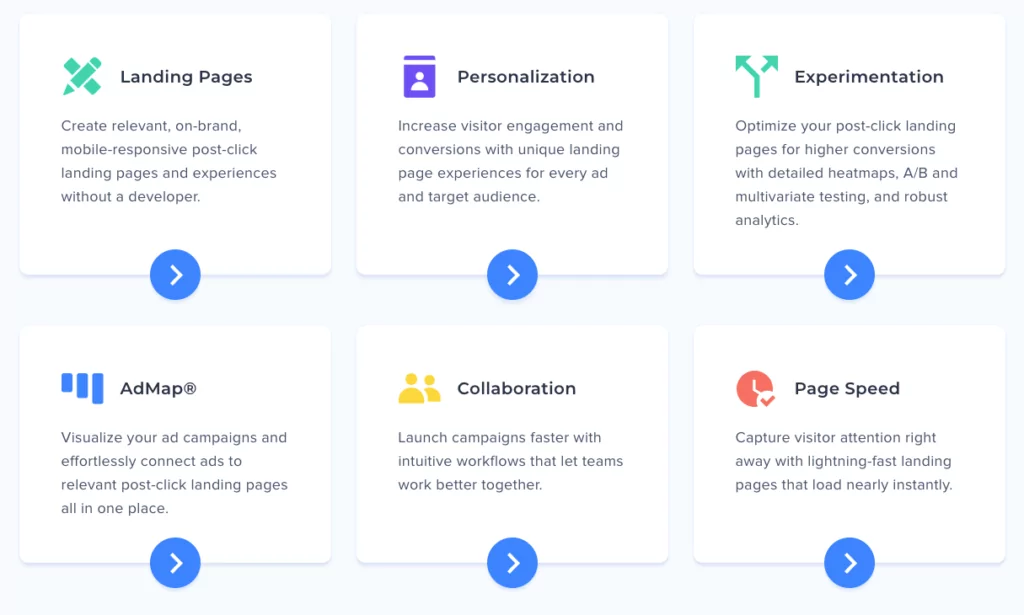 Instapage is a tool that's 100% dedicated to landing page optimization and design.
So when using it you'll need to integrate it via Zapier to an email marketing software like Automizy to send email autoresponders or nurture your new leads.
18. Vyper
Vyper is a tool for creating viral contests. It enables your contest participants to earn additional entries by completing further actions such as:
Completing a form on your website
Following your social profiles
Referring a friend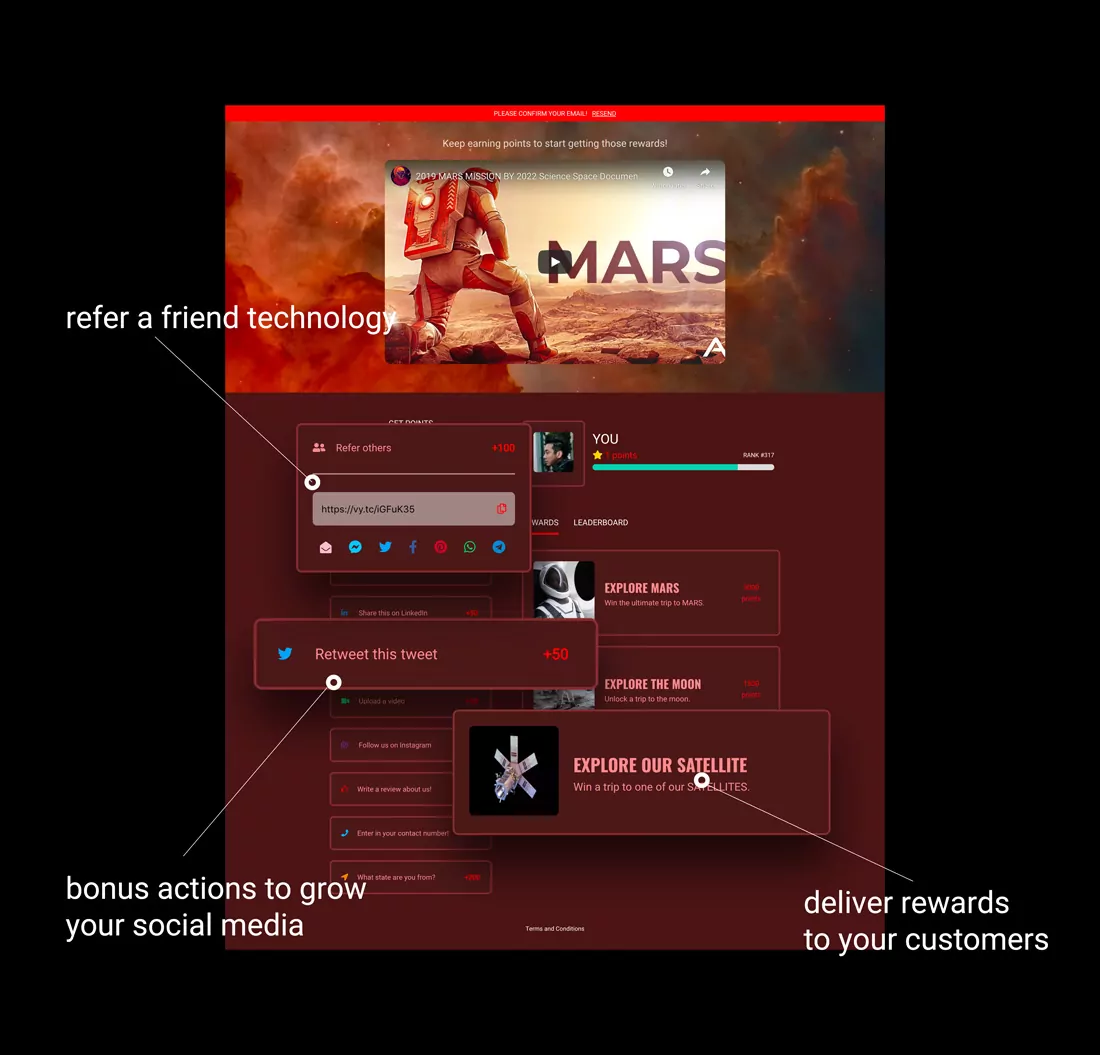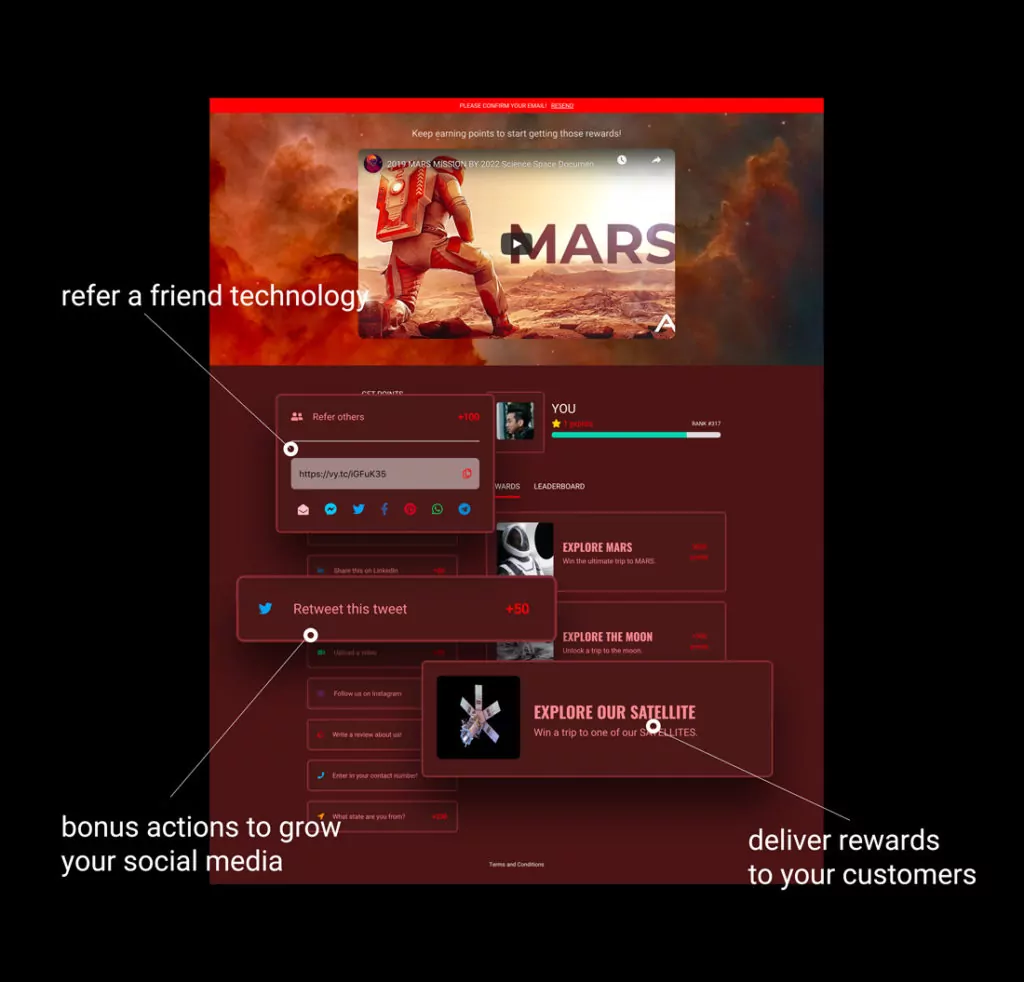 You can set the number of extra entries a participant will earn and increase the likelihood of your contest being shared.
19. Calendly
Calendly makes it easy to schedule:
Meetings,
Sales calls,
Demo requests, and so on.
With the tool, you'd simply set the times you are available, and prospects can choose a time from your schedule that works for them.
You can even add a Calendly link to your website CTAs and redirect website visitors to your Calendly page to book a call or a meeting.
If you'd use Calendly to generate leads for your B2B business, you can connect it to Automizy email software with Zapier and set up automated lead nurture campaigns.
Other than B2B, Calendly is a perfect tool to use if you're business is depending a lot on appointment booking like healthcare organizations.
Then you can use Calendly to manage your appointments, and connect it to Automizy in which you can automate your healthcare email campaigns.
Conclusion
Lead generation can be a huge challenge for businesses, so take inspiration from this massive list of examples, ideas, strategies, and tools.
Define a lead generation strategy and choose a couple from each section that fits your strategy and business model to start generating tons of leads.
Pay special attention to generate quality leads and nurture them well to convert them to clients or customers.