Buyer journey is your prospects way to pay for your solution. If you can map it, you will be able to acquire much more new customers. Therefore I share this guide that explains each stage of the buyer journey and also give you real-life examples of how other companies do it.
What is a buyer journey?
The definition of the buyer journey is "the chain of touchpoints your prospects have with your brand before they pay you for your solution".
It tells you how many times, where, when and how your clients met with your brand before they became your clients.
The buyer journey, therefore, can be planned but you shouldn't design it strictly: because your prospects will individually, freely act in it. So you always have to analyze it and replan your lead generation, user acquisition, and content strategy.
But there are the different type of models that try to structure or at least help you find the right strategies and map your business' own buyer journey:
Easy-to-convince model

Before-and-after model

Circular model

Consistency model
But let's take a well-known model: the inbound buyer journey because it's easier for everybody to use it for their own industry.
The inbound buyer journey consists of 3 main stages:
Awareness

Consideration

Decision
Usually, your prospects start with awareness stage, then they change into the consideration stage and at the end of the day they buy. But you can find people that are already in the consideration or decision stage: those are the low-hanging fruits you should consider to target!
Now let's go stage by stage, explain their meanings and list what you can do in order to increase the efficiency.
Awareness stage: the sensation of something is bad or not even knowing it
What does it mean:
This stage is the first stage when we talk about the buyer journey and it aims at the people that are far away from buying your product.
There are 2 main types of people in this stage:
Your prospects feel that they have a problem but they don't yet usually know what exactly.

People that don't even recognize that they have a problem.2
The importance of the awareness stage varies industry by industry.
If you are on a market that doesn't exist yet (for example you are a startup with a disruptive solution that changes the way we think about a specific thing) your main task is to educate people on even the problem you solve!
On the other hand, if you enter a well-known, matured market, it is possible that you don't need a lot of education for the people to make them understand the challenge (for instance, if you offer project management tips).
So your focus on this stage truly needs to be decided based on the type of problem you solve and on the market you are in.
It is important to know that the people at this stage, usually use search engines to find answers, go to Quora to ask questions from the more experienced ones.
They usually try to search for the symptoms and find the root problem: they are educating themselves on the problem and challenges they are facing or will face.

How to target this stage:
When prospects start their buyer journeys, the importance of search engines is very high. You have to know that these people will look for short tail keywords: keywords with 1-2 words only. These are usually umbrella terms that help them find the components of their challenge. This is why SEO experts say that the shorter the keyword the lower the buying intention.
As a result, the contents you share for them shouldn't sell your tool. These are contents that show the way for your prospects how to learn more about the problem and the solution itself.
If you are in a very new market, it means that you have to put a lot of effort: to make them understand that they have a problem and they need a solution. There are not many competitors in the market yet who could educate them… so now they question if it is a must.
In case you are on a more matured market, the probability that your competitors do this before you is high. In this case, you can choose a strategy:
to compete with them for the people at the awareness stage
or you wait until your competitors educate them and after that, you try to steal them
These contents are a great place to try to grow your subscriber list. Offering educative email series can be great to catch them and nurture them down the buyer journey – even until you can sell them.
Examples to learn from:
Mindbody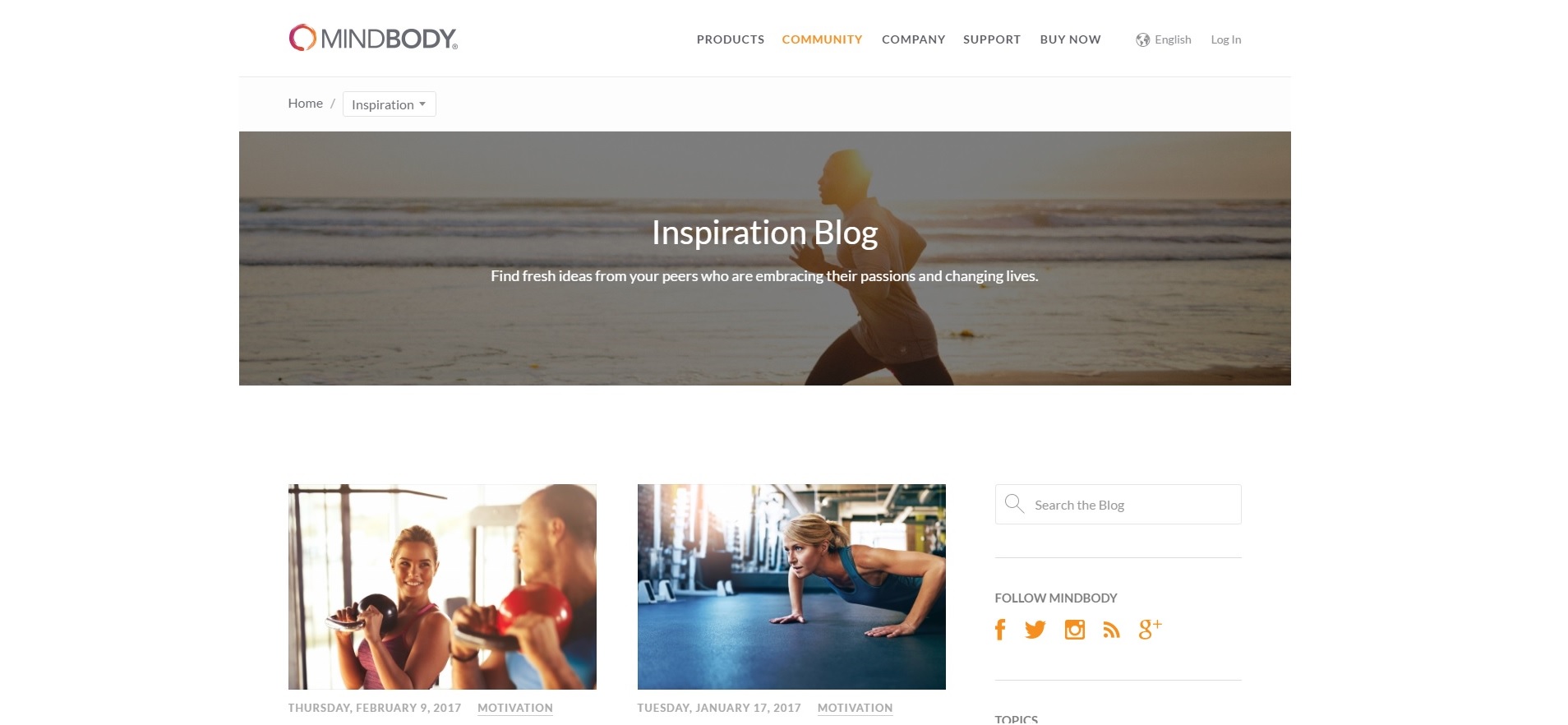 Mindbody is a software that helps businesses in the wellness industry get more customers and schedule classes easily.
This short article tells you that warming up is important but still lots of people skipping it (the problem) and explains why it is so important.
Hootsuite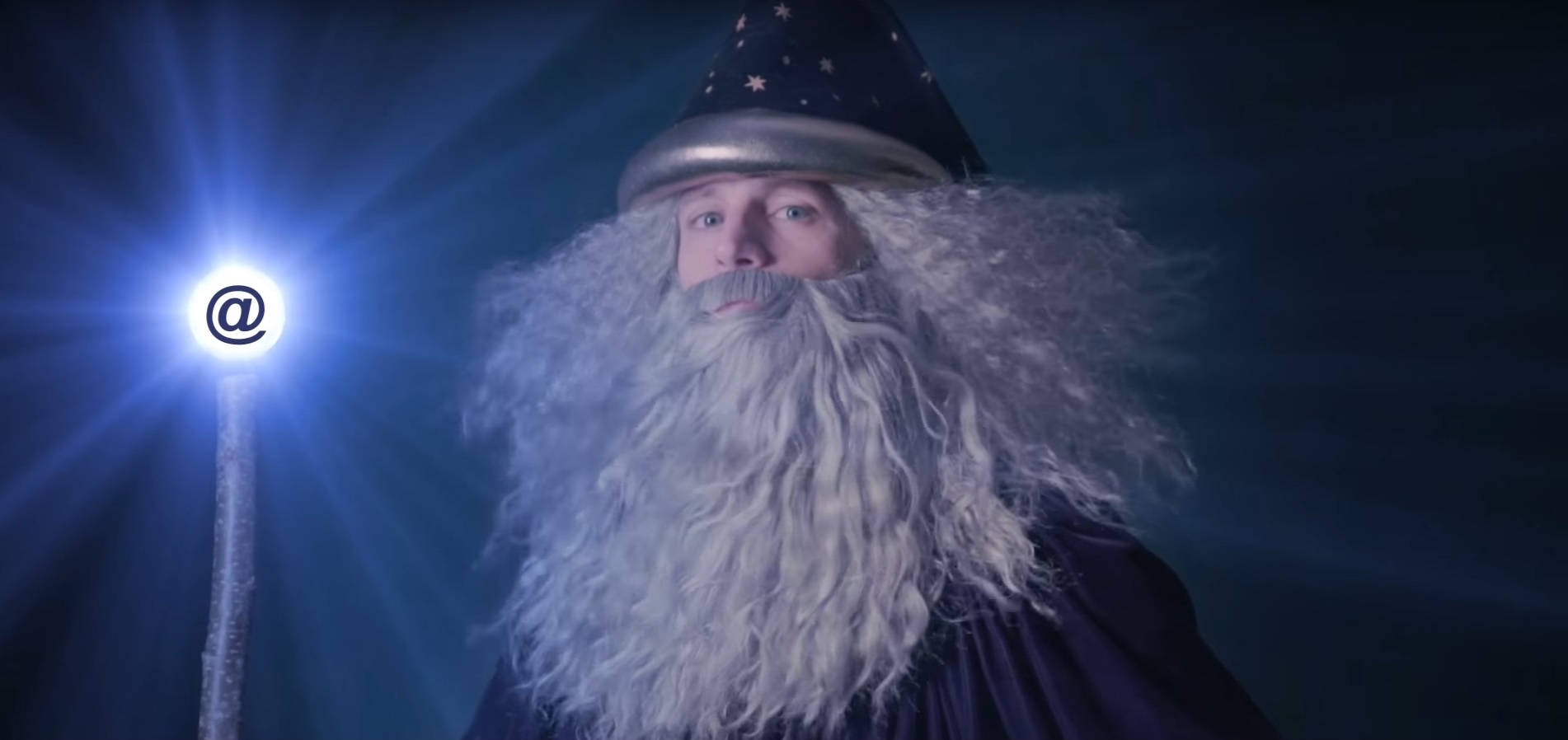 This funny sales video tries to explain for us the problems we face as a social media marketer and offers a free education to us (that aims to nurture us down the buyer journey). The video is funny, touches the main pain points and also visualizes it with a comedic touch. I personally love this one.
Free Social Media Training with Hootsuite Academy
KissMetrics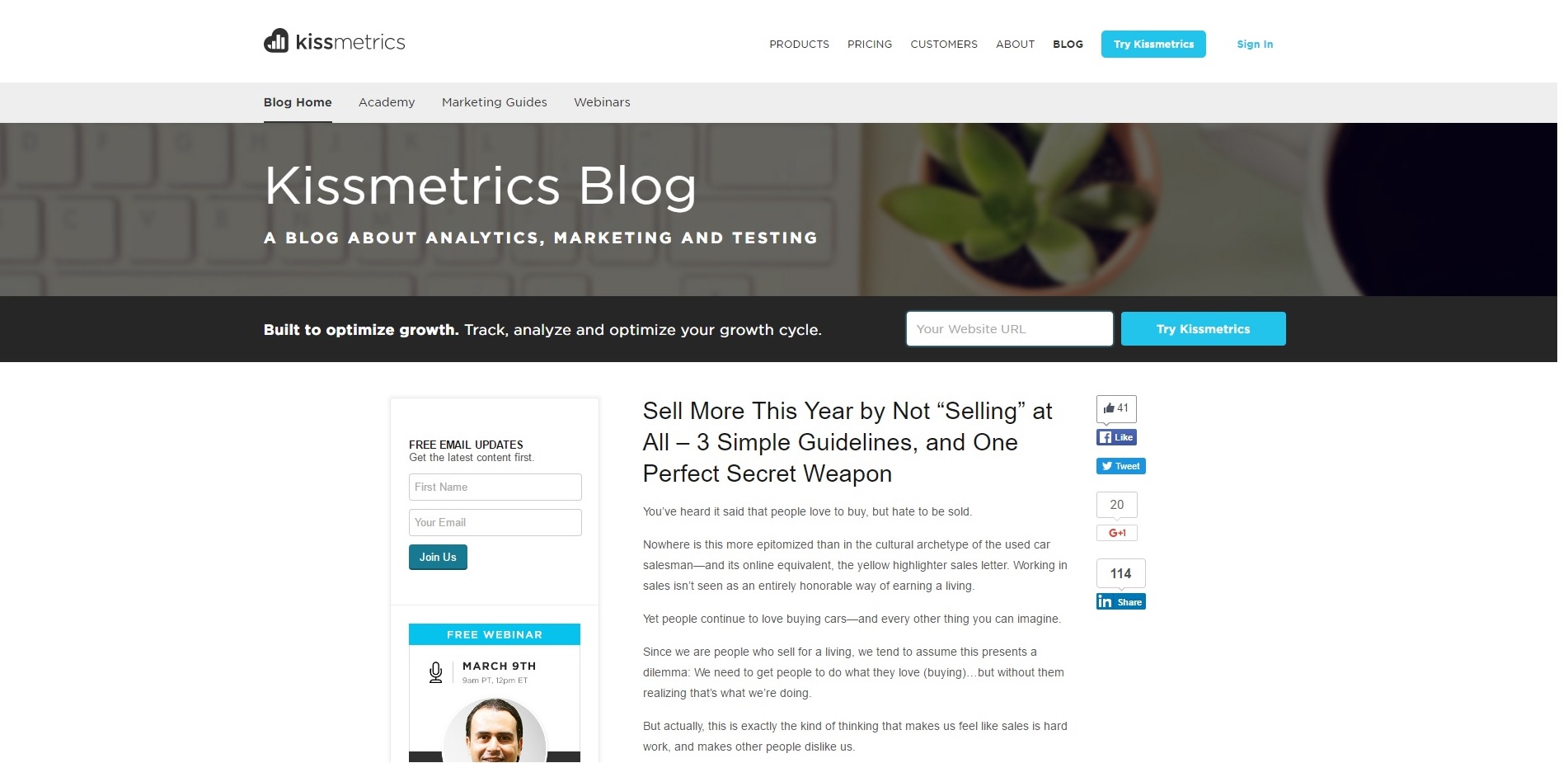 I want to sell more. So I type in "selling more". Title: Sell more this year but not selling at all". Hm, what? Click.
Kissmetrics Blog: Sell More This Year by Not "Selling" at All
How to use automated emails for the stage:
One of the most efficient ways to gather subscribers is to offer a free email course!
Send a 5-10 emails series that educates and prepares them to go to the next stage or even sell (later on).
This email course not only good to give contents but also good for segmenting your prospects. Use lead score in order to decide who is higher engaged and who's not. Higher engaged subscribers are most likely will go faster down your marketing funnel so they don't need a very long nurturing process. These people are the low-hanging fruits.
Consideration stage: understanding the challenge, searching for solutions
What does it mean:
Consideration is the stage where your prospects know the problem, they are already educated. They managed to clearly define the root causes so the time has come to look for a solution that is able to satisfy it.
On matured markets, you will find lots of people (regardless it's B2B or B2C) that are at this stage. They know exactly that they need a tool to kill the pain they actually have.
So they tend to search for the solutions. They probably won't go with 1 solution right away, they collect them, checking their features and offers.
People will continuously choose between the features: this is why your feature set is positioning your product. But your communication also affects it: the brand you build up in prospects' minds will affect much this stage.
This is the place where you compete with other solutions directly. But the strategy you choose to compete with others is up to you: you can offer cheaper, better, faster, more modern, very reliable service (and more). Associating these types of values to your brand not only differentiates you from your competitors but also positions your offer in your prospects' minds.
Learn the secrets to Generate Leads for your company with the help of this free ebook!
How to target this stage:
Consideration stage will define the keyword types too: the 3-4 words are usually the search terms that specifically target a well-defined problem. So ranking for these specific keywords will help you be taken into account.
But as you might know, solving this specific problem can be achieved in many ways! If a company has a problem with productivity that doesn't mean they will go with a task management tool because they can ease their pain with other solutions: for example by hiring more people. (At least they think hiring is a solution.) Or you can grow your subscribers list many ways: using landing pages, pop-ups, using sales outreach, and so on.
So you need to argue that your type of solution has the highest potential to satisfy their needs.
In order to do that, you should create in-depth guides, podcasts, and video content to explain the advantages of your type of solution.
But keep in mind that you still don't have to be too pushy with your sales pitches. People are looking for answers to their questions: what is the solution type that solves their problem the best?
Examples to learn from:
CampaignTrackly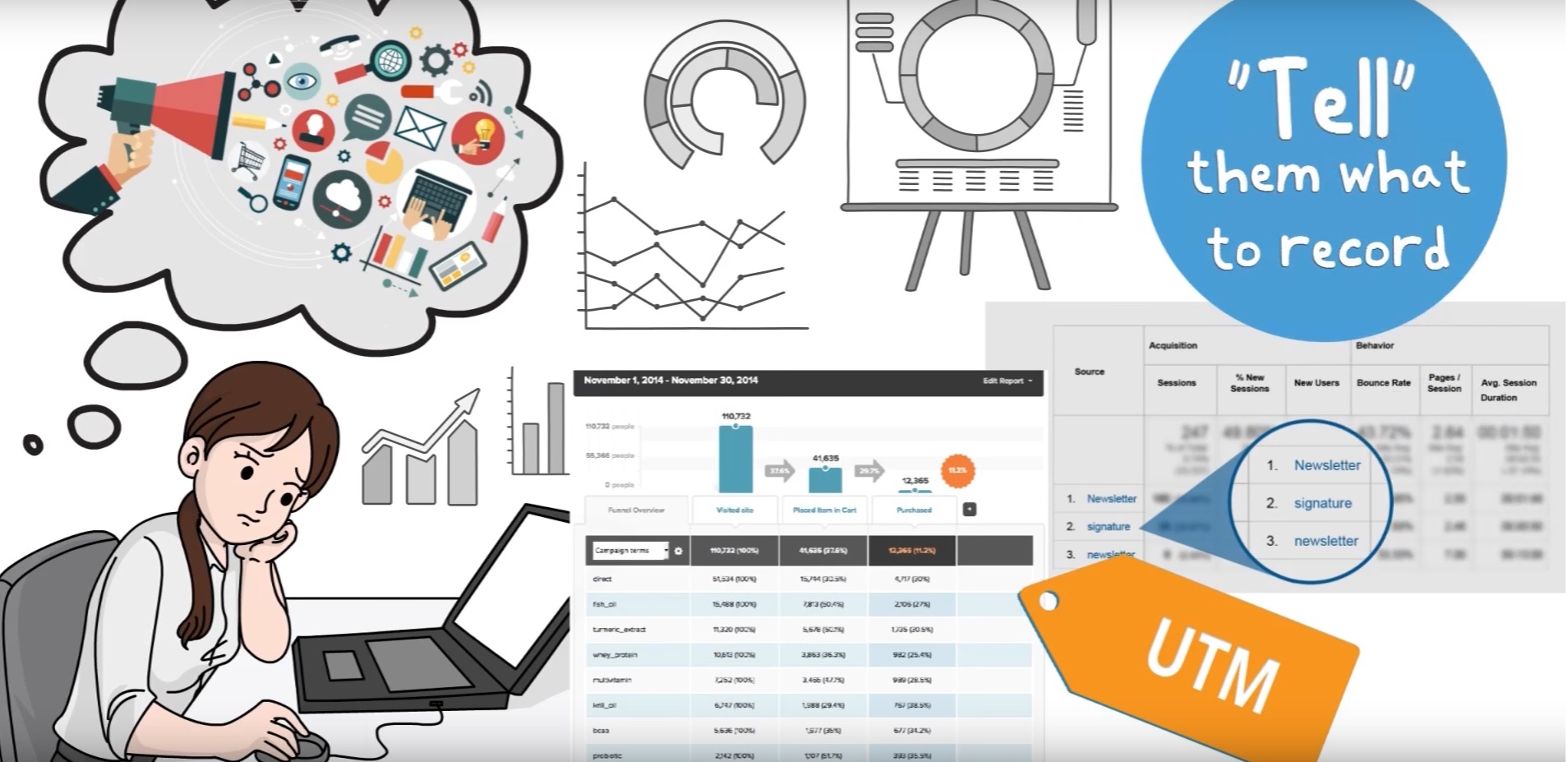 This tool helps marketers generate a high volume of UTM tags and also provides an easy-to-track dashboard. The video explains that there are lots of solutions out there that can help you but they don't solve the problem entirely that is the data-driven decision making. It emphasizes the benefit they can have with the tool and tells people that their next logical step should be to go to the tools' webpage. Amazing.
CampaignTrackly: Automated URL Builder Tool Helps Marketers Get Better Campaign Insights & Save Time
Optimonk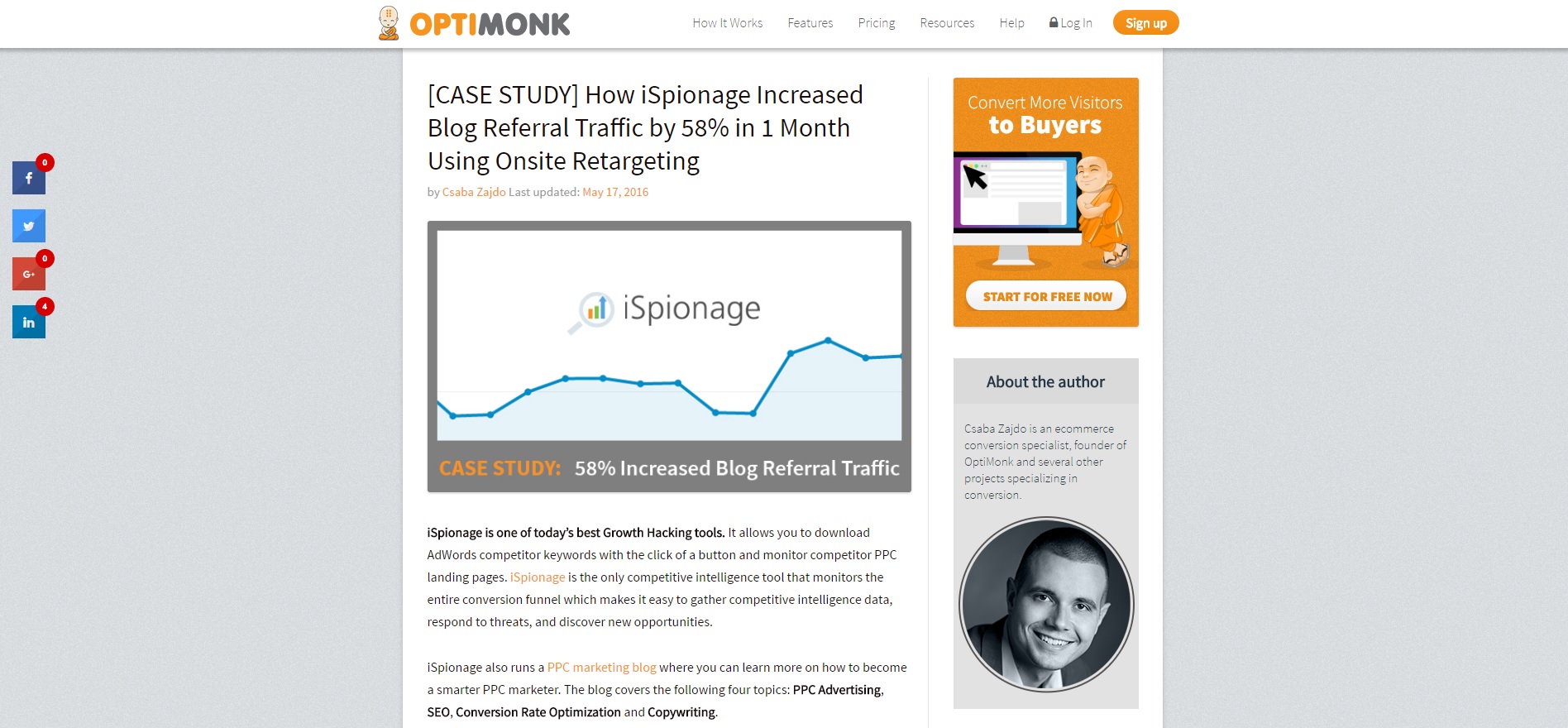 Optimonk uses a case study to emphasize how a company increased its web page traffic with a solution. As you know, traffic generation can be done millions of ways. They explained the context, the challenge and the way how this company managed to grow its referral traffic with on-site retargeting.
OptiMonk Blog: [CASE STUDY] How iSpionage Increased Blog Referral Traffic by 58% in 1 Month Using Onsite Retargeting
Insightsquared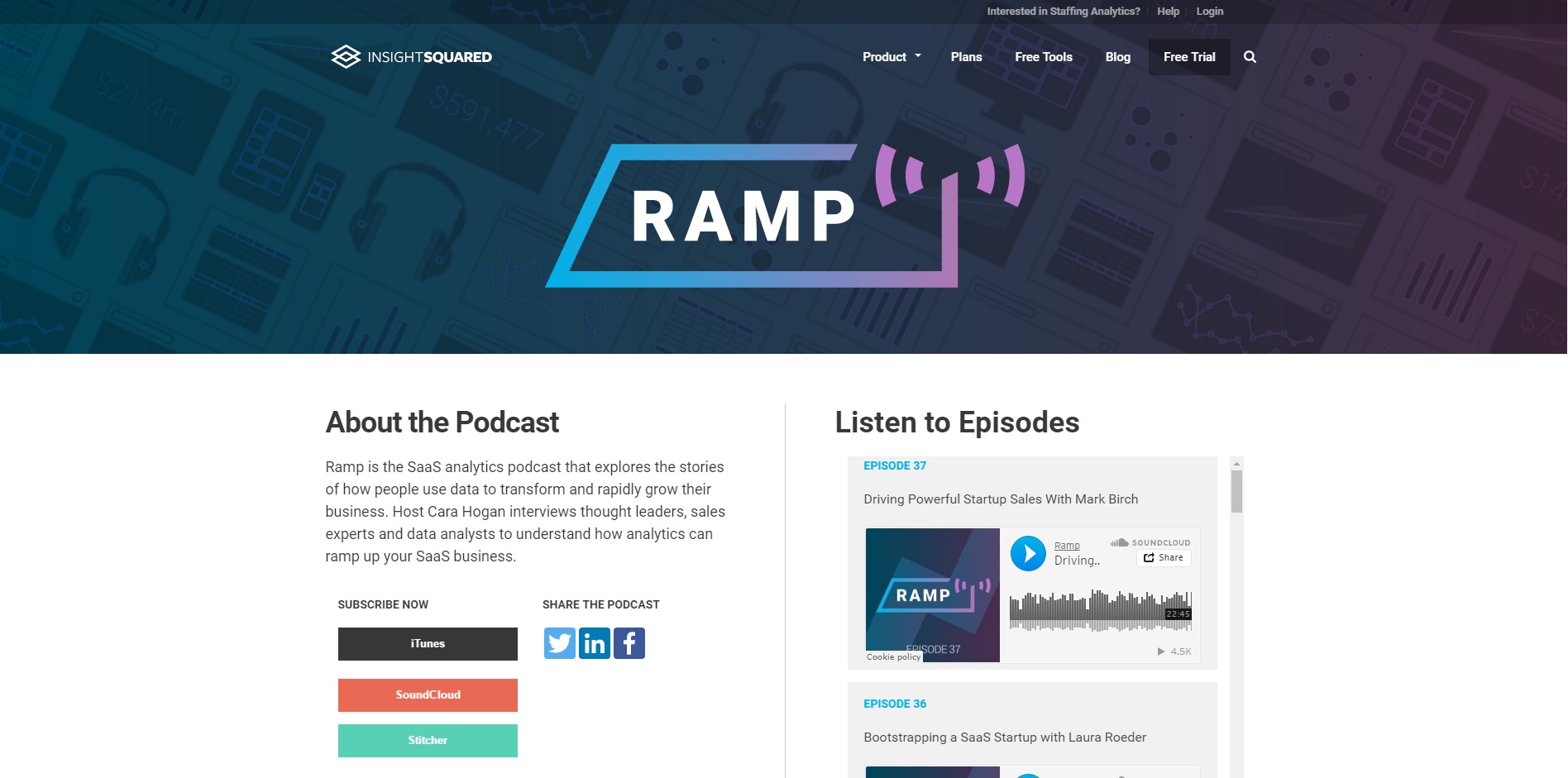 This company offers analytics solutions for SaaS companies and created the Ramp, a podcast. They talk about data-driven approaches and analytics mainly and lots of things that truly help companies understand why it is so awesome to use a type of solution they provide.
InsightSquared: Ramp SaaS Business Analytics Podcast
How to use automated emails for the stage:
Send emails that offer case studies, overall knowledge about your type of solution when a person is surfing on your web page in the relevant sections. If you have youtube videos on the topic, it is a great thing if you insert a picture of it in the relevant email and make the picture linked to the video – lots of people will think that the video will be played in the email. It is effective and not disturbing just attention-grabbing. Also, behavior-based therefore highly personalized.
You can also offer webinars. Designing a great email follow-up series after somebody attended your webinar can have a big effect on the effectiveness of your nurturing process.
Decision stage: choosing a solution
What does it mean:
This is the last step in the buyer journey before your prospect pays for your actual solution, service. They know that your type of solution is good for them they want to pick one.
This is the place where you face the direct competition: actual features, prices are strain against each other.
If your pricing, the features, and everything fit, you successfully acquire a new customer. But as Lincoln Murphy said, today's prospects don't want solutions. They want to find their "desired outcome": you have to help them get to their desired outcome in an appropriate way.
This is where the overall feeling of your company (not your product) will affect whether you can acquire a new customer at the end of the buyer journey.
So take it into consideration: bigger brands (like Slack) will now easier acquire clients than a new solution if they would choose the same strategy.
Newer, not well-known brands have a more difficult time when it comes to sales – it is just how things work, sorry. But no worries: a good USP (unique selling proposition) can change that!
How to target this stage:
The well-known sales pitches, product videos, comparison pages, testimonials, tools specific case studies, trials are your instruments.
If you choose to offer your free trial, the first in-app experience will be one of the most important things: create astonishing user onboarding that truly helps your prospects achieve their success milestones. The faster they reach it the higher the possibility that they will pay.
Also, it is important that you "activate" your trial users and keep them engaged.
Activation mainly helps them in taking action and feel the power of your tool. Keeping them engaged relies on your product and whether you are able to surprise and delight them. If you make your prospect smile just for a sec, you will be closer to your goal.
You can also offer consultations and educative contents to help them get started as fast as it is possible.
Examples to learn from: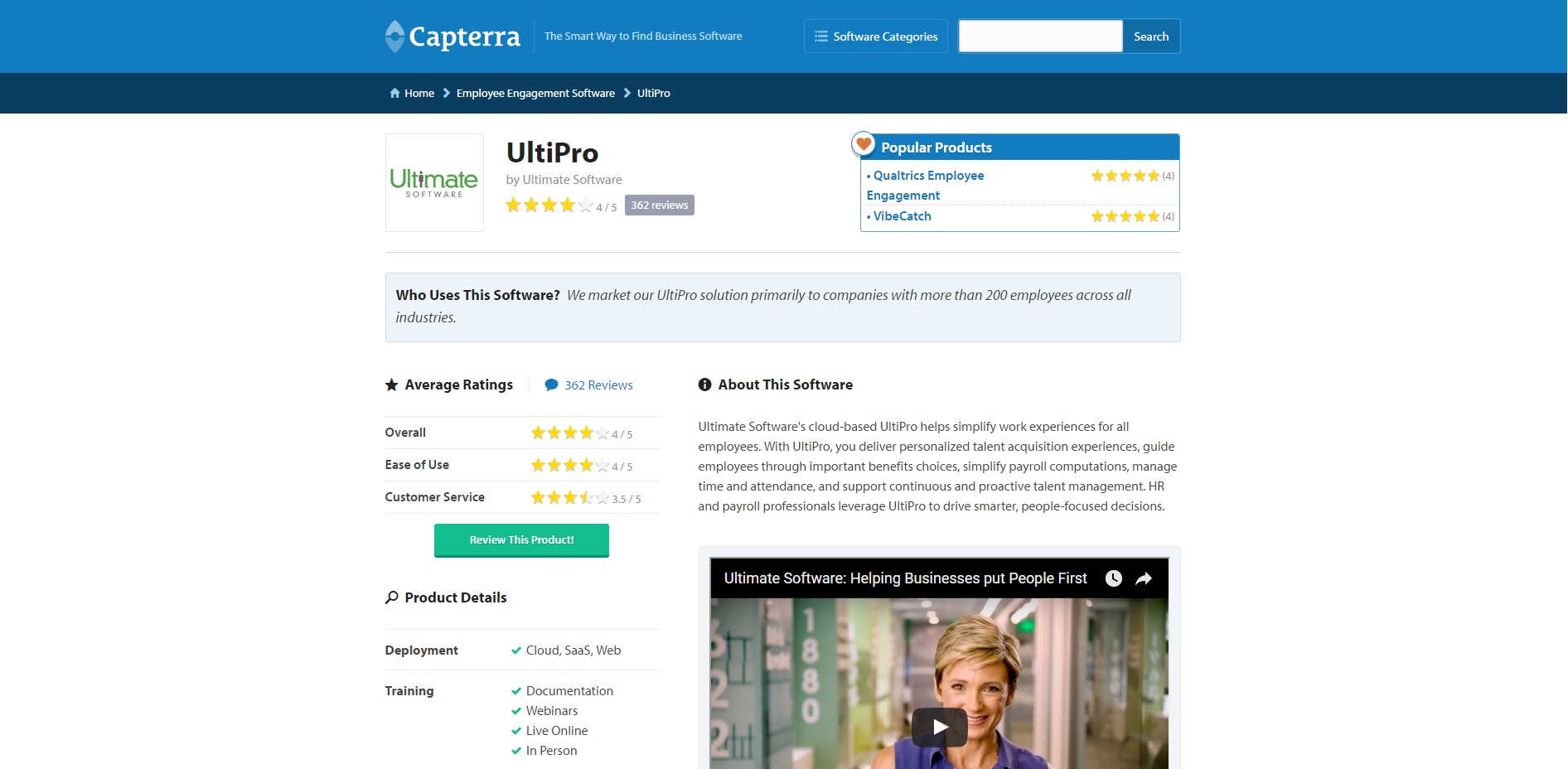 Ultipro is an HR tool. They are on Capterra which is an app review and comparison site. There are lots of opinions from their customers that could help a company decide. On their webpage, they offer a product demo as their prospects need personal attention.
Hotjar

Hotjar gives you a "getting started" guide where they show you the steps you should make. But they don't stop here, they offer you opportunities to expand the usage of their tool further and keep you engaged.
Asana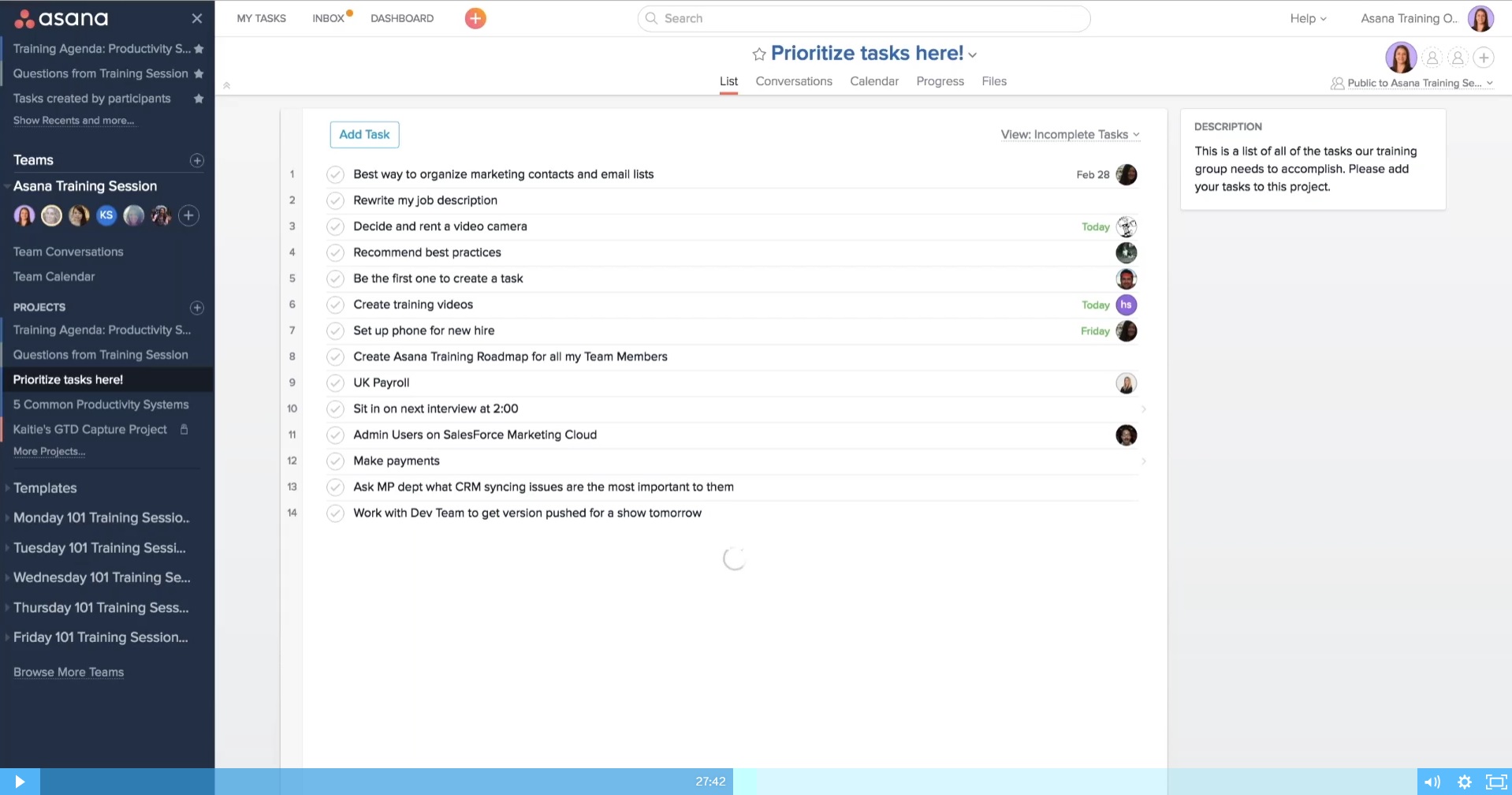 Along with getting started education, it is also good if you show little tricks that help your users integrate with their existing apps. The more integration is created the more likely they will stick with your solution as they invested a huge amount of effort.
How to use automated emails for the stage:
For onboarding, it is important that don't rely only on an autoresponder but implement behavior-based emails. For example in Bufferapp, if one of your tweets is performing good, you receive an email that tells you how good you are. Positive reinforcement is very important if your users take the right step.
But it may easily happen that you did not manage to convert a trial user. Set up a win-back campaign for them and offer a new trial opportunity or give them an incentive: for example a coupon. A small percentage of these people will go with you!
Customer Success stages
In addition to the three stages mentioned above, if you want to keep your customers there are two extra stages that are important: the Retention, and the Evangelist stage. The Retention stage focuses on the customer's impression of your product and what type of messages you are sending to them. While the Evangelist stage is about the advocates of your brand and your communication towards them. You can find some content ideas for these stages in this piece by Inturact.
Is there a way to accelerate the acquisition process?

Your prospects will engage with your contents and meet them but one of the most important challenges is to shorten your companies' sales cycle. So you need to softly urge these people by guiding them through your marketing funnel and giving them the right contents.
This is why lead generation is so important. If you can catch your prospects' email addresses, you will be able to send them emails, segment them according to the stages of their buyer journey and according to their buyer persona.
You don't want them to just accidentally meet your contents – you send them yourself! But it is very important that you give them an awesome experience.
For example, if you see that a subscriber read one (or more) content that is relevant to the consideration stage you can offer him a decision stage content (for example offering your trial) by sending automated, personalized emails. It is a very effective way of nurturing your leads and helping them get to the bottom of your funnel faster.
Personalized messaging mean personalized content too. It means that you shouldn't send a person a content that is not relevant to her/his stage.
So yes, there is a way to accelerate your user acquisition process: simply by collecting emails and sending timely, personalized, relevant emails to them!
Send highly targeted, behavior-based emails. Get started now!