Inbound marketing gets often, wrongly, mixed up with content marketing. These are two separate things, but the truth is that content marketing is a key pillar of inbound marketing. Basically, inbound marketing is communication through content, be it written or audio-visual.
This is more or less clear to everyone, however, fewer people know what type of content they should generate. Each lead is at a different stage in the lead generation cycle. As visitors in each stage are interested in different things, you'll need different content for each stage of the lead generation process.
Let's take a look at what type of content you want to create during each stage.
Here are the 3 stages of the lead generation process:
Strangers:
They are people who have never visited your site, never heard of you, but you know they form your target group. They pose the biggest challenge, as you don't know anything about them, they have no visitor history, which requires you to use traditional techniques.
First, you'll need a blog or a website that enables you to generate content and update it regularly. Use SEO then share this content on social media. Speaking of which, if you don't have a social presence, it's time to start working on social media strategy and implementing it.
You can also use PPC ads and start promoting your blog/website to attract visitors and new fans to your social media site. Then, using these tools, convert strangers to visitors.
Write blog posts, use SEO techniques in the initial phase, then share your posts on social media. You can also give your campaign a boost using Google Adwords or a Facebook ad.
Visitors:
Things are getting a bit easier, as they may have visited your page before. However, this is where you have to be very smart. This is where you get hold of your visitors and take them to the next level of the sales funnel, i.e. convert visitors into leads.
You'll need an array of tools to make leads from your visitors. That is, you'll have to create baits. You'll need downloadable baits because a visitor is considered a lead when they share their email address, and they are included in your database.
What is a bait? Any content that you can use to build your database. It may be a downloadable e-book, a case study, free samples, tip sheets, etc. etc.
The idea is to make the bait interesting and valuable so that customers share their e-mail address in return.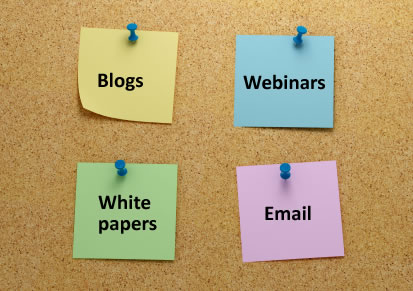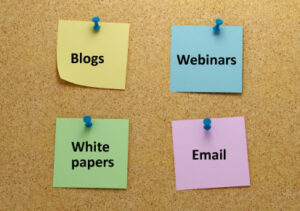 Leads:
Once a visitor shares their e-mail address, they are considered a lead. You might think that's awesome, you can now sit back and relax. Far from it! True, though, that marketing automation will be taking care of nurturing your leads, you'll still have to generate content to share with your leads during the nurturing process.
Create more baits and landing pages. Also, use dynamic forms which enable you to gain new insights on your leads. Here comes the crucial part: design a workflow, define the sequence of events, the message and content your leads receive at each stage.
You might not be able to manage this using a simple mailing program, go find a marketing automation software that enables you to design workflows in no time.
Remember, no matter what type of content you generate, make it problem focused and tailored to your buyer persona, as this is the only way it facilitates efficient lead generation.