"The idea is not to live forever, it is to create something that will." – Andy Warhol
Szabolcs Szabó is among the few people who left a legacy that made the world a better place and had a great impact on science.
And at Automizy, we're proudly supporting Sz2a Foundation to spread Szabó's legacy and give back to the community.
Who is Szabolcs Szabó?
Szabolcs Szabó, died in 2017 at the young age of 50.
He was an outstanding teacher of chemistry and mathematics for 16 years at Fazekas Mihály Elementary and High School – Budapest's preeminent, internationally recognized, primary and high school.
He received several prestigious awards:
Gold Merit of Szent-Györgyi Albert Medal
Chemistry Education Prize of Richter Gedeon Foundation
Graphisoft Prize for Hungarian Mathematics Education

More importantly, his students won numerous awards in domestic and international competitions.
Szabolcs dedicated himself to developing and modernizing education methodology (at Fazekas, he trained teachers from all over the country), and took experimental chemistry to small schools in rural areas using a mobile lab.
His students adored him and will always remember his enthusiastic teaching and community-building activities.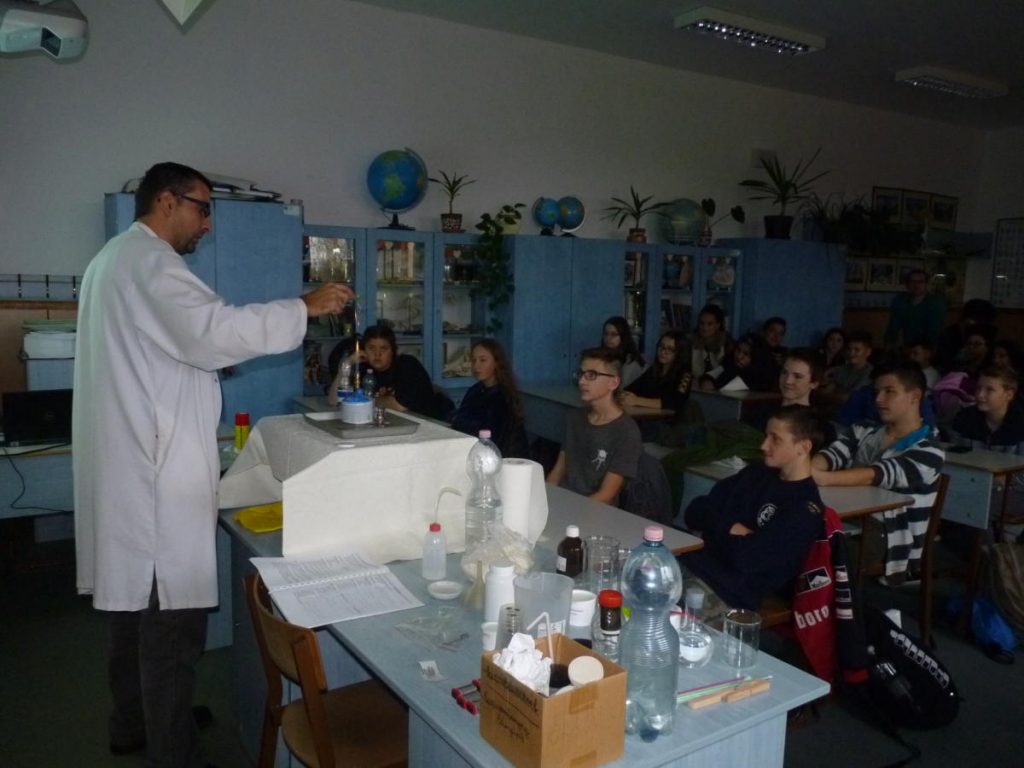 Szabolcs didn't limit his teaching to classrooms only, he was also an avid lecturer for teachers.
In his lectures, he emphasized the importance of developing curiosity and intellectual independence in children.
About Sz2a Foundation
To honor Szabolcs's life-long commitment to education reform and strengthening science teaching in Hungary, his friends, former classmates and students established the Charitable for Natural Sciences Education in Memoriam Szabó Szabolcs in order to carry on his legacy and to nurture students' talent to:
Promote an integrated science pedagogy
Make learning Sciences more universally accessible for students from disadvantaged backgrounds
The Foundation has recreated the Chemistry Mobile Lab where more than a dozen teachers around the country take experimental classes to smaller, mostly rural schools.
The daily teaching practice of Natural Sciences teachers is further facilitated by a curated internet-based catalogue of videos, animations, and other teaching materials, compiled and edited by the many educators co-operating with the Foundation.
The Foundation organizes a Complex Science Challenge Cup for rural schools, gives out stipends to teachers (and university students preparing to teach Natural Science), and promotes Sciences and the teaching profession in several other ways, too.
How are we Contributing?
At Automizy, we're always humbled by the challenges that come with our work and the opportunities to help those in need.
We are happy to offer support for Memorial Szabó Szabolcs Foundation – a living tribute to one of Hungary's greatest scientists and a project that would impact on our generation and the upcoming ones.
Csaba Patkó, a friend of Szabó Szabolcs and a supporter of the foundation, was searching for an email software partner to support their cause and honor the legacy of a great scientist.
The first touchpoint was with Viktor Egri, product manager at Automizy.
Viktor didn't hesitate to stand behind such an important cause and so did the whole Automizy team.
We're humbly supporting Sz2a foundation by providing access to our software and experts to help spread the word about Szabó's legacy and the activities of the foundation.
"The Sz2A team has been impressed by the immediate and positive support received from Automizy" – Csaba Patkó
Now they can set up email campaigns, set up automated email sequences and reach their audience with personalized emails.
We are committed to giving back to our community and supporting organizations like this one!
If you'd want to be part of this cause, donate and support Cz2a Foundation, here's where you can reach them:
A tiny act of kindness can make a big difference, join us making the world a better place one tiny act at a time!