Successful businesses know what their customers want and go to great lengths to get that information. Some use focus group discussions, use face-to-face surveys, and search the internet for reviews written by previous customers. And while measuring clicks and actions gives you real-time insight into what people like, it isn't very dependable for much of the time.
On the other hand, combining online quizzes with marketing funnels will help you get to know your customers and quickly suggest products that they might like. Quiz funnels raise brand awareness, gather information from leads, suggest products based on lead data, allow them to make a purchase, and convert them into advocates for your brand.
What is a Quiz Funnel?
A quiz funnel is a marketing strategy to segment your audience based on their interests. The quiz is accessible through a landing page. People who join the quiz will answer a series of questions that segment them into different groups. At the end of the quiz, you deliver personalized marketing or sales material.
The great thing about a quiz is that you can set questions that provide insights about your audience. You can use those insights to deliver material that aligns with their motivations.
You can use a quiz funnel to generate leads, turn a lead into a prospect, or make a sale. There are plenty of well-known bloggers and marketers who use quiz funnels to engage their audience or use a quiz funnel to grow their email list.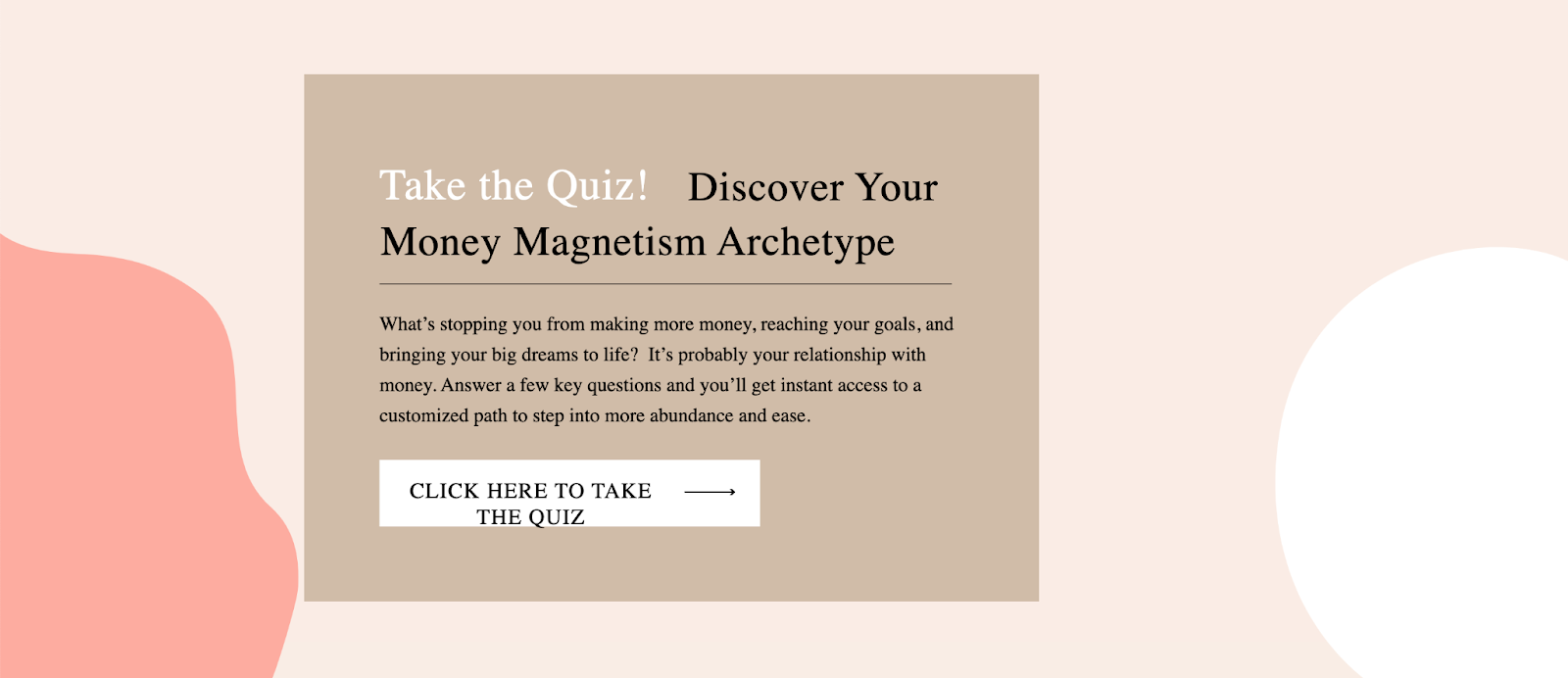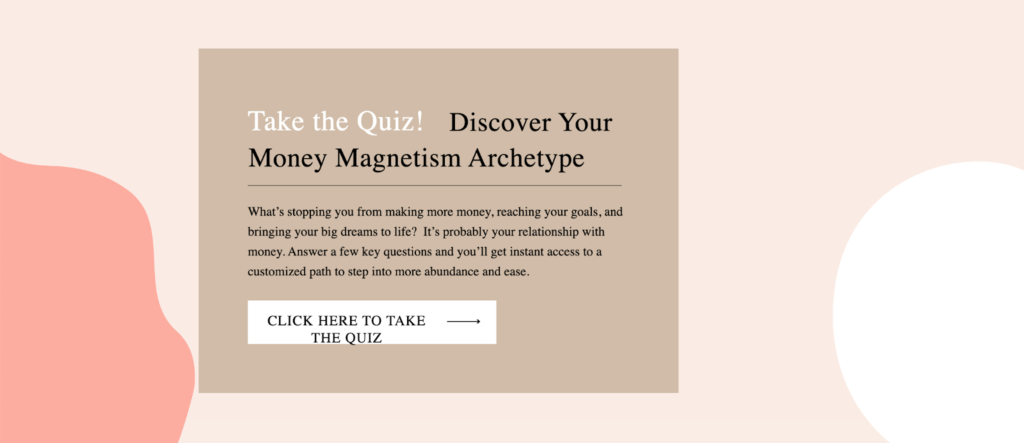 A nice example of a well-known blogger who uses a quiz funnel to get leads onto their email list is Melyssa Griffin. Her quiz funnel helps readers discover their "money magnetism archetype.
People who take the quiz have to answer ten questions.
Some of the questions are pretty funny. For example, "tell me in Gifs how you feel about money?"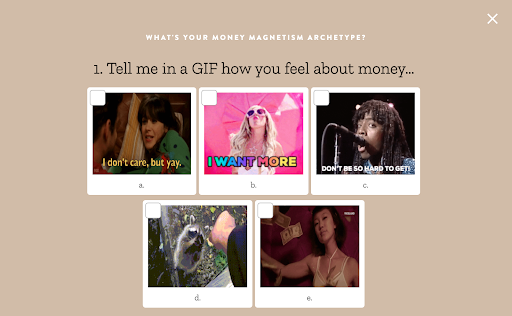 The answer to each question provides valuable data for the business or site owner. To get the results of the quiz, participants need to join Melyssa Griffins' email list. Once a person is on your list, verify their addresses using an email verification tool.
Why Should you Use a Quiz Funnel?
Businesses across a wide range of sectors can use quiz funnels. You can use a quiz funnel if you're selling online courses, managing an ecommerce store, running a blog, or something else entirely.
Quiz funnels are an effective way to segment your audience and offer content or goods and services that match their interests. Studies show that personalized content can double your conversion rate and increase your revenue. By using data from your quiz funnel, you can achieve a high degree of personalization.
Let me give you another example of a company using a quiz funnel for lead generation.
Care/ Of is a company that sells supplements. The company sells vitamins, proteins, and callogen to its customers. They use their quiz funnel to segment visitors to the site based on their interests.
The quiz funnel they created has 13 questions.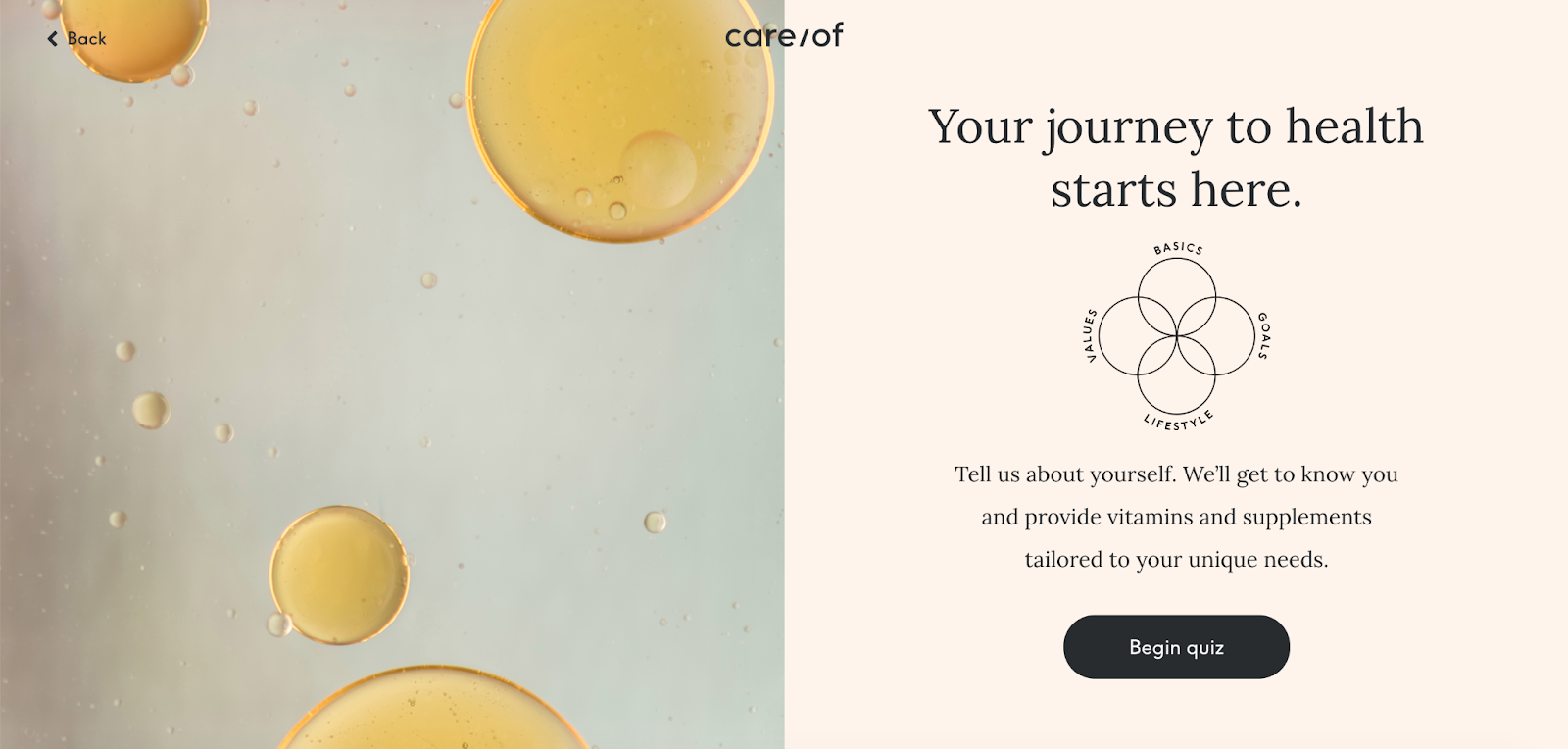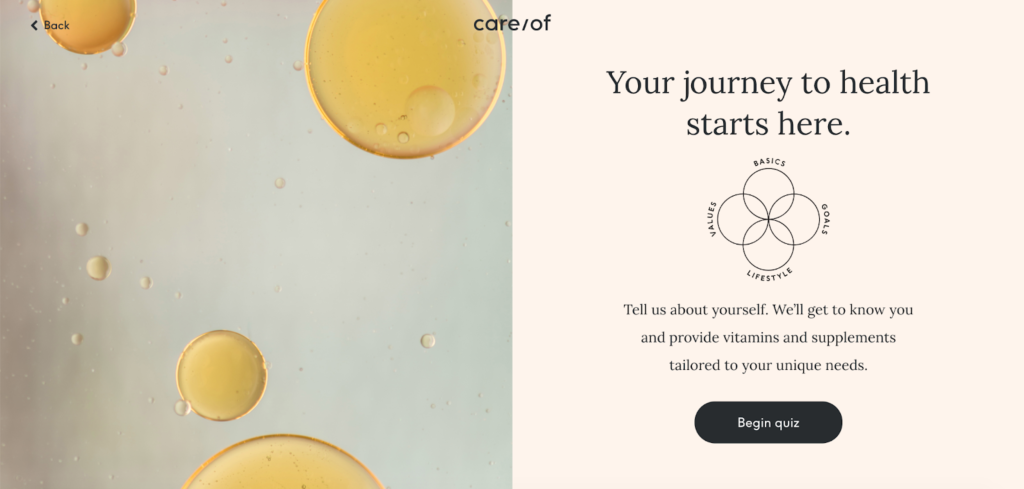 Each step of the quiz is optimized for the user experience. For example, one of the first questions you need to answer is: When it comes to vitamins and supplements, you are:
Whichever answer you choose, you'll see a relevant message. Here is what you'd see if you selected "skeptical."


You can probably appreciate how you can use quiz funnels to segment your audience and provide relevant marketing material to each segment. You can use this approach for your business to better understand your audience's interests and ultimately boost sales.
5 Steps to Create an Effective Quiz Funnel
The best way to build an effective quiz funnel is to follow a logical step-by-step strategy. I've broken down how to create a quiz funnel into four distinct steps. Read on to learn the steps you should follow when creating a quiz funnel.
1. Define your audience
If you want your quiz funnel to be a success, you need to understand your audience. The better you understand your audience and their motivations, the more likely you will create a quiz funnel that converts.
Hopefully, you already have an understanding of your audience. If you don't, there are various approaches you can take to define your audience. One method is the creation of a customer persona.
A customer persona is a semi-fictional representation of your ideal customer. Here is an example of a customer persona.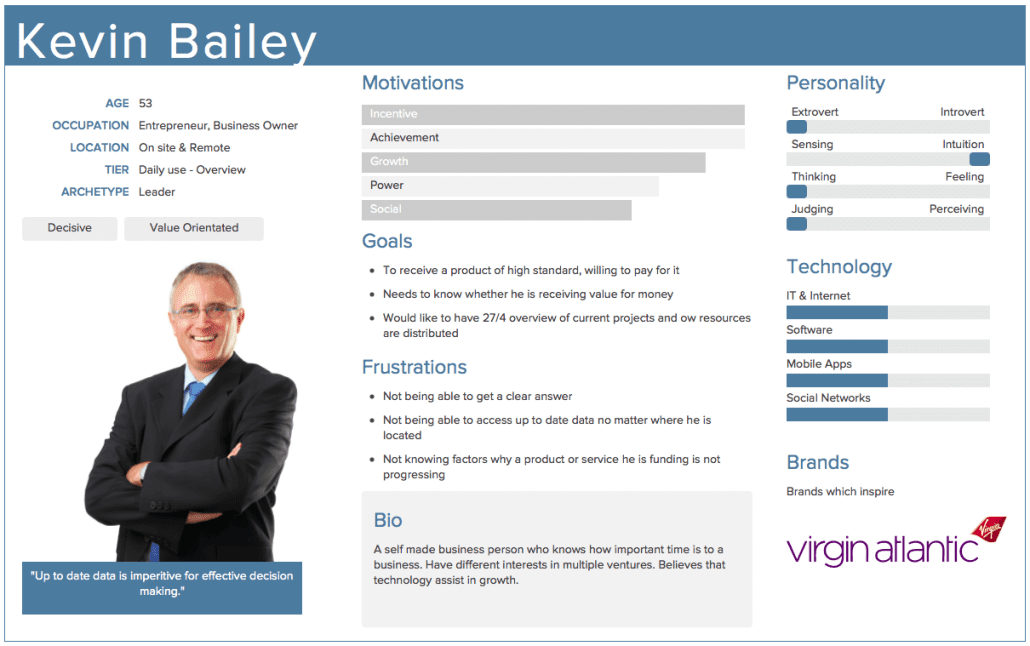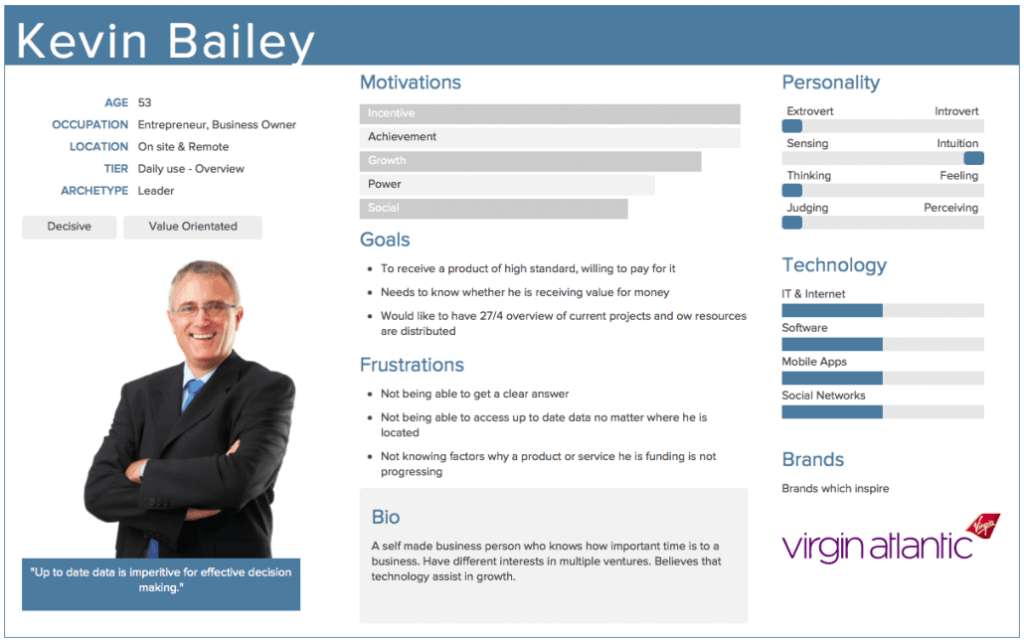 You can see the persona includes demographic information, alongside things like their interests, goals, and pain points. That information is a great reference point for your marketing efforts.
You can gather data about your customer in various ways. If you have a CRM or a customer list, I recommend referring to the list and trying to draw insights from these sources. Tools like Google Analytics are also a valuable source of information.
Combine the insights you gain through these data sources with first-hand feedback from your customers. You can gather feedback directly from customers through interviews, questionnaires, and yes, even quizzes. Spend time on this process. The better you understand your audience, the more effective the marketing material you are likely to create.
2. Choose the stage of the funnel
Once you've defined your audience, you need to consider the purpose of your quiz funnel, and where you want to use the funnel. As I mentioned earlier, you can use a quiz funnel at any stage of the customer journey.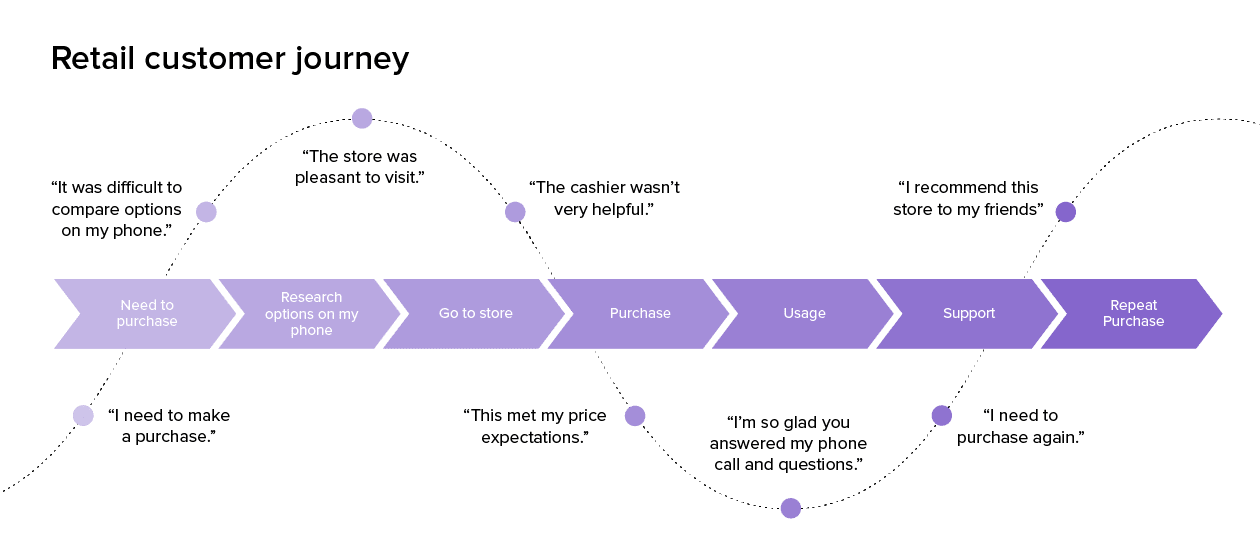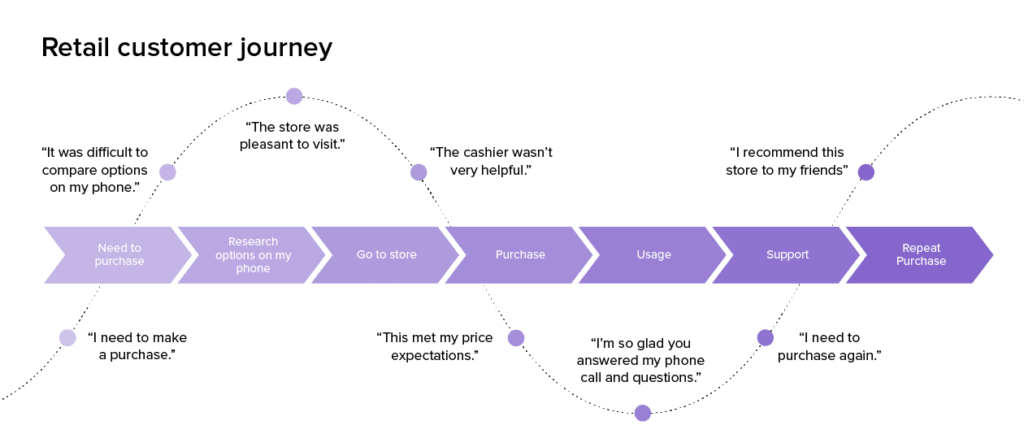 If you wanted to use a quiz funnel for lead acquisition, you could embed the quiz funnel on the homepage of your website, for example. A quiz funnel on your homepage is a great way to generate new subscribers for your email list.
Ramit Sethi, from I Will Teach You To Be Rich, has embedded a quiz funnel on the homepage of his site. The quiz funnel appears as a lightbox across the whole of his site.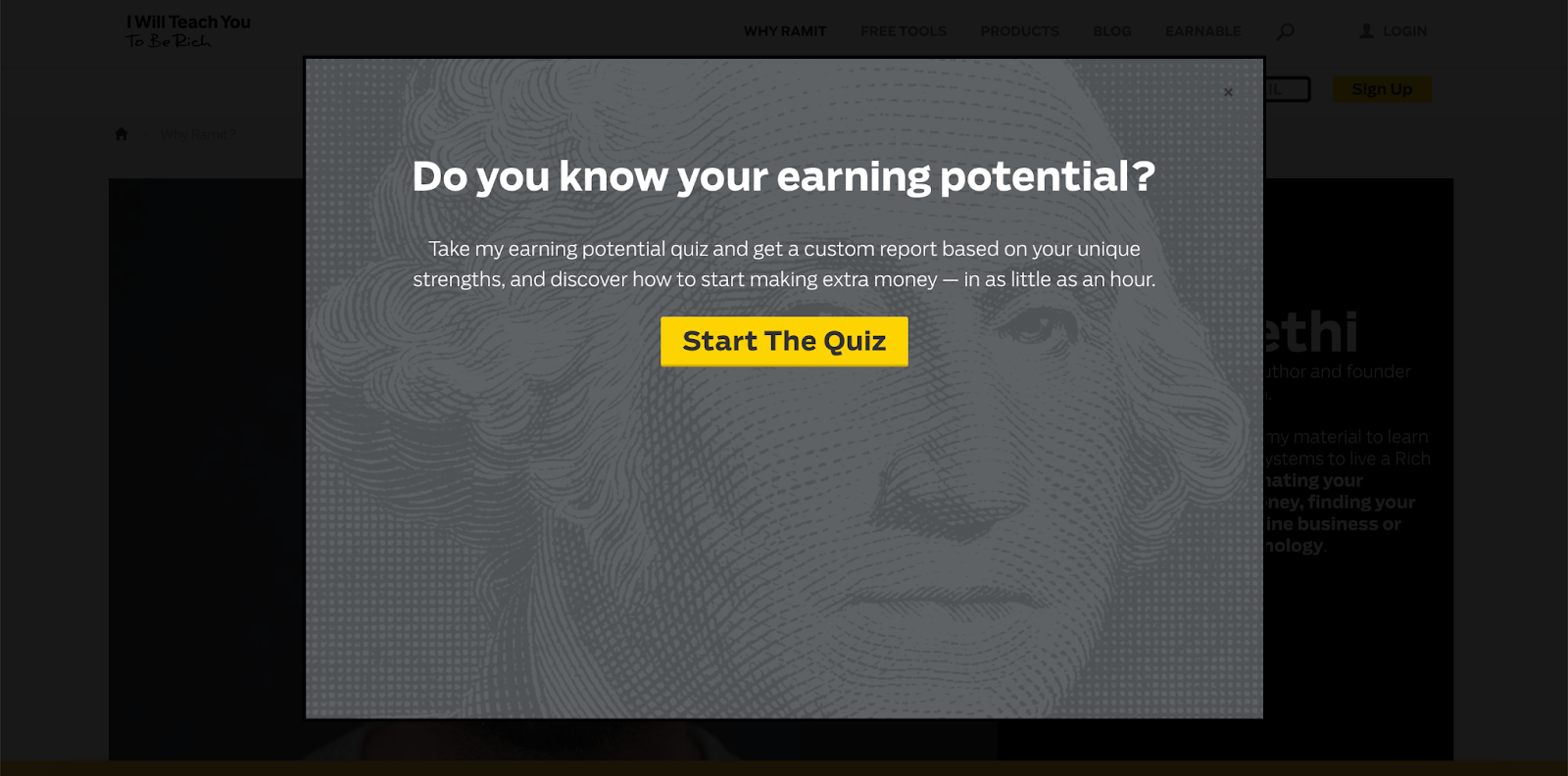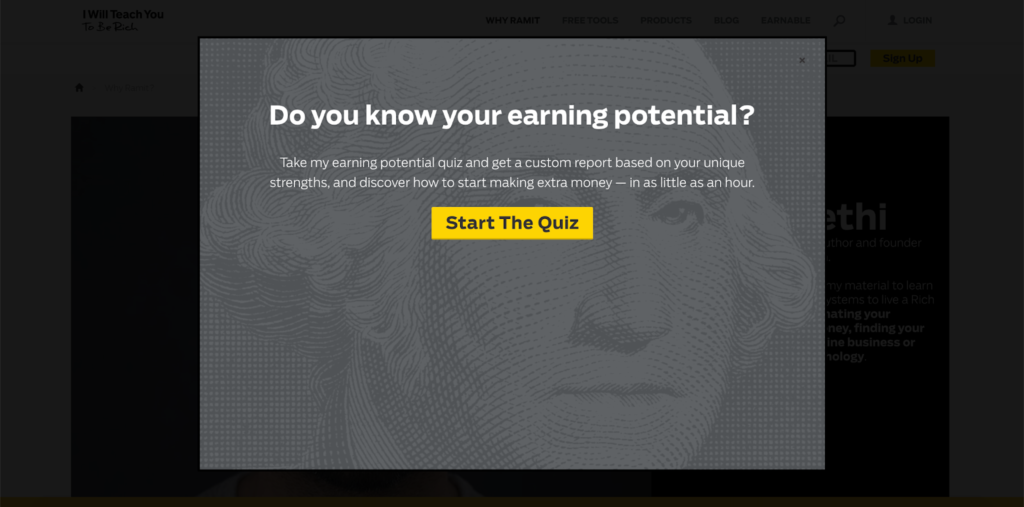 He uses a quiz funnel to grow his email list.
You could imitate this approach. Alternatively, you could use a quiz funnel to segment people who are already on your email list.
For example, before running a promotional campaign for a new product, you could use a quiz funnel to segment people into different groups. You could then send a different drip email sequence to each of these groups.
Another option is to use a quiz funnel to identify what type of product or service you should offer your audience. If you take this approach, you're using a quiz funnel for market research.
3. Pick a topic
Next, you need to pick a relevant topic for your quiz. Picking a relevant topic should be straightforward. A top-of-the-funnel quiz should have the widest possible appeal.
Nutrafol, a company that provides hair care products, offers a nice example. They created a "hair wellness quiz." Anyone visiting the site can access the quiz by clicking the button prominently displayed on the menu.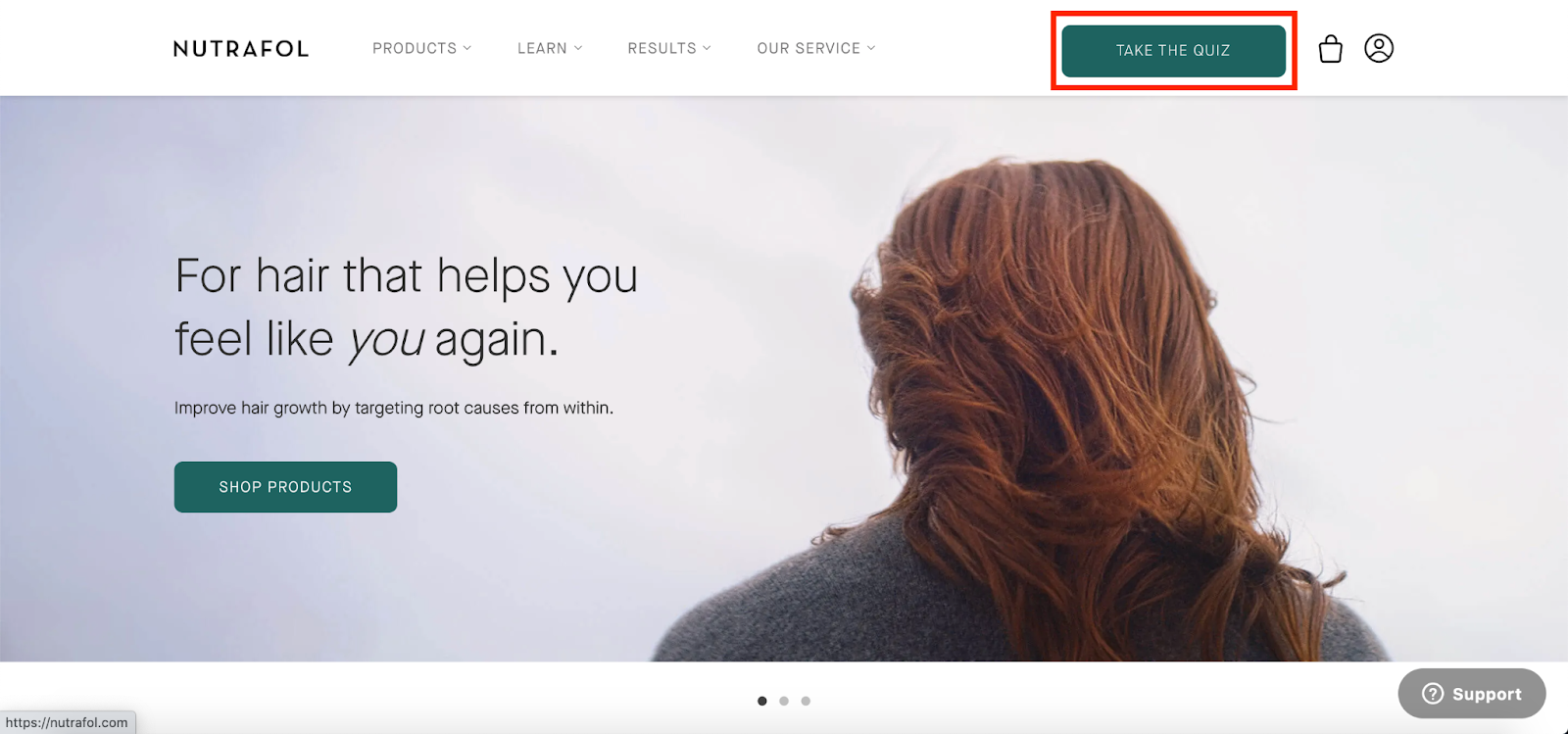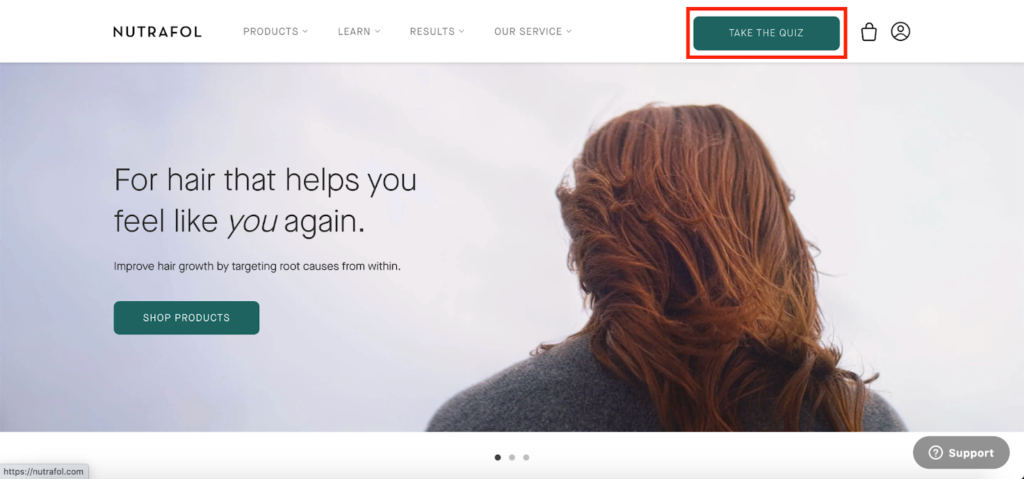 The quiz caters to anyone who cares about hair care. The company gains the following insights about a respondent from the quiz:
Demographic information: Gender, age, etc.
Personal information/ Pain Points: if the person is pregnant, has receding hair, etc.
Goals: what they want from hair care products
The company uses this information to deliver personalized marketing content. For example, if you answer that you are a woman who is pregnant, you automatically get added to an email list with content specifically designed for this demographic.
People on this email list receive marketing material and product recommendations, which cater to pregnant people. Males receive a different email sequence to females, and so on.
You can see how Nutrafol uses the quiz to segment their audience into different groups that align with their product offerings. It's a great example of top-of-the-funnel segmentation.
4. Determine your outcomes & create the quiz
The final stage of this process involves creating your quiz. You need to develop your questions and decide how you want to segment respondents into different audience buckets.
I recommend you start by determining how you want to segment your audience. It's a good idea to review the buying habits of your customers to determine how you want to segment your audience.
The way you segment your audience will depend on your business. Most companies segment their audience based on demographic data, like sex and goals.
An average quiz funnel will have somewhere between 7 to 15 questions.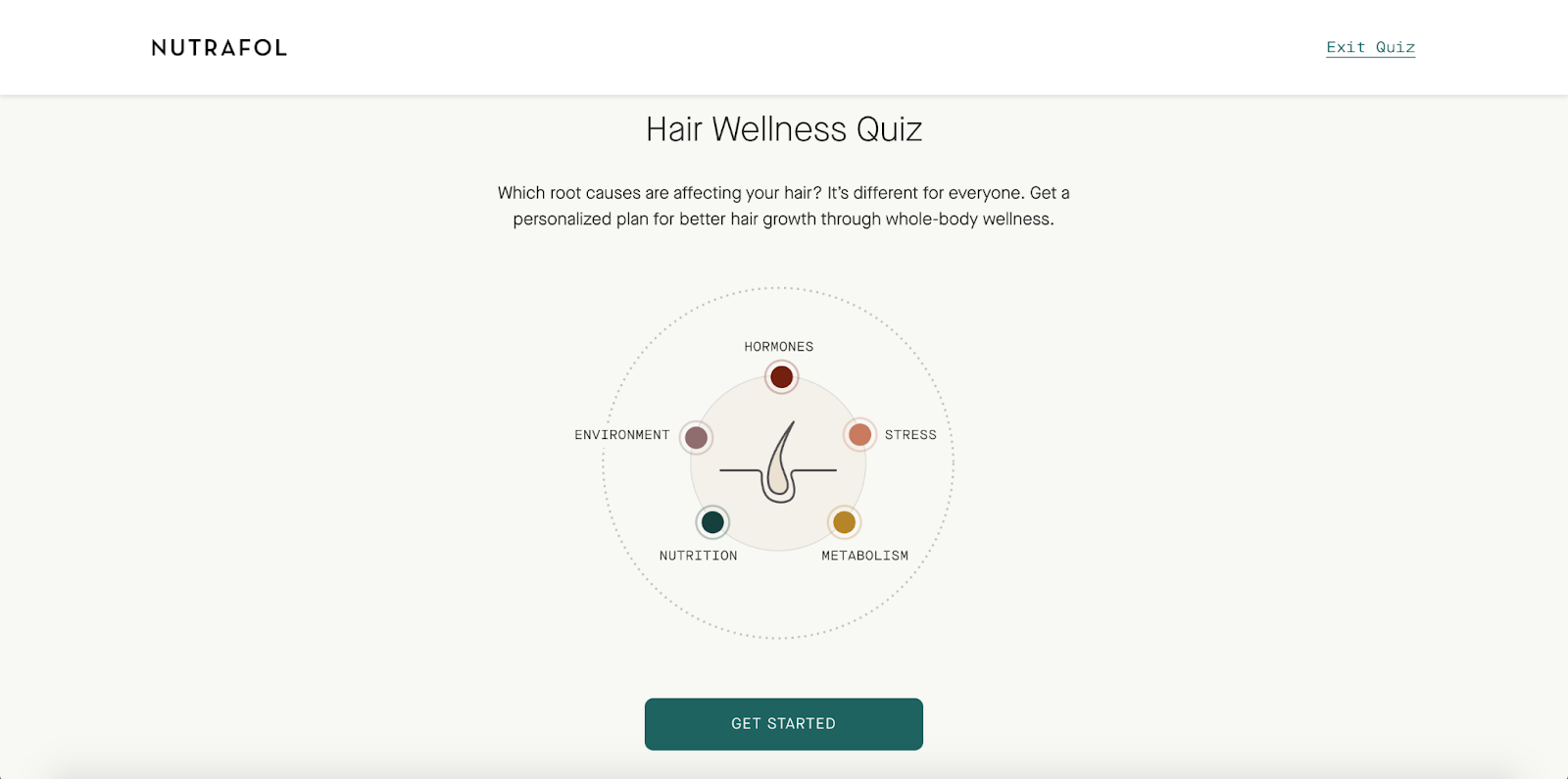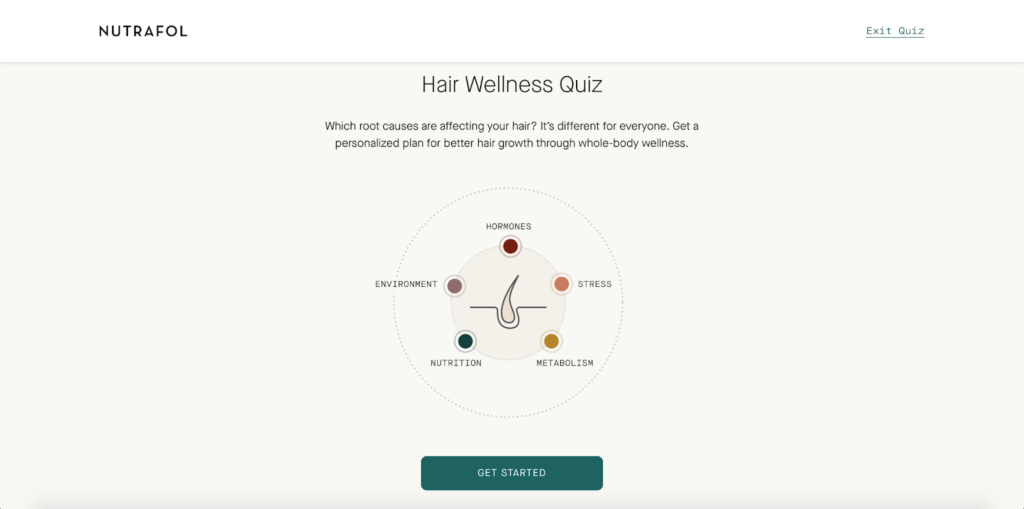 You want just the right number of questions to gather relevant data about your audience. Too many questions, and your audience will get bored and leave the quiz.
Your questions should keep your audience engaged. Multiple-choice questions are best for quiz funnels as they are easy to answer. They also allow you to segment your audience into different categories based on their answers.
Finally, you need to select your quiz funnel software and create marketing material for people who complete the quiz. Each of your segments should receive relevant marketing material. You might design an email sequence for each of your buckets, for example. Or, you might send each audience segment to a different sales page.
5. Review the results & optimize your quiz
Creating a quiz funnel is difficult. The first version of your quiz funnel will be based on a mixture of intuition and insights you've gained from your research. You should view the first version of your quiz funnel as a work in progress.
Most quiz funnel platforms have a robust analytics dashboard so you can analyze how people interact with your quiz. Use the information to improve your quiz.
Check to see where people leave the quiz. Try to identify the problem.
You might need to reduce the number of questions in your quiz, for example, or change the wording. Make the necessary changes, then review the results. Over time, by tracking the data and acting on your insights, you will improve your quiz funnel.
How to Craft Relevant Questions
One of the hardest parts of creating a quiz funnel is coming up with a list of questions.
The questions you set your audience need to keep your audience engaged while providing you with data points that you can use to segment your audience. Most quiz funnel questions fall into three categories; background questions, problem questions, and budget questions.
Background questions give general details about the target audience.
Background questions will provide demographic data, such as age, sex, and location. You can also ask questions about their professional background.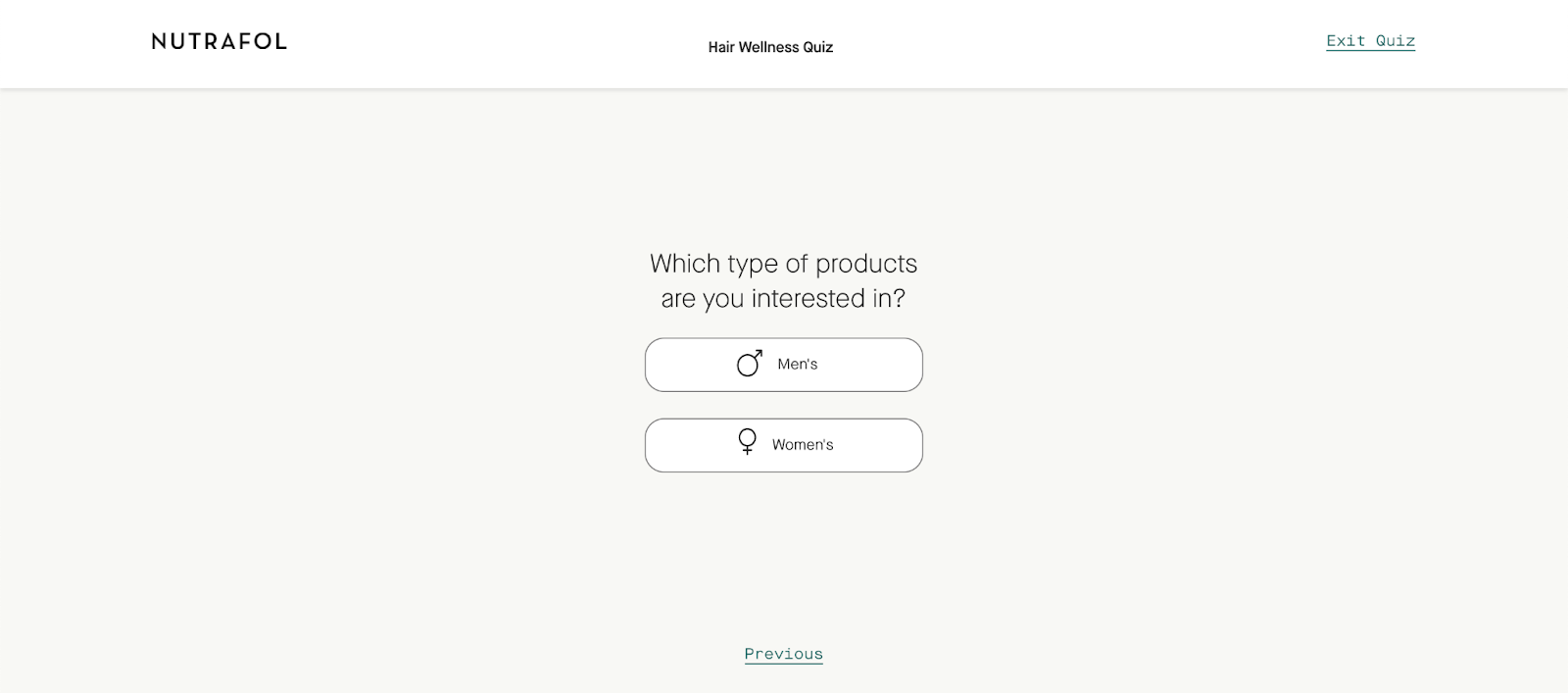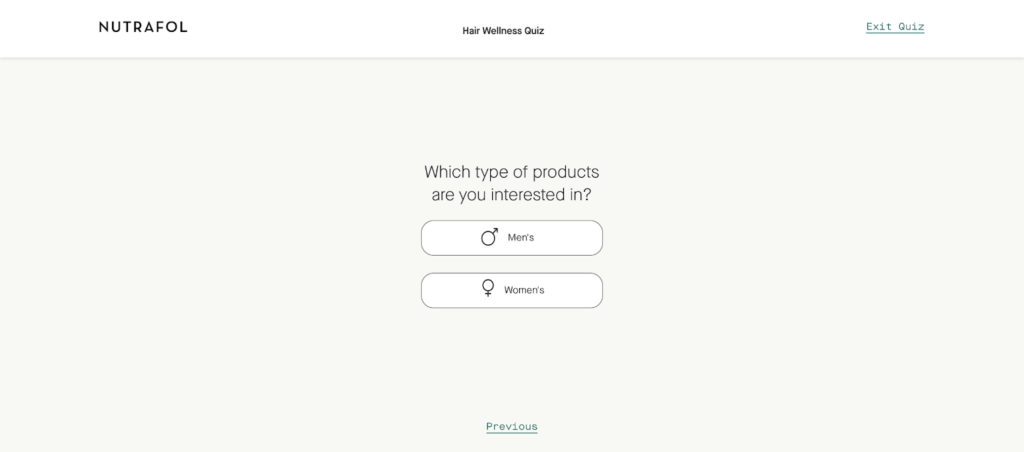 You should set background questions that segment your audience according to your needs. For example, if you are an eCommerce business selling clothes, it makes sense to segment your audience by sex. It might even make sense to segment your audience by age.
Problem questions help you understand the different problems that the target audience is facing. You can use these questions to discover your audience's pain points and needs.
Problem questions provide helpful data you can use when promoting products and services.
Finally, you have budget questions.
Budget questions help you divide your audience into segments based on income and spending habits. You can use budget questions to determine what type of product to promote. For example, if you ran a perfume store, you might promote a $300 perfume to customers with a larger budget and a $50 perfume for people on a smaller budget.
Budget questions are valuable for any business. You should group customers based on their spending habits. You can then run relevant, targeted campaigns for these different groups.
In Closing
A quiz funnel is an excellent opportunity to gather customer data and use it to develop high-converting marketing campaigns. To get the most out of your quiz funnels, you need to find high-quality sources, develop relevant quiz topics, and create interesting questions to keep your audience engaged. This will ensure that you get accurate answers.
Why are quiz funnels useful as a marketing tool? First, you can promote your brand through the quiz. Second – and more importantly – you can use user data, such as age, location, and interests, to divide your audience and send targeted email campaigns to specific segments.
By sending targeted emails, you drastically increase your chances of converting prospects into customers and increasing your revenue. Try implementing a quiz funnel today and see your revenues rise!