Exclusivity and limited-time deals always make customers get drawn to an offer. Here's how to create an effective one-time-only email campaign that works.
From world-renowned startups to small skincare retailers, every business tries its best to gain new customers and nurture the ones they already have.
And the best way to do that is by far and wide, through email marketing campaigns. Chatbots and social media marketing tried their best to dethrone the king of marketing, but email marketing won't go anywhere anytime soon.
How effective is email marketing?
It comes as no surprise that B2C and B2B marketers have different channels and ways to promote their services and products.
Both of these marketing models are most effective in reselling (and locking in a deal!) with their respective target groups through email marketing.
Marketing is most effective because you can use it to target existing leads, nurture your converted leads (or simply called customers) and it is a good foundation to build on a regular marketing strategy.
In fact, you're not wasting your time and efforts when using email marketing:
To redistribute blog posts for your social media channels.
To up-sell or cross-sell to your current customers.
To nurture your leads.
Тo give your leads that extra push.
To offer them something that will make them convert into customers.
For example, in 2019, the average ROI (return of investment) was forty-two dollars per single dollar spent on email marketing, according to a report by DMA and Litmus.
And if you count the lifetime customer value of every customer you might gain with a killer marketing campaign, the numbers are only going to get bigger.
At the same time, a limited-time offer can help drive sales even more.
There is something in people about exclusivity and elusiveness that awakens their fear of missing out and makes them buy.
Even though we are aware there is no such thing as a free dinner, we still buy. It is a simple human feeling: you would rather win a couple of bucks than lose them, even if you don't really need that product now. We call it loss aversion.
Ready to create a killer marketing campaign? Learn from the best!
Have you considered adopting email marketing as a must-have strategy by now? If you're still reading, I take that as a yes. And you made the right decision. With the right visuals and message you can achieve so much with your email campaign.
Now, you need to learn and get inspired by aged and proven marketing teams that created a campaign with a unique value, CTAs, selling points and… well, style.
For that purpose, we have selected 10 of the best email campaigns with a limited time offer that performed well, subverted the boring and typical promotional email, and evoked emotion on the receiving end.
1. Aesop: a deep breath amongst the chaos
When almost every brand on the planet kept spreading the Black Friday spending craze, the skincare company Aesop offered its newsletter subscribers a break and deep breath.
The pastel colors, the beautiful illustration of a woman playing a wind instrument (looking mythical and ancient, true to Aesop's brand name), the product shots and the subject line "Amid the festive bustle and haste", it is an email that totally ignores the rather chaotic and salesy holiday season email blueprint, and instead uses elegance and composure.
The only selling point they have is that in the holiday season, you deserve time and nurturing yourself, and you can unwind and relax with their products.


2. Wizzair pulling on separated couple's heartstrings
This is a very recent campaign, only done on Valentine's day in 2021. Wizzair, a Hungarian air company, does a one-day discount on certain flights and services pretty much every week.
But on Valentine's day, their wording and selling point surely hit a nerve with people separated from their Valentines due to the covid-19 pandemic.
On Valentine's day only, they offered 25% off on selected flights, appealing to people who had to drop all their traveling plans to a later date, or simply offering separated couples a chance to reunite later in the year for a smaller price.
I can tell you it works because I was one of the suckers who fell for it.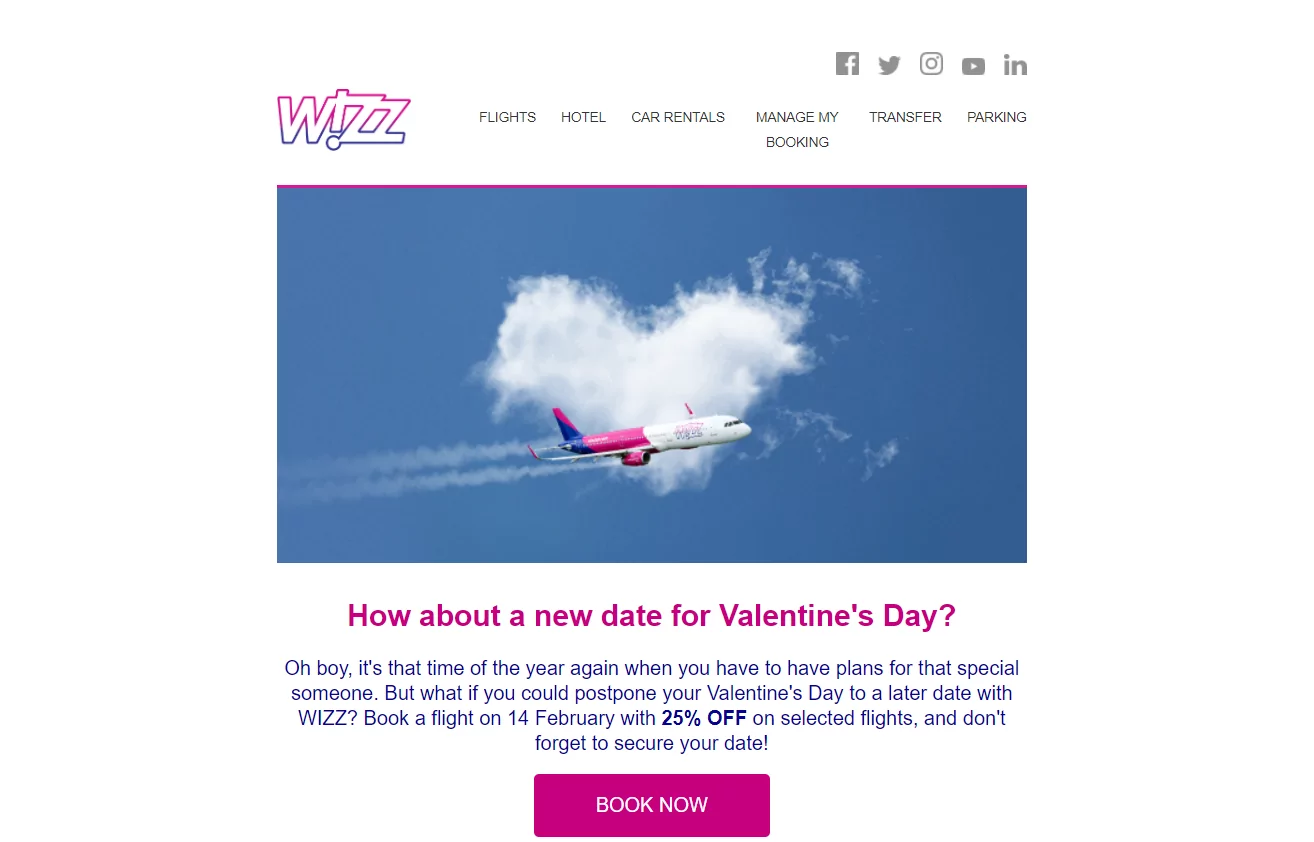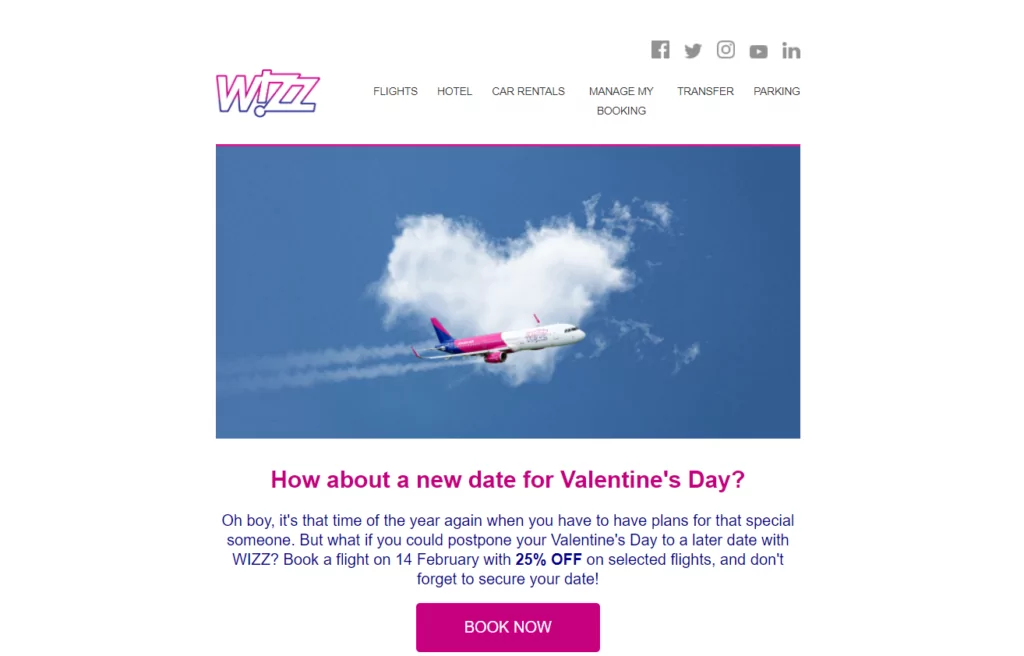 3. Who Gives a Crap?: nurturing customer relationships in crazy times
I swear I am not having an attitude right now! It's the name of this brilliant company.
So, some backstory: when all hell broke loose in 2020 with the corona pandemic, people had to buy… toilet paper?
It's not a dysentery pandemic, so I don't understand the urge for this shopping craze, but it happened nevertheless.
So when an Australian ethical toilet paper company that produces only 100% recycled TP ran out of its main and only product, they had to ring the alarm and pivot.
They sent a nice email to their customers who were in a panic that their main distributor of toilet paper ran out of stock, and gave them the option to choose whether they need rolls now, can restock after a month, or wish to opt-out and be removed from the waiting list.
So, why is a simple waitlist an expertly written email campaign?
Firstly, the answers of customers will help Who Gives a Crap prioritize.
Secondly, it teaches them about the new shopping habits of people.
Thirdly, it is a funny, honest, and beautifully designed email that uses some great product shots.
It is a great way to promote their brand and nurture the relationship they have with loyal customers.
Oh and by the way, this company that has been struggling for a while made so much money during the pandemic, that they donated $5.85 million to charity to organizations that work to provide access to clean water and sanitation in developing countries.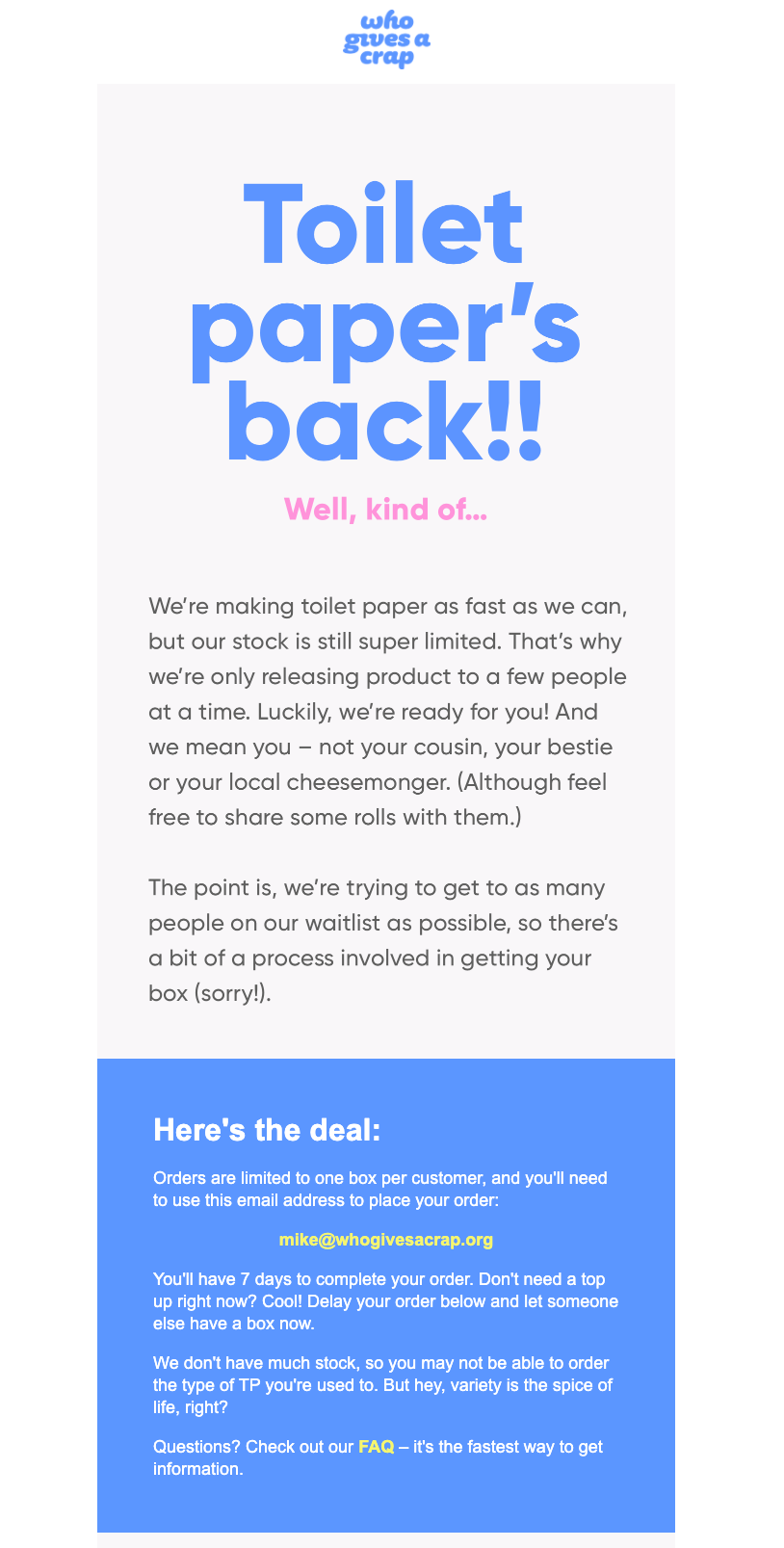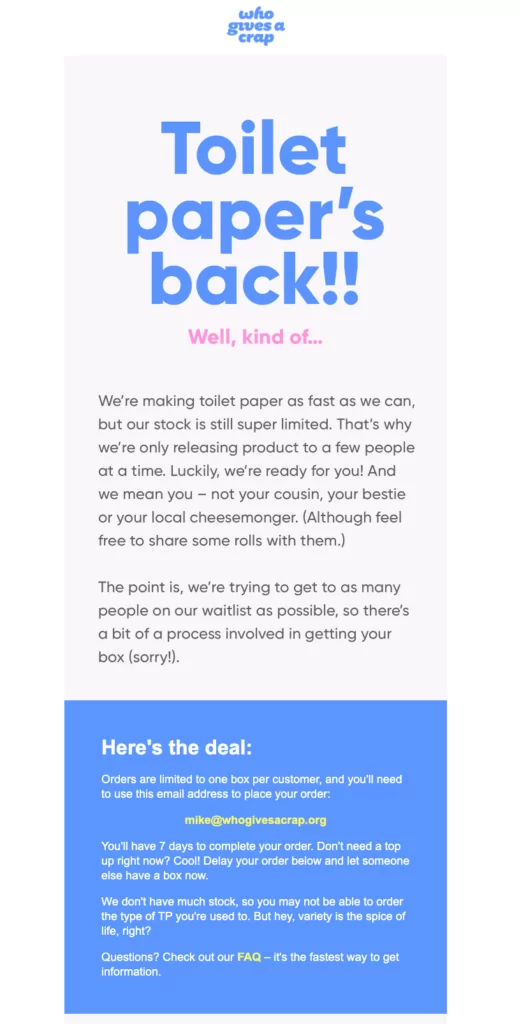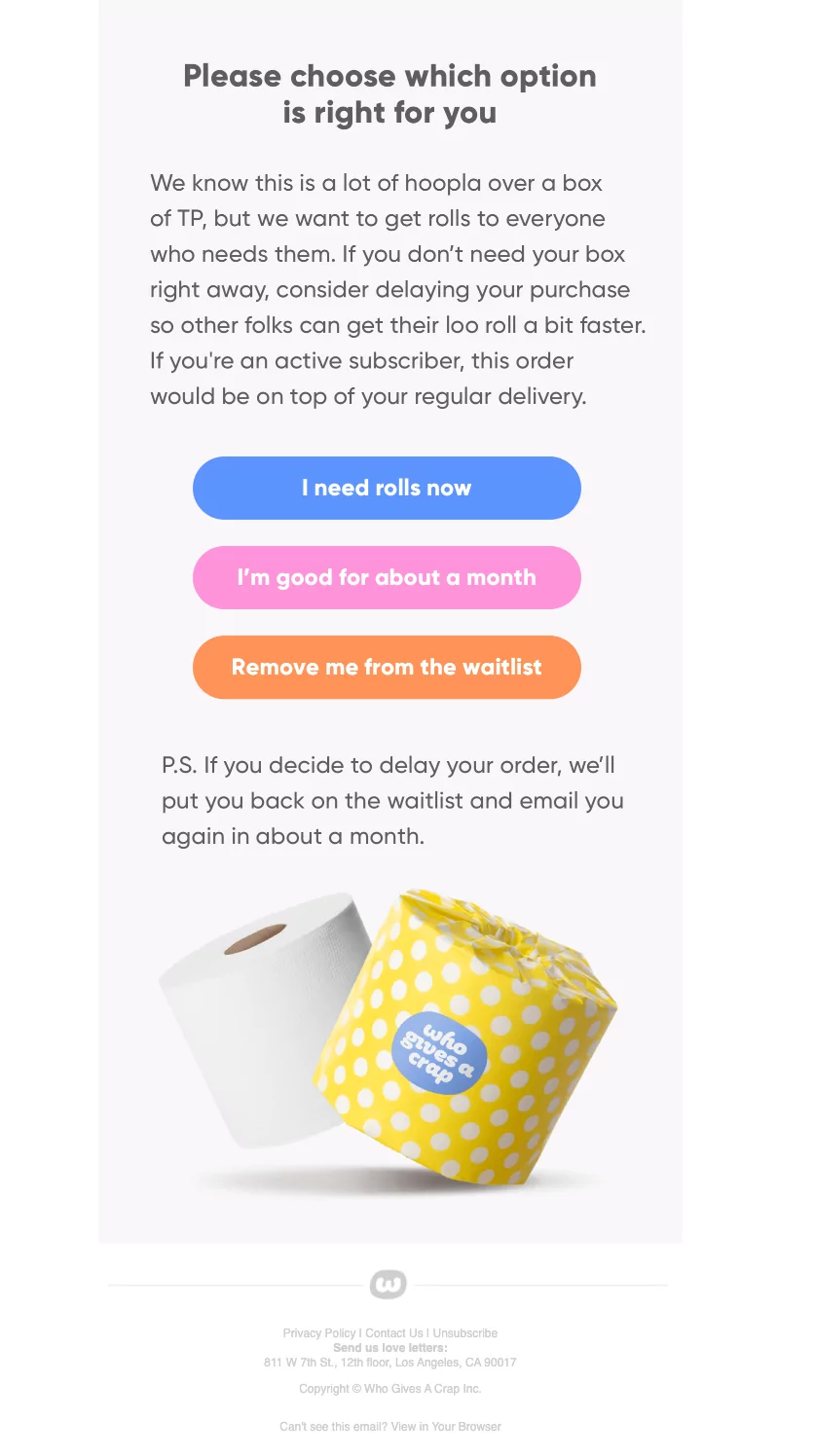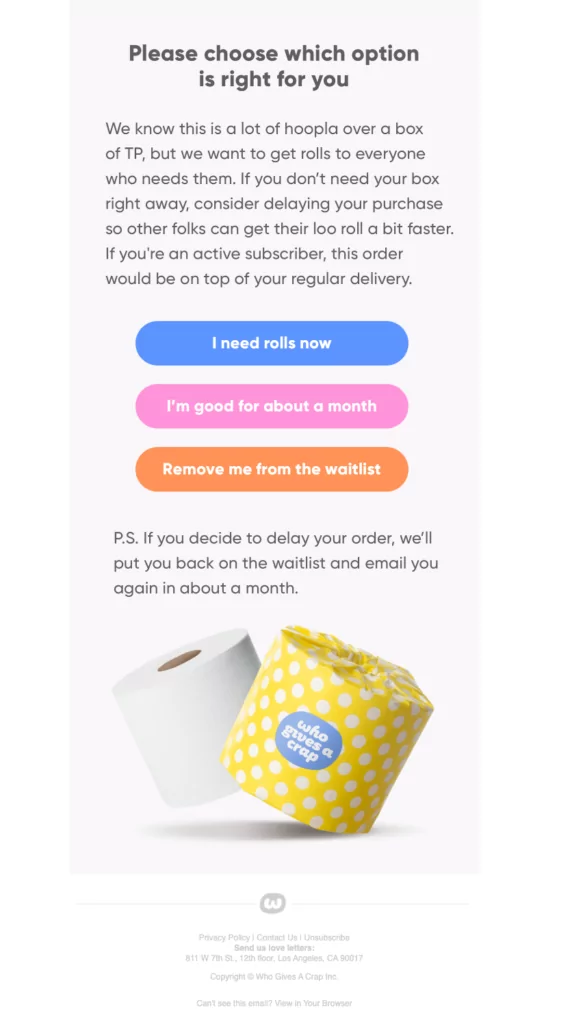 4. Purelei holiday deals that will make you pamper yourself
Don't we all deserve a Christmas gift from ourselves? Purelei seems to know its customers well because it offers them a pre-sale deal for an advent calendar full of jewelry in gold and silver.
Purelei is a German jewelry brand inspired by Hawaiian themes and aesthetics and keeps a continuous messaging all across the board.
For example, they start their emails with 'Aloha', and their gorgeous bracelets and necklaces often have nautical themes.
They kept that wording and the effortless and friendly tone of voice in their emails when offering a pre-sale on the advent calendar.
For 700 euros, the buyers would enjoy 24 pieces of expensive and intricate jewelry, as well as an advent box which can be later reused (and it should be because it is a gorgeous and expensive thing itself).
Above the header, a countdown clock is attached to aid the already catchy title itself and awake the FOMO.
Purelei recently did a Galentine's sale in which you get a third item for free for every two items you buy for yourself (way to treat yourself, ladies), as well as a 70% off on everything golden for the Rabatt deal.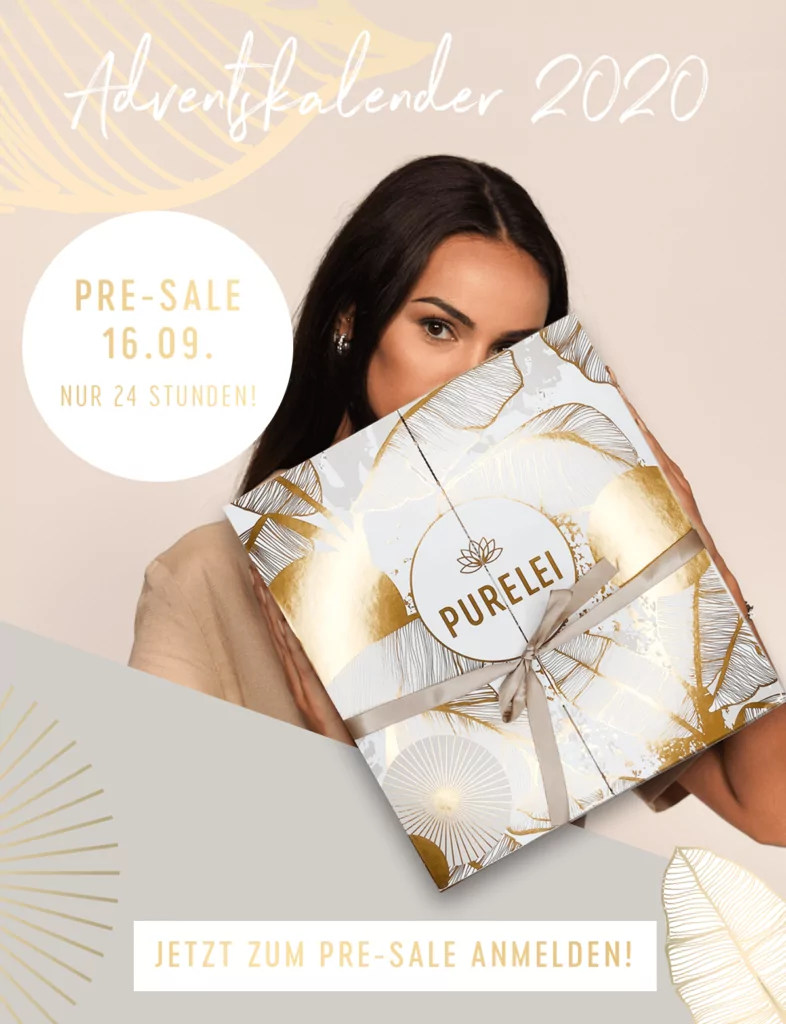 Here is another example from the same brand Purelei.
Sign up to Automizy to send limited-time email campaigns with a countdown timer.
5. Casper's daylight savings campaign: celebrating a day that no one else does
I am writing this article on a Monday morning and, oh, what I would give for an extra hour of sleep.
People who sell mattresses such as the folks at Casper probably realize that that one hour makes all the difference, as well as quality sleep.
They decided to make a rather insignificant day for brands, the day when the clock goes one hour back for daylight savings, a reason to give their customers a 10% discount and give them a shot to spend some time sleeping on a great mattress.
The small details are what make this campaign a very successful one: the button that ironically says 'Party on', the custom illustration, and the hype that they spread for something so small as an extra hour of sleep.
I don't know though, it might have kept some people up thinking whether they should get another mattress even though they still have a functional one.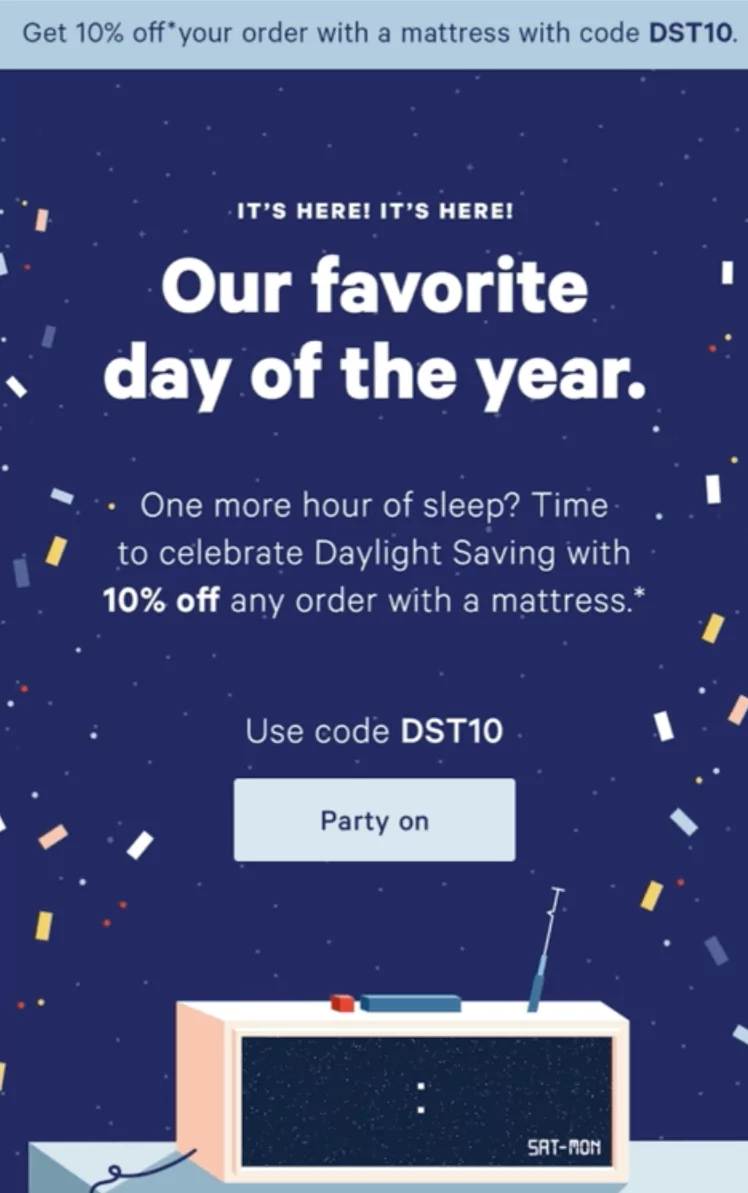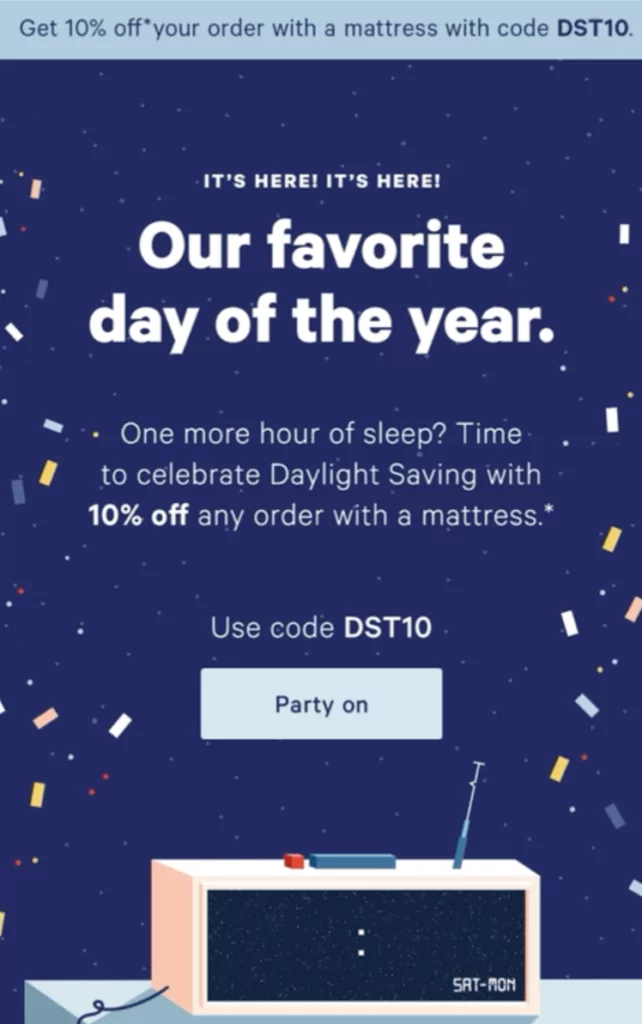 6. Mejuri: buying it was written in the stars
Personalization is key when you want to make people feel appreciated. Not everyone likes to be pigeonholed, we all feel like individuals with a personality and background that somehow define us.
One way to appreciate people and talk to their persona is, it seems, to practice a creative segmentation idea: single out their zodiac sign and offer them something that fits with the stars and their astrological characteristics.
I personally feel like that's unnecessary labeling but, hey, plenty of folks plan their days and lives according to the positioning of stars.
So, Mejuri, a brand selling luxury jewelry, selects what products fit a certain zodiac sign best, and offer them a quick catalog so they can make a purchase in the following month.
The trick is, it's not even a discount or a sale, but for a person needing that extra push to buy themselves something nice, a sign from the stars is all it takes.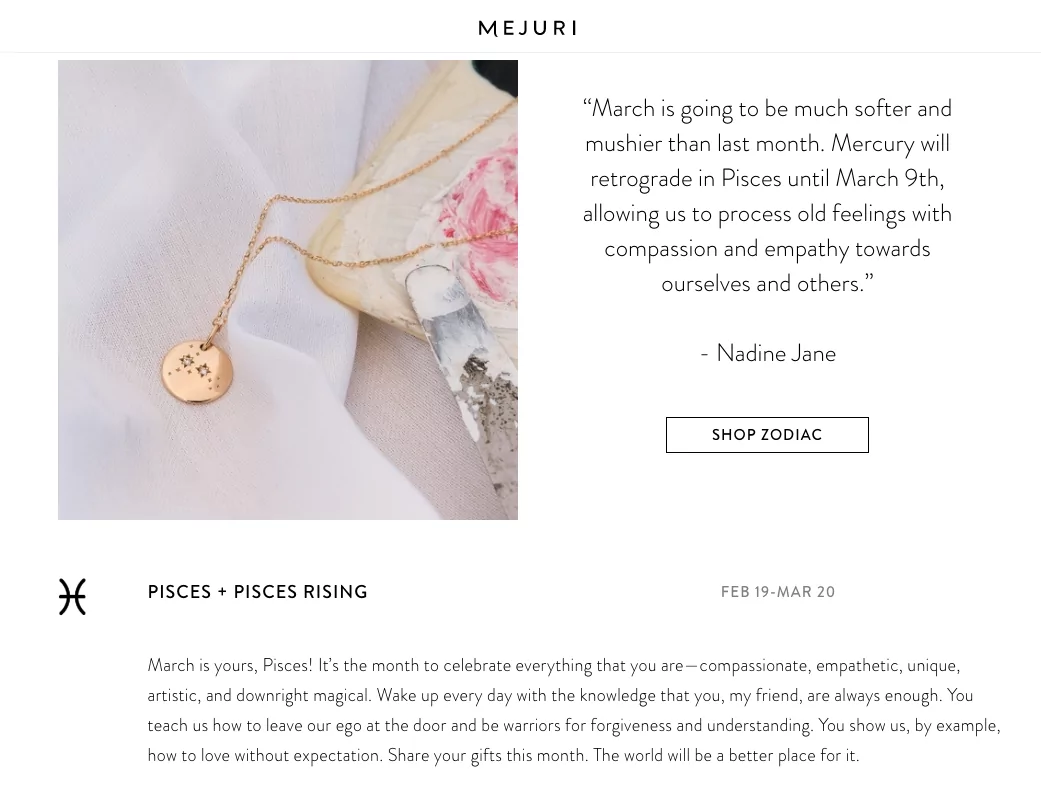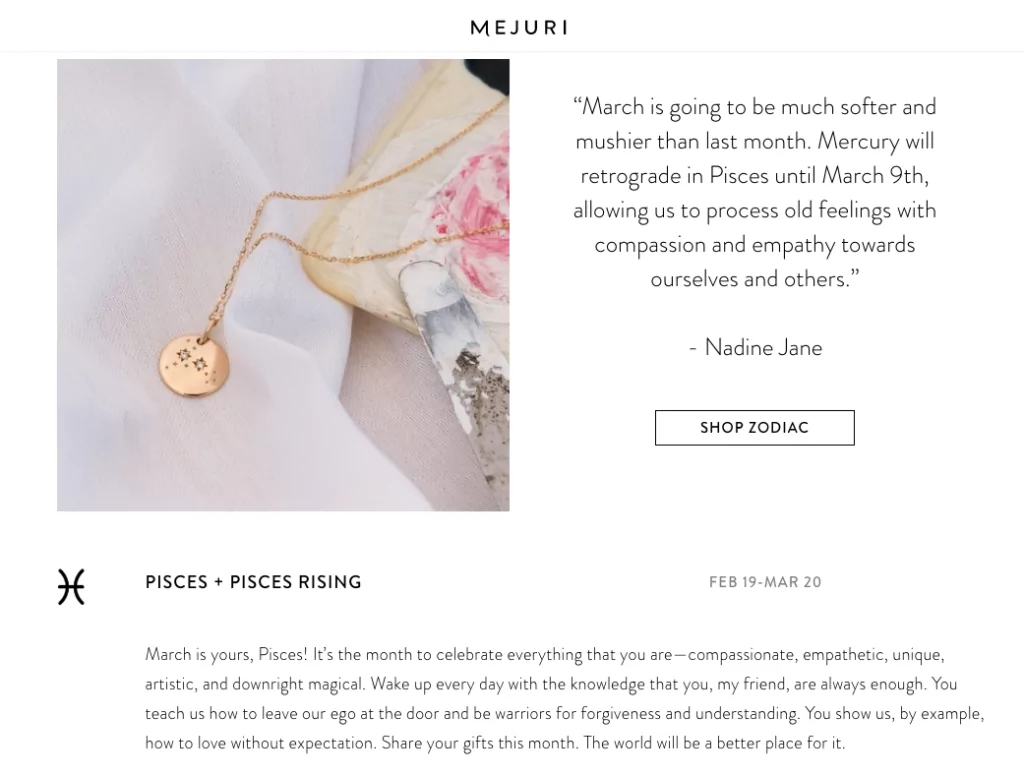 7. Capterra on National Compliment Day: sharing kindness
Similar to Casper's daylight savings promotion, Capterra offered its leads a unique proposition that lasts only on a rather insignificant holiday: the National Compliments Day in the US.
With a heartwarming email subject of 'Hey, you're the best!', one would surely feel compelled to open an email that puzzles and showers with warmth.
Then, the email goes on with 'You write great reviews!'. Aha, so that's what this is all about then.
And that was the exact offer.
For every review, a customer leaves for Capterra they would get an Amazon gift card worth 10 dollars. The maximum number of reviews is 10, so… 100 dollars worth of gift cards. Now that is a good deal.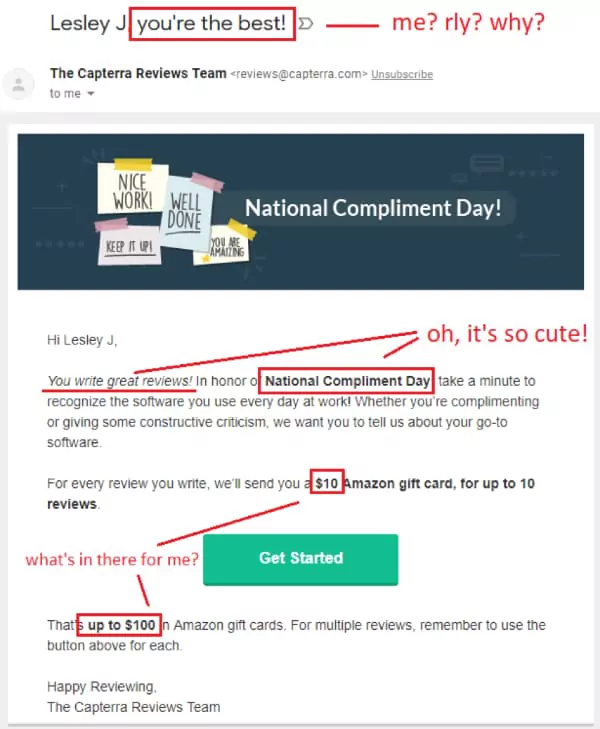 8. ManyPixels' rebrand campaign: sharing some good in bad times
In early January, the ManyPixels unlimited design service launched a new branding, website, new subscription plans, and updated service.
Seeing that the good news came in a time where not much good is happening on the planet, they decided to share the joy and celebrate with customers (and those that have paused their subscriptions) with a 40% discount on the first month to a limited number of customers.
The tone of voice and humor in this campaign is what makes it endearing. We've all been Kevin's famous chili in 2020, so sharing some good is something we all need.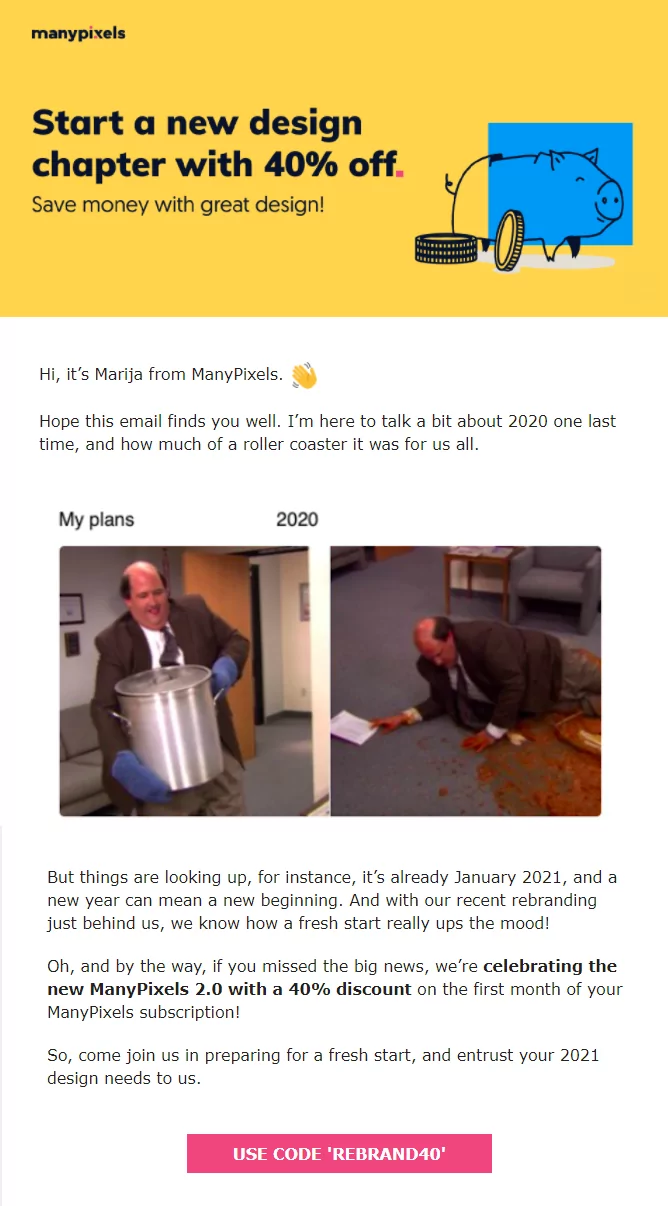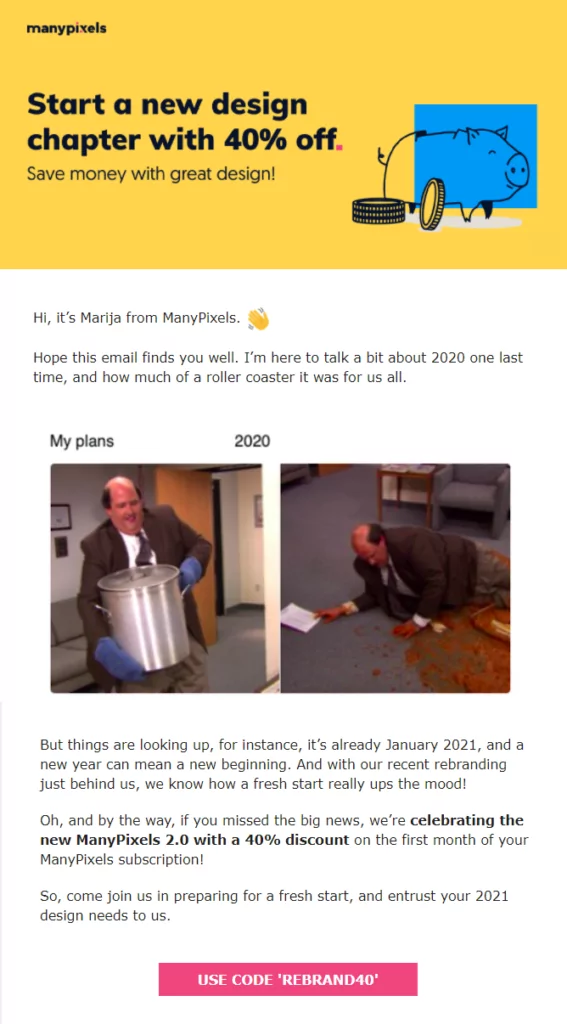 9. Cards Against Humanity: audacity can pay off
Cards Against Humanity is a hugely popular, dark, cynical, and politically incorrect party game.
It's not for lightweights, and definitely has a unique messaging in its overall brand and marketing.
Naturally, the Cards Against Humanity campaigns themselves are equally dry, cynical, and definitely not what you might expect.
This last Black Friday, the team behind this crazy game asked its customers 5 dollars for absolutely nothing.
I didn't phrase it like that, they did. The email they sent their leads stated that and took them to a link where a disclaimer that explains that those 5 dollars are truly, 100% for nothing.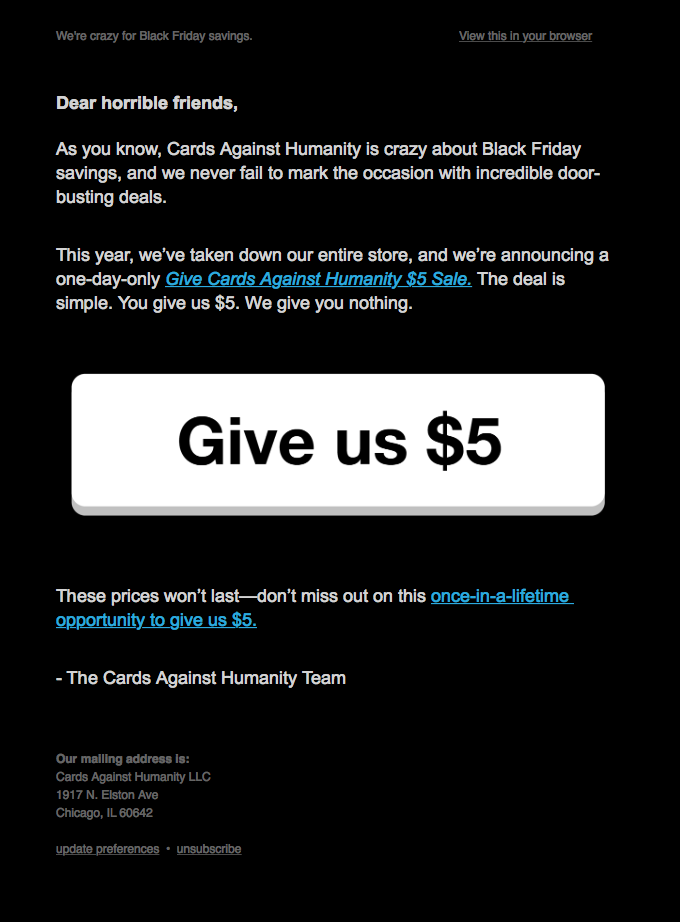 What it turned out to be is that this incredibly uninformative campaign was a charity drive. Here's what was released on the Cards Against Humanity website:
"This year we offered our customers the ultimate Black Friday experience—the ability to buy nothing from us for $5. We took our entire store offline and put up a simple payment form where people could give us $5.
11,248 people gave us $5, and 1,199 people gave us more than $5 by filling out the form more than once. One enthusiastic fan gave us $100. In the end, we made a windfall profit of $71,145."
10. Headspace: good timing
Finally, we have an email campaign that only works that well at a certain time of the year.
Headspace is a meditation app that helps people calm down, unwind and look into themselves.
Plenty of folks make the decision to look inward and concentrate on wellbeing before the new year comes. It is a time for resolutions and big changes in routine.
That is why Headspace decided to give its leads six months of using the app for just 20 dollars back in the holiday season in 2017.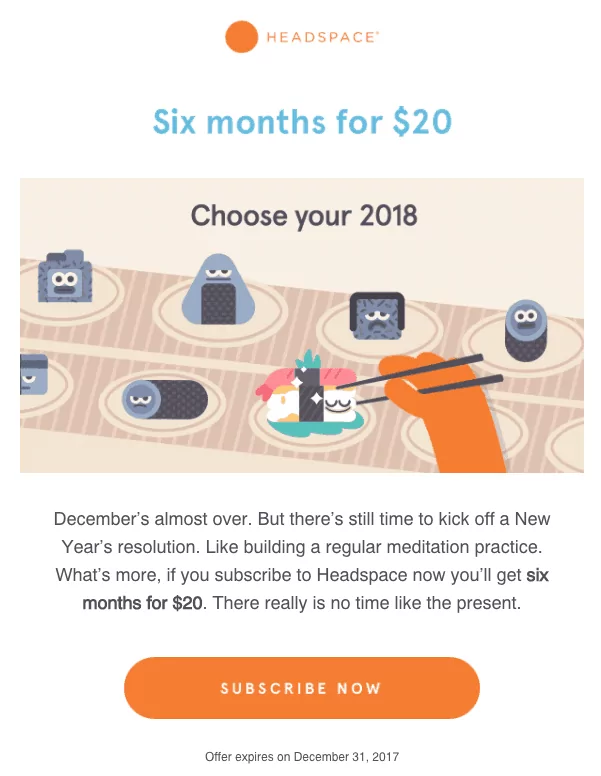 Conclusion
All of these emails are intelligently written, unique and promote the product in a way that is not forced, but informative.
More importantly, they are true to the brand and never stray too far from their tone of voice or visual style.
You can use these emails as an inspiration or guide for brainstorming your own killer campaign. Just make sure to make them truly your brand's.
And don't forget to offer things your customers actually would appreciate. They are not about you, but about your customers.