Every good salesperson takes the opportunity to sell at the right time. They also don't stop once a customer makes a purchase decision. When the time is right, they offer other products the consumer might want to buy. In other words, they cross-sell and upsell.
Nowadays, you can cross-sell and upsell through your marketing emails, too. But to be effective, you need to know how to create them. In this article, we will focus on how you can write that upsell email that converts.
What Is Upselling?
Upselling is a sales technique that aims to convince a consumer to purchase a more expensive or upgraded version of a chosen item. If a consumer wants a burger, and you try to get them to upgrade to a combo meal, you're upselling.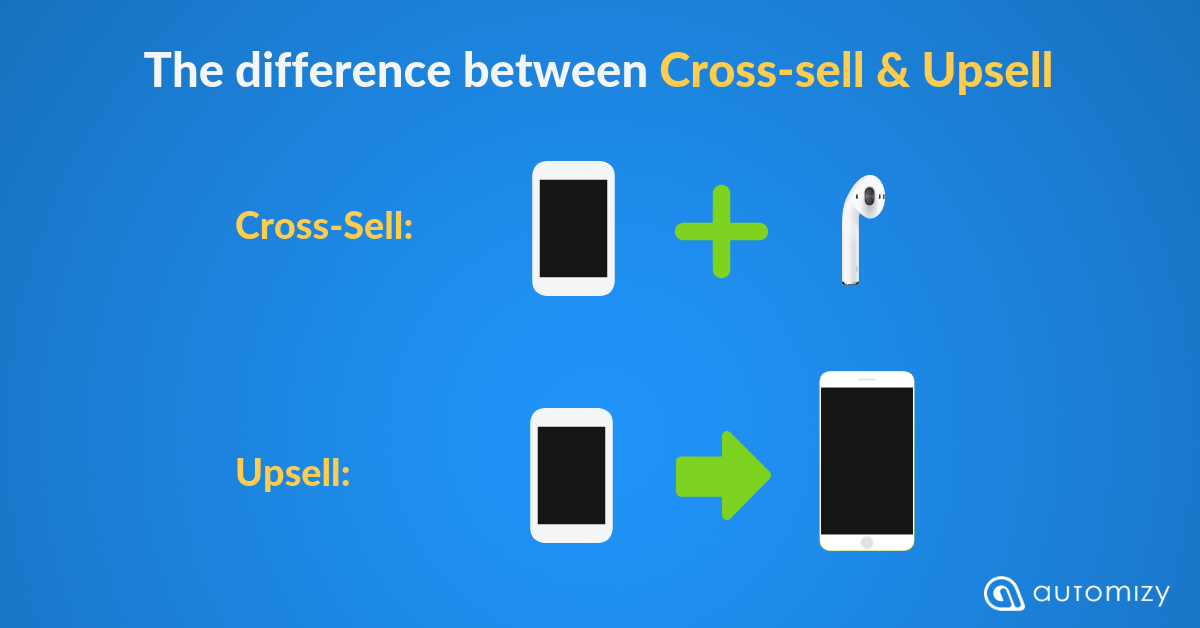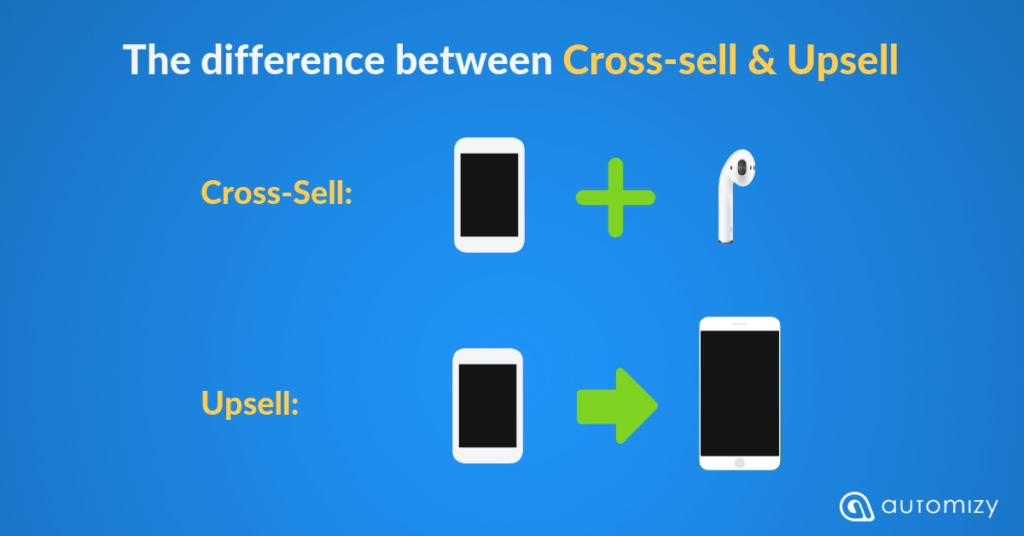 Upselling can help you build deeper relationships with customers, increase Customer Lifetime Value (CLV), and ensure your customers don't go to your competitor instead. Let's look at these one by one:
Building Deeper Relationships with Customers: When you upsell, you suggest upgrades that will deliver more value to the consumer over the medium to long term. That will make them feel like they got a better deal. And that translates to better customer appreciation of your brand. Do that more frequently, and you get more loyal customers.
Increasing CLV: Upselling is also one of the most effective ways to turn somewhat regular customers into frequent customers.
It's easier to maximize the order value with existing customers who know your brand. The probability of upselling to existing customers is 60-70%. Upselling to a new prospect carries a 5-10% conversion probability, according to Smallbizgenius.
These customers with a higher CLV, or the net profit the customer contributes to a brand over the lifecycle of their engagement with the brand, generate more revenue for your business without you having to invest anything extra.
Ensuring Customers Don't Go to Competitors: You can use upselling to brick wall your customer or ensure they don't move to a competitor, too.
Let's say a customer has a history of buying 100 units of product ABC every month. Over the past couple of months, their purchase has been declining, and they now purchase 75 units every month. Chances are their need hasn't reduced, so they are probably buying the other 25 from somewhere else.
You can use upselling to get those 25 units back. You can offer a special deal on a loss leader (slow-moving product) that fits their buying profile. So if they buy the 25 units from you, they get an additional benefit. These offers are also called combo deals.
In other words, with upselling, your business can reap all sorts of benefits. The key is to know how to upsell the right way.
5 Components of an Upsell Email Campaign
Email marketing still yields the highest return on investment (ROI) among all outbound digital marketing channels. According to Oberlo, the average expected ROI is $42 for every $1 spent!
Upsells at fast-food chains work because of the perfect timing (at point of purchase, or POP). Your email campaigns aren't going to catch the customer at the POP, so before we look at the elements of high-converting upselling emails, we need to define the right timing. Here are a few great times to use an upsell email:
After the sale: Follow up each purchase with a personalized thank you email that also upsells a product or service.
After expiry of a free trial: Send upsell emails to users at the end of the trial period to convert them to paid users. You can also use this rule for users nearing account limitations.
When a user reaches an engagement milestone: Use upsell emails to celebrate consumers' engagement milestones (for example, their one year of using your product) by offering a special deal on upgrades.
When you launch a new product: A new product launch is the perfect occasion to get an existing user to upgrade.
Deciding when to send an upsell email is the first step in your upsell campaign. To achieve a high conversion rate, you also need to finetune what to say. Here are five components your upsell email should have.
1. Personalization
Email personalization sets the tone for one-to-one communication. When you address prospects by name, you show them that you are. Consumers want an emotional connection with a brand. They don't want brands to treat them as anonymous sales figures.
Let's look at this upselling communication from Freelancer.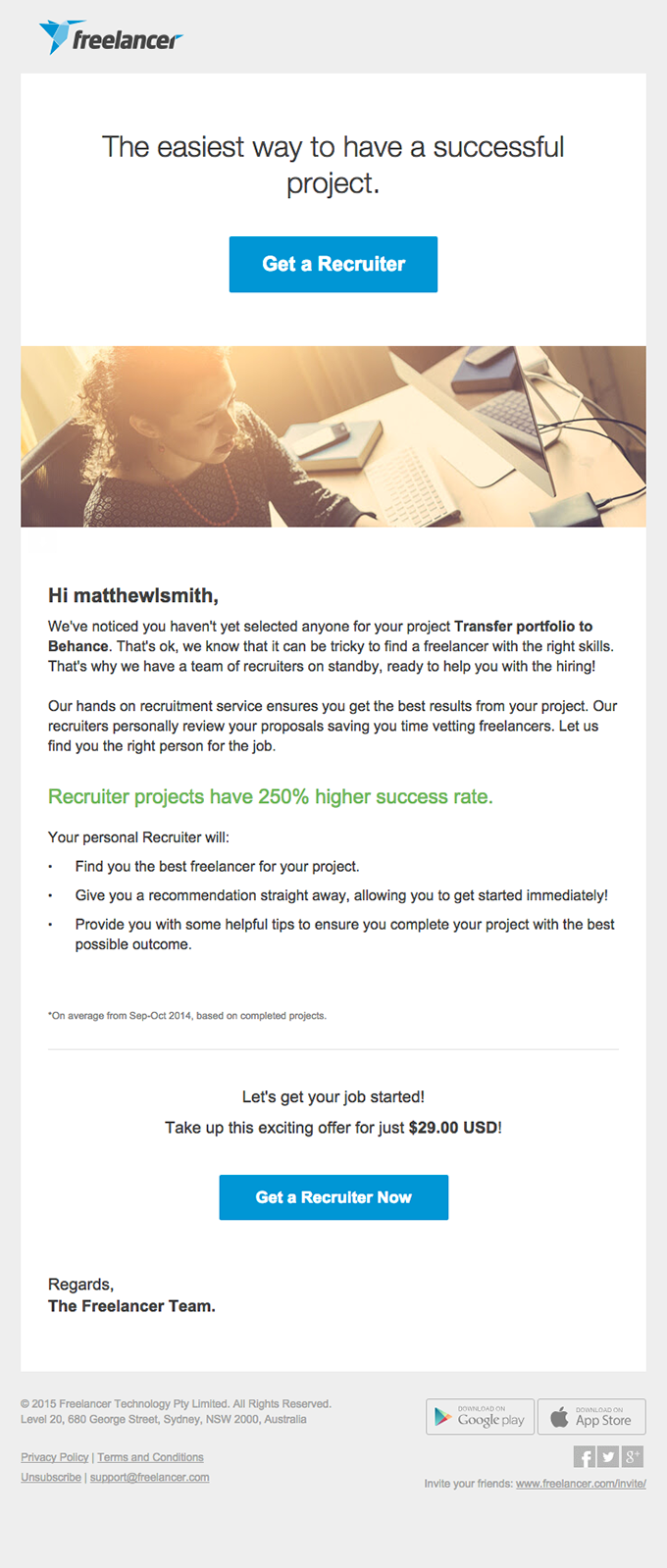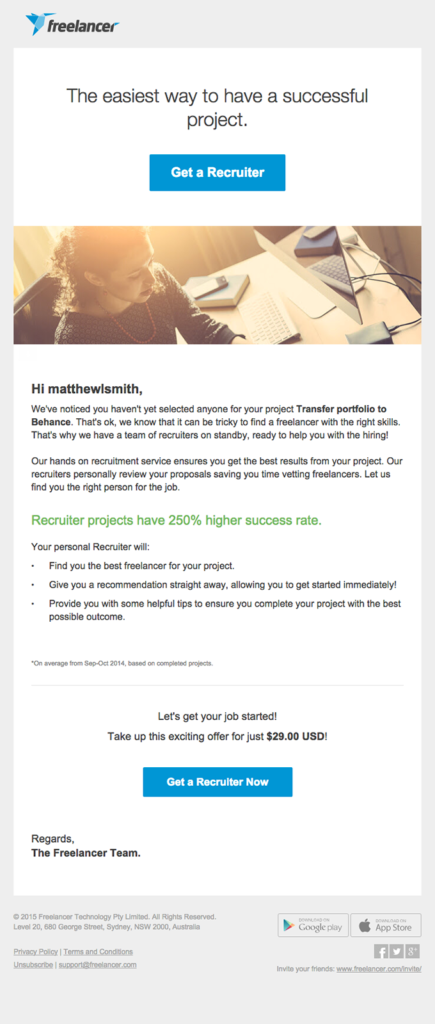 But personalizing is more than just addressing the email recipient by name. It's also about asking the right questions. To know what to ask, you have to collect the correct data.
Use analytics or the information you get from sign-up forms for this. All the best ecommerce platforms will also provide you with useful customer data that you can use to upsell appropriately.
You will see higher conversions if you send upselling emails sparingly and only to users who need them, too (more on this later). When crafting the email message, empathize with the user's problem and highlight how your solution can resolve their issues.
2. Segmentation
In the Freelancer example, above, what would happen if we sent the upselling message to every user? The conversion rate would drop, and your message would run the risk of being viewed as spam. You must send the right email to the right people at the right time. In short, segmentation is critical.
Segmentation is the process of dividing your audience or user base into groups based on well-defined criteria. Once you have those groups, you can create a unified message for each audience segment. This helps in raising your conversion and open rates.
The criteria you use to create your groups can range from your audience's behavioral patterns and purchasing history to engagement levels. Don't forget to track metrics like email open rates and click rates so you can make adjustments in your targeted email marketing if necessary.
3. Feedback
Your customers and their needs always come first. That's why you should ask them if the recommendations you gave them in your upsell email interest them.
To do that, include a link to your site. Allow your customers to down-vote the products they wouldn't purchase. Ask them for more information about themselves, too. Your upsell email can only be effective if you base it on your email recipients' preferences and interests. The best way to get that information? Ask!
4. Opt-Out Option
You can't expect your customers to want to receive your upsell emails forever. That means you need to give them the option to unsubscribe from them. In short, offer an easy opt-out.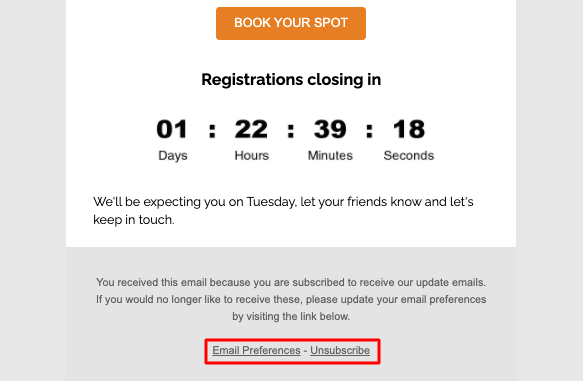 In the example above, the "unsubscribe" button gives email recipients that option. Your unsubscribe button can be as simple as that. But you can get creative, too. Check out this example from Paperchase, a UK-based stationery brand: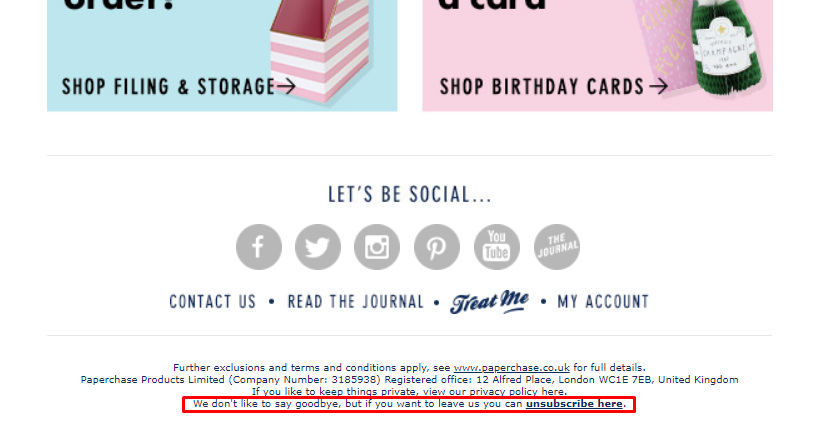 Paperchase deliberately tugs at the heartstrings when it says, "We don't like to say goodbye." It induces an emotional response that encourages users to stay, but gives them the opportunity to opt out if they wish.
5. Social Sharing
Include social sharing buttons in your upsell email so your email recipients can share your upselling offers with others. Encourage them to share by giving them an invite code, too. Offer discount coupons for each upgrade received with their code.
By encouraging social sharing, you can help boost brand awareness. You can also help increase your social media followers since you'll be giving them a direct link to follow you on your social media accounts.
5 Types of Upsell Emails You Can Send
Now that we know the elements of an upselling email that will yield a high conversion rate, let's look at the five basic types of upselling emails. While this is not an exhaustive list, it covers the main significant upselling opportunities.
1. Product Recommendation
There are multiple channels for curating product recommendations. The overarching rule here is that the recommendation should be relevant to the recipient. To do this, look at the customers' browsing history or past purchases.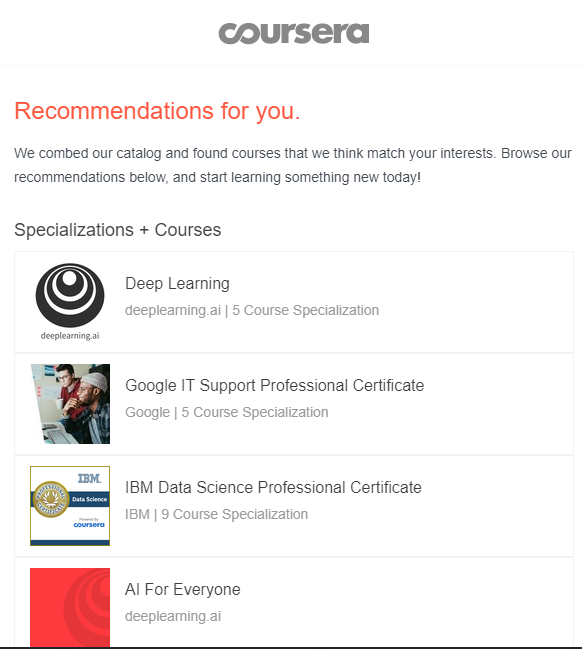 While recent purchases represent what the customer bought, the customer browsing history is a good indicator of products with a sale potential.
For instance, Coursera takes a look at your search history and sends you product recommendations based on your interests.
2. Trial Expiry Email
If you are a software company, chances are that you will offer a free trial for your software product(s). As the trial period nears completion, you will need to send an email informing the user about a possible upgrade to a paid service so that services aren't interrupted.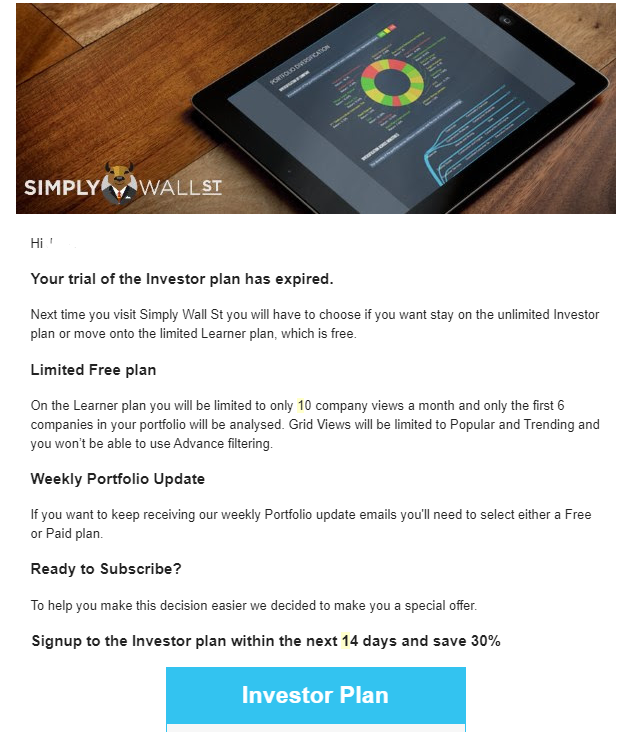 Simply Wall St, an investment intelligence platform, sends the email above when a subscriber's free plan has expired. The trial expiry email invites the customer to shift to a paid plan so they can keep enjoying the benefits they had with their free trial, including portfolio updates.
Trial expiration emails have well-defined goals:
To help the user plan ahead to avoid interruption of service.
To remind users of the cost of the product once the trial expires. This applies to trials based on an opt-in option (where the customer supplies credit card details).
To make it easy for them to upgrade or cancel the subscription.
To advise them where they can get answers to questions they may have.
According to Neil Patel, you should always send at least one email before the trial expires.
3. Upsell Email for a Higher Subscription Plan
This upsell is very common in software-as-a-service (SaaS) companies. Let's say you signed up with an email marketing platform to run your email campaign. Most companies will have plans based on either the number of subscribers in your mailing list or the number of emails you can send in a month.
As your business and subscriber list grow, you will need to transition to a higher plan. You'll probably receive an upsell email inviting you to do so. You can offer something similar to your customers if you use a subscription model for your products or services.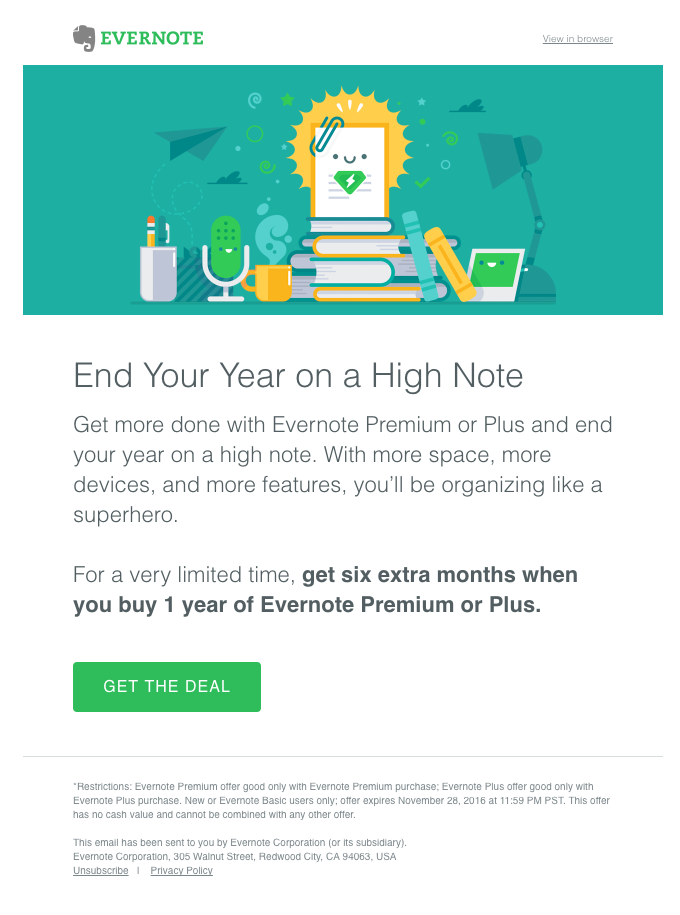 Crafting these upselling emails is simple because the customer is already using your service. In other words, you don't need to hard-sell the upgrade.
Just explain why it's even better than the version they currently have. Evernote, for example, invites its current subscribers to subscribe to their Premium or Plus plans that offer more space and features. Since they're already enjoying the benefits of the product, asking them to upgrade isn't a stretch.
4. Product Launch Email
Before you launch a product, you need to find ways to promote it. There are multiple ways to do this. You can put out ads, publish social media posts, or write blog posts. Another way is to send product launch emails. You can upsell in product launch emails, too.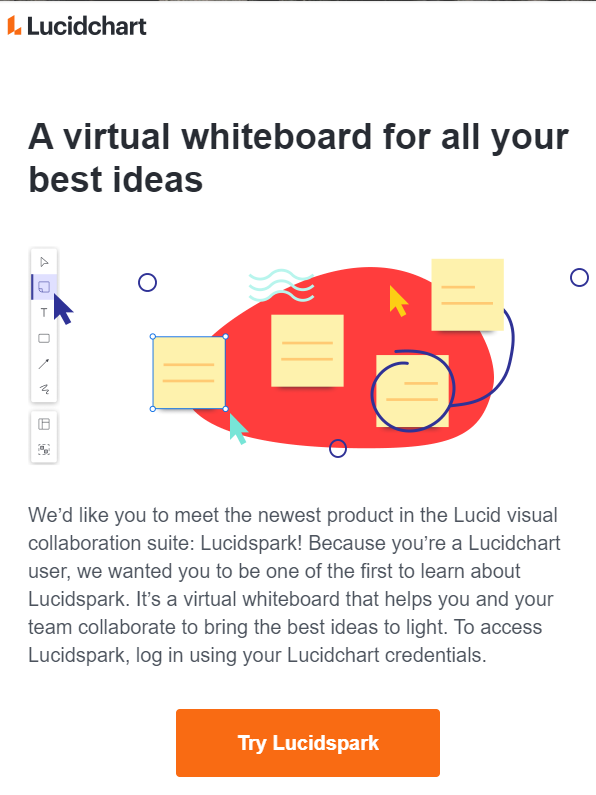 I received the product launch email above because I was already using Lucidchart for some of my process documents.
While I'm quite sure I'm not really one of the first to learn about Lucidspark, the fact that they sent me an email announcing the new product was enough to convince me to give it a try.
There are two different types of product launch emails depending on the audience.
Internal product launch emails: These cater to your employees. The message highlights the product features and benefits. It educates the audience on the product and how it can help them.
External product launch emails. These cater to your prospective customers. The email highlights the features of the product and the launch date. It also has a CTA to enable pre-orders.
If you are launching a new product or service, make sure you run a product launch campaign to build anticipation around it. Use a product launch email sequence to do this.
5. Thank You Email
You send a thank you email right after a customer makes a purchase. You do that to tell your customer you appreciate them. A thank you email is a stepping stone to building a strong relationship with your customer.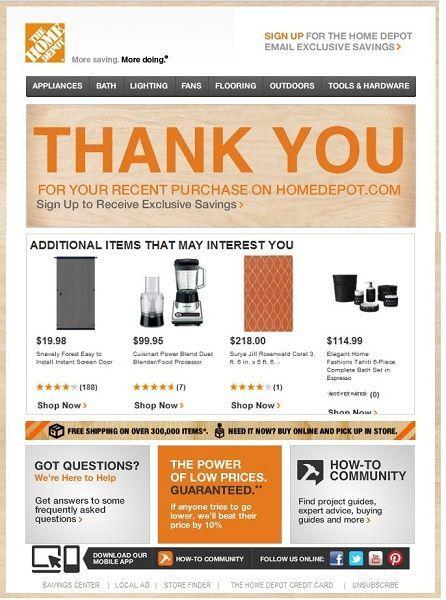 You can upsell in a thank you email, too. Make sure the email focus is still on thanking them, though. You wouldn't want your customers to think you're only all about making a sale. You should also ensure that your upsell offer directly relates to what they just bought.
The bottom line
Upselling is key to the success of your business. It increases the top line of your company, helps build deeper relationships with customers, increases CLV, and ensures your customers don't go to your competitors.
Email marketing is a fantastic way to reach customers and provide effective, targeted upsell offers. All you need to do is know how to craft those upsell emails to get results.
In this article, I gave you tips on how to do that. Remember the key steps:
Choose the type of upselling email you'd like to send.
Focus on personalization and segmentation.
Get feedback from your customers.
Include an opt-out option and social sharing buttons.
Make sure you monitor your results and tweak your campaign accordingly. Do all these things, and your upsell is sure to be a success. Good luck!