Marketing SaaS products can be challenging.
How do you attract qualified leads without breaking the bank?
SaaS marketing is tricky because it's not enough to just have a product that people want. You also need to engage and qualify leads to convert them into customers and grow your SaaS company.
Your starting point is a marketing strategy where you define your vision and goals, next you choose what SaaS marketing best practices and tips fit into your strategy.
In this article, we will go over 20 SaaS marketing best practices that have been proven to work for SaaS companies and give you actionable guidelines on how to implement them in your business today!
1. Avoid discounts
Discounts are deceiving for SaaS businesses. Usually, companies use them as a desperate way to get more users and clients.
But at the end of the day, it can easily turn out that you brought in the wrong audience and they churn.
For SaaS businesses, competing on prices can be a bad practice. Instead, you should compete on benefits.
If you convert new customers based on your unique selling proposition, they will be more likely to stick with you for longer.
If you launched a new software and you could use new users to understand how people use your solution, instead of offering discounts you can submit your tool on Appsumo as a lifetime deal to increase your users base when launching.
This will help you:
Increase your users base
Understand how people use your software
Discover missing features
Collect customers feedback
Optimize your product
2. Get into review sites
Getting into SaaS review sites is a good way to increase your SaaS marketing performance with some social proof.
Software review websites are essential nowadays to build trust and authority of a newly launched SaaS company.
Potential customers can see what others said about your product and learn about others' experiences.
By the way, it is also a good idea to do some research on review sites before launching your SaaS product. This will give you ideas on:
Users' pain points
What people are saying about your competitors
What message and terms to highlight on your sales pages
Answering customers' reviews is also a good practice as you show that your customer support team is responsive and you're willing to improve your product.
Here is a list of some of the most popular SaaS review sites:
3. Make Your SaaS Product Accessible
Maybe it seems counter-intuitive but a lot of times shortening your trial period increases the conversion rate.
It's because there will be a bigger time pressure on your trial users. Scarcity is one of the most effective tools when it comes to sales!
Plus, it will make your SaaS product seem more valuable.
Most SaaS software provide either 14-days or 30-days free trial. These are the two most popular.
The trial length would depend on the costs of your product too, for example, more costly tools like SEO SaaS products offer only a 7-days free trial.
With new product-led growth strategies on the rise, you should keep your SaaS product accessible so people can explore the value themselves.
So consider balancing both. Keeping your product accessible while still creating some sort of scarcity for users.
4. Increase your prices
Prices are usually lower than they should be. Lots of companies think that it's important to have low prices to make people even register. But that's not true!
People are looking at benefits and features first. If you can convince your customers that your tool is able to wipe away their challenges, you're a winner.
But there can be exceptions.
If you're targeting SMBs, your SaaS pricing should fit the budget of such company sizes.
5. Offer annual payment
Annual payment is usually cheaper than paying month-by-month and it is wise to offer this solution.
It costs less for the customer and you don't have to worry about them churning for a while. Of course, this doesn't mean you can neglect them. Even after a customer commits to a yearly plan you should take great care of them.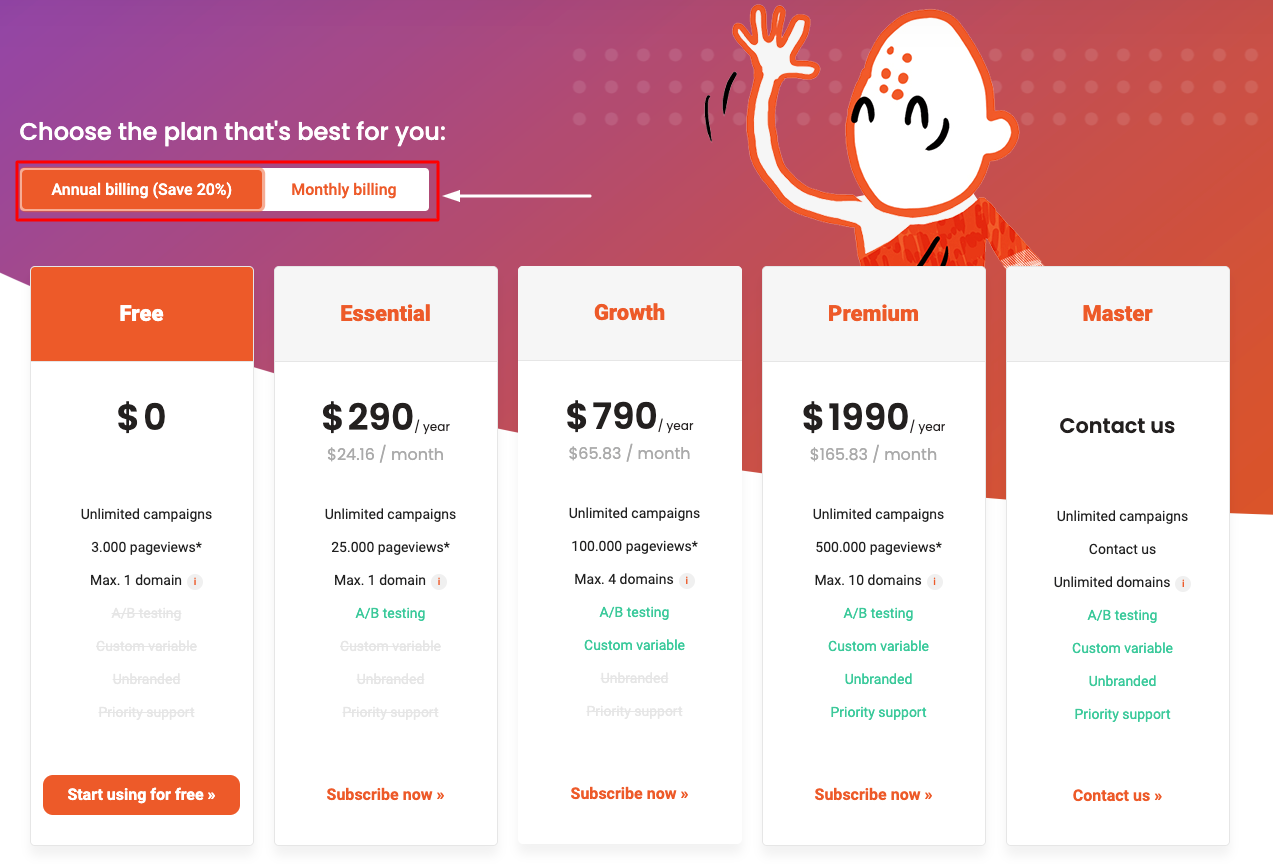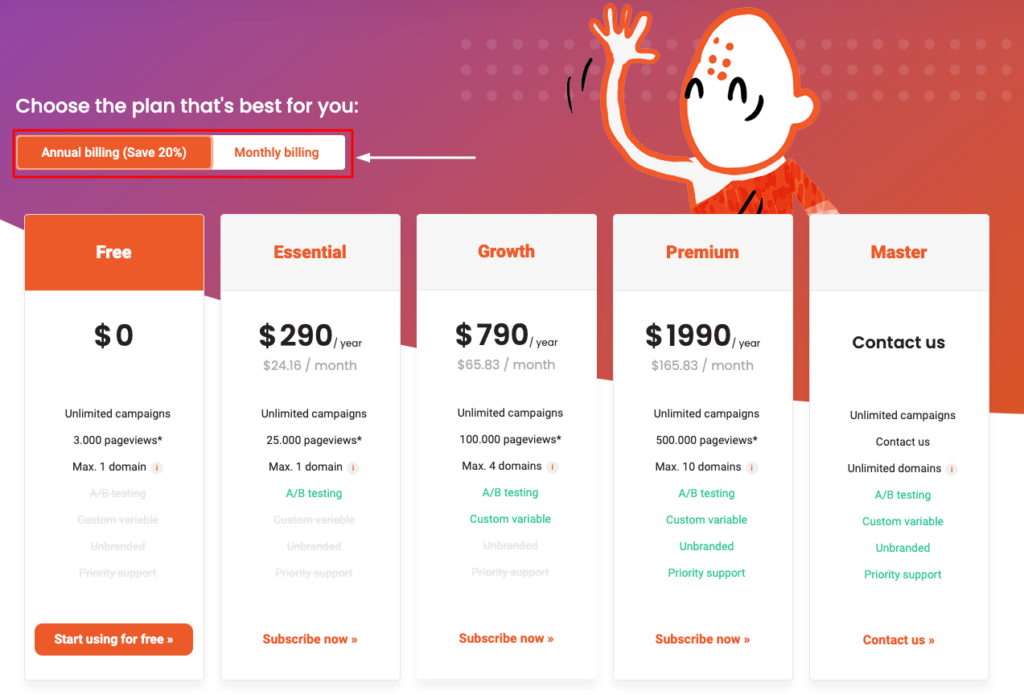 Also, providing annual plans makes your numbers more predictable and it's easier to forecast.
Plus, SaaS companies usually offer a discount for yearly billing as it is more convenient and effective for SaaS businesses.
It also provides the company with steady revenue during the whole year which can be important if your product doesn't grow like crazy in all months of the year. This makes you less vulnerable to seasonal SaaS fluctuations.
6. Have a good customer support
Yes, it sounds obvious but one of the most important things is your customer support.
It is especially true if you have big competitors in your market: as they don't have much time you will be able to steal clients from them just by providing good customer support.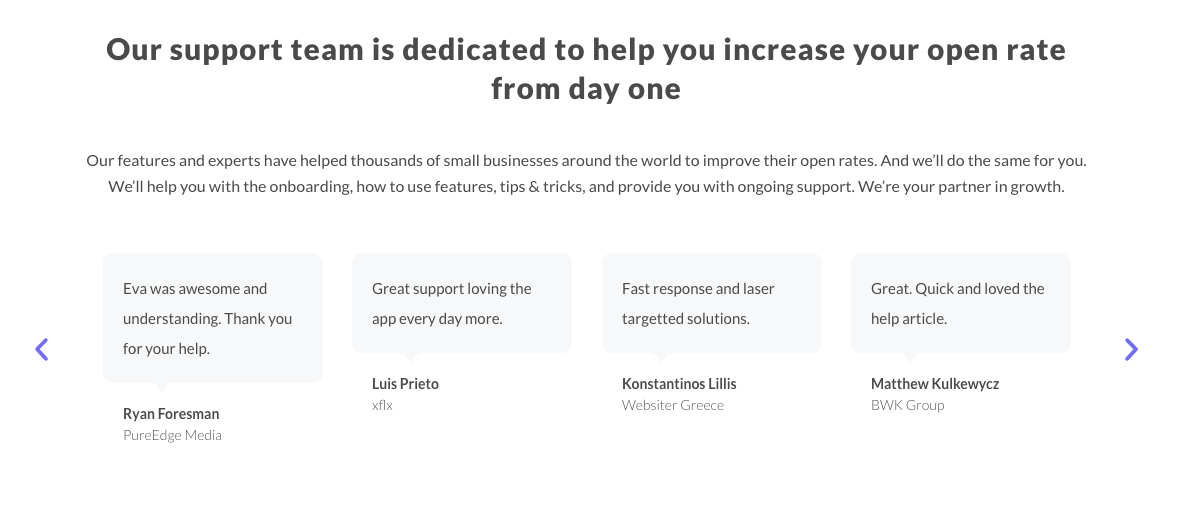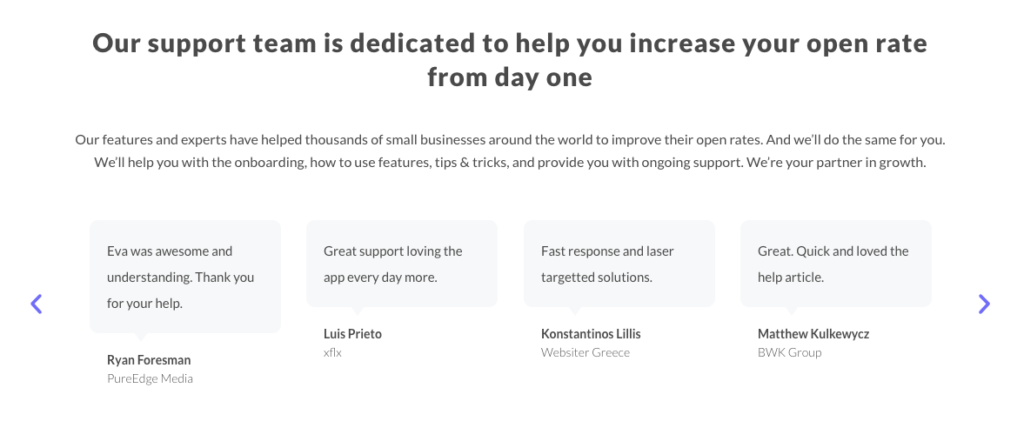 But be aware: the level of your customer support should be highly affected by your business model.
If it is self-service, it is enough to have a chat and email combination, if it is transactional, you might go to telephone too and if it is enterprise-level, it can be a one-to-one, live solution.
7. Charge for additional support
Additional support costs you time and therefore a lot of money.
Installation fees and one-to-one consultations can be charged if you can help your client reach his desired outcome sooner.
If you help a company implement your solution they pay for the time they save that would be required if they would have done it alone.
Also, if you educate them on how to get the most out of your product, you give them additional value for their business that can be charged.
8. Create a Buyer Converter product
The 8th of the SaaS marketing best practices is a very cool trick and stems from the Inverted Funnel Concept which says it's great if you can use a Buyer Converter Product.
Okay, let's clear up the technical terms.
The inverted funnel concept is a SaaS conversion rate optimization technique.
A Buyer Converter product is a SaaS that's designed to be bought by an organization without any further work needed – so it converts the buyer into a customer and they are done.
This Buyer Converter Product converts your leads into buyers offering low-ticket with very focused tools to convert leads without going through a long decision-making process.
These tools answer to highly specific pain points of your buyer personas. You can see these types of tools for free too but asking for a few dollars could qualify your leads and frighten away freebie hunters.
9. Offer free lead magnets
A lead magnet is a free offer that customers get in exchange for their contact information.
Some SaaS businesses are using ebooks or free trial offers as lead magnets to grow the number of leads they generate.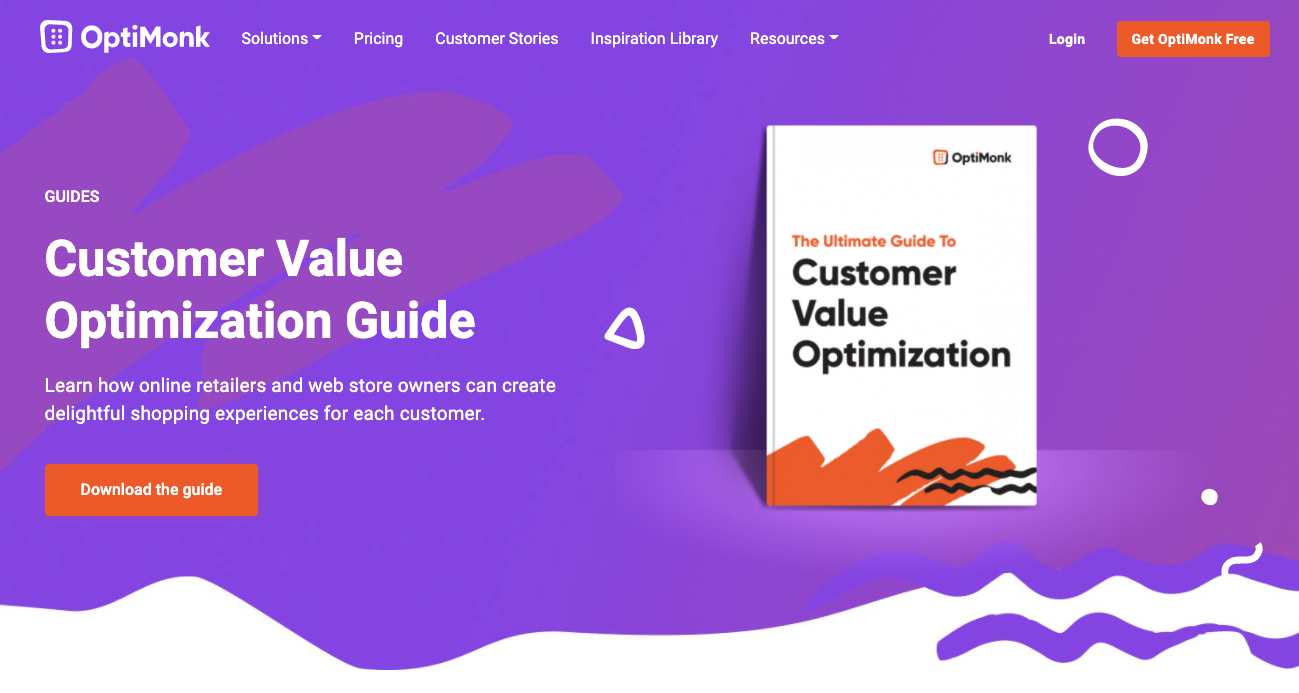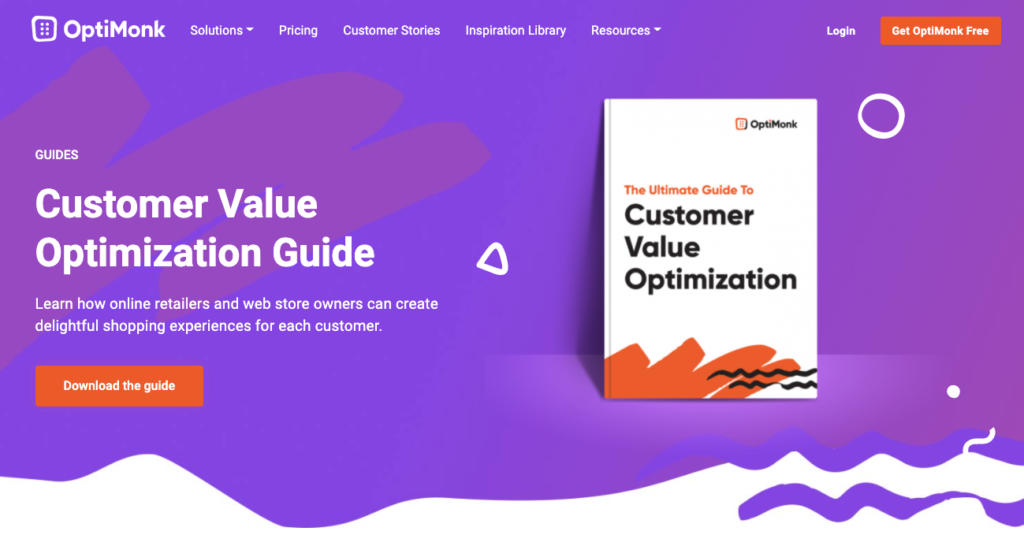 Sales-led organizations typically use ebooks, worksheets to collect leads that they can nurture and turn into users.
While for product-led organizations the one and only lead magnet is usually their product's free or trial version.
Lead generation can reduce costs and increase conversions relative to other marketing channels, so it's important to be thinking about this strategy early.
Not only will you be able to gather more contacts but you will be able to qualify them based on their interest.
10. Don't lie about your product and never use hidden fees
Be honest: If your tool doesn't provide a feature, don't offer it. Thank you captain obvious, ha?
But really, if you have a SaaS tool and it doesn't provide that one thing your prospect is looking for, don't lie about it.
And don't use hidden fees.
If you offer a service with any type of recurring billing (monthly or annual), avoid sneaky tactics like monthly bill credit rates to lower the monthly price or not disclosing the total number of months until renewal.
Don't be sneaky.
SaaS providers often try to sneak some sort of up-sell into their product offering, but if a customer only needs one service and doesn't need anything else they don't want an up-sell!
Also, it is important that you show your fees transparently. There is nothing more irritating than facing a surprise fee.
People will pay for your software but most likely they'll churn as they feel they have been misled.
11. Send onboarding emails to new customers
Send onboarding emails to new customers with valuable content on how to use your tool.
New SaaS users are eager and excited, so they're more likely to open your email than a general marketing message or another company's newsletters.
Use this opportunity to provide guidance on how users can achieve more using your SaaS product.
Inform your SaaS users about how to use the product, what features are available and why you think it is an appropriate tool for them in their current situation.
These educational emails will increase retention rates as SaaS customers get more value out of your SaaS offer.
12. Reward users for achieving milestones
Behavior-based emails are important to send highly personalized, timely, and targeted messages.
Send your emails based on your users' in-app activity to reach higher engagement.
Also, congratulate your existing customers and give them loyalty rewards and similar messages when they achieve milestones.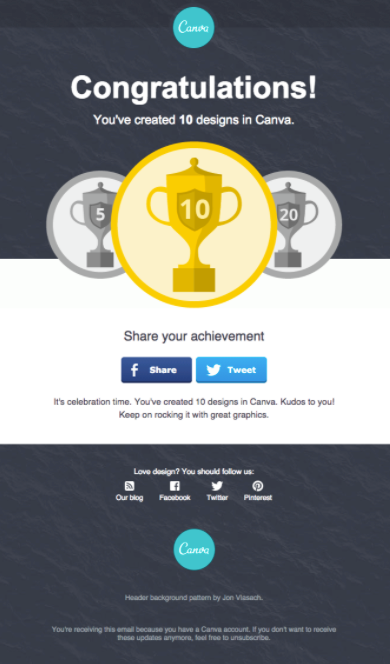 For instance, at Automizy we extend the trial duration as users achieve milestones. By the end, the 14-days trial can become 30-days.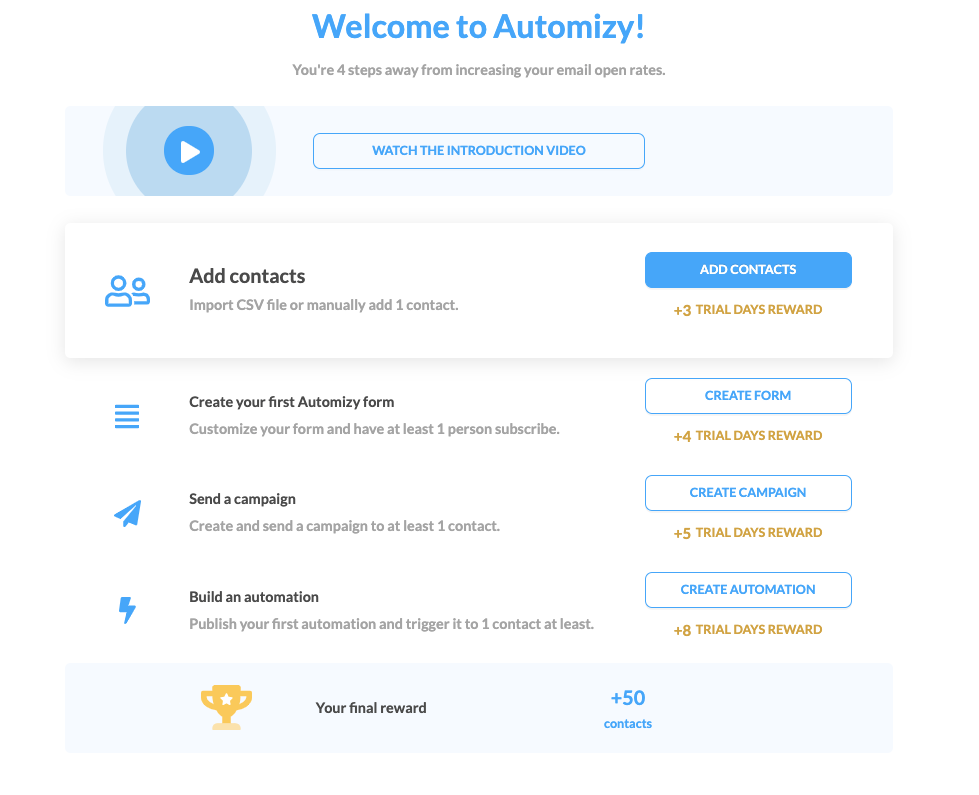 You can send emails to congratulate your users and motivate them to do more in your software.
13. Integrate with lots of apps
Today's SaaS ecosystem is all integrated. SaaS companies need to be plugging into as many relevant SaaS apps as possible.
By integrating with other popular SaaS tools, you open yourself to a whole new audience that might not be aware of your SaaS.
This also gives interested visitors a greater reason to sign up for your product as they'll find it easy to include it in their software stack.
In 2021, no one has the time to export, import, and match the data manually. Besides, the risk of data loss is high that way.
Integrations make it seamless to sync data in a manner that saves time and guarantees zero data loss.
A specific integration can be a deal maker or breaker for your SaaS potential customers.
Promote your integrations on your sales pages, in your SaaS blog articles, and on the help center.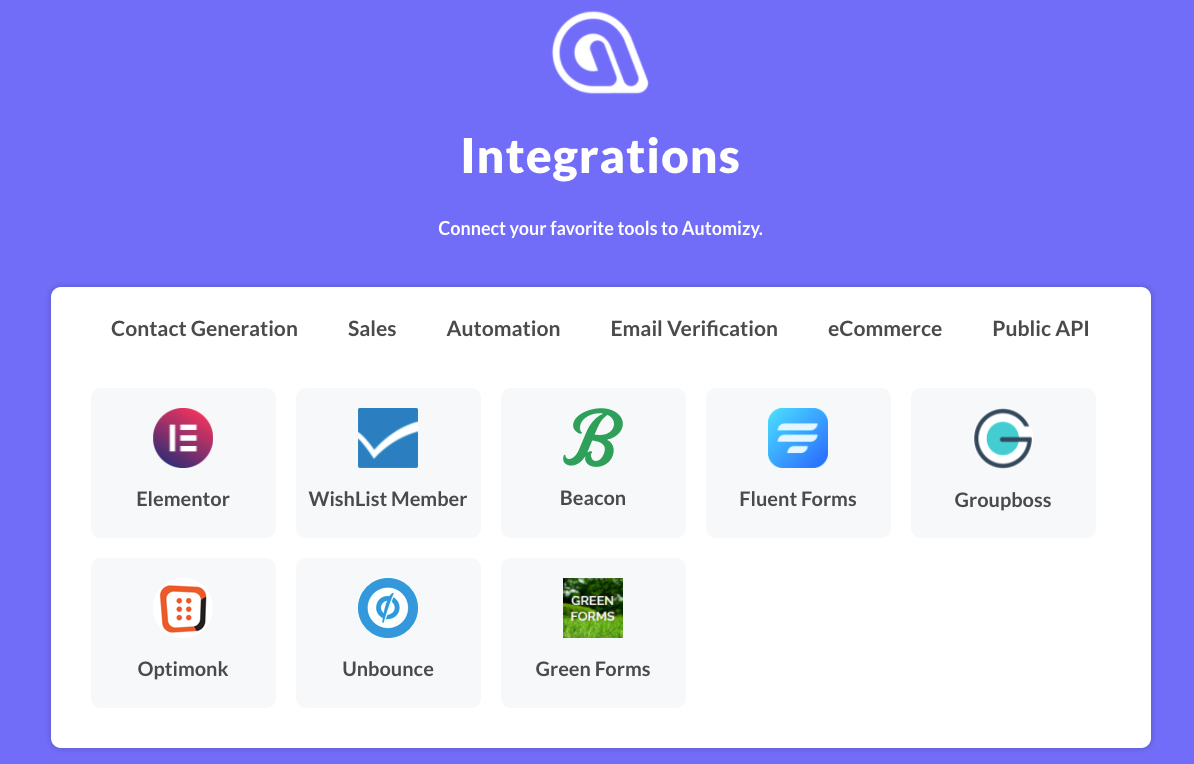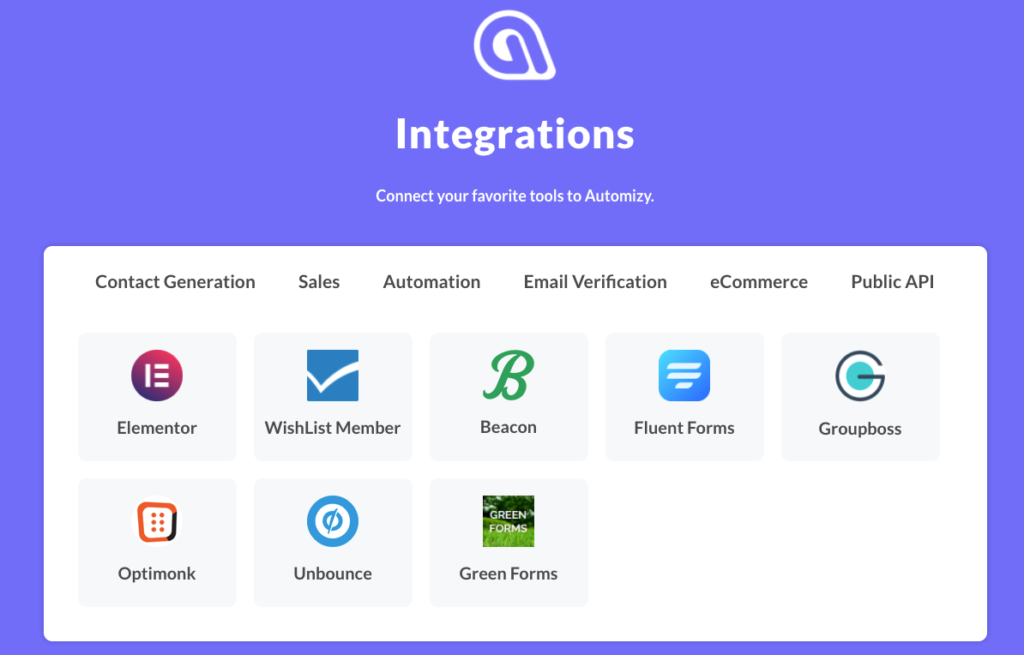 14. Keep your signup form short
One of the best SaaS marketing tips is to keep your signup form short and concise.
If you want to collect more data during the signup process you can:
Create a multi-step signup process
Ask for users to complete their profile later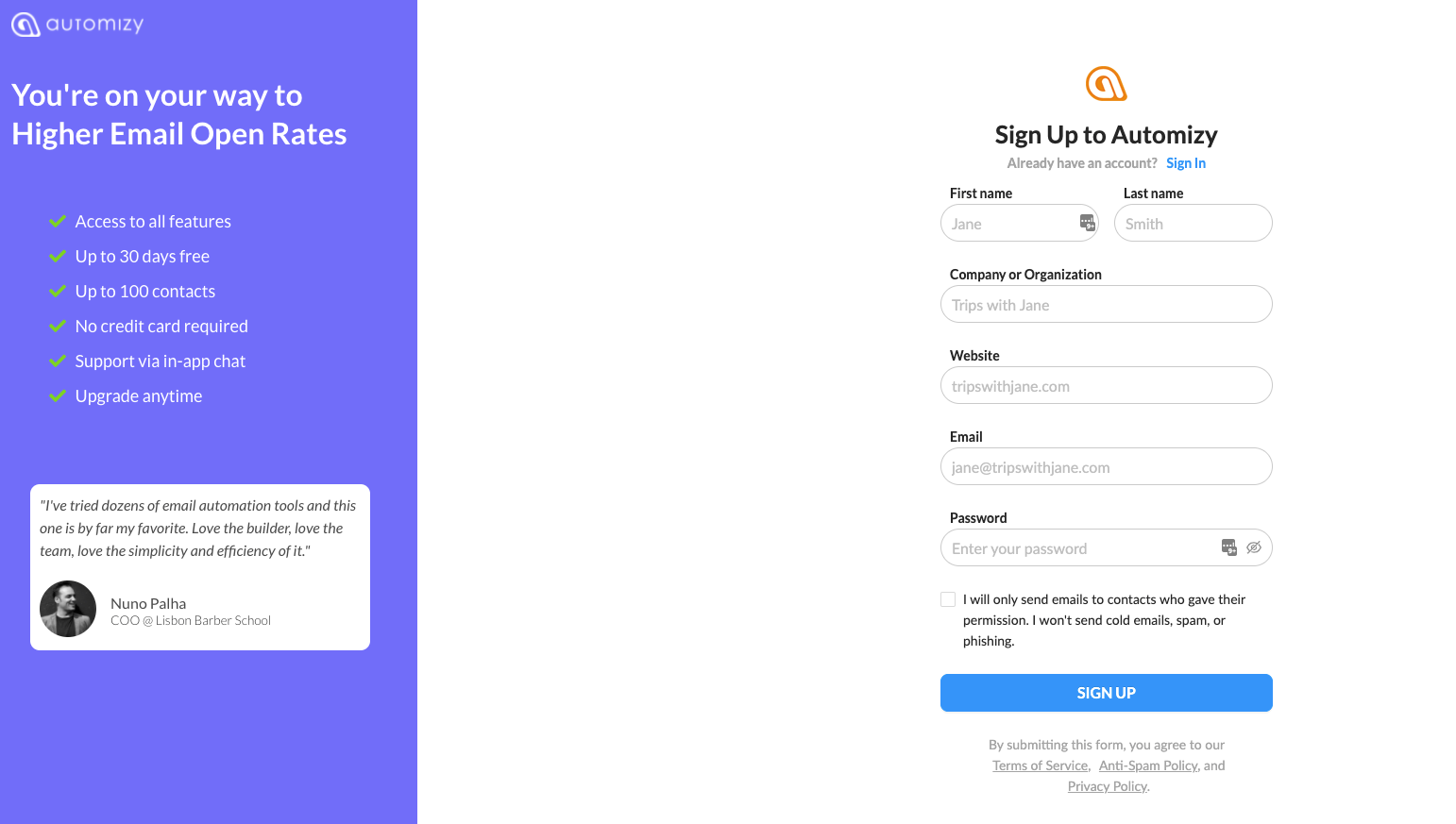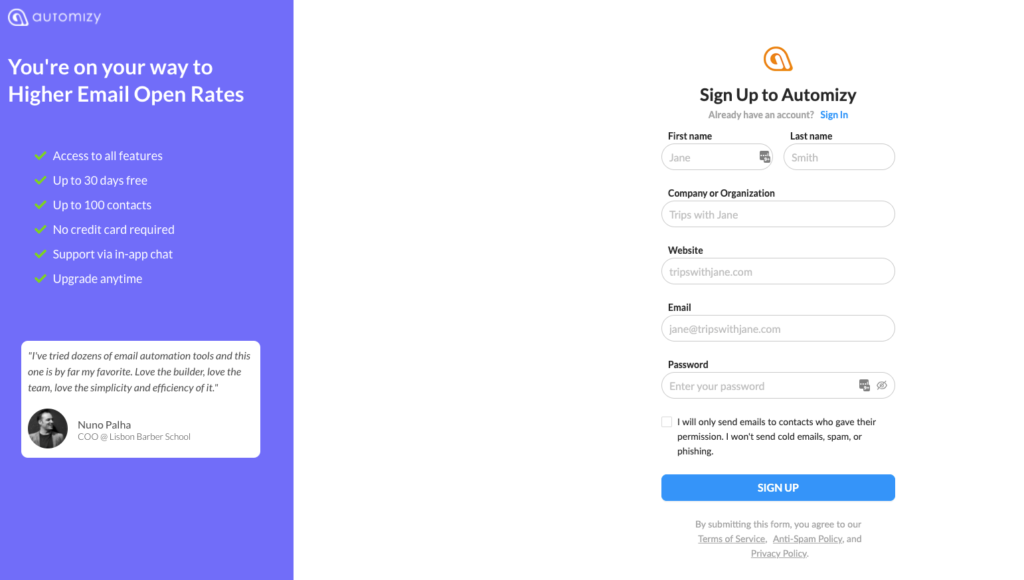 The social signup process is also recommended as it saves time for new users. Instead of filling up a form, they'd just signup with their:
LinkedIn
Google account
Facebook
Etc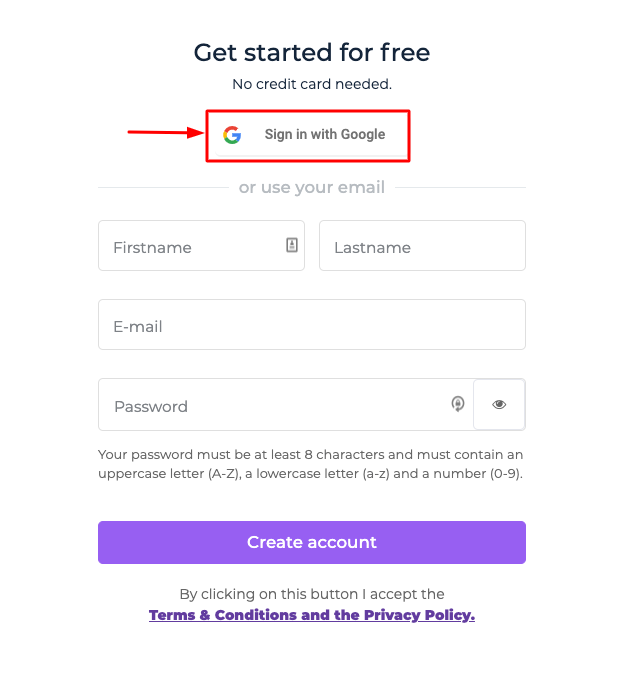 The shorter the signup process, the less leaky it would be.
To measure the effectiveness of your signup process, set up 2 events 2 track:
Signup started
Signup finished
This way you can measure your signup process conversion rate, and optimize it accordingly.
15. Set up a referral system
A SaaS refer-a-friend system is an excellent SaaS marketing tactic that can help you reach new users. There are different ways to set it up:
You could have a referral link in the product for existing customers, and give them discounts on their next purchase if they recommend your product to someone else.
You can set up a more generous referral system where you reward referrers by offering commissions.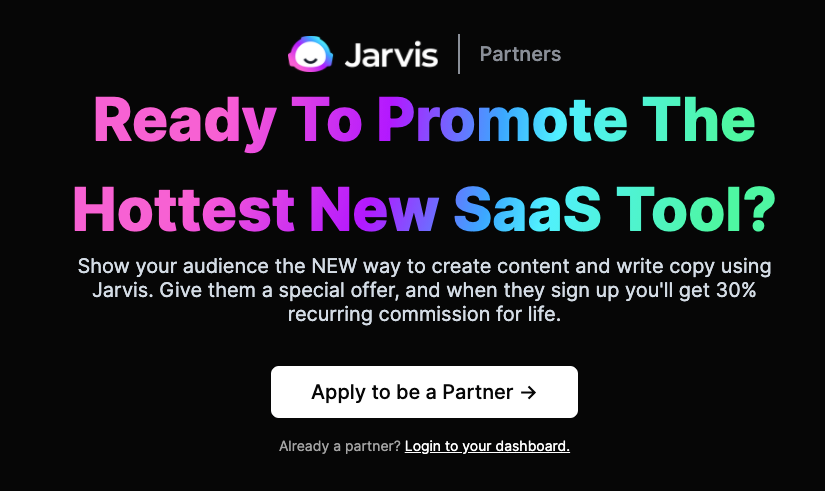 You can set up a SaaS marketing referral contest and offer rewards to winners.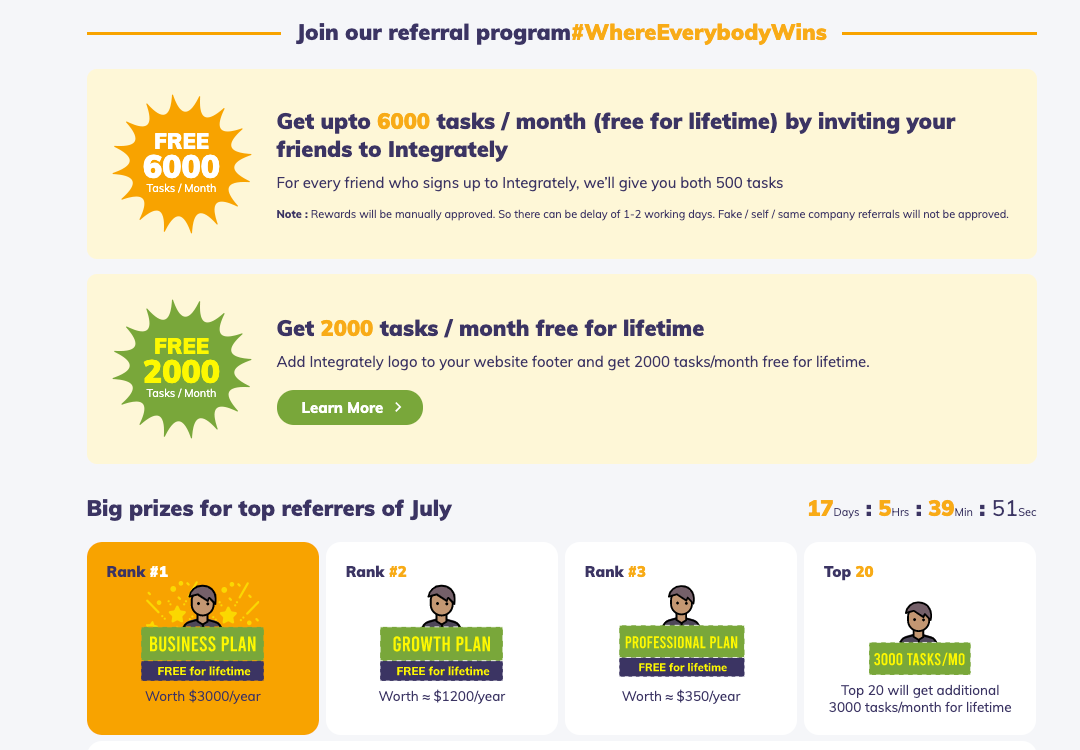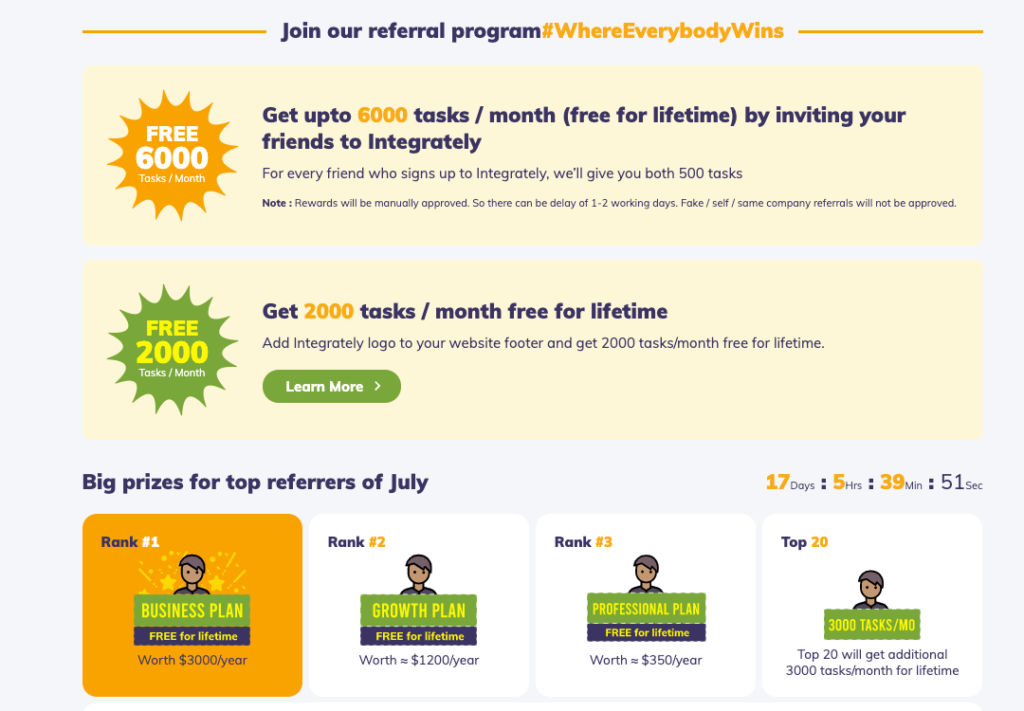 It is also important to measure the effectiveness of your SaaS referral system and make necessary improvements accordingly.
16. Follow up on lost users
It is important to note that SaaS marketing does not end with a customer's first purchase.
Keeping in touch and following up on lost users is a SaaS marketing best practice.
Send them useful content about your products or their industry periodically.
For example, at Automizy we follow up on lost trials through a re-engagement email automation that includes:
A simple follow up email asking for feedback
Offering a free consultation in case a lost user needed assistance getting started
A case study that shows what results other users achieved with our tool
A basic re-engagement email sequence doesn't take much time to set up, but definitely can win you back a couple if not many lost users.
17. Host webinars with existing customers
Hosting SaaS webinars with existing customers is a SaaS marketing tactic that can help you reach new users that you couldn't engage via other channels.
During webinars, you can talk about use cases or customers' challenges and how to tackle them using your product, or you can also introduce new features.
If you have a new 'pro' feature coming out, besides sending an announcement email, you can host a webinar with existing customers to up-sell them.
If you're hosting any webinars, check this webinar invitation email guide to increase your webinar attendance rates.
18. Start a Facebook group
For SaaS companies, starting a Facebook group is an excellent SaaS marketing tactic that can help you reach new users and engage the existing ones.
You would need to create the FB Group and invite your current customers in order to start conversations.
You can include an invitation on your product's dashboard to let your users know that they can join.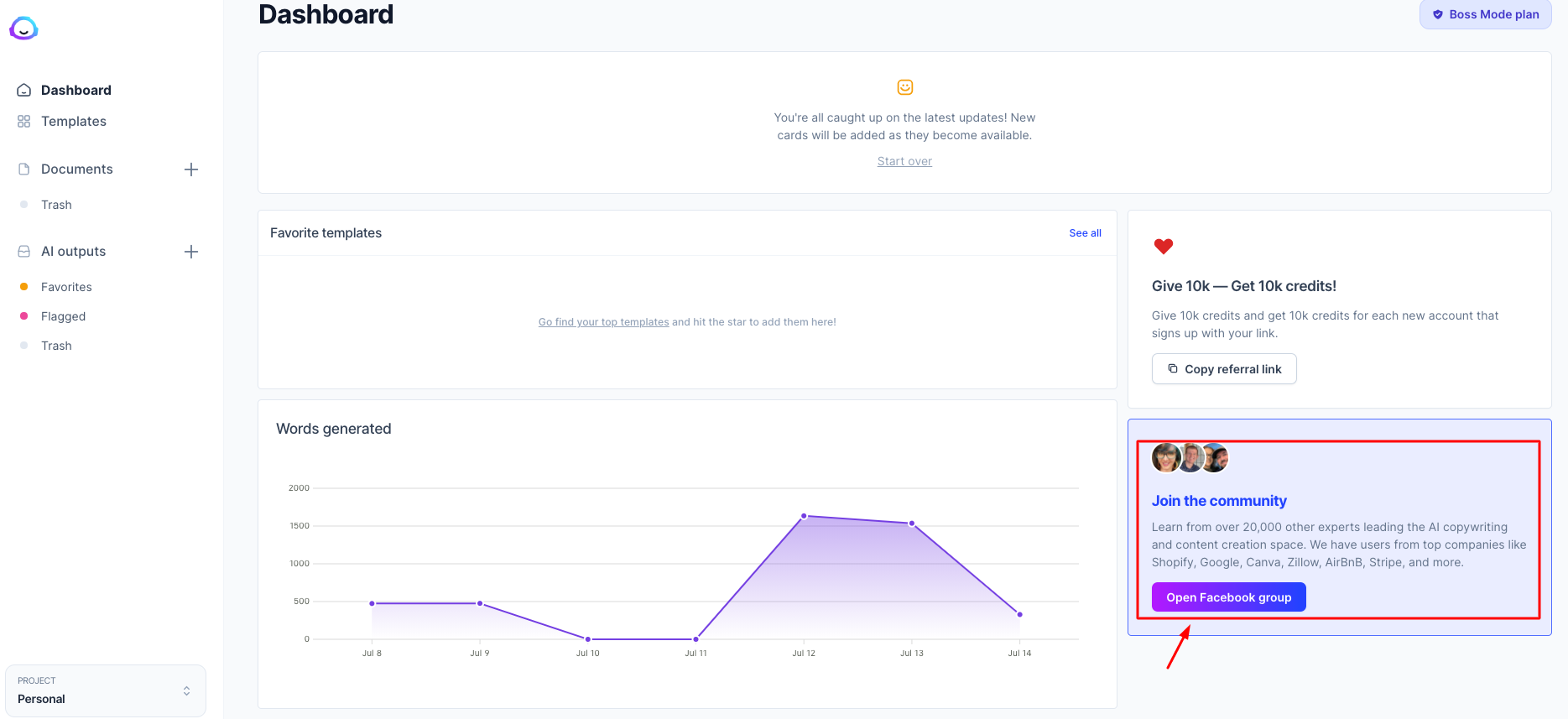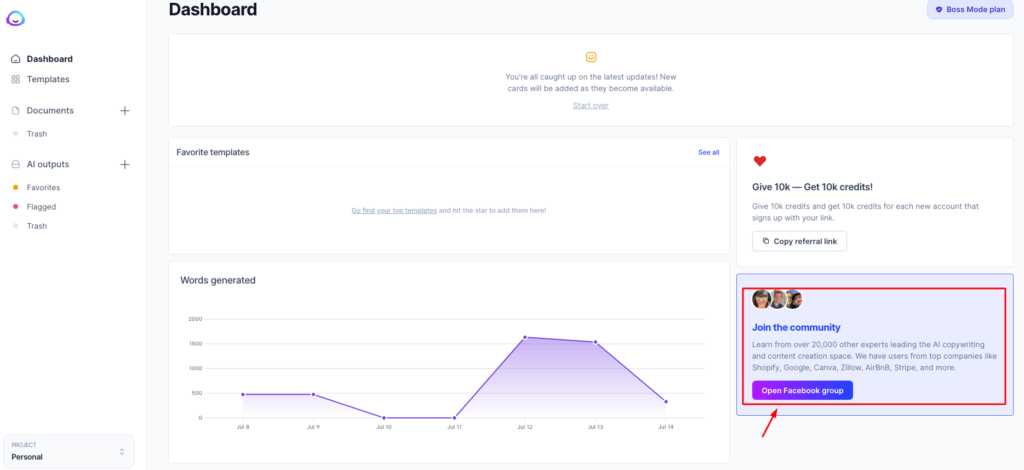 This way, you are able to engage with them directly in one of their preferred social media channels.
Conclusion
With these 18 SaaS marketing best practices, you'll be able to:
Generate new users and customers,
Engage existing ones,
And deliver a better experience.
Applying these tips and examples will depend on your product, your target customers, and resources too. Take what you think works best for you, experiment with it, and see what works best for you.
Automizy is a SaaS product as well, if you want to see how we do our SaaS marketing, sign up for free and see it for yourself. You might be able to pick up some ideas.