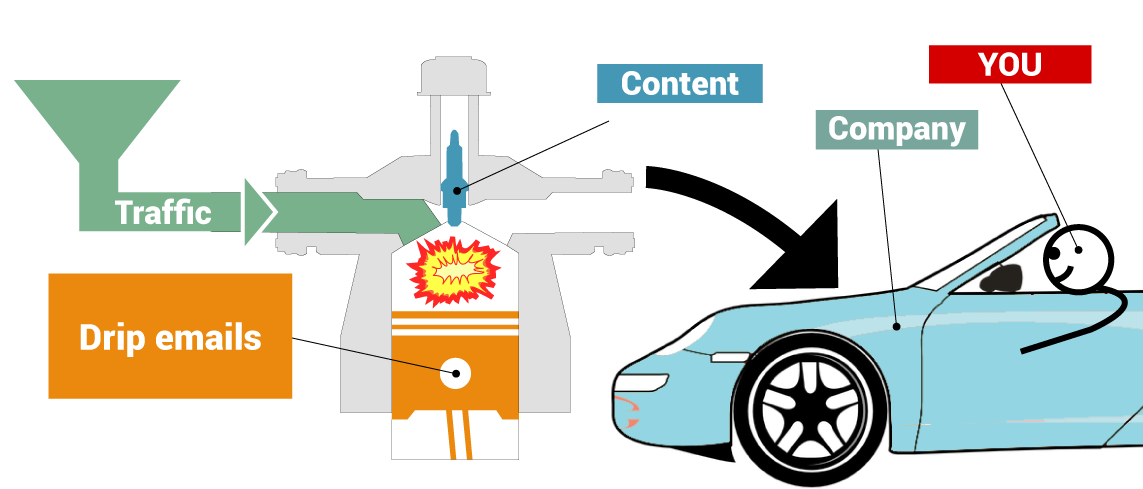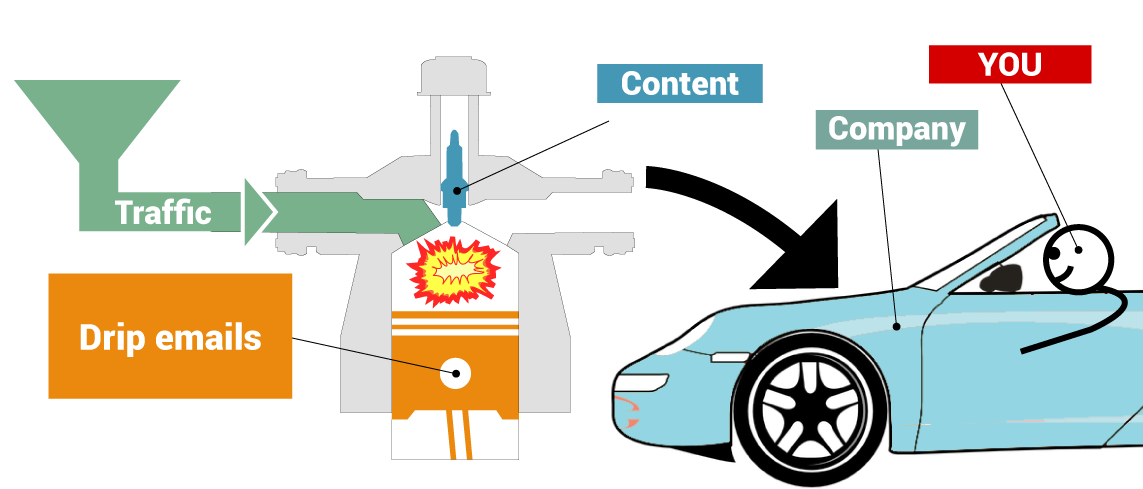 We all know how lead nurturing helps you close more deals. Surprisingly, only a few pieces of content help you start with drip campaigns in practice. It's strange because it is a great tool to automate your lead nurturing processes and drive your business.
This is why I share with you 4 drip marketing examples in detail and how to set them up in just a few secs.
The gas station (lead generation efforts) is the fuel (your traffic), the sparkling plug is your content that makes the fuel burn. The exploding fuel moves your pistons (the implemented drip marketing examples) which make your car (your company) run in a direction. And you, as the driver, decide where to go.
Miss any of these components and your car will stop:
Don't have gas? Why would you even steer the wheel?

Your sparking plug doesn't work? Your fuel won't explode.

Don't have pistons? The pressure of the exploding fuel will be wasted.

Don't have a good driver? You'll end up in a ditch.
Drip campaigns – as your pistols – work for your company very well if you have the traffic and the right content that grabs attention. The more precise your pistons are, the more powerful your engine will be and the faster your car will go.
In this article, I give you 4 drip marketing examples that can be implemented easily. These pistons will certainly move your car rapidly.
You can see 4 drip marketing examples from the basics to a more advanced level. Firstly you can see a quick overview of the structure of the specific drip campaign, later on, I show you how to create it in practice in just a few minutes.
1. Simple drip marketing campaign
You can use drip campaigns to send emails according to the behavior of your leads and users. But you should launch a simple autoresponder series as the first step: just a few emails that go out in a sequence.

The purpose of this drip campaign is to offer free giveaways on a landing page. It is a gated content: you ask for different contact information as a "payment" for your ebook, case study or any similar free content.
It's usually good if you send the welcome message with the requested content but don't stop there: you promise more contents that educate your leads and moves them down the marketing funnel and decision stages.
This type of campaign is good for TOFU, MOFU or BOFU campaigns too – the content you provide decides what stage you focus on.
Here you can watch how easy it is to build it in Automizy system (takes less than a minute):
2. Simple drip marketing enhanced with metadata
Collecting information from your leads is very important: the more you know the more specific your offer can be.
Personalization needs segmentation, segmentation needs information. You can collect lots of types of information to be able to segment your leads and users effectively. For example:
What industry does he work in?
Where does he live?

Behavior-related information
And there are lots of other useful information that you can use for segmentation. You need to collect it first.
And you need to start the process of collecting information somewhere. The best place to start is when you firstly get in touch with your lead.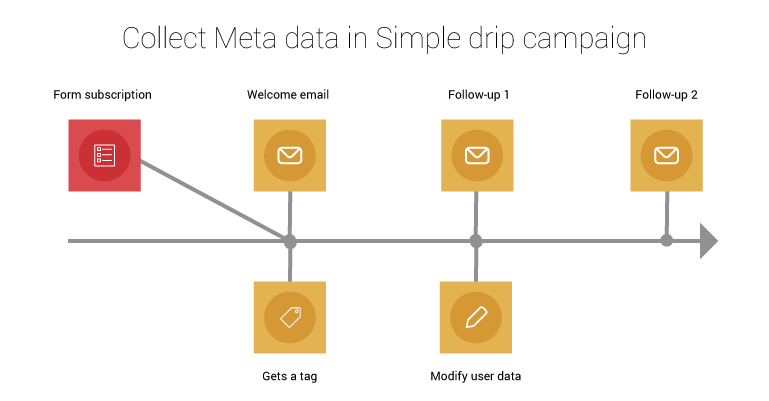 You can add a tag that tells what type of ebook the lead downloaded. This way you'll always be able to segment your leads according to their interests. It is even more important if you have more than 1 ebook that is downloadable. You can offer contents that are new to the lead or you can identify the real interest a lead has by checking his tags – and offer related contents.

You can add custom values to the contacts that are good for modifying your leads' metadata. Although there are lots of use cases where it is great but in this example, you can insert the ebook's title into your sales copy. So you can make your leads remember their commitments. The more committed a person, the higher the chance he'll pay for your service.
You may ask what is the difference between a tag and a custom value. I would say that tags are for you to track and the custom values are for the system to track and use it as a copy&paste text. There are exceptions though' but right now we don't talk about that.
Check out how to add meta information to the simple drip campaign in just a few secs: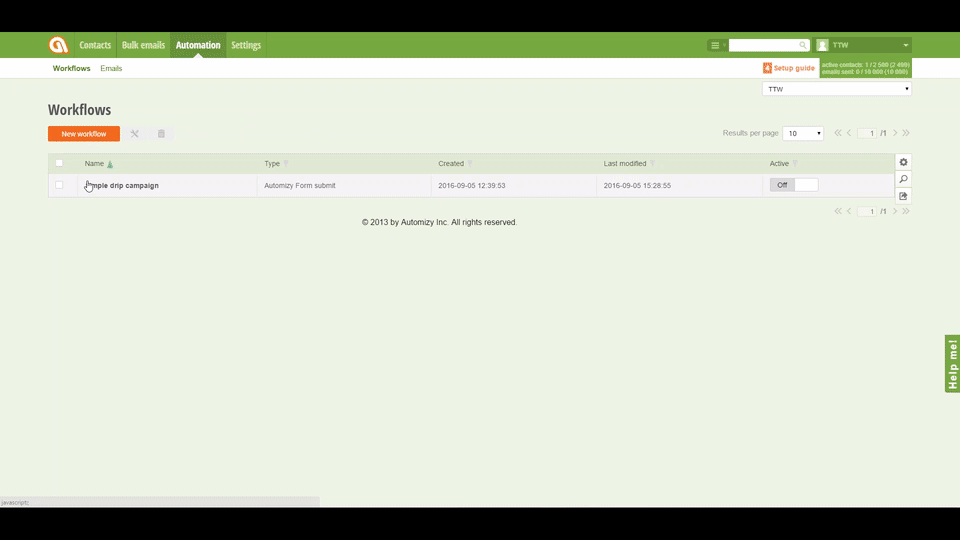 Do you like these drip marketing examples? Try them! Get started today for free!
3. Advanced drip marketing with 2 ebooks
Automation becomes a little bit more complicated when you have 2 ebooks (or even more). It doesn't sound advanced but just think about it: what about those leads who download more ebooks?
If you don't track their behavior you might send them lots of emails at a time!
Therefore you have to track what is the most previously downloaded content and you should send the right message that is truly related.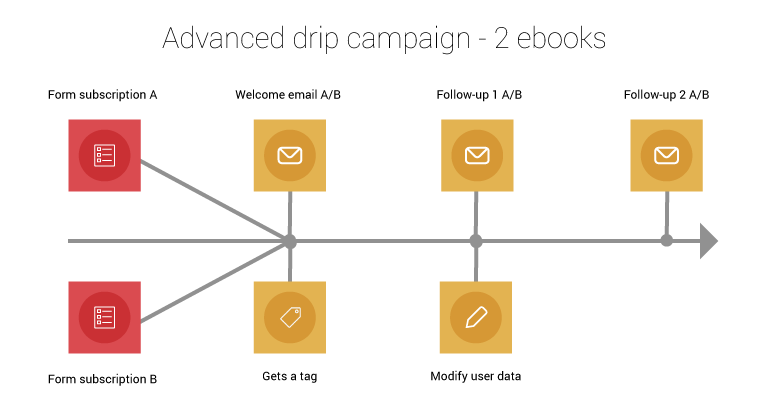 How can you achieve that?
Simply by using "Conditions". This is where tagging comes handy: if you give a tag to a contact after every download, you will always know which messages are relevant to them. The importance of tagging will be more and more important when you have more free giveaways or offers.
Let's see it in action (done in 1 minute):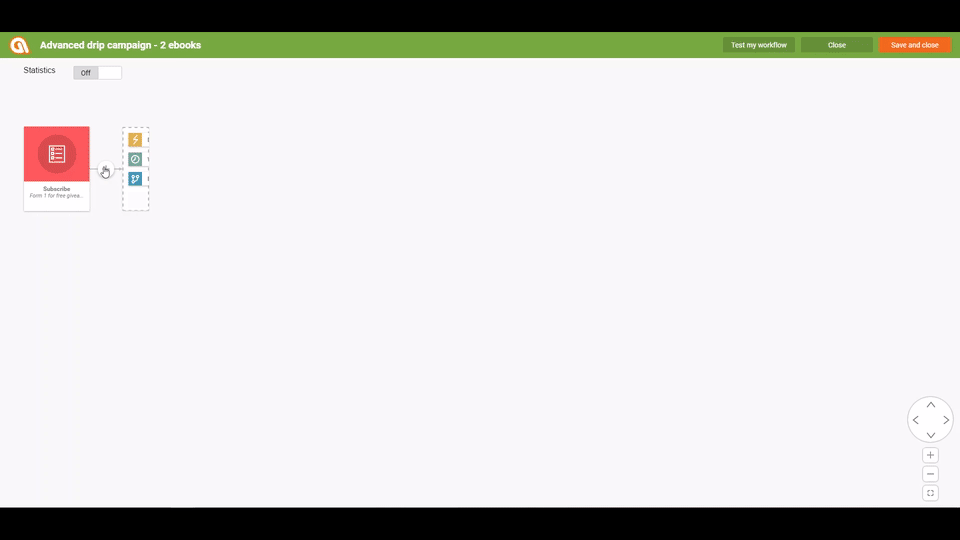 4. Behavior-based, automatic offer (very advanced)
As you help your leads go down the funnel there will be a point when you need to make the sell itself.
If you did the nurturing process well your leads will be prepared to start your trial or even to pay for your service. But you need to ask it!
But sending your offers can be done in a better way than just throwing them a bulk email weekly. This is we at Automizy call "Offer email series".
You collect information about your contacts throughout the drip campaigns: tags, new personal information, custom values, lead score.
So you want to make the offer at the right time that looks unique. But you can't write personalized emails to each of them (unless you have a product that is offered to less than 10 multi-national or worldwide companies).
So you need to set up a drip campaign that is aided by the advanced or the simple drip campaign with enhanced metadata.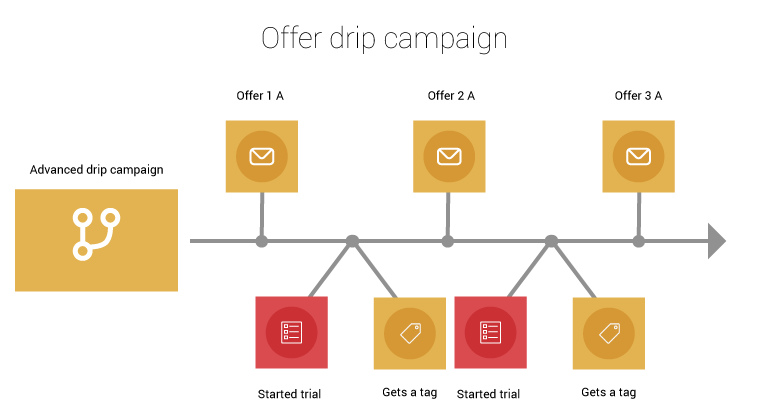 Before you even start building your offer drip marketing campaign you have to do something in your previous campaign: Give a new tag to leads who downloaded ebook A.
This way you will be able to send them the offer that is somehow related to their preference. In practice, you usually can refer to their previous commitment and how you helped them in your email copies.
To those leads that downloaded ebook B, you can add another tag and give them a related sales copy. Personalization at its best.
You can see step 1 (which is ending your simple or advanced drip marketing campaign with tagging) below: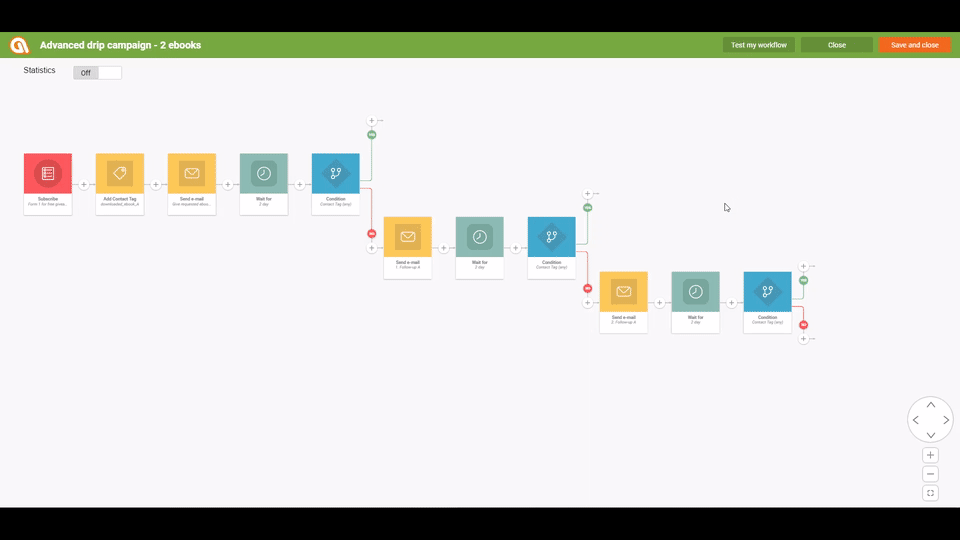 And you can check how to build your offer series and make your sales emails stop when you converted the lead: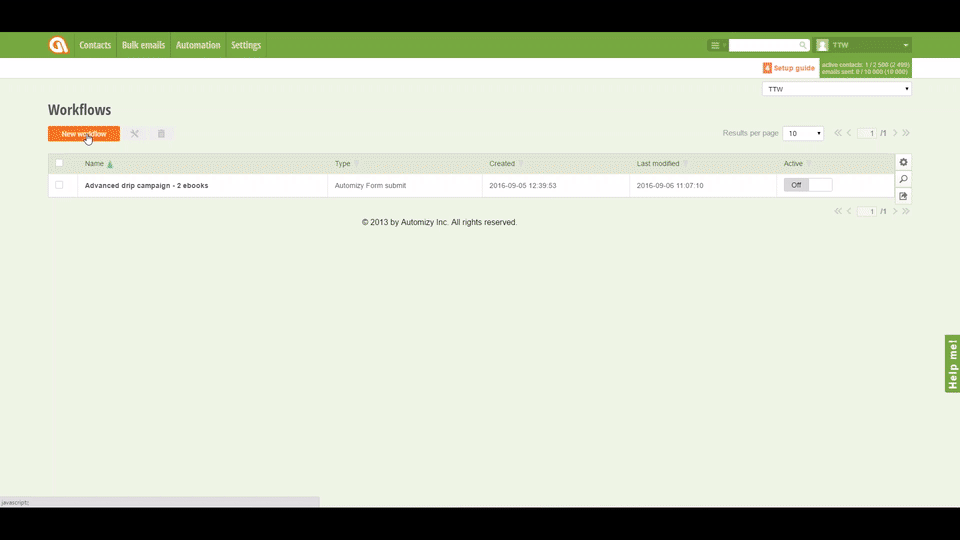 Did you like the 4 drip marketing examples? Now you can try them out yourself in Automizy system for free! Click the button below and start with your drip campaigns today!
He graduated from the Technical University of Budapest, with master's degree in Software Engineering, Economics and Management.
As a serial entrepreneur he has 10+ failed projects and one big winner one: growing Protopmail email marketing service from zero to a market leader position in Hungary.
He has been working more than 20 years in software development, more than 10 years in IT project management and also having the serious of 10+ years experience in email marketing and marketing automation.
Aside from running a successful business, Gabor is also an email marketing and marketing automation consultant and works for clients like GE Money, DHL, Bridgestone and for several banks and insurance companies.
He also appears at multiple online marketing colleges as a guest speaker, and a well-known speaker at online marketing related conferences.
Gabor speaks 4 languages, has three kids and he is a serious golf addict.
https://automizy.com/wp-content/uploads/2016/09/Marketing-drives-your-car.png
489
1143
Gabor Koncz
https://automizy.com/wp-content/uploads/2018/02/logo-2.png
Gabor Koncz
2016-09-06 09:01:51
2019-03-11 10:52:39
4 Super Effective Drip Marketing Examples to Get You Started in Just 5 Minutes!