The phrase of conversion funnel normally used when you generate new leads. But – as VentureBeat explained it very well "SaaS companies are literally always selling because they have to keep the customer from hitting the cancel button each month."
So the time has come to reframe the notion and start using it for existing customers as well! I'm about to show you an automated solution to fix a saas conversion funnel that's leaking. But before that I want you to shout this loudly in an empty room (if possible)…
You're crazy! Conversion funnel and churn rate are not connected at all
Firstly: I'm not crazy. (Well, according to my psychiatrist.)
Secondly: You're wrong. And not because of that "everything is connected someway" bullshit. And not because I know these things better.
Just because Lincoln Murphy knows better. (By the way, I think he is the person who is really insane. Insanely good.)
"Your Ideal Customer Profile – ICP – dictates (or should dictate) everything from the features and functionality of the SaaS product you build, to the words you use and the emotion you invoke or tap into in your marketing."
Bang – the Gordian knot is cut!
So it is very important for every SaaS business owners, marketers and growth hackers to understand that from the first to the last touch, your conversion funnel influences churn rate.
If you generate a low amount of leads – you won't have enough data (well, if you sell high-ticket offers, it is not really true)

If you generate low-quality leads – you'll convert much fewer people and the converted people will have a higher tendency to leave you

If you don't nurture your leads – you'll convert much fewer people and the converted people won't be as loyal as if they would have been nurtured

If you don't set up a good onboarding process – you'll convert much less people

If you don't have a good solution that fits your prospects' needs – your churn rate will be high as hell

If you don't upsell your clients – you won't be able to convert promoters for your business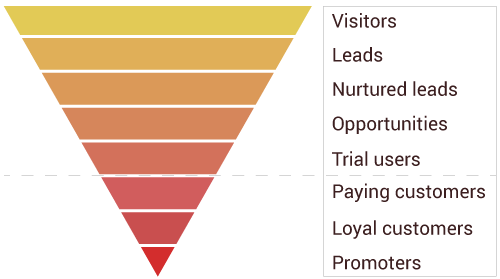 See? Your conversion funnel is a unified journey that covers everything from the visitors to your most loyal customers. Marketing doesn't end when you convert your leads to clients (many people handle it separately – success managers are those who tries to reduce churn rate).

In addition, you can read about the essential steps and tools for creating the journey in an article posted by Nudgespot (an effective in-app messaging platform).
Identifying leaks on the first section of the conversion funnel
I hope your offer, your core product is great. It's your job to learn to utilize lean customer development, data analysis, and interpretation and fulfill your promises. So learning from the market is the best thing you can do – marketing without a good product and USP is nothing.
Let's assume you have that. If not, stop reading this article because it's really for companies that are at the stage to grow rapidly. Sorry guys – you should read Cindy Alvarez (Lean Customer Development), Lincoln Murphy, Neil Patel and lots of wise guys that have a lot of knowledge on the topic.
Now You, who stayed – check our example schematic conversion funnel below: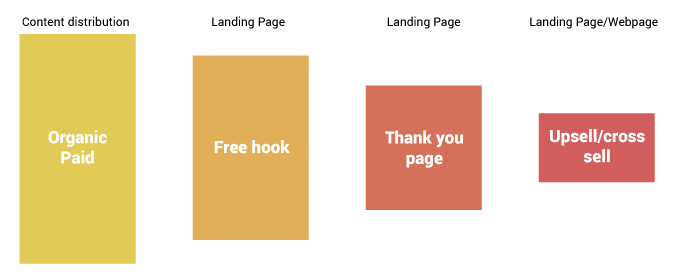 As you can see in this example you distribute free giveaways, bonus and gated contents boosted with blog contents that could be interesting for your buyer personas.
The prospect clicks on a banner, ad, text link and goes to a landing page. He gives his email, downloads the hook then gets to a thank you page. Where he is offered to start a trial that is connected. If he accepts the offer, he starts the trial and then he can upgrade and pay for the service.
Now let's stop here. Do you see where this funnel is leaking? Check again the two pictures on a merged illustration: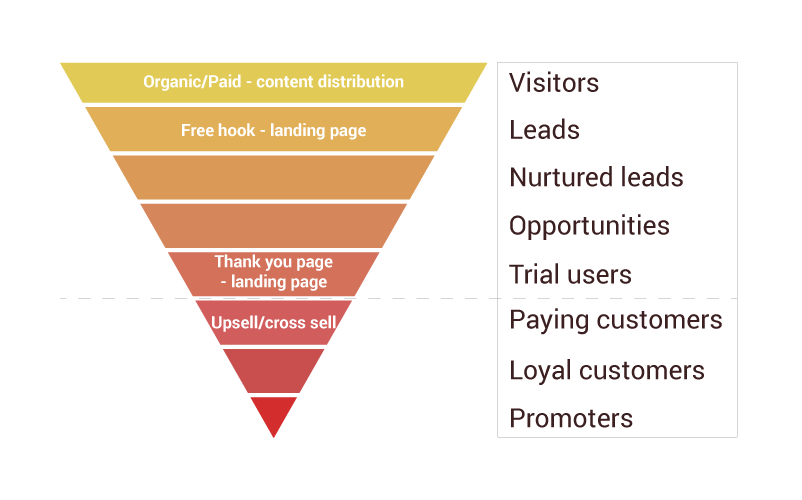 As you can see this funnel completely misses the nurturing and qualifying process! What will this cause? High churn rate! You probably know that according to Marketingsherpa 25% of the leads buy immediately, 25% buys but 50% would buy just later!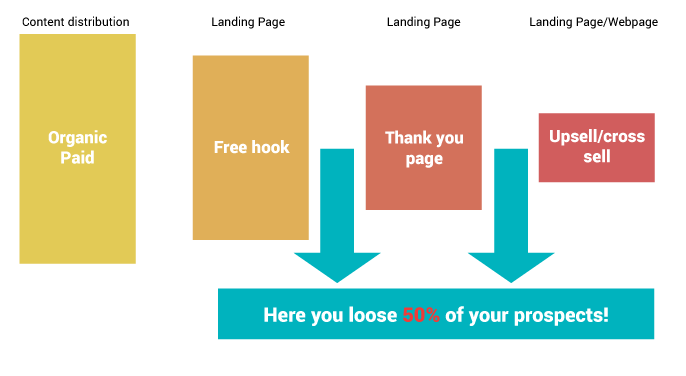 So that's one thing that you can convert 25% of your leads to paying customers (if you are fortunate) but you leave big money on the table by not trying to convert the rest 50% too.
And it is also important that simply selling even your trial to these big percent of leads is simply not a solution. Maybe they will start it and interact with it but they are not at the right decision stage or/and not educated well enough to be converted. Stats support this too: 79% of marketing leads never convert into sales. Lack of lead nurturing is the common cause of this poor performance. (Stats by Marketingsherpa again.)
So if you ask me what will decrease your churn rate, one of the most important components stems in the early stages, BEFORE your users or clients are even converted! This is why lead nurturing is one of the most important parts of your marketing efforts: not only will convert more leads but will decrease your churn rate later on. Sounds great, doesn't it?
Fixing leaks in the first section of the conversion funnel
Now that you see the leaking points in your upper part of your conversion funnel and also understand the real value of lead nurturing, the time has come to take the right steps and fix the bugs.
How can you do that?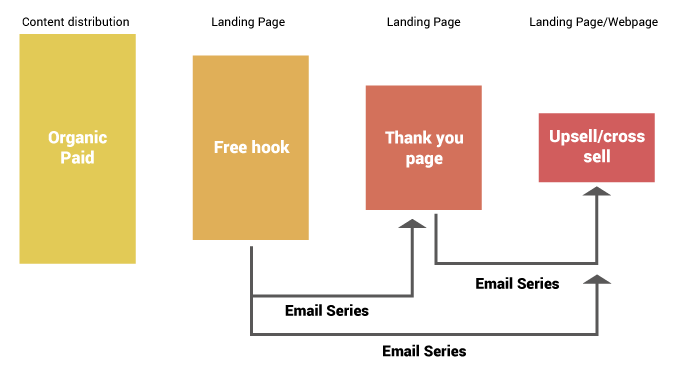 Just by adding lead nurturing workflows that try to help leads who are bouncing off your landing pages move down your funnel. Email sending is a very cost-effective solution but you can think of social media messages, calls, personal communication too.
The secret sauce is not very surprising: give them a loveable brand and marketing, gifts, articles, education to the challenges they face, the solution you offer them. Be benefit focused. This is where personalization comes in.
I'm not talking about that type of personalization when you send them an email with their name, industry or any similar information in it. That is important too but please, it's just the tip of the iceberg. You can do much better than this.
Real personalization is based on data: the more you know about your leads the more you can craft your messages. This is why big data is so trendy these days. But you don't have to hire a data scientist to start this process. You can start collecting data just by tagging your leads and following their interests (what type of hooks did they download, what type of emails did they open or clicked, what type of articles do they read, what type of buyer persona are they).
The real personalization is when you offer these contents according to the lead's behavior, actions. Nothing new. And the real value comes out of personalization is when you can automate all these processes. Because until that you can collect data and send personalized messages but not at the right time – especially when you are handling a high volume of leads.
Therefore automation will help you a lot not just collecting data and sending out emails according to it automatically but it will send the messages at the right time. Naturally only if you write your automated workflows the right way!
Introducing the automatic nurturing system through your whole conversion funnel
I know it will be a little bit complex but don't be afraid, you just need to put a little effort in it to understand it. Not rocket science. The deeper you understand the process the more you will be able to use to your own solution.
The whole automated workflow system of the conversion funnel looks like this: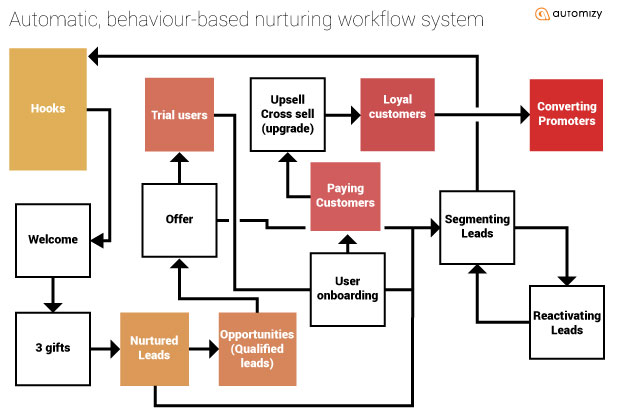 Here are the steps:
Connect welcome message to every free content (ebook for example) you offer and say that you will send articles and other free contents that are related to the downloaded hook

Send the related articles and build up your brand in your emails (3 gifts are just example, you have to test how many information you need to provide in your specific industry)

Qualify your leads and choose the ones who are ready (based on their engagement level), you can also try to convert lower engaged leads but only if they are new leads (so they haven't received any offer from you yet to start trial – later on, I will give you an explanation why)

Offer leads your trial – not converted leads go to a segmentation process

Give user onboarding to trial users, success milestones are important and use API calls for onboarding emails as much as you can

Convert trial users to paying customers – those who are don't convert go to the segmentation process

Give upsell opportunities to the clients (using API calls mainly –

Buffer

for example use client successes as an upselling opportunity – I highly recommend this approach)

By continuously satisfying your clients and make them  really feel the benefit and value of your product you create loyal clients

Promoters are your diamond users, they will be the result of your attention, good contents, personalized messages, and friendly brand
Segmentation – the soul of your nurturing system
So you can see that there are 3 ways a lead can go into a segmentation process (later on I will explain what it is exactly):
those who are "nurtured leads" but not qualified leads and already received the trial offer from you but haven't accepted it
those who are firstly got the offer from your to be trial users but haven't accepted it
those who were trial users but didn't give you their card number
These people show interest in free contents but they are not in the right decision stage or just didn't receive the right message (because they might be another buyer persona). Therefore you need to segment these people and split them according to their real interest.
So here is how you can do that: just by giving them different free, gated contents. Yes, you make them opt-in again for another hook and you send them back to the beginning, entry point of your system.
Because content consumption can indicate the interests of a lead – therefore he will sort himself into the right buyer persona. It may happen that he opts in for a content that doesn't fit his persona, but by offering him more, free contents, he'll find his place eventually.
But only if you offer your contents to your leads like this:
First hook (that is relevant to buyer persona 1)

Second hook (that is relevant to buyer personas 2)

and so on.
Do you see now? Every micro-funnel focuses on different buyer personas – because every buyer persona has different needs, interests, behavior, etc. Let them choose the most interesting hooks alone and sort themselves into different buyer personas.
And now I give you an answer to the question: why would you offer your trial to not qualified leads if they opted-in firstly: you don't want to miss your opportunity, therefore, you offer it. But if they leave or doesn't accept the trial, it means that they are not in the right decision stage or were not sorted into the right buyer persona – therefore you give them the opportunity to do that.
You don't lose your churned leads and trial users you just act according to their behavior. This is behavior based segmentation that is automatic.
Reactivation – trying to win back interest
Reactivation for a trial user who is slipping away is a little bit different than a not interested lead. But they have one thing in common: You want to grab their attention and win back their interest.
In case of leads, you'll see that a certain percentage of people don't open your emails. If we speak about trial users, a certain amount of users log in but never log in again.
So hit them with short, strong messages (subject lines). Make them open an email. Then try to make them act on a link (that is an interesting article for example). Use logic: if they is on your list they should be interested in the thing you are speaking about. Use scarcity: you will delete them and never email again if they don't act.
The goal of reactivation is to bring them back to the segmentation part. You can try to win back churned trial users to your software but to be honest, they are probably not in the right decision stage, probably not in the right buyer persona's journey, and a lot of other reasons may arise. Therefore I really suggest to convince them to segment themselves according to their interests.
Naturally, there will be leads who can't be reactivated – delete them for your list (or export their contact information to an excel file and send them a flash sale half or 1 one year later). It will increase deliverability and maintain the health of your email list.
Leaking conversion funnel is fixed theoretically
So this is what I call a conversion funnel that is not leaking.
But please, be honest with yourself. It takes time to do all of this. In addition, every business is different. Every industry is different. The things I shared with you is a framework that can help you build your lead generation funnel the right way. It's your job to use it wisely.
You need to take into account your business model, your marketing tactics, and what type of marketing tools you use. And lots of other stuff… So I know from Guy Kawasaki that  "Ideas are easy. Implementation is hard." but it worths the effort.