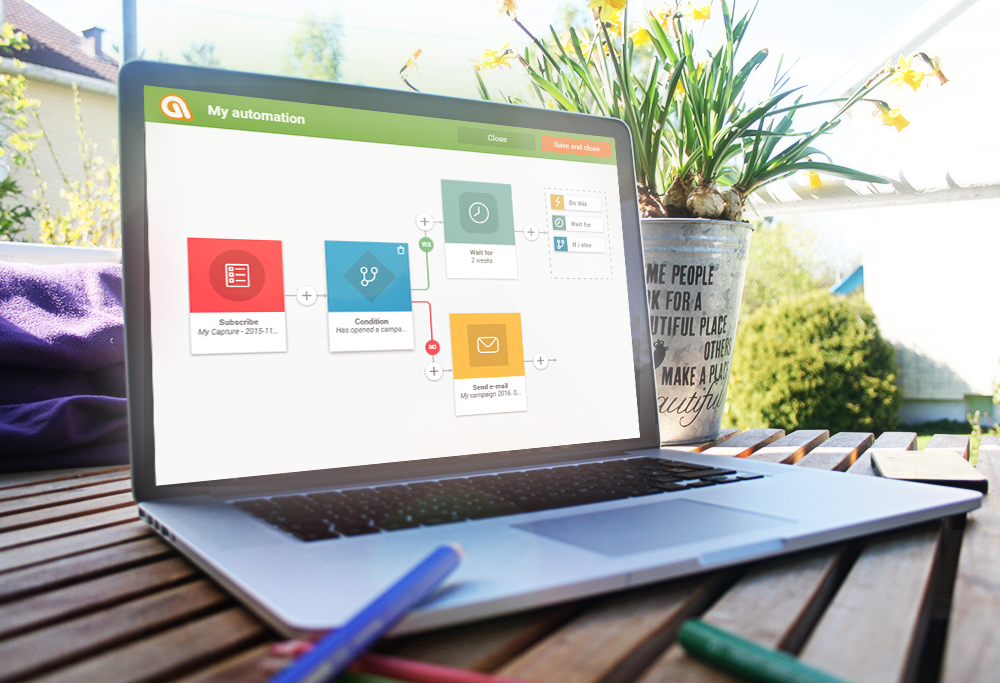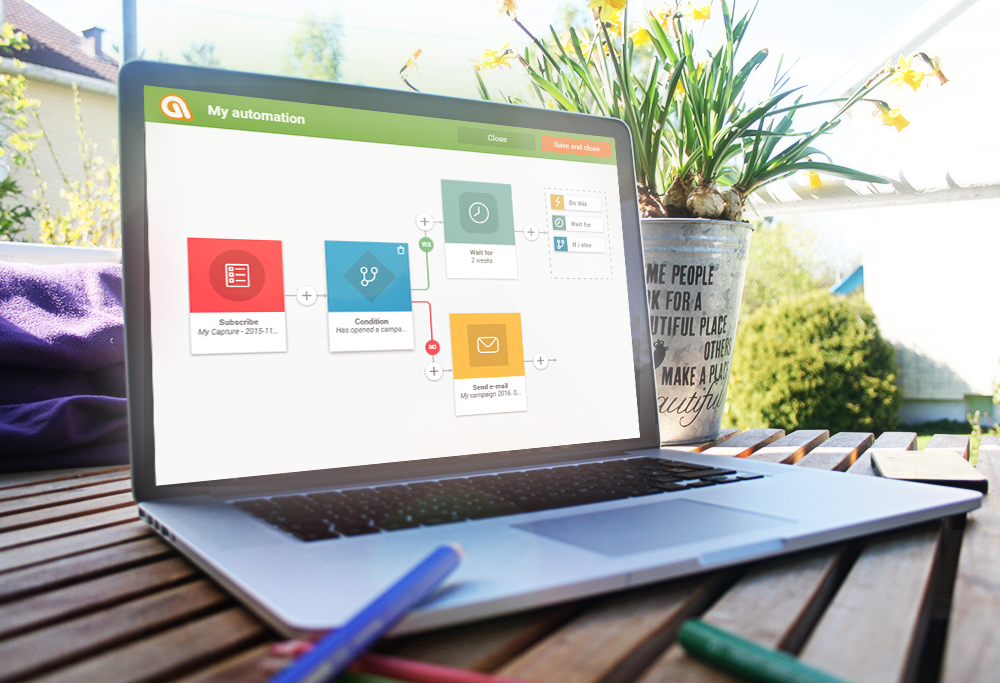 I'm always hearing that email automation is easy, it will help you save time, increase your conversions and sales volume. That's BULLS**T. You need to know the background too: it is only easy if you use it a lot, it saves time only after you set it up, it only increases conversion and sales volume if you do it well!
Therefore you need to know how to write an autoresponder series that works. This is why I wrote this guide: it helps you plan and execute an automated email workflow.
What is an autoresponder series?
I'm about to give you the guide on how to write an autoresponder series the right way but before that let's take a sec and understand the meaning of the phrase itself.
An autoresponder is a sequence of email marketing messages, broadcast emails that are sent to leads in the order and the frequency you want.
For example, you can set up a 5 part email series that gives a tutorial for your leads on a specific topic that is beneficial to them but also prepares them to subscribe to your service.
This email series will give the WOW experience to your first subscriber but it will also give the same experience to the Xth lead too. You don't have to ever send manually an email to these leads on this topic, because the autoresponder does it automatically.
Let's say you have a seven-part autoresponder that delivers a great tutorial for your potential customers — something that they'll find beneficial and valuable, and that lays the groundwork for you to make a sale.
It works when you are sleeping, when you are working on other things or when you meet your friends at the bar for a beer… Now you see the real value of it.
So get back to the guide on how to write an autoresponder series, as promised.
How to write an autoresponder series?
1. Have one business goal in mind
Although your ultimate goal is to convert your leads into paying and loyal customers I hope you know that it consists of different goals. Here are the goals you can address: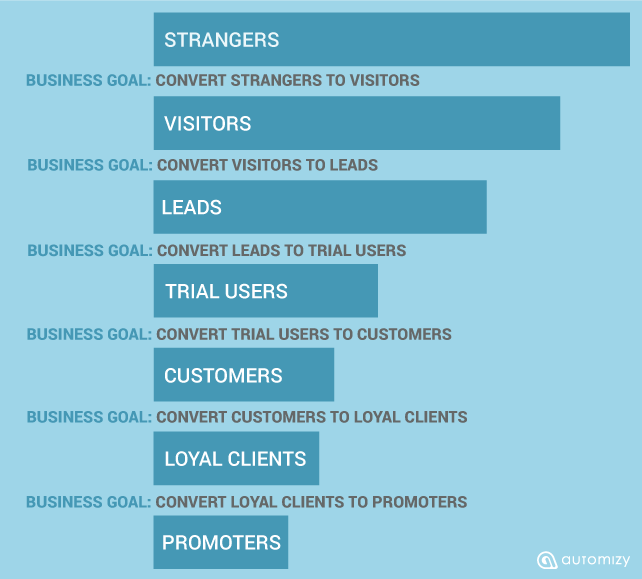 (Please understand that these are just the main business goals. I really don't want to go into details here because reality can be much more complex, although starting only with these goals in mind will help a lot. But if you are curious, here are some examples: like reactivating the leads or trial users who are slipping away, increasing engagement with segmentation, etc.)
You can't address every business goal at the same time. In addition, in order to send emails to people automatically, you have to make them give you their email address. This is the baseline if you want to know how to write an autoresponder series. Therefore you can address business goals for autoresponders as you can see below:
Convert leads to trial users

Convert trial users to customers

Convert customers to loyal clients

Convert loyal clients to promoters
(It means you successfully converted strangers to visitors and visitors to lead – they gave you their email address.)
So based on the lead's stage, you can pick one goal at a time and set up an autoresponder series for it.
For example, at the first stage (converting leads to trial users) you can use a lead nurturing campaign, that gives them free contents that educate and prepare them for starting your trial.
2. Think from your leads' perspective
Now that you picked your business goal, think from your buyer personas' point of view: what is important to them? What are their pain points? What information is needed by them?
First of all, you have to have at least one buyer persona (if you haven't done your research yet). You can read how to create it here.
If we stay with the example business goal above (converting leads to trail users), we can give precisely the necessary information for our leads. Let's take Buffer as an example because it is very clear what they offer. (Automating your social media posts.)
Buffer could create a hook for a buyer persona who is a marketer. The hook could be tips on Twitter posting, for instance. Because they know that it is painful for you to write high-performing twitter posts all the time. So when you see their banner or link on the topic, you click the ad, go to their landing page, give them your email.
In return, you get their hook in a welcome email to your mailbox. In this email they promise more articles on posting to twitter or on any other social media. You get 3 other emails with valuable articles on the topic that is related to the downloaded hook. You are satisfied and looking for their emails. You became a high-engaged lead. (This example is not a real autoresponder that works, just a brief overview what a short lead nurturing process could look for buffer.)
Why did I explain this short story? Because if you want to know how to write an autoresponder series that work, you need to understand that in this process you reached success milestones at every point you opened and consumed a content from this company.
If you understand your buyer persona, you will be able to build up personal buyer journeys for your leads! And think about this little part of journey (lead to high engaged lead, then lead to trial user) as a funnel. And in order to move your leads from stage to stage, you need to serve their needs and help them reach their personal success milestones.
How can you discover these "success milestones"? (This notion is borrowed from Lincoln Murphy, a SaaS trial ninja.) It's not that difficult: talk to people from your set of prospects, ask sales reps (if you have at least one in your company) or just simply test it out with customer development (read the insanely good book from Cindy Alvarez: Lean Customer Development).
3. Think about the free contents
Now that you understand your buyer persona(s) and their success milestones, it's time to design contents that fit these needs. You create your hooks, articles and everything like you would do this according to this article on designing your marketing funnel.
It is always good if you can save time by utilizing your existing contents. Videos, articles, presentations, case studies – use everything you already have in order to save time. You can also login to your blog page's Google analytics and choose the better performing articles. (You can find it: Behaviour/Webcontent/Every page)
But remember: if you manage to give MORE than you ASK, you'll win with your contents. The more interested a lead becomes, the higher engagement you will notice and the higher possibility you will have to sell your product. If you build up your funnel the right way, a percentage of your leads will ASK TO BUY FROM YOU. And it is true, really. This is the heart if you want to know how to write an autoresponder series that really works.
4. Plan your workflows
You have your marketing funnel, you know the needs of your buyer personas and their success milestone and you created the necessary content for them. So go into your email automation system and create your own workflows!
Just to give you an example again:

This is a workflow that has these steps:
Form subscription (on a landing page)

Lead gets a "tag"

Lead gets the requested hook

Wait one day

Send an email with plus content related to hook

Wait one day

Send email with plus content related to hook

Condition: if lead did something goes to automation 1, if a lead hasn't done something yet, goes to automation 2 (these are other lead nurturing workflows based on the behavior of the leads)
This is an example is great to show you how to write an autoresponder series that performs well, because it has a "thank you" email and 2 "brand introduction" emails in it. It also segments people according to the action they took.
5. Write your emails
Based on the articles and other contents you wrote, based on your buyer persona's needs, you have to write every email you want to send out automatically. In the workflow example above, you can see:
"Thank you for download hook" email

"First brand introduction" email with an article as a gift

"Second brand introduction" email with an article as a gift
The copy of your email has to be aligned with your buyer persona. So you should hit a tone that fits your persona the best (friendly, formal, funny, serious, etc.)
If you don't want to write these emails from scratch, here is an article that helps you a lot and shows you how to write an autoresponder series that will perform well.
6. Always use if as conditions
So when we talk about behavior-based marketing, we segment people according to their actions. In the example lead nurturing workflow above, you can see that if a lead does "A" (actually fills out a form on a landing page), gets emails related to his actions but if a lead does "B", gets emails related to this action. This are the "Conditions" that are continuously segmenting people according to their behavior.
Types of conditions can be for example:
clicks on a link or not in an email,
member of a segment or not,
have one of the tags or not,
have all of the tags or not.
This way you will automatically and continuously segment your list of leads according to their actions. It also gives you the chance to send the right message to the right person at the right time!
7. Understand the main factors of open rates
Maybe it seems to be obvious but let me be Captain Obvious because it is not that obvious. (Three obvious-es in a sentence is a little bit confusing. Don't be confused. I just won't change this sentence, I like it. Sorry.)
So here are the main factors that influence your open rates (according to Hubspot) and gives you very good hints on how to write an autoresponder series:
Sender name

Subject line

Offer

Intro paragraph

Expected length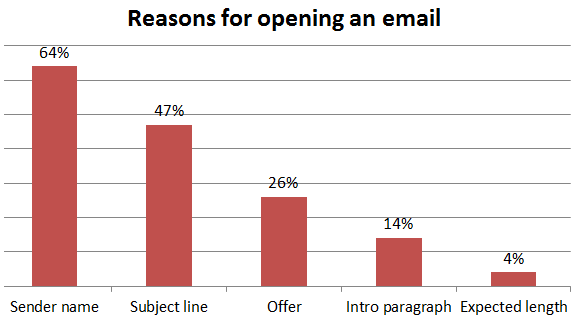 I'm not cheating. Sender name is the number one reason your leads will open or not your emails. This is why I suggest to always give "brand introduction" email series after welcoming your new prospects! This way they learn you as a good brand and as a good sender!
The second biggest factor is your subject line. You probably know it. But now I'm only speaking about the number and quality of the word you use, not the content of it.
Did you know that the best performing subject lines consist of 6-10 words? (It is a survey that was conducted by RetentionScience.) In addition, you should always avoid spammy words like free.
The third biggest factor is the offer itself. The content of your subject line. If you promise something that don't fit your lead's need, he won't open it. I won't explain it in details. This is why we use behavior-based segmentation, don't we?
Intro paragraph is the small text that can be seen in the inbox before you open the email itself. It has a lower influence on your open rates but if you generate high volume in leads, it can increase your sales.
And last but not least your open rate is affected by the expected length of your email. I have to admit that there is no right definition of this notion. Because a high-engaged lead may expect longer emails from you, but a low-engaged lead may not. Therefore I think you can craft your emails according to the stage your leads are at and teach them what to expect in the next email.
8. Use tags for behavior-based segmentation purposes
Do you really want to know how to write an autoresponder series that really kicks ass on the long run? Then start using tags right now!
Tags are nothing more than labels for your leads. For example, if a visitor downloads a hook from you, you can put a tag with their hook name on it. Duh.
Why is it important?
Because imagine that you work with 5 hooks. Knowing which hook is consumed by which lead gives you great powers!
Let's say that you haven't managed to convert a lead to a trial user although you offered a hook, built trust and authority with your articles. It doesn't mean that this lead doesn't want to try your trial. It just means that he is not at the right decision stage yet or you just haven't managed to give them the right contents.
Now that you tagged this lead with a hook name, you can offer him another hook! And then another hook! You will always know what he downloaded and you will never offer something that he already downloaded. This is one of the most clever things to do if you want to know how to write an autoresponder series that won't burn out your email list but will convert more and more leads day-by-day!
In addition, tags are good for labeling your leads whether they moved down in your funnel or not. You can put tags on leads that just entered your email autoresponder series (with new lead), that went through lead nurturing (nurtured leads), that are highly engaged (high engaged leads), low engaged, etc.
It's just awesome.
9. Qualify your leads with lead scoring for engagement-based segmentation purposes
So you are labeling your leads according to their actions. That's nice but still not enough. This is why lead scoring can be very helpful.
If you want to know which leads are the most engaged ones (and put a tag on them) or just which leads opened more, clicked more or submitted more form, you can track.
This is lead qualification based on their engagement – let's say, engagement-based segmentation. Great stuff, you can send special offers manually to highly engaged leads, put them on sales reps.
The last hint on how to write an autoresponder series the right way
If you want to start your automated email campaigns that fit every tip I gave you above, you will probably fail. So the secret sauce of this guide on how to write an autoresponder series is a pretty obvious hint.
You will fail but not because you are stupid or bad marketer. Just because you won't be able to focus your efforts.
So I really suggest you to start step-by-step, focusing only the current stage. Because autoresponders work well only if you implemented the basics, you know your market well enough (your buyer personas), you have enough traffic.
And I know that this whole thing seems to be a little bit frightening. Itt requires a big effort from you and from your business. I know that. But I promise: if you can set up your automated email system, you will grow much faster! And it will really save you a lot of time, wasted efforts and will truly make you real money.
So the question is not that whether you need email automation for your company or not. The real question is: can you use it the right way?
He graduated from the Technical University of Budapest, with master's degree in Software Engineering, Economics and Management.
As a serial entrepreneur he has 10+ failed projects and one big winner one: growing Protopmail email marketing service from zero to a market leader position in Hungary.
He has been working more than 20 years in software development, more than 10 years in IT project management and also having the serious of 10+ years experience in email marketing and marketing automation.
Aside from running a successful business, Gabor is also an email marketing and marketing automation consultant and works for clients like GE Money, DHL, Bridgestone and for several banks and insurance companies.
He also appears at multiple online marketing colleges as a guest speaker, and a well-known speaker at online marketing related conferences.
Gabor speaks 4 languages, has three kids and he is a serious golf addict.
https://automizy.com/wp-content/uploads/2016/05/Automation.png
683
1000
Gabor Koncz
https://automizy.com/wp-content/uploads/2018/02/logo-2.png
Gabor Koncz
2016-05-24 00:00:23
2019-03-11 11:03:24
How to write an autoresponder series: complete guide