According to a report by the Content Marketing Institute, 88% of B2B marketers use content marketing in their strategies. And we all know that effective content marketing requires lots of quality copy.
But, writing good copy is easier said than done. Especially if you're not a professional copywriter. So I collected a couple of tools to help you up your copy game.
Whether you're writing copy for emails, sales pages, articles, or social media posts these tools can be your trusted allies.

Poor grammar and spelling mistakes are the worst enemies of good copy.
And, to avoid these enemies you'll need a spell and grammar check tool. This is where Grammarly stands out. It's an amazing, free Chrome, Safari and Firefox extension that checks your spelling and grammar on Facebook, LinkedIn, Twitter, Gmail, WordPress and almost everywhere else on the web. Also, they have an add-in for MS Office and a Windows App, too.
The Grammarly Browser Extension scans your text for all types of grammatical mistakes. It highlights the problematic words or expressions in your copy and offers you replacements and explanations for all your mistakes.

Not only that, but you'll get a weekly progress report where you can track your progress. They also incorporate some gamification to make writing even more fun. If you use the app consistently for weeks you'll get badges in your weekly reports with fun facts. I don't want to take the fun out of it. So I'll let you earn and see these for yourself. 😉
Be careful with the browser extension because (like most add-ons) it can get into minor fights with some websites.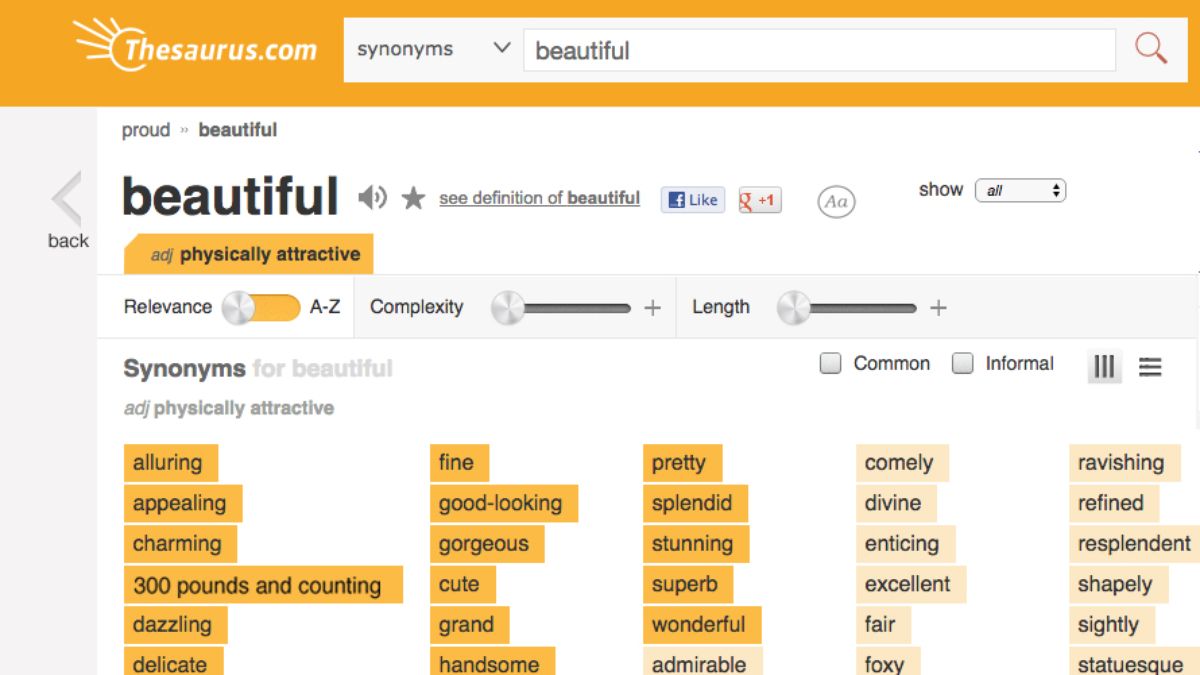 Having variety in your choice of words is extremely important. Yet, sometimes it's difficult to come up with the right expression. Especially when the language you write in is not your mother tongue.
That's when having a thesaurus by your side or in the next tab pays off. Thesaurus.com is biggest and most advanced thesaurus you can find on the web. The database is huge, and it's easy to use.
Word Counter is a tool that counts and ranks the most frequently used words in your copy. You have to copy and paste the text you want analyzed into a box and you're good to go. You have three basic settings:
the option to exclude common words like it, the, etc.,
use only roots (group variations together),
and select how many words you want listed.
This tool can help you in 2 cases:
If you'd like to find some keywords in your copy.
Or if you'd like to see the words you overuse.
Avoiding repetition can spice your copy. To do that, first, you'll need to check what are the phrases you use too much with this tool. Then hit up the before mentioned thesaurus to look for some alternatives for the word in question. And voilá!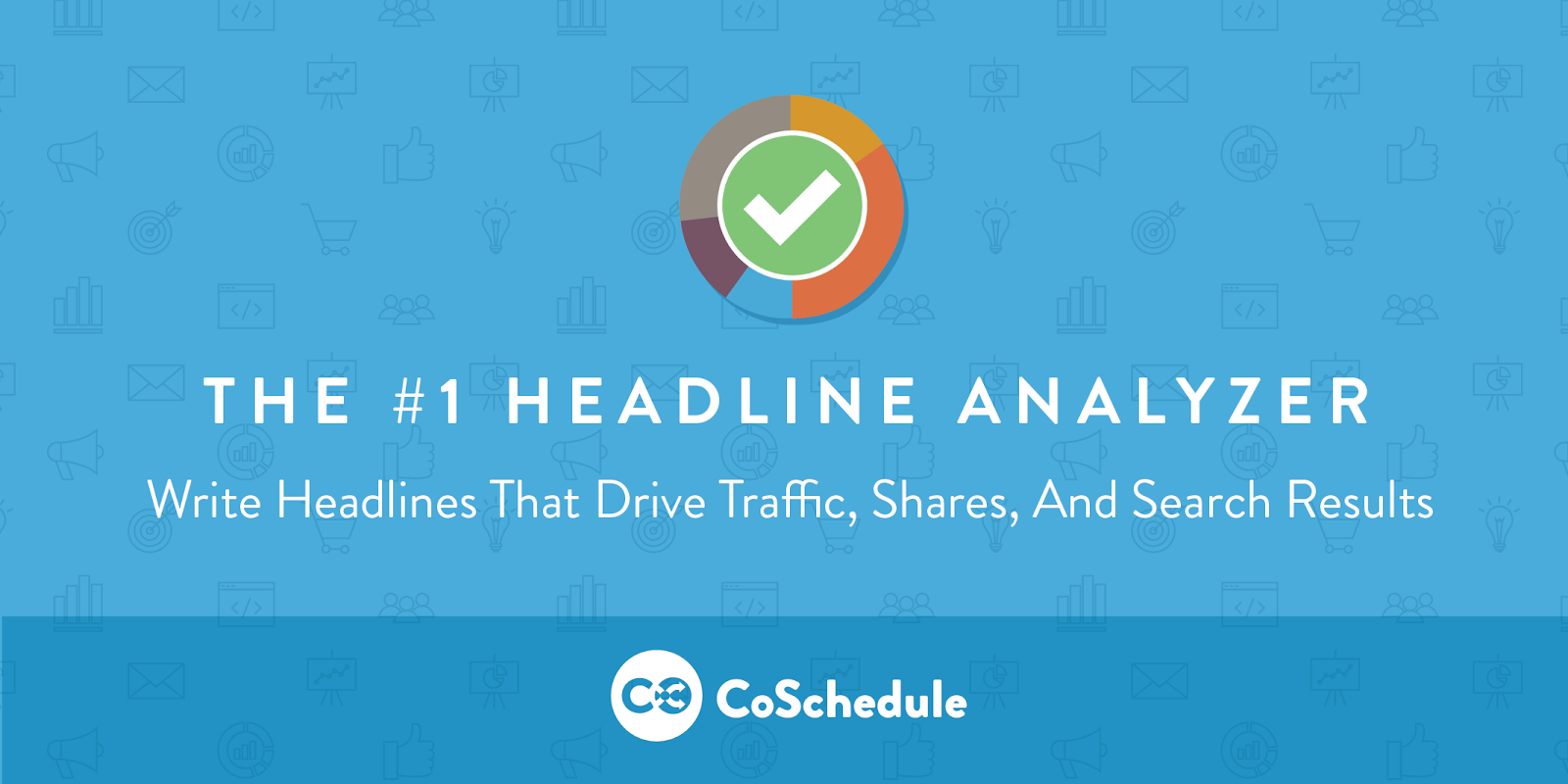 Coming up with an awesome headline for your amazing copy is not easy. Especially if you'd like that headline to drive traffic, shares, and search results. That's what CoShedule's Headline Analyzer promises.
The guys over at CoSchedule put a lot of resources into researching what makes an awesome headline. And put all that in one easy-to-use analyzer. You have to type or copy your headline into the field, click 'Analyze Now' and it gives you an easily digestible report.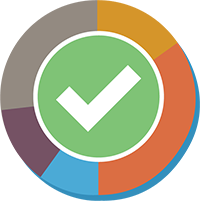 At first glance you'll see an overall headline score according to the creators this should be above 70. If your headline is close to 70 or it's more but you're shooting for the moon and you'd like to improve it further check out the full report to see the parts you can enhance.
As we all know list, how to, and question headlines perform the best in terms of traffic, SEO and shares. The analyzer can detect if your headline falls into one of the categories or if it's generic. And if that's the case think about restructuring your headline.
The right balance of common, uncommon, emotional, and power words is another thing that makes a headline great. And this tool analyzes that, too. Common words should make up 20-30% of a headline, uncommon words should be about 10-20%, emotional words about 10-15%, and make sure to use at least one power word.
As far as length there are two factors the analyzer detects and you should keep in mind: the character count, and the number of words.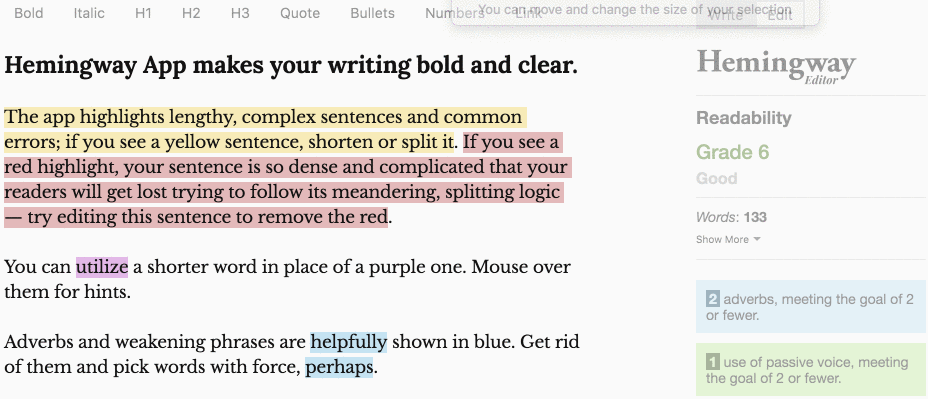 The Hemingway App tells you valuable information about your copy. Among basic info like letter, character, word, sentence and paragraph count it also shows you the reading time and the grade level.
BUT, the real value of this app is that it highlights common writing errors with different colors.
Yellow means that the sentence is hard to read.
Red means that the sentence is very hard to read.
A purple highlight tells you that a word has a simpler alternative.
Blue highlights adverbs and weakening phrases. "Get rid of them and pick words with force…"
And finally, green marks phrases that use passive voice.
As the name would suggest Read-able is a readability test tool that uses widely accepted readability formulas to see if your copy is up to par.
"Did you know that the average American adult reads at a 7th to 9th grade level? Keeping your content within that range is a great way to maximize your readership…"
What's great about it is that you can run tests by URL or direct input. The latter is a text box where you can type or copy & paste and text you'd like to test.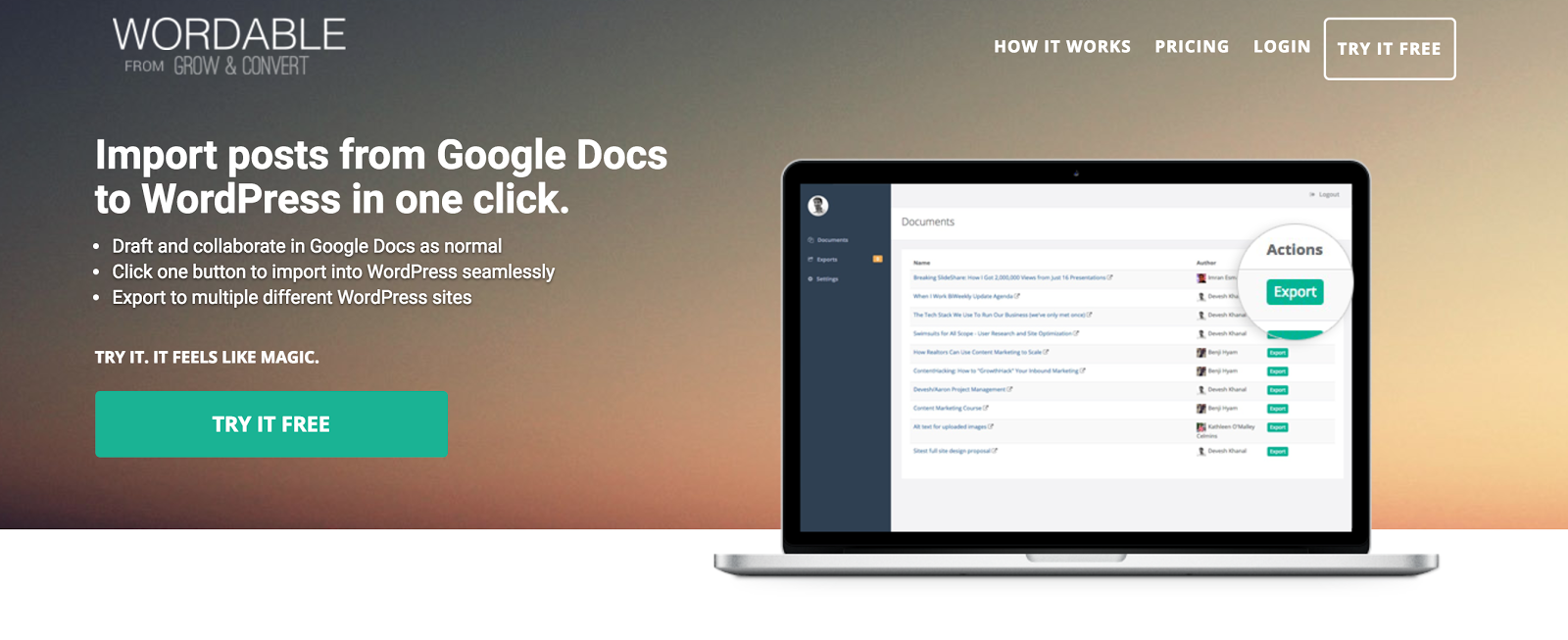 Staying with the 'ables', Wordable is a tool that lets you import your copy from a Google Doc straight to WordPress.
You can write as you normally would in a Google Doc. Format it however you'd like with bold, italics and built-in headings. Include images, bullets or tables. You can also use comments, track changes or collaborate. It doesn't matter.
Wordable lists the last 10 docs you edited automatically. So when you're ready just choose whether to export as a post or a page. Click export and it's ready in WordPress.
By the way, I just used this tool for the first time, and it's amazing.
Usually, I do a lot of editing in WordPress and that can be a pain in the a**.
For this article, I edited everything in the Google Doc. And all I had to do in WordPress is:
setting a featured image,
adding some tags,
selecting a category,
and setting up Yoast for the piece.
Ever had one of those tip-of-the-tongue moments? The Writers Reverse Dictionary lets you look up words by definition. So the next time you can just type in the definition, press search and you'll have a list of words to choose from.
RhymeZone will leave your mind blown!
PHEW! That was awful, but you get the point. Use RhymeZone, because poetry isn't the only thing that calls for some rhyming. Whenever you'd like to spice your copy up with some rhyming words give it a go.
If you're doing any copywriting consulting you're going to appreciate this trick from Nevill over at KopywritingKourse.com: "Just copy and paste this little piece of JavaScript into your bookmarks bar, and anytime you want to "edit" a page just click it:"
javascript:document.body.contentEditable = "true"; document.designMode="on"; void 0
This is great because you can show your clients how to structure their copy, right there on their website.
Writing requires nothing more than a pen and paper. And there's a certain purity in that, I get it. Old habits die hard. But still, when it comes to copywriting digital has a clear advantage over analog.