This guide is perfect for gym and fitness centers, personal coaches, yoga instructors, or self-employed fitness trainers.
Fitness email marketing is about educating, engaging, motivating and being a part of your customers' fitness journey.
With the smart use of email marketing for fitness businesses, you can:
Increase gym memberships
Leverage new members
Educate and engage people
Increase revenue
How to achieve these goals?
In this post, we'll dig a little deeper into that so you'll learn:
Let's dig in.
5 Email Marketing Use Cases that Work for Fitness Gyms & Trainers
1. Increase memberships for your fitness center
The ultimate objective of every gym and fitness studio is to increase their membership sales.
The more recurring memberships, the higher the revenue.
Once you've built an audience and converted your website visitors into leads, send promotional email campaigns to invite your audience to join your gym and become members.
2. Re-engage inactive members
Why is email marketing different from social media, SEO, or other marketing channels?
It's because you have direct access to reach out to your customers or gym members right on a platform they check on a daily basis.
Even if your gym members follow you on Facebook or Instagram, you can't just tell who's who.
Email marketing allows you to segment your contacts to tell who's an active gym member and who's not.
This provides you with the opportunity to re-engage your fitness center members before they churn and win them back.
50% of all new gym members quit within the first six months. With the right re-engagement email campaigns, you can reduce that number to keep your members coming back.
3. Promote your fitness products
As a low-cost marketing channel, email allows you to send bulk promotional emails to promote your fitness products and increase your sales.
Here is a simple math equation.
Email marketing software like Automizy, start at $9/month with a contact limit of 200 contacts.
If you send one email campaign to promote a $10 product to your 200 contacts and make only 10 sales. You've just made $100 from that $9 monthly subscription.
From just one campaign, and you still have a whole month.
You just need good fitness promotional ideas for your product, and you can reach significant results with a small budget.
4. Engage and inform your audience
We're all pretty attached to our email. We check our email every day to find updates from our banks, favorite brands, work, etc.
This makes email marketing the best medium to engage your audience and keep them informed.
During challenging times like the COVID pandemic, gyms had to apply new health measurements and open and close depending on government policies.
In such times, gyms and fitness centers find value in using email marketing to inform their members about the new guidelines or if any new changes come into the scene.
5. Send valuable educational content
Besides providing members with space to workout and making the environment comfortable to exercise and stay healthy, fitness centers today have bigger responsibility toward their customers.
One of the best use cases of email marketing for gyms is the ability to broadcast educational content to your customers.
If you publish blog posts, make video guides, share tips or provide consulting, email marketing helps make the educational information accessible to your audience.
You can also provide nutrition consulting service to diversify your revenue streams and offer complete fitness services to your customers.
And once people find value in what you share with them, they'll engage and stick around.
4 Strategies to Grow a Fitness Email Marketing List
Whether you're an established fitness studio or a self-employed fitness instructor, here are 4 best strategies to grow a fitness email list.
1. Create a fitness lead magnet
A lead magnet is an offer/promotion that provides value to a prospect in exchange for their contact information.
The lead gets value from your offer or content, and you get the ability to reach out to them with more details about the value your gym or fitness studio can provide.
Here are some great lead magnet ideas for gyms:
Event registration
Discount for membership
Meal prep plan
Workout video course
Recipes
Would it take a lot of time to deliver your lead magnet?
No. By setting up a lead magnet email sequence, you can automatically:
Deliver the promised lead magnet
Nurture your leads and introduce them to your gym
Promote specific products or membership plans
2. Start a blog
A fitness blog offers you the opportunity to share your expertise with other people.
It's a very effective tool that gives you the power to share your message instantly with millions of people across the world.
Your blog can include a variety of content types, including written posts, video guides, courses, and so on.
A blog helps drive traffic to your website, which you can convert from visitors to leads using:
Lead magnets
Special offers
Invitations to online sessions
Etc
There are tools that help you turn your blog readers into contacts in your email list.
For example, you can use OptiMonk to display personalized popups based on what blog article your visitors are reading to convert them into subscribers.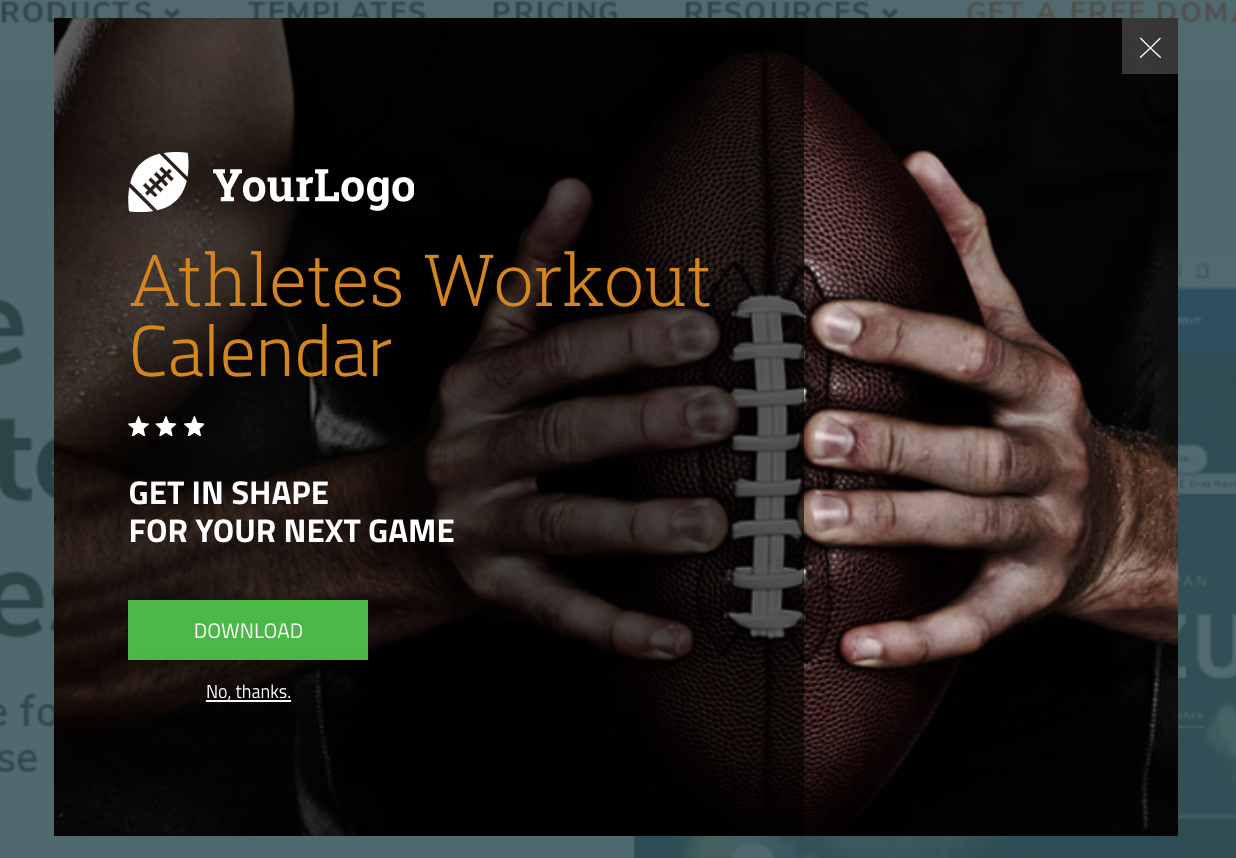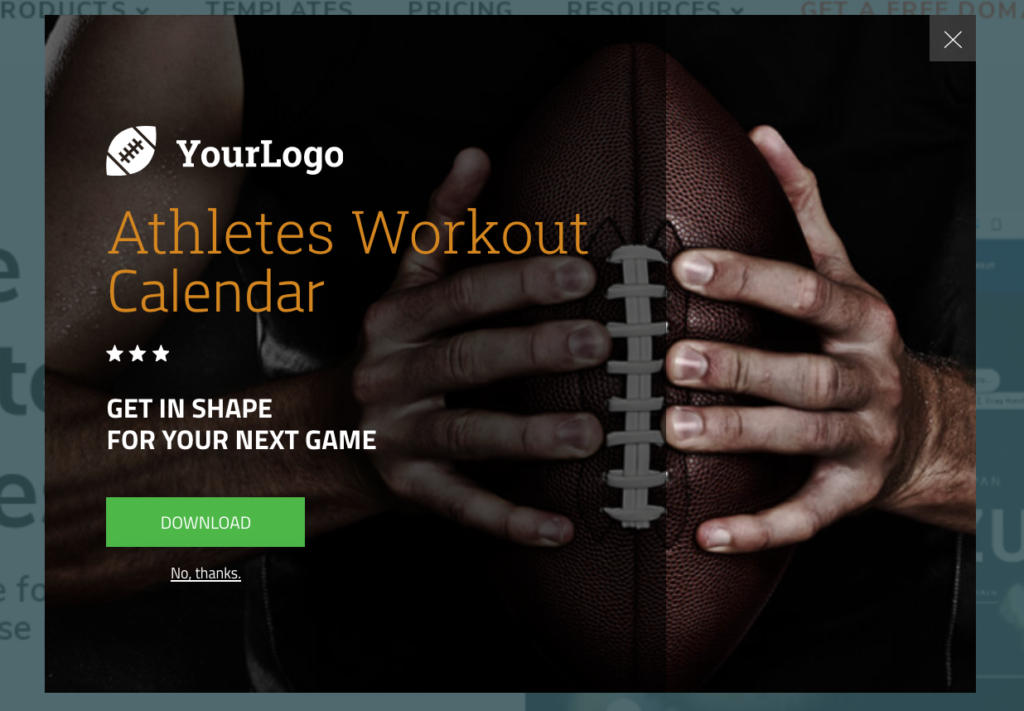 3. Create a mobile app
Smartphone usage in the gym is important. 46% of men and 43% of women rely on their phones during gym sessions.
Once you have the resources to give a next-level experience to your gym members, you can create a mobile app to assist your members with their:
Workout routine
Attendance calendar
Video tutorials
Checklist of exercices
By creating a mobile app, you make a registration required once users download it. This helps you grow your fitness contact list.
Here is an example of a free mobile app from Athlean-X. A simple app, targeting a specific niche.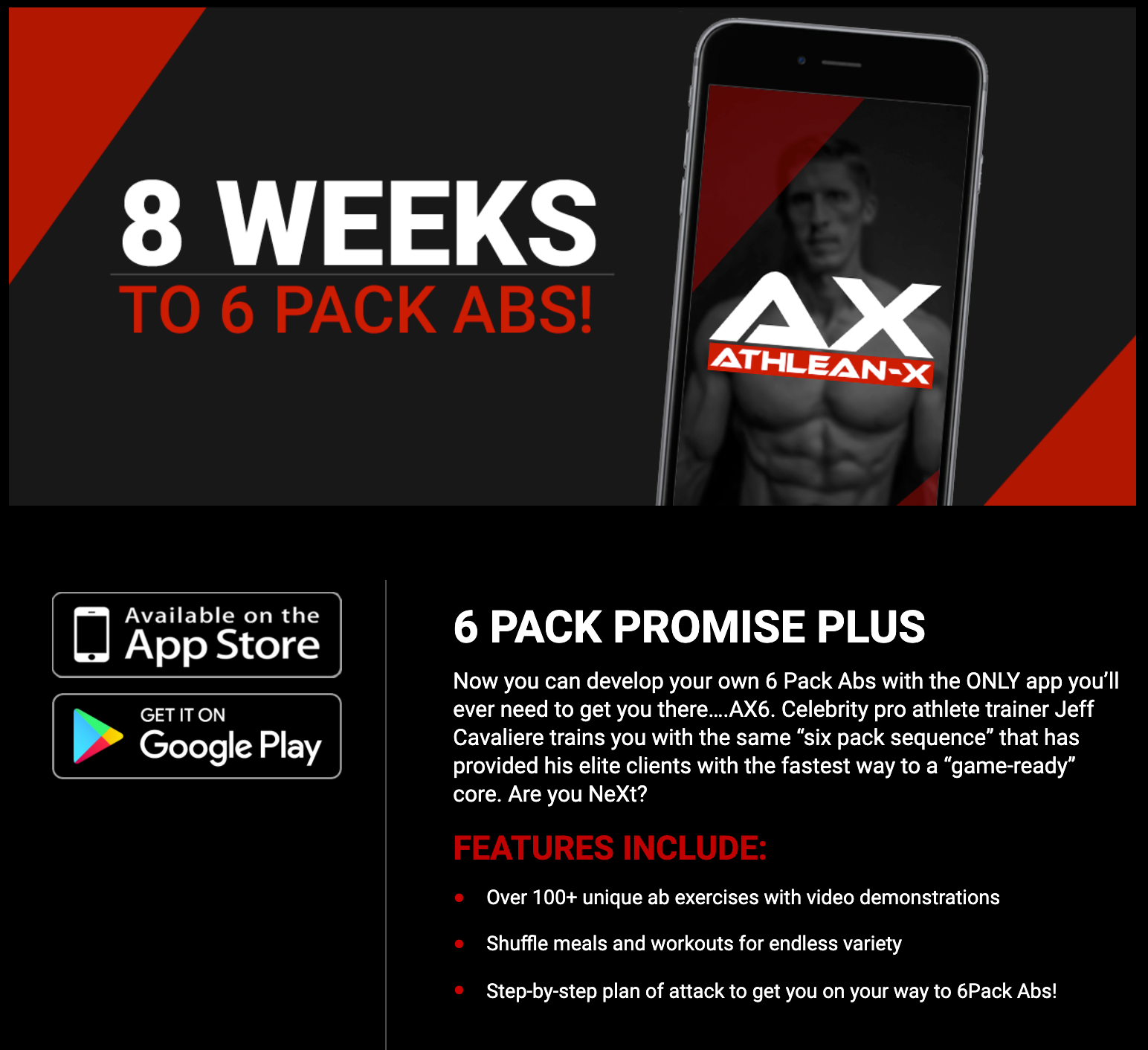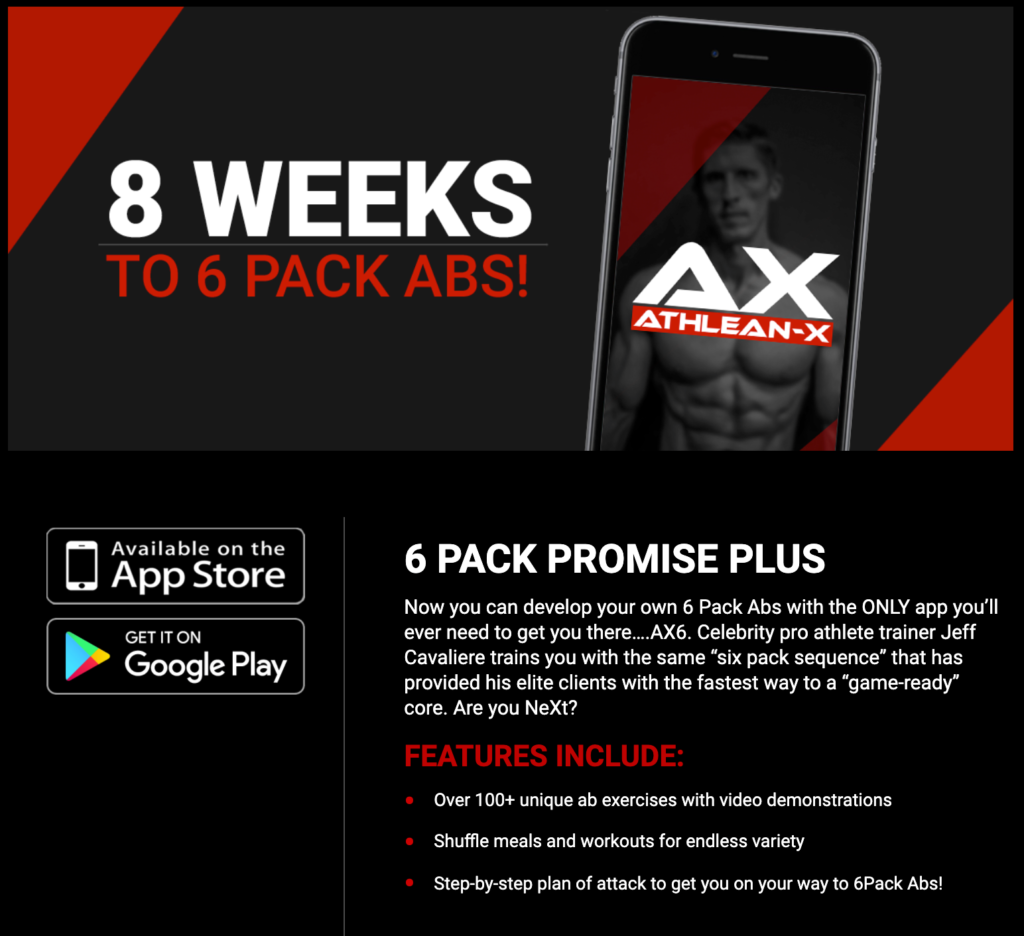 4. Organize a weekly home workout session
Since the Covid-19 pandemic caused gyms around the world to close, working out in public areas became challenging and risky.
But these challenges didn't keep fitness enthusiasts from practicing what they love.
Whether it's a yoga class on Zoom or a live Youtube session, many of us are trying to find ways to exercise effectively within four walls.
A simple home workout session provides you with the opportunity to grow your fitness contact list by providing an online workout.
People who are interested will have to register to take part, and in return, you receive their contact information.
Sign up to Automizy to access fitness landing page templates to promote your home workout sessions and grow your email list.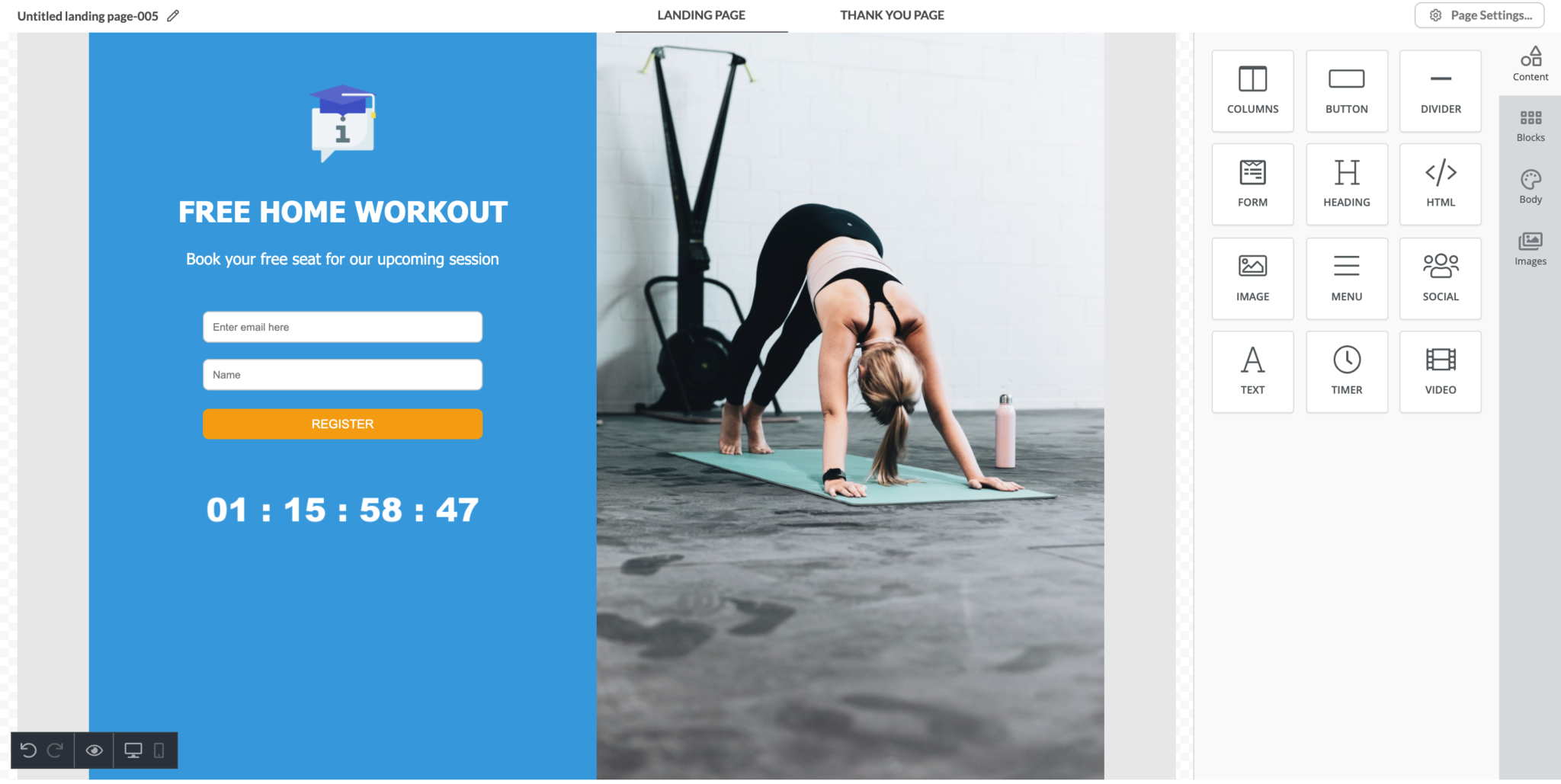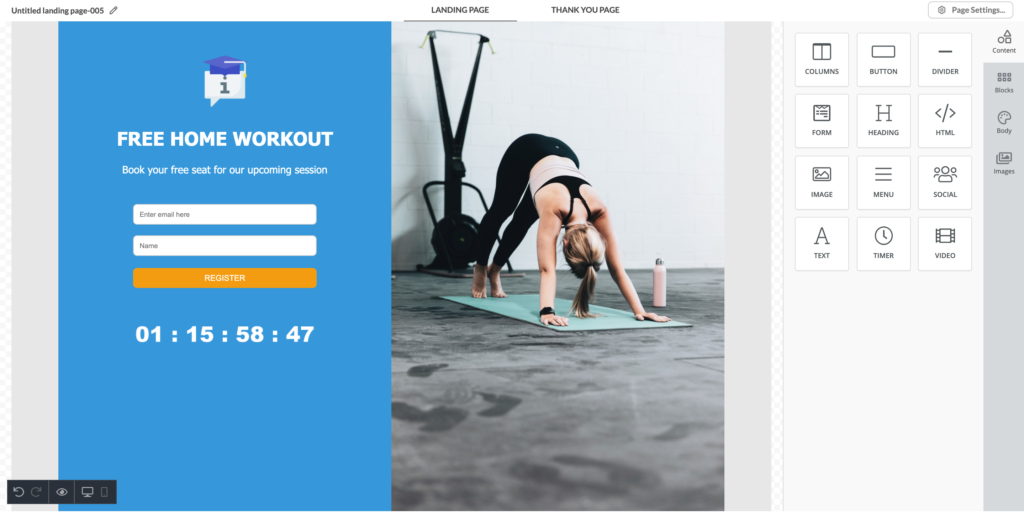 6 Fitness Email Templates to Copy
We've put together 5 inspiring fitness email campaigns that can be used by gyms and personal trainers.
1. Promote your gym locations
If you're managing a gym or fitness studio that's available in multiple locations, it's best to let your audience know where they can join you.
Design a creative fitness email template, make it visual by including a map pointing to your centers' locations.
The following gym email example is an inspiring one to learn from.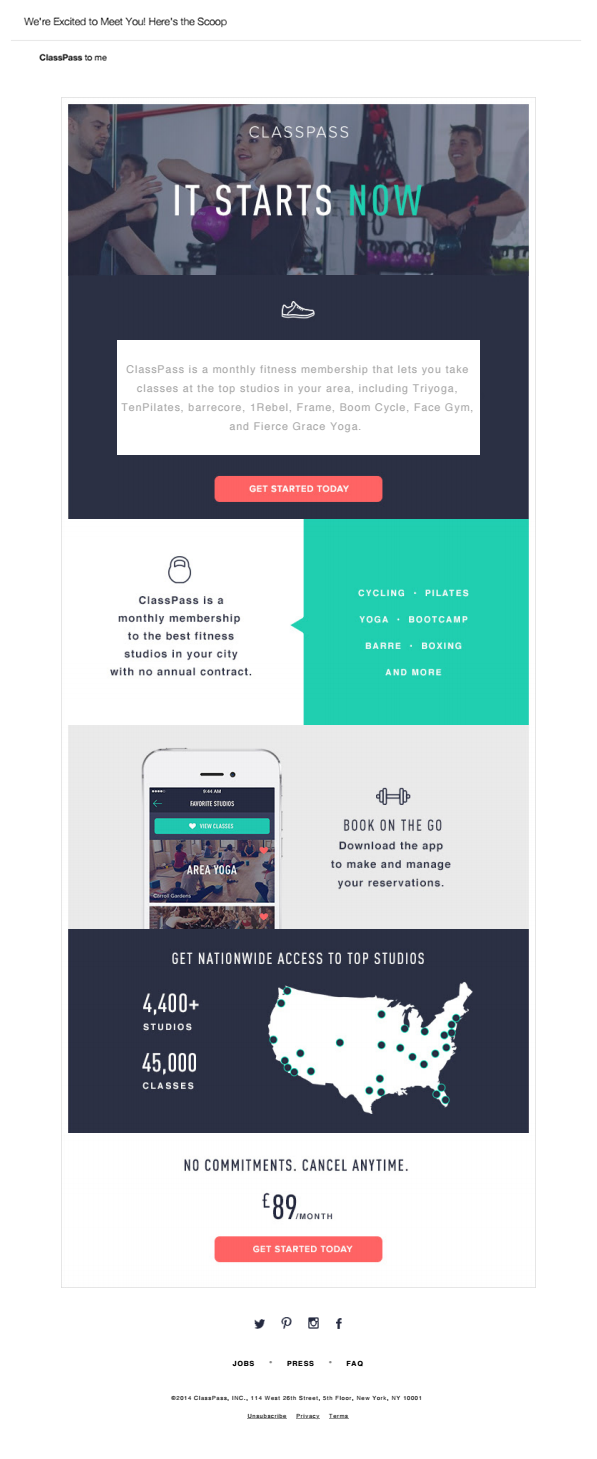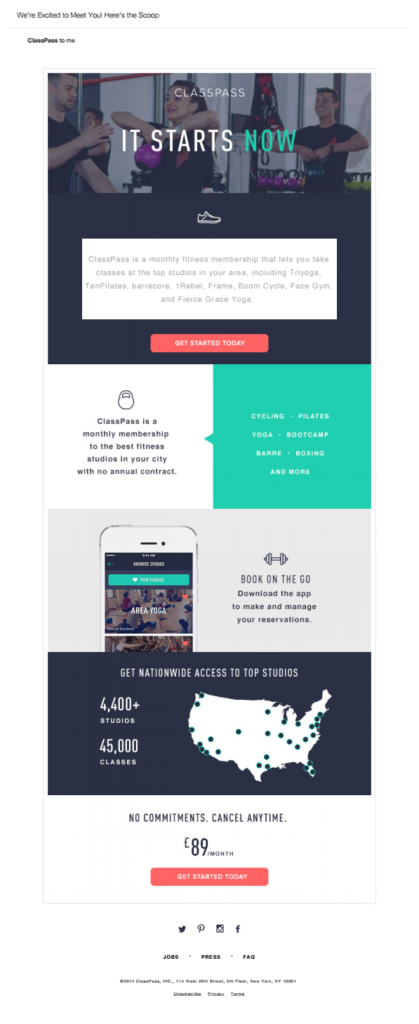 2. Invite users for a home workout
Home workout invitation emails are a great way to engage your audience and get them excited to exercise from home.
Instead of a basic "Join now" email copy, mention the benefits of your workout. Whether it's mental benefits or physical, it would make better sense to help your audience see the impact of their workout.
Headspace invites their users for a mind-body workout while promoting their mobile app workout guide.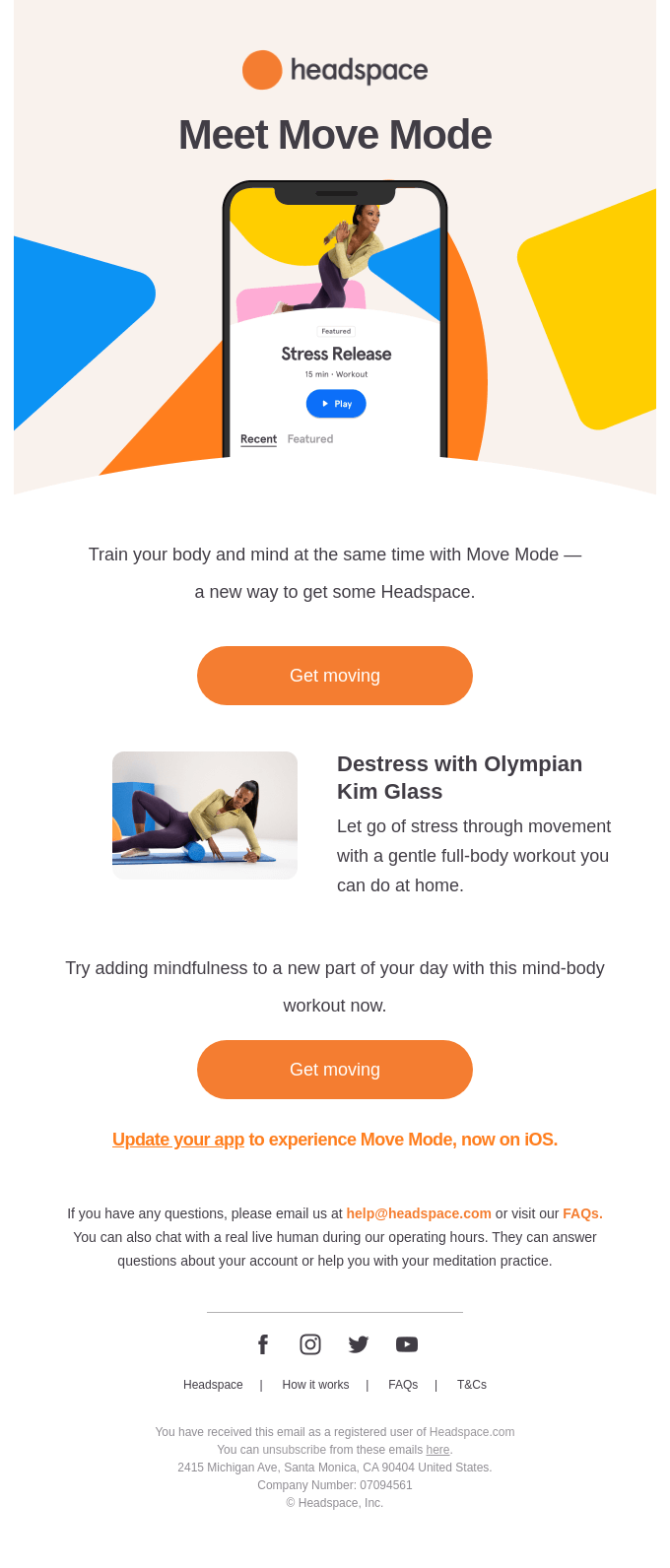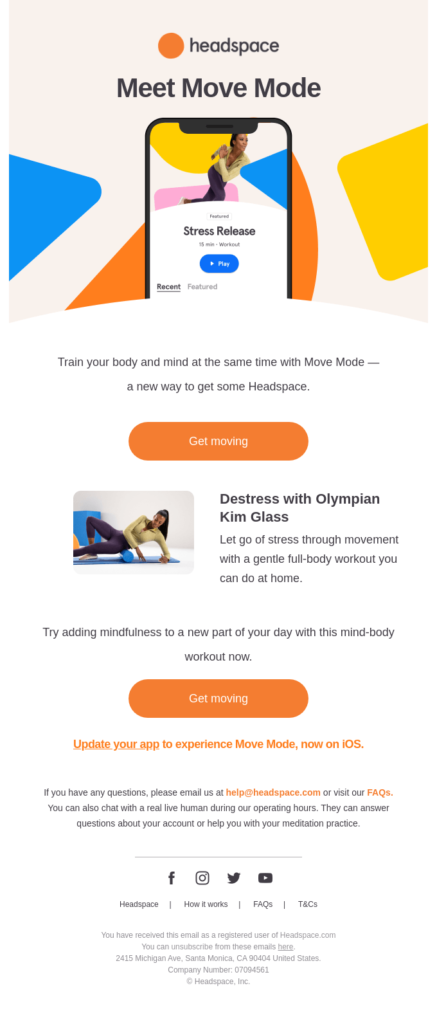 3. Motivate customer referrals
Your gym members can be your best brand advocates and word-of-mouth is the best kind of marketing.
Gym referral programs are great to acquire new members at a minimal cost.
The only budget you'll need to have is for what you promised to reward the referrer or the referred person.
Also, members are also more likely to stay members of your gym if they have more people they know attending the same club.
Here is a gym referral email template from Strava, providing free annual membership for the referred person.


4. Help your audience maintain a discipline
One thing we can all agree on is how hard it gets sometimes to maintain workout discipline.
In memory of all the gym memberships we purchased and never used.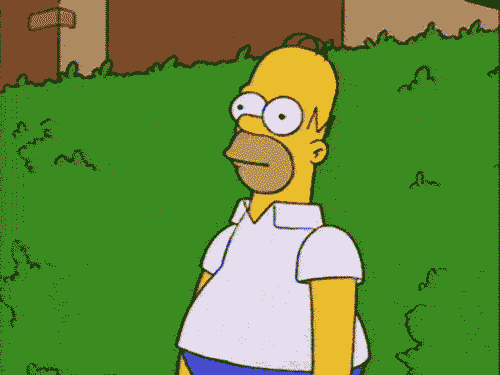 If you're looking for email marketing tips for fitness professionals, here's one: don't just send promo campaigns.
Use fitness email marketing to engage your audience and be part of their fitness journey.
Send workout reminder emails to your audience to keep them disciplined and also show that you care about their wellbeing.
In your reminder email, include the workout routine and guides to help them stay on track.


5. Announce new products
If you happen to have fitness products to sell, email marketing helps you announce your new products.
A creative fitness product announcement email attracts early adopters and increases your sales.
Here's a fitness email template to promote a treadmill from Peloton. The layout of the product image makes it stand out and grab attention.


6. Warmly welcome new members
Your welcome email is the first impression you give to your new leads or customers. You should also set expectations for your methods of communication, so your audience knows what to expect.
Because welcome emails are sent automatically to new subscribers, they save you from manually connecting with new leads — a tedious, time-consuming process for even the smallest business.
Your welcome email should wow your new contacts.
Create a beautiful, well-designed email that not only makes a positive first impression but also displays your service as something they can't find elsewhere.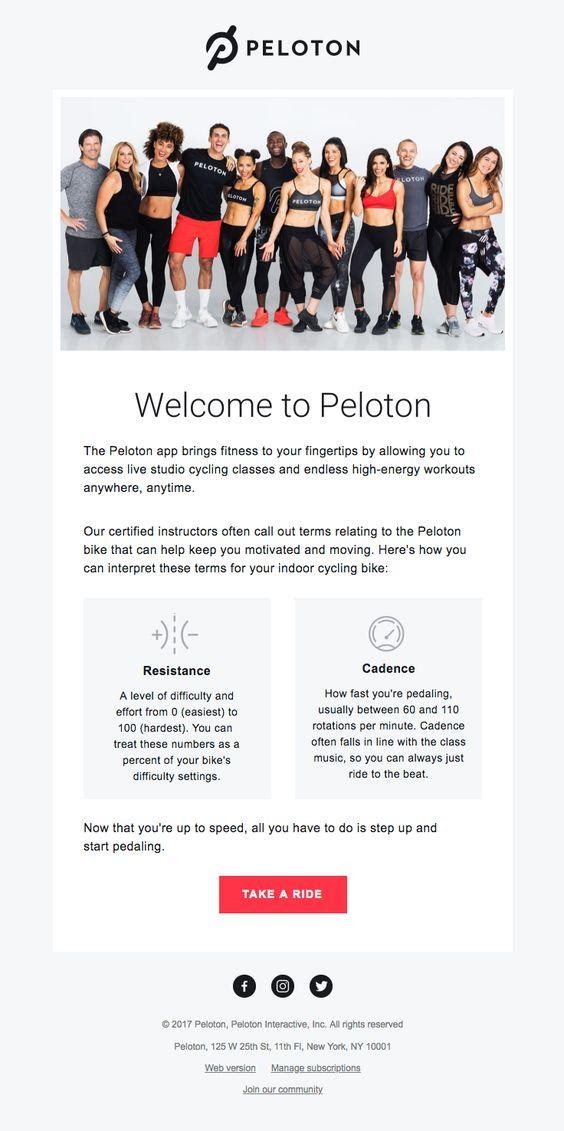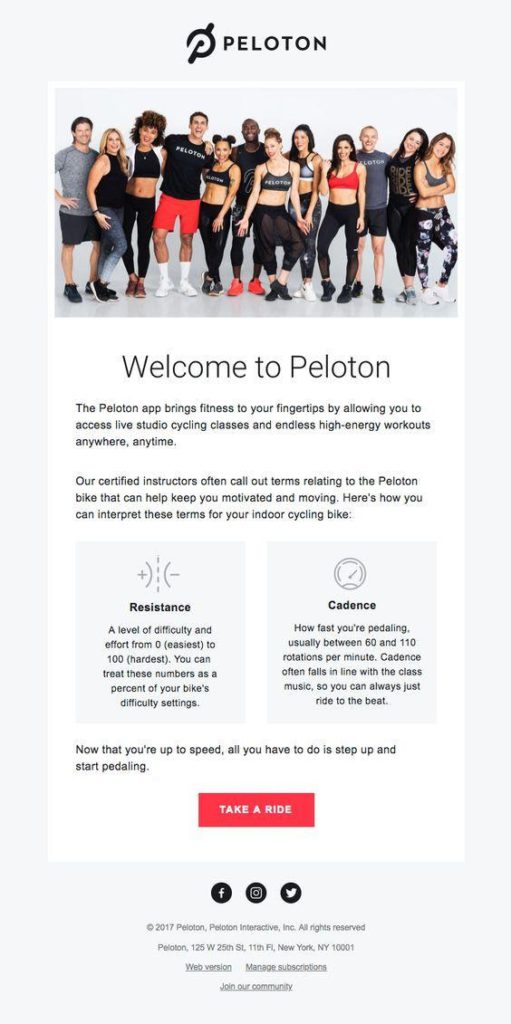 3 Ultimate Fitness Email Marketing Tips for Gyms & Personal Trainers
1. Get personal
The fitness journey can be frustrating at first; whether the member wants to lose weight or gain muscle mass, it's always challenging first.
As a fitness professional, you can use email marketing to get personal with your audience and motivate them through the process.
You can do that by:
Sending workout reminder emails
Sharing motivational stories to give them a push
Provide tips and resources
Similar emails can make you a supporter of your audience's fitness journey, and they will differentiate you from other fitness centers or instructors.
2. Collect data to segment your audience
We can't speak of fitness email marketing without email personalization.
To get to the point where you send personalized emails to your audience, you'll need to:
Collect data about your contacts
Segment your contacts into groups
Firstly, you can collect information during the opt-in form they'll complete when they join your gym or subscribe to your website.
For instance, you can ask them about their fitness goals. Whether to lose weight, gain it, or stay active.
This data can help you decide what content to send to your contacts.
Secondly, once you collect the data, you can segment your contacts based on their:

Interests
Fitness goals
Diet type (Vegan, vegetarian, etc.)
Workout style (Yoga, cardio, weight lifting, etc.)
Why is this important? Trust me, you don't want to send a meat-based meal prep to your vegan audience.
For once it's irrelevant, but it also might offend them, so they unsubscribe from your list.
By segmenting your contacts into groups that share the same interests and data, you can then understand your audience. This helps you:
Create content that matches your segments' interests
Develop specific products for specific segments
Send content that interests the recipients and increase engagement
To sum up, follow these top 3 fitness email marketing tips:
Collect data
Segment contacts
Personalize emails
3. Keep your email copy brief
I recommend you keep your email copy brief for skim readers.
It's not just common sense that the shorter the copy, the easier it is to digest. But also people's attention spans are getting shorter.
Here's the catch to keep your copy scannable:
Write a clear, understandable headline
Write short sentences
Break paragraphs into short, separate sentences
Focus the message (make a point)
Align your email to the center or left
If the topic you're sending an email about is long and requires a lengthy explanation, I recommend you publish it as a blog article or a downloadable document and just include a CTA to redirect your audience.
Conclusion
Fitness email marketing strategies are as numerous. You can choose to do a few different ones or all, but the most important thing is that you:
Stay authentic
Help customers reach their fitness goals
Provide credible resources and tips
Raise awareness
Once these are included in your fitness email campaign, revenue follows.
Very often fitness studios market to anyone and everyone without taking the time to segment and personalize their campaigns.
"If you're talking to everyone you're talking to no one."