Marketing ideas to increase generated leads? I'm so sure you've tried it all from social ads, SEO, to lead magnets and so on.

I remember the day I captured my first 100 leads and screamed: "Yes! I've cracked the conversion code!!"

You know how the story goes by now: I was quite wrong.

I came to understand that you can't just capture leads and call it a day. You'd be sitting with generated leads and no clue how to increase conversions.

Luckily my dog days are over, and so should yours.

You're stuck wanting to convert more of your leads into customers, on autopilot?

You're in luck! In this guide, you'll learn different kinds of email sequences that will help you boost your conversions.

You'll learn:

We're using these cost-effective strategies ourselves, and with success.

Let's start.

What is an Email Sequence?
An email sequence is a series of pre-written emails that are sent out to new subscribers in a pre-determined sequence at pre-determined intervals.

You can use it as an email autoresponder, notifying customers you have received their email and they will get a response in a pre-determined time frame.

Email autoresponders are sent in the order and frequency you choose.

An email sequence is a series of emails sent based on pre-set time intervals or automated email triggers.

If your email sequence is trigger-based, emails are sent based on user actions like:

Downloading content
Subscribing to your email list
Abandoning shopping cart
Placing an online order
You only have to set your email sequence once. And determine the frequency of how many times you want your subscribers to hear from you.
Types of Email Sequences
You can use email sequences for many purposes, depending on what you want to achieve with your email sequence campaign.

You can consider setting up email sequences to:

Nurture your leads
Send updates and announcements to customers
Deliver a promised document
Recover abandoned carts, etc.
All the types of email sequences you create help you to build trust with your customers and map a clear email sales funnel for your prospects.

Let's have a closer look at two most-beneficial cases of email sequences. Lead nurturing and lead magnet follow-up campaigns.
What is an Email Lead Nurturing Campaign?
A lead nurturing email sequence is a series of email designed to help subscribers learn about your business.

Use your email sequence pre-written emails to deliver any opt-in promise (a coupon, discount, email digest, etc). And use it to establish a positive relationship while meeting your subscribers' expectations.

Regarding a good lead nurturing email sequence, consider the following flow:

Email 1: Send a thank you email.
Email 2: Send more value that matches with subscribers' interest
Email 3: Introduce yourself, your business and the team.
Email 4: More value that can help your subscribers.
Email 5: Present your product and why it would be useful for your subscribers.

The frequency of how often you send your emails is as important as your email content. For that, consider applying waiting periods between emails.

Here is a lead nurturing email sequence example created on Automizy's visual email automation builder:

It is important to add a waiting period between emails. You don't want to send 5 emails in the first 24 hours. That's considered spamming.
What is a Lead Magnet Email Follow-up Sequence?
A lead magnet is a free piece of content that you give away to your visitors in exchange for their email address. This lead generation strategy helps you build your email list faster.
There are many ways to capture new email addresses, the trick is to use the combination of the best lead generation tools and tactics – and of course, an amazing email follow-up series that gives a ton of value.
It is smart to start with offering the lead magnets from your own site or blog, using your "owned media". That way you can prevent wasting budget on Facebook ads and reach that ROI sweet spot.
For instance, your prospects can opt-in to receive the promised lead magnet through:

Website form
Landing page
Website popup, etc.
Here is an opt-in popup for a lead magnet:

The lead magnet should be interesting, highly specific for your visitors. The purpose is to "sell" this document for contact information.

Once your prospects are opt-in, an email autoresponder does the job to deliver the promised document.

I love how they use emoji in emails. The subject line gift emoji made it feel exclusive.

But many businesses mistake lead magnet emails and use it only to deliver a giveaway that's it.

Your lead magnet email sequence is an introduction to putting your freshly acquired leads through an email marketing sales funnel.

How's that done?

Have a look at the following lead magnet email sequence:

Now you can tell that it is a drip campaign used to deliver your lead magnet, nurture your leads and turn them to 'ready to convert' leads.

That's when they're ready to digest your product sales email.

At this point, your leads have received free value and learned enough about you. They're more likely to buy from you at this stage.

Simple isn't? It's not some rocket science stuff.
How to Write Lead Magnet Email Follow-up Sequence
A lead magnet email follow-up sequence is all about the flow of your content.

How's content flow is important?

Suppose you're running B2B email marketing. And as a lead magnet, you're promoting a free sales PDF guide on your website.

Prospects convert to leads and opt-in for your email list to receive the PDF file.

When they opt-in they receive the following email sequence:

Email 1: Lead magnet file.
Email 2: Become our partner.
Email 3: Let's schedule a meeting.
The shift from "get this free PDF" to "become our partner" is huge.

There is a lot of commitment to becoming a business partner with someone. You can't just propose it in the second email or one day after someone visits your website.

Here is a better alternative for the same case:

Email 1: Lead magnet email
Email 2: Tips about sales
Email 3: How to overcome sales obstacles
Email 4: About us
Email 5: Sales partnership case study
Email 6: Book a sales consultation with our experts
Email 7: Re-engagement email (are you still interested?)
You can't just say "Hi, buy from me". As the second email sequence shows, you must:

Provide value for your leads
Help leads learn enough about you
Build trust and relationship
Establish authority
Offer more value
Engage leads
It's no secret that you're sharing lead magnets to build a larger email list and sell more. But make sure you do it without feeling spammy or too salesy.

Converting leads only takes you a good lead magnet funnel to move down leads in your sales funnel.
How to Create an Email Lead Nurturing Sequence (5 Email Campaign Examples You Can Learn From)
Email sequence campaigns are not only about lead nurturing and lead magnets.

Here are 5 email sequence campaign examples to learn from.
1. Confirmation email autoresponder sequence
Registration or subscription double opt-in confirmation emails help you increase your subscribers' engagement rate and make sure you are communicating with authentic people.

Set up a confirmation email autoresponder sequence to your new email subscribers to let them know they're joining your email list, and for you to verify their identity.

Here is a savvy confirmation email sequence created on Automizy for a SaaS business. 

Used to confirm trial users' registration, moving the most engaged registrants to their next step.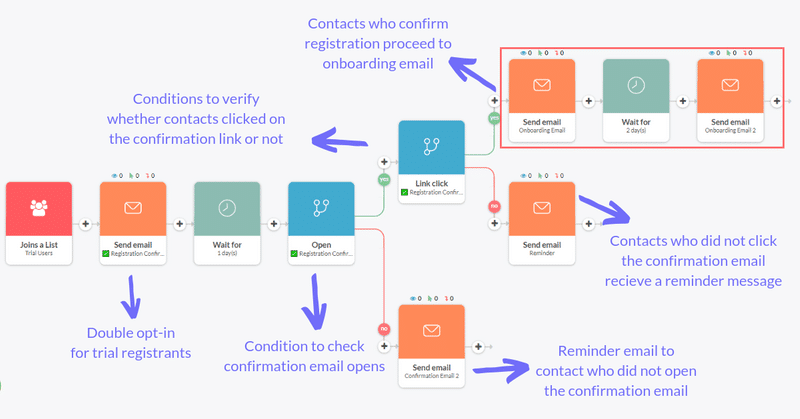 Once you finish with the registration confirmation emails, it's about time to onboard users.
2. User onboarding email sequence
You have to keep your users motivated, show them how they can get value out of your product. For this, you need a user onboarding email automation campaign.

Map the "aha moments" of your product in up to 4 emails mentioning why your leads should choose you instead of your competitors.

After you onboard your new leads and they engage with your onboarding email sequence, you can pass them to your sales emails.

Leads are considered at the bottom of the funnel after a successful onboarding.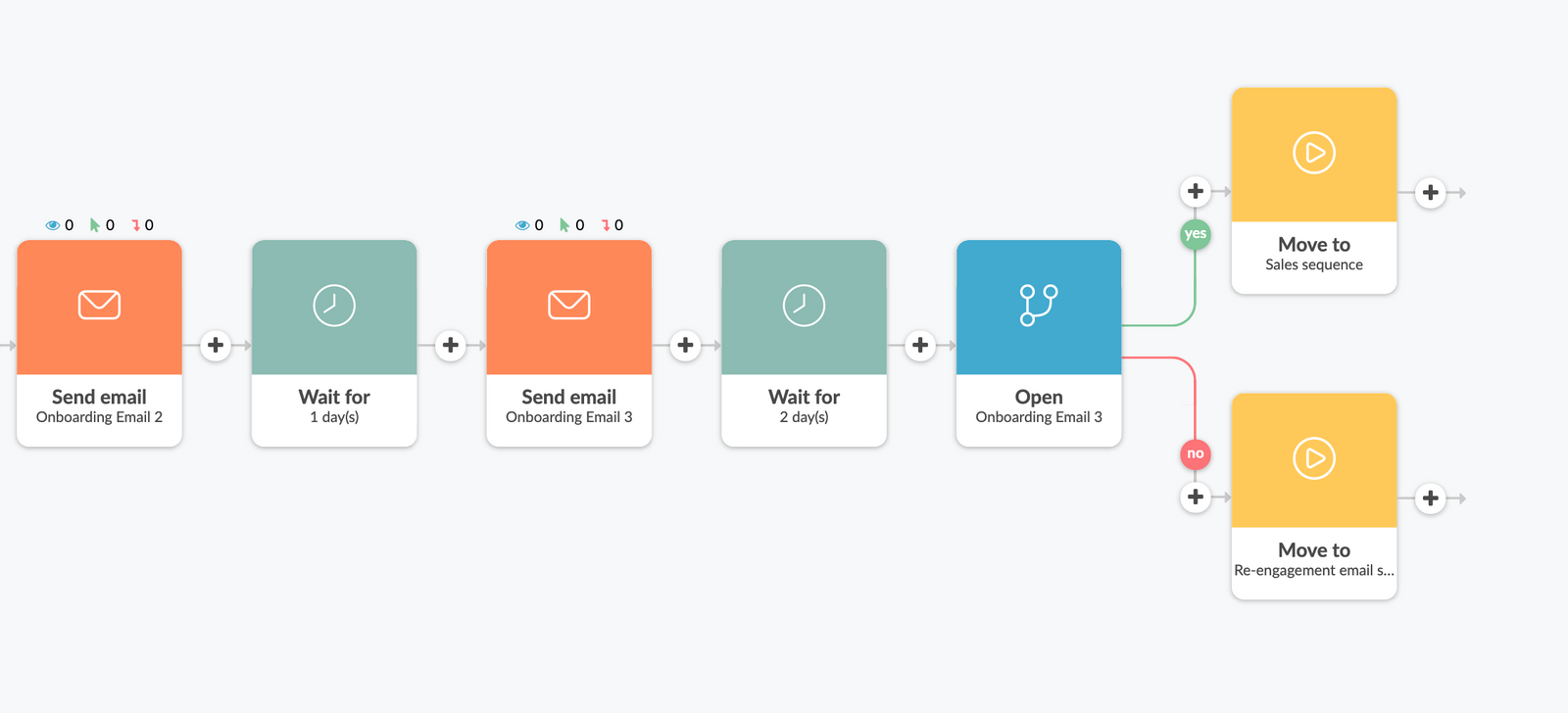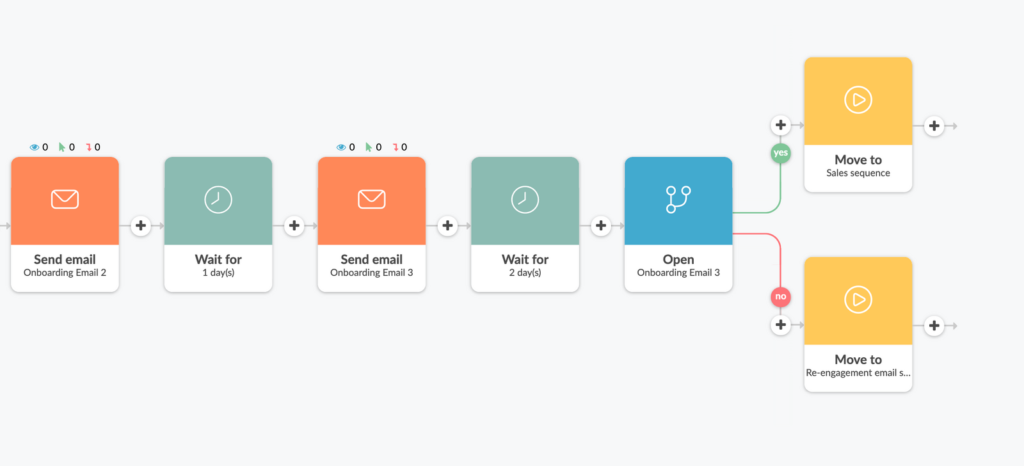 3. Cart abandonment recovery sequence
Cart abandonment email sequence is what can help you recover a potential buyer who's left something in the shopping cart and left without purchasing.

An abandoned cart recovery sequence may help you bring them back.

As mistaken by many, a cart abandonment email campaign is not made of one email.

Here is how to upgrade your cart abandonment recovery sequence:

Email 1: You left this behind
Email 2: A second reminder email
Email 3: Buy now for a 10% off
Offering a discount after a couple of reminder emails might change your prospects' mind.

Here is how it could be visualized on Automizy's email sequence builder:

4. Event email sequence
Notifying your existing contact about your upcoming event is not only one announcement email that you send.

Your event invitation email campaign consists of more than one email, with the objective of:

Announcing your upcoming event
Nurturing your leads
Qualifying leads to motivate ticket purchases, booking, etc
Sending reminder emails
Updating and informing your attendees.
You can use a similar email strategy for webinar email sequence too.

That is one event invitation email sequence from Automizy. It is completely customizable and you can always adjust it to your event goals.
5. Follow-up email sequence
Follow up sequences is made of email series that you trigger to whenever customers perform a specific action:

Updating profile
Making a purchase
Finishing a course, etc.
You determine your trigger based on the desired action you want your customers to perform.
As the email example above demonstrates, it's good to show appreciation by sending a thank you email as a part of your follow-up email sequence.

You customers would enjoy feeling special.

Your automated email campaigns have a direct influence on your business results, set it up wisely.

Conclusion
How to build a house? One brick at a time.

How to build a good lead magnet funnel? One email at a time. The same strategy applies here.

Focus on the content of each email and shape it around your business goals.

We've covered a lot in this article, is there any other questions I can answer? Leave a reply below and I'll get back to you asap.