Promoting an email newsletter on your website for your visitors to subscribe to, is one of the most common ways of growing an email list.
But some of your visitors ask these question after subscribing to your email list:
Is my subscription through?
Did I just make a typo in my email address?
Do I need to confirm my subscription to receive emails?
And you as a business, you'd ask:
Who are my subscribers?
Are they real people? Or spam email addresses?
Do they want to hear from me?
And don't worry if you're having such thoughts, you're not alone.
To respond to such concerns, you'll need to send a verification email to your new email subscribers to let them know they're joining your email list, and for you to verify their identity.
Here, subscription confirmation emails are your solution to increase your subscribers' engagement rate and make sure you are communicating with people.
That's exactly what I'm sharing with you in this guide:
Let's get to it.
What is a Subscription Confirmation Email
A subscription confirmation email is an email sent to confirm that someone subscribed to your newsletter. It can be in two forms:
A single opt-in email: This message confirms that the person has successfully filled your subscription and will receive future emails from you.
Double opt-in email: With this type of confirmation, the subscribers have to confirm their signup before any emails are delivered to them by clicking on a button with something like "Confirm Subscription".
A Double opt-in process ensures that subscribers are real people who want to subscribe – not spammers using fake addresses.
And it's also good because you can be sure that those people want your messages.
So, single opt-in or double opt-in? Which one to go with?
Let's break it down and see the pros and cons of each process.
Single Opt-in vs. Double Opt-in
What is a single opt-in?
Single opt-in is when a user submits their email address through your subscription form, and they're automatically added to your email list without the need of validating their emails.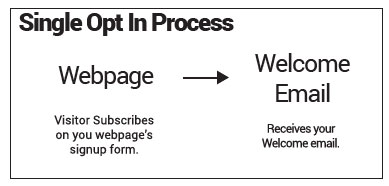 This method would get subscribers on your email list faster. Since email confirmation is not required.
Using a single opt-in for your email lists comes with some cons as well. You might be at the risk of receiving fake or spam contacts.
Some would say that you can't protect your list from spammers and bots using a single opt-in, however, that's not the case.
With a single opt-in you can still protect your list and by using field validation and Google Recaptcha.
If you use Recaptcha and field validation you don't need a double opt-in that can limit your email list size.
Also, email compliance laws such as GDPR, CAN-SPAM, CASL don't require a double opt-in subscription process.
What is double opt-in email marketing?
Double opt-in is also known as confirmed opt-in, is when the user subscribes to your list and is then required to confirm their email.
This means when a website visitor subscribes to your newsletter they receive an email with a confirmation link they must click to confirm their subscription.

When creating a double opt-in email, only contacts who confirm their subscription are added to your email list.
In a way, double opt-in emails protect you from spammers, bots, and fake email addresses and guarantee you generally higher engagement and open rates since contacts have to open and confirm their addresses to join your contact list.
But on the other hand, you might risk losing contacts who do not confirm their email addresses.
Still, undecided or which opt-in process to use? Here are the top pros and cons to consider.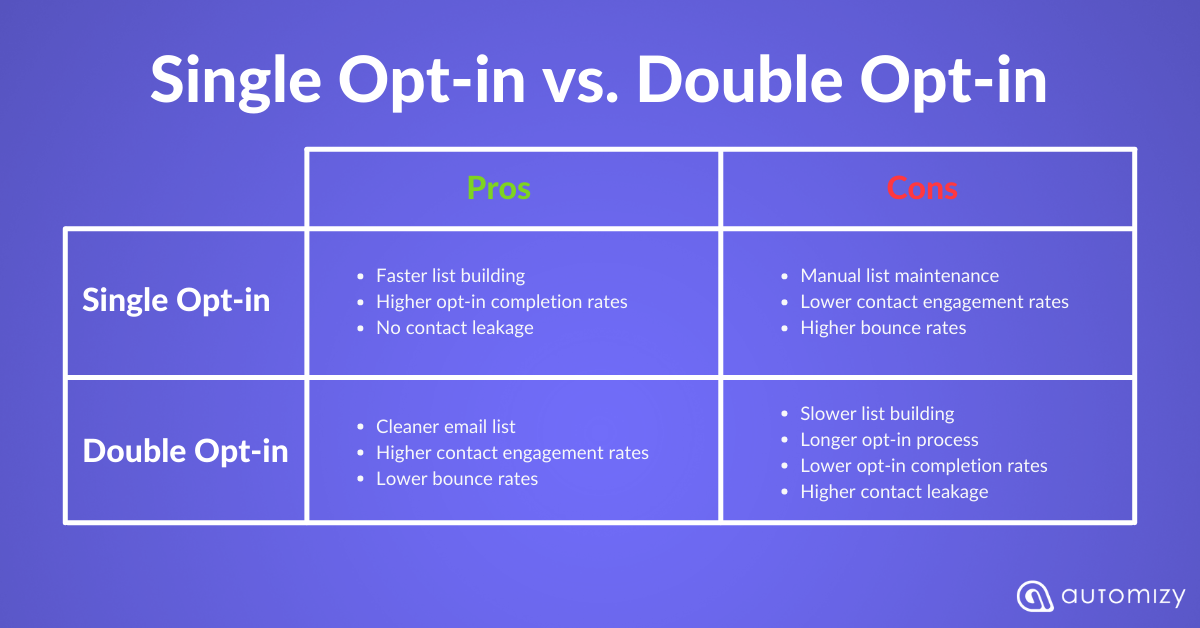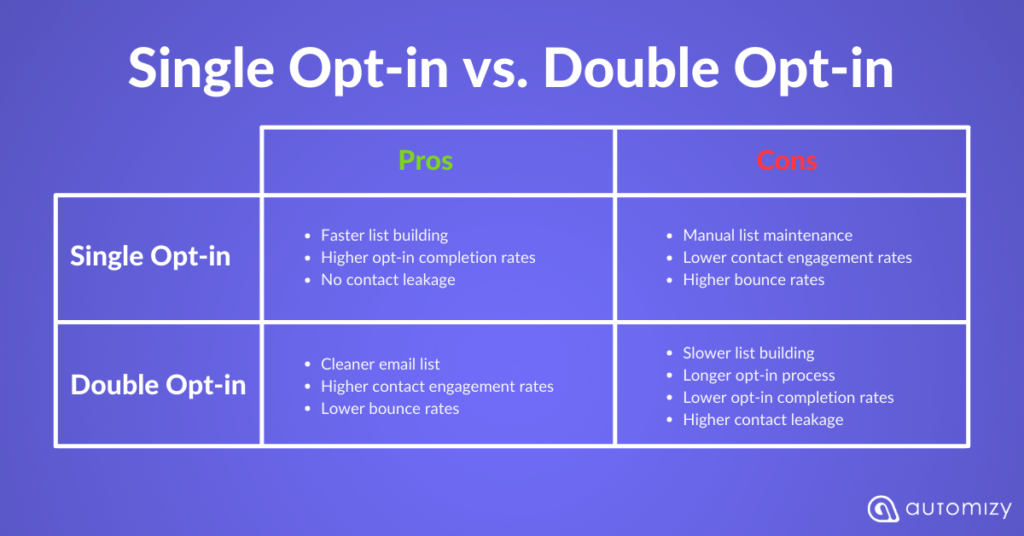 Let's study 6 of the best subscription confirmation emails and learn what makes them successful.
6 Double opt-in & Subscription Confirmation Email Examples
1. Put your CTA button in the spotlight
A call to action button could determine the success of your double opt-in subscription emails. Make sure you include an appealing CTA that stands out of the email and encourage subscriber action.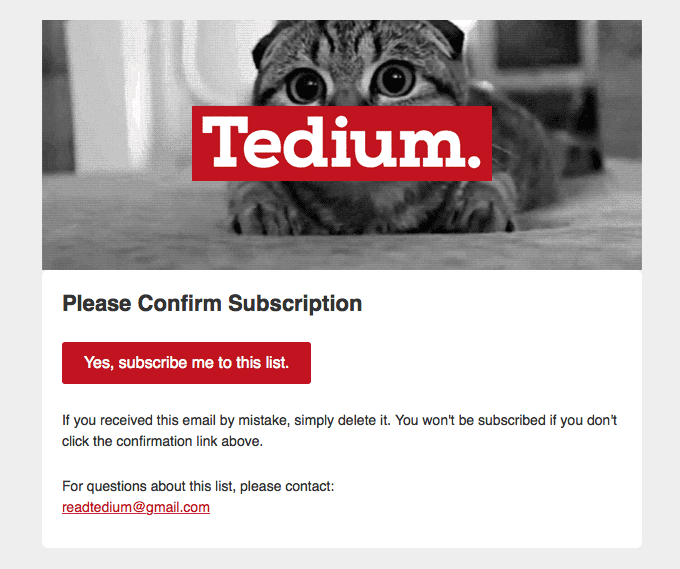 2. Highlight your social media channels
t's not often that a subscription email has this much design to it, or is this well thought through.
I like how they designed their social media buttons on this subscription email sample.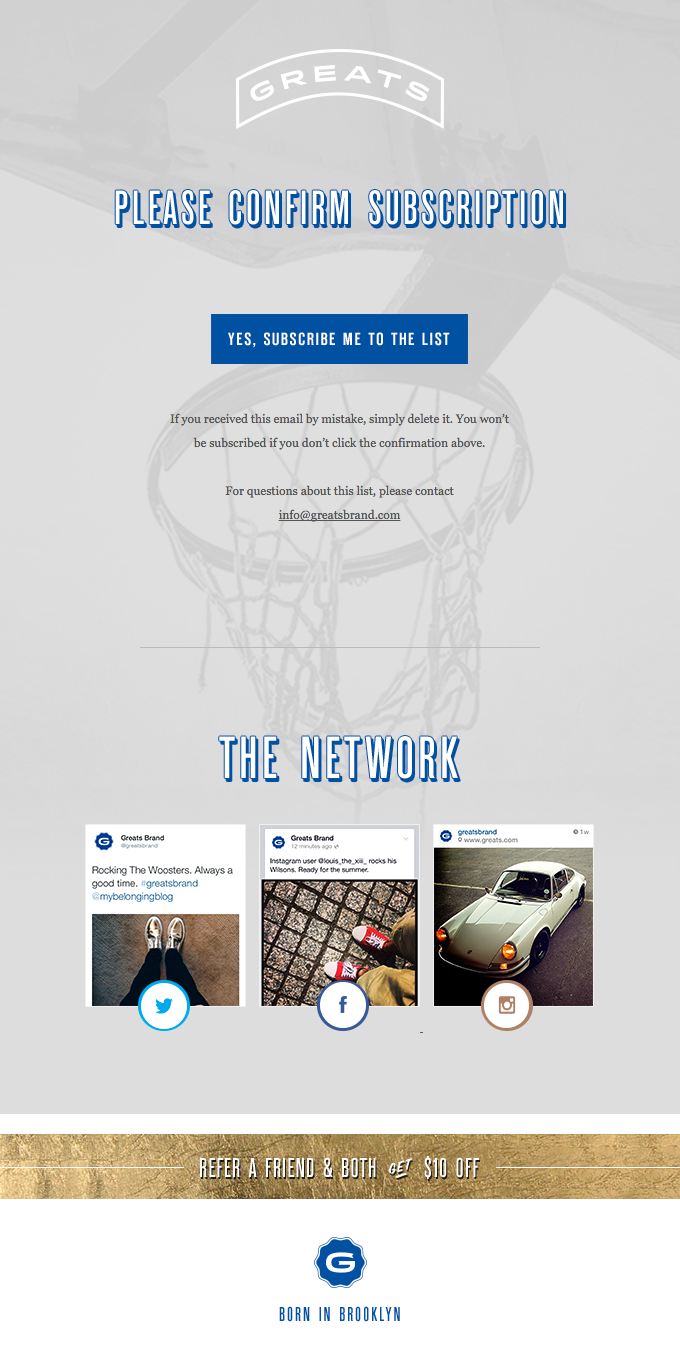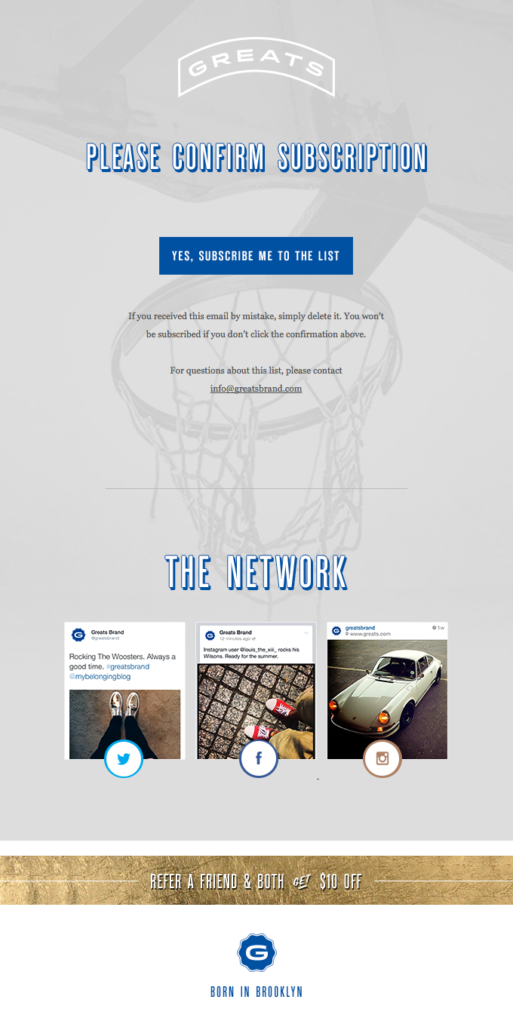 3. Minimalistic subscription confirmation emails
Not every email has to be fancy. Simplicity can be successful too as it gets the job done for your subscription confirmation emails.
A brief confirmation email guiding the subscriber to their next step. Simple and efficient.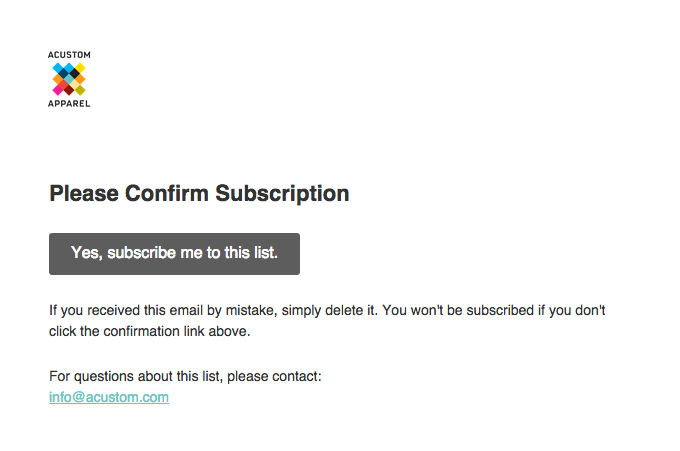 4. Expose your features
Your subscription confirmation email could be the first email that your subscribers receive.
As the first interaction with your business, you could make it easier for your subscribers to have a deeper understanding of what you have to offer.
The following subscription confirmation messages from Republic is a great example of listing the main products and their benefits.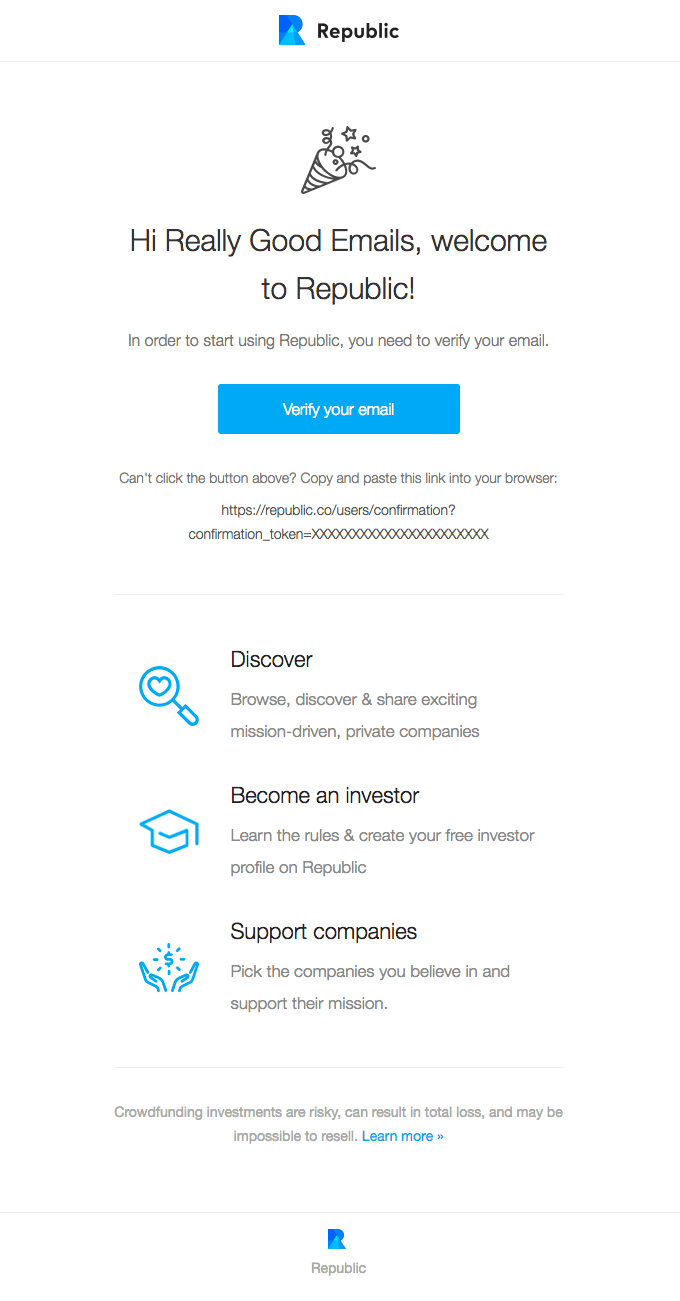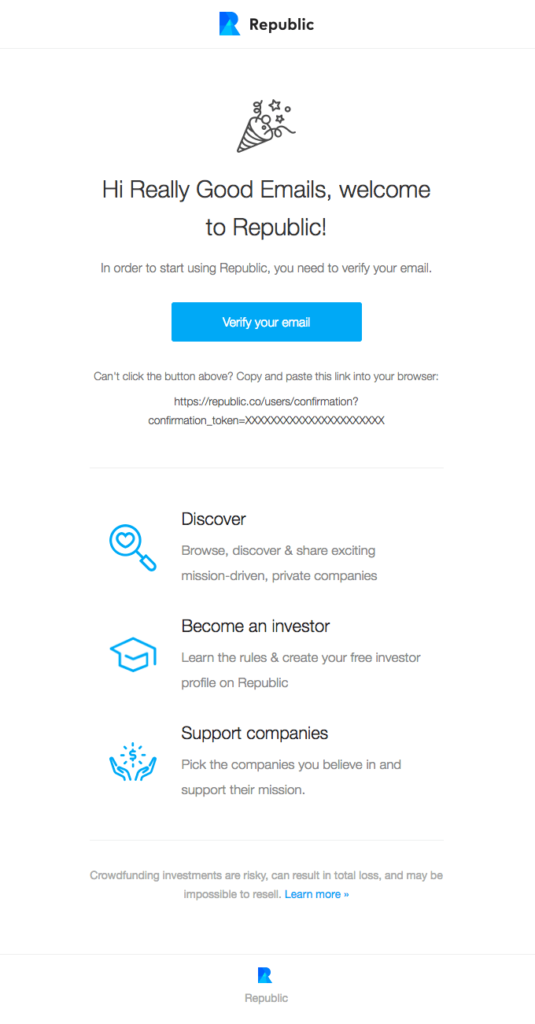 5. Thank your newsletter subscribers
Let's have a look at a subscription thank you email from Penguin Classics. Just like the books themselves, it feels classic and elegant and makes great use of quotes from writers, iconography, and a really nice background image in the header.


The email template matches perfectly with the Penguin Classics website and brand. Reflect on your website template and create a subscription email that goes with it.
6. Response-based subscription confirmation
Frankly, out of all the examples, this one stood out the most to me. Because it's unique.
In the email copy, Julian asks his subscribers to reply to his email with the word "yes" to confirm their subscription.
Read the email and I'll give you my take on it.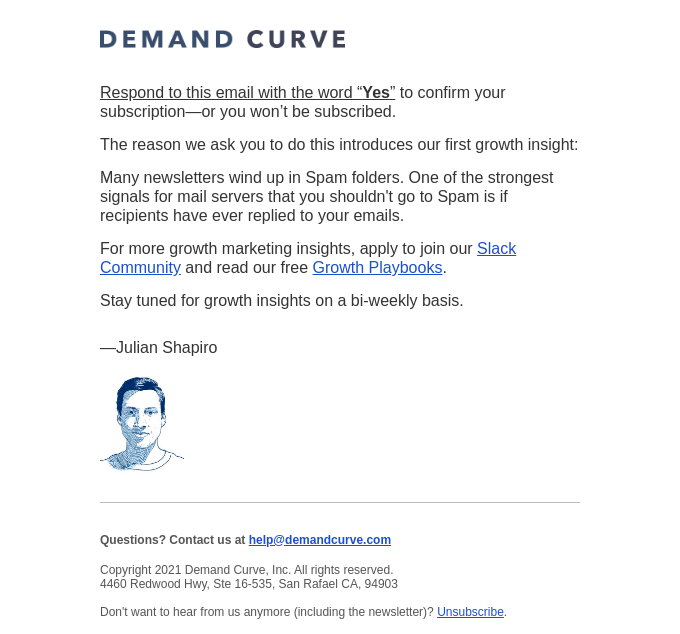 As he explains, Julian from Demancurve asks for a reply as he wants to make sure that his subscribers are authentic people, not spammers or bots.
From a different perspective, using this strategy to increase their email deliverability rates and avoid landing emails in spam folders.
Because one of the positive signals for email deliverability is the email response rate on your emails.
If subscribers get in touch with you, (via reply email they send a response) it helps improve your overall reputation with email clients.
How to Set up Subscription Confirmation Email Funnel
Your subscription confirmation emails are email autoresponders used to confirm a user email subscription.
To guide your new subscribers to their next step, you will need to signup for an email marketing automation software. It allows you to easily set up your automated subscription confirmation emails.
Here's a step-by-step process on how to set up subscription autoresponders in Automizy.
Registration emails are opt-in-based emails that you send to your new users and customers.
For that, you will need to connect your website forms or landing pages where visitors opt-in, to your email list.
Step 1: Connect your user acquisition channels to your email list
Depending on how you manage your email lists, you can have one email list where you keep all contacts. Or else, you can create a separate opt-in email list for your new user registrations.
Users' registration takes place on your:
Website forms
Landing pages
Website popup
CRM system
Social media, etc.
It depends whether you use only one channel or more.
You can integrate all your user acquisition channels to Automizy so you can get rid of the hustle of importing contacts manually and exporting and importing excel sheets.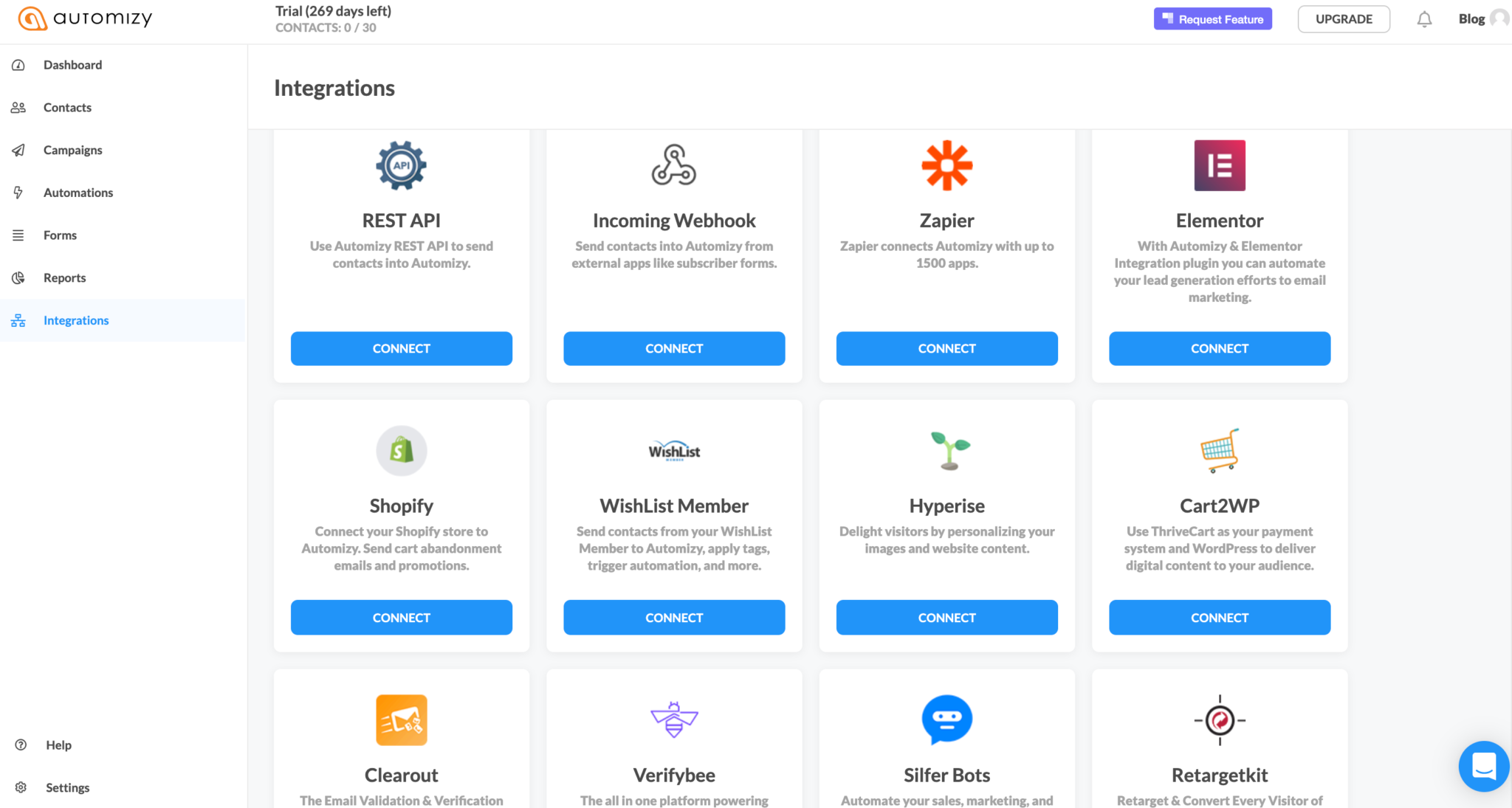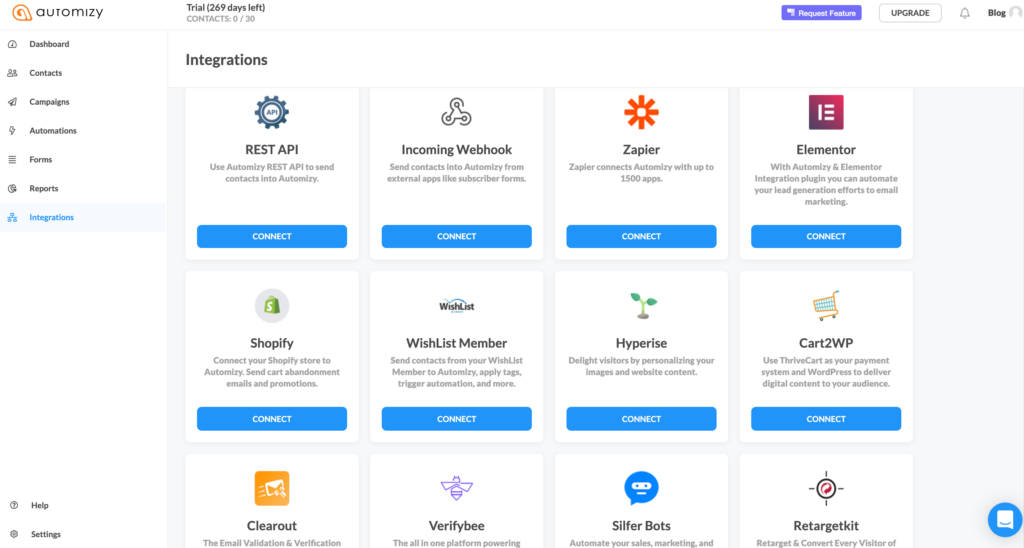 If you manage the email marketing of a small business and you do not use CRM tools, you can also create and customize a sign-up form in Automizy and embed it to your website.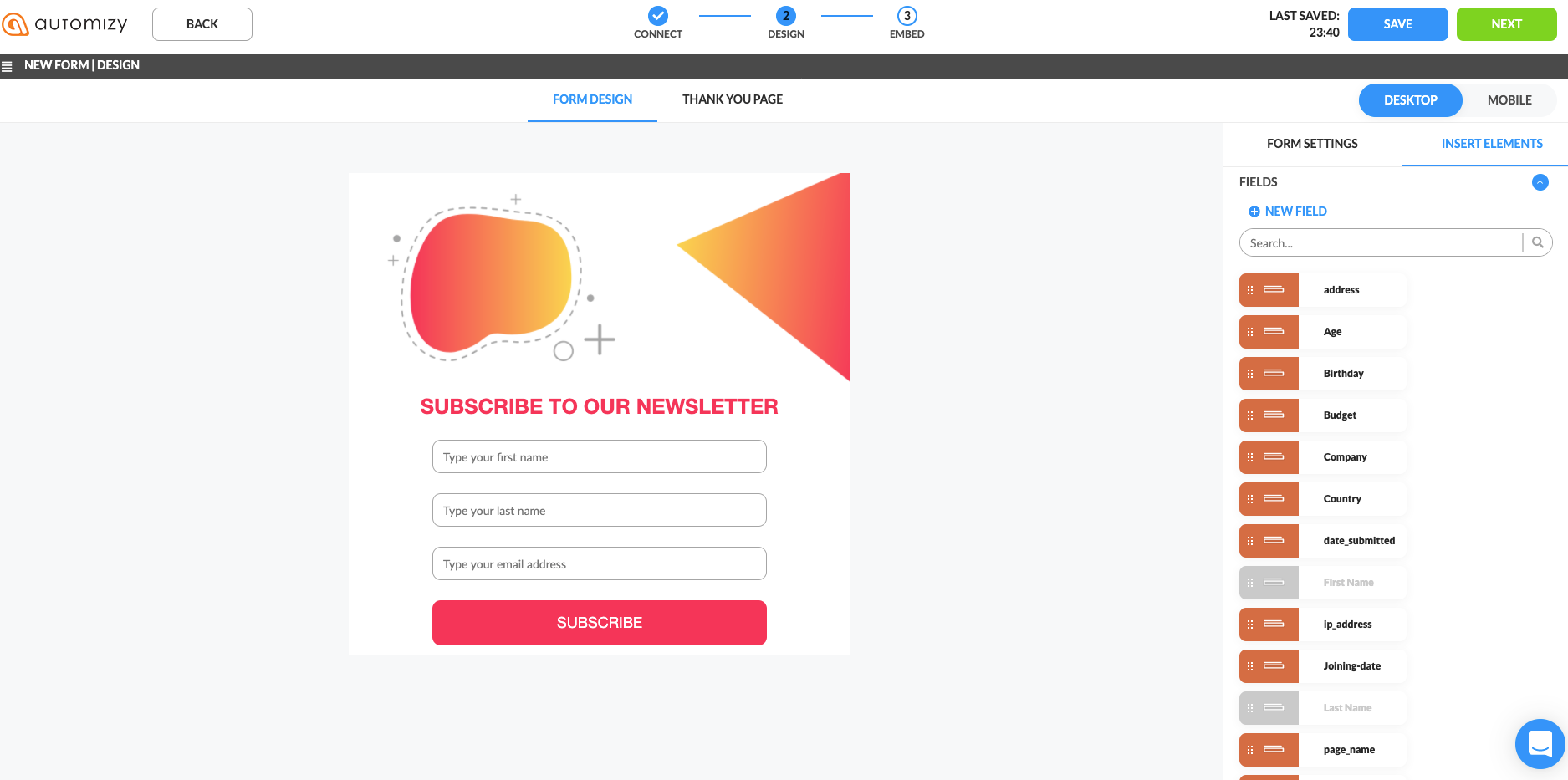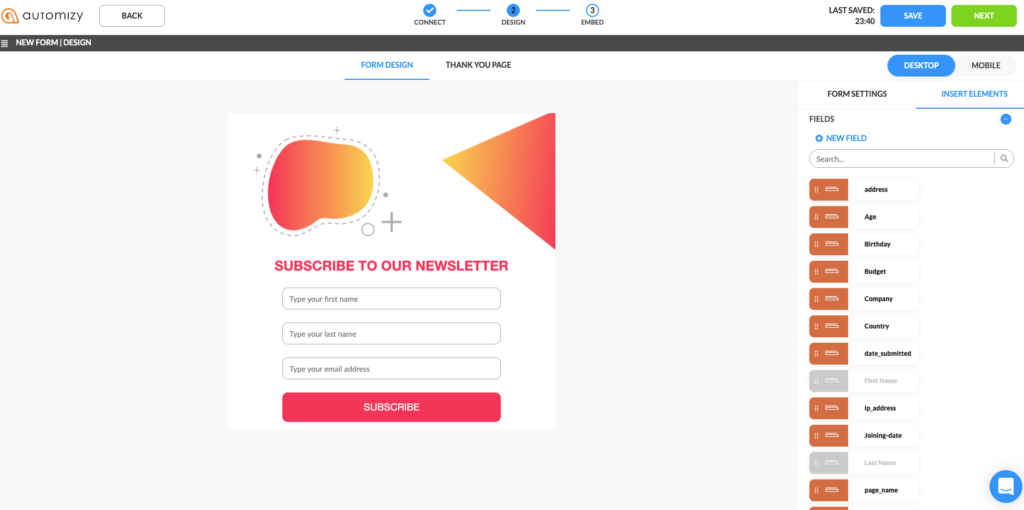 And if you don't have a website yet and you're trying to build a subscribers list, you can customize a hosted landing page in Automizy.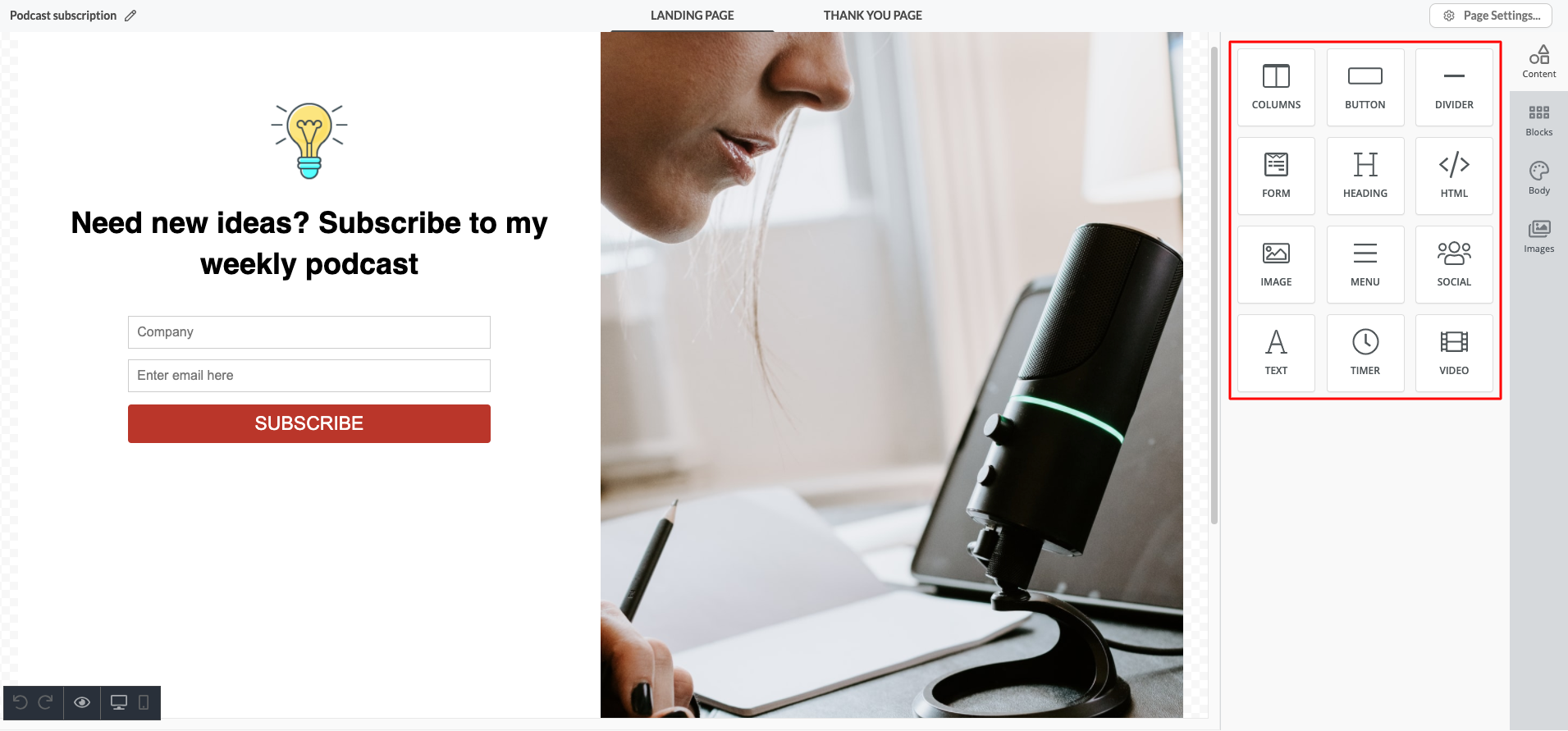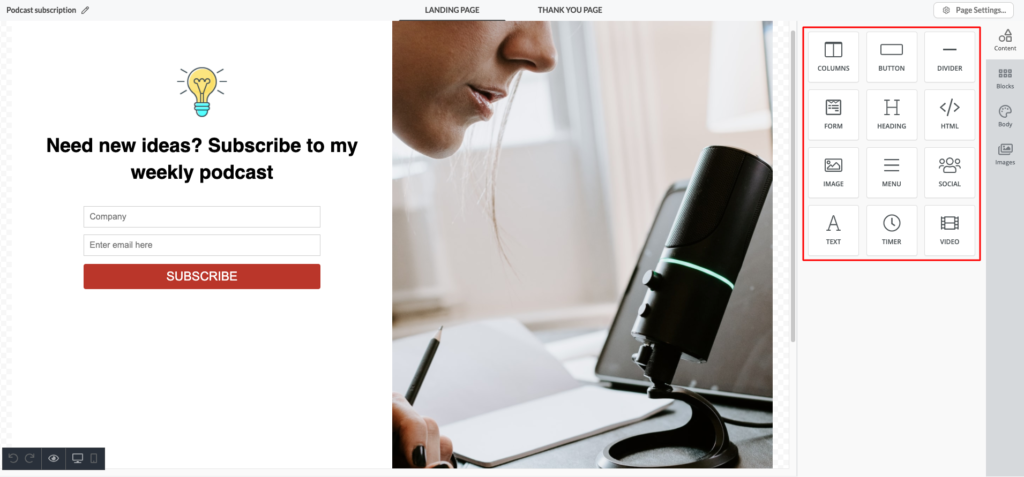 Step 2: Select your email trigger
Just as the name would suggest, subscription confirmation emails are sent when visitors subscribe to your email list.
Set up your autoresponder trigger by selecting one of these options in Automizy:
Gets a tag
Gets added to a list
Submits a form on your website or landing page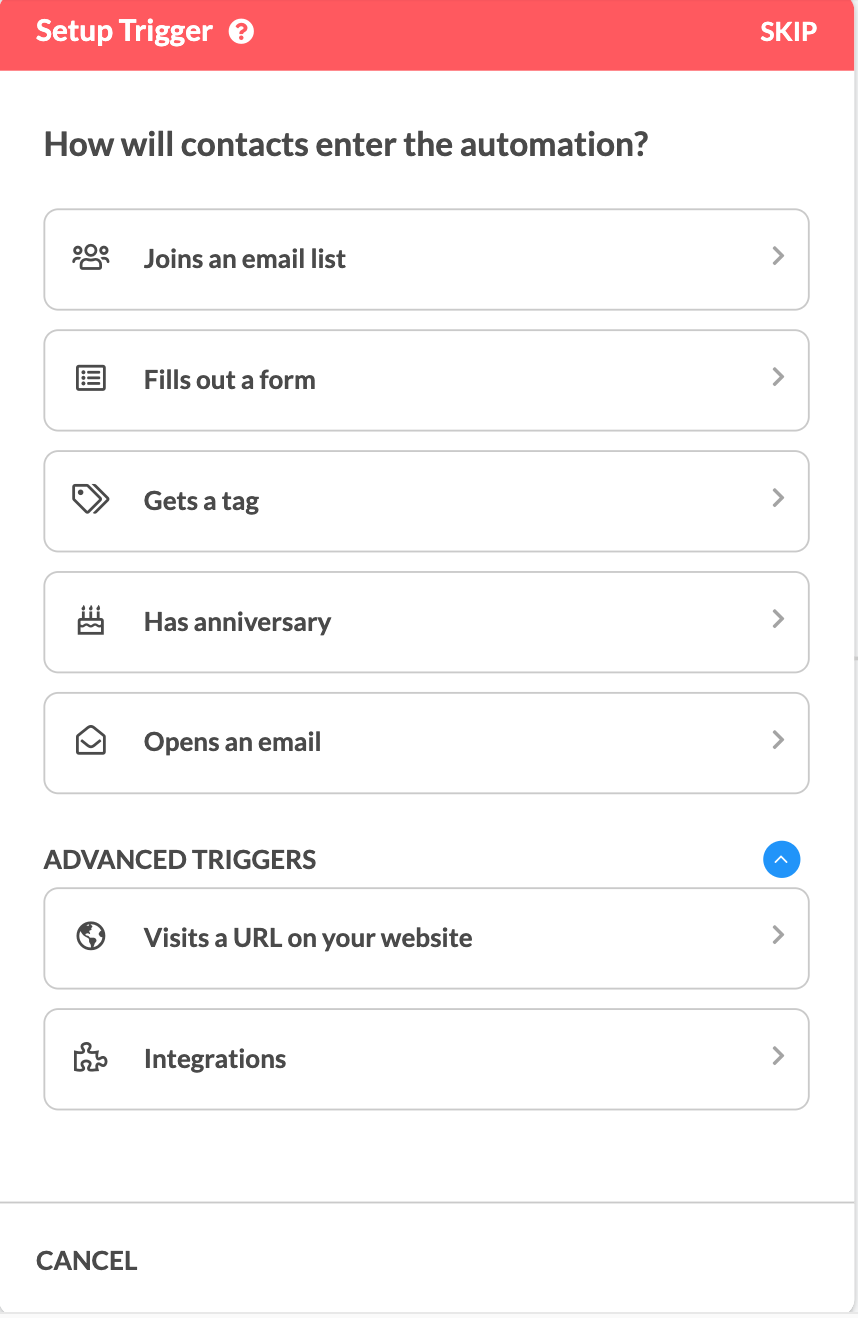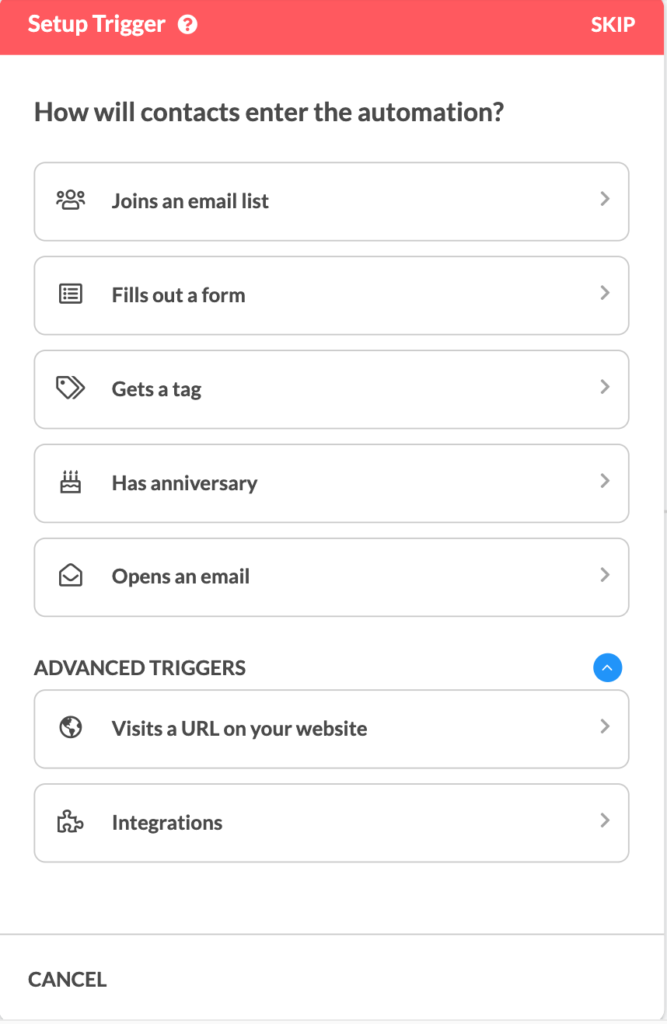 Step 3: Create a behavior-based autoresponder series
Now that you've selected your trigger for your new subscribers, you have to create your email.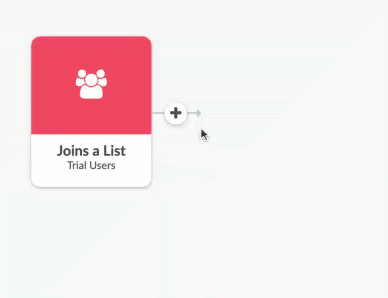 You can create responsive email templates without any coding skills.
Drag and drop different email elements, fill them up with your content, choose your colors and you're ready.
There are default padding and design setup that looks great without any modification. Feel free to use the default setting and build your mass email newsletter in 20 secs!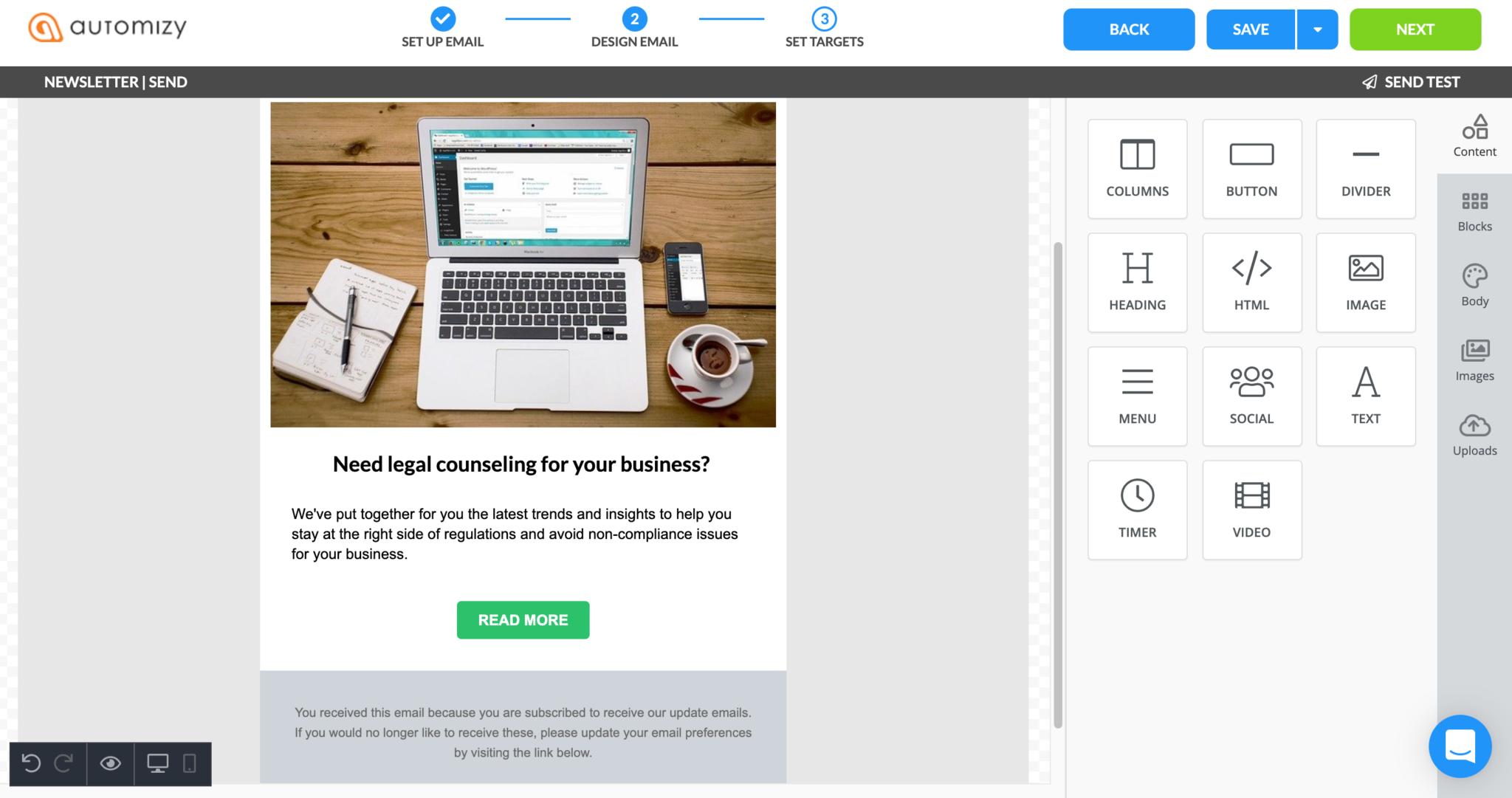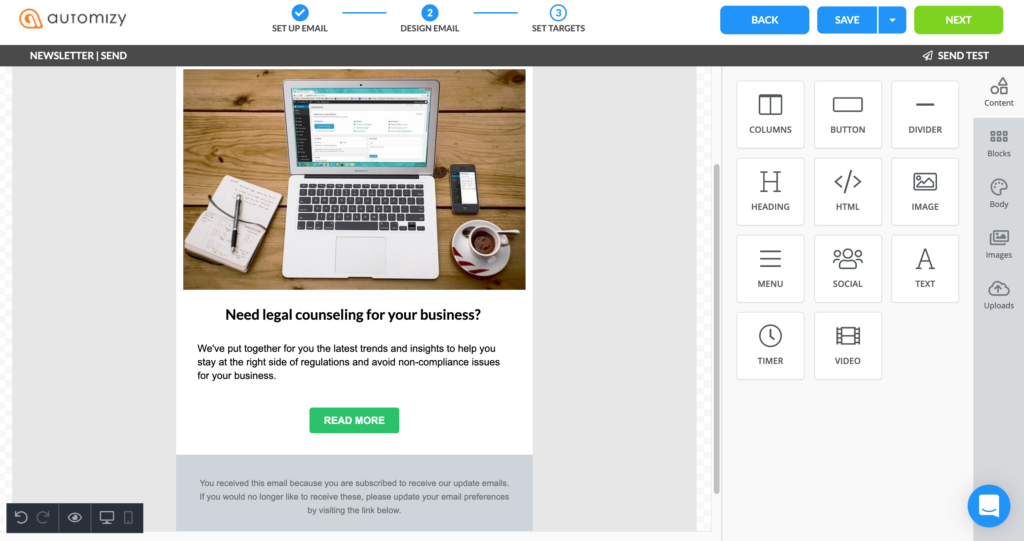 Adding one email is simple, but do not bore your new subscribers with a boring email that includes loads of information.
Instead, create subscription drip email sequences to spread your content over multiple emails, onboard new subscribers, and move smoothly your leads into your email sales funnel to maximize your conversion.
Suppose you are automating an email campaign to welcome and nurture your new email course subscribers.
Here is how visually it would look like:


With fewer efforts, you can turn your email course campaigns to a conversion machine.
You can set up the same process for any kind of registration you're running for your business.
That's not it, let's see how to make your subscription email sequences more sophisticated.
Step 4: Send personalized messages to your subscribers' behavior with email automation conditions
Personalize your messages to your email subscribers based on their engagement with your email funnel.
Here is how you can do it.
Repeat the same 3 steps (covered above). Then apply "Wait for", define the time when the next email to be sent.

Use "If/else" conditions to personalize messages, e.g. send email to who confirmed a subscription or who didn't.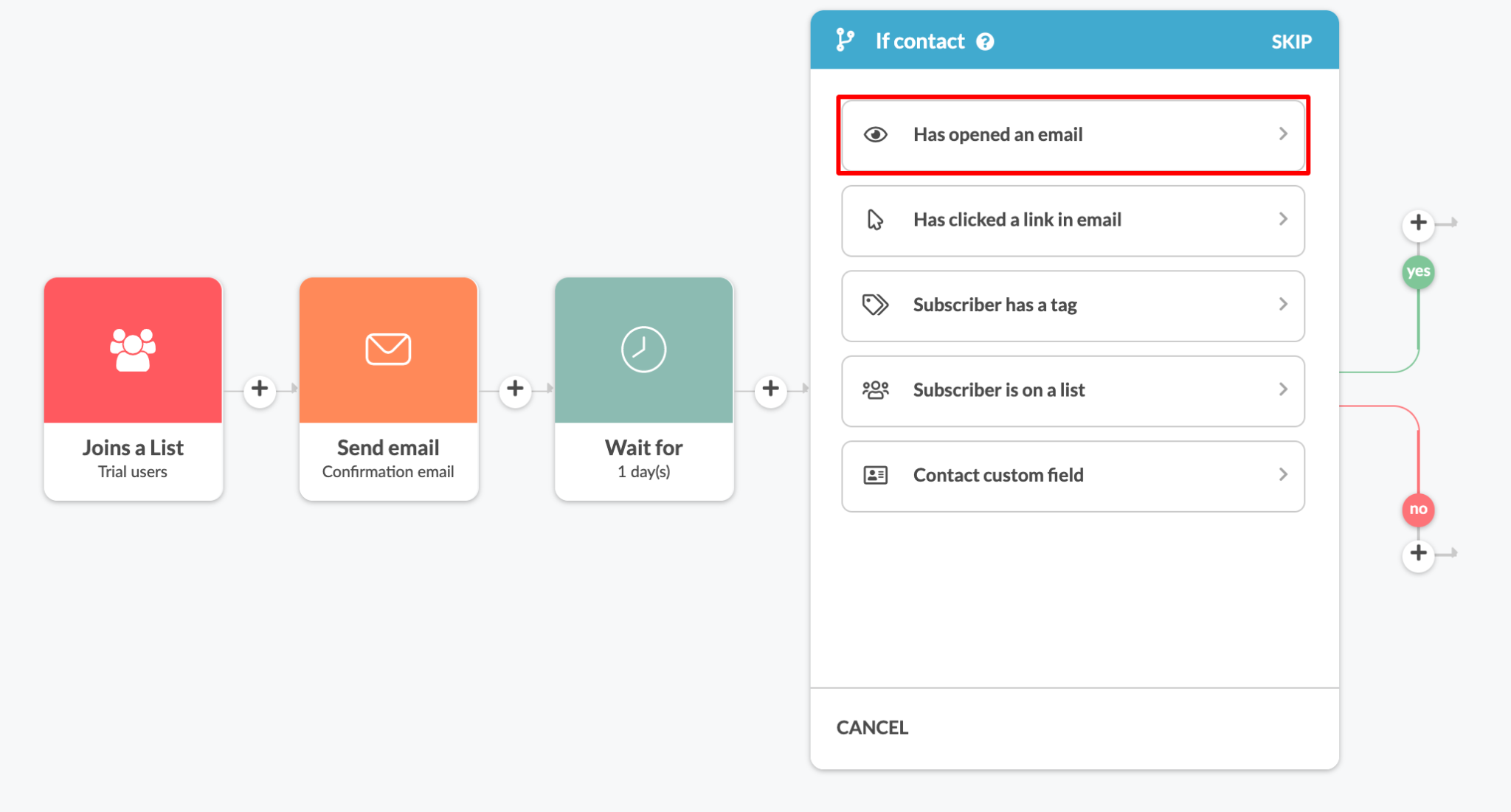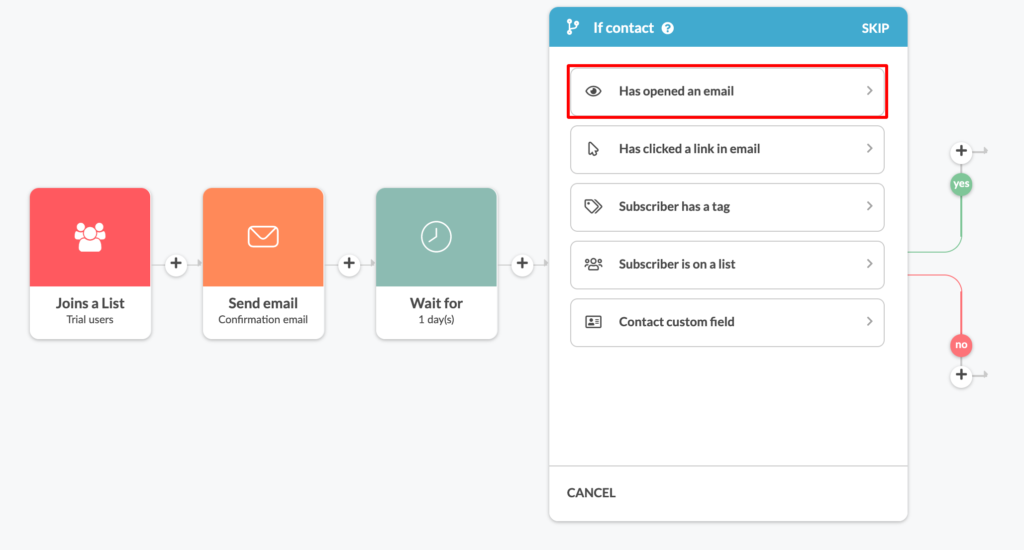 Apply the condition "Has opened an email" and split your automation for the two branches, "Yes" branch and "No" branch.
Based on the interaction of your contacts with the first email, you can define the rest of your registration email series.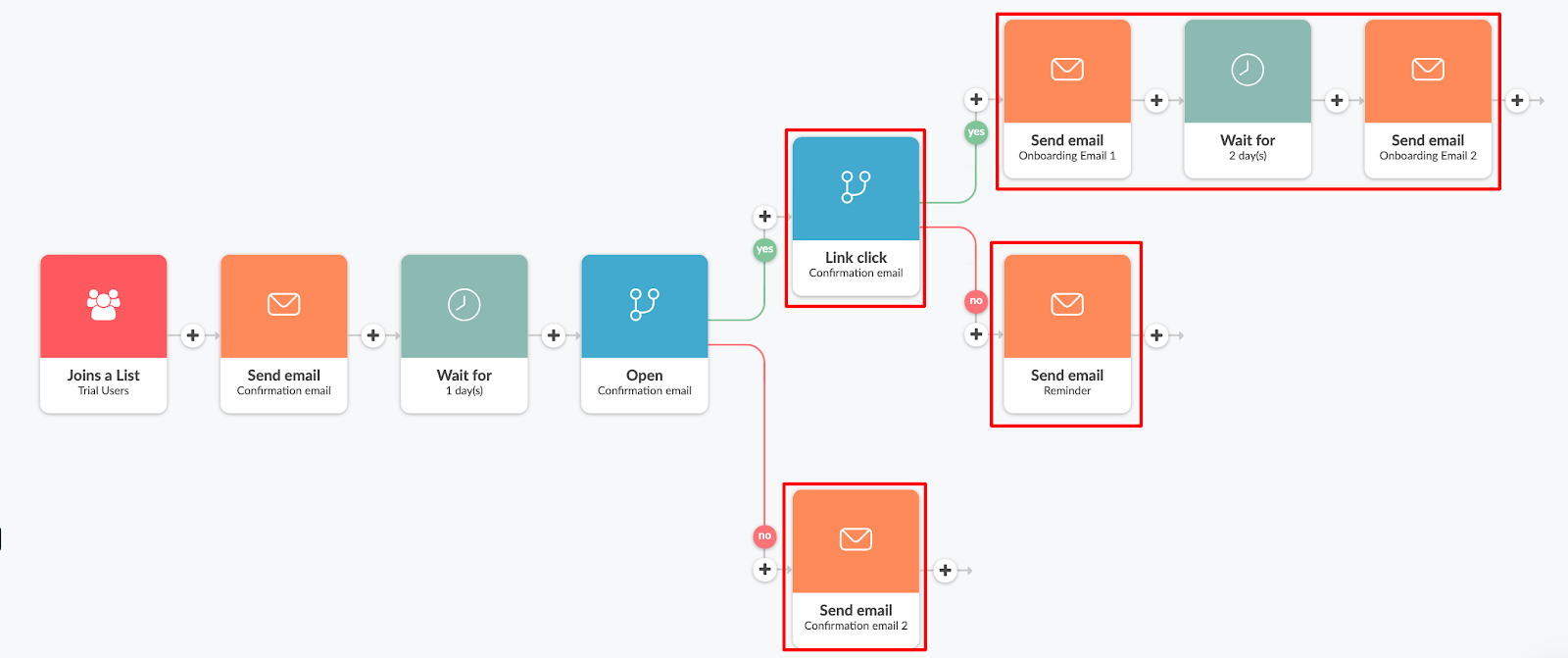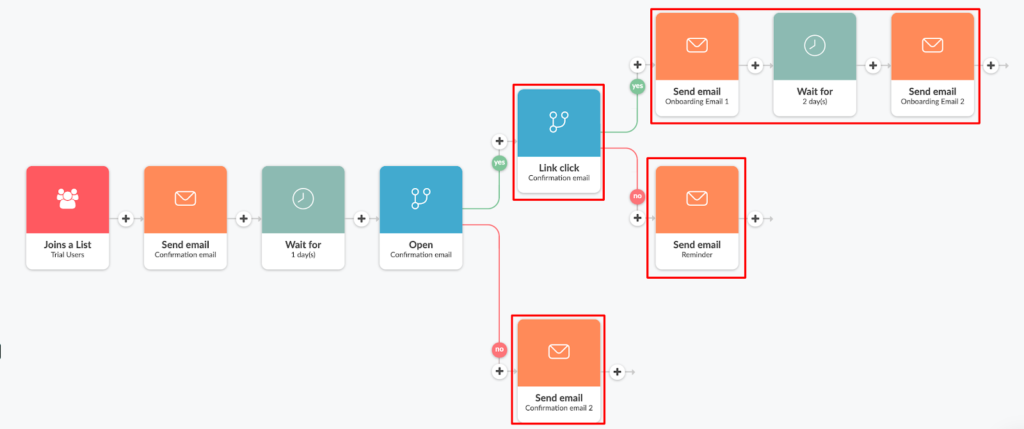 To increase your email open rate, set up your email automation to send a reminder email to new users who did not open the subscription confirmation email.
For users who opened your email, apply another condition "Link click" to identify the users who engaged with your previous emails from those who did not.
Contacts who opened and clicked a link are more likely to convert to customers. You can proceed with your registration email workflow and onboard your converting registrants.
For contacts who did not confirm the subscription, you could send them a reminder, or a lead nurturing email.
Subscription email workflows help you create a personalized customer journey for higher conversion rates.
Conclusion
Here you have the best examples of subscription confirmation email templates and other tips to inspire you.
With Automizy, you are able to create and automate your single/double opt-in subscription confirmation emails to increase your contacts' engagement.
Between single and double opt-in subscription emails, which one you use and why?