Deciding on what to spend your marketing budget isn't an easy decision to make.

And the ultimate question you might be asking yourself, "What would cost less and generate higher revenue?

As a small business, you'd need to keep new customers flowing, while maintaining a strong relationship with your existing ones. That would cost much? Not with email marketing.

Email marketing is a cost-effective solution for small businesses. It grants you the way to reach customers in a place that 3.8 billion people visit every day, email inboxes.

To help you grow your small business with email marketing, I'll guide you through:

Here we go.
Why Email Marketing is Important For Your Small Business?
As a new small business, you wouldn't spend thousands of dollars on video production and air time.

Still, every piece of information about your performance would support you create a better sales process. And a radio/TV broadcast won't provide you with the data you need.

On the other side, email marketing can fulfill your needs as a small business to:

Reach out to your target audience
Send personalized messages; based on their needs
Promote relevant services to them
Get actionable data for further strategies
Etc.
All that only by spending few bucks. No need for inflated budgets.
With successful lead generation practices, you can grow your email list.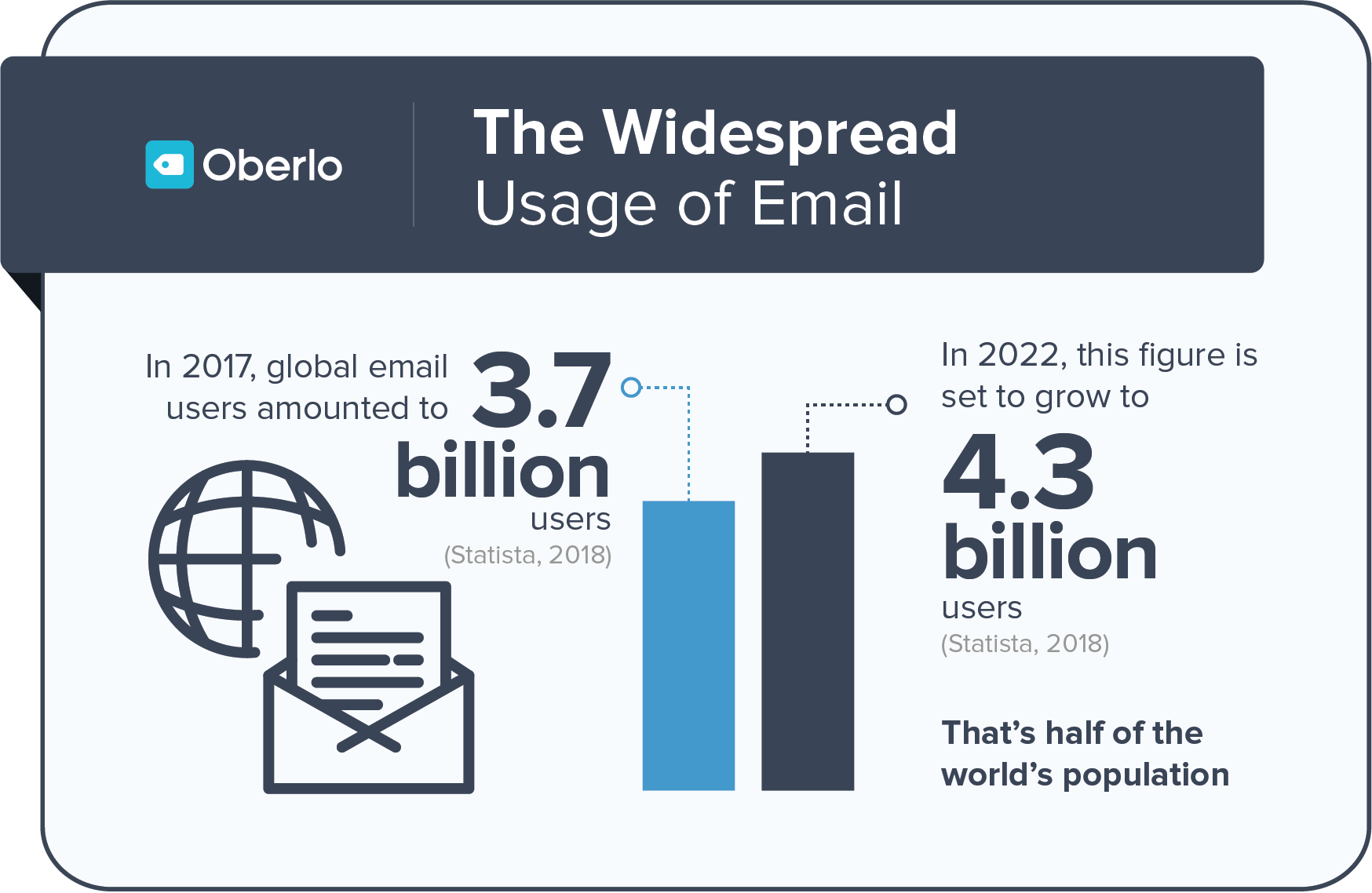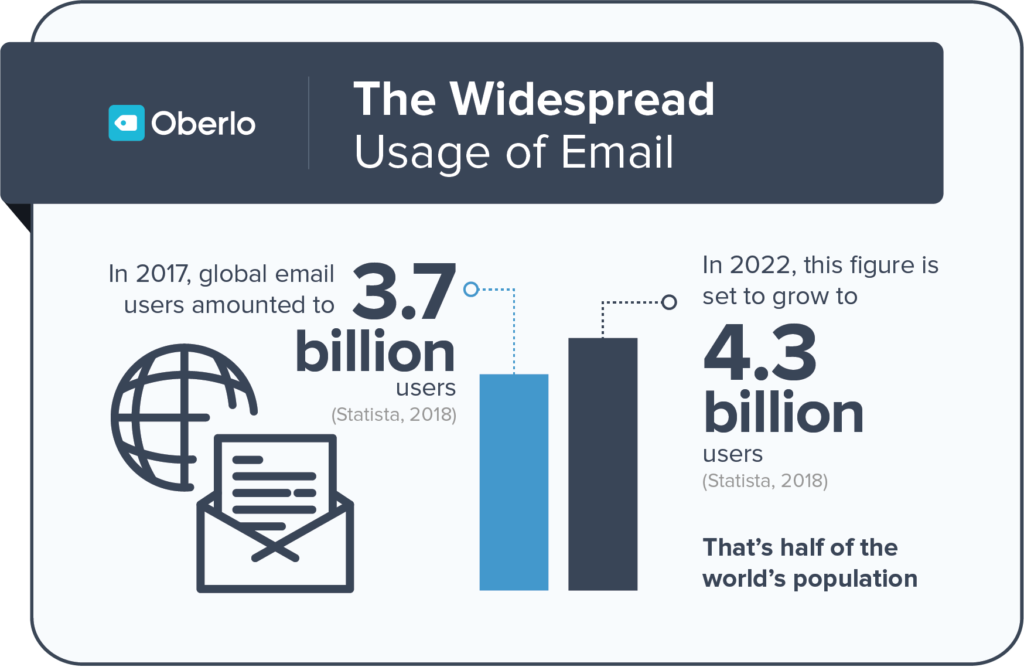 According to Oberlo, global email users amounted to reach 4.3 billion users in 2022.
Don't you want to be in those inboxes?
Email marketing benefits for your small business
Sitting on the throne of the highest ROI marketing channel, email marketing is still the most profitable for small businesses.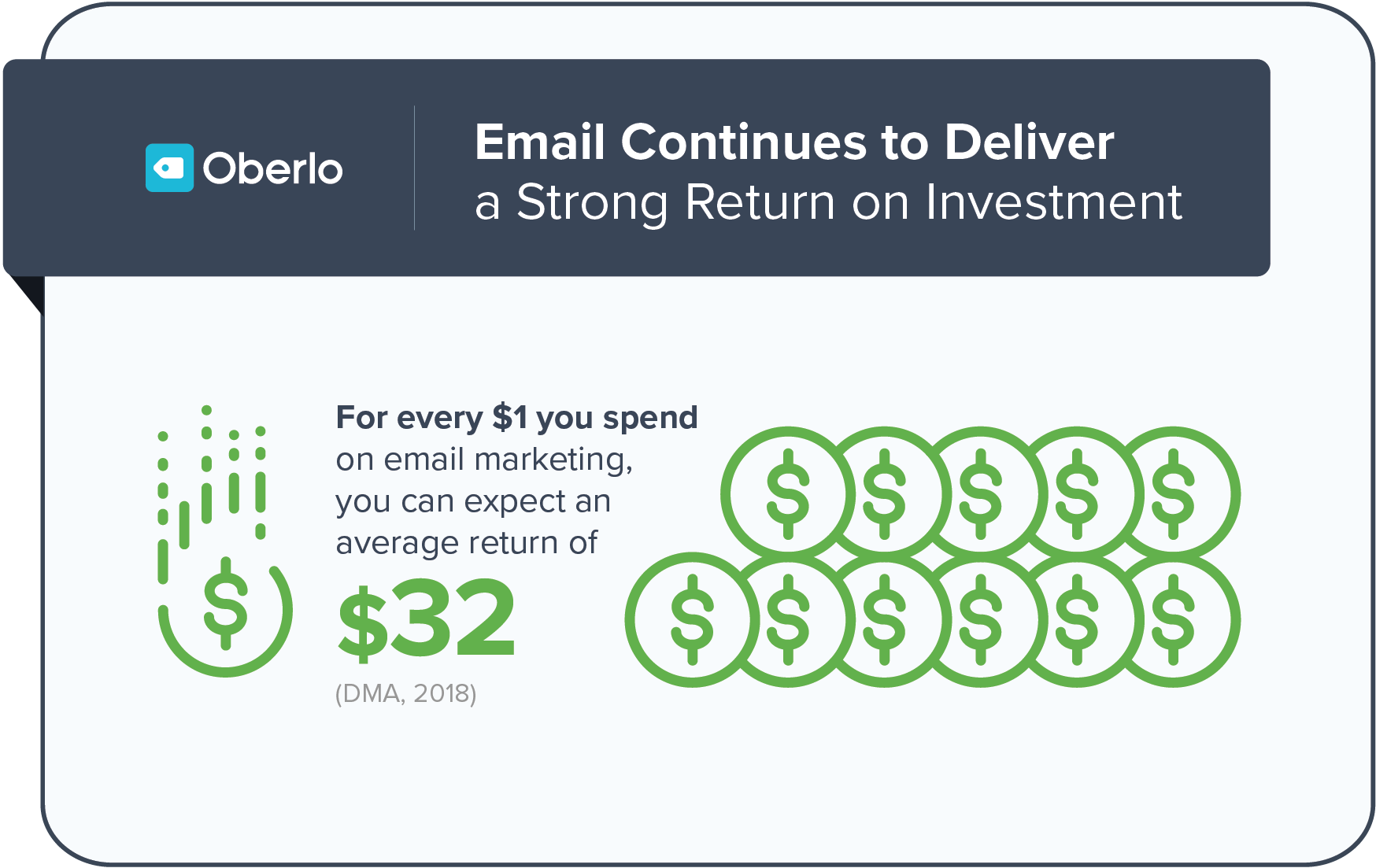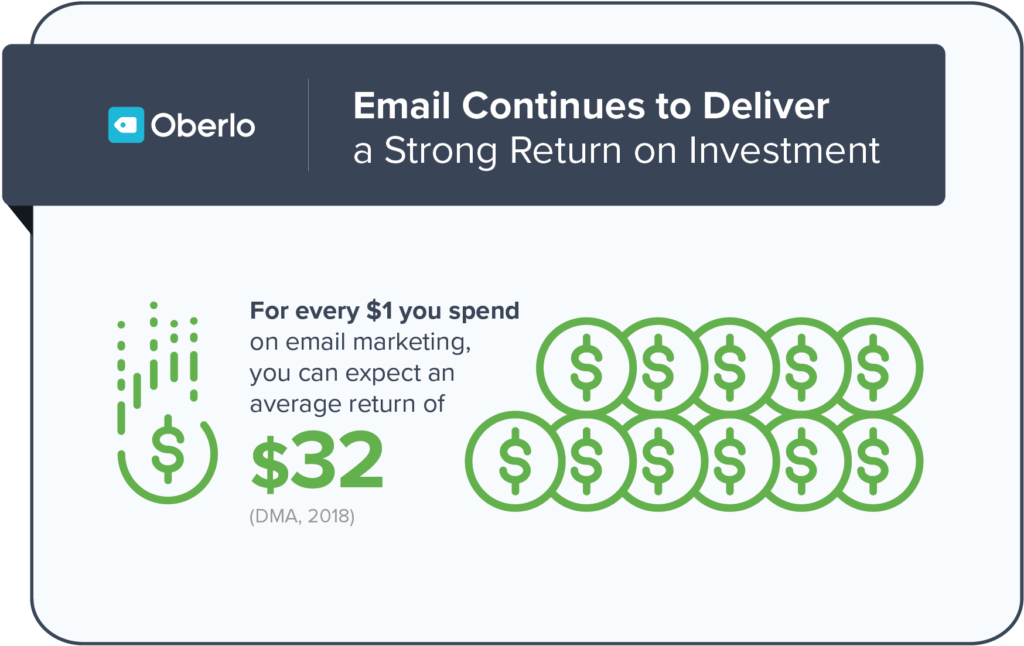 86% of business professionals prefer to use email marketing, for the following reasons:

It is easy to set up
A low-cost marketing channel, if done right
Can be automated and save you time
Email marketing is useful for small businesses in many ways:

Sending newsletters
Sending promotional emails or new releases
User onboarding
Building a relationship with your leads.
Lead nurturing
Upselling your existing customers
And the list can get longer depending on your business objectives.

Here are three reasons why email marketing is necessary for your small business.
1. Help you acquire customers
66% of email users made a purchase through emails.

Email marketing is the marketing channel that would welcome new leads, onboard users, and nurture leads.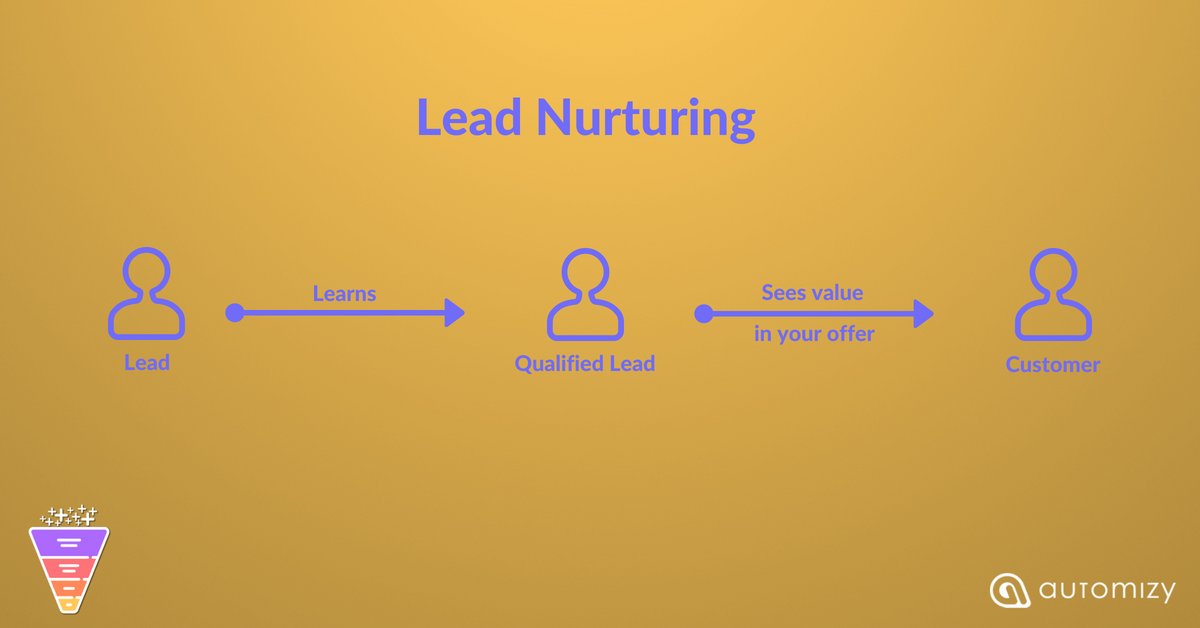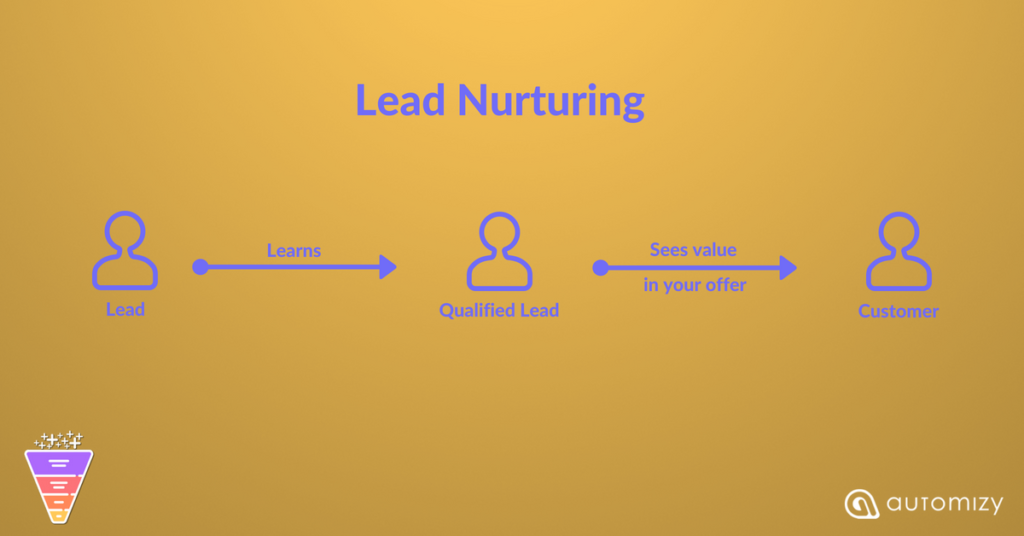 It helps you qualify contacts from marketing to sales qualified leads.

It doesn't end there, you can score the sale as well with your sales emails once leads are qualified.
2. It is low-cost
Email marketing is one of the cheapest channels available to a small business today. For example, you can start using an email marketing solution with only $9 per month.

Email marketing is one of the cheapest channels available to a small business today. For example, you can start using an email marketing solution with only $9 per month.

The best thing here, email marketing has one of the best ROIs available for small businesses. For every $1 spent on email marketing in the United States, the average return is $44.

If email marketing would cost you $9 per month then expect to make $396.

Some small businesses think of such figures are fictional, but let's put some logic into this.

Suppose you build an email list for your small business that includes 100 contacts. You sign up for Automizy for $9 and send promotional emails selling a product of $20.

You score a conversion rate of 10%, you generate 10 sales only. That is $200 in revenue from one email only.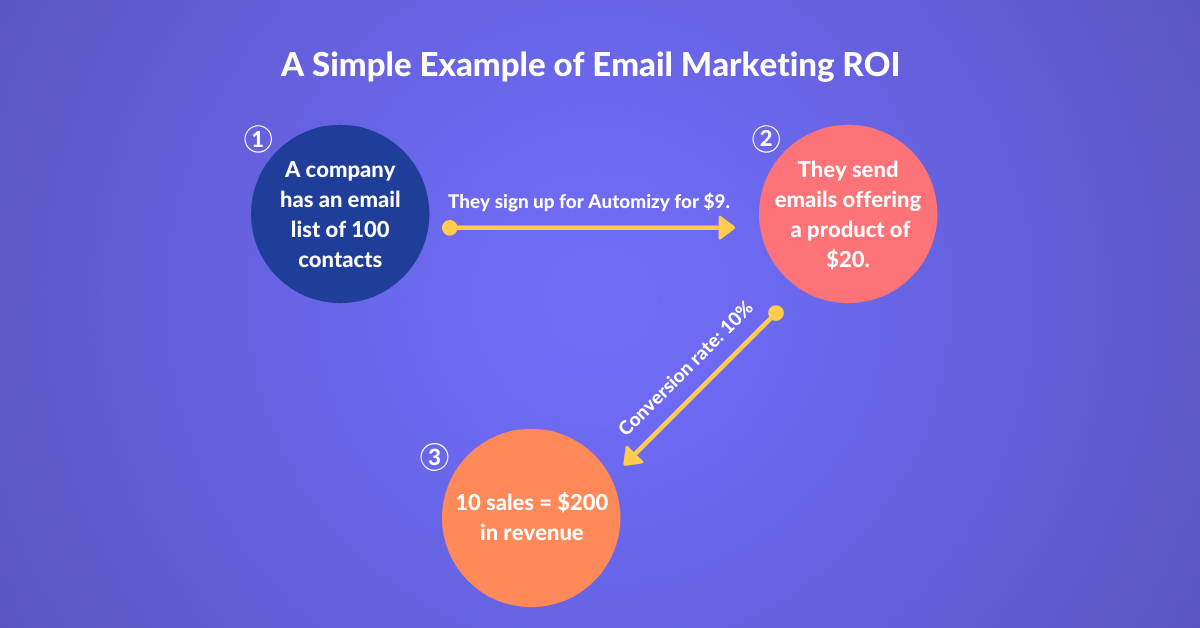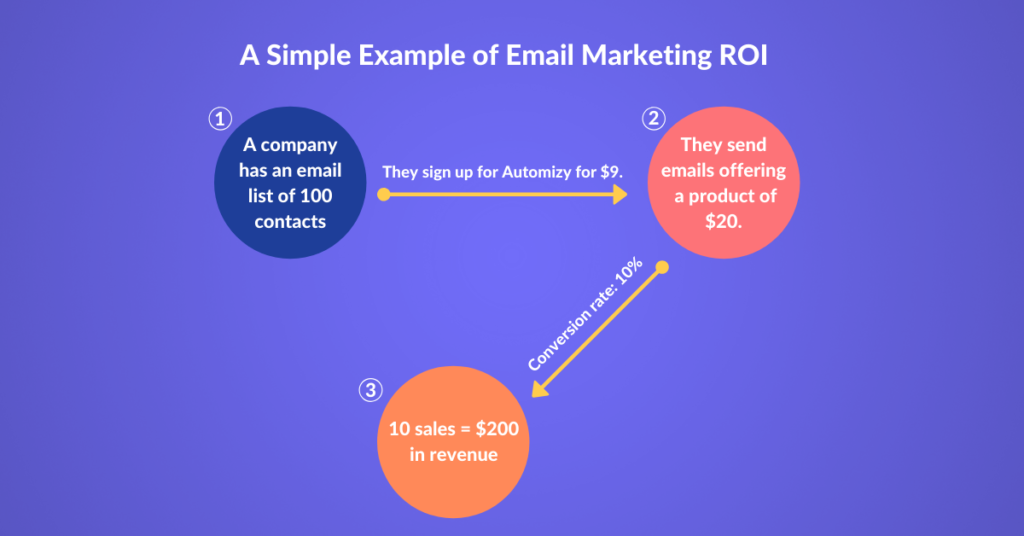 And that is 10% conversion only. Imagine a conversion of 30%! You can do the math.

Note: all this still mainly depends on your: business model and email list, the relevance of your product and service offerings to your subscribers. Take a look at this email list management guide; it will give you great insights for managing your list.
3. Feels personal
When you personalize your email subject line, you increase your email open rates by 20 percent.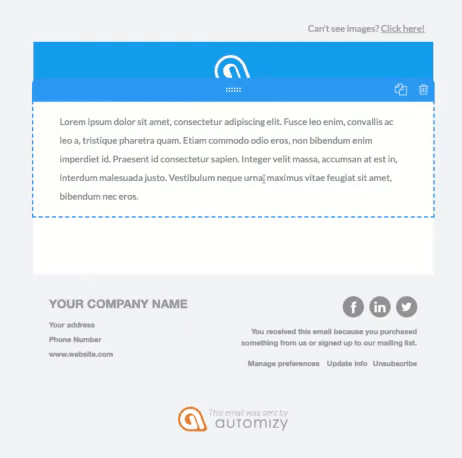 That's the first step toward making the email feel like a personal message instead of spam.

These are some other ways your small business can encourage email engagement:

By sending out a personalized email to subscribers on their birthday or first purchase anniversary
Through product upsell/cross-sell related to their previous purchases
With content that resonates with the interest for your subscribers
You know what!

Let me show you how to automate email marketing for a small business.
Marketing Automation For Small Businesses (That Actually Work)
Sending bulk emails
Sending bulk emails is the practice of internet marketing which consists of sending mass emails to your customers and email subscribers.

Bulk emails can contain:

New updates and information
Special promotional and flash sales
Promote upcoming webinars/events
New products announcements, etc.
Sending bulk emails is among the most common practices of email marketing for small businesses. Every time there are new updates related to products, features or a new release you send an email to your subscribers updating them.

Even though it is a mass email campaign, personalize your emails. Tackle the interests of different segments within your email contacts.

How to send a bulk email campaign?

To create a bulk email marketing campaign, you'll need to start by registering for bulk email software. Then upload your email contacts.

Here is a complete guide to sending personalized bulk email campaigns.
Resending emails to no-openers
Increasing email open rates is the first step to boosting your email marketing ROI and generating more sales.

And that has a lot to do with your email subject line.

The subject line is the first thing that appears in your subscribers' inbox. You'd want to make sure it is attention-grabbing.
If your email open rates are low, a lot of the blame goes to your email subject line.

For that resending emails to non-openers is a way of having a second chance to increase your email open rates.

Make sure your new subject lines:

Are personalized
Generate curiosity
Communicate urgency
Highlight recent topics
Or create a personal connection
Your email content wouldn't even matter if you don't get your subscribers to open the email in the first place. Get it right at your second chance.

"Should I create a different email campaign targeting contacts who did not open my first email?"

Absolutely not.

With Automizy's resend to non-openers feature, you can automate your campaign to be sent to non-openers with a different subject line. Without worrying or doing extra work.

Here is how it is done.

Resending emails to non-openers would evolve you to an email open rate guru.

If you are undecided on what email subject line would perform better. Automizy tests your subject lines and helps you learn about which one would perform better.

Test your subject lines with this free tool to see which would perform better. It scores your subject lines based on data from over 1 million campaigns.

The tool also provides subject line templates you can use to increase your email open rates.

Convert faster with triggered emails
Triggers allow you to start email automation without needing you to perform the task.

Triggers are a great tool for follow-ups to previous engagements from your target group. It helps you achieve your pre-defined campaign goals.

You can create personalized and automated email drip campaigns that can get triggered when a contact:

Gets a tag
Gets added to a list
Submits a form on your website, or
Clicks a link in an email
Etc.
Set up your triggered email campaign by selecting one of these options in Automizy.
Triggered email campaigns help small businesses set up:

Onboarding email sequences
Customer support follow-ups
Webinar campaigns
Email Autoresponders
Set up email autoresponders
Autoresponder is a type of automated email. It is a sequence of emails that are sent to a specific segment of people on your email list, and it is triggered by specific contact action.

Such as:

Joining your contact list
Fill in a specific contact form
Opt-in for a lead magnet
Buying a product
Autoresponder emails could be a drip campaign, follow-up messages or an automated workflow.

You can add your autoresponder email into Automizy with a couple of clicks.

An email autoresponder is not limited to a single email that you fire post a user action.

You can upgrade your autoresponder campaign into a drip campaign. Reveal new opportunities for growth with your automated email marketing.
Craft persuasive email drip campaigns
An email drip campaign is a triggered sequence of automated emails sent on a predefined schedule to targeted email subscribers to achieve a specific result.

The automated and triggered email campaign enables you to personalize messages to your subscribers on a large scale. Based on contacts action.

Suppose a website visitor fills a popup form to receive a coupon you're offering. Once they click on submit, a personalized automated email with the promised coupon code is sent to the subscriber.

But a successful email campaign doesn't end with the subscriber receiving the coupon.

After the first email, you'd want to introduce yourself or your business.

Afterward, send another email promoting products related to your subscribers' interests.

So by now, your automated drip campaign is made out of more than an email.

Each time a drip email is sent out, it comes from a queued list of pre-written emails, so you don't have to sit on your desk and write an email for every new contact.
Start your automated email drip campaigns to:

Nurture leads
Increase conversion
Drive sales
Send lead magnets, etc.
With Automizy's Visual Automation Builder, you are provided with everything you need to build a drip campaign that would increase your small business sales and revenue.
Build automation with conditions
An email workflow fire emails based on customer behavior and data.

Let's see how it works.

Automated conversation workflows are more of an in-depth campaign. It is made of a personalized system of automated emails based on customer behavior and data.

Automated conversation workflows enable a conversation to advance logically, based on personas, conditions, and on your small business goals.
It could look like this :

Customers are different, why treat them all the same?

Since customers are different, with conversation workflows you can make your customer journey personalized to each one separately and deliver the right email to the right customer.

These are 3 categories, but there are endless possibilities.

You can create automated email campaigns like:

Subscribers welcome campaign
Email course campaign
Onboarding campaign
Customer service follow-up campaign
And the list can get even longer based on what you want to achieve with your email marketing.
11 Email Marketing Tips That Actually Work for Small businesses – Make Sure To Try Them Out.
1. Map your customers' journeys
First, before putting down your email content and structure, you need to have a clear goal in mind.

Your email campaign goal could be:

Customer upsell or cross-sell
User onboarding
Lead nurturing
Increase free to paid conversion
Improve customer experience
Build a sales pitch
Regardless of your industry, your emails are being sent with one and only goal. To nurture leads and turn them into loyal customers.

Here is an example of a lead nurturing email workflow that maps a journey to nurture leads, and convert them to trial users.

Most lead nurturing workflows consist of 3-5 emails. These emails reference the original lead magnet that led to the initial conversion and should contain call-to-actions to other offers.

Think of getting your leads from marketing qualified leads (MQL) to sales qualified leads (SQL). That is the type of journey you want to map to your contacts.

It is important to map this journey out and then create your email content and campaigns around it.
2. Keep subscription easy
It may sound obvious, but your website is your lead generation machine.

For that, you should add a subscription form that stands out and motivate your website visitors to leave their contact information.

By not having an obvious subscription form on your website, you are leaving leads behind.

Your subscription box should also be as simple as possible. Start by asking for the email address at first.

Besides a simple contact form, you can use onsite retargeting to display subscription popups or plenty of other lead generation ideas that would help you grown a larger email contact list.

3. Set expectations with confirmation emails
It is always the right thing to send a confirmation email right after ever email subscription. As it sets the right expectations for your new contacts.

Show your customers or users their next step, explain what will happen next, tell them why they're receiving this message.

Setting expectations provides an instant connection between the consumer and your business.
4. Segment your email list
Contact segmentation is among the best practices of email list management as it increases email marketing ROI.

Segmentation is the practice of applying filters to make it easy to find a set of subscribers that share something in common.

You can segment your contacts based on:

Age
Specific ebook downloaders
Paying customers
Subscription date
Contacts' position
Gender
Geo-location
Contacts' engagement (added tags)
And any other information your contacts shared with you.
You don't need to create a separate email list for each segment. With an email list management software, you can create contact filters that allow you to target contacts based on their position.

5. Personalize your emails
Email personalization makes your business emails inviting, not creepy.

Email personalization can have a significant impact on your email marketing response rates.

No customer wants to feel like they're unknown when they've purchased your product. They want to feel like an individual, who you know by name and appreciate.

You have to use customers' information when creating your email campaigns. Data like:

Names
Gender
Purchase history
Geographical location
Browser history, etc.
Personalized email generates higher sales since it tells your customers that:

You know each subscriber as an individual.
You care about their interests, needs and wants.
You want to provide the value they're looking for.
As Seth Godin has stated, "I don't want email, I want me-mail."
Personalize your email campaigns' with Automizy's subject lines custom fields.

You can add your contact's first name, last name, company, website, birthday, position, etc.

For B2B email marketing, you'll have to go with your personalization beyond using the contact name only.

Your B2B leads are customers, just bigger. When approaching them, make sure you put efforts in engaging them with fully personalized emails.
6. Create a responsive email
In 2018, 61% of email open rates came from mobile devices.

The question to ask yourself here: "Are my email campaigns readable on mobile?"

Optimize your emails for mobile users starting with your email subject line, as the character length should be shorter.

All emails created in Automizy are mobile responsive. You can preview your emails before sending to make sure it looks good on mobile and tablets.

Mobile devices allow consumers to do their research and make their purchases in a matter of seconds.

If you haven't optimized your email campaigns for mobile devices yet, now is the time.
7. Keep emails short and direct
You're familiar with email scanning right? I bet you scan your emails instead of reading every word.

That is no surprise that everyone does it, including your customers and subscribers.

Moreover, people reading it on the go will likely scan its content. Ease that with your content structure.

Your email should be easy to digest. That means no large text blocks.

Remember, inboxes are crowded with emails, and once you grab your contacts' attention with an email make sure it is digestible so they read your next one too.
8. Craft attention-grabbing email subject lines
You spend hours designing an email banner and crafting the coolest email content ever. But would that matter without a captivating email subject line? Absolutely not.

Usually, the subject line is often left until the last minute and doesn't have a lot of thought put into it.

Using an attention-grabbing subject line defines your campaign, so you should put some thought in it.

Here are some of the best tips to achieve high email engagement levels through the subject line:

Provide subscribers with self-Interest
Trigger contacts' curiosity
Create a sense of urgency
Offer them something
Communicate major news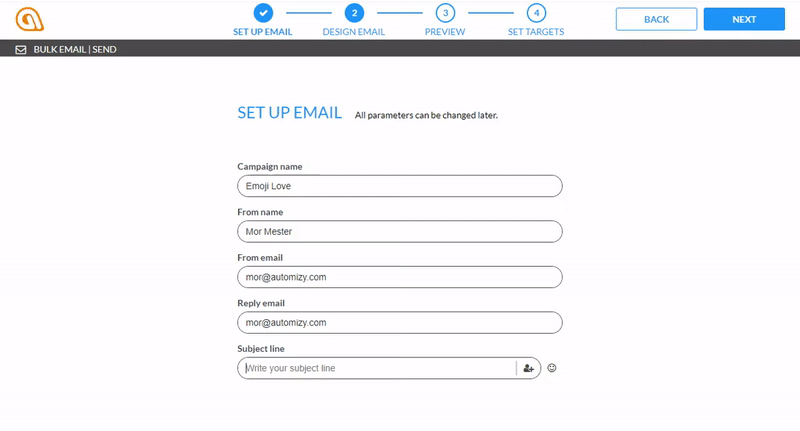 And most of all, never ever mislead or use click-bait subject lines, That would result in a high unsubscription/spam rate.
9. Proofread content and test links
Making mistakes, that is something we're all good at.

To prevent such typo and broken link mistakes, I recommend you preview your and send a test email to yourself.

That way you can check for punctuation, typos, grammar mistakes, and at the same time test the links and CTA button.

In case you missed a part and made a bit bigger mistake at an email campaign you fired, assess the damage first and consider sending an apology email.

I hope you never get there anyway.

Check, double check and triple check before sending an email campaign.
10. Run AB tests
According to SuperOffice, 47% – of recipients decide whether to open or discard based only on the subject line.

Would your email content matter if you don't get your subscribers to open your email?

Of course not.

Use A/B testing to identify the best performing email subject line and maximize your email open rates.

An A/B test measures the engagement for two different subject lines or more, to send the best performing one to your contacts.

Here is how to A/B test your subject lines in email marketing software.

Identifying your winner email subject line has a big effect on your campaigns' open rate. And the higher the open rate for your emails, the higher sales, and ROI you generate.
11. Don't overlook your email KPIs
It's true that your email marketing can be automated and managed on autopilot, but that never means that you're all set it and you can forget about it.

You should keep an eye on your email marketing performance in order to make the right tweaks and optimize it for the most performance.

It is best to check your ongoing email campaign on a weekly basis and adjust it to reach the full potential.

Here the 7 must-track email marketing KPIs:

Value and cost of leads per drip campaign
Conversion rate over time
End-to-end conversion rate over time
Time to customer conversion
Contact generation over time
Contact's engagement level
Unsubscription rate over time
5 Best Email Marketing Software For Small Business
Choosing a small business email marketing service isn't that simple. You'll look for:

An easy-to-use email solution
Reasonable pricing
Features that can convert leads to customers
The right platform with a solid strategy behind it can save your business time, money and increase your sales.
Here's a list of things you should consider when choosing an email marketing platform:
Does it have an easy-to-use drag and drop email editor?
How can I import and export my contact database?
Does the company offer a free migration service?
How can I manage my contacts?
What kind of analytics and reporting does it have?
Can I create opt-in forms? And can I easily integrate my existing ones?
Can I create email automations easily?
Does it integrate with other software, for example landing page builders?
Can I run split tests?
What's the delivery rate?
Does it have a free trial?
Is their support quick and effective?
To help you decide on what email solution to go with, we combined for you a list of 5 email marketing services for small businesses.
1. Automizy
Automizy is a web-based email marketing automation software that was built for people with no technical background to help convert their leads to customers.

With Automizy you can send automated, fully-personalized, interest-based emails with ease.

Automizy's sleek design and user-friendly interface make managing multiple campaigns a breeze.

It comes with AI-powered email subject line tester and with intuitive visual automation builder:

And with a powerful analytics component, the Automizy platform guides marketers and consultants to optimal results.
How much does it cost?
Prices are based on the active contacts in your database, split into 2 types of plans. Starter plan and Pro plan.

Starter plan:

0-500 subscribers: $9 per month
501-1,000 subscribers: $15 per month
1,001-2,500 subscribers: $25 per month
2,501-5,000 subscribers: $45 per month
5,001-10,000 subscribers: $65 per month
10,001-25,000 subscribers: $135 per month
25,001-50,000 subscribers: $265 per month
50,001+ subscribers: : Get a custom quote
Pro plan:

0-500 subscribers: $29 per month
501-1,000 subscribers: $39 per month
1,001-2,500 subscribers: $59 per month
2,501-5,000 subscribers: $99 per month
5,001-10,000 subscribers: $139 per month
10,001-25,000 subscribers: $249 per month
25,001-50,000 subscribers: $449 per month
50,001+ subscribers: : Get a custom quote
Pros
Subject line analyzer: You could increase open rates by testing your subject lines before you hit send. Automizy comes with an AI-powered tool that grades your subject lines based on data from over 1 million campaigns.

Easy email automation builder: Automizy simplified building email automation to speed up your work. You'll get a fully integrated visualization board that will lead and inspire you to create high-performing email automation.
Cons
Event/website tracking: The solution doesn't provide an advanced tracking tool so far (to be released in 3 months).
Forms and landing pages design: The form and landing page design is basic, you can't expect much from it.
2. Constant contact
Constant Contact is an email marketing service for small businesses. Their email automation software provides users with a 60-day free trial.

Constant Contact offers many integration options for users to connect their CRM tools.
How much does it cost?
There are two plans to choose from. Each of these plans breaks down based upon the number of contacts.

Email Plan:

0-500 subscribers: $20 per month
501-2,500 subscribers: $45 per month
2,501-5,000 subscribers: $65 per month
5,001-10,000 subscribers: $95 per month
Email Plus Plan:

0-500 subscribers: $45 per month
501-2,500 subscribers: $70 per month
2,501-5,000 subscribers: $95 per month
You'll get a 10% discount if you pre-pay for 6 months, or 15% if you pre-pay for 12 months.
Pros
Niche features: Constant contact provide interesting niche features such as an event, newsletter, welcome email, etc. Which can be useful for specific businesses.

Deliverability rates: Constant Contact offer one of the highest rates of deliverability among many email automation tools.
Cons
Pricing: Constant contact pricing is high compared to other email marketing solutions.

Limited automation: Basic automation setting, missing some of the most important features of creating an advanced email workflow.
3. MailerLite
MailerLite is an email marketing directed towards small businesses. This simple and straightforward application comes with many features email marketers look for in an email marketing software.

MailerLite breaks things down to what's essential in email marketing. That is what allowed them to create one of the simplest small business email marketing solutions.
How much does it cost?
1-1,000 subscribers: Free
1,001-2,500 subscribers: $10 per month
2,501-5,000 subscribers: $20 per month
5,001-10,000 subscribers: $35 per month
10,001-15,000 subscribers: $50 per month
If you pay yearly, instead of monthly then you'll save 30%.
Pros
Free plan: Many features are included in their free plan, including marketing automation.
Easy to use: Simple interface can be used by anyone, no email marketing background would be needed.
Cons
Features missing: Full reporting is not one of their strengths, also creating advanced workflows is not possible.
4. MailChimp
MailChimp is a simple to use email marketing tool for bloggers and smaller websites as it comes with a free plan.

How much does it cost?
The free plan allows you to have up to 2,000 subscribers and send up to 12,000 emails per month. Once you've exceeded these numbers you'll want to upgrade to the Grow or Pro plan.

Free plan: It's free forever

Send up to 12,000 emails per month
Grow your list up to 2,000 subscribers
Email support included for 30 days
Grow plan: Plans start at $10 per month

Up to 5,000 subscribers: $50 per month
Up to 10,000 subscribers: $75 per month
Up to 25,000 subscribers: $150 per month
Up to 52,000 subscribers: $250 per month
Pro plan: Plans start at $199 per month

Up to 5,000 subscribers: $50 per month
Up to 10,000 subscribers: $75 per month
Pros
Template editor: Mailchimp provide a powerful simple editor.

Freemium plan: You're allowed to 12.000 emails to 2000 contacts. Which works great for small businesses.
Cons
Expensive plans: They offer a generous freemium plan, yet, the prices increase once you increase your contacts number.

Limited automation: MailChimp is not the best choice when it comes to advanced email marketing automation.
5. AWeber
AWeber is a robust and modern program, especially for businesses that want to send all new subscribers the same series of messages.

The autoresponder setup is easy, intuitive, and well explained within the software, and users have a lot of options.

How much does it cost?
0-500 subscribers: $19 per month
501-2,500 subscribers: $29 per month
2,501-5,000 subscribers: $49 per month
5,001-10,000 subscribers: $69 per month
10,001-25,000 subscribers: $149 per month
25,001+ subscribers: Get a custom quote
If you want to try before you buy, there's a 30-day free trial that gives you access to all features.

You can also pay quarterly to save 14%, or pay yearly to save 14.9%.
Pros
List management: Keeping your contacts organized is simple with AWeber.
Customer support: Friendly service, with great educational tools.

Cons
Expensive plans: The price is a bit higher than other email marketing providers that provide the same features.
Need to be updated: Some features are outdated, and lacks a lot of advanced features to create sophisticated automation.
Conclusion
Let's speak the truth, as a small business you're marketing budget won't be high to support costly marketing strategies. And in case you have enough resources I suppose you'd spend it on developing a better product.

Email marketing is the solution to help you:

Announce your new products and services
Generate your first sales
Sustain a successful customer relationship
Increase the customer lifetime value
Email marketing is a low budget marketing channel, yet, its scalability for your business is huge.