The search for renting, selling, or buying property is becoming a more and more digital process.
Home buyers or renters conduct online searches to have an idea of what's on the market. They can browse options, have 3D or video views, and even sign documents online.
If you're a realtor or an agency and not leveraging the full potential of real estate email marketing, you're leaving behind a considerable share for your competitors.
So, where should you begin? With a strategy and good real estate email marketing templates, you'll close more deals and increase your revenue.
By reading this article, you will learn:
How to grow your real estate email list
How to manage and send real estate email campaigns,
How to save your time as a realtor with automations,
And how to use email marketing to increase customer loyalty and close deals.
I'll help you achieve that by providing you with:
Let's get to work.
5 Reasons You Should Consider Using Email Marketing for Your Real Estate Business
1. Welcome new prospects
It's no surprise that a business is nothing without customers.
And winning customers to increase your real estate business's value has a lot to do with giving a warm welcome to new prospects.
According to 9Clouds, welcome emails have 86% higher open rates than other marketing emails.
And subscribers who receive welcome emails show 33% more long-term brand engagement than those who don't.
A warm welcome could increase the engagement and retention of your real estate prospects, and also:
Help them set the right expectations
Learn about the history of your agency
Get to know the people behind the agency
Make sure to humanize your welcome email and make it sincere. No one likes to be welcomed by a robot.
Even though welcome emails can be automated, you can still personalize it to make it look like you took the time to welcome your prospects personally.
2. Promote deals
Sending newsletters or real estate eblast marketing is what helps you promote new deals to prospects.
The main objective of promotional real estate emails is to convince prospects to make a purchase.
If you add a new property to your listing, how will potential buyers hear about it?
For that, you must send announcement emails promoting new listings or special deals to your real estate email marketing.
3. Confirm booking and appointments
A considerable part of real estate email marketing consists of sending confirmation emails to prospects interested in a specific property or service.
For example, you can send confirmation emails to contacts who:
Book an appointment on your website
Subscribe to your weekly newsletter
Show interest in a specific property
Accept your invitation to open house events
Real estate confirmation emails help you automatically respond to your prospects when they're most interested.
Another reason why you need confirmation messages in your real estate email marketing is that it's automated.
You can set it up in Automizy and have confirmation emails sent to your prospects without you doing the job.
4. Send "Open House" invitation emails
In 2021, no event can be successful without a well-executed invitation email.
I mean, how will your prospects hear about your Open House without an invitation email?
Even though an open house can be considered a small event or a local one, you can still make it a success with a warming invitation email to your prospects.
As a real estate agent, email marketing helps you automate invitation and reminder emails for your upcoming open house events.
You can easily set up an event invitation email sequence to:
Announce your event and invite prospects
Send COVID guidelines for your event
Send a reminder email one day before the Open House day
Send a reminder email on the day of your event
Here is how your overall open house email sequence would look like:
But one thing to watch out for is to send the invitation email to prospects who are in the area and interested in such an offer.
5. Save your time and money
Real estate email marketing helps realtors focus on what they do best and takes the complexity out of engaging your customers online.
For instance, Automizy provides you with real estate email templates that are ready to be sent.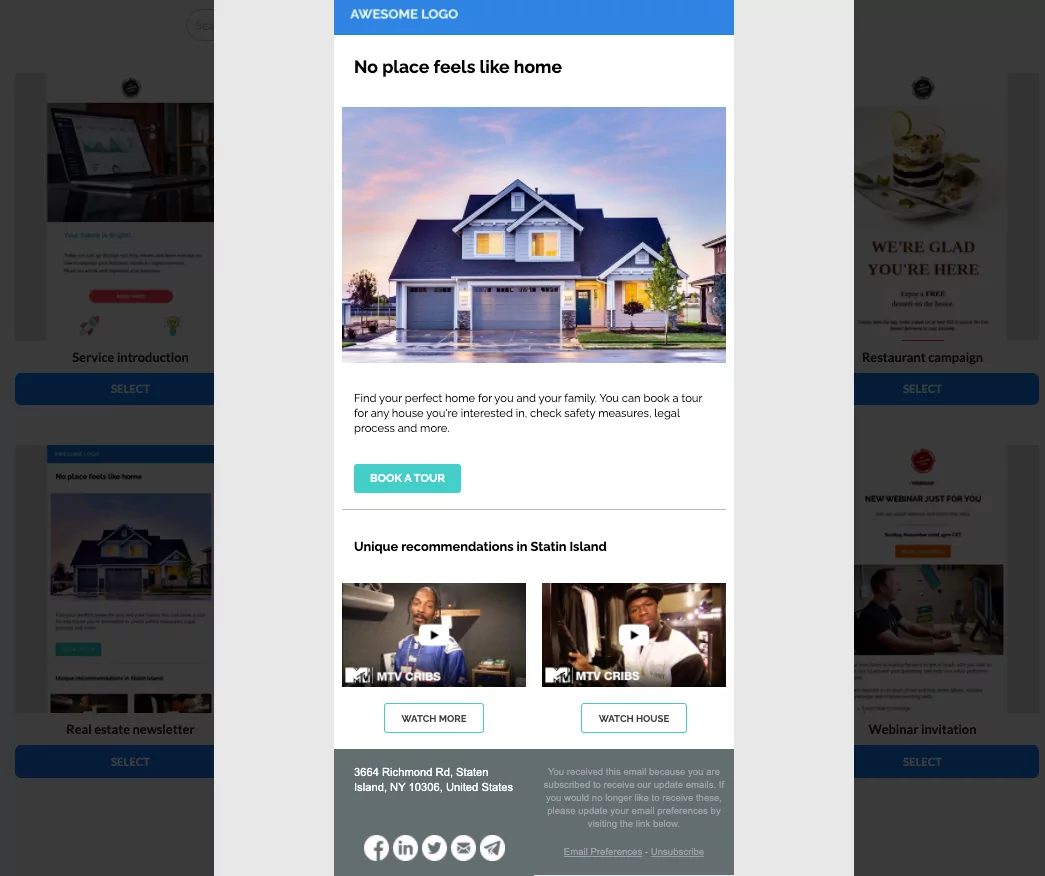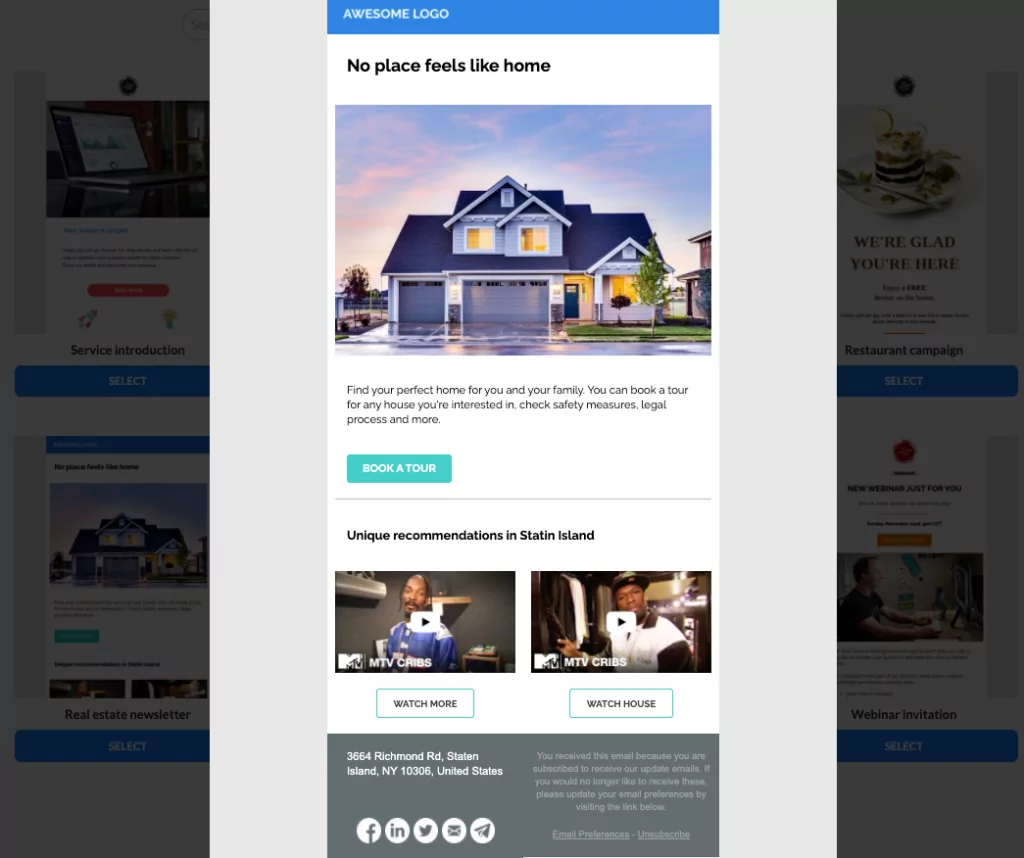 You don't need any design or coding skills to send a beautiful engagement email. Also, you save money as there's no need to hire a designer or outsource campaigns.
4 Ways to Build an Email List for Realtors
It's a no-brainer that you need to build an email list as a realtor so that you can send marketing emails.
A real estate email list is a list of people who impatiently wait to receive good deals from you.
If you don't have an email list, that makes it the top priority issue to tackle from now on.
To help you, here is a list of real estate email marketing tactics to grow your list.
1. Embed a form to your website
First thing, you need to make it easy for your website visitors to join your contact list.
You can do that by offering a good value in return for submitting their contact details.
A simple tip you can start with which is embedding a form to your website.
You can choose to embed a signup form:
On the home page,
Add it to the footer,
After each listing,
Or on the contact page.
This way, your website visitors feel that you're accessible and will signup to your list for value in return.
You can offer good value for your real estate prospects. Here are few examples:
Receive email-only deals
Get notified when you add a new listing
Receive reasonable offers close to them
Get invited to open house events
2. Invite prospects to book appointments with an agent
Another way to collect email addresses is to add a booking page on your website or other marketing channels.
This way, you acquire the contact information of those prospects who booked an appointment with you or your agency.
You can share your appointment booking URL:
On your website
On your Facebook or Instagram page
In your Google ads
No one likes spam, so make sure you always have permission to send marketing emails to your contacts.
3. Display opt-in based listing for prospects
Gated listings is another real estate tactic to grow your email list.
For example, you can display such a popup on your website in which prospects can subscribe to unlock a list of houses for sale.
Here is an example to inspire you.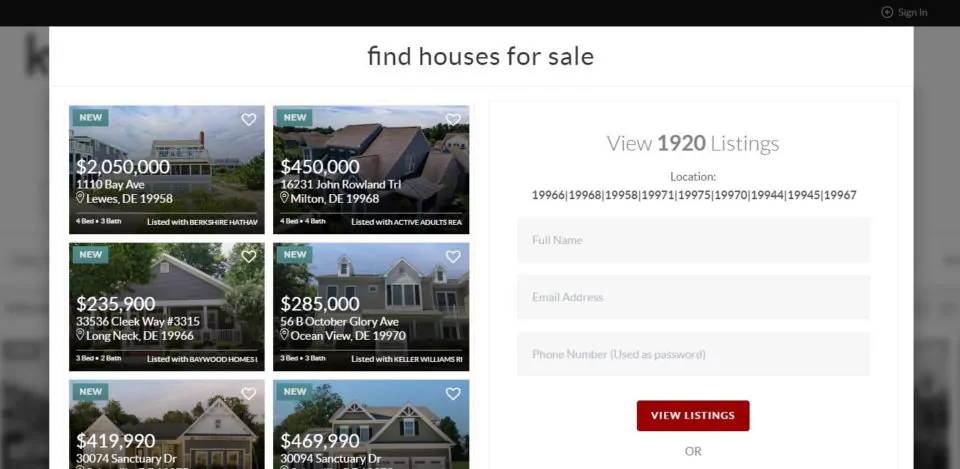 4. Offer forms to find a home's price
For prospects interested in selling their property or learning about the value of their home, it's best to add a form that matches their need.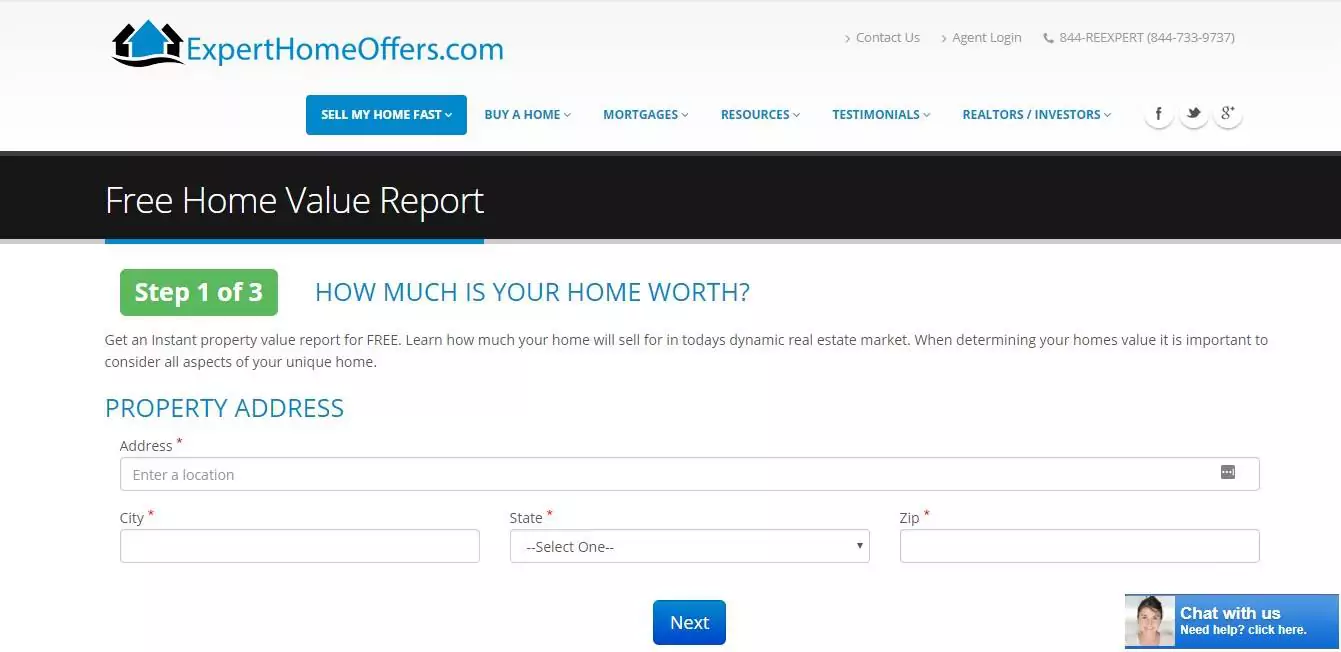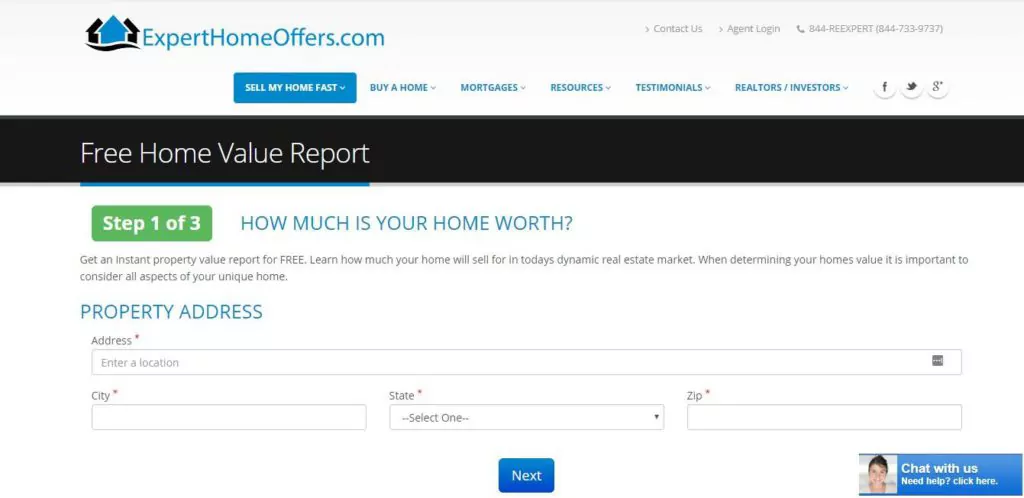 This form is straightforward and delivers clear expectations for prospects.
If you have a low volume of requests, you can manage them manually.
But if the requests increase, it's best to set up personalized emails with dynamic content and deliver personalized estimations based on the property address.
3 Real Estate Contact Management Best Practices
Let's address the elephant in the room. No one enjoys messy Excel spreadsheets. We'd trade that mess for anything.
Email marketing for real estate agents and business owners helps you manage your contacts and clients in one place.
You can filter your contacts based on their:
Preferences
Budget
Zipcode
Address
Engagement
Interests
And so much more.
Managing your contacts in email software cuts the extra costs of expensive CRM tools and takes the mess off Excel sheets.
This way, you'll have informative data on your contacts that allows you to send highly personalized campaigns to close deals.
Let's go through the top 3 real estate email contact management best practices.
1. Segment contacts
Your real estate prospects are different. You have no reason to treat them all the same.
Instead of doing the "grandma" bulk emailing and send the same email to everyone, start segmenting your contact list and learn more about your contacts.
For example, a prospect is interested in a small apartment, why would you send them an email promoting a beach-side villa?
By collecting more data about your contact at the early stages, you leave behind the bulk emailing, and you join the new age of email marketing segmentation that converts.
Here is a sample of real estate email marketing contact segmentation done inside Automizy's contact manager, filtering contacts:
That are interested in a family house.
With a maximum budget of $270K.
Interested in Beverly Hills as a location.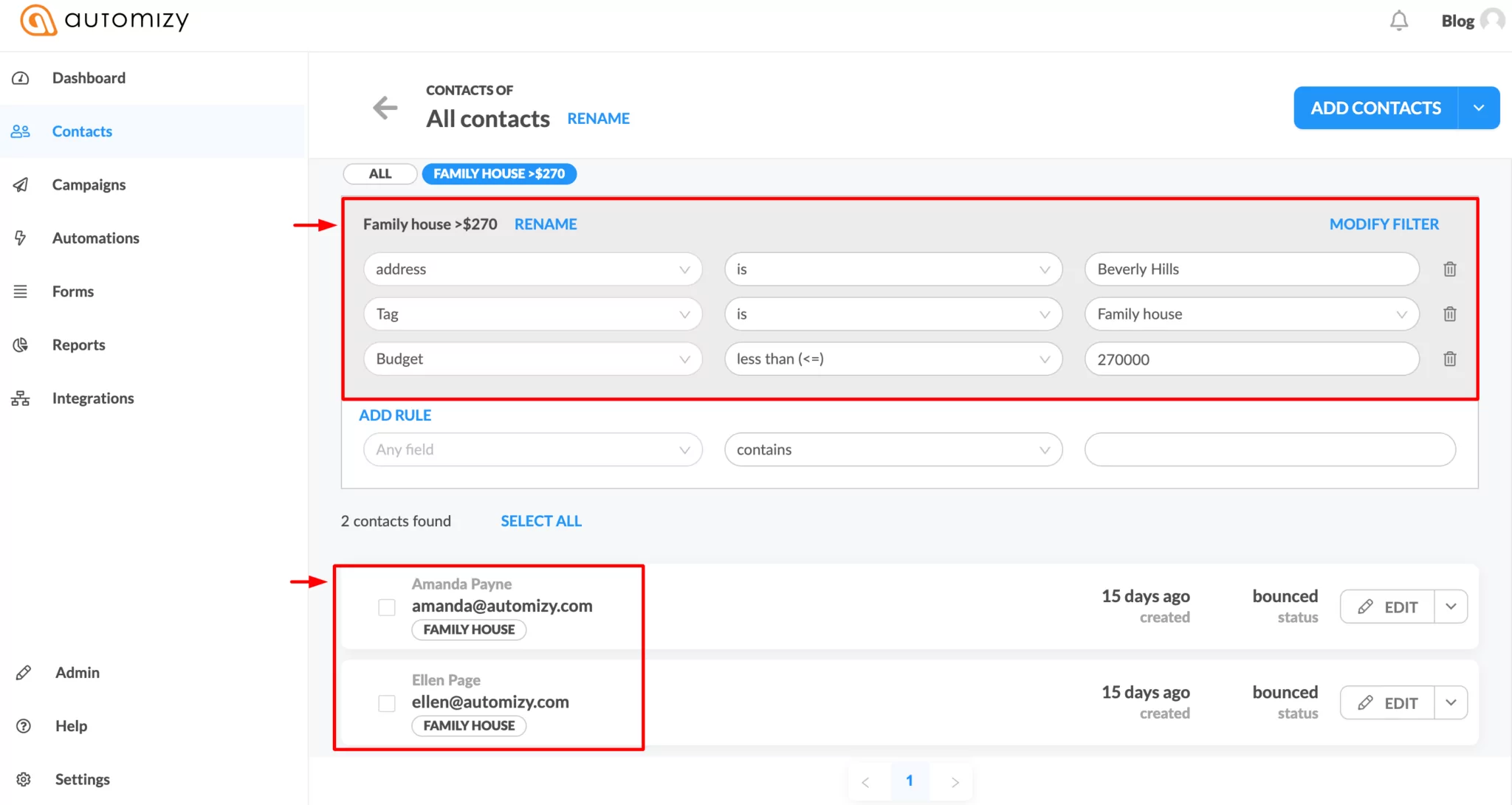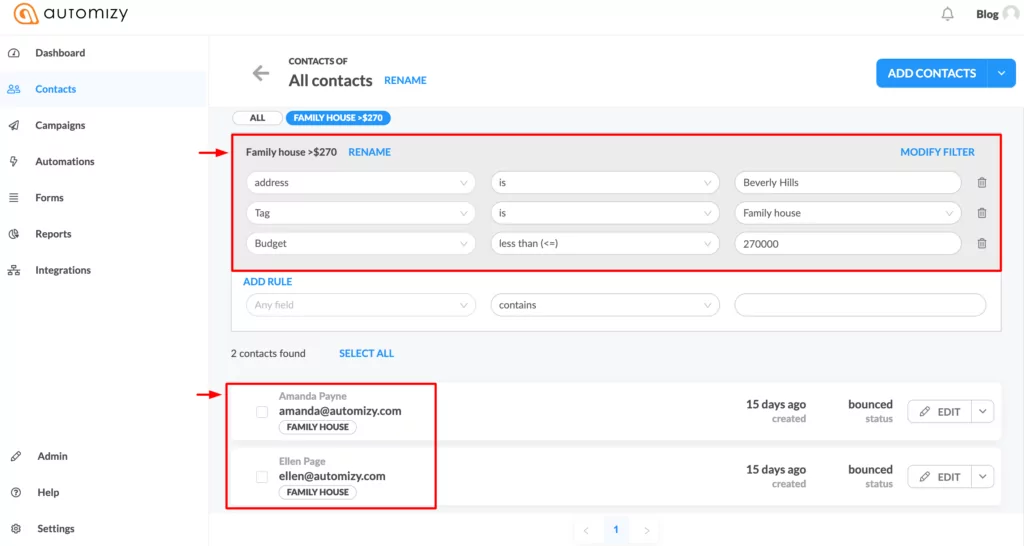 By segmenting your prospects, you'll be able to send relevant offers. And that results in higher engagement and overall conversions.
Like an onion, contact segmentation can have many layers of data:
Geographic data: Country, city, density, language, etc
Demographic data: Age, gender, income, occupation, marital status, etc.
Psychographic data: Lifestyle, activities, personality, etc.
Behavioral data: Previous purchase, website browsing, engagement, etc.
Segmentation and contact list management is a game that helps you win the real estate email marketing game.
2. Apply tags
Contact tagging represents a considerable part of real estate email marketing that is about collecting data about your contacts.
A contact tag is a label that adds information to your email contact.
It can be:
Interest
Downloaded content
Attended event/webinar
Clicked in an email
Etc.
Tagging helps you:
Avoid spamming your subscribers,
Know what type of property they are interested in,
Segment them according to their behavior,
Identify their life-cycle stage.
The information you collect strictly relies on your business needs, but there are 2 main types:
Behavior-based information
Data provided by your subscribers themselves
Data provided by your subscribers is self-explanatory. The information subscribers fill in the opt-in form.
Behavior-based information is the meta-information you add to your subscribers with contact tagging.
Such as: attended an open house, became a hot lead, purchased property, etc.
In other words, the information you collect from your contact through the customer journey.
The data and tags you collect on your contacts shift your real estate email strategy from the "send to all" era to the highly targeted one.
3. Dynamic contact management
To simplify the matter for you, dynamic contact management allows you to:
Move prospects from one list to another.
Move prospects from one automation to another.
Apply or remove tags based on prospects' status in the marketing or sales funnel.
Modify custom data.
For the sake of understanding, here is a real estate email marketing best practice of dynamic contact management.
Step 1: Contact joins your prospect buyers list from your contact form.
Step 2: You send them an automated email to welcome them.
Step 3: You introduce yourself and your agency.
Step 4: You propose an action plan to help them find their next home.
In these 4 steps, you welcomed and qualified your lead correctly. Now, you'd like to move them to a more salesy automation with copy and call to action that motivates them to convert them.
This is when contact management comes into play.
Instead of doing the work manually and writing different emails or managing messy files and sheets, you can automatically:
Send contacts to another automation.
Or move them in lists.
Here is how this real estate email idea can be visualized in Automizy.


9 Real Estate Email Campaign Ideas and Examples
In case you don't know where to start with your real estate email campaigns, here I share with you 9 real estate email ideas and examples to inspire you.
1. Offer value to your contacts
Real estate email marketing is not only about "Buy" or "Sell" call-to-actions.
That's the objective for sure, but you can only get there after nurturing your prospects and providing them with enough value to trust you.
Once you earn the trust, closing the deal will get easier for you.
Here is a real estate email idea from Zillow to get inspired from.
The example displays 2 CTAs for people in different stages of the customer journey. They can tag their contacts for clicks to send targeted follow ups.
And besides the CTAs, they include URLs in text, providing a variety of options for users in different stages.


2. Send interactive emails
An email should look appealing, and most of all, motivate engagement.
Sending interactive content allows your contacts to connect with your email and boosts your click rate.
Trulia does a great job with their "This or that" email campaign to new users.
The data you collect from interactions with a similar real estate email idea can help you send more personalized emails in the future.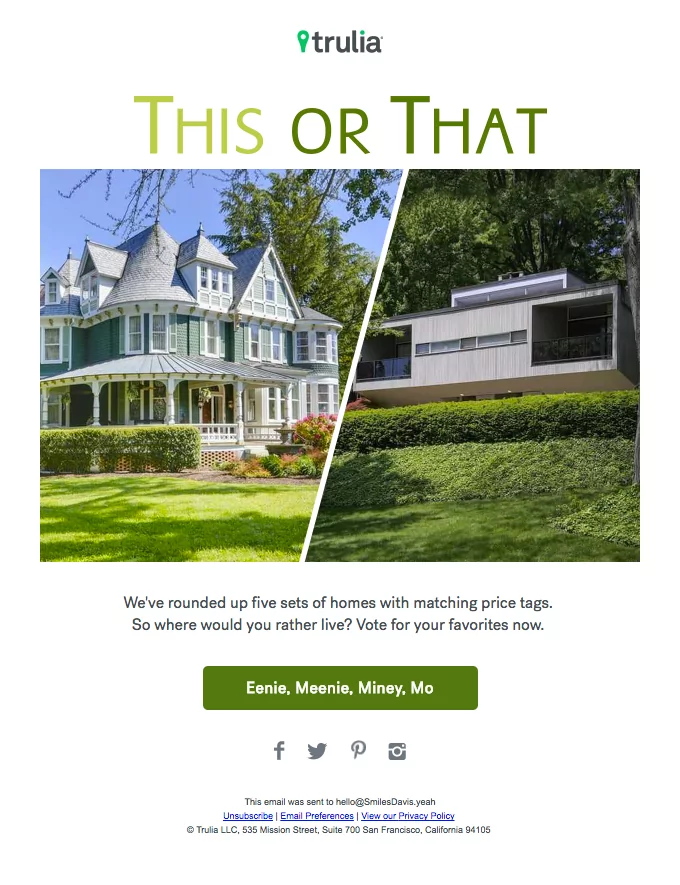 When sending a similar interactive email template, it's better to include 2 CTAs leading to different pages to make the experience more personalized.
It also helps you segment your next campaigns based on clicked URLs and interest.
3. Celebrate realtors milestones
Milestone emails for real estate is a great way to motivate your agents to grind even more.
You can gamify your users' experience with badge rewards and levels. This helps increase engagement and brand virality.
Premier Agent congratulates agents who excel and celebrate their achievement with a beautiful designer real estate email example.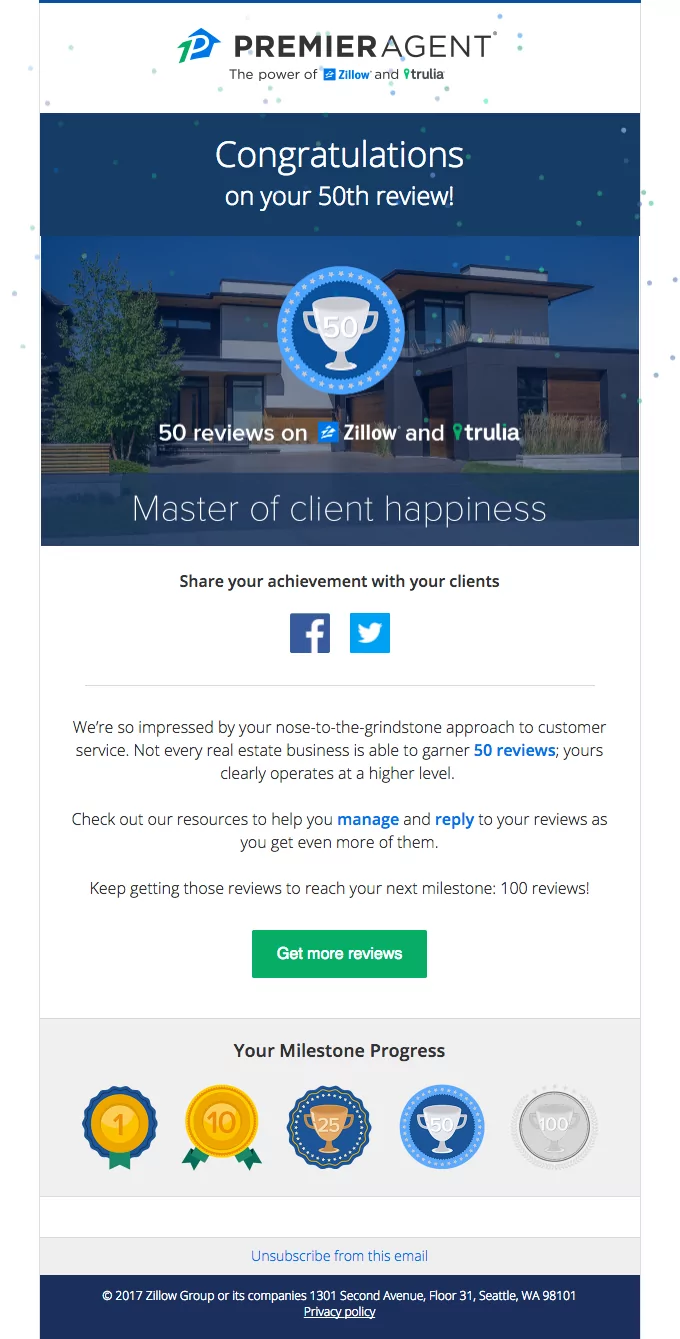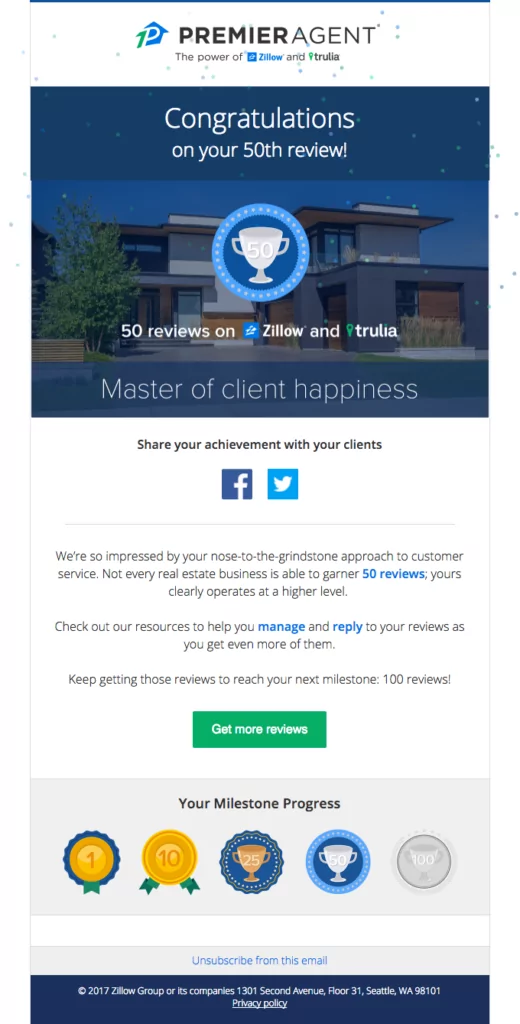 4. Personalize your email content
According to Instapage, personalized and targeted emails generate 58% of all revenue, delivering 6x higher transactional rates.
The point is that contacts want to see content related to their interests, so they're more likely to react to it. Which eventually converts into more closed deals for you.
Using website tracking, Zillow sends personalized emails to contacts based on visited pages.
That allows them to retarget website visitors with the offers they've browsed on the website.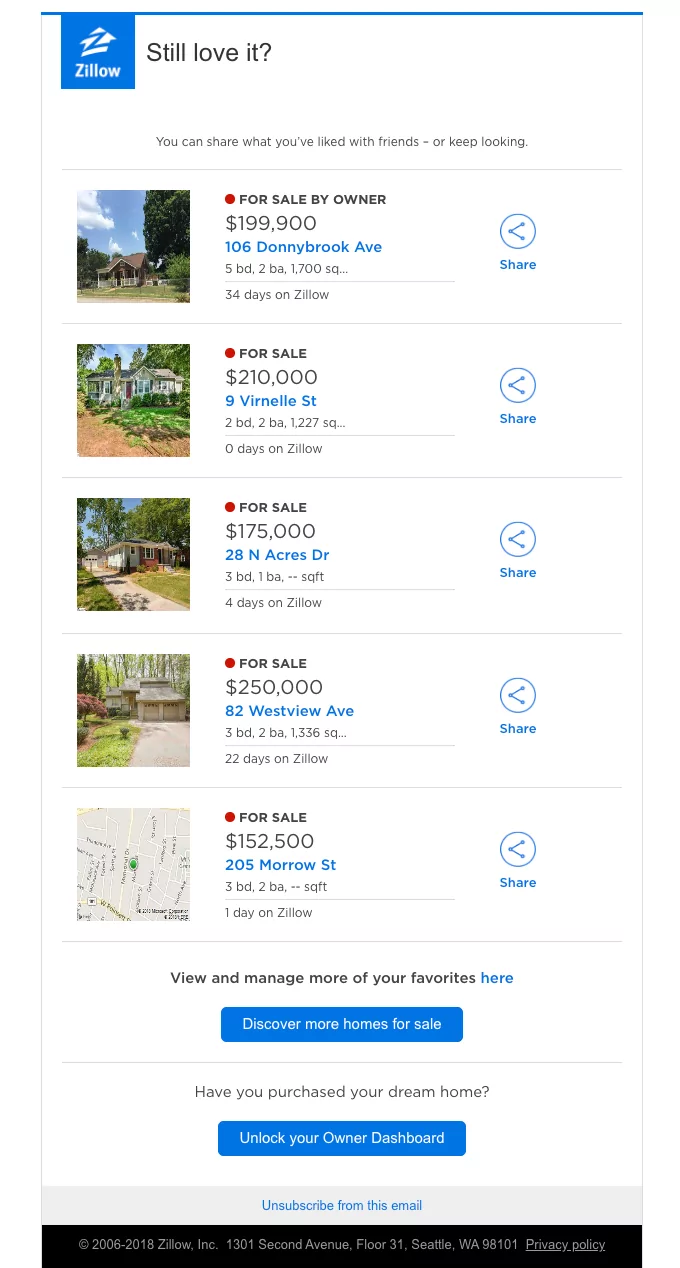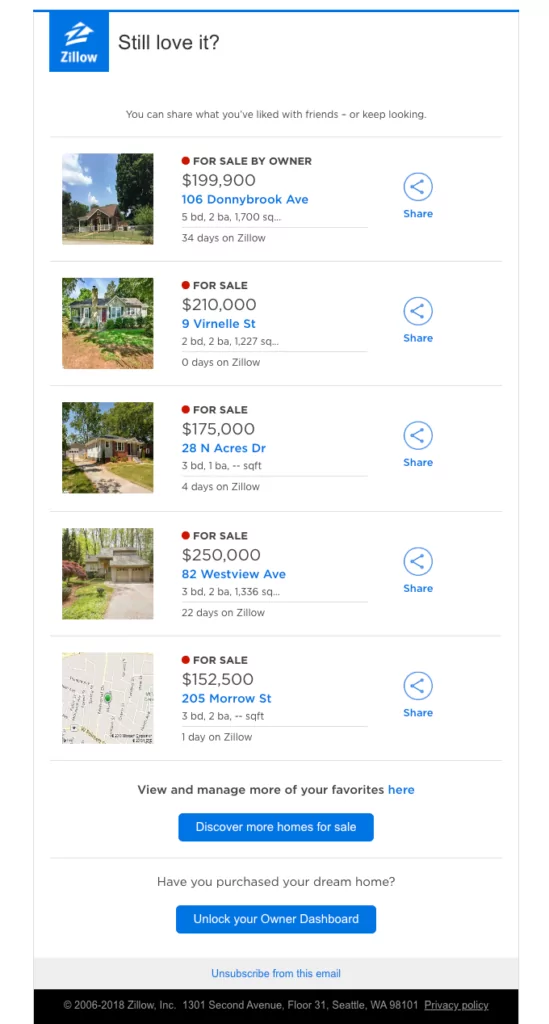 Register to Automizy for free and send personalized emails based on how your contacts browse your website.
5. Onboard new users and deliver tips
Protecting your prospects and customers is an essential part of building customers' trust.
As part of your onboarding process, send important tips or risks to watch out for.
Lovely sends the following real estate email example to users looking to rent and give them heads up to make sure they're protected.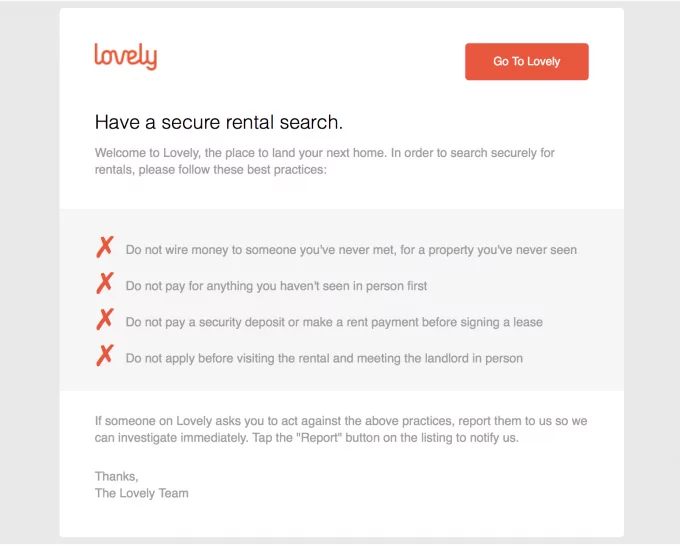 6. Notify users about new listings
The process of renting, selling, or buying a property is long and complicated.
A lot of options to choose from or details to take into consideration. This makes the decision process last for months.
Notifying users about listings that match their preferences is an essential real estate email idea to add to your email marketing arsenal.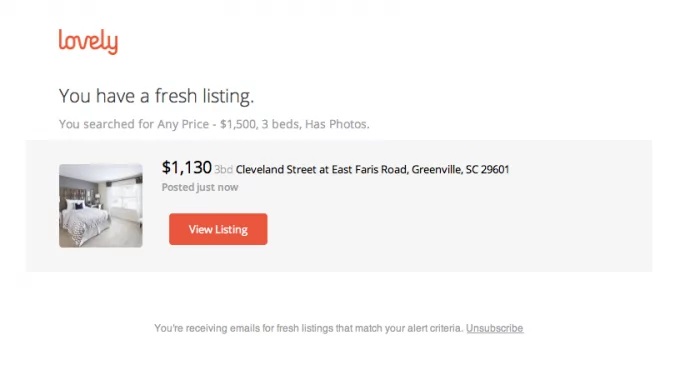 7. Write simple and straightforward copy
When was the last time you read a one page email?
Yeah, I thought so.
A simple, short, and straightforward email keep your contacts focused on one action to perform.
Which is clicking the CTA to get them back to your website.
Have a look at this simple real estate email example. It doesn't require recipients to scroll and looks beautiful on both desktop and mobile.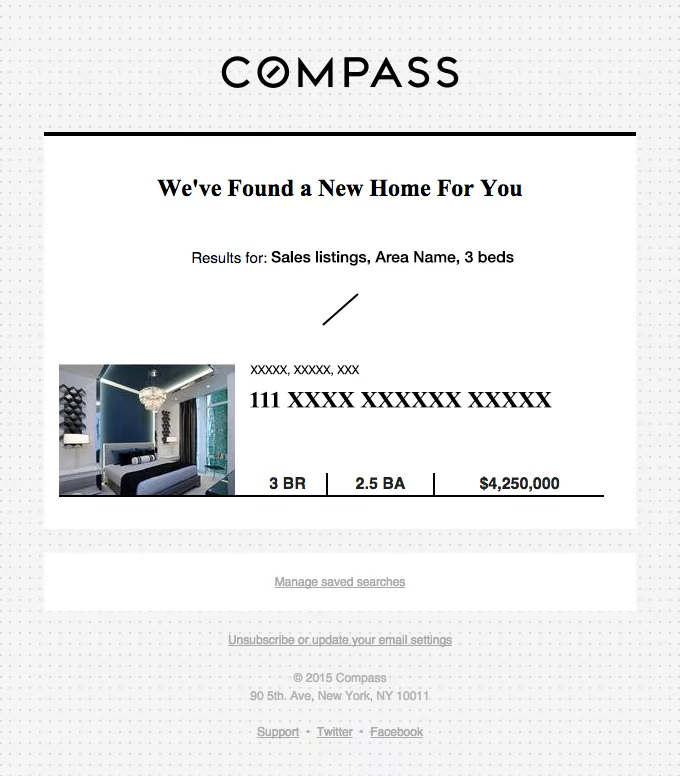 8. Give a warm welcome to new users
When a customer enters your office, you thank them for their visit and give them a warm welcome.
The same applies to real estate email marketing. Even though the experience is not tangible, you can still give the same warm welcome you'd give to a visitor in your office.
And the first email your users receive from you sets the tone of the whole customer experience. So make sure to start the relationship with a positive note and give the best first impression.


9. Add videos to your email
A video gives an email another touch introducing the humans behind the business.
Wistia, a video software company, found that using video in an email led to a 300% increase in click-through rates compared to emails without video.
Remax sent the following real estate email example wishing their customers a happy new year.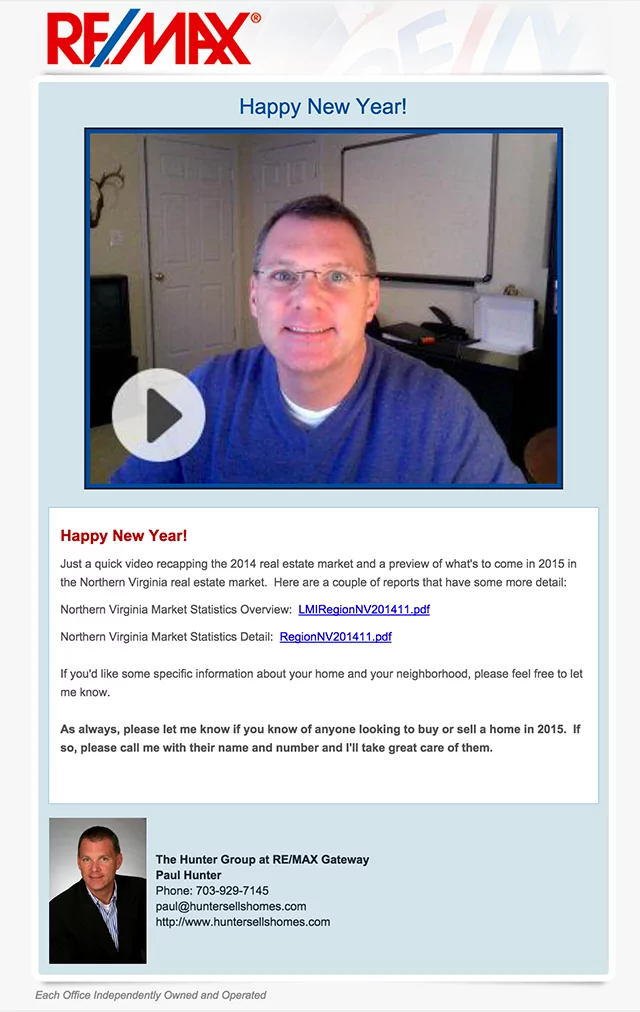 21 Inspiring Real Estate Email Subject Lines to Copy
The best real estate subject line communicates a promise of the value recipients can find inside your email.
In other words, your subject line has to convince the recipient that the content will facilitate their search for renting, selling, or buying property.
Here is a list of real estate subject lines that you can use in your upcoming campaigns.
Welcome home 🏠
Have a look at your next home
A new listing for you
How do you like this
Imagine your first breakfast here
Still looking for a home?
Open house this Sunday
Are you available for our upcoming open house?
What Staten Island real estate agents won't tell you
I know someone who would love your house
Isn't this the comfiest house in San Francisco?
Your perfect home is out there
Let's get you moving!
Free tips for house hunters
These comfy houses fit your budget
New contemporary flats for you
We have 1 new home for you
10 Trending flats in Staten Island
What to look for when you're house hunting
10 Tips to consider before buying a house in NY
News for your agent
You can use Automizy's free Subject Line Tester to write better headlines that will get your emails opened.
It's an artificial intelligence subject line tester that eliminates guesswork and helps you outperform your competitors inside the crowded inboxes.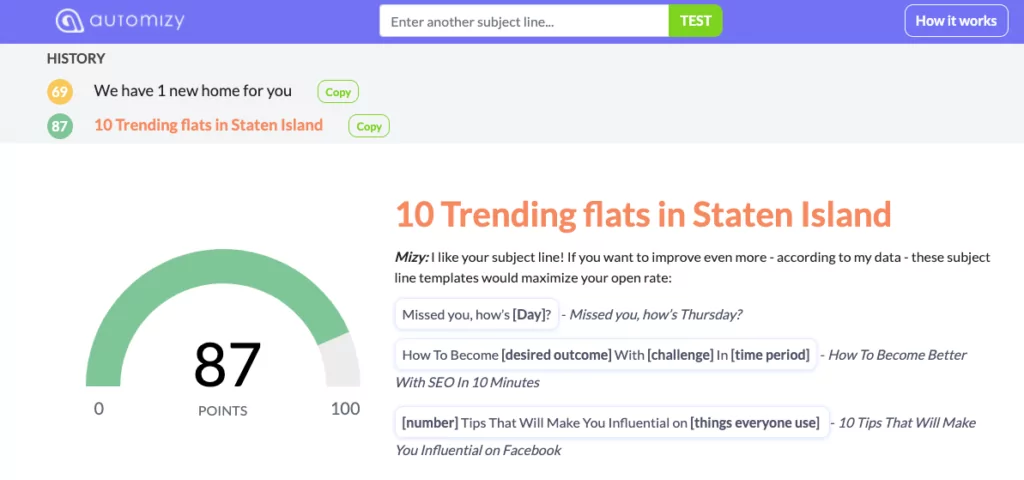 5 Features to Look For When Choosing Real Estate Email Software
1. Lead generation tools
To minimize the costs as a solo agent or an agency, it's best to choose a real estate email software that also provides lead generation tools.
This will save you the dollars that you'd spend on other landing page tools.
When looking for realtors' email software, make sure they provide a form and a landing page builder.
If the software comes with landing page templates, that's a perfect match as it saves your time and relieves you from tech issues.
2. Autoresponder
For real estate agents and agencies, not having an email autoresponder is a deal-breaker.
Prospects expect an answer from you when they perform an action on your website and want real-time communication.
Plus, if you don't provide a quick response, your prospects might end up with your competitor.
Real estate agents and marketers use email autoresponders to streamline their campaigns and cut down work.
The time you save from email marketing, you can invest in closing deals and meeting qualified prospects.
When choosing a real estate email marketing software, make sure to check the autoresponder box on your list.
And if the software provides drip campaigns and automation, that's a winner.
3. Visual email automation builder
Visual email automation building isa necessity in 2021.
As it's easier to use and manipulate, visual builders help you to implement your strategy better and see your automation from a bird's eye view.
A perfect visual builder for real estate marketers takes the complexity out of creating personalized customer journeys.
Just like drawing, a visual builder lets you map the journey you want each customer to take.
Real estate email marketing automation is another element to add to your checklist when deciding on realtors' email software.
4. Anniversary email trigger
Usually, anniversary email automations are neglected when choosing a real estate email marketing software.
Yet, it unlocks an immense potential to engage your clients and increase their loyalty if used correctly.
You're in for a treat!
Here is how to be the rockstar of real estate email marketing with anniversary emails.
Anniversary emails can be sent in 2 cases:
On the actual birthday date of your contact.
Or on a specific anniversary date you enter.
For real estate, you can send birthday emails on:
Contact's birthday
The property purchase anniversary date
And by remembering your clients on such occasions, you increase their loyalty and make them feel special.
Here is an anniversary email template that can be automatically sent to real estate clients on their purchase anniversary.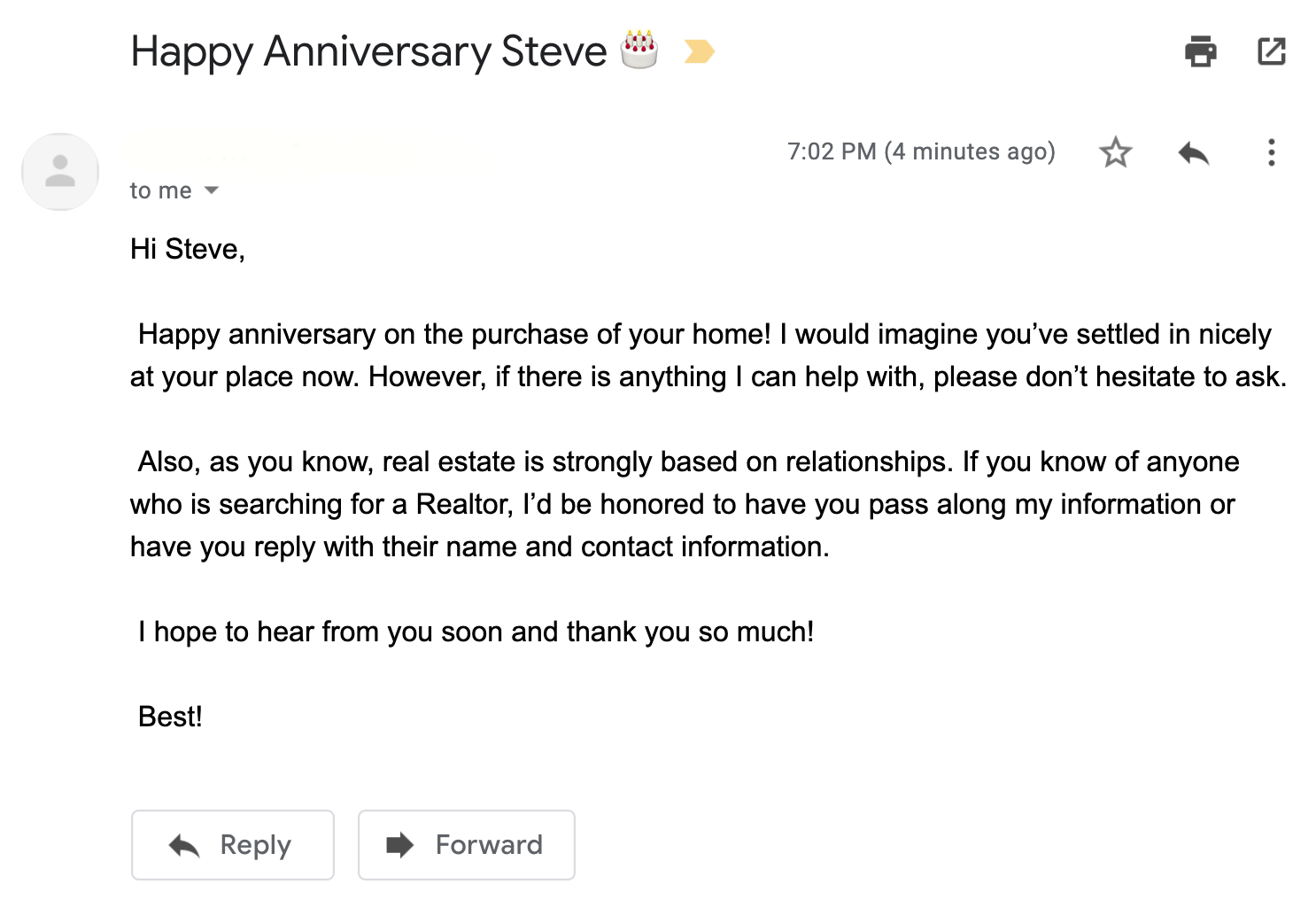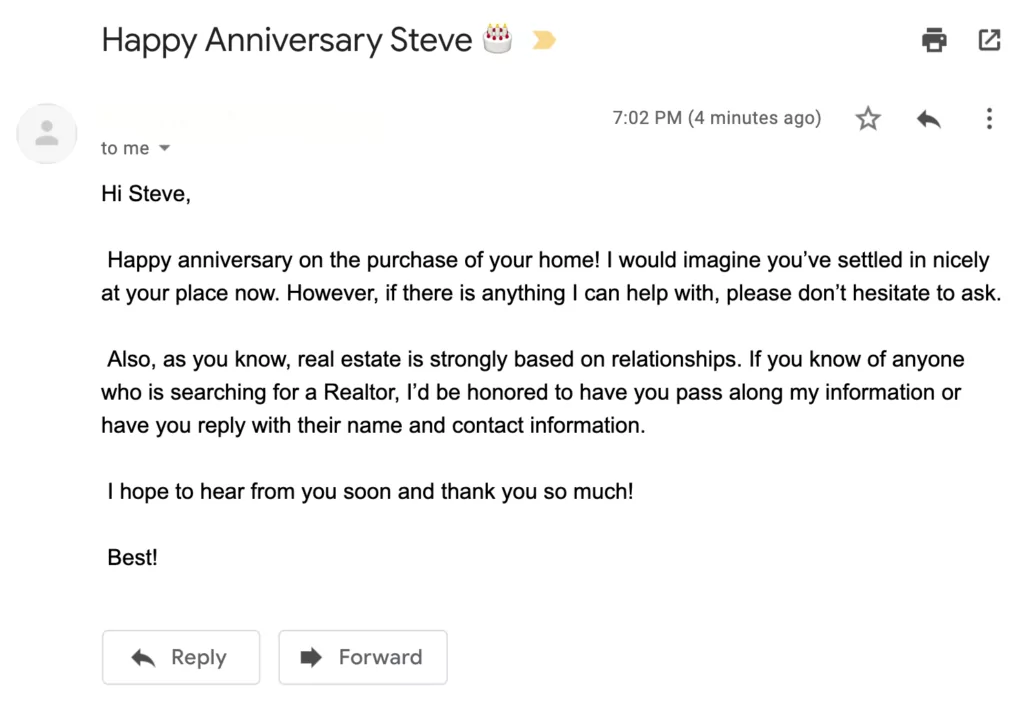 Does this anniversary email require work and tech knowledge to set up?
Absolutely not.
You can automate a similar real estate campaign in Automizy's visual automation builder with no tech skills or whatsoever.
You just select "Has anniversary" trigger and you add your email.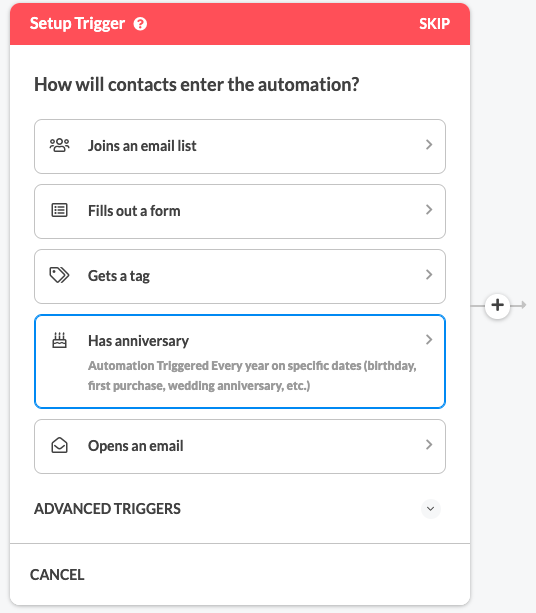 Here is how your automation would look like.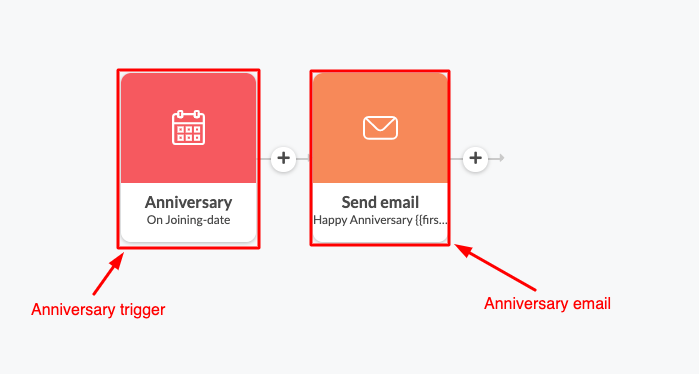 After registering to Automizy, you can set up similar anniversary emails for free.
Anniversary automation doesn't take longer than 10 minutes to set up. Yet, the value it provides for your real estate agency is uncountable.
For that, anniversary trigger is a must-have feature to look for when choosing a real estate email software.
5. Sub-accounts management
In case you're running a real estate agency, and you have agents, it's better to choose a real estate email software that allows you to create a sub-account for each agent.
This way, you can create a tiered account structure and manage multiple agents under one corporate account.
Sub-accounts give your central management for your agents.
And each agent will only have access to their account where they can manage:
Saved campaigns
Their email templates
Performance and statistics
Etc.
Here is a peek into Automizy's sub-account management system for real estate agencies and realtors.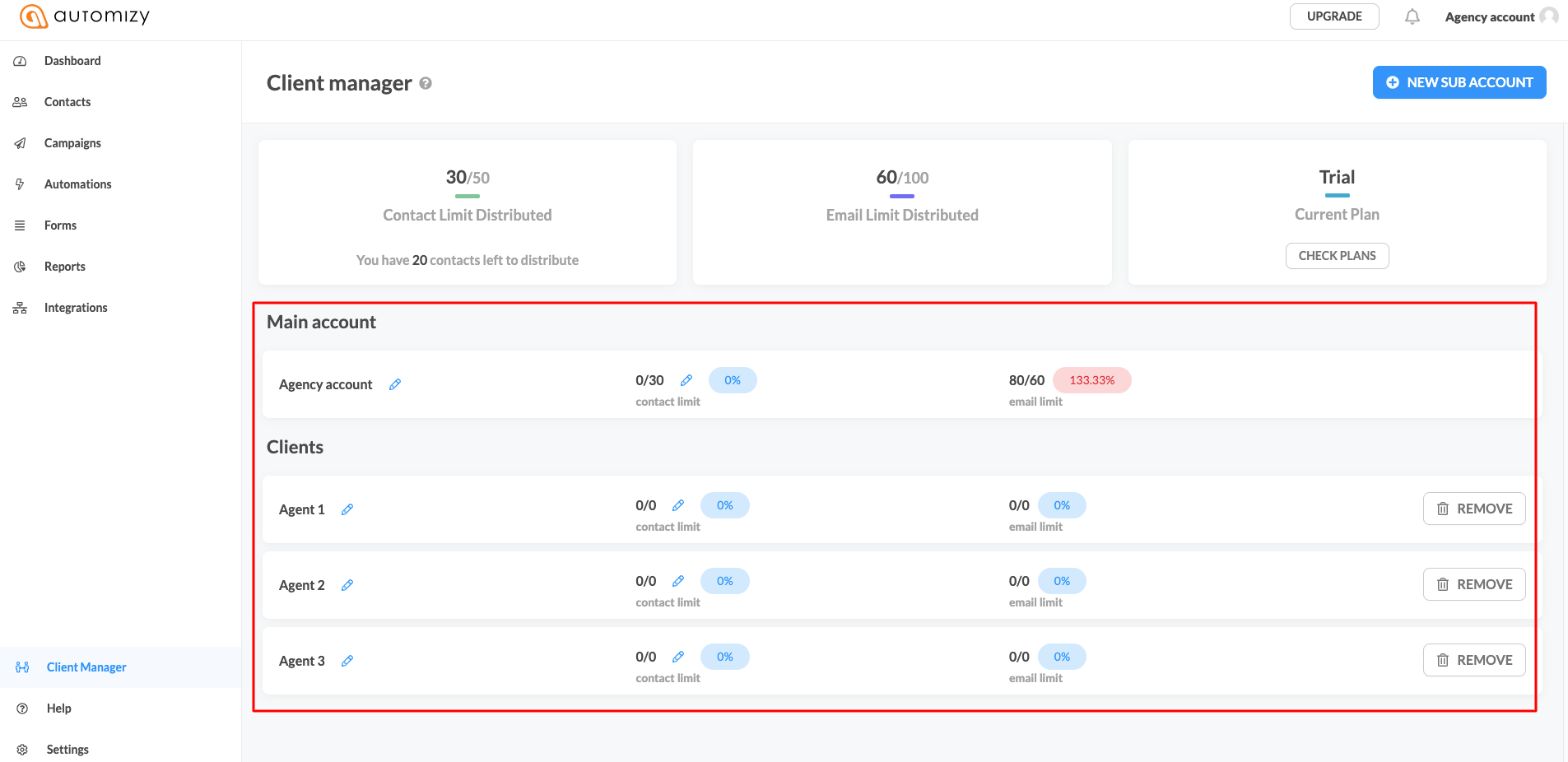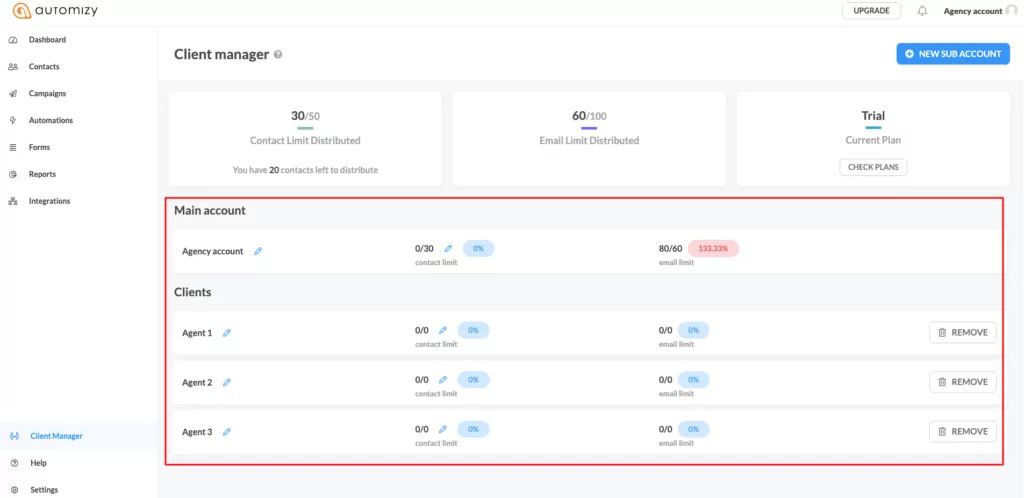 Conclusion
Whether you're a solo realtor or an agency, email marketing is not something to sleep on.
It's a low-cost marketing channel and among the most effective for small businesses.
Are you running real estate email marketing campaigns? If not, this is the time to start. Register to Automizy for free, and let's grow together.