SaaS startups usually run on a limited marketing budget, making every tool you use valuable to keep your costs low and return on investment positive.
What SaaS marketing tools can help you grow at low costs?
You're at the right place, I'm going to show you:
How to run marketing campaigns at the lowest costs
Maximize the performance of your tools to increase revenue
Here's what you'll learn reading this guide:
6 reasons why you need marketing tools for your SaaS startup
The 9 SaaS marketing tools we use at Automizy and how we use them
6 Reasons Why you Need Marketing Tools for Your Startup
Your objective is to keep your expenses as low as possible while trying to stretch your revenue as a small business.
And by keeping your expenses low, we're talking about:
Saving your time
Automating repetitive tasks
Creating optimized processes
Increasing your return on investment
Here are the 6 main reasons why you need to start using marketing tools for your small business.
1. Save your time
As a SaaS, your and your employees' time is precious and worth money.
While managing a business solo or with a small team, every hour you save from marketing tasks you can actually spend:
Developing new features or products,
Getting closer to your customers,
Managing your team,
Or grabbing a drink.
You need the right SaaS marketing tools to handle tasks on autopilot without you or your team performing the tasks.
And the best SaaS marketing tools that save your time are the fully automated ones.
For example, a tool like Hootsuite or Later can publish your Instagram posts on a predetermined schedule without human interference.
By fully automated, I mean that you set up the software at the start, and then it can run by itself without any human interference.
For example, you want to send confirmation emails to leads who sign up for your product or fill out a form on your website.
It would be crazy to have someone responding to these new leads manually. Not only is it time-consuming, but it's a tedious task for you or your team.
If you're a new SaaS and you have up to 10 leads per day, that's manageable, I understand.
But how would you scale your business if you spend your valuable work time just confirming sign-up or contact requests?
In this use case, the solution is to use automated marketing software that responds to your new leads without performing any task.
With advanced marketing technology, you can automate the whole process from the moment a prospect lands on your website until they become a customer and after.
With the time you save using the necessary SaaS marketing tools, you can spend it on other stuff.
One last tip, setting up automated marketing processes gets you ready when your SaaS scales up.
By that time you'd have your marketing foundation laid down, and your structure can support a more significant number of customers, support messages, and requests.
2. Reduce unnecessary charges
According to Indeed, the annual salary of a community manager is $49,663 in the US.
How much does social media automation software cost per year? $228
This tiny example can tell a lot on how you can use SaaS marketing tools to reduce unnecessary costs.
For instance, you can rely on social media software, like I'll explain in the next section, to automate 3 social media accounts just for $19 a month to import your content and have your necessary social channels automated.
I'm not saying this is the best solution for everyone. But, if you're a new SaaS product and you're trying to keep your expenses low, this is a great solution.
When your company is more stable, and your MRR is predictable, you can hire and grow a high-performing team without worry.
For now, SaaS marketing software can reduce unnecessary expenses for your business.
Here are the tasks that you can accomplish with free online marketing tools:
Lead generation
Social media marketing
Email marketing
Search engine optimization
Graphic design
These tools don't replace humans, you still have to do the work and set your tools up at the start.
But once you set it up, it runs automatically, costing your small business only a few dollars a month.
In the upcoming sections, I'll go through the best SaaS marketing tools and share how they work.
3. Automate processes with workflows
Using the right marketing tools for your SaaS startup helps you automate processes and get rid of repetitive tasks.
Tools like Integrately help you connect different apps you use and automate workflows to automate tasks.
For example, you want to automate the following scenario.
Every time you acquire a new significant lead through an Elementor Form, you want add them to your Automiy account and send a Slack notification.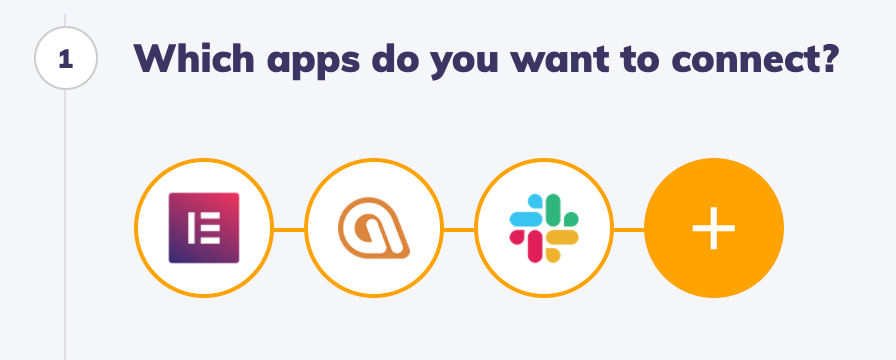 You can easily create similar workflows or much more complicated ones using Integrately.


Think about your business use cases and what processes you'd like to automate first, then easily set it up to save your energy and have fluid business management.
4. Automate your lead generation
For a SaaS startup, a primary objective is to feed the top of the funnel with more visitors and signups.
By using lead generation marketing tools, you can automate the process of converting leads on your website.
Does that mean getting new leads and customers is guaranteed?
Of course not.
But when you feed your website qualified traffic through PPC ads or SEO and have lead capturing tools integrated into your website, you can turn website visitors into leads automatically.
This inbound marketing strategy helps you feed your top of the funnel, leading you to qualify users and to convert them into paying customers.
5. Set up automated sales funnels
Dealing with prospects is not only about "Signup now."
Sadly, many SaaS startups are treating their prospects this way and end up losing them to their competitors.
As a SaaS startup owner or manager, you'd want to:
Establish trust with prospects and customers
Provide value
Set the right expectations together with prospects
Engage customers and keep them close
These 4 points can be achieved with a well-structured sales funnel.
A sales funnel is a consumer-focused marketing model that illustrates the customer journey from the moment a visitor lands on your website until they become a customer and after.
SaaS marketing tools allow you to set up automated sales funnels that qualify and nurture your leads to make them ready-to-buy users.
Take the example of the following sales funnel.
Step 1: Visitor opens your signup page and completes the signup form.
Step 2: You send them a welcome email to confirm their action.
Step 3: 1 day later you share a tip on the most crucial action they need to take to get value out of your software
Step 4: 3 days later you invite them for a demo call or show them a more complex task to complete in your software
Step 5: After 1 week, you send a sales message to convert them
You see this whole funnel to welcome, nurture and qualify leads?
It can run automatically on autopilot after you set it up using the right combination of SaaS business tools.
Automated sales funnels are among the top reasons why you should introduce SaaS tools to your business.
6. Increase returning customers
As humans, we're so good at forgetting things. This is a fact.
Forgetting about a customer or a prospect equals lost revenue. And every penny you lose as a SaaS business goes to one of your competitors.
You don't want that. I don't either.
For that, automated marketing tools eliminate the chances of forgetting to reach out to a customer.
When you set up long-term sales funnels, make sure to include a part to re-activate or re-engage inactive users.
According to Invesp, the probability of selling to an existing customer is 60-70%, while the probability of selling to a new prospect is 5-20%.
And it can cost 5 times higher to acquire a new customer than re-win an old one.
Crazy, isn't it?
Using SaaS tools helps you keep your customers close and set up funnels that help you re-engage them in case of inactivity.
I will show you how to do this in detail in the next section.
9 Must-Have SaaS Marketing Tools To Be More Effective
In this section, I will go through the tools that we use at Automizy, used before, or other fellow SaaS tools that we've partnered with or learned about.
I will recommend one tool per category (lead generation, email marketing, social media, SEO, etc), taking into consideration:
Price: Free or paid and suggest a low-cost tool with the best quality.
Reliability: If you can trust the tool and its reliability.
Value: Available features and functionalities.
Usability: If the tool is easy to use for non-techie people
Here we go.
1. Elementor
Elementor is a drag-and-drop website builder, where you can create your own landing pages and blog without knowing any code. It is a great tool for those who don't want to spend hours coding their websites.
Rather than spending hours coding, you'd use the time to optimize your conversion rates.
It eliminates the need of hiring expensive web designers or front-end developers and you can create stunning websites without knowing any code whatsoever.
At Automizy, our website and blog are created on Elementor and managed by our in-house marketers.
This allows our developers to focus on developing the software and not disturb them or take their focus away by asking them to handle the website.
This makes Elementor a practical SaaS marketing software as it supports and empowers marketing teams for their conversion optimization experiments.
Pro tip: Split test for Elementor plugin to run AB tests.
Pricing
Elementor pricing starts at $49/year for an essential 1 website plan, and goes up to $999/year for a 1000 website. You can find more details on their pricing here: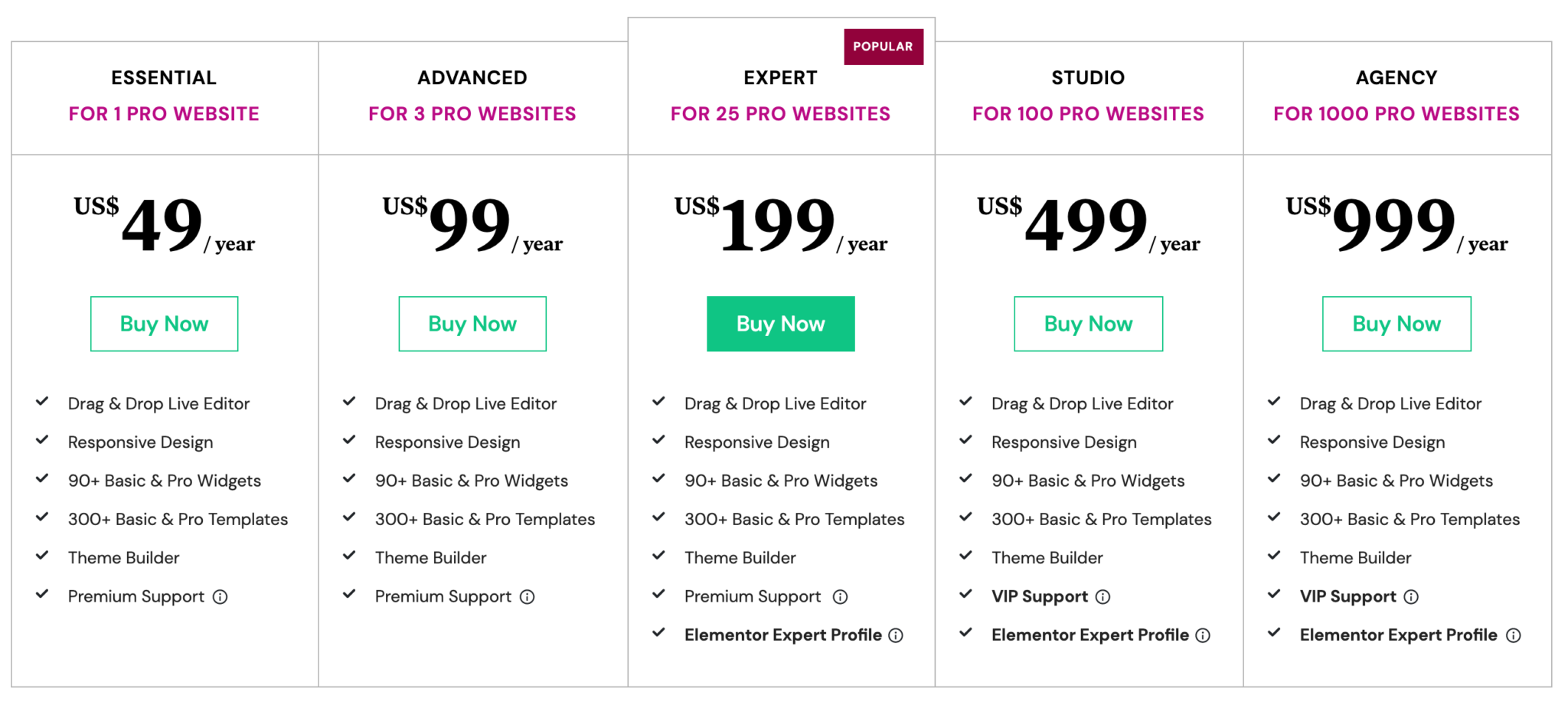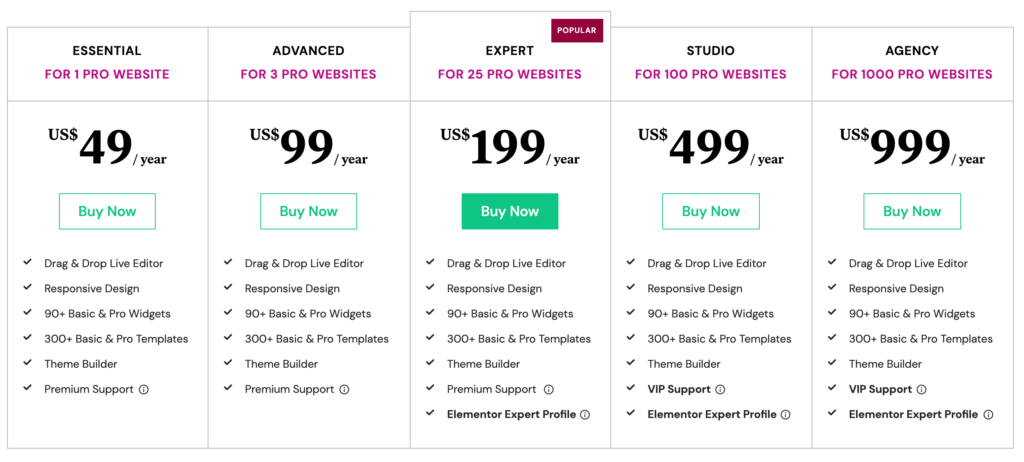 Integrations
Elementor integrates with all major email marketing services like Automizy, MailChimp, AWeber, and Constant Contact.
It also integrates with a few CRMs such as Salesforce, Pipedrive, Highrise, or Zoho.
These integrations help SaaS marketers to use Elementor in conjunction with their CRM and email marketing software.
Instead of exporting and importing data from one tool to another, integrating your lead generation tools to your nurture tools saves your the tedious work of managing messy CSV files.
Use cases
Here is a list of use cases of introducing Elementor to your marketing bundle:
Enhancing customer experience by making the website more up to date
Decrease workloads and time spent on coding a website, blog posts, landing pages, etc.
Designing responsive webpages in minutes
Creating landing pages with ease
Dos & don't
One of the main Dos of Elementor is introducing it to your marketing team. So when deciding on a website page update or tweak, any member of your team can execute it.
So hold a day or a session in which you introduce Elementor to your team to speed up the execution of your website optimizations.
Among the top don'ts to avoid with Elementor is: Don't create pages, publish them and leave. Why?
The website speed of Elementor is not really optimized. For that, you need to use Google's PageSpeed Insights or GTmetrix to monitor your website speed and optimize it accordingly.
You can use WP Rocket with Elementor to optimize your website speed.
When running a business, every lead you capture presents a revenue opportunity for you.
OptiMonk is a free lead generation software that helps you capture your website visitors and convert them into subscribers and leads.
It's mainly an onsite retargeting tool that displays personalized popup opt-in forms to your website visitors and captures their contact details.
It allows you to create, personalize and trigger:
Popups
Sidebars
Notification bars and nanobars
Here is a sneak preview of some of the templates that you can use in OptiMonk.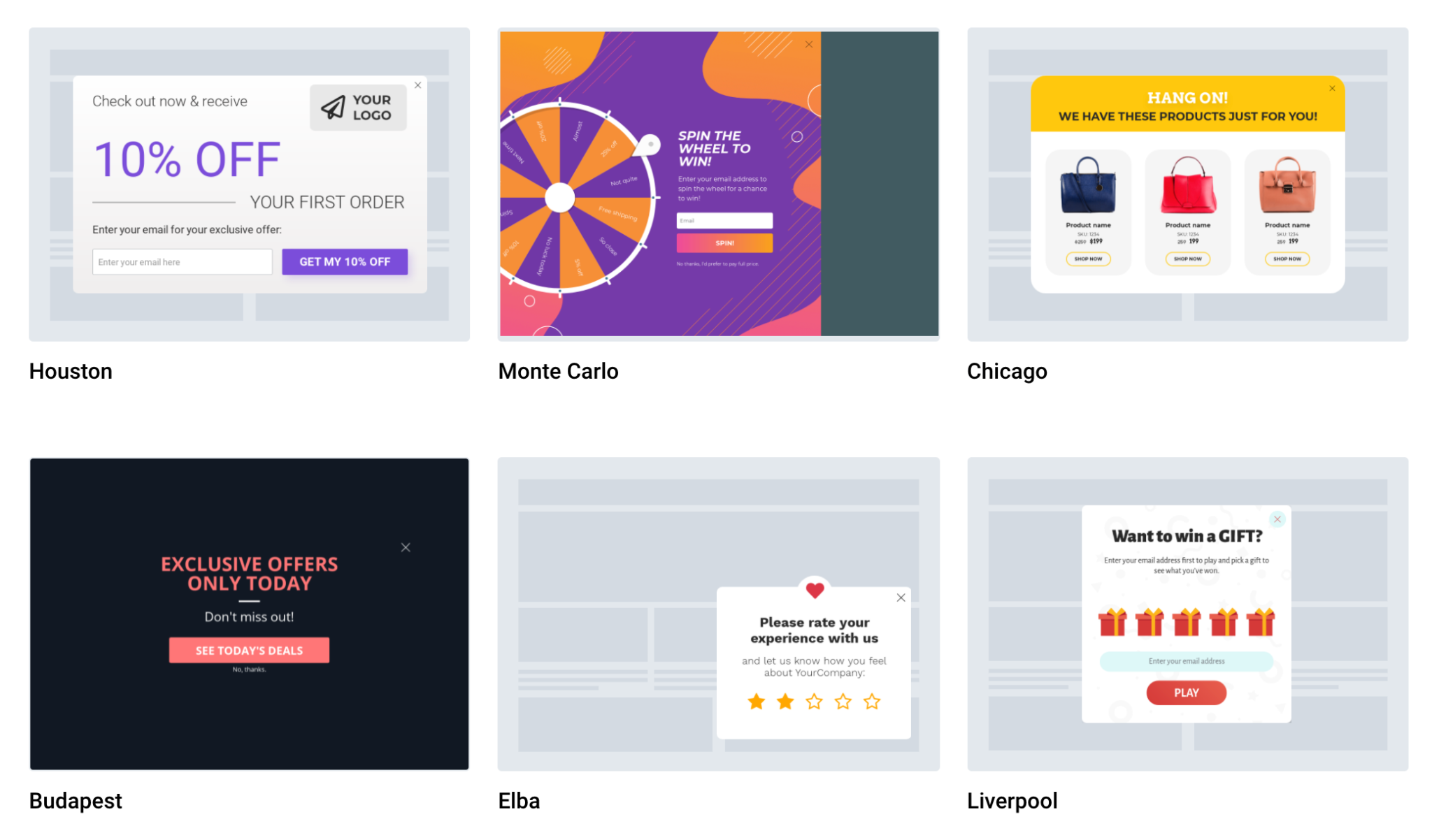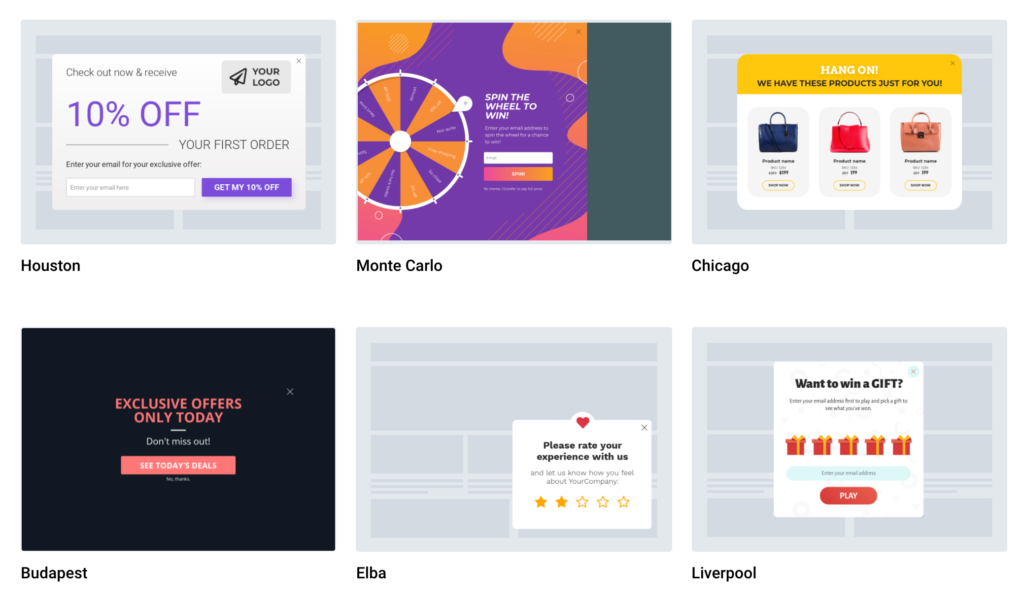 Once you register to OptiMonk you'll have access to +300 popup templates that you can customize to match your website and brand.
Most of the time popups are handled as a negative element to add to your website because it interrupts visitors' experience.
That's not the case with OptiMonk.
The software provides you with multiple choices on when to trigger your popup to display. By setting the right triggers and frequency you can avoid overwhelming your visitors.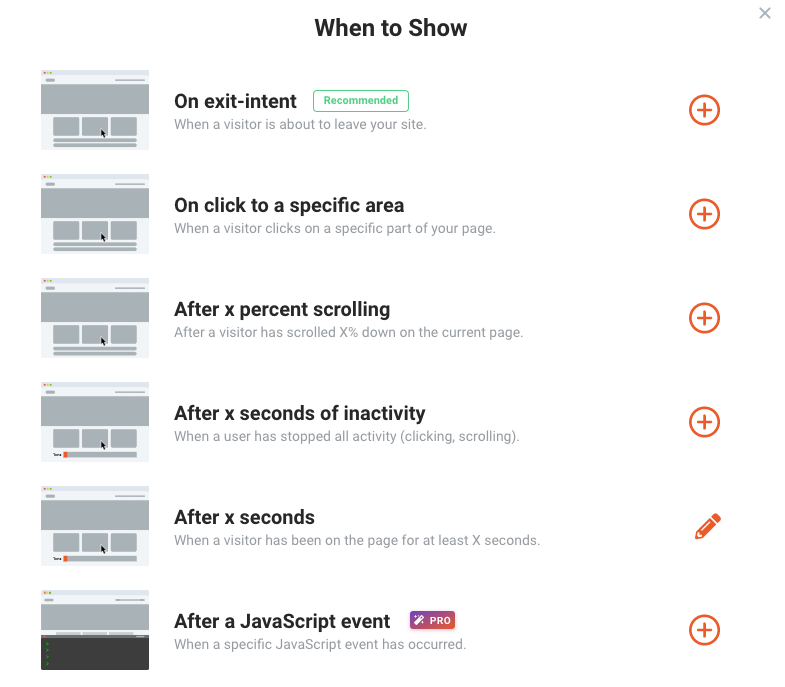 Instead of ruining your visitors' experience, you'll make it more engaging by triggering personalized content at the right time, with the right message.
Pricing
You can register to OptiMonk for free and start using it to grow your contact list.
OptiMonk's free plan allows you to:
Create unlimited campaigns
Display popups to 3000 pageviews
Connect it to one domain
If you have more than 3000 pageviews on your website, you can upgrade your account to a paying plan to increase your pageviews limit and domains.
Here is an overview of OptiMonk's pricing.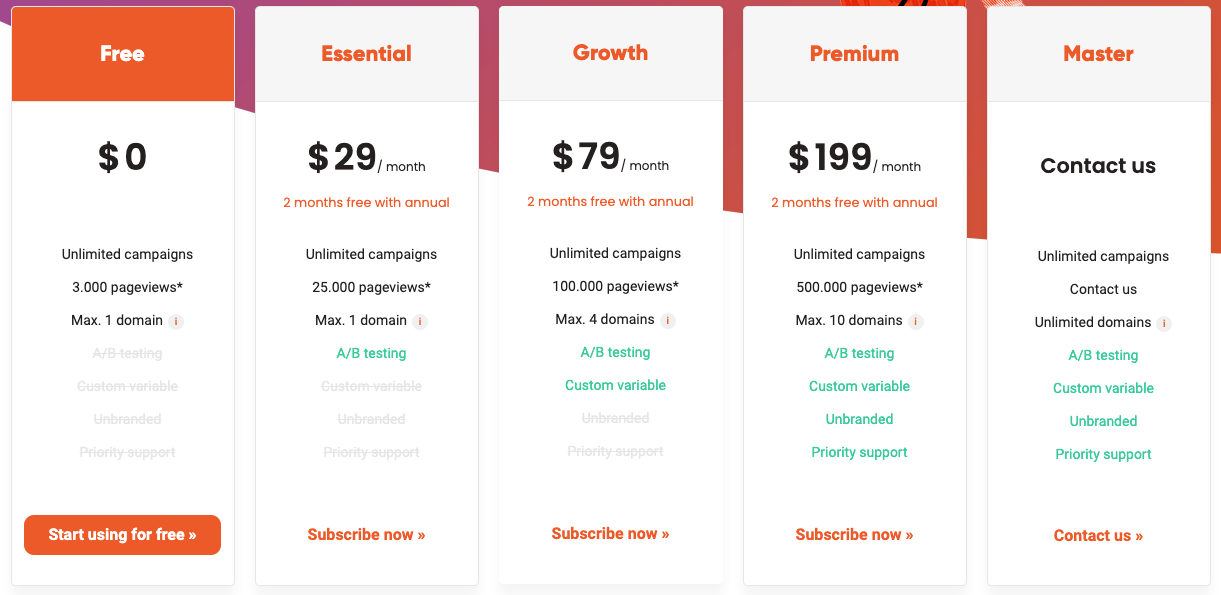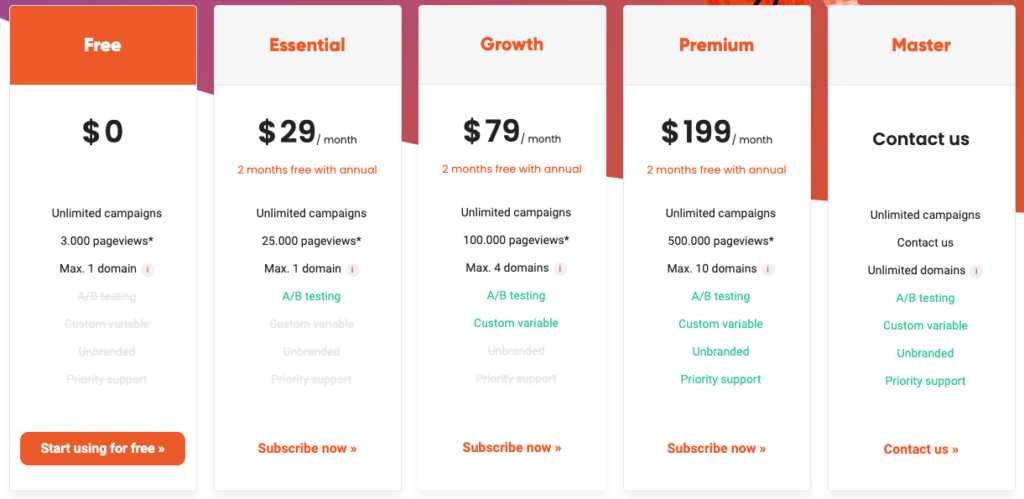 The free plan provides access to hundreds of popup templates ready to use, which is a huge value to create popups on the go.
To be able to AB test your popup copy, CTA, design, and more, you'll need to sign up for a paid plan.
Integrations
I personally love using OptiMonk because it's easy to integrate, and you don't need any tech knowledge or skills to connect it to other apps you use.
Here is the list of the most famous available tools:
CMSs & website integrations: WordPress, SquareSpace, Drupal, Joomla, Unbounce, Weebly, Duda.
Email & Messenger integrations: Automizy, ActiveCampaign, AWeber, HubSpot, ConvertKit, MailChimp, Moosend, Salesforce, ManyChat, MailerLite, etc.
eCommerce integrations: Shopify, BigCommerce, Magento, WooCommerce, 3dcart, OpenCart, Shopware, Volusion, etc.
Analytics integrations: Google Analytics, Tag Manager
Connectivity integrations: Zapier, Webhooks
You can smoothly connect your OptiMonk's lead generation efforts to other tools and have your data synced between apps without the need for any manual import and export tasks.
Use cases
OptiMonk is an all-in-one lead generation tool that you adapt for almost any use case for your business.
Here is a list of the most common ones:
To grow your email list
To promote lead magnets
To grow your Facebook Messenger list
To reduce cart abandonment for eCommerce stores
To increase average cart value
To promote special offers or deals
To collect customers feedback
To facilitate social sharing and grow followers base
Dos & don'ts
Onsite retargeting popups are powerful to generate leads if you use them right.
For instance, if you display your popup to visitors on their first second on your website, you'll end up damaging their experience. They'll eventually leave and increase your website bounce rate.
To maximize your website's conversion rate, it's best to set up a personalized popup based on what pages your visitors are browsing.
For instance, I display the following popup on pages about SEO.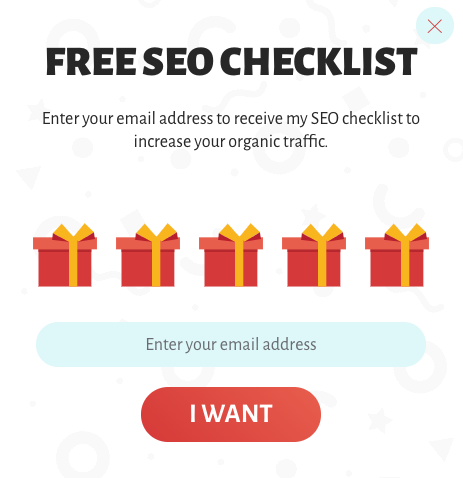 If a visitor is reading my SEO article, then I'm sure s/he's interested in SEO and could use a checklist in exchange for an email address.
However, for articles related to social media, for example, I display a different popup with content around that same topic.
This way, you grow your email list faster and provide a personalized experience.
Your website visitors are different, don't treat them all the same.
OptiMonk's customer support team is super responsive; you won't need them much because the tool is intuitive and easy to use. In case you need their help, they were quick and helpful.
3. Automizy
Automizy is an email marketing automation software that is designed to increase your email open rate.
With so many email marketing tools for small businesses, Automizy remains the most valuable and unique because it's built around an actual problem.
While subscribers' inboxes are loaded with newsletters from brands, Automizy is built with features that would actually make your emails stand out in crowded inboxes and increase your email open rates.
Among the top features that you can find in Automizy:
Email Subject Line Tester: Artificial intelligence tool to test your subject line based on data from over a million subject lines and get a score of how good it would perform in an inbox.
It scores your subject line and gives you other data-proven subject line templates to use. Here is an example.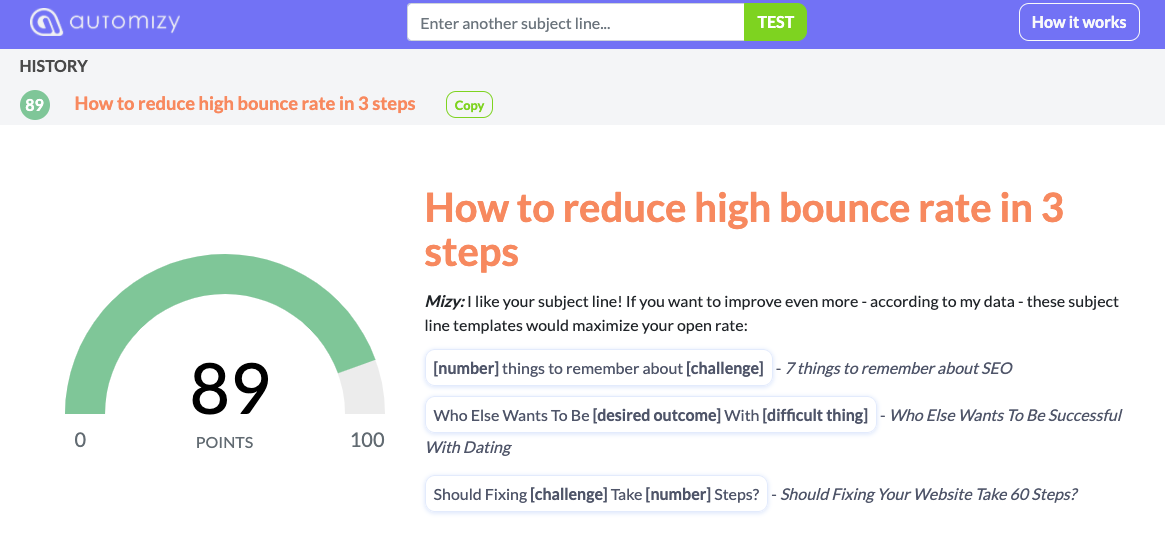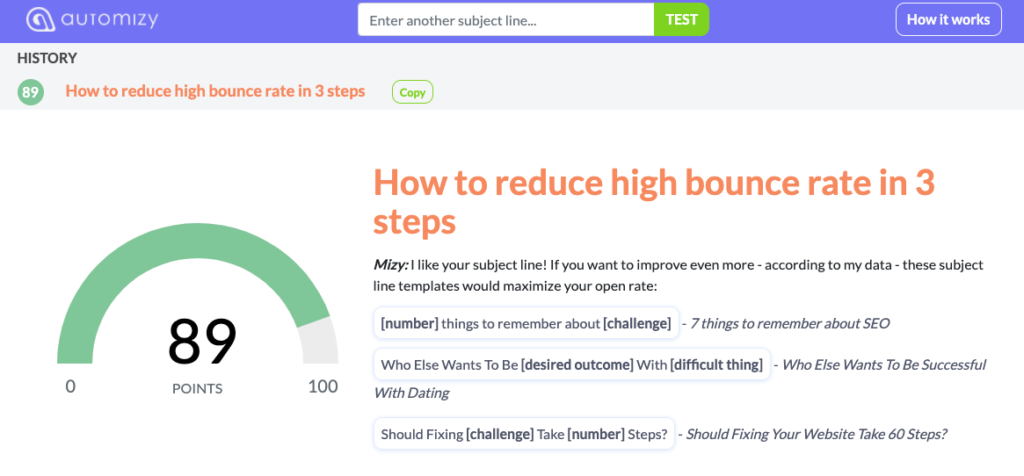 Automatic resend to non-openers: To resend your email only to contacts who didn't open the first one. It's an automated feature that saves time and increases open rates.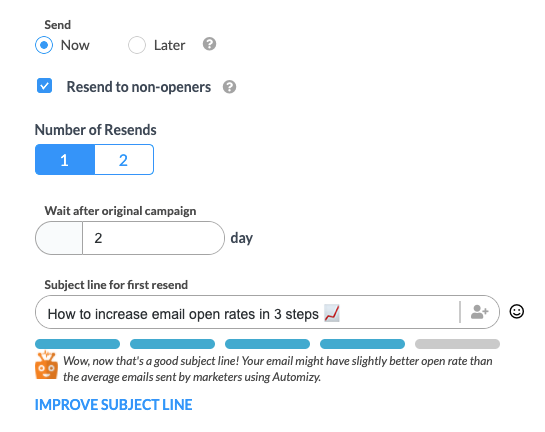 Personalized emails: To make your messaging personal and send the right content, to the right people, at the right time.
Pricing
Automizy email software offers a free 14 days trial that's extendible to 30 days.
Initially, you have 14 days with 50 contacts limit, but you unlock more trial days and higher contact limit that reach 100 contacts as you accomplish tasks.
Automizy offers simple pricing plans, offering access to all features, and charges you monthly based on the number of active contacts.
200 contacts for $9 monthly
500 contacts for $18 monthly
1000 contacts for $29 monthly
3000 contacts for $49 monthly
5000 contacts for $69 monthly
8000 contacts for $99 monthly
10000 contacts for $119 monthly
Automizy starts at a low price, making it affordable for small businesses. Plus, all paid plans offer premium customer support via live chat, demo calls, or email.
Integrations
Automizy seamlessly integrates with other marketing tools to make it easier for your to sync data.
Here is a shortlist of integrations that you can use when you register to Automizy:
Elementor
OptiMonk
Unbounce
Zapier
Webhooks
Pabbly
Integrately
Use cases
Automizy is a powerful email marketing tool for small businesses that you can adapt to all use cases and needs.
Here is a list of the most common ones:
To manage your contacts smartly by filtering and segmenting them.
To send newsletter campaigns that score high open rates and engage customers.
To grow your email list with customizable forms and landing pages.
To set up autoresponders to send welcome, confirmation, and thank-you emails.
To nurture and qualify leads with automated drip campaigns.
You can access drag and drop email editors in which you can add:
Countdown timers in increase the sense of urgency
Videos that increase email engagement rates
Titles, text, and call-to-action
Or you can also use the already built-in responsive email templates. Here is a sneak preview of some of Automizy's email templates.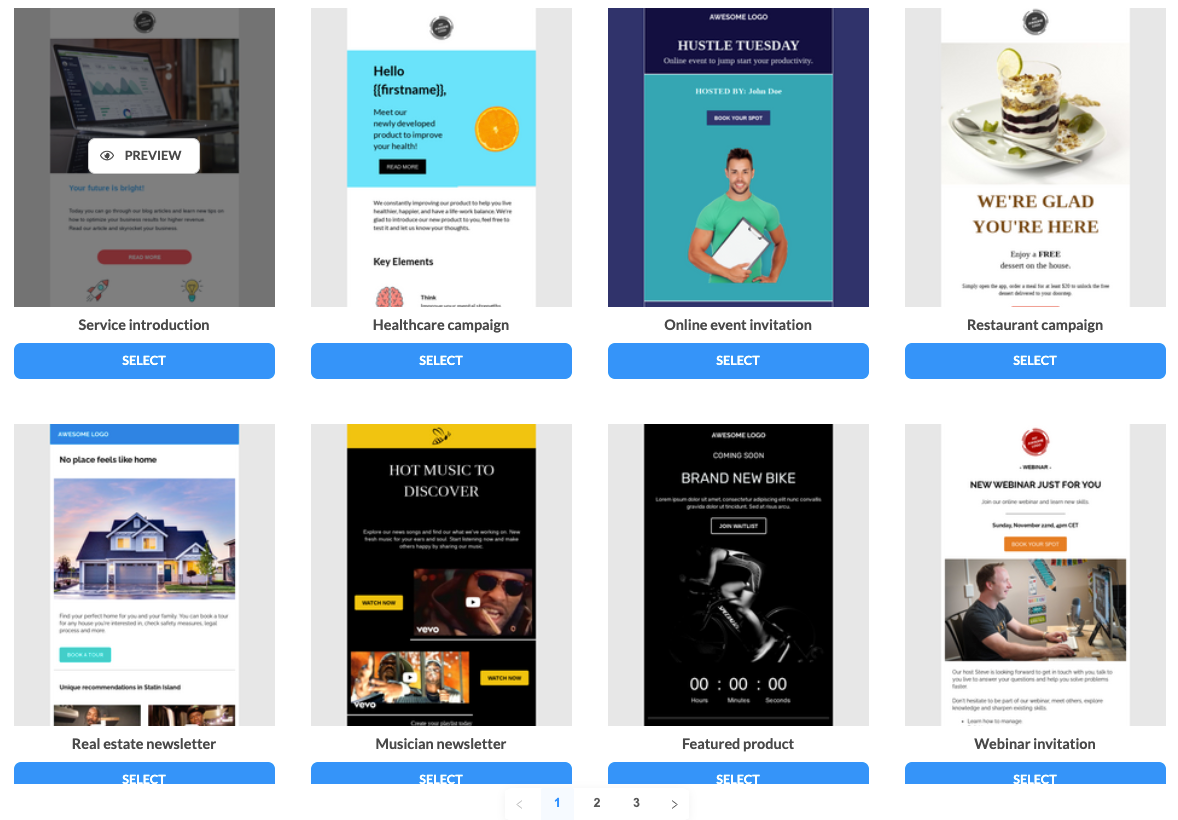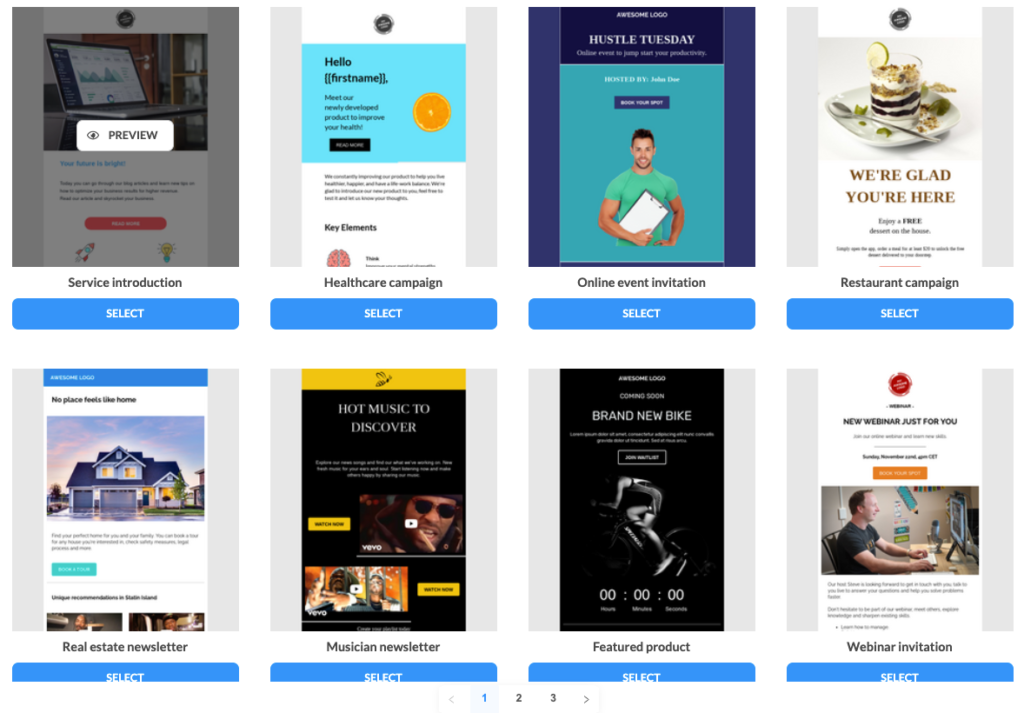 For automations and drip campaigns, you're provided with a visual email automation builder to design contacts' journeys without any tech skills required.

Do & don'ts
Automizy is a permission-based email software; it's not an outreach email software. So don't use it if you want to send outreach campaigns.
Also, when doing email marketing, you have to pay attention to compliance laws:
GDPR if you're sending emails to contacts in Europe
CAN-Spam if you're sending emails to contacts in the United States
CASL compliance requirements if you're sending emails to contacts in Canada.
Among the top Dos when using Automizy to manage your email marketing:
Segment your contacts because the software does support advanced segmentation.
AB test your email subject lines.
Use the Subject Line Tester to base your work on data, not guess-work.
Always set up automatic resend when sending newsletter campaigns.
Create automations with workflow to provide a personalized experience and increase engagement.
To sum up, Automizy is the email marketing software that you can rely on. It's:
Low cost and affordable for small businesses
Designed to increase your email open rates and engagement
Easy to use and doesn't required coding or tech skills
Fully automated to save you time and effort
Email marketing is a must for any business as it's affordable and helps you engage your customers and grow.
Register to Automizy and start using it today to stay at the top of your customers' minds and increase your revenue.
Interacting with your audience on social media is an essential marketing asset for SaaS startups.
Using social media helps you:
Build awareness
Increase your followers and customers base
Connect with current and prospective customers
Among the best social media marketing tools for SaaS businesses is MeetEdgar.
MeetEdgar is a fully automated social media software that allows you to manage your channels on autopilot.
Instead of sharing posts manually on multiple channels, you can do that in bulk and publish your content on all social media channels you use.
With the ability to create categories of posts you can separate your content based on the objective.
Content categories are mainly folders on which you will add your content.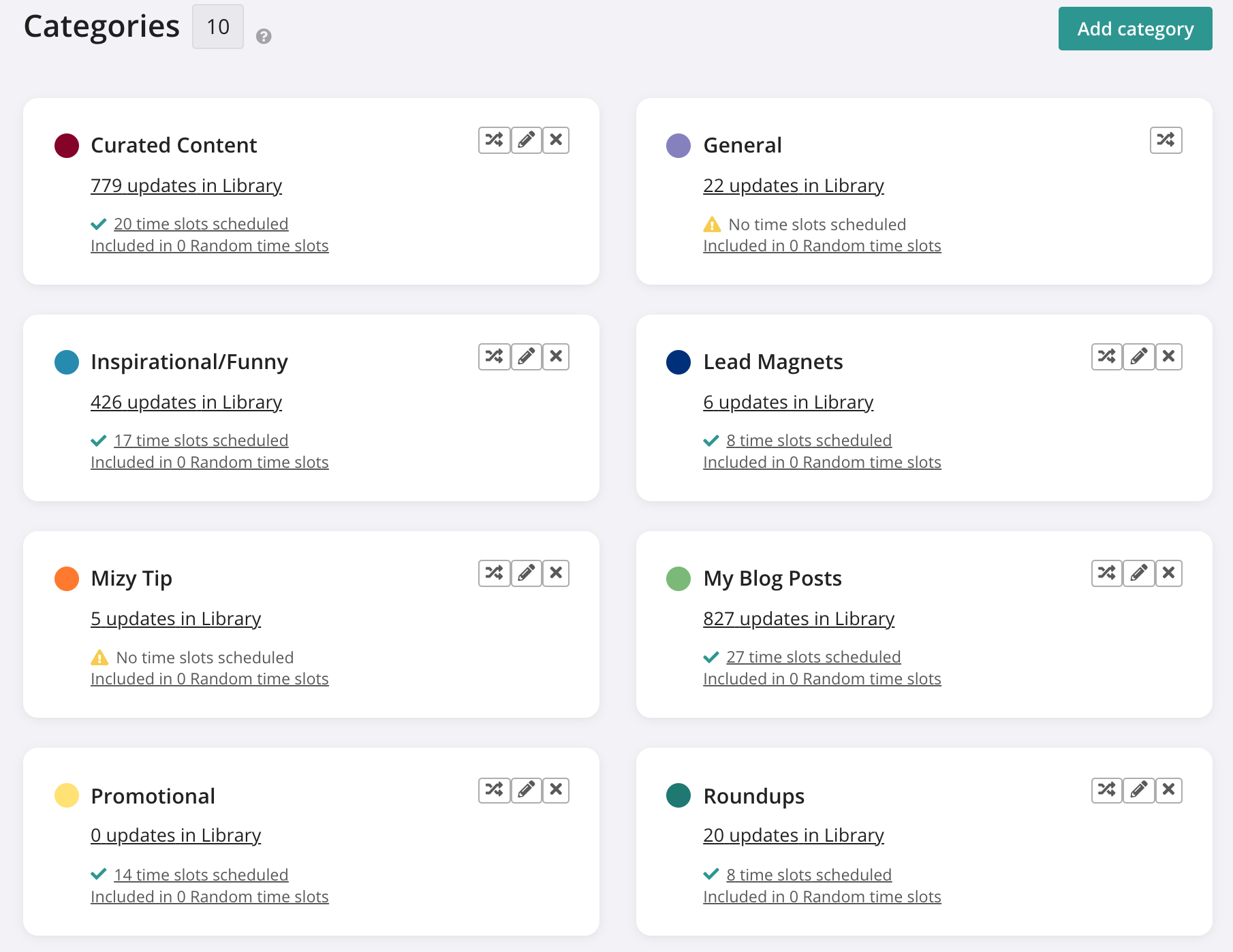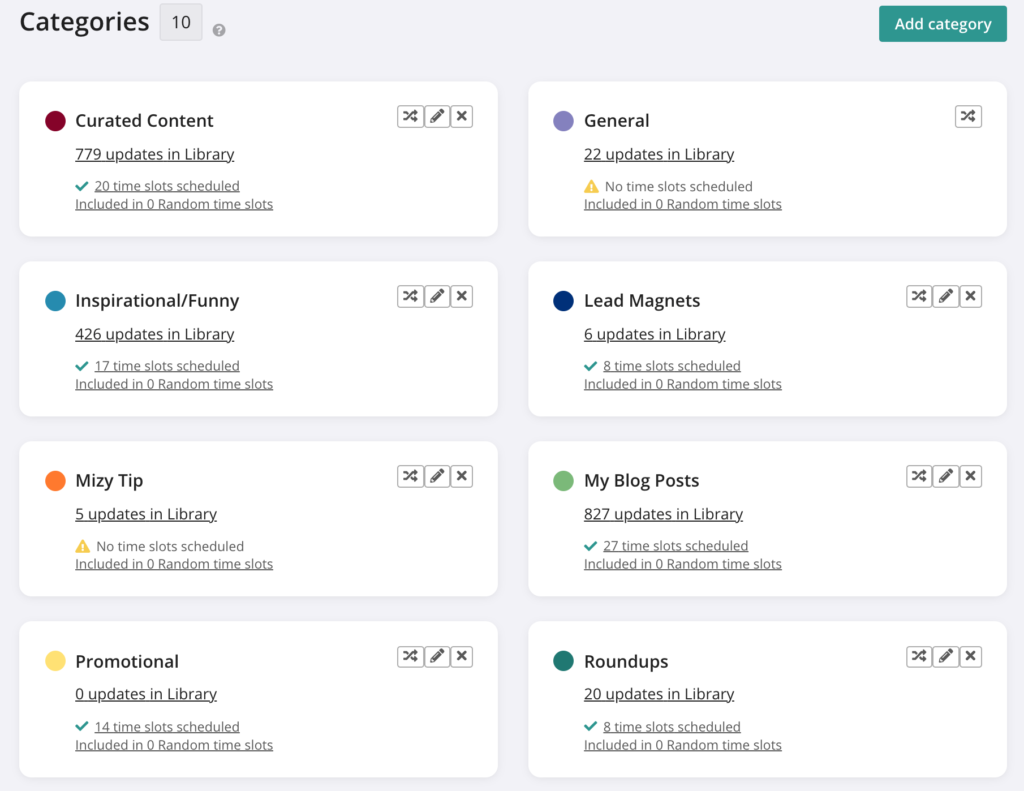 For example, you'd have:
Educational content category where you add your educational content
Promotional content category where you add promotional content
Curated content where you add content from other companies to publish
Etc
Depending on what different content categories you want to create, you add content to each category and populate it.
And then automatically the software publishes your content based on the content calendar you create.
After you register to MeetEdgar, you can have your social media marketing automated following these 4 steps:
Step 1: Connect your social media channels to MeetEdgar
Step 2 Create content categories
Step 3: Populate your categories with content
Step 4: Set up your content calendar
That's basically it. The software is intuitive, easy to use, and reliable.
Pricing
MeetEdgar pricing is straightforward, providing two plans:
Edgar Lite: $19/month
Edgar: $49/month


Which plan is better?
It depends on how many social channels you want to automate.
For instance, if you're only on Facebook, LinkedIn, and Twitter the Edgar Lite plan serves you just fine.
Is it worth the investment? Even though organic social media reach is low, I recommend investing in a social media automation tool as it helps you with social proofing and keeping your channels active.
According to research conducted by TrustPilot. 20% of people now check a business's social presence before making the first purchase with them.
And if people check your social media profile and find the last post from a year ago, they'd think you're out of business and go with a competitor instead.
Integrations
After you register to MeetEdgar, you can easily integrate it with your favorite social media channels:
Facebook pages and groups
Instagram account
Twitter profiles
Pinterest board and group boards
LinkedIn profile and company page
Connect to Zapier to automate workflows
Use cases
Automating your social media channels allow you to:
Share educational content
Share blog articles to drive traffic to your website
Engage and connect with your Facebook group members
Curate content from other brands and businesses
Think of the social media channel where your audience spends time and automate your content.
For instance, if you're running a B2B company, it would make more sense to use LinkedIn than Instagram.
Think about your company, target audience, and objectives, and based on that, set up a social media strategy that serves you best.
Do & don'ts
Your social media audience is not constantly considering making a purchase or engaging in a transaction with your business.
They might be interested in:
Educational content
Insights, etc.
And by being too promotional, you risk losing your follower base for over-selling.
What I recommend you to do is to add content to your MeetEdgar categories with the following guidelines:
80% Educational content
20% Promotional content
This way, your followers will find value in your content and engage with you.
Among my favorite Dos of MeetEdgar is the Chrome extension. It allows you to add content to your library without needing to jump 2 or more tabs.
For example, if you're reading an article and thought it could be good to share with your audience, you can add it to your content library with just a click.
Lastly, MeetEdgar is available on mobile devices, whether iOS or Android. The app allows you to keep your Instagram feed fresh by easily creating content and posting it via your mobile device.
5. Canva
Do you need to design and edit images for your business? Then Canva is among the must-have online marketing tools for SaaS businesses.
It's probably the most popular online graphic design software, with over 30 million users.
What makes it popular? It took the complex out of graphic design.
Instead of learning Photoshop or Adobe Illustrator, without any complication, you can quickly design a:
Banner for your email newsletter
Post for your social channels
Design a lead magnet PDF file
And so much more
Pricing
Canva is a free marketing tool. But if you want to make the best of it and access more than 420K templates, you can sign up for the Pro plan for $9.95/month.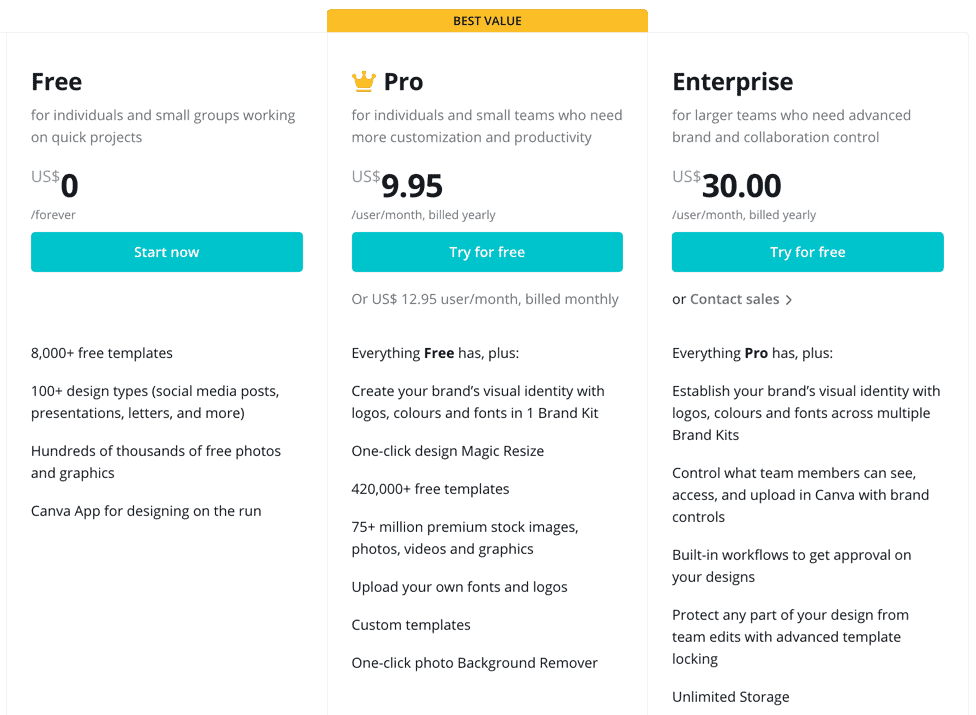 Integrations
The integrations Canva provides helps you easily publish your designs on social channels or upload them to your cloud storage.
Among the channels and tools that Canva integrates with are:
Youtube
Instagram
Facebook
Google Drive
DropBox
Mailchimp
Slack
Etc
You can access the whole list of apps Canva integrates with to find your favorite apps and connect them.
Use cases
For SaaS startups, Canva can be a massive help when it comes to:
Designing social media account,page banners and cover images
Youtube preview image
Design and publish social media post on the go
Design blog article banners
Design a business card
Layout for your brochure, flyer, or poster
Format a beautiful lead magnet
Design presentations
The use cases are really endless with Canva, you can play around with it, and whatever campaign you run, you can create a design for it on Canva.
Do & don'ts
My favorite perk of Canva is the mobile app.
I can easily access the app, design or edit an image and publish it without the need to run to my laptop.
For instance, if you're on the road for business and you'd need to put up a design for your team member or yourself, you can design a beautiful image just using your mobile device.
Another thing, make use of the templates.
Canva provides a large number of templates that you can use for free. Instead of creating a design from scratch, you can use a template, customize it to your brand, and you'll have a final design in a few minutes.
The top don't here with Canva is: don't use whatever color palette you find in the template.

Every business has a brand identity. For example, have you ever seen Coca-Cola put out a banner or an image that's blue instead of red?
Never.
Each brand has its own identity and colors that represent it. When you use templates in Canva always customize them to match your brand.
This way, you stay unique, and your audience can easily recognize you, the same way you recognize McDonald with the red and yellow.
6. Ahrefs
When you start to shape your SaaS digital marketing plan, you'll discover methods like search engine optimization (SEO).
And particularly if you have a website or a blog page, SEO is one of the best methods to help your business get discovered and obtain valuable leads.
This is when Ahrefs comes into the scene.
Ahrefs is a software that helps your business run and optimize your SEO campaigns by providing you with:
Site Explorer: To analyze your site's backlinks.
Keyword Explorer: To get relevant keyword ideas and keyword analysis.
Site Audit: To detect SEO problems and analyze your site's health.
Rank Tracker: To monitor your Google ranking.
Content Explorer: To analyze topics to see their popularity.
Pricing
Ahrefs pricing starts at $99 per month. Each additional user is $30 per month.
Lite: $99 per month for 1 user
Standard: $179 per month for 1 user
Advanced: $399 per month for 3 users
Agency: $999 per month for 5 users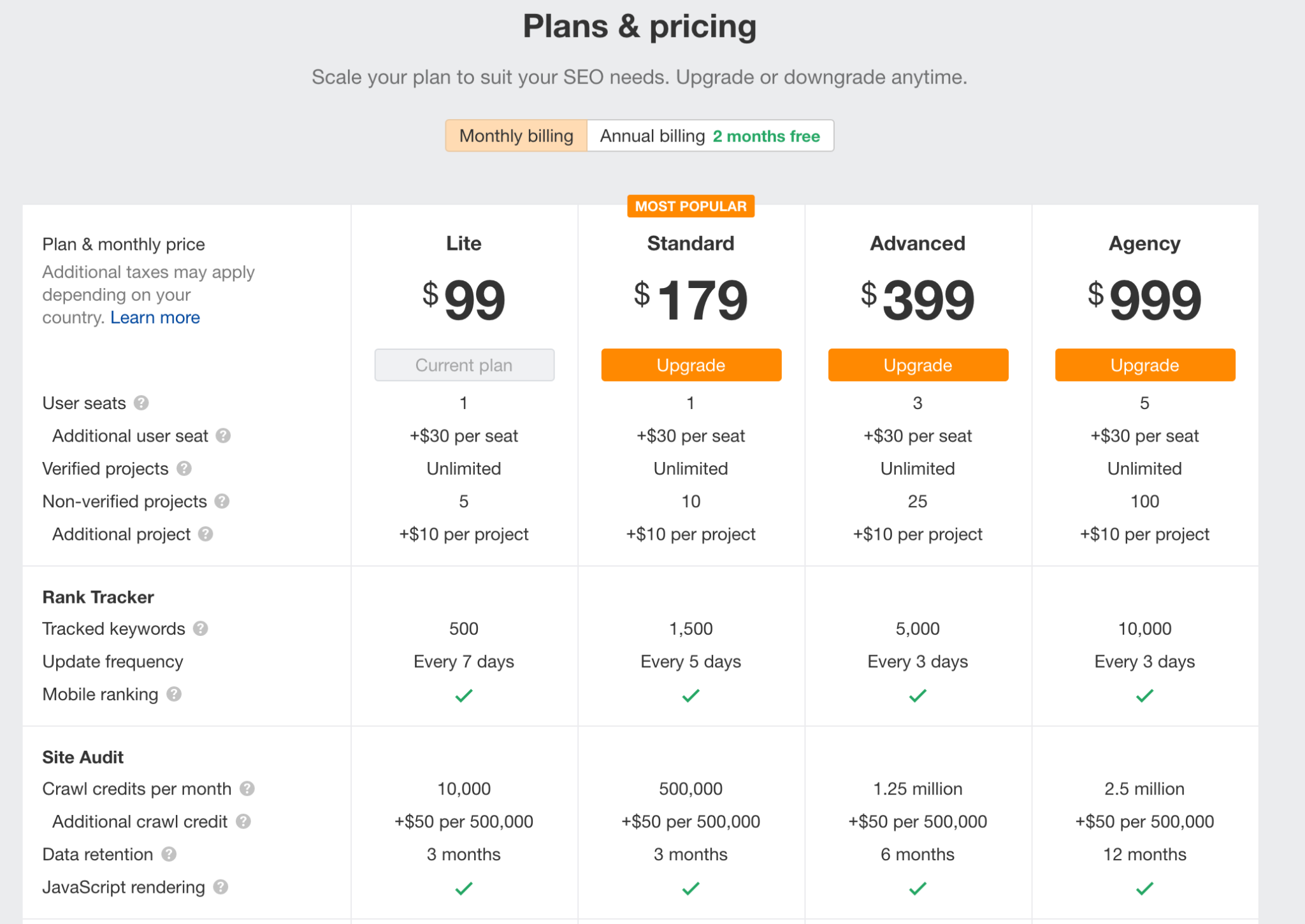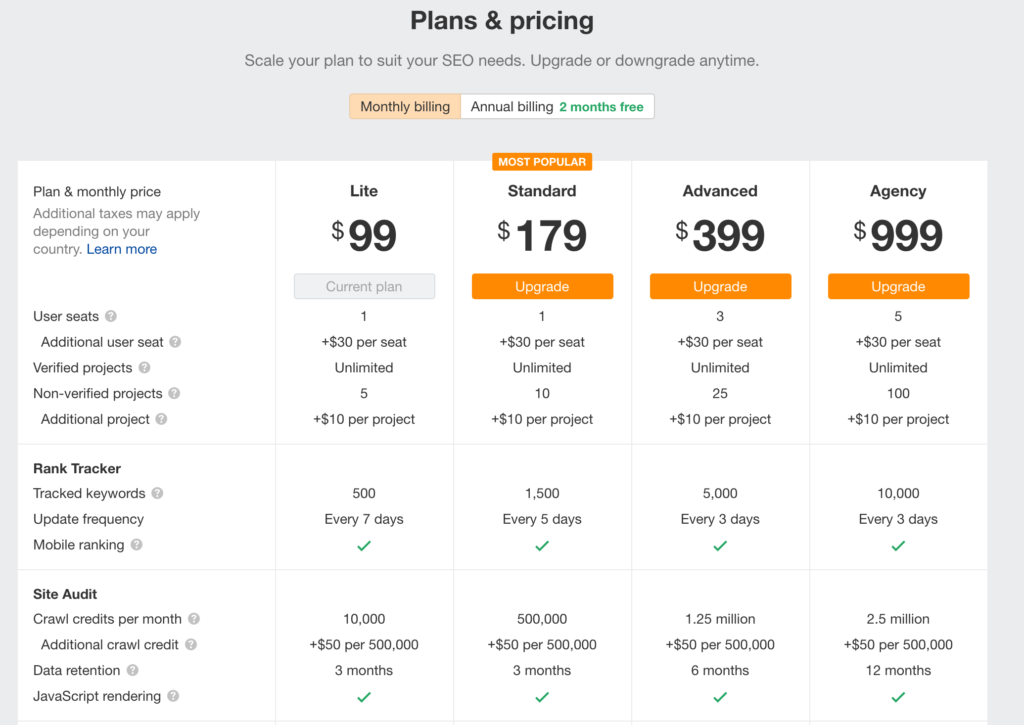 Integrations
Ahrefs is an SEO tool, so you can integrate it with your website to analyze your site's health.
Other than that, you don't really need any integrations with other digital marketing tools as it functions as a standalone SEO tool.
Use cases
A keyword analysis is among the top features you'd want to use in Ahrefs.
Whether you're publishing blog articles or importing Youtube videos, it provides you with detailed keyword analysis and recommendations on what related keywords to use.
For instance, if you're undecided between 2 keywords, you can run an analysis on Ahrefs and then base your decision on data and pick the better-performing keyword.
Another use case is website health. For example, if you have metadata missing, bad redirects, 404 pages, the tool can detect it for you and tell you exactly what to fix and how.
Managing your website's health can improve your website performance on search engines, so it's definitely something not to sleep on.
Do & don'ts
Your competitor might be doing a lot of SEO activities, so running competitor analysis on Ahrefs is a must-do.
You can analyze your competitors to:
Reveal keyword opportunities
Find what keywords your competitors rank for
Learn what topics bring the most value to your competitors
Besides that, use keyword analysis to create a content strategy and brainstorm content ideas to increase your organic traffic.
For instance, if you have a content writer who writes blog articles for your business, don't let them write about random topics they think would work.
Run keywords analysis, prioritize topics, look up what to cover in your article and then execute the content writing process.
Not using keyword data for content is literally leaving revenue behind.
As a marketing tool for a small business, Ahrefs might seem a little bit complicated for people who are new to SEO or marketing.
Yet, it's not impossible to master and find your way around. The Ahrefs team constantly publishes educational content, help articles and their support team is very responsive.
So if you're stuck with something, you can always shoot them a message and they'll show exactly how to solve it or get where you want.
7. Asana
Asana is a task management tool. It is a great way to manage your marketing team.
It provides a platform where teams of various professions can come together and collaborate on one space.
Asana places itself as a tool that can help replace assigning/managing tasks via emails, spreadsheets, and sticky notes on your desk with a far more all-encompassing solution with everything you need in one place.
Here is an example of a content marketing board I set up in Asana.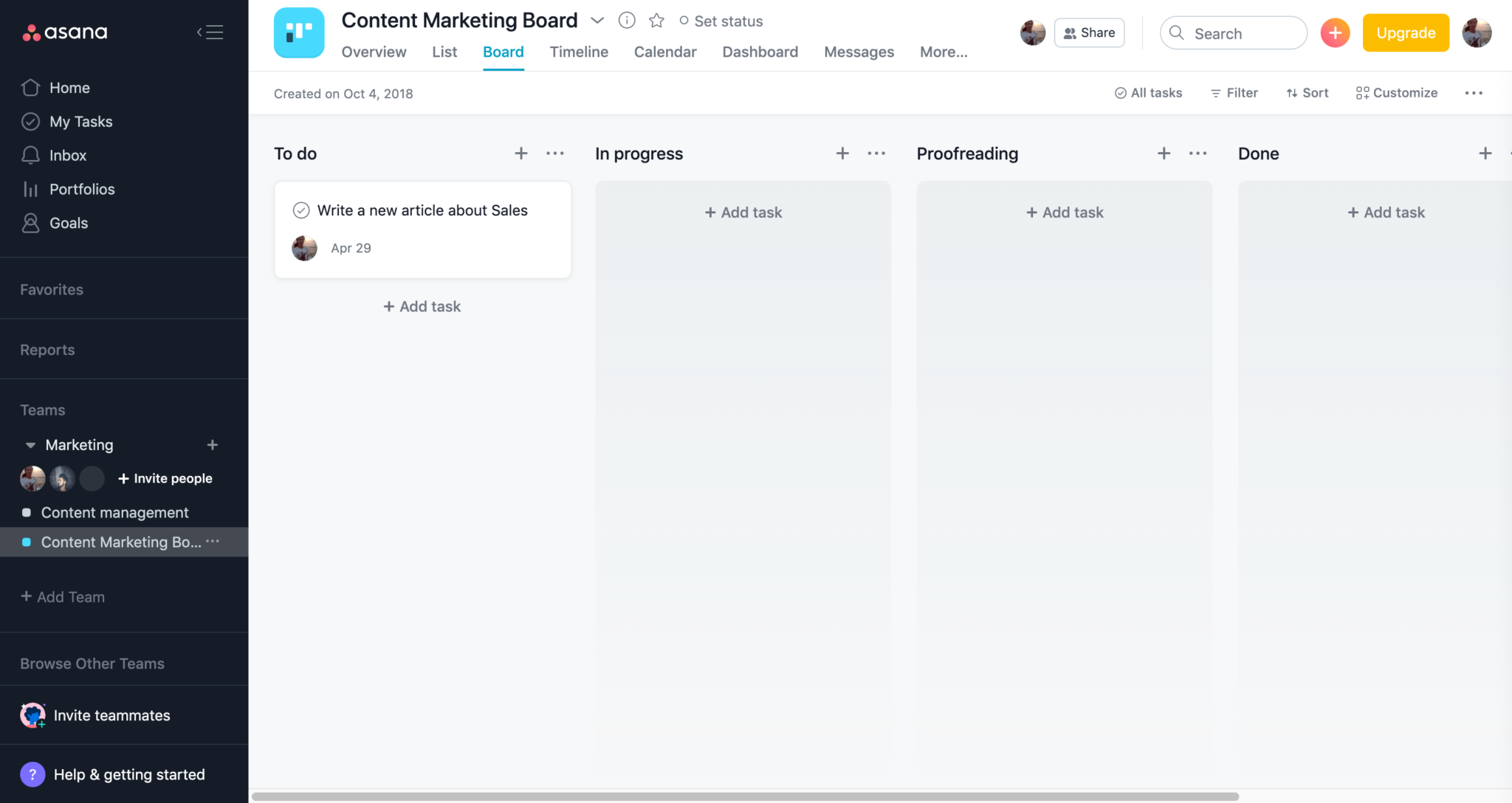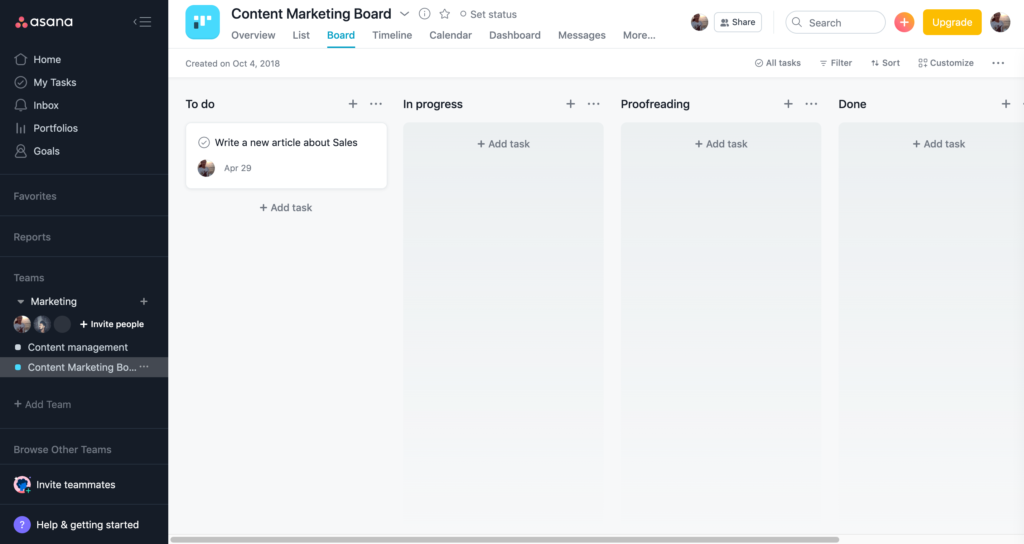 This way, I can understand at which stage each task is.
In brief, it helps you manage your team and yourself in one platform without having a bunch of messy sheets, notifications and you'd be looking for documents all over the place.
Pricing
As a great SaaS tool, Asana provides a massive value in its free basic plan. By that, I mean you can literally use it for years without paying a penny and still find value in using it.
The free account comes with all the essential task management features such as task creation, task assigning, due dates, write comments, and attach files.
They also provide other plans like the following:
Basic: $0 (free)
Premium: $13,49 per month or $10.99/month billed annually (per user)
Business: $30,49 per month or $24,99/month billed annually( per user)
Enterprise: Contact Asana team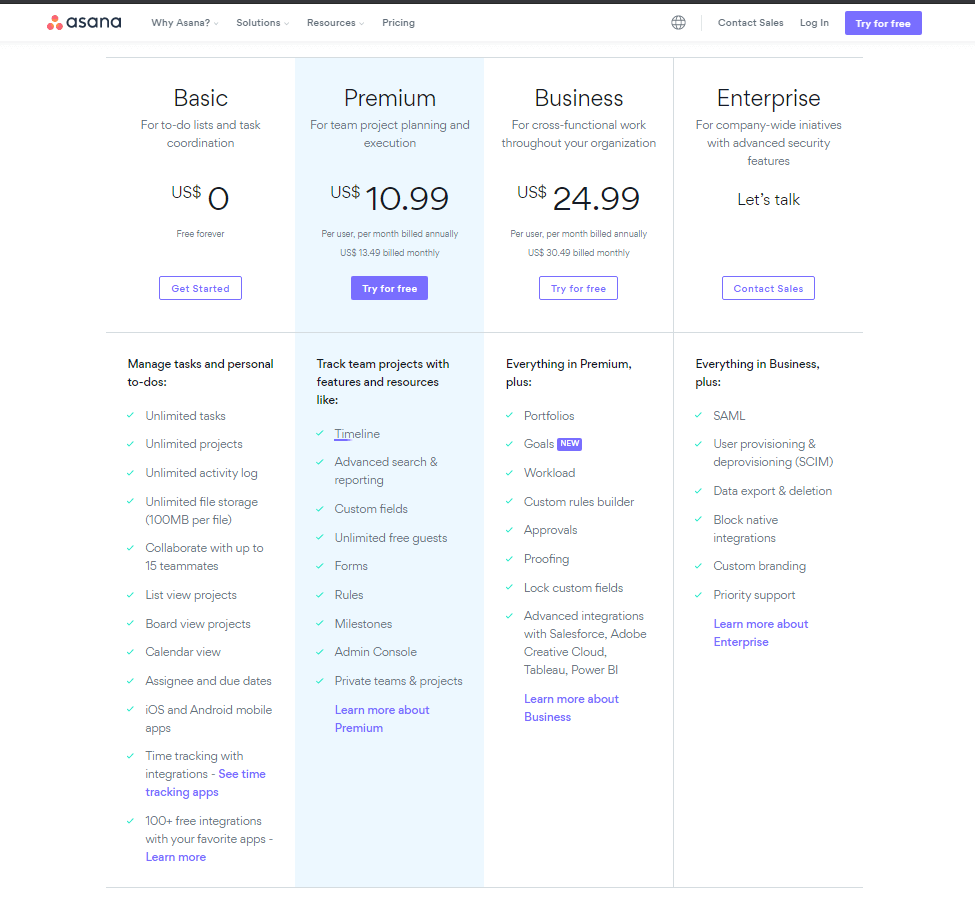 Integrations
One of the many pros of Asana as a SaaS marketing tool, it provides hundreds of integrations. All for the objective to manage everything within their tool.
Here is a short-list of some featured apps that integrates with Asana:
Google Suite
Slack
Microsoft Teams
Vimeo
Zoom
Zapier
Use cases
Using Asana can help you with:
Assign tasks for your marketing team
Add a to-do list for yourself
Manage team
Decrease the risk of forgotten tasks
Measure the productivity of your team
Collaborate with other teams or departments
Add tasks/subtasks with details
Manage a work calendar
And so much more
Do & don'ts
The first thing I recommend to set up in Asana is teams, boards, and processes. This way, you can track your team members' progress and have a clear overview of each task or project's status.
Secondly, integrate your other tools to save your time and manage everything in one place.
For example, you can set up an automated Slack notification when a new task is assigned, changed, or completed.
This is one example of a hundred. The opportunities Asana provides helps you and your team to:
Stay focused
Work according to a defined process
Increase productivity
Have a clear overview of tasks and progress
Prioritize your tasks and projects
If there's one 'don't' I recommend avoiding is missing out on updating boards.
Continually update your tasks' details, add comments, link to documents, and clean your boards after each project.
This way, you keep the tool easy to navigate and make it easier for you to understand what's happening with a specific project and easily find the documents related to it.
8. Hotjar
Hotjar is a website analytics and feedback tool. It provides you with the insights you need to make your site even better.
This tool provides a ton of information on how visitors are using your website and what they think about it. It's like having an army of people looking at every aspect of the way users interact with your site, in real-time.
You can see which pages cause too much friction for instance. You will also be able to know if there is anything that hinders the user from taking any action when visiting your site so that you may fix this problem immediately as well as many other things including:
Heat maps
Scrollmaps
Conversion funnels data
Screen recordings
Surveys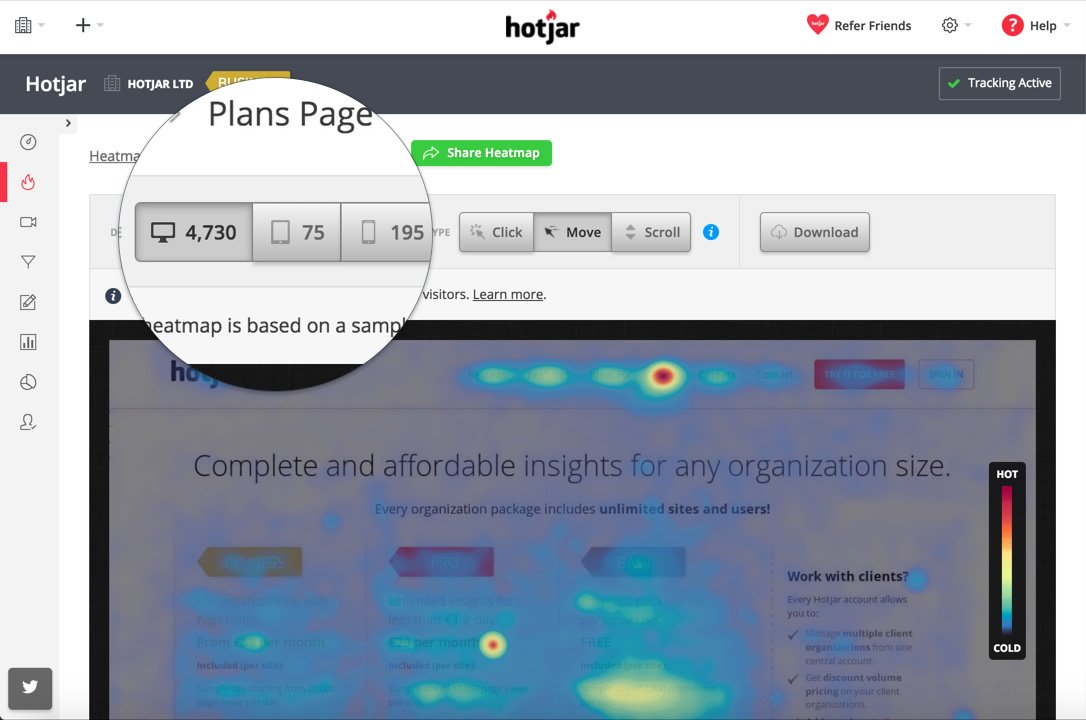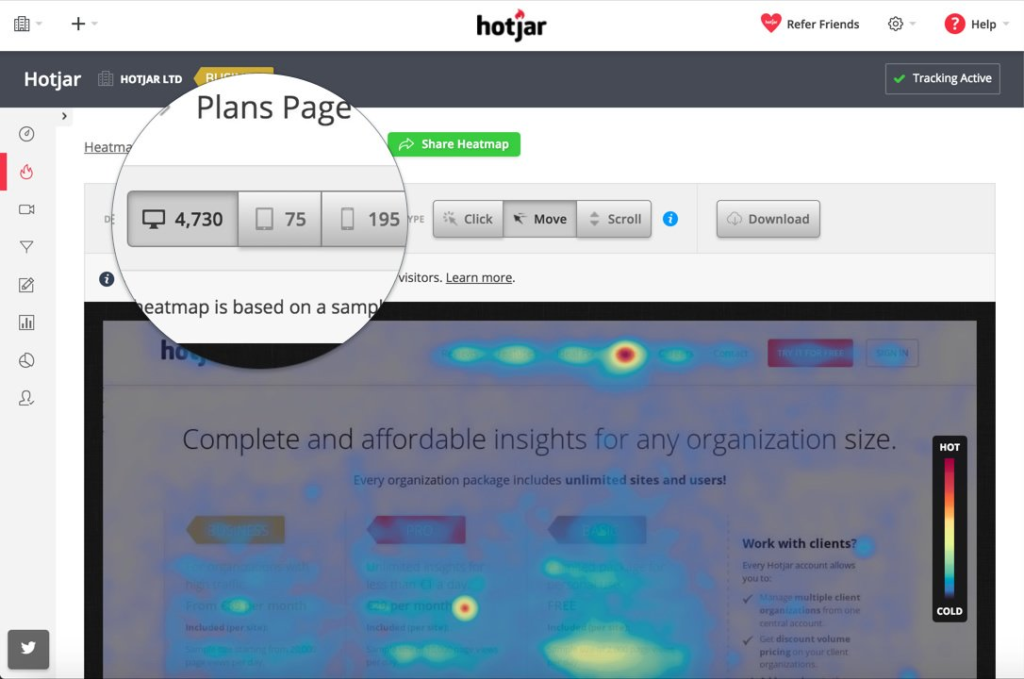 Pricing
Hotjar's free plan comes with 300 sessions per day of recordings and 100 pages tested per day. With this in mind, if you have a website with lower traffic or need an overview of your site's performance before investing; the free plan does the job.
If not, then go for one of Hotjar's paid plans such as Plus at $39/month, Business at $99/month, or Scale at $389/month.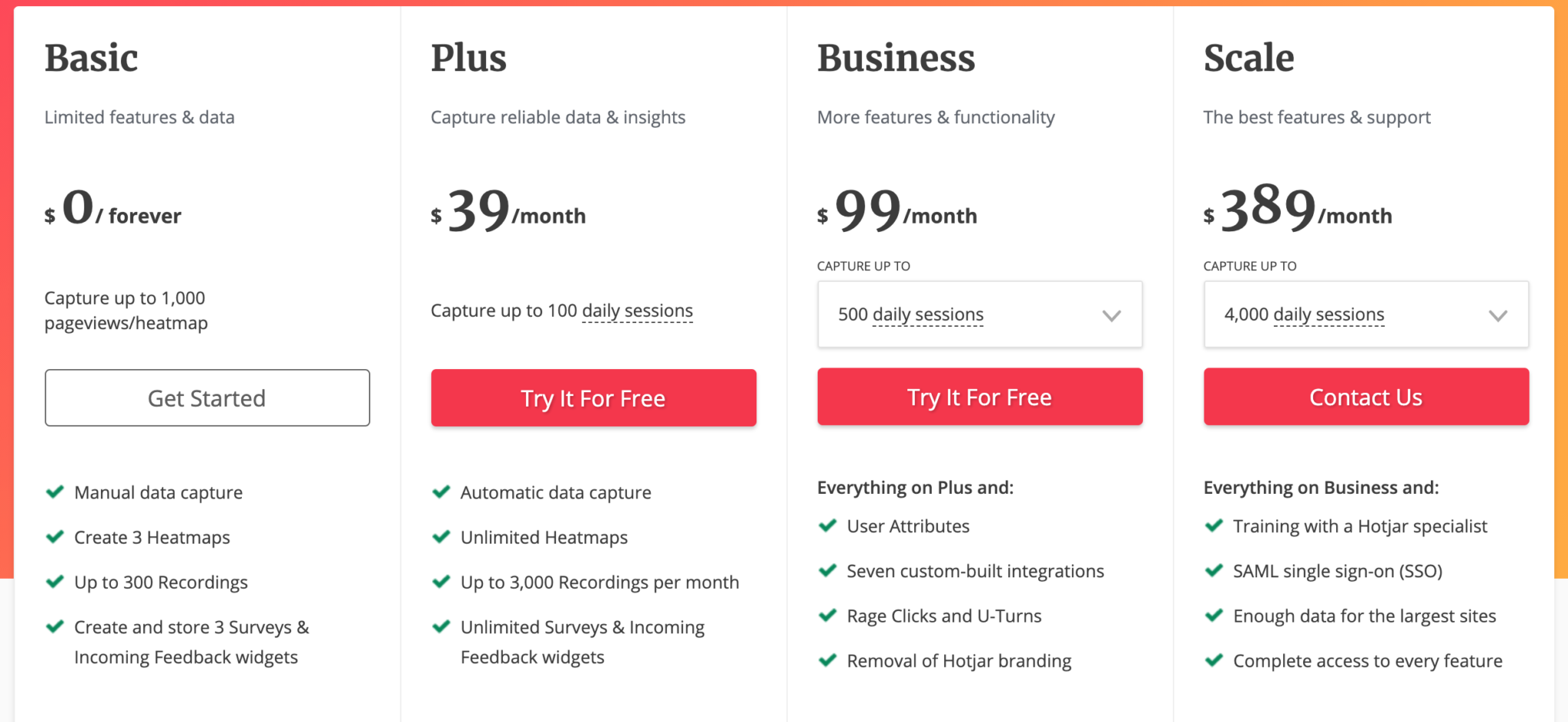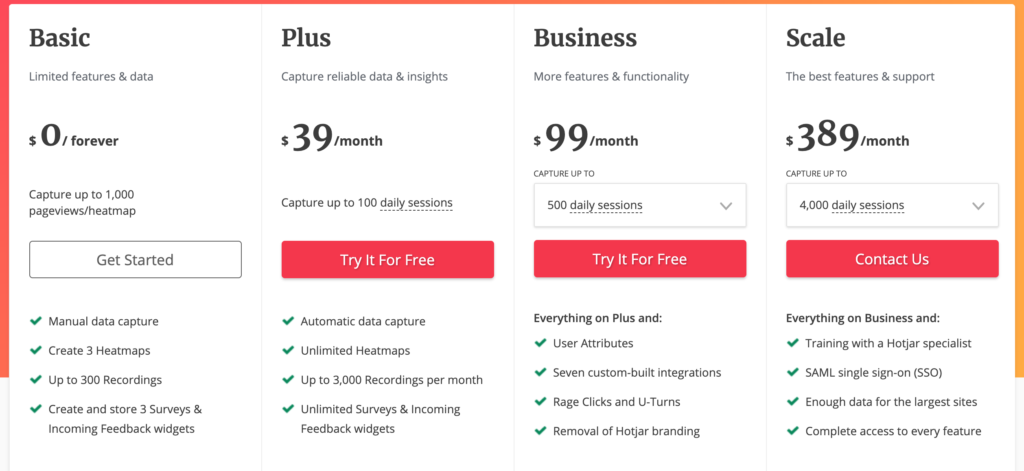 Integrations
Hotjar has integrations with the following tools:
Slack
Segment
Hubspot
Google Optimize
Omniconvert
Optimizely
Zapier
Hotjar integrations help you easily integrate your analytics tool with other tools you use.
Hotjar is popular for its integrations and has over 120+ different apps that can connect to it.
One example of a Hotjar integration includes Zapier which connects the customer feedback software Qualaroo by asking visitors if they want a live chat or phone call at specific points in their journey on your website.
This allows you to see entire journeys through one place without having to log in to multiple sites, making everything much more efficient!
Integrating SaaS marketing tools will help streamline your workflow while also allowing you to add more layers of data to your analytics.
Use cases
Hotjar is your go-to tool if you want to:
Understand website visitors' behavior
Reveal bottlenecks of your website
Detect what makes visitors leave your website
Collect visitors feedback
Analyze your funnel conversion
The data and insights you collect will help you tweak your website to optimize your conversion rates. And eventually, get your visitors to perform the desired action.
9. Colorcinch
If you're a marketer, professional designer or hobbyist, this intuitive graphic design and photo editing tool is a must-have! With its one-click approach to design, you can create stunning visuals with virtually little or no experience at all.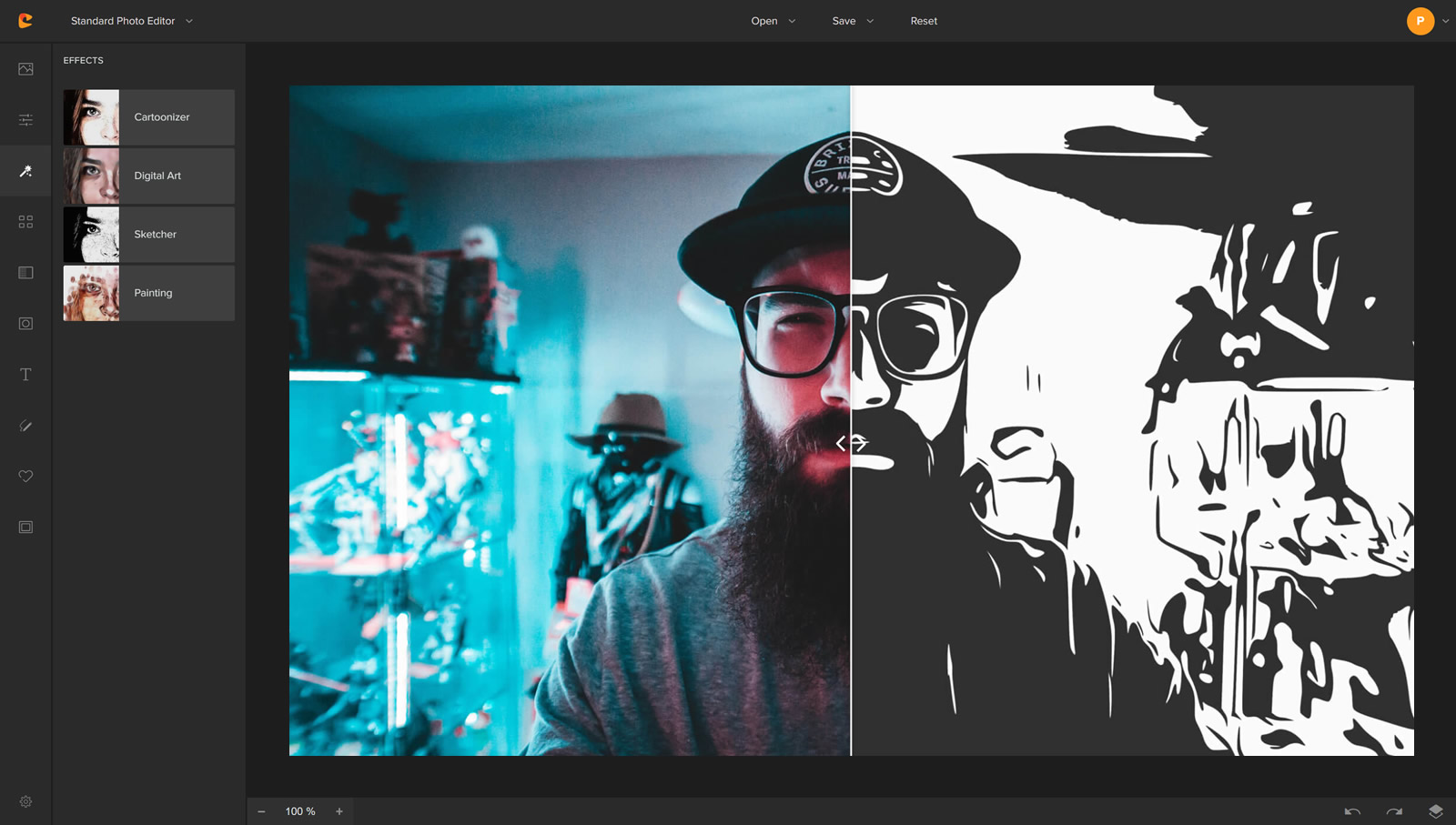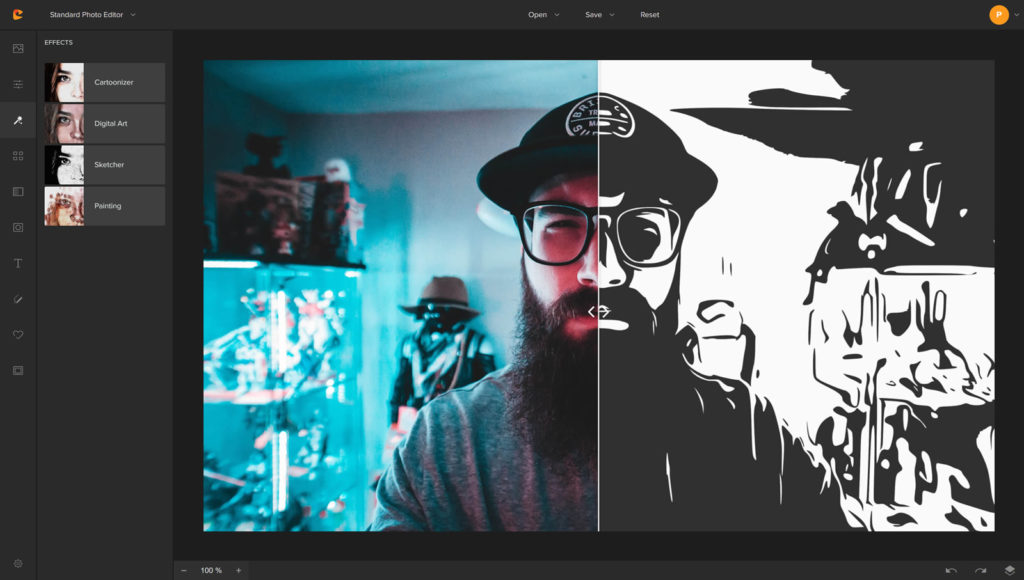 Play around with its collection of premium vector graphics & icons, stock photos, hundreds of AI-based specialty effects & filters, add texts and organize multiple elements with its intelligent layers panel.
Colorcinch is refreshingly easy to use and it's pocket-friendly.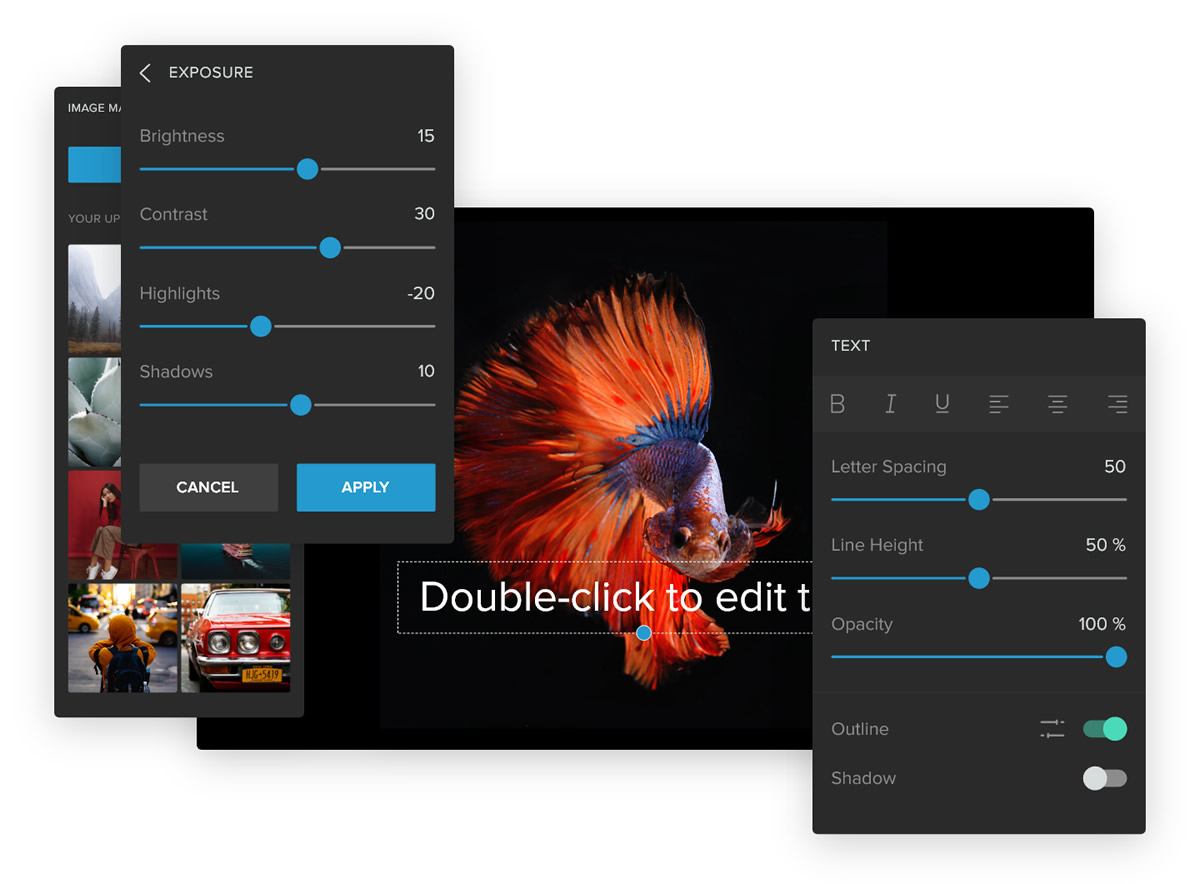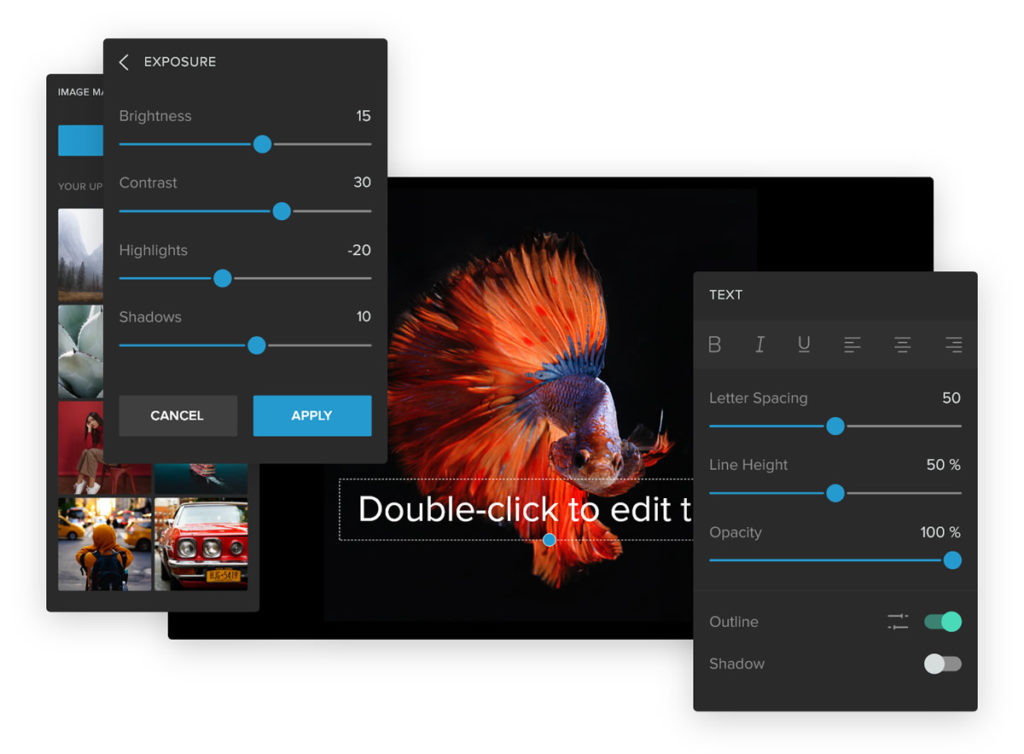 Essential editing (crop, resize, rotate, detail…)
Special artistic effects (powered by AI) – turn any photo into a sketch, painting, cartoon
Vast library of filters & presets, overlays, vector graphics & icons, stock photos
Layering, blending and masking controls
Text editor & freehand drawing tool
Clean, intuitive UI
Pricing
Colorcinch Basic is free, it provides access to numerous essential features and effects. But if you want to make the most out of all premium features and effects and all graphics & icons, you can upgrade to Colorcinch Plus for $5.99/month.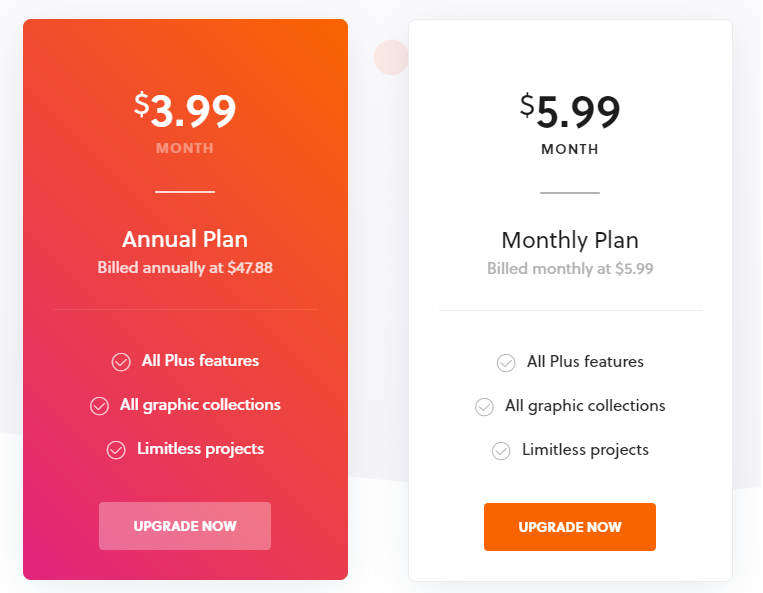 Integration
Colorcinch has integration with your go-to tools:
Instagram
Facebook
Twitter
Pinterest
GDrive
Use Cases
Colorcinch can be of great help in creating:
Book and album covers
Social media banners, posts, cover photos
Blog graphics
YouTube thumbnails
Designs for print on demand and Etsy-like services
Do's and Don'ts
Since Colorcinch is a web-based tool, you don't have to download an app, just make sure you have a good internet connection and you're good to go! You don't have to create an account to utilize its free features. Make the most out of the clean and simple workspace to design whatever you need.
Find any image you wish to use from the stock photos collection, then personalize it with the rich features of Colorcinch. Make your colors pop, and hone in your photo details by having full control over exposure, sharpness, and clarity.
When everything's perfect, save your work in your computer as jpg, png, or pdf.
Or you may opt to save it as Project that you can access anytime with your Colorcinch account.
Just awaken your inner artist and be creative to achieve your personalized artwork!
Conclusion
SaaS marketing tools are essential for any business that sells software. These 9+ must-have SaaS marketing tools will help your company grow and improve sales by:
Feeding your top of the funnel,
Converting users to customers,
Engaging customers,
And by providing the insights you need to optimize your performance.
These are the tools we use at Automizy, but every time you're choosing software for your business make sure to make a detailed list of use cases and needs so you make sure you choose the right software for your SaaS business.