As you probably know the foundation of a great email campaign is a good newsletter. A good newsletter is basically a well-written advertisement that you can send out regularly to your newsletters` subscribers.
However, creating great and well-written content and product is not enough. You will need very good newsletter templates as well.
How a newsletter template should look like is a very common question, therefore we'd like to help in this. We collected a few things to pay attention when creating newsletter template.
Why does it essential to have a newsletter template?
There are several reasons why you should work with newsletter templates.
One reason is very obvious for all of us. When you send an offline company letter by post you don't just send it in a blank paper what you pulled out from the printer's tray, don't you? You obviously send it in a company official postcard as it reflects the company corporate identity.
So, exactly these reasons are why we use newsletter templates as well.
They can be excellent promotion and brand builders. You don't even need more than a unified brand corporate identity which reflects the company. So it can include logos and brand names, basically, things that help to identify the brand and the company.
The other reason is a bit of a technical kind. Email templates work as a kind of frame and they don't just make the newsletters creation easier, they will lessen the chance that email clients will break apart the letters.
How should it look like?
Answering this question is a bit more difficult as most people want their letter to be nice, successful so to meet their subjective opinions.
And this is the reason why we wouldn't like to go further in their appearance such as what picture should be set as background and what font should be used.
We rather want to show you what used wildly based on international trends.
Traditional: It consists of a header, a footer and a long text content which includes one or two images.
More headlines: Templates with more headlines consist of a header, a footer, and more headlines. These headlines include certain offers as well as images. Of course, the images can be positioned to left or right. Perhaps, this template is the most beloved one.
Another frequently asked question is based on the length and width of the newsletter's templates.
The width of a template is usually between 800 and 1000 pixels. The length depends on its size, so we are not categorizing them as pixels but if it really needed then we would say 1200-1500 pixels in general.
What you should pay attention when you're creating your template:
Try to avoid using too big sized images in the newsletters as they can slow down the sending time and can increase the risk of landing your letter in the spam folder.
The click-through buttons should be placed in well-seen places, and the best if they are separated from the images just to ensure they won't distract awareness.
The templates must include unsubscribe and forwarding links and of course don't forget the social media icons either.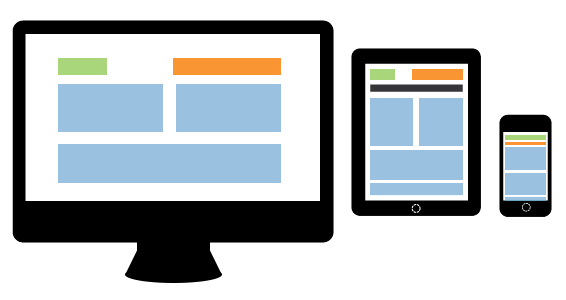 And there is one more thing! Don't forget your mobile readers, create mobile-friendly emails, in other words, make them responsive.
Responsive design means that the newsletter will be displayed well on different types of screens. So the newsletters will be looking nice on phones, tablets, and computers with smaller screen as well.
For some more info on the topic check out our email design guide.