Today's social media-driven world is a noisy place – so much so that email, by comparison, is a relative place of quiet. While it may seem old-school, creating powerful email marketing campaigns remains a crucial marketing strategy for online businesses.
In fact, email occupies a unique position in the realm of content marketing today, bridging the gap between direct advertising and social.
As marketers, we use email communications to improve a brand's relationship with its readers and customers – this is not always an appropriate place for a hard sell. The most successful tend to have just the right balance between useful content, updates, and offers. If you're an email or content marketer looking for results in 2018, here's what you need to know.
What Email Marketers Need to Know About Content
Newsletters aren't the be-all and end-all
Newsletters are a great way to keep your subscribers updated, but they shouldn't be the only form of email communication you have with your customers. Just as important are the automated emails triggered by specific user behaviors, which according to one report, get 152% higher click-through rates than broadcast emails. These behaviors can include actions like starting a software trial or abandoning a shopping cart, for example.
This is why it's a good idea to collect email preference data each time a new subscriber signs up – data that can later be used to personalize email blasts by subject or shopping habits. A word of advice: just like with social media, remember to use email content as a way of connecting with your subscribers and providing value for them, instead of simply talking about your brand.
Related reading: The 10 Most Popular Email Marketing Automation Campaign Examples.
Interactive content works wonders
Unsure where to begin when it comes to generating content for your marketing emails? The following formats have been shown to improve engagement and keep readers interested:
Interactive videos

– A

2015 study

found that 4x as many users would prefer to watch a video about a product or service than read about it
Quizzes

– People love opportunities to test their knowledge or learn something about themselves, which makes digital quizzes a powerful way to boost engagement
GIFs

– GIFs are the ideal way to display multiple products within the same area, saving space while catching the eye. They're also mobile-friendly!
Polls

– Polls are useful in more ways that one. Not only to do they get subscribers interacting with your brand, they also provide data for your marketing team that could be valuable later
Content should come before design
We all know the value of sending beautiful, mobile-responsive emails, but it's important to remember the most important ingredient of all: content. Your content ultimately delivers the most value to your subscribers when you send an email, so consider removing anything else that doesn't need to be there. The very best marketing emails are informative, inspiring, entertaining… and minimal.
Of course, I'm not saying aesthetics don't matter – you don't want your emails to look bad. Just less cluttered – after all, the content is the most important thing, so it should be getting the lion's share of your attention. Here's an example of a really nice, minimal email from Harry's – an online shaving company built on Shopify: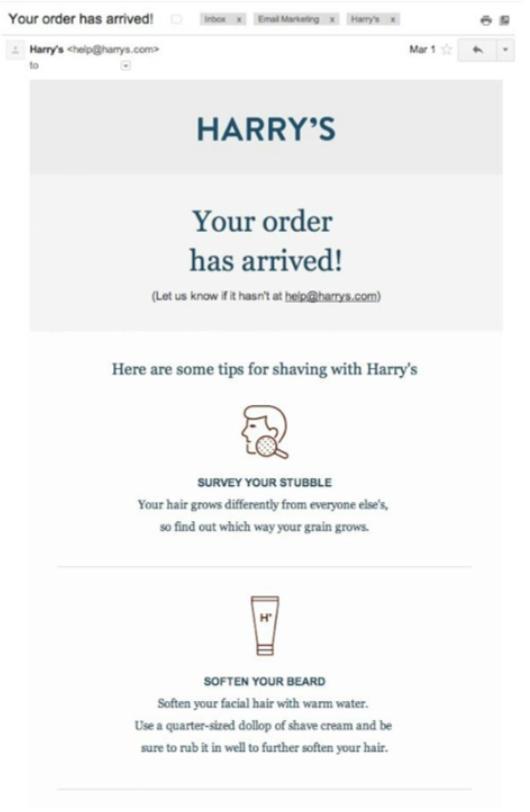 source: shopify
We have the key information: your order has arrived. Then we have some helpful supplementary info: tips for shaving. That's all there is, because that's all that's needed. Nothing distracting or unnecessary – it's very simple, and just goes to show that you don't need hundreds of bright, flashing images to make an impression.
What Content Marketers Need to Know About Email
Success is in the subject line
As a content creator in the field of email marketing, be aware that of everything you write, the email subject line is the single most important factor influencing open rate – and therefore the success of your campaign. The best email subject lines share one key feature: they're designed to grab and hold the reader's attention. Here are some tips to help you do just that:
Keep it short and succinct
Address the reader directly (by name if possible)
Include action verbs, e.g. explore, attract, maximize
Your subject line is the sole factor a subscriber has available to determine whether or not they're interested in clicking your email. In addition, remember that however catchy and captivating it may be, it also needs to be relevant to your email's body copy – otherwise you fail to deliver what you promise.
Write in the second person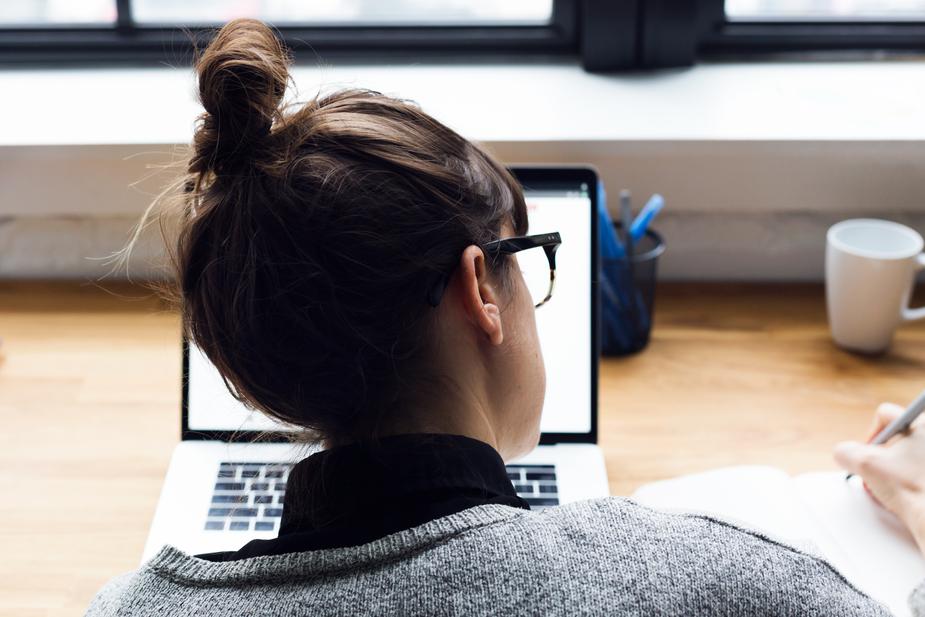 source: burst
It's generally agreed that second person is the best voice to use for email, as it has a more personal quality. It allows you to speak directly to the reader in a more relatable manner, which, in turn, means they're more likely to connect with what you're saying and open more of your emails in future.
The second person is a narrative point of view where the narrator (you) tells a story to second character (the reader), using pronouns such as 'you', 'your' and 'yours'. The second person is rarely used compared to the first or third person voice, which makes it a more fresh and distinctive way to approach your readers.
Examples of writing in the second person include Burger King's advertising slogan 'Have it your way' and Joni Mitchell's lyric 'You don't know what you've got till it's gone'.
Creating content for different personas
When you create content, it's generally done with a particular audience in mind. The same goes for email marketing. If you've managed to get subscribers to tick their preferences on signing up for email communication, you're already one step ahead – you know what they're interested in. It's as simple as posing one or two carefully placed questions: such as 'what topics interest you?' or 'how often do you want to receive emails from us?'.
If you can hand-pick email content that resonates with each individual subscriber, you greatly increase the chances of them taking some sort of action with that content – reading it, sharing it, leaving a comment, or taking the action laid out in the content itself. Have different types of content ready for different audience segments to create tailored emails that your subscribers will actually look forward to receiving – and you can avoid irritating them by being too overzealous with your frequency.
Conclusion
Email and content go together like peas and carrots, as our friend Forrest Gump would say. Putting together a content plan is a big task, but you can't run an effective email marketing campaign without one. Engaged subscribers are the foundation of a healthy business, and since email is arguably the best content distribution channel there is, it pays for email and content marketers to work together, share skills, and create campaigns that go above and beyond to bring customers value.