Email marketing is long past the days when marketers blasted their whole list with the same weekly newsletter.
In fact, the Digital Marketing Association found that over 75% of email revenue is generated by triggered campaigns, rather than regular email blasts.
And with new email marketing automation platforms, marketers now have the tools necessary to send timely, relevant, automated and personalized messages to your audience.
So why don't you? If you're lacking some inspiration you came to the right place. In the guide, we're going to have a look at some general tips for using automations and the most common marketing automation campaign examples.
Some General Tips For Automations
Avoid spamming
To avoid spamming your subscribers first create a tagging action that puts an "active" tag on the contacts, when they start on an automation.
At the end of an automation create an action that removes this "active" tag from the contact.
Next, make sure that you exclude all the contacts who have the "active" tag from the segments you send out newsletters or any other bulk email campaigns to.
Get more replies
A tricky way to get some more replies from your subscribers is to include a plain text email.
You can ask about their reason for the subscription, feedback about the content or the product.
It's best to include these type of emails at the beginning of automations (2nd or 3rd email) when your subscribers still have that early excitement.
Start the subject line with "Fwd:" and personalize it with the subscribers the first name.
Write it like you would write a regular email to a friend a colleague, use a casual tone.
State that their opinion, feedback is really important and that you're expecting their reply.
To really sell it include something like this to the end of the email: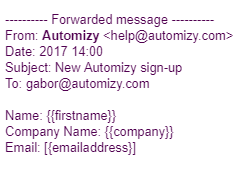 Blog Subscriber Welcome Automation
Greet your brand new blog subscribers with a welcome automation campaign. It's your chance to take advantage of the excitement and curiosity of new email subscribers.
A welcome automation is great because:
You and your subscribers can learn about each other.

It builds momentum and drives new readers to your old content.

It takes the relation further.
In the first email of your welcome automation, you should introduce yourself or your company. Talk about the history of your brand. This lets your subscribers take a peek behind the scenes.
Also in the first email, you should ask a relevant question and request a reply. Also, you can do this in a separate, second or third plain text email like I mentioned before. This is a great way to further engage your new subscribers. And you can gather valuable feedback about your content and product, which you can use to refine your strategy.
Someone opted in to receive your newsletter. You converted a blog visitor to a subscriber. That means they are really interested in your content. But over time that interest will start to fade, so you have to build on this initial momentum. Did you know that approximately 75% of users expect a welcome email after signing up? In addition, 90% of users go cold after 1 hour. Don't spread the emails in your welcome automation too far apart. This lets you keep your subscribers' engagement and interest up for a longer period of time.
Most of your newsletter subscribers are only familiar with your newer blog post. So sharing your best, older pieces in your welcome automation is a great way to showcase some of your older work to your new subscribers. Not to mention drive some additional traffic to these posts.
Nowadays, an email subscription is a big commitment. Especially compared to social follow, for example. So, after you've introduced yourself and provided value ask them to follow you on Twitter and Instagram, like your Facebook page and subscribe to your channel on YouTube.
We looked at the benefits of a welcome automation. Now let's dive into how to build one.
Source: Automizy blog subscriber welcome automation. Build this yourself!
Your trigger is a form submission.
Then create two tagging actions. The first should put an "active" tag and the second a "blog_subscriber" tag on the contact.
After that, create an email sending action with your welcome email.
Put a waiting period of 1 day and then include your second email with some of your most popular blog articles.
After that, repeat this process for a couple times, but increase the delay to 2 days. You don't want to annoy your users with too frequent emails.
In the following emails include articles that have the same topic as some of your gated content. In addition to the link to blog post, link to the landing page of these content offers. This a great way to segment your subscribers based on their engagement level. If someone opts in for one of your lead magnets it's a clear indication that they are really interested in your content.
I'd recommend using about 3-5 emails in a welcome automation.
Lead Magnet Follow-up Automation
Lead magnets are the most crucial part of a high-converting funnel. But if you just collect email address and then send the download link in the first email you're not taking full advantage of your lead magnets.
Create an automation for each of your lead magnets, where you share additional resources around the topics covered in them.
The first email in the sequence must contain the download link to the lead magnet, and I recommend a brief introduction to your brand.
In the following emails of the automation, you should provide some more material on the subject of your lead magnet. These can be blog articles, white papers, podcasts on the same topic as the gated content your subscriber downloaded. Write some teaser sentences in the emails and put a call-to-action with a link to the content.
As you create your automation pay attention to their order. Think about these automations as mini funnels, you should provide a great user experience. And you do that by digging deeper and deeper into the topic of the lead magnet with more advanced material. Also, make sure you're gradually building up to your sales pitch in your emails. Include your actual pitch in the last email of the sequence, but it shouldn't come out of the blue.
Now that we've covered what the content part let's move on to building the actual automation.
This the actual automation we use for following up with prospects who downloaded the Ultimate Lead Generation Cheat Sheet.

Source: Automizy lead magnet follow-up automation. Build this yourself!
The automation will be triggered if a contact gets the "leadmagnetname_downloaded" tag. We choose a tagging action as the trigger because people can sign up for this automation from multiple places: forms on landing pages, different pop-ups, slide-ins, etc. And when someone fills out either of these forms, he or she will get the "leadmagnetname_downloaded" tag that'll trigger the automation.
Once again, create a tagging action that puts an "active" tag on the contact.
After that, create an email sending action with your welcome email containing the download link to the lead magnet the contact opted in for.
Put a waiting period of 2 days.
In the following emails include articles that revolve around the same subject as the specific lead magnet. But, gradually dive deeper and deeper into the subject with more advanced material.
Just like with the welcome automation I'd recommend using about 3-5 emails in lead magnet follow-up automation. Don't forget about your sales pitch and make sure it doesn't come out of the blue.
Email Course
An automated email course is another type of lead magnet you can use and it has some clear benefits:
It attracts the right traffic.

Your subscribers are expecting emails from you.

It's easy to launch one.

Makes lead nurturing easy.
Choose a topic based on your industry. You can check out the performance of your blog articles, make a list of the most popular ones and figure out a topic.
Before launching it's important to set goals for your email course. If you'd like to improve the efficiency, later on, you'll have to dig deeper. In this case, your most important metric will be the open rates of emails individually and the overall open rate of your automation.
The next step is to write the email copies which will make up the email course. Generally, most email courses contain about 5-7 emails. Figure out how many emails will your course contain based on your topic and audience. Plan out when you'll include your sales pitch to have the most impact.
Setting up the automation
An email course is just a specific, fully email-based lead magnet. So, it's likely that people can sign up for it on different sources.
That's why the trigger for this automation is again a tagging action. The sequence is triggered if someone gets the "emailcoursename" tag.
This is the actual automation of our email course called Triple the Value of Your Email List.

Source: Automizy email course automation. Build this yourself!
Start out with a welcome email containing an outline of the course and the first lesson. Send this email immediately after the sign-up. In the outline of the course include the topics you'll cover and the number of lessons with a clear schedule. So your subscribers will know what to expect and when.
Then, depending on the number of emails in your course set up the automation so that an email is sent out daily or at least one in every two days.
So, after you selected the trigger and a tagging action with the "active" tag all you have to do is create email sending actions for every email in the automation and waiting periods in-between them. 

Source: Automizy email course automation. Build this yourself!
Lead Nurturing Automation
You created an awesome follow-up automation for your lead magnets. You even built-up to your sales pitch and included it at the perfect time. Yet, some of these leads have not converted into customers. They want to weigh their options and need more convincing to before going with you. To increase your chances of converting these leads you'll need a lead nurturing automation.
The purpose of this automation is to further educate the prospect, build awareness of your organization and products, and build trust. All this makes it more likely that the lead will end up buying from you.
Building a Lead Nurturing Automation
Once again the trigger is a tagging action. This automation is triggered when a contact gets the "leadnuture" tag. After that, the contact gets the "active" tag as usual.
Most lead nurturing automations consist of 3-5 emails. These emails reference the original lead magnet that led to the initial conversion and should contain call-to-actions to other offers. Start off with different lead magnets, in the following email you can provide links to your webinars, and in the last email, you can include an offer, a consultation, or a free trial.
Build these automations in Automizy. Get started for free now!
User Onboarding Automation: Introduction & Training
The automations we mentioned are working perfectly and leads are signing up for your product or services. However, after they signed up, they don't return. You have to keep the users motivated, so they stick around to see how they can be successful in your product. For this, you need an awesome user onboarding email automation.
This first step to create an awesome onboarding automation is a strategy that begins with a goal. Discover your products Aha moments. You want the new user to experience these, so these are your goals. Find all the obstacles preventing the user to reach these. All this will help you in writing the email copies.
For a great user onboarding emails, you'll need a strong value proposition. This has to remind them of their original goal and should be benefit oriented. Great onboarding emails focus on the challenges of the users and the solution to these challenges.
As I mentioned, during onboarding you have to keep the user motivated. One of the best ways to do that is positive affirmation. Rewarding users for their actions is essential to building habits. Congratulate users when they reach their goals and then encourage them to take the next step which can help them discover even more value in your product.
Creating a User Onboarding Automation
The trigger for this onboarding automation is the free trial form submission. If you have multiple places where people can sign up for your trial you use a tag as a trigger, too. We have some landing pages, so our onboarding automation is triggered when a subscriber gets the "FREE_TRIAL_STARTED" tag.

Source: Automizy user onboarding automation. Build this yourself!
Send an email right after the opt-in. It should be a general welcome email. Highlight the benefit of your product, show appreciation, and offer support.
Depending on the nature and the difficulty of your product you can send an email a couple hours later where the new users can book a strategy or a demo meeting. Write a short summary of the meeting, so the users know what they can sign up for.
This is another perfect opportunity to include a plain text email asking for the reason for signing up. You can include another question like what is the most important challenge they want to solve with your product or something along these lines.
There are two factors that determine the number of emails in this automation and their sending frequency:
1. The length of the free trial period
With a 7 day free trial period, you can send an email almost every day.
But if you try to do the same with a 30 day free trial period all you do is make sure you won't convert anybody to a paid customer and your emails will be marked spam.
2. The number of Aha moments
I've already mentioned the Aha moments and their importance. The main purpose of an onboarding automation is to make the users experience these. Keep this in mind when you build the automation. Your onboarding emails should contain all the necessary information that lets the user make the most out of your product.
In our onboarding sequence, we segment our trial users based on their behavior both with emails and the app.
After the first email sequence, there's a condition. Users go on the "Yes" branch they've uploaded contacts into the platform.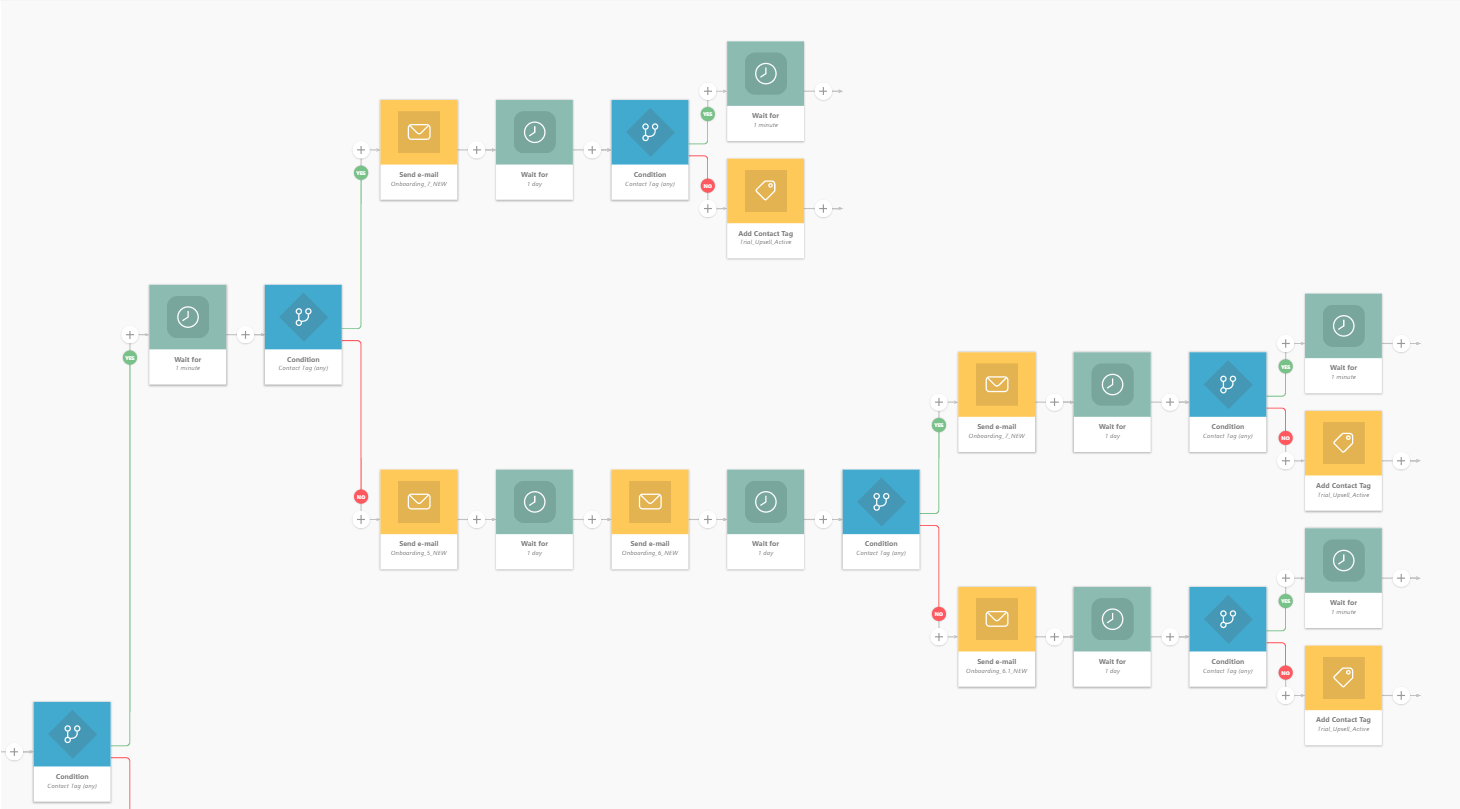 Source: Automizy user onboarding automation. Build this yourself!
Later there are even more conditions that determine what future emails the users receive.
If the user didn't upload any contacts in the first 2 days of the trial they continue on this branch.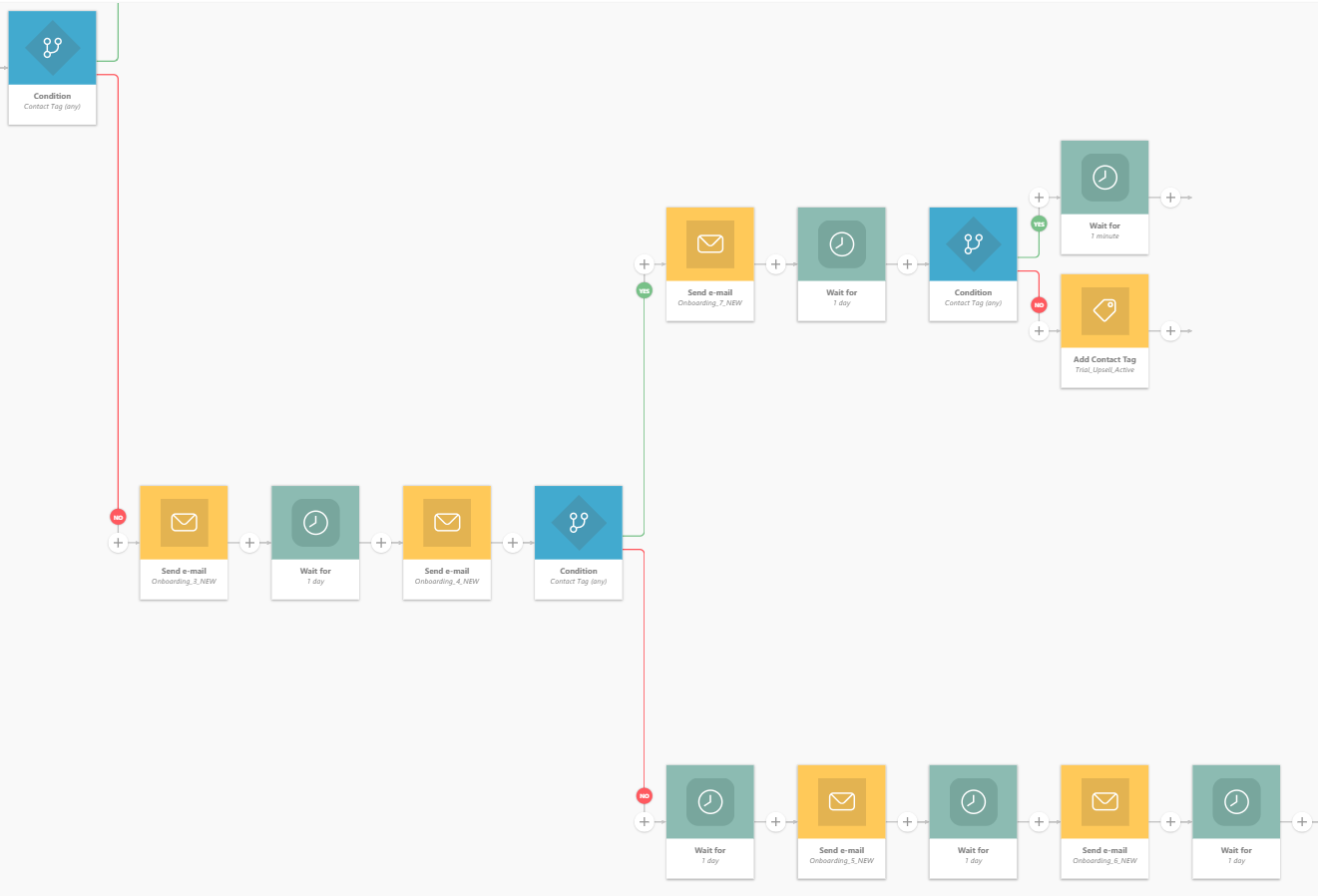 Source: Automizy user onboarding automation. Build this yourself!
Cross- and Upselling Automation
Just because some have already purchased you shouldn't stop the communication. Especially if you sell different products and/or services. Use cross- and upsell automations to upgrade or upsell your existing customers. Take a look at what they've purchased, and tailor your offers based on that.
Building Cross- and Upselling Automations

Source: Automizy upsell automation. Build this yourself!
Tag your contacts with the name of the products they've already purchased.
Each of these tags will trigger another automation where you offer related products and/or services.
However, I don't recommend blasting a new customer with other offers immediately after a purchase.
So after the 'productname" tag triggers the automation I recommend putting in a waiting period of a couple weeks, maybe even months. Of course, this depends on your industry and especially on the length of your sales cycle.
After this waiting period, create an email sending action where you mention the person's previous purchase and describe the clear benefit of the new product/service you recommend.
If you have other related products you can include those in the upcoming emails. I recommend spacing the emails a bit more than with previous workflows (3-7 days).
In the final emails, I'd suggest offering a discount as a final push to make a purchase.
Conclusion
There you have it. Some of the most often used email automations. We talked about their advantages, what type of content to include and what to pay attention to when you set them up.
I hope this will help you grow your business. And who knows, maybe you'll even have some fun setting them up.
All the screenshots are from Automizy. We make it easy for you to get started with email marketing automation, to help you maximize the conversions from your email subscribers. If you don't have an Automizy account yet, you can register right now and try these examples for free.
Take your newfound knowledge to action. Build these automations in Automizy. Get started for free now!
I'm a Growth Marketer & Community Specialist @ Automizy.
I started out in the startup world right after graduation and since that it's been a blast to navigate in these waters.
After work, I love playing basketball and traveling.
https://automizy.com/wp-content/uploads/2018/01/3-Email-Data-Points-2.png
628
1200
Mor Mester
https://automizy.com/wp-content/uploads/2018/02/logo-2.png
Mor Mester
2018-01-09 11:13:54
2018-10-12 04:05:53
The 6 Most Popular Email Marketing Automation Campaign Examples